This September, slay is an understatement for the melanated magicians that graced various media publications with their Black girl magic. Tracee Ellis Ross snatched all edges in her cover issue of ELLE Canada, Beyonce hired the first black photographer to shoot her cover for Vogue, and Tiffany Haddish walked in her truth in this month's issue of Glamour. But there's one star who shook up the game in a major way by becoming the first black woman to appear on British Vogue's September Issue in the magazine's 102-year history.
The same woman who brought inclusivity to the mainstream makeup world and created a new genre in the music industry is now breaking down barriers in the fashion world, and you better have her money. Rihanna has been in the entertainment industry for more than 15 years, and this British Vogue issue has us hoping that she gives us 15 more. Snippets of the interview reveal she was asked why she thinks she's so popular among her audience, to which she replied:
"You're asking the wrong person… I don't know, maybe it's because I'm 'thicc' now."
"I'm about to get back into the gym and stuff, and I hope I don't lose my butt or my hips or all of my thighs. I'll lose some but not all. And I think of my boobs, like, 'Imma lose everything, everything goes!'"
"[Having a butt] comes with a price. You want to have a butt, then you have a gut."
Rihanna has been transparent about her fluctuating body type, stretch marks, and all of the other things that hide under a woman's bed at night. Yet and still, her beauty and down-to-earth demeanor make her one of the fiercest celebrities the industry has ever seen, as well as one of the most eccentric. The singer told her interviewer: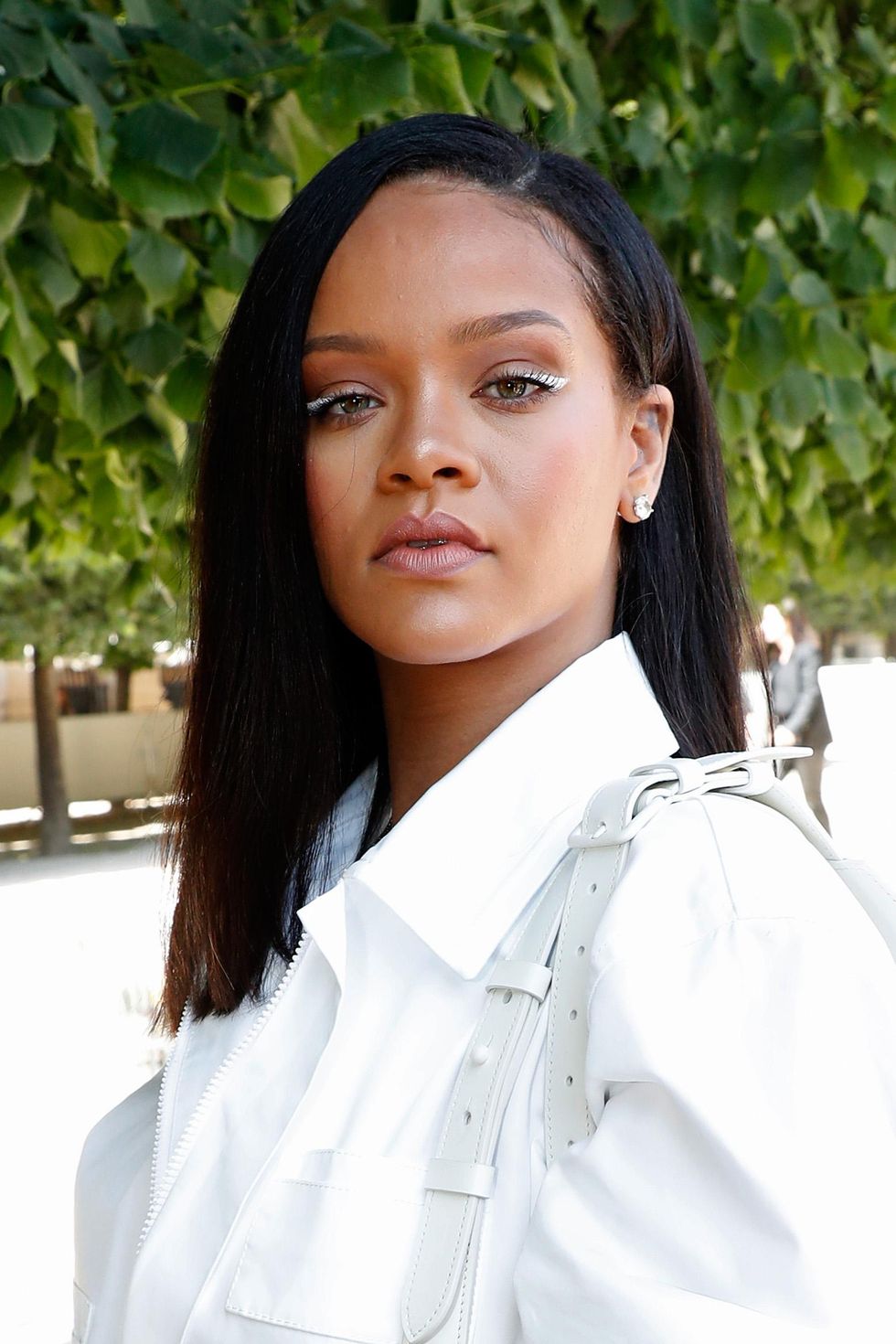 Bertrand Rindoff Petroff/Getty Images
"It's just my mood. I get bored and I feel like, why not try something else? As an artist in this day and age, everything is driven by some kind of visual aspect. You want to push it and not have it be predictable. The only thing I can stick to is probably a pair of jeans."
Rih wears her natural confidence and IDGAF demeanor in her latest collaboration. The current Editor-In-Chief at British Vogue said that with September being the magazine's biggest issue, and Rihanna being one of the world's biggest stars, this collaboration was only logical.

During the interview, they discuss finding balance, the future of Fenty, and the highest points in their careers. For Rihanna, success at one point meant her first Grammy, but as she grew older, her perception changed.
"The awards become less and less significant as you really start to understand the industry. The people who care are your fans. As long you're happy, they're happy. That should really be it."
"Finding a balance becomes a priority, even if you don't get it down, that's always the goal, you know. Not necessarily to neglect work, it will never be that, but to find a way you feel fulfilled."
Like many of us, Rihanna admitted to suffering from a fear of failure. Rih continued:

"But I get so afraid of disappointment. I don't like that feeling. I never want to get too excited about something or even relish a moment because I don't know what's going to happen."
Despite her fear, she persisted and it paid off in a major way.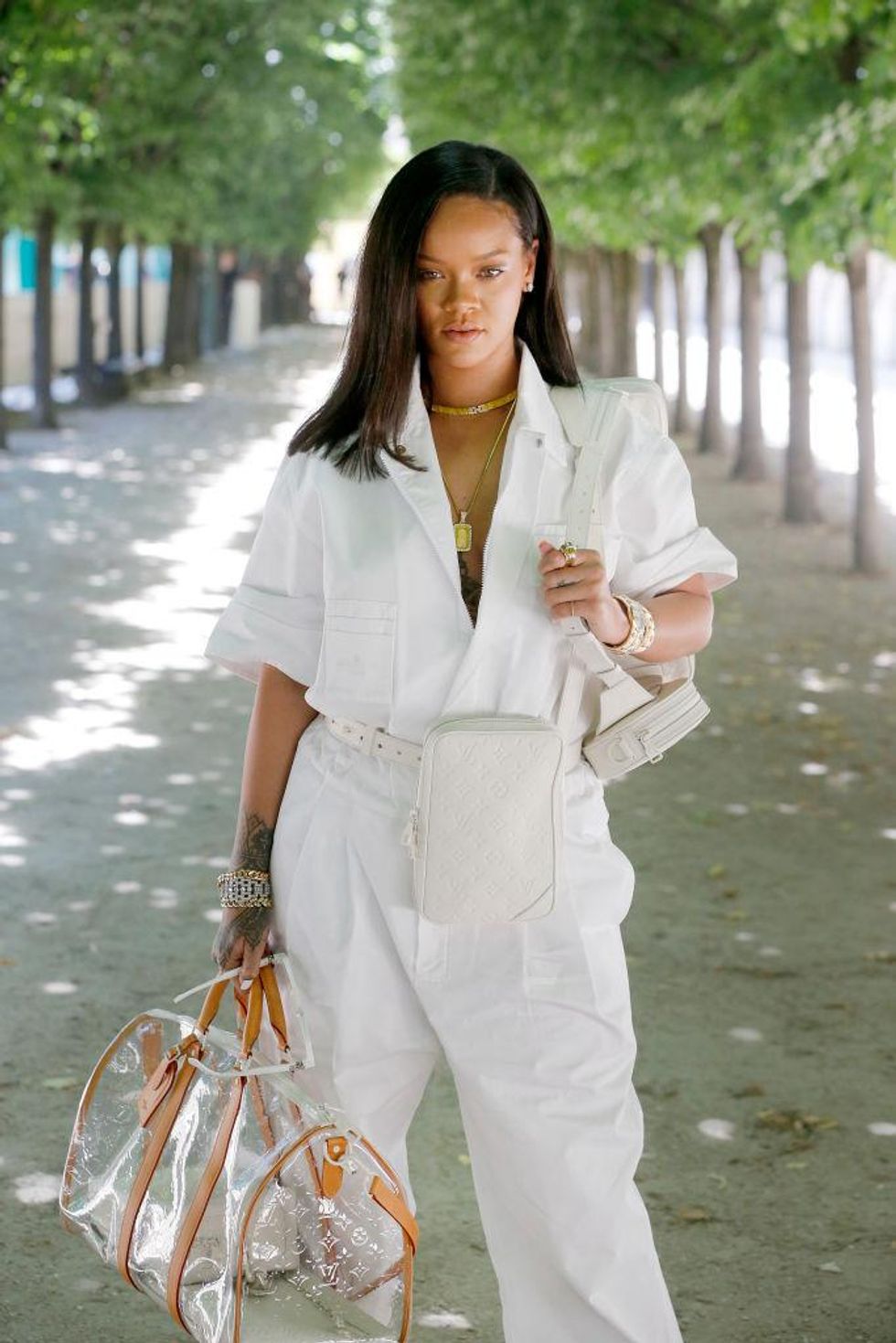 Chesnot/WireImage
Although Rih maintains that she doesn't have all the answers, she does have her share of experience with giving advice. She's been known to help her fans out from time-to-time via DM with tweet-worthy wisdom, especially when it comes to romance. She told Edward:

"I get a lot of boy-advice questions. I think a lot of people meet people and then they're dating the idea of what the person can become, and that person never shows up and they're just mad disappointed. A person can always get better they can always get worse but you've got to be fine with what you met them as."
Rihanna is the friend in all of our minds who gives dope advice and doesn't care what you think about her eyebrows, and that's what makes her one of the biggest icons of our generation. We can all learn a thing or two from Rih about the power of persistence and staying true to yourself. It might just earn you a Vogue cover.
Check out more information about her Vogue cover here.
Featured image by Chesnot/WireImage