I've mesmerized the melody between your every heart beat,
just so I could sing it back if you ever get lonely....
I learned the gaps between your fingers just in case you ever need a hand
I made sure mine fit perfectly- Reyna
---
Reyna Biddy was all smiles when she strolled in.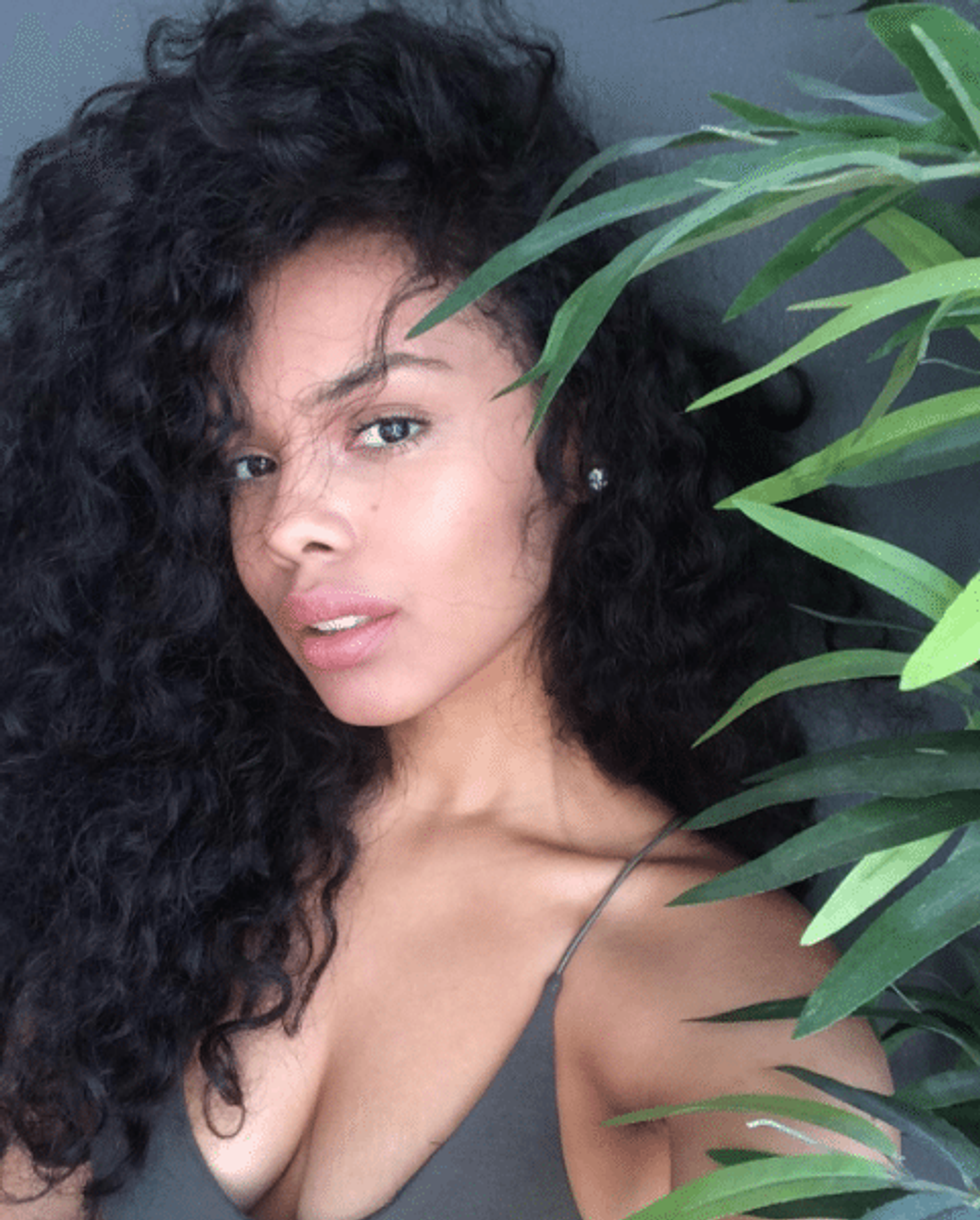 Dressed simply in a black tank top and black cardigan, though the January temperature in L.A. hit an unusual 72 degrees that day. Her long signature curls were traded in for a short cut, to the dismay of fans and friends, that made its grand debut on her social pages New Year's day—a personal decision that unexpectantly garnered nearly 40,000 likes and just as many negative comments.
"I always knew that people found me attractive, and I always knew what was expected of me," she says to me as we sit out back on the patio of an Italian restaurant. "Everyone would always come up to me and be like are you a model? Are you an actress? I never ever looked at myself in that light because I was always, I think, too intelligent to ever resort or base my entire career on just my looks. I never wanted to be in the limelight; I never wanted to be known for something or be pressured to stay looking that exact same way."
A noble thought, though in the age of social media where people connect to your image just as much as your words, it's nearly impossible to be heard without being seen. But to her credit, this isn't a path that she went looking for, becoming a poet wasn't exactly on her to-do list when she stepped onto the campus of Pepperdine University just two years ago. It's something that found her during some of her darkest days when a failed relationship had her questioning what it meant to love and be loved by another, and more importantly, to love herself.
She didn't expect that when she posted up diary-like entries on Twitter and Tumblr that she would get thousands of followers. She didn't expect that her first book, I Love My Love, would become an Amazon Best Seller just a year after self-publishing. She probably didn't even foresee that she would get placement on a major R&B artist's album, because when she started penning words from her pain, it was purely for the art, not the fame or the fortune. And despite her growing success, she wants to keep it that way.
MADE IN LA
I tell her that I'm a new L.A. resident, that I haven't even been here a year yet. She tells me she grew up in The Valley near Studio City, but that her family was far from well off.
Her mom, who had her at 16, was a nurse and her dad an artist. Growing up in the city of dreams, it's no surprise that she caught the creative bug. She got a taste of the industry through her uncles who dabbled in acting and music, but Reyna, shying away from the spotlight, wanted a career that was a little more subtle with a lot less pressure for perfection, so when her English teacher encouraged her to look into writing, she was much obliged.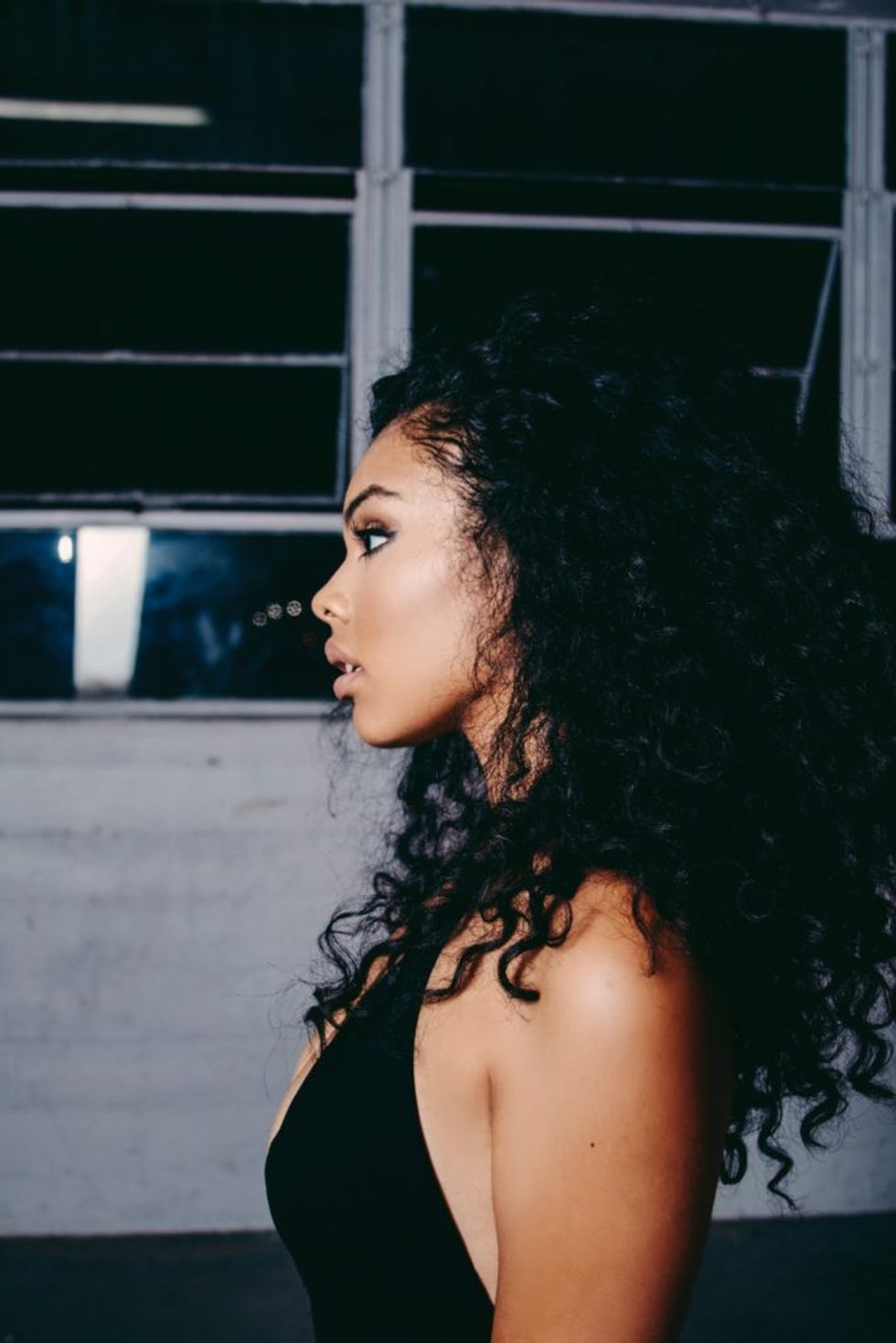 But not for long because writing, as she was told, wasn't a real job and didn't make real money. Be a model, her aunt told her. What else do you do? Her peers asked her. The constant questioning planted seeds of self-doubt, so she drank the Kool-Aid that detours many from their purpose, and tried more acceptable career paths.
Before college, she took a year off and went into music as a songwriter, but lacked the desire to write for others or to play the role of an artist. She then enrolled in school, thinking that if she couldn't help people through music, she could do it as a therapist. "Then I took psychology class and decided that I don't want to be a therapist," she says.
Okay, maybe a teacher. "I started looking into not only the salary, but the time that goes into it and I was like um, I don't want to do this."
Or wait, a Black History major. "I went to a black [guidance] counselor and he was like that's the dumbest thing you could do."
So at 21, just a year into school, she dropped out.
"I was like this is like the universe telling me that none of these things are for me," she says between sips of her minestrone soup—one of the few dishes on the menu that fit her vegan lifestyle. "My dad was like that's not it. My mom was like are you sure? My friends were like don't do it. But I've never been the type of person to care. It took me awhile, of course, to truly believe and walk in that light, because you can say you don't care but then you hear something and you start to doubt yourself. But my parents always taught me you only have one life, live it how you want it. Be a leader, not a follower."
It was, perhaps, her first lesson in womanhood—not allowing other people's perceptions to dictate your destiny. "Once I really decided to put my foot forward and to really drop out and take this writing stuff seriously, instantly I saw my future in it. And I saw how I could change my lane or how I could pursue this in a different way from what others have already done."
And she's definitely blazing her own trail.
THE LOVE DOCTOR
At 5AM Reyna rises with sun from her newly-purchased home in Woodland Hills, turns on her laptop, and spends the next couple of hours answering messages from her fans—over 100,000 on Twitter and half as much on Instagram—who turn to Reyna when they need a word of encouragement, or a simple reminder that they're worthy of love.
It started out as an online journal, love letters to herself after her ex-boyfriend, a baseball player, told her that she was a distraction that was holding him back, and that she wasn't doing anything with her life. "It wasn't the moment that I was upset the most, it was the moment that I was lost the most," she says. "Not only is he dropping this bomb on me, but also he's letting me know why I can't fit in his life. And so in him saying that I think that's what led me to start searching for myself after we were over."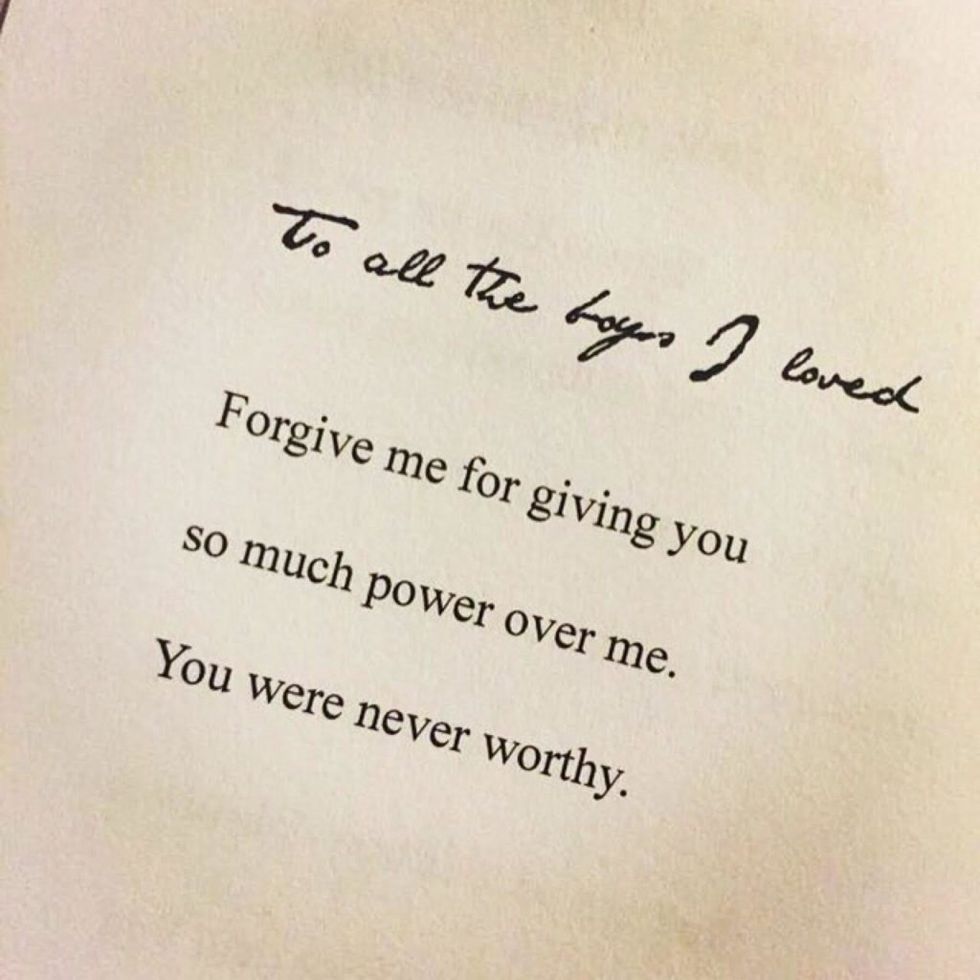 Her soul-searching process turned into a quest for love. Understanding it. Getting it. Giving it. She dug deep within herself to discover her own truth about what love is—and what it wasn't. It wasn't her ex, who made her feel worthless in attempt to preserve his own ego. It wasn't the love she witnessed growing up with a father who she later found out had a secret family on the side. And it certainly wasn't the love that she had shown herself, allowing people to treat her less than what she deserved.
Each trip down memory lane was penned over the course of three months in a collection of letters to herself, reminders that her love was infinite, and that despite what she'd been through, still worth giving and receiving.
She poured. She released. She exhaled. She healed. And when she was done, she made it her mission to put it in the hands of those who needed to do the same. Because when it comes to real love—self-love—it's always urgent like a motherfucker.
"I don't want to say I was in a rush, but I felt burdened to get this story out, and I'm glad that I did," says Reyna. "I self-published because I proved myself right, and I proved everyone else wrong because I self-published three months after I dropped out."
At the time that her book was released in December 2015, Reyna had 50,000 followers between Twitter and Instagram, a fan base almost twenty times from what she had the year before, built through consistent posts of her personal thoughts and inspirational quotes.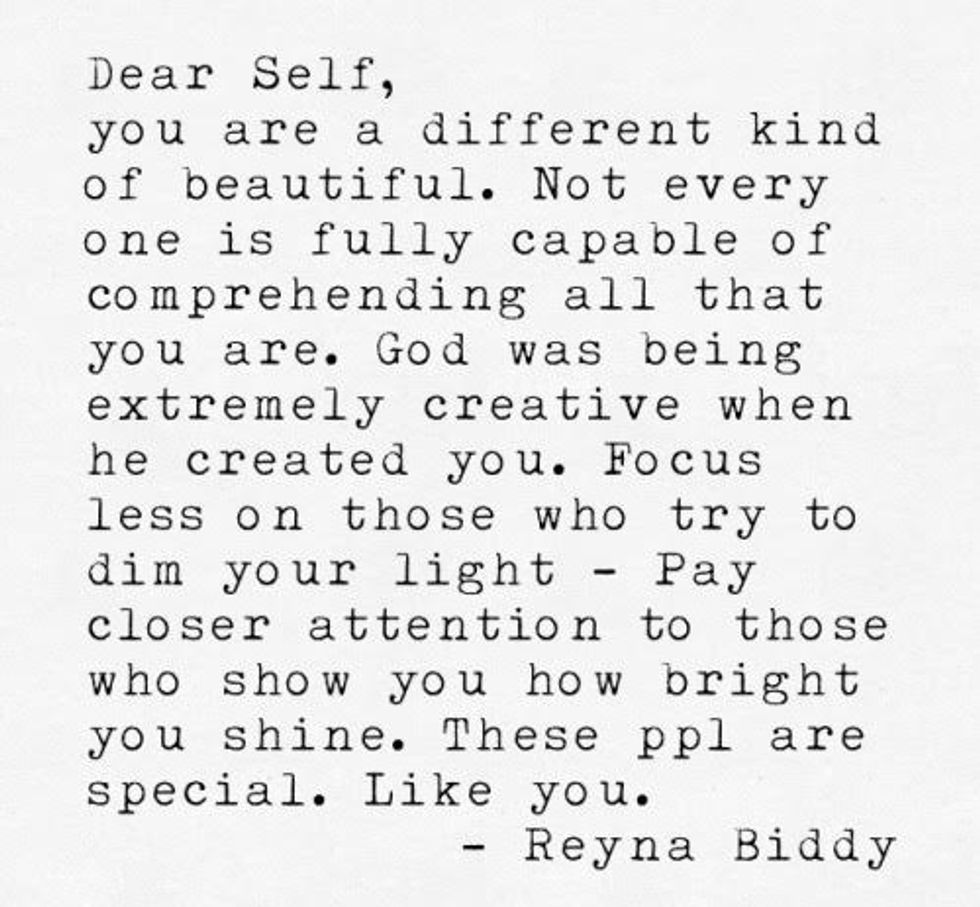 She caught the eye of another popular poet, Malanda, whose constant sharing helped catapult her audience, and when her book released she expanded her reach through Tumblr posts, amassing another 20,000 followers over the course of a year. Most of her audience, she says, varies from one platform to another.
It's not uncommon for writers to build a loyal following through standard social channels. Writers like Alex Elle and Melissa Tripp have also built an impressive number of devoted readers from their poetic prose. But Reyna tapped into another audience when saw an opportunity to combine her love for music and poetry on the music platform Soundcloud.
She teamed up with "trap house jazz" artist Masego to turn a collection of her most popular poems into ear-capturing tracks.
"I saw the reaction of it and I was just like whoa, I didn't know that was the reaction that I was going to get. I got like 100,000 plays in like three days."
Her words have not only connected with fans and fellow poets, but also artists of similar caliber. You can listen to her featured on the intro for R&B singer Kehlani's latest album, SweetSexySavage—a perfect fit for two creatives known for baring their souls.
"Reyna is the kind of girl you know is outstanding before meeting her, then once you hear her art, you search for a deeper word to describe her but can't," says Kehlani. "She's very human, but almost like a human that's been here many, many times. She's a phenomenal woman. I love her."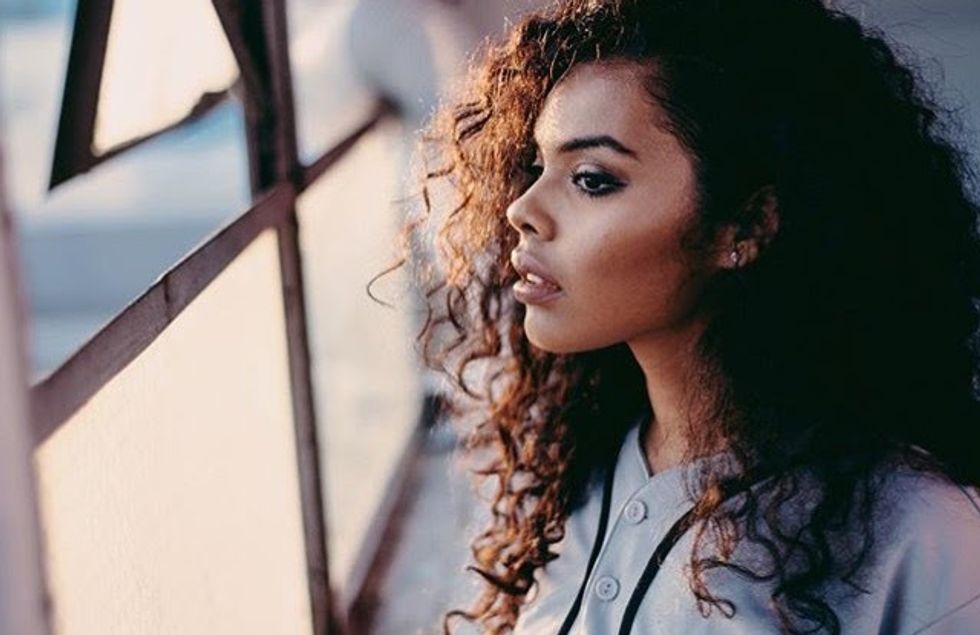 Just a year out from walking away from a college degree, Reyna has been able to earn a comfortable living at the very thing she was told would leave her in the poorhouse. No sponsorship funding, no flat tummy tea endorsements, just genuine love and dedication to her craft and a relentless desire to win. Her seemingly overnight success didn't come without putting in work though, something that she informs many other writers who reach out to her in hopes that a co-sign will lead to their big break.
"No one is going to give you anything easy," she says. "I've never asked for a handout. I've never been that type of person to be like hey can you post this link for me, so I think that maybe I'm not the person to teach someone a tough lesson, but I think that in trying to become an artist you have to learn how to do it yourself."
After reaching out to a number of publishers, she finally caught the eye of one major name who will be backing the re-release of I Love My Love, and also her second book that's yet to be announced. "I realized that this poetry industry is really small, and it's really small because no one has ever believed in it. When I was shopping my book around, I would hear so often that poetry doesn't sell."

While it's a big win for Reyna, she's not popping bottles just yet. The 22-year-old has a bigger dream to take the genre beyond just books, social platforms and small stages— though a major publishing deal is a step in the right direction.
"I want it to be bigger than what you would expect from a poet because I believe that just in general I'm a different poet. I tell it all. I do it very different because I want it to be bigger than just books. I want it to be a physical thing. I want to go on tour like a real artist. If Kevin Hart can sell out arenas, poets should be able to do the exact same thing, but we never strive to do that because we've never seen it. No poet has ever done anything like that."
"If Kevin Hart can sell out arenas, poets should be able to do the exact same thing."
The pressure that she tried to escape being a model or a music artist she's now placing on herself as a visionary. Some days it's a lot—from breaking barriers in an often overshadowed industry to taking on the problems of her followers who fill her inbox with requests for advice on life and love. She admits that she's looking for a therapist, someone to talk to when she doesn't want to burden her boyfriend or close friends with the weight of her world. Balance, at the moment, is a foreign concept to her.
"The thing with me is I know when I'm overdoing it and I know when I'm heading towards a bad place and depression is on its way, and it's not until it hits that it's like I got to stop," she says. "I have to go away from everyone. I think in that time I give myself a chance to heal, to be ready for the next couple of months."
Prayer and diving back into herself keeps her grounded, and the journey of learning to love and sharing that with the world keeps her motivated.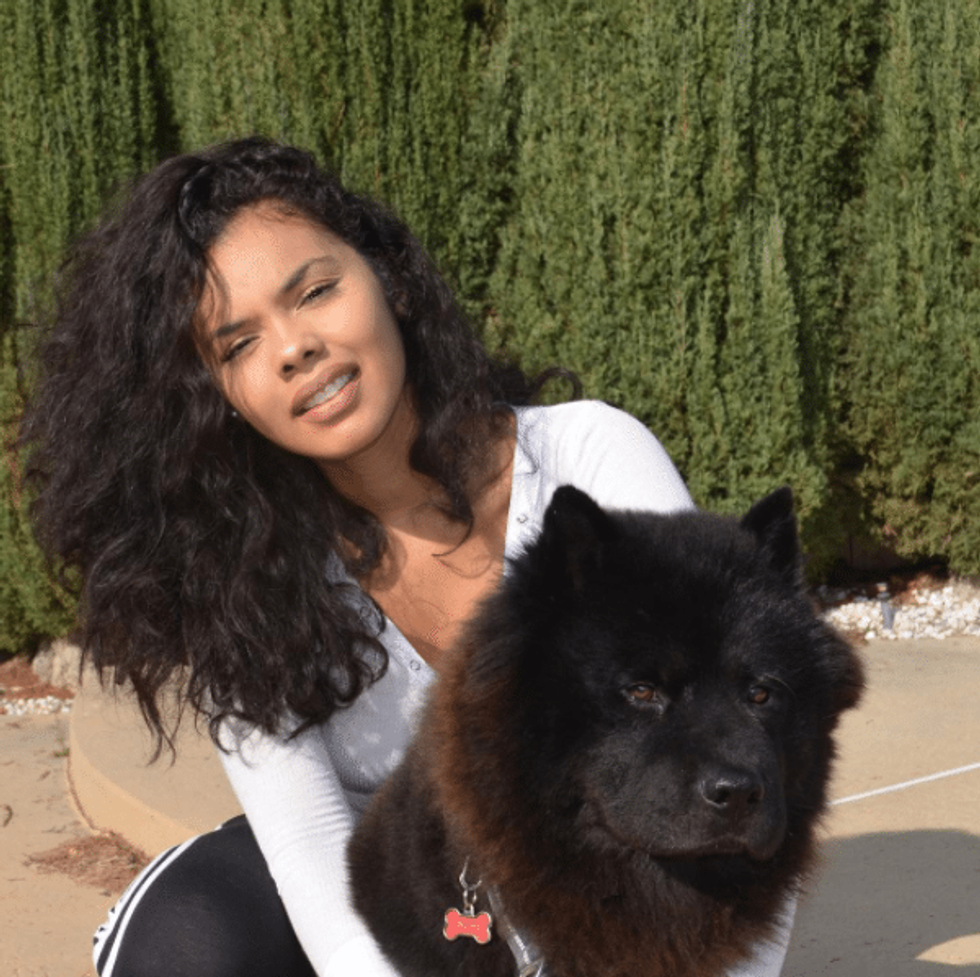 "I still don't think I know what love means," she confesses. "I just know the way that it feels. I think that I've placed myself in situations that feel right, and to me that's a part of not only regular love, but also self-love. You shouldn't put yourself in situations that you know are going to drain you. You shouldn't put yourself in situations where you know you're going to leave feeling less than when you came. So I think for me, I don't know what the average person's idea of love is, but I know that for me love means when things just feel right."
What many spend a lifetimes searching for, Reyna is discovering day by day. Love isn't a destination, it's a journey. And it requires room to learn and grow from mistakes and embrace the triumphs that are experienced along the way.

---
Check out the audio version of "10 Reasons I Could Never Stay" below!