Will Packer's series Ready To Love is back and this time it's getting muy caliente. The sixth season of Ready To Love headed down to Miami for some sun, sand, and romance. Twenty melanated singles, 10 women and 10 men come together to fall in love and find their soulmates in this social experiment. With host Tommy Miles as their guide, the cast members have to step out of their comfort zones and build connections with others in order to truly find their perfect match or weed out the ones that aren't committed to the process. In the premiere episode, the cast comes together to mix and mingle at a pool party in a luxurious mansion. While people start trickling into the party, the connections began forming.
---
However, when Tommy joined them, he reminded everyone that while they are enjoying the process, two people are going home at the end of the night.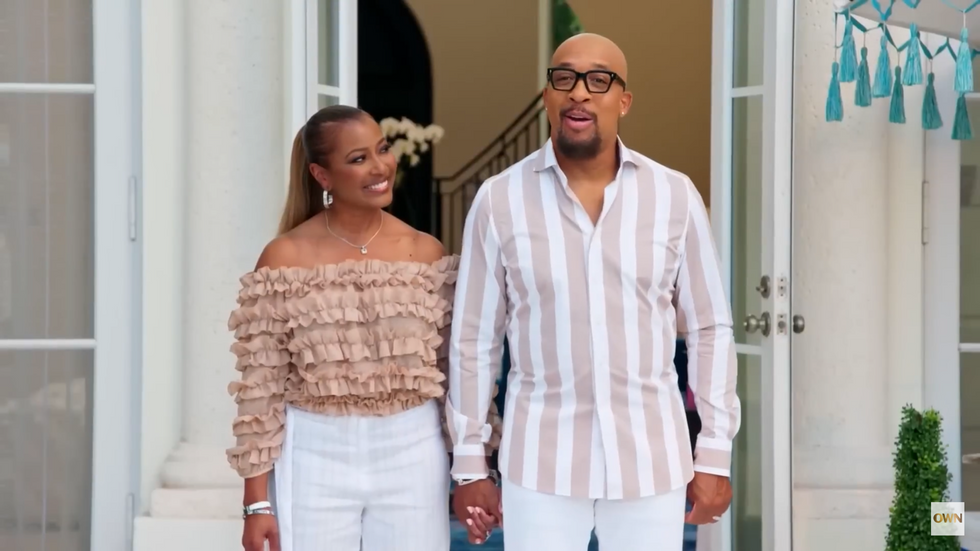 Ready To Love/OWN
There were some one-on-one connections that looked promising and then there was Justice. The 42-year-old event planner was a crowd favorite at the party. Many of the ladies such as April, Tranika, Lunie, and more were all trying to get his attention during the mixer and so he is sure to keep fans on their toes this season.
Here are some one-on-one connections to watch (light spoilers are ahead):
Sampson and Lunie 
This budding couple was all smiles during their conversation. And during her confessional, Lunie, 36, shared that Sampson, 48, had been consistent and put in the effort in trying to get to know her, which is what she liked.
Jamala and Randall
Jamala, 33, described her connection with Randall, 36, as "magnetic." Randall also gushed over Jamala calling her "gorgeous" and he admitted he had his eye on her as soon as she walked in the door.
LJ and Shakyra
LJ and Shakyra seemed to connect on a variety of levels. They both have kids and they both have been single for three years. LJ is a 33-year-old singer from the U.S. Virgin Islands and Shakyra is a 37-year-old media host/ model from Brooklyn, NY. And while they looked chummy with one another, Shakyra did mention that she typically doesn't date men younger than her.
At the end of the party, Sean was eliminated after failing to make genuine connections with the ladies. Sheresse and Dominka were also on the chopping block but were both spared.
So far, this season looks to be an entertaining one. Let's hope there are some true love connections.
Featured image courtesy of OWN/Ready to Love