Most of us like to keep it cute when shedding a light on the history of our relationships. When discussing the beautiful beginnings, we excitedly dig through the archives to relive the firsts: the first time you two met, the kiss, the date. But what some of us fail to do is remove the fluff about those firsts. We don't want to mention that our husband was unemployed at the time he wooed us. Or that he wasn't the best dresser and he needed a bit of upgrading. Sometimes, who we end up with, isn't who we met at the start of it all, but fortunately for us and our significant others, we can see through the poor style choices, financial situations or attitudes that might have turned our faces the other way. Thank goodness for the power of potential.
---
Just ask the First Lady of the United States.
In a special appearance on talk show, The Real, Michelle Obama was asked about her early beginnings with Barack, before the bling and the babies. Dishing the truth about who got better grades in, Mrs. Obama took all the credit before letting it be known that her husband would tell anyone the same thing. But it was a brief story FLOTUS would later share that not only backed her claims up, but had audience members and the co-hosts cracking up in the East Room of the White House.
"I mean, he will say it, it's not even close. Barack fooled around in high school. He's said it, he didn't take school seriously in high school, he barely got his work done – he was a bum. And it took him a second because, you know, he had to grow up a little bit. Now, he went to college, he went away right away, but it wasn't until his second year, he transferred from Occidental to Columbia College and he was like, 'I gotta make something of my life. I gotta get it together.'"
Now POTUS wasn't the kind of bum you're probably thinking of and would label. No good, do nothing, sit in the house all day-kind of dude–nah, not Barack. FLOTUS has often spoke on her past with the former senator of Illinois and their rocky start. In 2012 she said,
"...He was still the guy who'd pick me up for our dates in a care that was so rusted out, I could actually see the pavement going by in a hole in the passenger side door. He was the guy whose proudest possesion was a coffee tablel he found in a dumpster, and who's only pair of decent shoes was half a size too small."
Related: 10 Lessons Barack And Michelle Obama Taught Us About Love
But through all of that, she's always said she was more attracted to who he was as a person and it was his personality that helped reel him closer to her heart.
"What truly made me fall in love with Barack Obama was his character. You hear me? It was his character. It was his decency, his honesty, his compassion and conviction."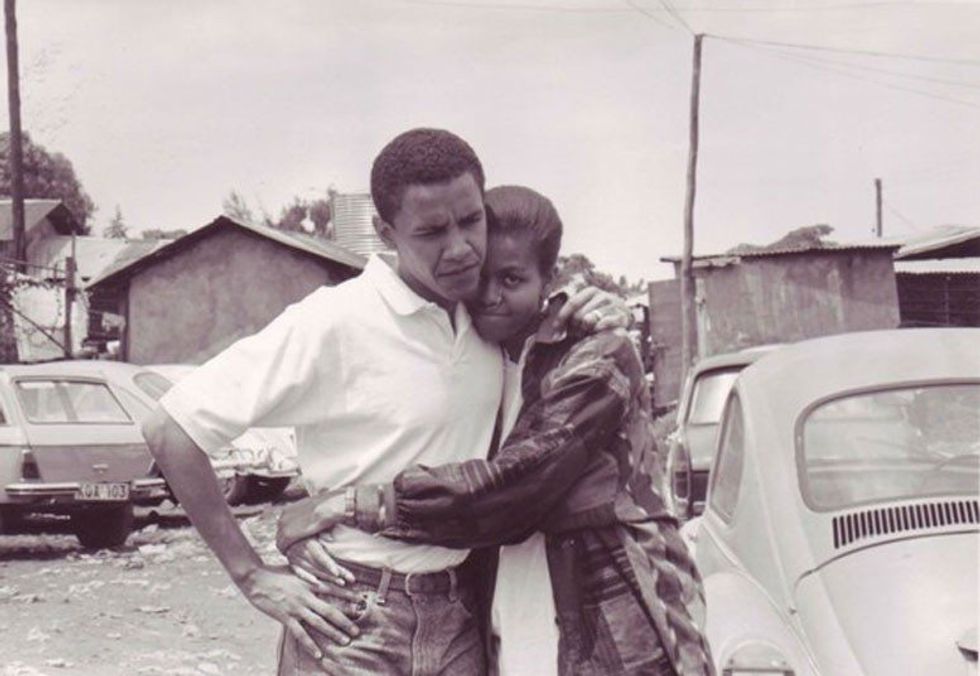 Something Michelle may not have gotten to known since she was the type to separate business and personal and was reluctant to date Barack. After working at the Chicago branch of Sidley Austin as a first year attorney, the future FLOTUS became an advisor to Barack, who proceeded to ask her out on dates. He was curved on several occasions, but the Harvard grad must have repeatedly chanted his notable "Yes we can" slogan to himself as a mantra because he surely didn't give up. Several attempts later and Barack successfully landed a couple of dates and ultimately, Michelle's hand in marriage after three years of dating.
Related: Watch: A First Look at Tika Sumpter as a Young Michelle Obama In 'Southside With You'
When they wed back in '92, Michelle said of their vows "Barack didn't pledge riches, only a life that would be interesting. On that promise, he delivered." It's been nearly 24 years since they said "I do" and Michelle has been Barack's right hand, rocking with him every step of the away–riding around in beat up cars, to the Senate, to turning the White House black.
As he couple prepares to make their exit out of the White House, they leave behind history as the first ever African-American first family, but it won't be the last time we see the inspiring couple. There's a film being made in honor of their love story titled Southside with You, featuring Tika Sumpter playing Michelle and Parker Sawyers as President Obama.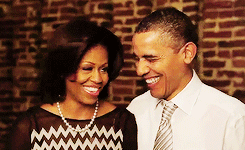 Not too bad for a former bum turned one of the biggest presidents in American history.