How We Met is a series where xoNecole talks love and relationships with real-life couples. We learn how they met, how like turned into love, and how they make their love work.
Imagine falling in love with the infamous "other woman" in your relationship.
---
What seems like a recipe for a Love & Hip Hop brawl, was actually the start of a beautiful relationship for Devri Velazquez and Allex Dean. This fairytale ending was years in the making, but both Devri and Allex have very different versions of how their unconventional love story all began.
According to Devri's recollection of their first encounter, which she affectionately described as a "hot mess", the lovebirds first met when they were just teenagers. Devri and Allex were both dating the same girl, at the same time, resulting in the same tragic ending. As for Allex, her first recollection of them meeting came much later, during Devri's college career. Allex coincidently got her hair braided by someone she would soon find out was Devri's neighbor.
The couple has now been together for two years and their love story continues to blossom by the day. Although the origins of when their love story officially began is still up for debate, there is no question on where their love story is going. "We both want to work hard to be happy and successful. We want to raise a family, own a home, and travel as much as possible," Allex explained.
Here's their story: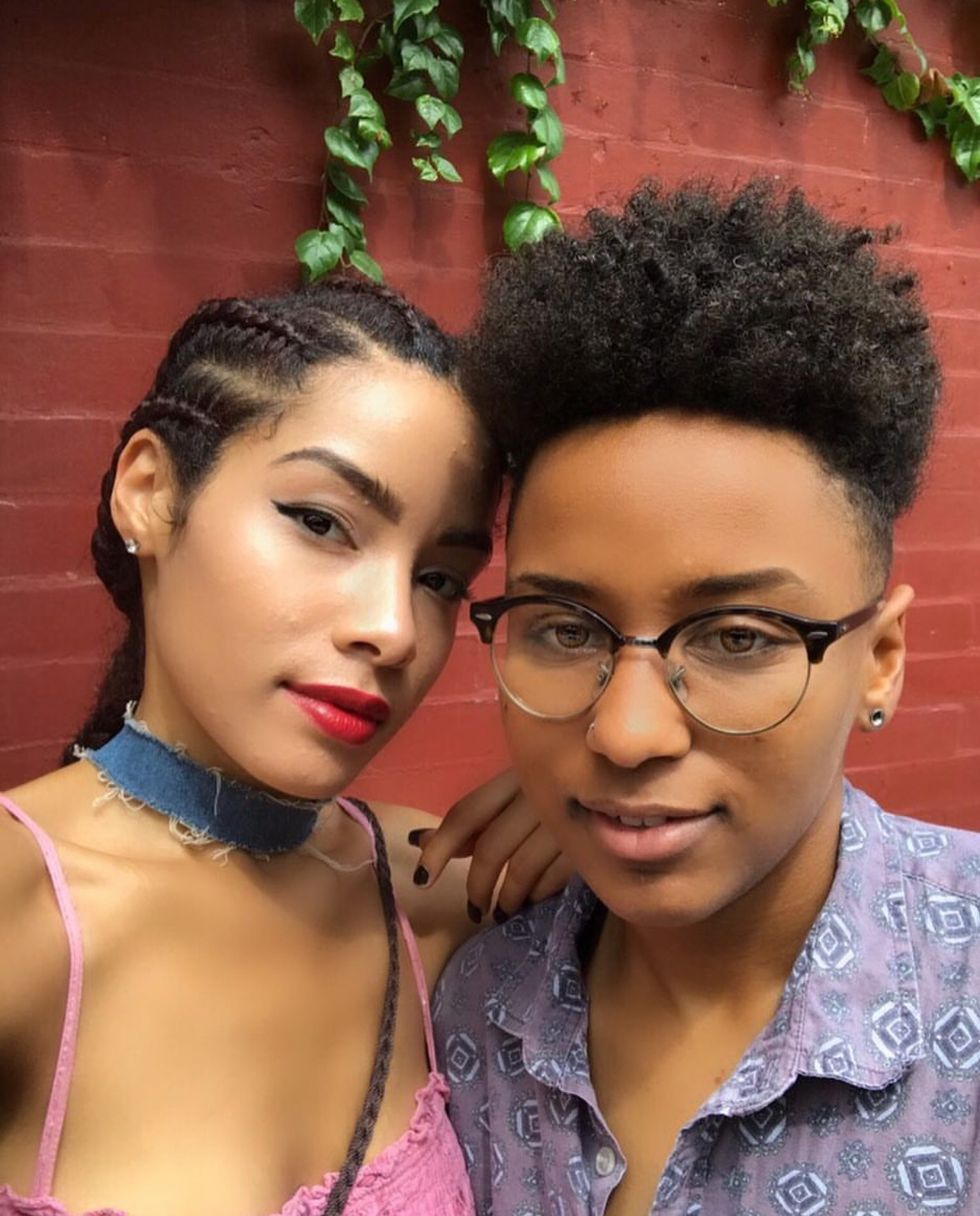 How They Met
Devri: She says we met when I was 17 in my first year of college, but I don't remember that. We were actually dating the same person back in high school, ironically enough, but we didn't know each other personally. It was a hot mess. We first officially met two years ago while I was at a work event and she came to meet me.
Allex: The first time we first officially met was in college in Devri's on-campus apartment when I was getting my hair braided by her neighbor. She says she doesn't remember the interaction but I definitely do.
First Impressions
Devri: As an adult, she was super different from anyone else I had dated. She was into fitness and I am not; she didn't have a same appreciation for the arts the way I do. I am creative and methodical, while she tends to go with the flow and think reactively. I only really knew her in passing during the high school years due to us dating the same girl (we had no idea until almost 10 years later when we reunited for our first date).
Allex: I was interested, but I wasn't sure of who she was or what I should have expected. Something about her drew me in.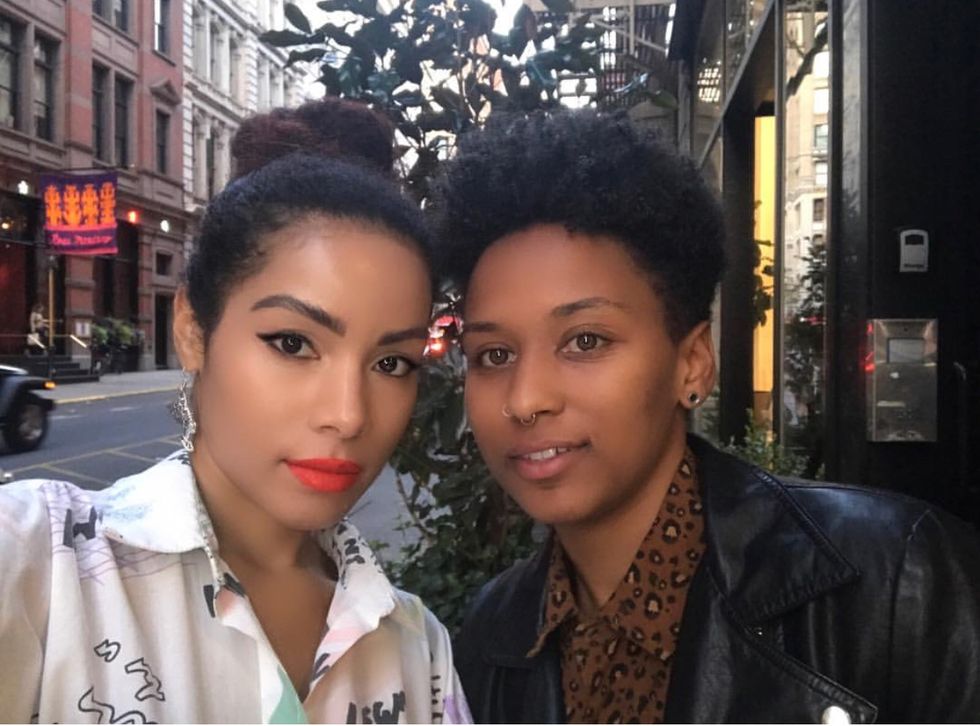 Instant Attraction
Devri: I was intrigued. I liked her arms and her unique eye color.
It developed quickly into something beyond the physical, especially once I learned how much of myself I could trust her with.
Allex: I definitely thought she was cute before I knew her, but I became more attracted to her the moment we had our first conversation.
First Date
Devri: I was trying to kill two birds with one stone by inviting her to a work event and not feeling bad if I had to bail because I was bored with her company. It turned out to be interesting, though. Afterwards, we went to a bar and talked for hours and then spent maybe another hour trying to locate where I parked my car. She stayed with me until I found it, which was a good sign.
Allex:
It was nerve-racking because it was the first time I would have seen her in almost 10 years. Once we started talking, it was informative. She was very open with me -- she let me know exactly what she had going on and what her plans were for the future. I felt like she wanted to put everything out there.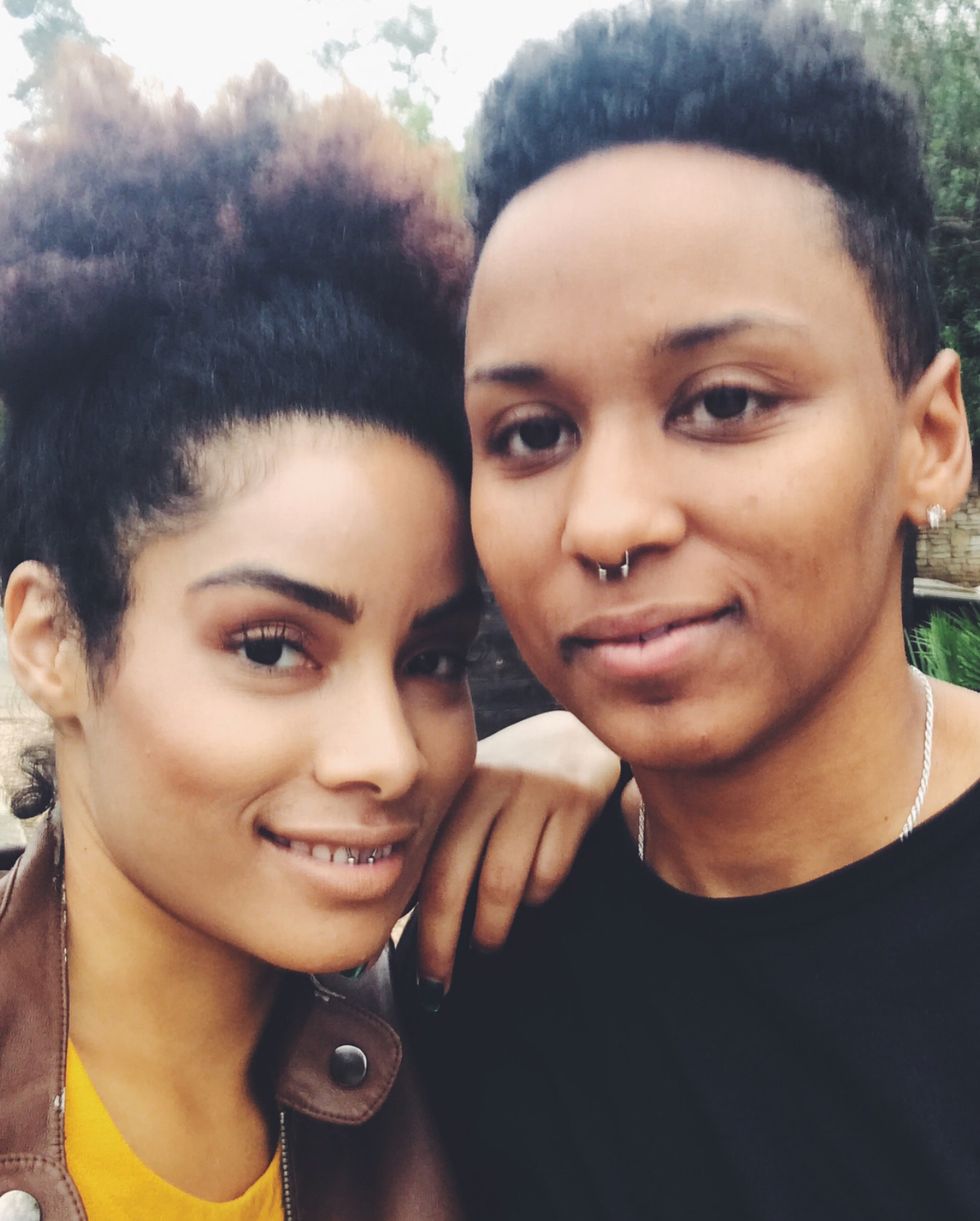 Making Things Official
Devri: I like to get straight to the point about my feelings, so I remember initiating the conversation after a date, laying everything on the table. There was no pressure, but I just wanted clarity so I could let the prospects know that I may be going on a hiatus until further notice.
Once I let her know what my intentions were for my future, I knew I could trust her with the plan, so I didn't hesitate to be exclusive. It might have taken me about three months before I was certain.
Allex: I think it was mutual and we were on the same page. We were both very open and did not hesitate to tell each other how we felt along the way. We moved slowly; we dated each other for a while before jumping into something deeper. We do our fair share of talking things out; we didn't move too fast and we communicated a lot along the way.
The more I got to know her, she was someone I could definitely see myself growing with. We shared a lot of the same values so I wanted to take the next step. Month one, I knew.
The One
Devri: I realized I didn't want to go more than an hour without hearing from her. Each day, I grew more interested in helping her see her potential, and I invested my time and energy in becoming an accessory to the dream.
Allex: I knew [she was the one] from the way I felt after our first disagreement.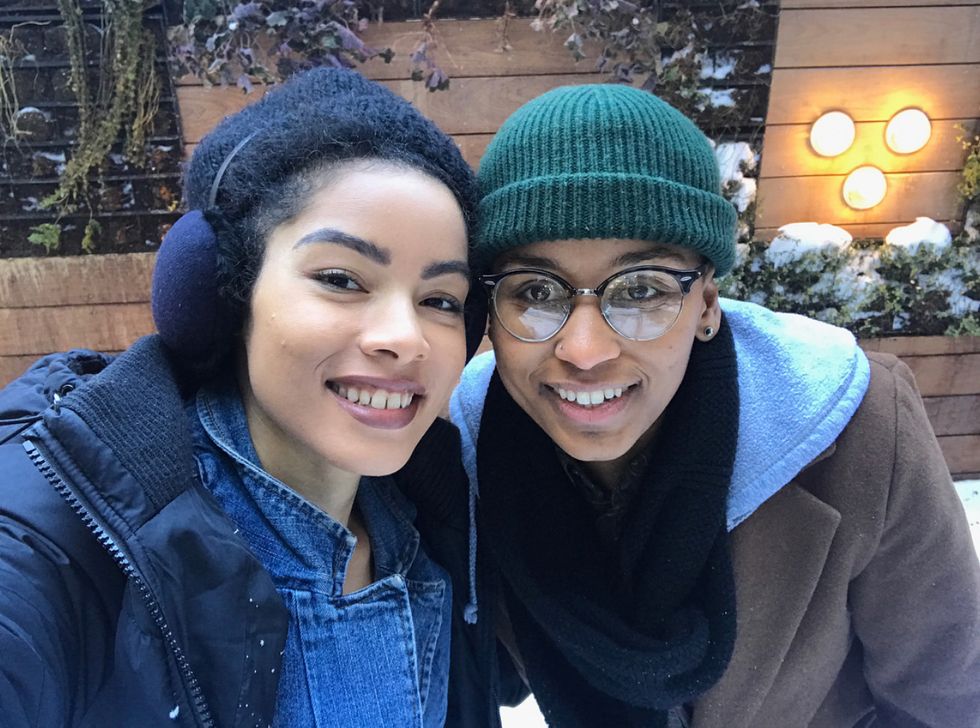 Best Part
Devri: She is extremely supportive and is a great listener. She tries hard to not interfere with me fulfilling my desires, even if she disagrees with me.
Allex: I like how silly she can be with me at times. I feel like I get a Devri that not everyone gets to see. I admire her drive and her honesty, most of the time.
Love Lessons
Devri: I've learned patience above everything else. That's something I've been working on my whole life, but she makes me work twice as hard because her habits require a lot of it.
Allex: If I didn't try to love myself, it was going to be extremely hard to love someone else, that's for sure. Devri is always pushing me to be a little more selfish and pay attention to myself, so I know now how important that is.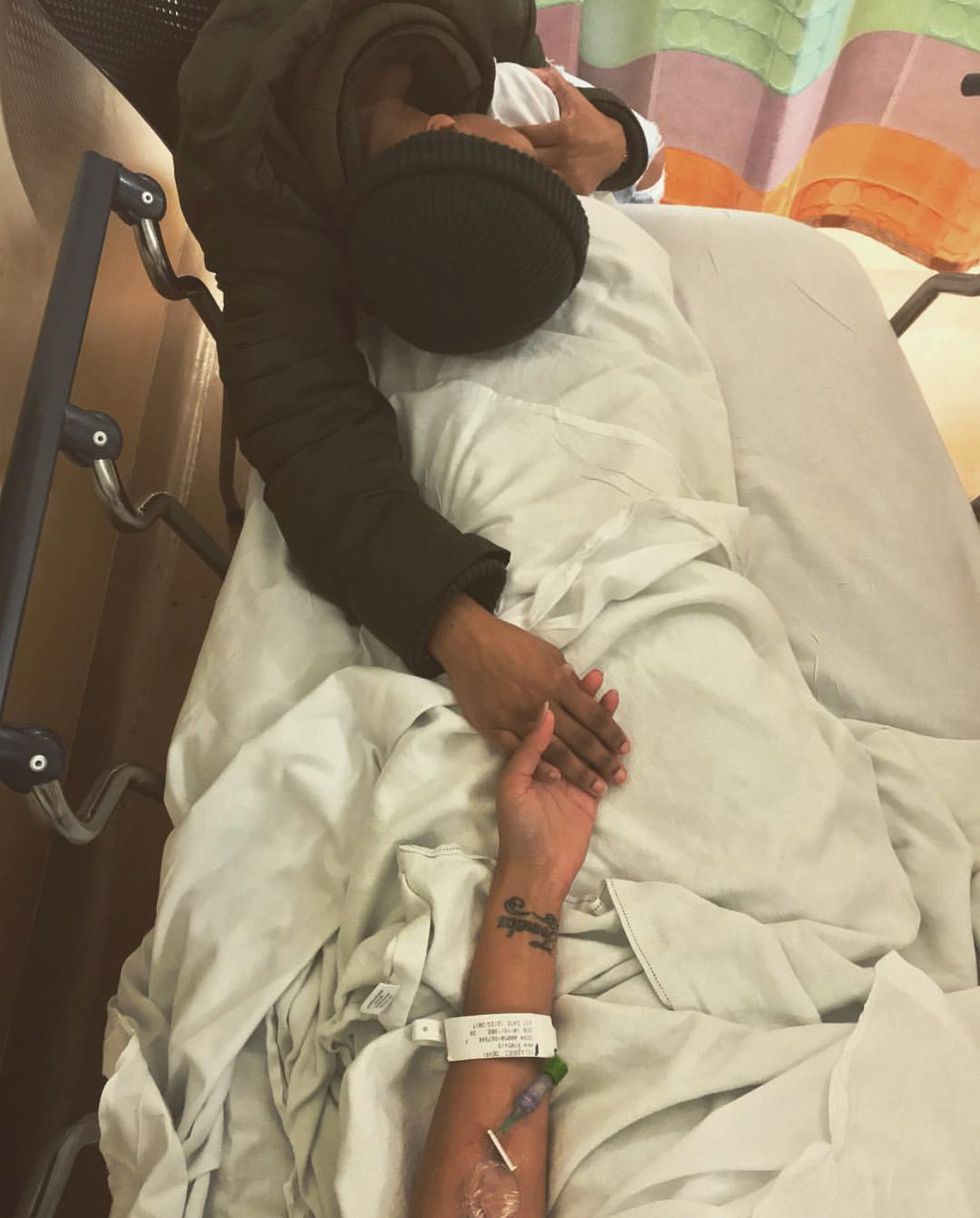 Overcoming Odds
Devri: Like I mentioned, being patient with her. I encourage her (as I do with everyone else) to unpack her childhood traumas and baggage, and it can take a toll on my energy sometimes. But she's worth it.
Allex: Devri and I are definitely two types of people, so it's a huge challenge. I don't mind going home and relaxing and I like being quiet, but she just keeps going. She's a particularly busy body.
Our differences within our personalities have been the biggest challenge.
Baggage Claim
Devri: I had to unlearn my sense of selfishness. I like to move in silence sometimes, I have a lot of emotionally intimate connections with friends, so it took me a huge revelation in losing her to come to my senses to want to be completely transparent particularly about that, even if it wasn't with bad intentions.
Allex: Devri is very particular and likes things her way, so I had to learn to change some things around. For example, making my bed in the morning wasn't such a big deal before I met Devri, but for her, it's important. Also, I haven't always been the best at managing my finances, so she has stepped in to keep me on track: different apps and practices that may have slipped my mind or I didn't think about.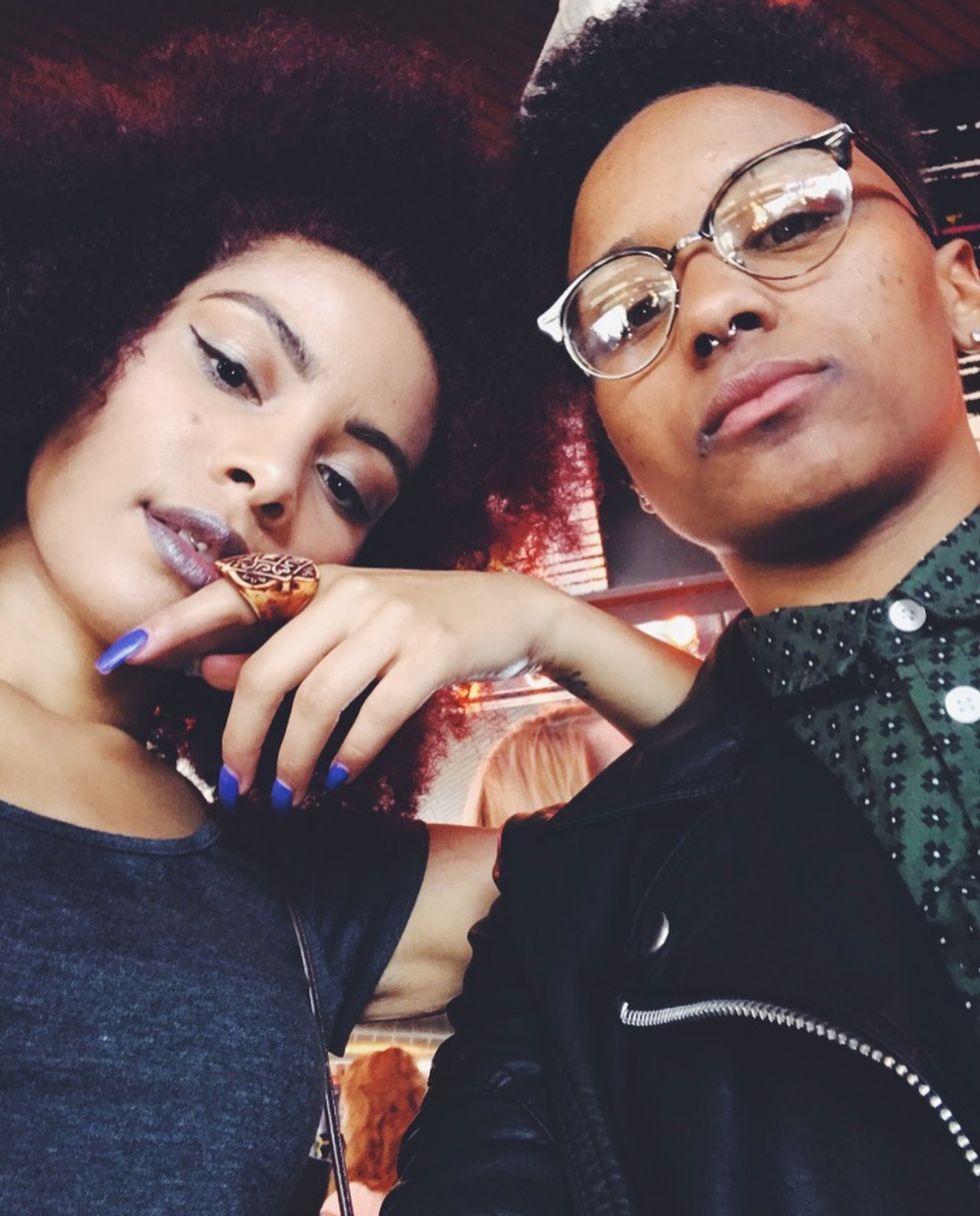 Making it Work
Devri: We spend a lot of time with each other, mostly being foodies and searching for the next best almond milk mocha.
Allex: We wake up early in the morning to go on a walk with our poodle, Coco. After work, we share a meal together and talk about our days. We also watch a lot of movies together.
Common Goals
Devri: We put a lot of emphasis on family and love. We both work from our hearts. I have always been determined to create a strong bond that resulted in success, whatever that looks like for us.
Allex: We both want to work hard to be happy and successful. We want to raise a family, own a home, and travel as much as possible.
For more of Devri and Allex, follow the two lovebirds on Instagram here and here. Click here to read past How We Met couples.