I met my husband for the first time while we were working together in the military. Immediately it was magic. He fumbled over his words, I bashfully smiled, and it was painfully obvious that we both felt butterflies.
---
From there, our casual friendship turned into a whirlwind romance. He made me dinner every chance that he got, we spent hours listening to music, we visited friends, and went on more dates than what we could count.
But for every up, we had just as many downs. The first time we broke up was as exhausting as it was heartbreaking. I cried for several days afterward, and he said that he felt like he was making a huge mistake. I threw away every gift that he ever gave me, and he avoided me. He complained to his friends, as I did mine.
While we were avoiding each other, many of our co-workers had grown very weary of watching our pettiness and pride. Some tried to break us up on purpose, because they just wanted our shenanigans to end already. But others pushed us to do what was really in our hearts, and let love prevail.
Finally, we decided to swallow our pride and make things work, and it was our best decision ever. That was nine years ago, and since then we've been through several meetings with a marriage counselor, one pregnancy, tons of crazy family members, and homelessness. Those formative dating years taught us that dating a co-worker can be tricky, yet rewarding if you're realistic and mature.
This is how I knew that Empire star Grace Gealey (Boo Boo Kitty) was speaking the truth when she talked about workplace relationships during her appearance on FABLife.
The 31-year-old pixie cut beauty now goes by Mrs. Byers after tying the knot in a private ceremony with her "Empire" co-star Trai Byers a few months ago. While she was on the show last year, Grace had some tips for anyone involved in a workplace relationship and showed off her ring. (By the way, I wish someone had told me this years ago when I was dating my husband.)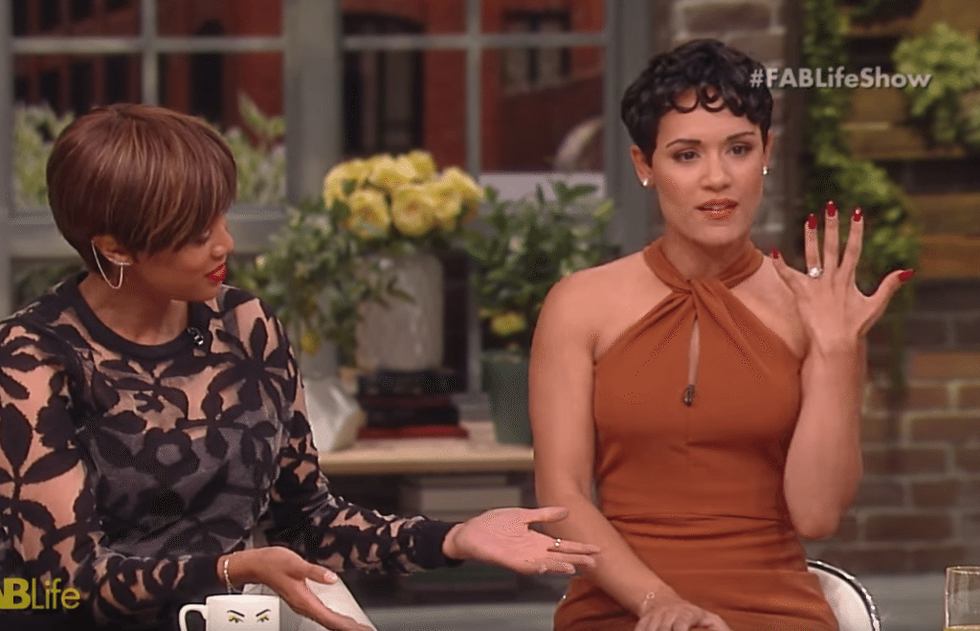 I think that if two people are mature, and they're able to understand that [if] this doesn't work out, cause first I'm not a fan of flings where you work, 'cause that's where it gets a little dangerous. I mean if you want to have flings in real life, that's fine...so I think that if you do get involved at your workplace, you have to know that this is something that you want to be invested in, and this is not something that's, you know, frivolous and fleeting. And to have the maturity to know that if this doesn't work out, you're not going to, you know, throw staplers at the other person.
Grace is one of several Hollywood workplace relationship success stories. Sometimes, you just know that the person that you're dealing with is a good catch.
Look at how it worked out for Boris and Nicole, Halle Berry and Olivier Martinez, or Ozzie Davis and Ruby Dee.
But some people aren't into, "Getting their meat where they make their bread." Take Taraji P. Henson for example. The Empire star says that she's strongly against workplace relationships, and for good reason. She learned what I failed to realize when I started dating my husband: your professionalism can be compromised as a result.
During a 2012 interview with Sway In The Morning, after being asked if she would date her Think Like A Man co-star Michael Ealy, she responded:
I don't mix my business with pleasure because nobody is coming between me and my coins.  I don't care how fine he is, and here is the deal with the dangers of playing these [roles]. When you are on the set and you're portraying these characters, those feelings are real. I mean for me, they are,  but I'm professional and I know it's a job and I go to work to make pretend and I see how people fall in love on set, but I'm smart enough to know that when they yell 'CUT'  it's a wrap. You go back to your regular life and then what happens when you find out that you really fell in love with the character because 'you, buddy are nothing like that character'. You realize that you've been living in a world of make believe. So, I try to separate the two.

Now, when the movie is over and months later there is still chemistry going, I am not opposed to exploring that, but I don't go into the job thinking, 'Oh that's who I am going to date next' because its not about dating, It's about a job.
If you do decide to date a co-worker, be smart about it. Remember that sometimes things don't work out the way you'd like. If that happens, try to remain cordial, but don't compromise of your career over a fling. If you know that the person you are with was amazing before you got involved, don't be petty and reduce them to rubble to save your pride.
Also remember that your boss is watching. If they see that you can't be mature about a workplace relationship, the fallout behind it could hurt you and the person you're involved with financially, and no one wants that.
Have you ever been involved with a co-worker? What advice do you have for them?