Since the day her pregnancy announcement photos dropped, Rihanna has been taking on maternity style her way. From exposing her growing bump in crop tops and belly chains to sexy sheer lingerie, the Barbadian singer keeps hitting us with one jaw-dropping look after another. If you look at her style trajectory, it's not surprising that Riri would express herself as a mom-to-be in this way as she has always rebelled against what society says.
---
The billionaire boss opened up about her rebellious maternity style to Bustle. "It's been me personally saying, I'm not going to buy maternity clothes. I'm not gonna buy maternity pants, jeans, dresses, or [do] whatever society told me to do before," she said. The 34-year-old mom-to-be is having fun redefining what maternity style is and what pregnant women can wear.
But according to Riri, if we think her current looks are causing a stir, we haven't seen nothing yet.
"I think [in terms of] having fun and being creative, I've had a little extra boost of that. And now I don't want it to end," she said. "There's going to be the other side of pregnancy, which is like your 'snap back' body, and that's going to be a challenge in and of itself. So I'm looking forward to being creative in that [stage] as well."
We can only imagine what else she has cooked up for her legion of fans. And while we are eating up her fashions, fans are equally excited about her becoming a first-time mother with her beau A$AP Rocky. The singer also shared with Bustle that she was excited to meet her baby.
If you take a look back at Rihanna's past comments about motherhood, then you will know that she manifested being a mom. See what she said throughout her career below:
On Where She Sees Herself in the Future
"That's a cool question. In 10 years I want to have already started my family and have some businesses of my own. A fashion line, a makeup line. And I still want to be doing what I'm doing at a much bigger capacity-by the grace of God!" viaInStyle 2008
On Giving Birth to Black Children
"I'm a Black woman. I came from a Black woman, who came from a Black woman, who came from a Black woman and I'm going to give birth to a Black woman. It's a no-brainer. That's who I am. It's the core of who I am in spirit and DNA."
"My mother is an incredible example of how to fight through obstacles in life. I'm sure her mom taught her that and that's how I'm going to be. We are impeccable, we're special and the world is going to have to deal with that." viaEssence 2019
On Wanting Kids with or without a Man
"I'll have kids — three or four of 'em. ...I feel like society makes me want to feel like, 'Oh, you got it wrong…' They diminish you as a mother if there's not a dad in your kids' lives. But the only thing that matters is happiness, that's the only healthy relationship between a parent and a child. That's the only thing that can raise a child truly, is love." viaVogue UK 2020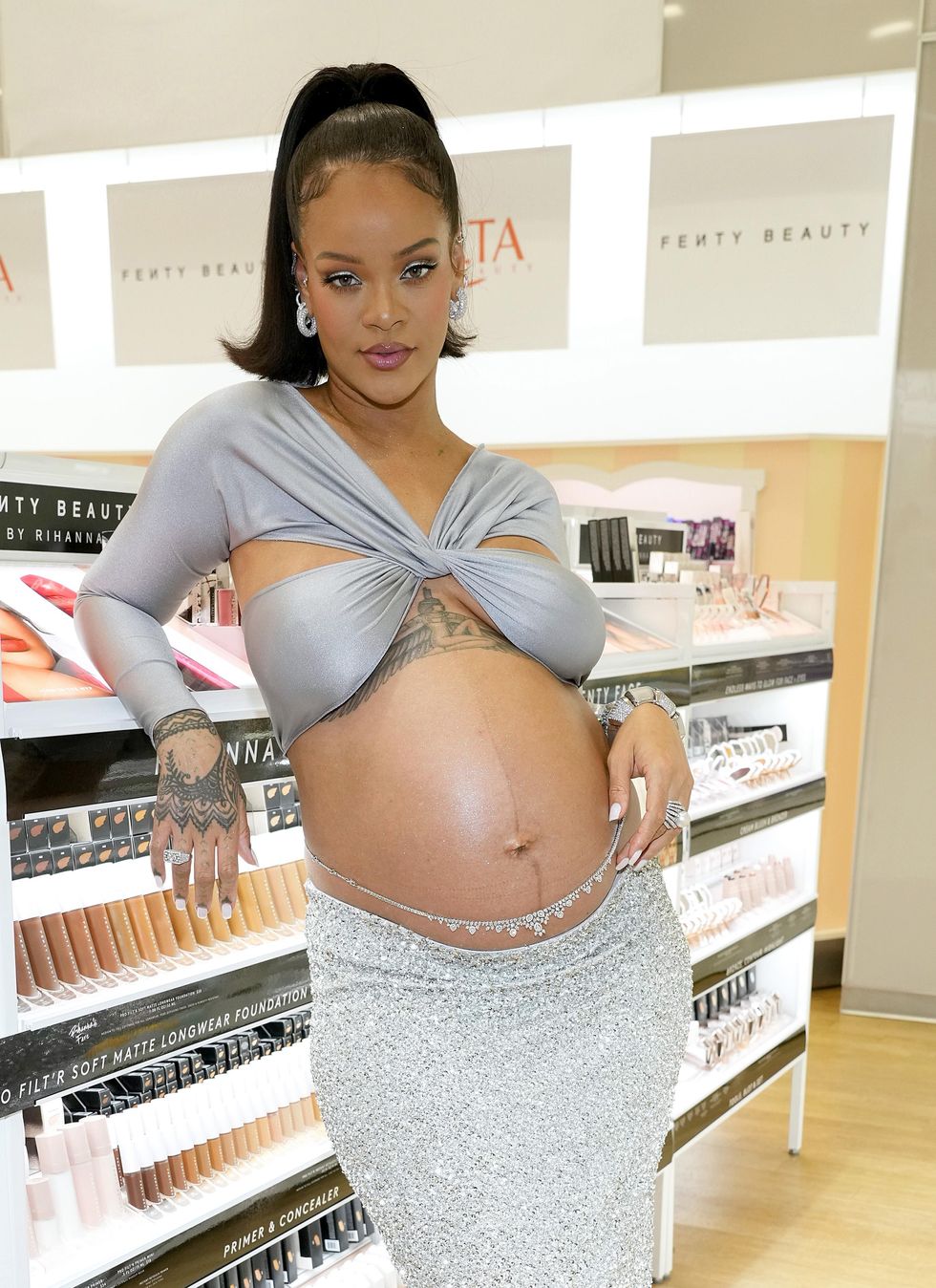 Kevin Mazur/Getty Images for Fenty Beauty by Rihanna
On Being Pregnant and Preparing for Motherhood
"I'm trying not to overthink it. I'm trying to embrace the journey as it comes, because there's so much unknown. And if I hype myself up about it right now, I'll just get too anxious and get overwhelmed. And, today is already enough for me to deal with, right? Getting up off the couch, figuring out what I'm going to wear, wearing heels, getting dressed."
"Everything that seems simple is such a task right now, so I'm just going to go step-by-step. And it's not like I could run from any of what's to come. When I'm faced with it, I'm going to handle it like I know best. The one thing I've learned the most during pregnancy is no one can truly prepare you. No matter how many stories you hear, your journey is so unique to you and you could never be prepared enough. You just have to embrace the journey." via Bustle 2022
Let's make things inbox official! Sign up for the xoNecole newsletter for daily love, wellness, career, and exclusive content delivered straight to your inbox.
Featured image by Kevin Mazur/Getty Images for Fenty Beauty by Rihanna