Truth Hawkins
Lover of tacos and a killer jacket. Keanu Reeves is bae. Mother of two amazingly awesome children. I live by one rule: Don't be a Richard. Follow me on Instagram @truthhawkins.
Are you hip to the latest trends in health and wellness? Then you've likely heard about sound baths or implementing adaptogens, a killer combo of herbs and roots into your diet, to raise your vibrations! But, how about crystals? Sure, they sparkle and shine! However, according to the world of complementary and alternative medicine, they do so much more.
In fact, it's believed that holding or placing these gems on your body, aka "crystal healing" can promote a sound mind, body, and soul by positively interacting with your body's chakra. Of course, with each crystal comes its very own medicinal power. Think alleviating stress, restoring vitality and energy levels, improving concentration or creativity – they're even said to be grounding!
Boasting such a promising list of "health wealth", we had all the questions (all the questions). So, we enlisted the help of radio and television host turned multifaceted wellness advocate and speaker, Devi Brown. Here's what she had to say about your next wellness move.
What are healing crystals?
"Crystals are energetic entities that were formed by the earth many millions (and in some cases billions) of years ago," says Brown. "They are found in all parts of the world in mountains, underground and the earth's crust. Though not seen by the naked eye, they have scientifically proven energetic frequencies that emit from them," she adds of their innate healing powers. "It is believed that when we harness the energy of crystals, they can aid us in transforming ourselves mentally, physically, emotionally and spiritually. The use of crystal healing has been found in texts from India and China dating back as far as 5,000 years!"
What are the benefits of healing crystals?
Brown states, "When you find the right crystals for you, their energy will work in harmony with yours to enhance your life and reveal things to you that have been out of reach." Keep in mind, there is a little prep work on your part. "When you get your crystals, it is important to 'Set an intention,' meaning, spend time thinking about the way you want to harness the energy of the crystals in your bliss bag to help you manifest your deepest desires," the founder of Karma Bliss and bestselling author of Crystal Bliss advises.
How can we incorporate crystal healing in our wellness regimens?
For starters, Brown suggests, "Whether you choose to use crystal face rollers, crystal infused water bottles or my "Bliss Bags" filled with loose stones, the most important thing is that you keep them near you. They work best when you carry them with you, meditate with them, set them on your nightstand or keep them on your desk at work!"
Don't know where to start? Here are our top picks:
Clear Quartz
A go-to for beginners, this bad boy is a great stone for setting clear intentions. The stone is also said to contain energy amplifying properties. Can you say win-win?
Amethyst
Among the more popular crystals -- used in the home as décor -- this pretty, pale purple stained stone is commonly used to treat anxiety, stress and headaches. It also comes in clutch for boosting psychic ability.
Tiger's Eye
Known widely for its striking appearance, Tiger's Eye is a surefire option for those yearning for grounding; by boosting self-confidence and encouraging growth.
Featured image by Shutterstock
Want more stories like this? Sign up for our newsletter here to receive our latest articles and news straight to your inbox.
When it comes to balance, we often think about work, love, and family; but what about what we like to do to let loose? As a single mother, I'm totes guilty of putting "fun" on the back burner. Between pushing upwards of 50 hours a week at work and mommin' it around the clock, I found the things that once piqued my interest quickly fade into nothingness. It wasn't until I began volunteering with my daughters weekly at local initiatives, that I crawled out of the rut that is better known as a stick in the mud.
So, if you're anything like me -- searching high and low for fresh ways to spice up your life, check out 10 cool and low-cost hobbies for the multifaceted woman below.
1

.

Learn A New Language
You heard it from Drake. "I could teach you how to speak my language, Rosetta Stone." In other words, what better way to enhance your living experience than learning a new language? Maybe French -- the language of love? Or Spanish, the official language of Mexico, Argentina, Chile, the majority of Central and South America. Not to mention, you'll join nearly 67 million Americans who speak a foreign language at home. Impressive!
How to get started:
Begin with the ever popular subscription service Rosetta Stone, the industry-leading way for individuals looking to learn a new language. Not to mention, there are countless apps geared towards both serious learners and beginners. That said, Duolingo, LinguaLift, Babbel and MindSnacks are all awesome options for the learner on-the-go.
2

.

Take A Dance Class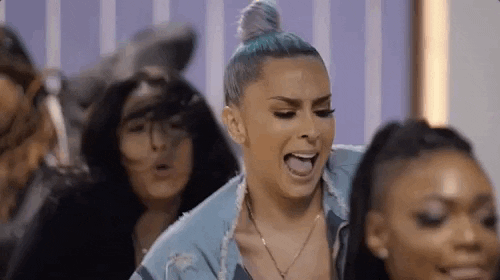 Great for the mind, body and soul, taking a dance class is a surefire way to add a pinch of spice to your life! The options are endless: ballet, hip hop, swing dancing, salsa, contemporary dance, etc. The best part? You're never too old to start!
How to get started:
YouTube isn't just for influencers! In fact, the internet's leading social network is chock full of tutorials from leading dance groups to individuals simply dancing for shits and giggles.
3

.

Try Your Hand At Acting
The benefits are physical, emotional, and social! You'll learn how to think outside-of-the-box, improve your verbal and nonverbal communication skills and gain a new sense of self-confidence!
How to get started:
Discover local acting classes on meetup.com. Complete a Google search for "acting classes in my area," or explore adult activities at a local community college or theater.
4

.

Spice Things Up With A Cooking Class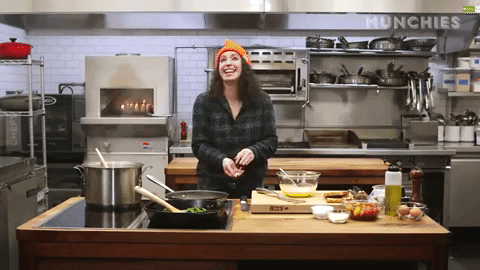 Sure, cooking is a basic survival skill. But, it's also a lot of fun. Whether it's tacos, classic Italian cuisine, or sushi -- food can sometimes act as the heartbeat of conversation and connection. So why wouldn't preparing it be any different?
How to get started:
Invest in a unique cooking class -- Sur la Table is located nationwide and offers classes ranging from a Homemade Ravioli Workshop to Knife Skills 101. Or, cook with family and friends by way of a meal subscription box. Airbnb just recently launched Airbnb Cooking Experiences due to bookings for food and drinks being so in-demand. Currently, the platform offers over 3,000 cooking classes in over 75 countries worldwide. So get in where you fit in.
5

.

Spinning Class 
By now, you've heard of "spin class" or "indoor cycling". The atmosphere oozes teamwork and the playlist is pretty sick too (especially if you opt for a fun class like Vibe Ride's Trap It & Twerk It Ride)! With classes ranging from 45 minutes to an hour, you'll burn anywhere from 600-1000 calories and strut out feeling like you're ready to take on the world!
How to get started:
Begin with visiting some of the more popular studios like CYCLEBAR, which offer a complimentary first class. Happen to fall in love and the studio isn't your thing? There's a variety of cycling bikes you can buy for home use.
6

.

Improv Comedy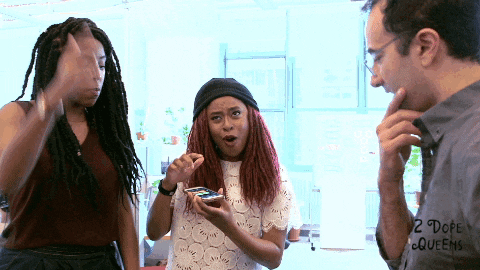 Connect with like-hearted lovers of comedy by trying your hand at live theater. You'll be forced to come out of your shell and, much like work and life, channel your inner teamplayer when tasked to create challenging scenes on stage.
How to get started:
If you're considering getting into improv, the best way to know for sure is to take a class. Joining a class will teach you more about the genre itself as well as equip you with all the tools necessary to fine-tune your craft. There are different levels, including a beginner's class, so you'll feel welcomed and supported as you enter the unknown.
7

.

Learn An Instrument 
Learning an instrument doesn't only reduce stress and cultivate creativity, it increases discipline, emotional perception and confidence. Can you say win-win?!
How to get started:
Currently on my bucket list, getting started is as simple as checking out local used instrument options. For example, OfferUp, and good ole Craigslist all have awesome options on a budget. The best part? Should you discover you're not very musically inclined, it's a modest hit to your wallet.
8

.

Paint-and-Sip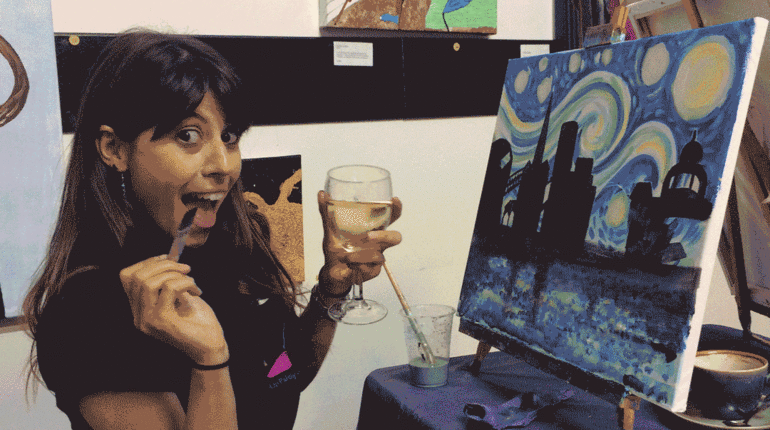 Group activities aren't just for team-building. They're a great way to express yourself, meet new people and enjoy one of the most ancient forms of human communication; art. Fortunately for paint-and-sip classes, if you're not quite Picasso, you'll have a glass of bubbly to wash it down.
How to get started easily:
Check out Groupon, LivingSocial, and Localflavor "things to do", and you're bound to land on a variety of local paint-and-sip options.
9

.

Do-It-Yourself (DIY)
Fancy yourself a pioneer kind of woman? Level up your craft game by exploring the world of do-it-yourself.
How to get started:
Grab a book on DIY and begin by fixing something around your house, add some flair to your wardrobe or give your family and friends homemade gifts for the holidays. You'll learn a new skill while enjoying a favorite pastime!
10

.

Pay It Forward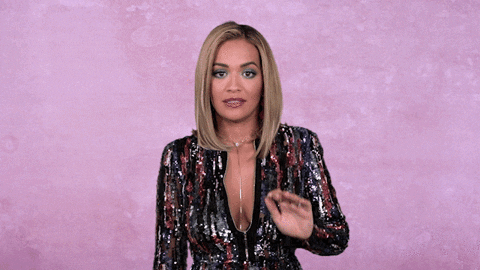 Looking for added fulfilment or purpose in your life? What better way to pay-it-forward than by volunteering for a cause you're passionate about. You could help people in underserved communities, fight for the environment or take care of homeless animals.
How to get started:
Begin in your local community. There are countless ways to volunteer at local soup kitchens, shelters for women and children, the Salvation Army, Goodwill, your church and more.
Want more stories like this? Sign up for our newsletter here and check out the related reads below:
6 Ways To Escape When Your Dream Job Becomes A Nightmare
Why Twerk Cardio Should Be Your Next Workout
7 Things Successful Women Do More Of On The Weekends
Featured image by Shutterstock
As a woman living the modern life––balancing career, love, and family––we soon begin to get serious about self-care. Whether feeling the anxiety of an approaching deadline, carrying the load of stress that is parenting, or battling a relationship rut, we often find ourselves bogged down by a state of strain or tension. Fortunately for us, modern-day medicine is here to save the day!
Meet adaptogens, the latest buzzword in health and wellness. Used for centuries in Chinese and ancient Indian healing, these herbs and roots are said to aid you in omitting life's mini-meltdowns and so much more. Here's what you need to know:
What TF Are Adaptogens?
Adaptogens, in layman's terms, are non-toxic herbs and roots that come in a variety of forms––each containing powerful properties for combating life's common woes.
What's All The Hype Around Adaptogens?
It's no secret that stress-related health illnesses have reached an all-time high in the United States. In fact, a U.S. Department of Health and Human Services' (HHS) report showed nearly half of all Americans use at least one prescription drug and one in six are taking upwards of three or more medications. Tack on the use of energy drinks––an obnoxious dose of caffeine and sugar––to put some pep in our step and we've reached epidemic proportions!
So, whether you're prepping for a week of meetings, channeling your inner soccer mom, or studying for finals, adaptogens––known for fighting fatigue, easing depression, anxiety, and boosting overall wellbeing––may be the key to getting you through.
How Do You Implement Adaptogens Into Your Diet?
Take in the morning along with your multivitamin, eat with a meal or brew into your go-to tea of the herbal variety. No matter your poison, here are our top picks for adding adaptogens into your diet.
7 Adaptogens To Add To Your Diet
1. American Ginseng
Comes in handy for those yearning to boost their immune system as well as their working memory and reaction time.
2. Brain Dust
Powered by Moon Juice, this supplement claims to "enhance focus and mental stamina, promote mental clarity, promote a positive mind and mood, and alleviate the effects of stress."
3. Holy Basil
Chocked full of vitamin A and C, calcium, zinc, iron, and chlorophyll, studies support the use of the entire plant as it reduces stress, sexual problems, sleep deprivation, forgetfulness, and exhaustion.
4. Licorice Root
Used for centuries to treat a variety of ailments, licorice root is best known for treating skin inflammation and infections like eczema, kill bacteria causing tooth decay, and much more.
5. Moon Juice Sex Dust
Sex Dust is a blend of Shatavari, Shilajit, Epimedium, Schisandra, Cacao and Maca said to target stress and support healthy hormonal balance. The best part? Combined, this concoction is believed to ignite libido and increase energy in the bedroom.
6. Turmeric
Also known as the spice that gives delicious curry its yellow color, when consumed with curcumin, this medicinal herb kicks inflammation to the curb.
7. Siberian Ginseng
Native to Japan and northern China, among others, research suggests this herb may help improve fight-or-flight stress responses, improve sexual health and increase nervous system function.
Though, there's been little testing on human subjects. As with any supplement, adaptogens may have side effects. So, do your research and contact your healthcare provider before beginning a new herbal regimen.
Want more stories like this? Sign up for our newsletter here and check out the related reads below:

I Had Chronic BV Until I Said Goodbye To Antibiotics And Hello To Holistic Health
How I Healed My Uterine Fibroids The Holistic Way

10 Healthy Holistic Practices That Promote Mental Wellness
The 7 Supplements That TOTALLY Changed My Life
Featured image by Shutterstock.
Did you know that xoNecole has a podcast? Subscribe on Apple Podcasts or Spotify to join us for weekly convos over cocktails (without the early morning hangover.)
As the New Year approaches, you're likely asking yourself, "How can I level up in the coming year?" Because… goals! And while you may notice a few recurring trends: exercise more, travel more, lose weight, and get organized. Sound familiar? What you might not realize is that your list of New Year resolutions isn't complete without exploring the latest millennial wave in health and wellness: sound baths.
Keep reading for everything you need to know about your next wellness move:
What is a sound bath?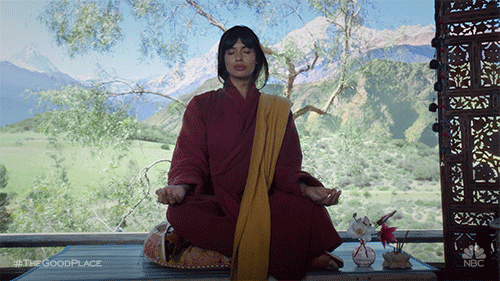 Though a newer craze in western society -- sound baths, aka an immersion in sound frequency -- aids to guide participants into deep meditation. Believe it or not, the ancient, alternative healing practice is said to predate Christ. Yep, that's right!
Now, think of the last time you were at a concert, blasting the music in your whip while singing along to Lizzo's "Good As Hell", or posted up in the club. Now, multiply that by 10. While there's literally no water involved, a sound bath is a full body experience using a variety of crystal bowls, gemstone bowls, cymbals, and gongs to create repetitive sound frequencies. The end result is said to take your meditative experience to the next level!
What are the benefits?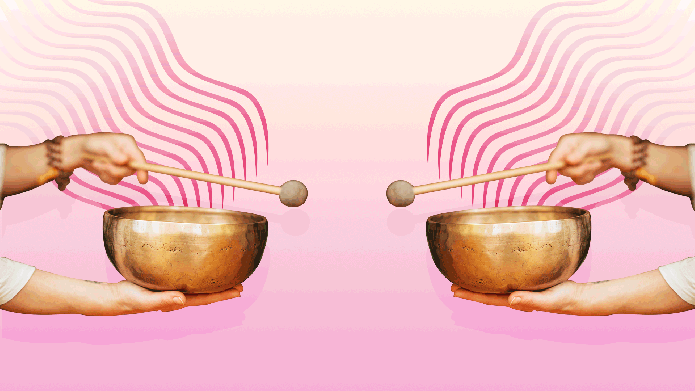 Practiced by Tibetans for more than 2,000 years, it's believed that Greek physicians used a variety of instruments including flutes, lyres, and zitters to heal their patients. They also used vibration to improve digestion, treat mental illness, and soothe sleeplessness. Meanwhile, ancient Egyptians recount musical incantations for healing the sick. Research dating as far back as the 19th century even credits the relationship between music and healing to improving:
high blood pressure
stress and anxiety
overall wellbeing
What's all the hype about?
If having a slew of A-list fans like Jhene Aiko, Kendall Jenner, Robert Downey Jr., Charlize Theron, and Laurence Fishburne isn't enticing enough, everyone is talking about it! In fact, Aiko recently gave a nod to the healing practice when she dropped a six-minute sound meditation track titled "Trigger Protection Mantra" before promising followers on Instagram more immersive sound bath experiences. "Color therapy + aromatherapy + sound healing + modern mantra + conscious breathing = an experience of a lifetime," she wrote. Adding, "this is what I am here to do and I am so grateful for the peace and clarity I have found on my path." Need I say more?
How to invest in sound bathing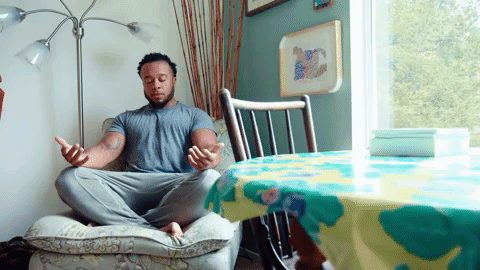 There's a slew of options! Try a group sound bath session -- prices can range from $30 to $65 -- or for a pretty penny, a private sound bath. Not ready to immerse yourself in the sound of music among others? No problem! You can experience a similar level of relaxation from the comfort of your home!
Here's how: Center yourself in a comfortable place. Sit on a cushion and surround yourself with your crystal bowls. Enhance the ambiance by lighting a candle to evoke spiritual energy. Now, sit back, relax, breathe, and feel the music -- even sing.
Want more stories like this? Sign up for our newsletter here and check out the related reads below:
How Wellness Enthusiasts Approach Productivity Differently
The First Time I Tried Acupuncture
Oat Milk, Tongue Scraping, Transformative Travel & Other Women's Health Trends
Featured image by Shutterstock
Did you know that xoNecole has a podcast? Subscribe on Apple Podcasts or Spotify to join us for weekly convos over cocktails (without the early morning hangover.)
We hear it all the time -- at least within the workplace! Perception is reality; mkay! In fact, in psychology, better known as "person perception", this term refers to "the processes by which people think about, appraise, and evaluate other people." In other words, we're all a bit judgy by nature. And based on past experiences, sexual orientation, religious beliefs, social status, emotions, personal agendas–you see where I'm going here–we can be quick to make snap judgments.
Think about the last time you met a new co-worker, friend's boyfriend, maybe even a first date. You immediately began to draw conclusions based on the firmness of their handshake, attire, the way they groomed their hair; each impression having a lasting impact despite knowing very little about the individual. Of course, if you're living in a modern-day rom-com, a la Gabrielle Union, you're likely to win 'em over each and every time. Only, in reality, this typically isn't the case!
So, when can the perceptions we form have a negative impact on our reality? Let's take a stroll down memory lane.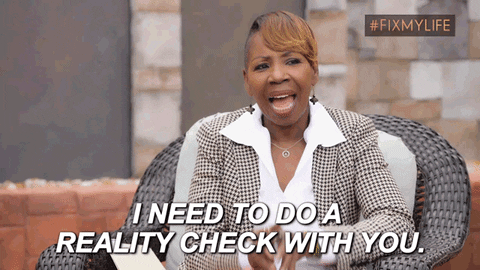 media.giphy.com
In 2017, I signed my life away and returned to the 9 to 5, after spending the former seven years freelancing. Unlike my counterparts–many 10 years my junior–I entered the tech world sans a degree, very little technical knowledge or business acumen and all the anxiety. To mask both the fear of failure and showing my age, I did what I do best: fake it until you make it, hunty! And boy, oh boy, did I play the part. You know how the saying goes: "I may be ghetto at heart but my customer service voice went to Harvard."

Only, as I became more comfortable in my newfound skin, I received feedback I was giving off the wrong impression.
While I assumed walking tall, speaking with authority (always with a side of compassion), and taking initiative were all covet-worthy characteristics, for some, these qualities made me less approachable–at times even intimidating. As one who prides herself on being rightly-related, this really irked me! So, I sought out feedback–not from friends or close co-workers–but from those I seldom interacted with.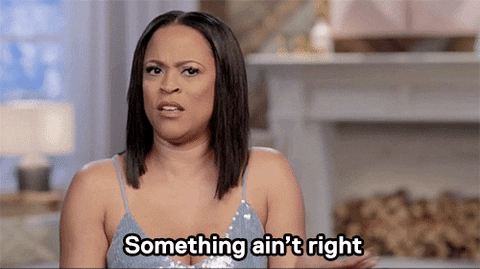 media.giphy.com
What did I learn? Perception is NOT reality. Yep. I said it. Sure, I have killer resting b*tch face and could channel my inner Disney Princess a bit more. However, in "reality", the root of the matter was, because I carried myself with confidence, set the bar high, pushed others to be their best self, and held them accountable, I was indeed a force to be reckoned with–one to watch. All things I was previously meant to believe were undesirable based on someone else's preferred so-called reality. Now, this isn't to say I don't have things to work on. I'm certainly a work in progress.
This is a simple reminder that, while perception can have a powerful influence on the lens with which we view the world, it's often out of touch with reality.

Do you often find yourself making conclusions based on perception, or worse, often misunderstood? Here's how to manage how others perceive us.
Eliminate assumptions. No one likes to play the guessing game! Instead, seek validation.
Ask plenty of questions. Right or wrong, it's important to be respectful of others' perceptions. They may have good reason to feel the way they do. In situations like these, it's best to talk it out, ask plenty of questions, and listen. Chances are they'll be watching to see if you were paying attention.
Check your own perceptions at the door. Be mindful of the perceptions you yourself create. Do they hold up? Could they use a modification or two?
Assume positive intent. We're all carrying some sort of load. That said, always assume others are making decisions regarding their actions with the best of intentions.
Be yourself. Be kind. Be authentic. After all, at the end of the day, you can't win them all!
Want more stories like this? Sign up for our newsletter here and check out the related reads below:
The Introverted Girl's Guide To Office Networking
10 Ways To Develop An Entrepreneurial Mindset
6 Business Rules For Alpha Women
So, Experts Have Something To Say About Your Intuition's Accuracy
Did you know that xoNecole has a new podcast? Join founder Necole Kane, and co-hosts Sheriden Chanel and Amer Woods, for conversations over cocktails each and every week by subscribing to xoNecole Happy Hour podcast on Apple Podcasts and Spotify.
Featured image by Shutterstock.

Communication (and life) in general can be difficult. Okay, let's be real. It's f*ckin' hard work! While there's no guarantee you'll get it right, previous experience allows us to safely navigate through some of life's unforeseen trials and tribulations. Oftentimes without scathe. But, for a child both green and naive to the wonderfully chaotic ways of the world, carefully cruising through the unknown can seem nearly impossible. No matter how bright or resilient the child, they simply lack the life experience to blindly steer, nonetheless articulate how they feel. (Then again, does this ever change?)
This brings me to a recent conversation with my youngest who's six years old; let's call her "T" for the purpose of this article. As we entered a new season, it was only natural the topic of "daddy" would resurface. In fact, I anticipate this "talk" of sorts ahead of many milestones. It was the first day of school -- as she intently watched her peers gently embrace the men in their lives, before nervously tiptoeing into the great, big, scary world -- she turned and with her big, bright brown eyes gleaming up at me, asked, "Why didn't my daddy ever hug me like that? Why doesn't he ever call?"
At the moment, my heart broke for her. I fought back tears -- even a major bitch fit. Still, as painful as it can be to man these conversations alone, avoidance is NOT the answer. Here's how I talked to my child about her father's absence. Take note.
1

.

Honesty is the best policy.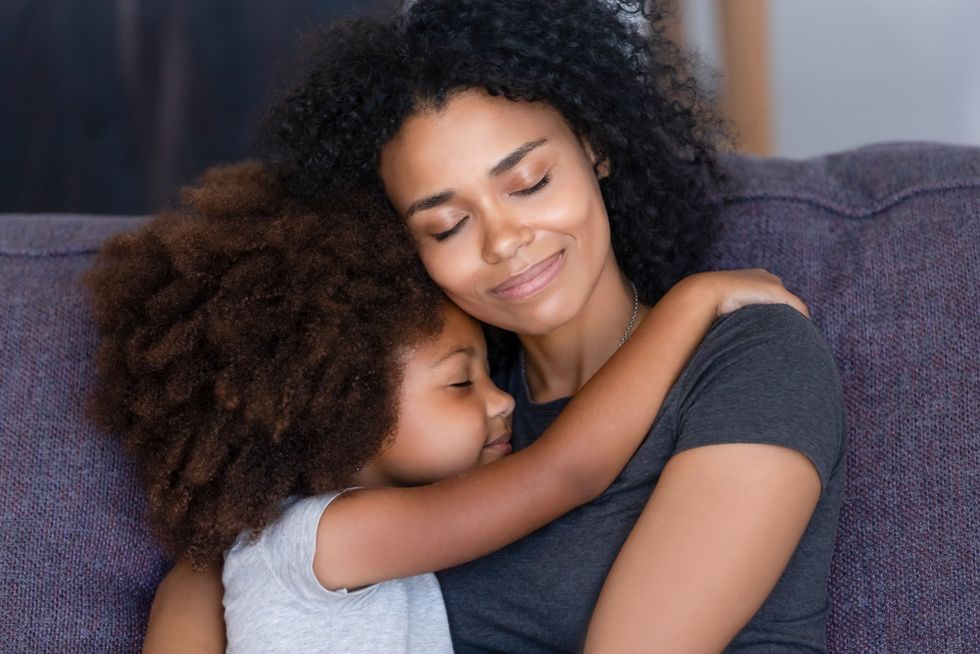 Shutterstock
Now, I'm not saying get down to the nitty gritty as this can be extremely damaging depending on the circumstances. Instead, advocate for the truth. For example, previously I've explained to my daughters that "parenting is a lot of work. It requires dying to self and living for the benefit of another, day in and day out. Some parents aren't ready for this." Of course, with age, you may need to be more forthcoming. They may not like what you have to say. But, they'll appreciate that you kept it real. That said, whatever the approach, don't pretend he doesn't exist. This is the equivalent of telling your child that his/her father is dead. No bueno!
2

.

Do NOT by any means bash the other parent.
Please remember, your child is looking for reassurance! They want to know life will be an effing turnup, despite the absence of their father. They need to hear it's not their fault. Even more, they want to know YOU will ALWAYS be there! So, keep it positive people.
3

.

Share positive memories.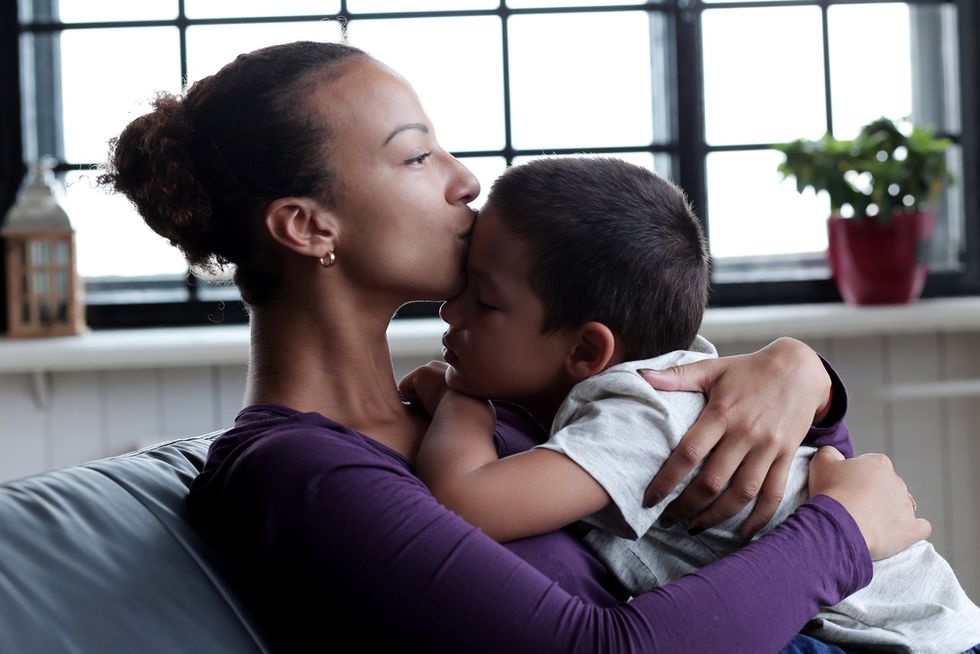 Shutterstock
I don't care how far you gotta reach; dig deep sister! Personally, I revisit the joy of discovering I was with child nearly seven years after I was told I'd never again know the joy of motherhood -- she was a blessing within a storm. Or, the look in her father's eyes the moment he first held her. At the end of the day, your tot will hold these memories close. They will build an impression of who their father is as a person -- likely even aid in shaping who they are as they grow into adulthood.
4

.

Acknowledge and validate their feelings.
Whatever you do, check your emotions at the door. This is not about you. I'd have to admit, initially this was a challenge for me. "Am I not enough?" "What am I doing wrong?" Before I knew it, by taking it personally, I was indirectly writing it off like, "Well, it is what it is." Though I never expressed this verbally, my inability to take this topic head-on said otherwise. Of course, I quickly learned the significance of simply listening, acknowledging and mirroring their feelings. In turn, helping my mini me articulate her feelings in a healthy way.
5

.

Identify positive "father-figures" in their life.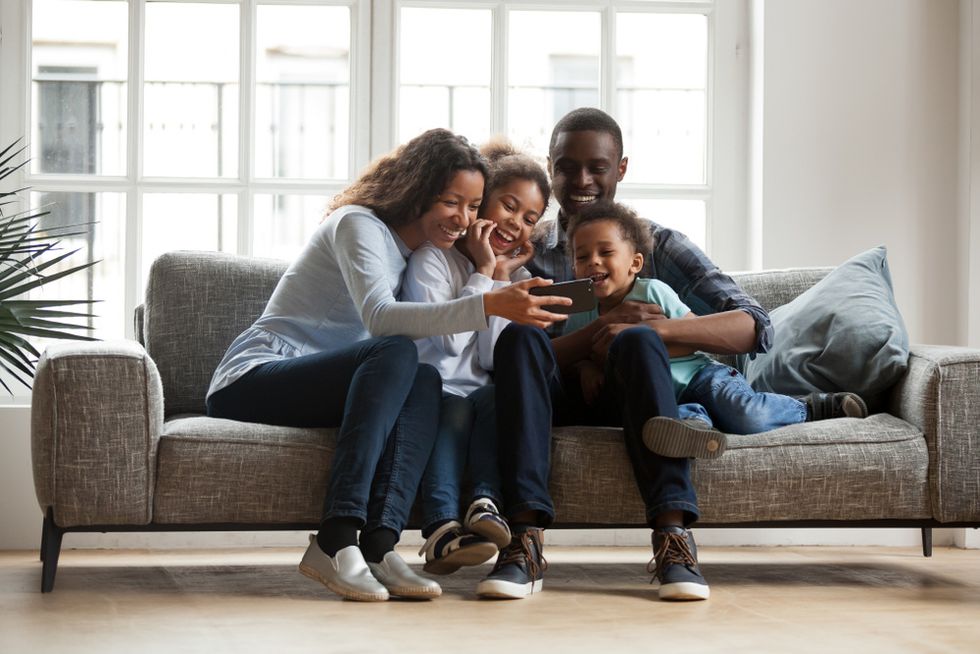 Shutterstock
Growing up one of ten children -- seven of my siblings are men -- I'm hip to the gravity of having positive "father-figures" in your life. Whether family, friends, a co-worker, even a romantic partner; these men should serve as pillars of excellence. By this I mean, they are trustworthy, respectful, reliable, kind, fair, accepting, and honest -- all characteristics they should seek in others as they begin to forge relationships of their own.
Is this to say the questions won't resurface? No! But, if handled with care and blanketed with love, your babe will walk away feeling loved, maybe even at peace. More importantly, they will feel valued. You listened. You acknowledged. You withheld judgement. You were there!
Want more stories like this? Sign up for our newsletter here to receive our latest articles and news straight to your inbox.
Featured image by Shutterstock