Courtney Simpson
Courtney Simpson is a dynamic writer with an affinity towards fashion and pop culture.
Keep up her daily looks on Instagram @hautecourtxo.
The moment I stepped into my 30s, my entire sense of self changed. It could be a placebo effect since women are often told, in many subtle and unsubtle ways, how life ends at 29. And if you're a single woman engrained in southern culture, you might be saturated with questions of children or marriage before you even hit 3-0. While it can be scary to transition from the wild days of your 20s to a seemingly quieter life in your 30s, we're slowly seeing that stereotype being shattered. We are surrounded by female icons and celebrities who refuse to adhere to the ageism experienced in almost every professional industry. And that confidence translates to your personal style.
More so than before, it's about the silhouette and investing in clothing that makes you feel comfortable and confident. In this stage, we're happily trading night outs for early morning boardroom meetings, and weekend ragers for staycations in the mountains with your intimate tribe.
Even if the mainstream trends are set by younger generations without a full paycheck or corporate jobs, there are plenty of trend-worthy pieces that will stand the test of time and work perfectly for the hustling lifestyle.
1

.

Trousers
I'll be honest: I never understood the need for a perfect pair of suit pants until I got into my very late 20s. For many years, denim was my go-to gal so much so that I never bothered to date other types of trousers. But once you find your first pair of excellent suit pants, akin to finding a gifted nail technician, you never look back. And as elevated suiting resurges from its 90s grave, investing in suit pants that flatter is paramount.
Where to Shop: Re Ona, Hanifa
2

.

Satin Dress
When you reach a certain level of confidence within your personal style, typically towards your late 20s and early 30s, it's no longer only about showing skin. Sex appeal is defined differently and your wardrobe needs to reflect that. For a first date night, a girls' night out, or an über-sexy moment; a satin dress will keep right - morning, noon, or night. You go with an ultra-mini hemline to show off those gorgeous legs or opt for an ankle-sweeping flare that flatters and elongates the legs. Either way, a satin dress is perfect for adding a significant amount of sex appeal to your style without sacrificing comfort.
Where to Shop: Kai Collective
3

.

Strappy Heels
Not only are the 90s strappy heels making a comeback, but they are also perfect to pair with almost anything found in a working woman's wardrobe. One of the key elements to nailing style in your 30's is utility. With the strappy heel, you can effortlessly dress them up or down - with a cozy pair of denim, under a perfect pair of trousers, or with your favorite midi dress. The longevity of this trend is one of the most enticing things about it; if you invest and take care of your items, you can carry this trend for decades.
Where to Shop: Tom Bianco; Lilly's Kloset
4

.

Loose-Fit Denim
It's time to put your super skinny jeans on hold and invest in a new trend. As of late, and especially in the wake of a whole year of WFH, a perfect pair of loose-fit denim remains my best friend. Cropped or baggy; high rise or low rise; there are many options for the perfect loose-fit denim. As with many trends in this article, you can easily dress up your denim with a shorter blazer or strappy heels; you can also dress down by adding your favorite flats and crisp white shirt. After all, the name of the game is sustainability.
Where to Shop: Madewell, American Eagle, Good American
5

.

Trench Coat
Whether you live in a cold climate is irrelevant; everyone needs a long-lined trench in their wardrobe. It's the one stellar go-to coat that you can style with elevated basics or your favorite corporate suit. Trench coats are available in a plethora of silhouettes, fabrics, and across a variety of price points - making them customizable to your personal style.
Where to Shop: Burberry, ASOS
To get your fashion fix and to stay up to date with the latest trends, check out the xoNecole Style section here.
Featured image by Edward Berthelot/Getty Images
Keep reading...
Show less
With traditional office attire slowly being retired, we're all looking for more options to be as cozy and stylish. Entering the chat: the luxury pajama set, the perfect staple for mixing leisure and fashion. Timelines have been saturated with luxury pajama sets since March; it's time to get on board. Pajamas are a permanent staple in American fashion and society - especially around the holidays. You can't throw a stone without seeing a family, cute newlywed couple, or best friends in matching Christmas sets or onesies.
But since the pandemic and the heightened focus on self-care, pajamas quickly became everyday wear. From the mom who juggles virtual learning and work, to the young boss building her brand from her studio, a great pair of pajamas can make you feel productive while working from home or taking care of the kids. Since they aren't your normal flannel or cotton pajamas, they can also bring a semblance of luxury to your everyday. After all, we have to hold onto every bit of happiness we can.
The best thing about this trend is its affordability. If you want, you can splurge on expensive pajamas like Daily Sleeper or Olivia Von Halle that specialize in beautiful, luxury pieces. But, you certainly don't have to. Many cost-effective retailers like ASOS and lingerie brands like Savage X Fenty offer plenty of options at various price points. The price flexibility creates the perfect present for someone special in your life, whether it's your mom, sister, or girlfriend. The fabric, the designs, and the small details are the key elements to an enjoyable pair of pajamas.
The days are getting shorter and the nights colder, so invest in something that will keep you warm, happy, and stylish. Keep scrolling to see how our favorite girls are styling their luxury pajama sets.
Featured image by Getty Images

Keep reading...
Show less
Tonight, the biggest names in hip-hop gather to kick off the 16th annual BET Hip Hop Awards in Atlanta. Held at the Cobb Energy Performing Arts Centre, this year's show is hosted by the 85 South Crew: Karlous Miller, Young Fly, and Chico Bean. Nelly will be honored with the I Am Hip Hop Award, awarded last year to Master P.
Industry powerhouses Cardi B and Meg Thee Stallion lead the pack in nominations with 9 each, while our controversial loverboy, Drake, follows closely with 8. Performances will include ATL legend Lil' John, chart-topping darling BIA, and 'Best Duo' nominee Young Thug. "Best New Hip Hop Artist" Award nominees include BLXST, Coi Leray, Don Toliver, Morray, Pooh Shiesty, and Yung Bleu.
The theme was definitely comfortable and cozy this year, with few artists differing. Below, see what all your favorite artists, actors, and singers wore on the BET red carpet.
85 South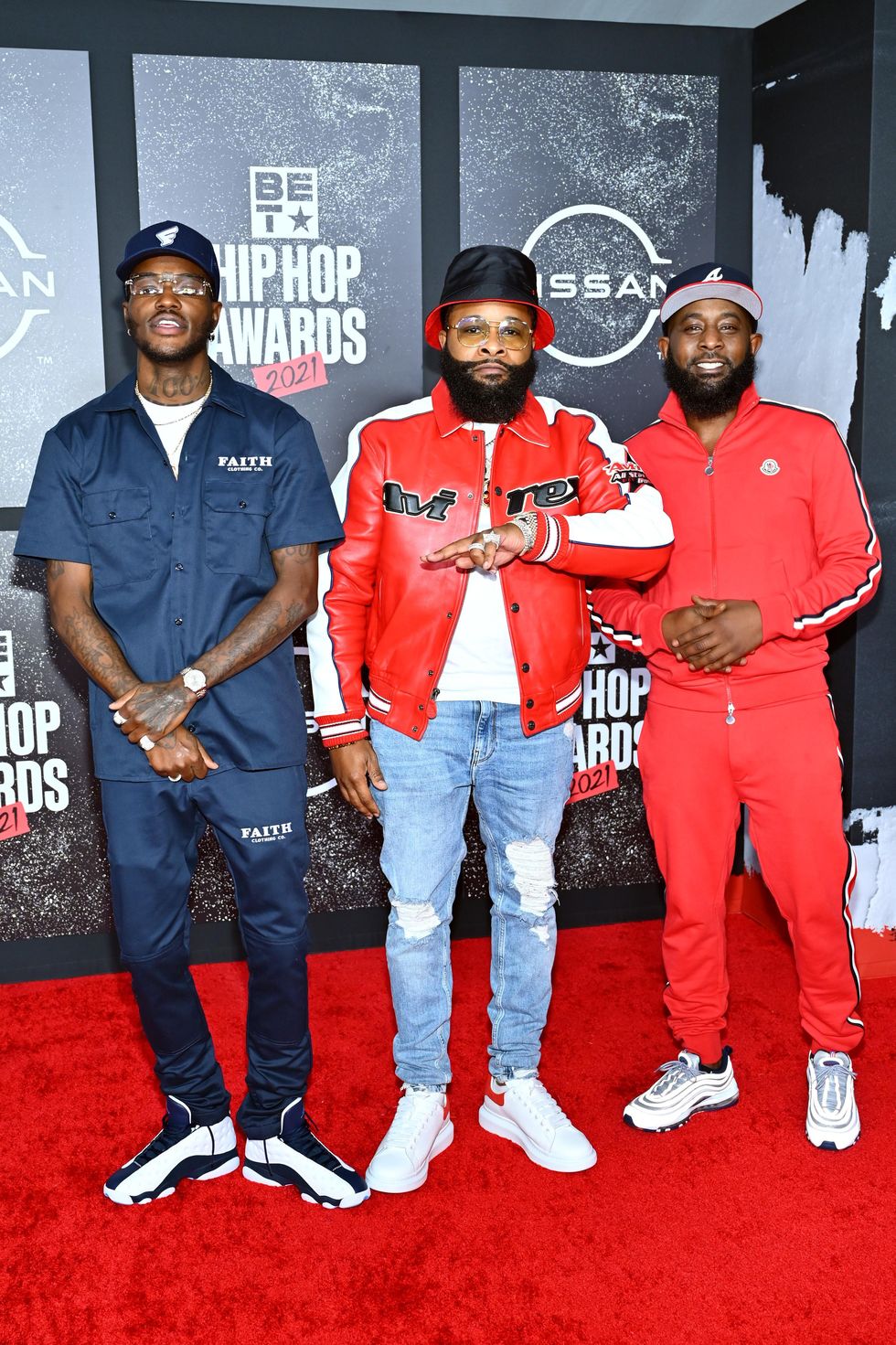 Derek White/WireImage via Getty Images
85 South put a show on the red carpet before taking up hosting duties inside. The crew donned a mix of utilitarian, classic hip hop, and new school fresh; each playing to their respective personalities.
Fat Joe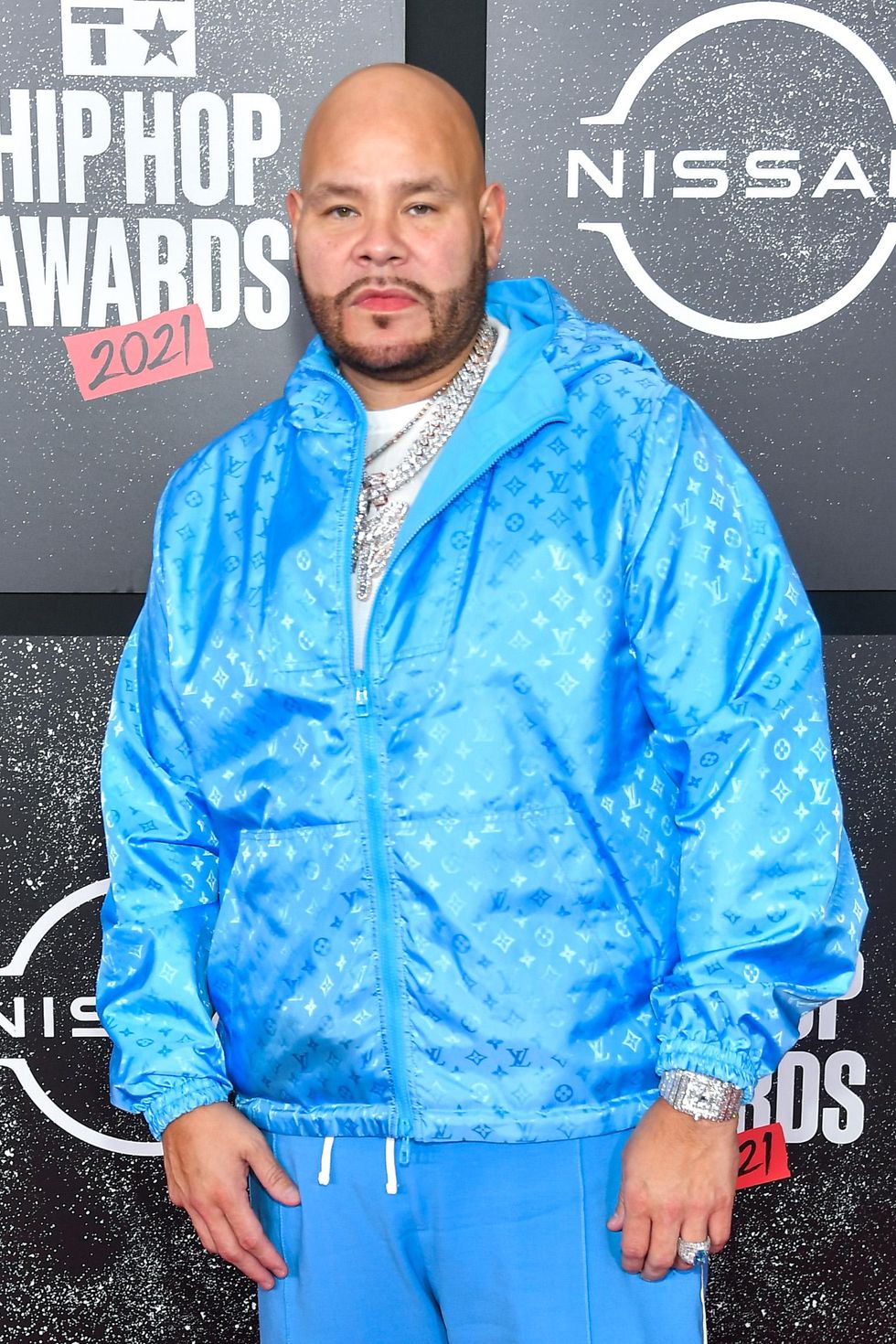 Paras Griffin/Getty Images for BET
Fat Joe went for the ultimate old-school hip-hop vibes this year. He hosted the BET Live pregame in baby blue sweatpants and a matching Louis Vuitton bomber jacket.
BIA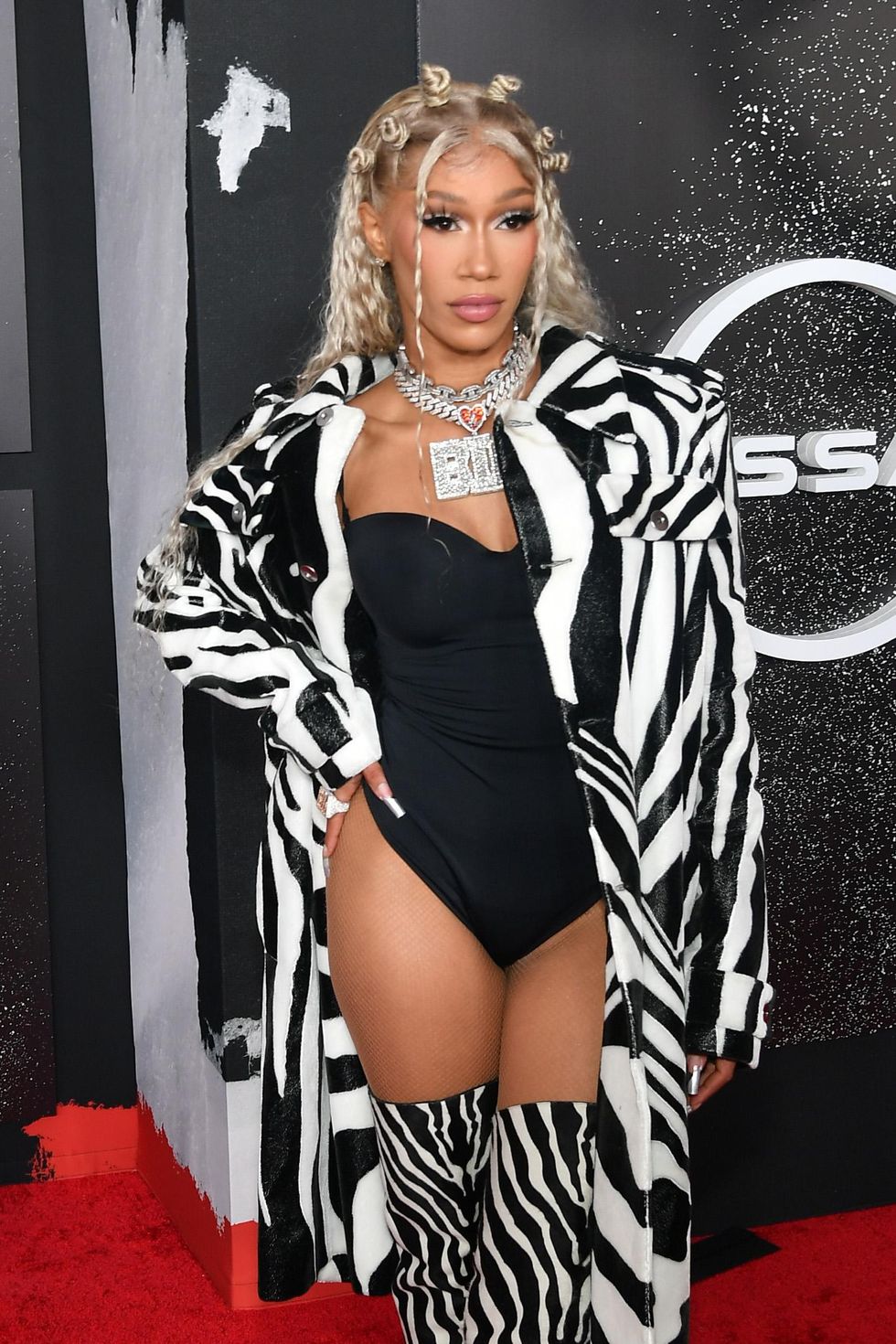 Paras Griffin/Getty Images for BET
Ahead of her performance, BIA shut it down in a black bodysuit and head-to-toe zebra print. The rapper solidified the look with an oversized 'BIA' chain and 90's-style crimped blonde hair.
Lakeyah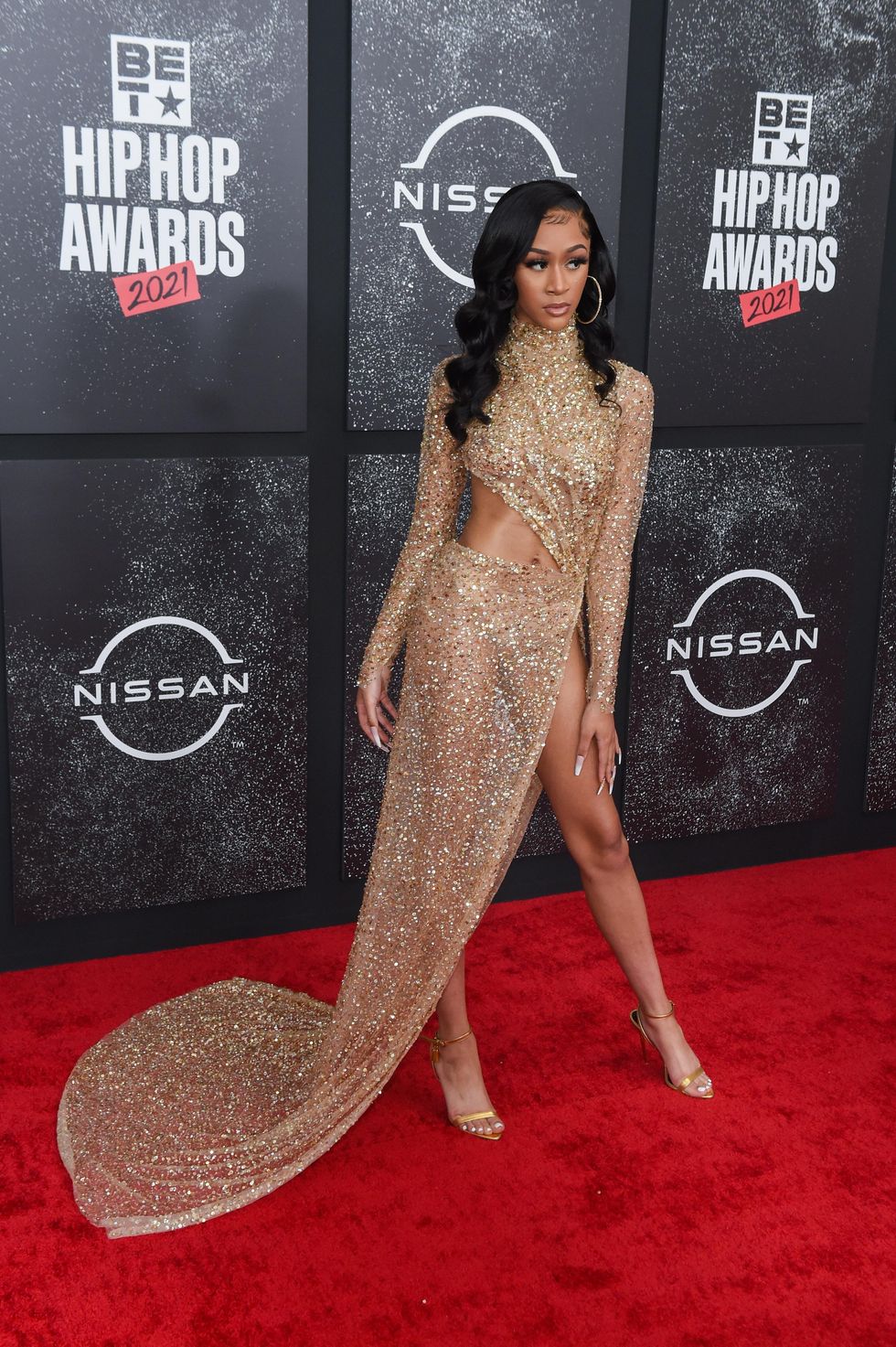 Aaron J. Thornton/Getty Images
The stunning rapper Lakeyah showed out in a beautifully draped gold-sequined cut-out gown. The gown was selectively sheer, giving us the ultimate sophisticated but seductive look.
Sarunas J. Jackson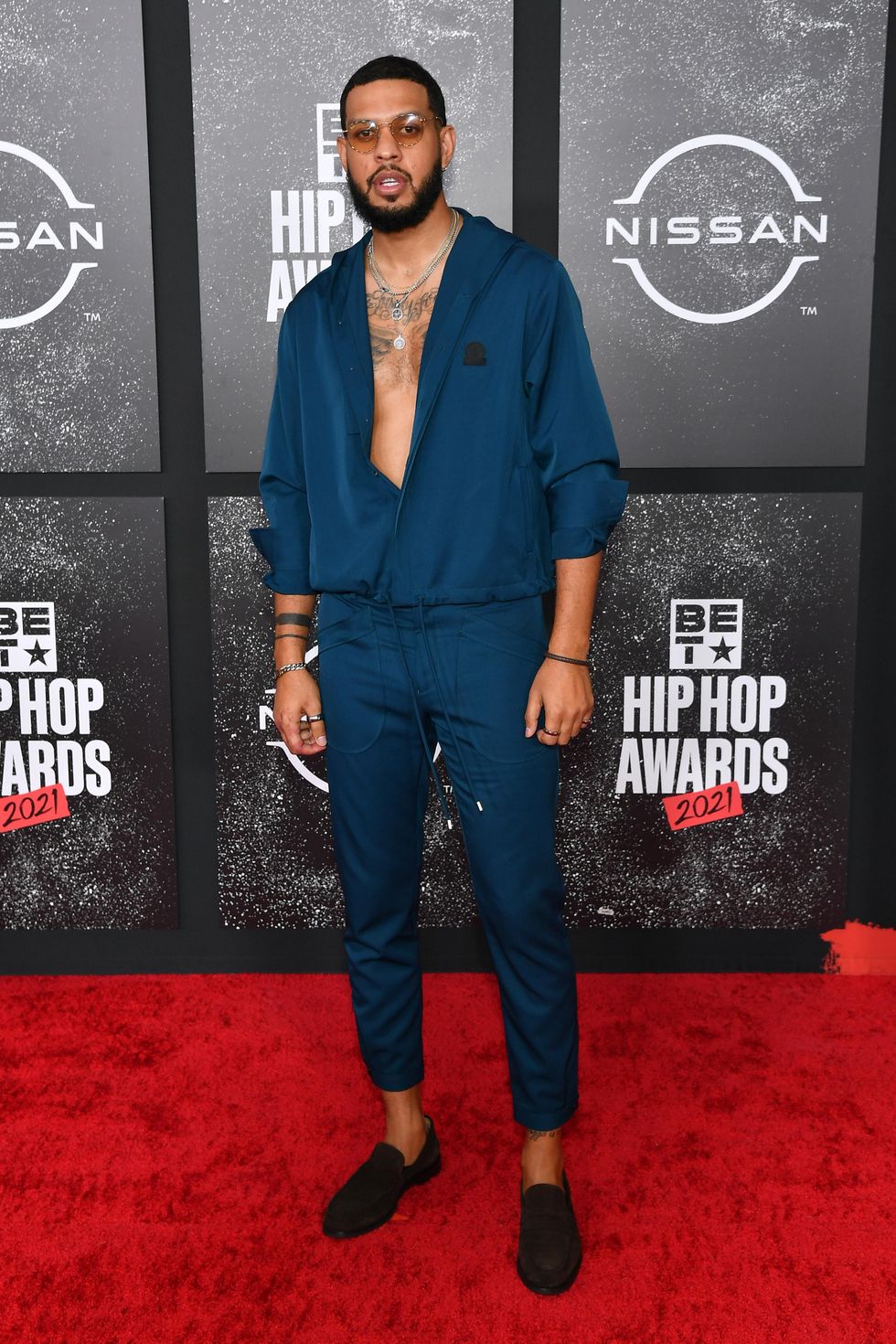 Paras Griffin/Getty Images for BET
The block's favorite Insecure love interests, Sarunas J. Jackson was peak causal in a delicious royal blue sweatsuit. While he did elevate the look by adding loafers, he doubled down on the coziness with the undone jacket. Speaking of Insecure, we can't wait to see the finale season on October 24.
​Benny The Butcher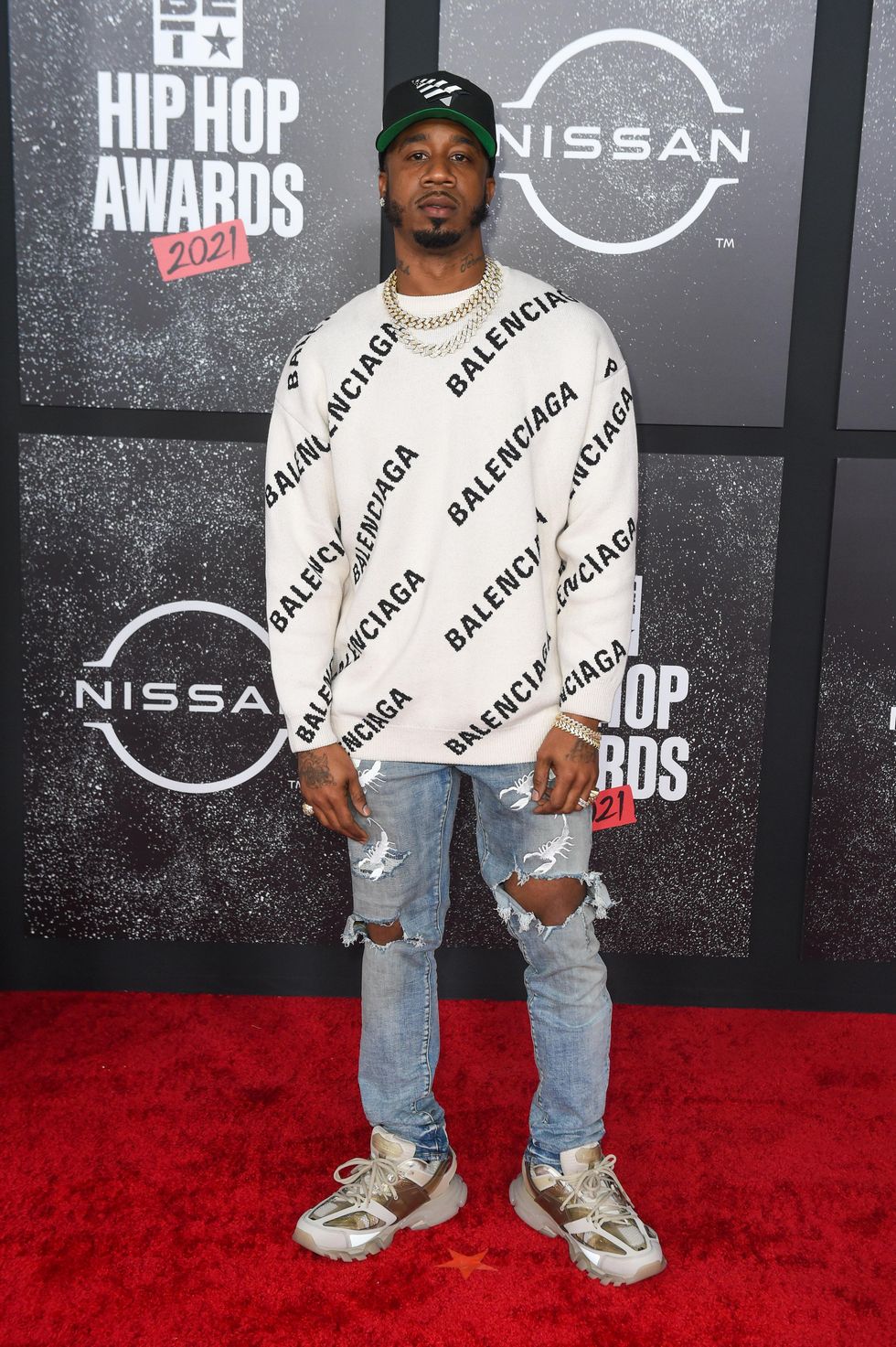 Aaron J. Thornton/Getty Images
Benny the Butcher stayed casual in a logo-centric Balenciaga sweater and gold accessories.
​Kidd Kenn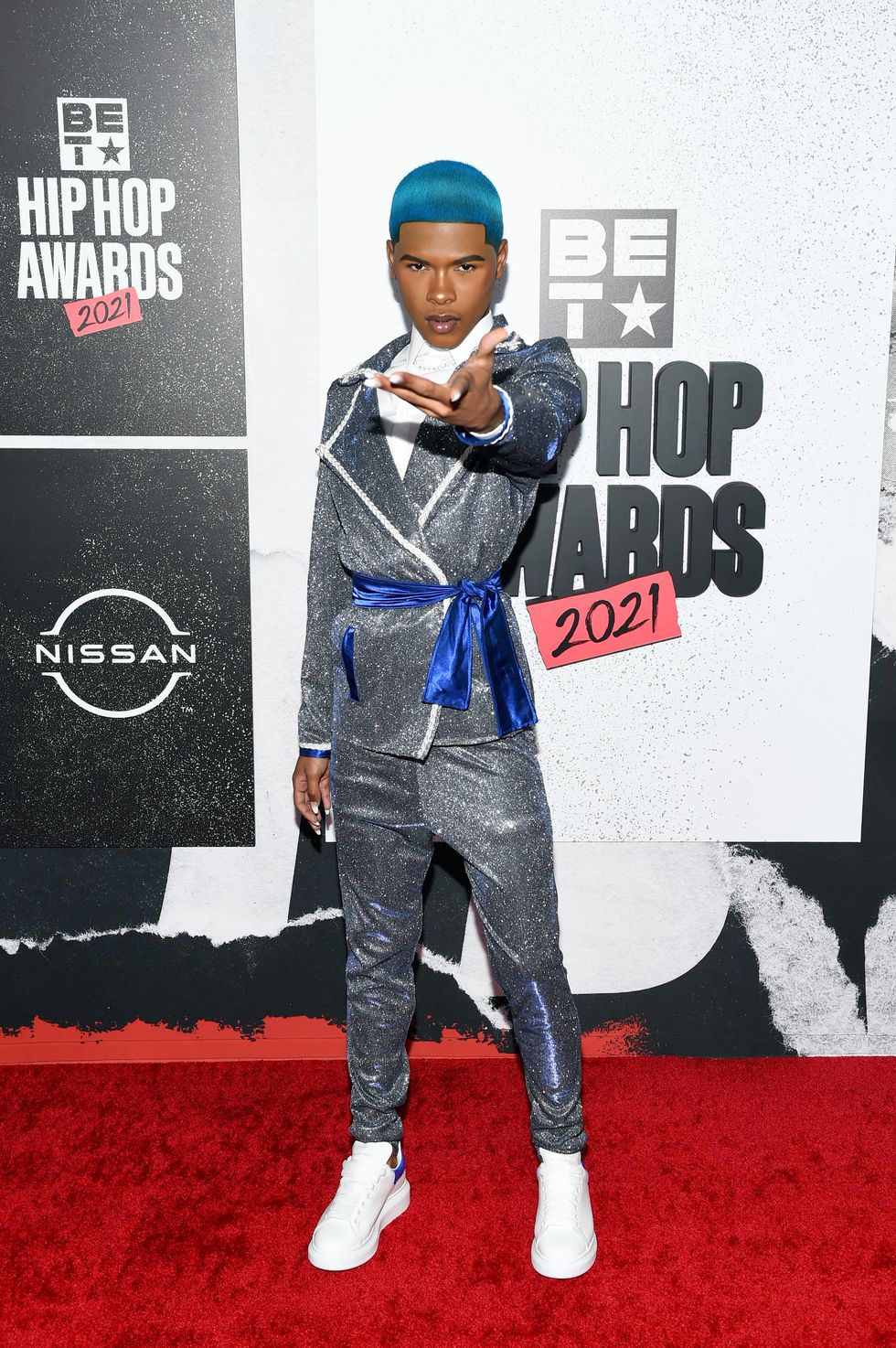 Marcus Ingram/Getty Images
Kidd Kenn shut down the red carpet in a modernized silver and blue suit. Male artists tend to wear the same thing, so it's exciting to see a risk-taker on the BET red carpet.
​D Smoke & Angelina Sherie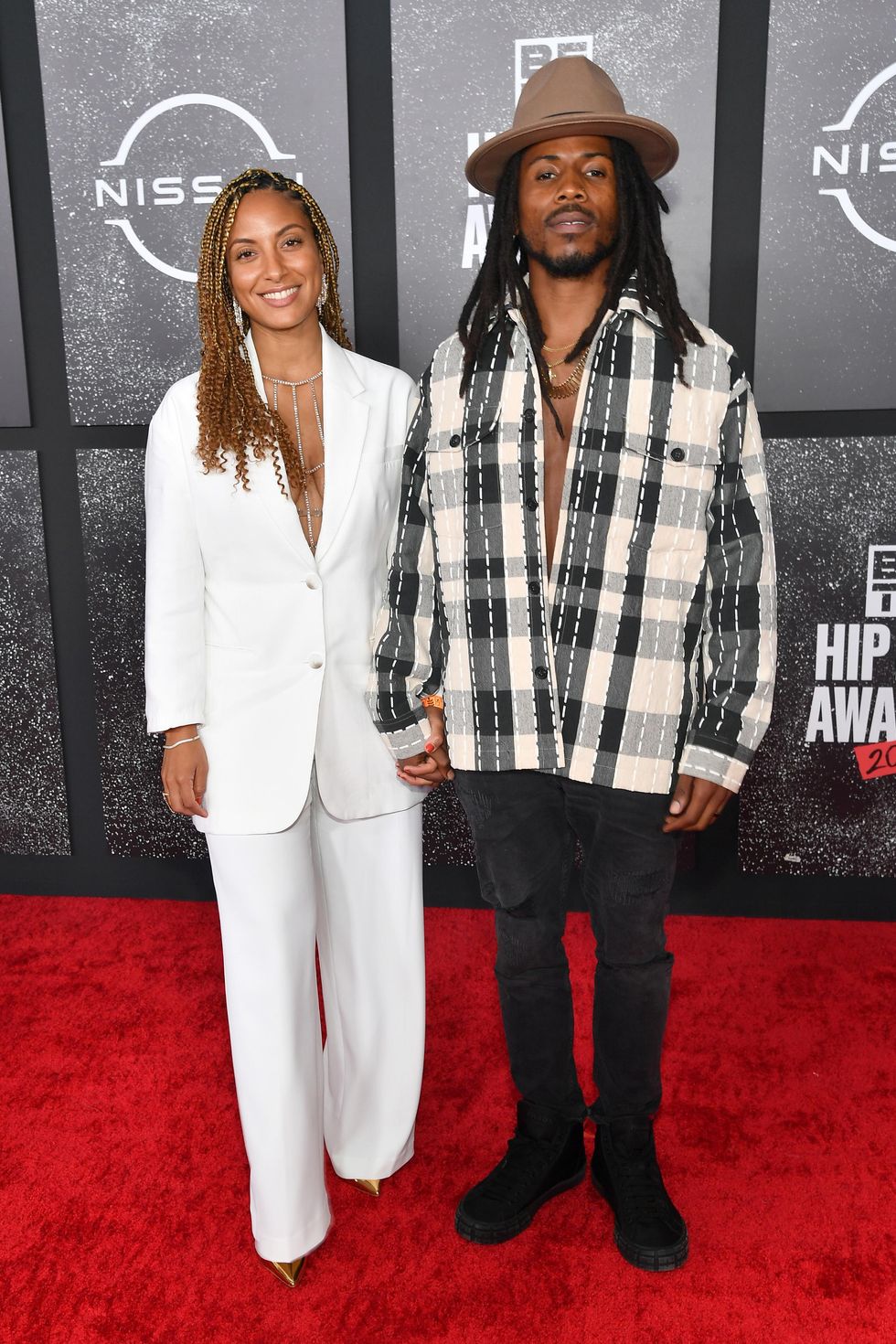 Paras Griffin/Getty Images for BET
D Smoke and Angelina Sherie were the epitome of cozy-chic as they hit the red carpet, hand-in-hand. Angelina was angelic in an all-white slightly oversized suit, while D Smoke elevated his casual look with a stylish wide-brim hat.
Nelly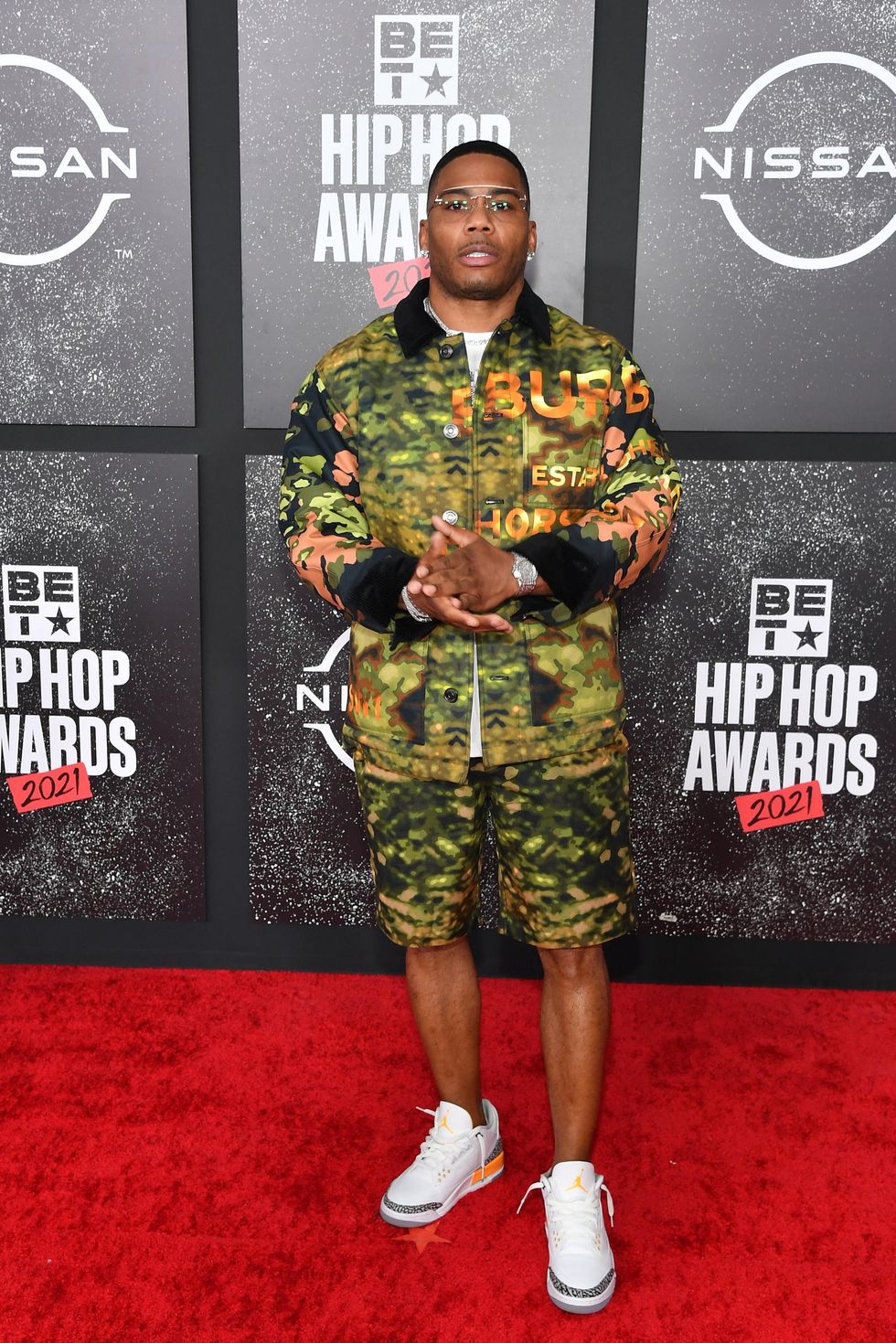 Paras Griffin/Getty Images for BET
Nelly was one of the only celebrities that brought the fall vibes on the carpet. The I Am Hip Hop Award honoree rocked camouflage Burberry from head to toe and accessorized in everyone's favorite: diamonds.
Ari Fletcher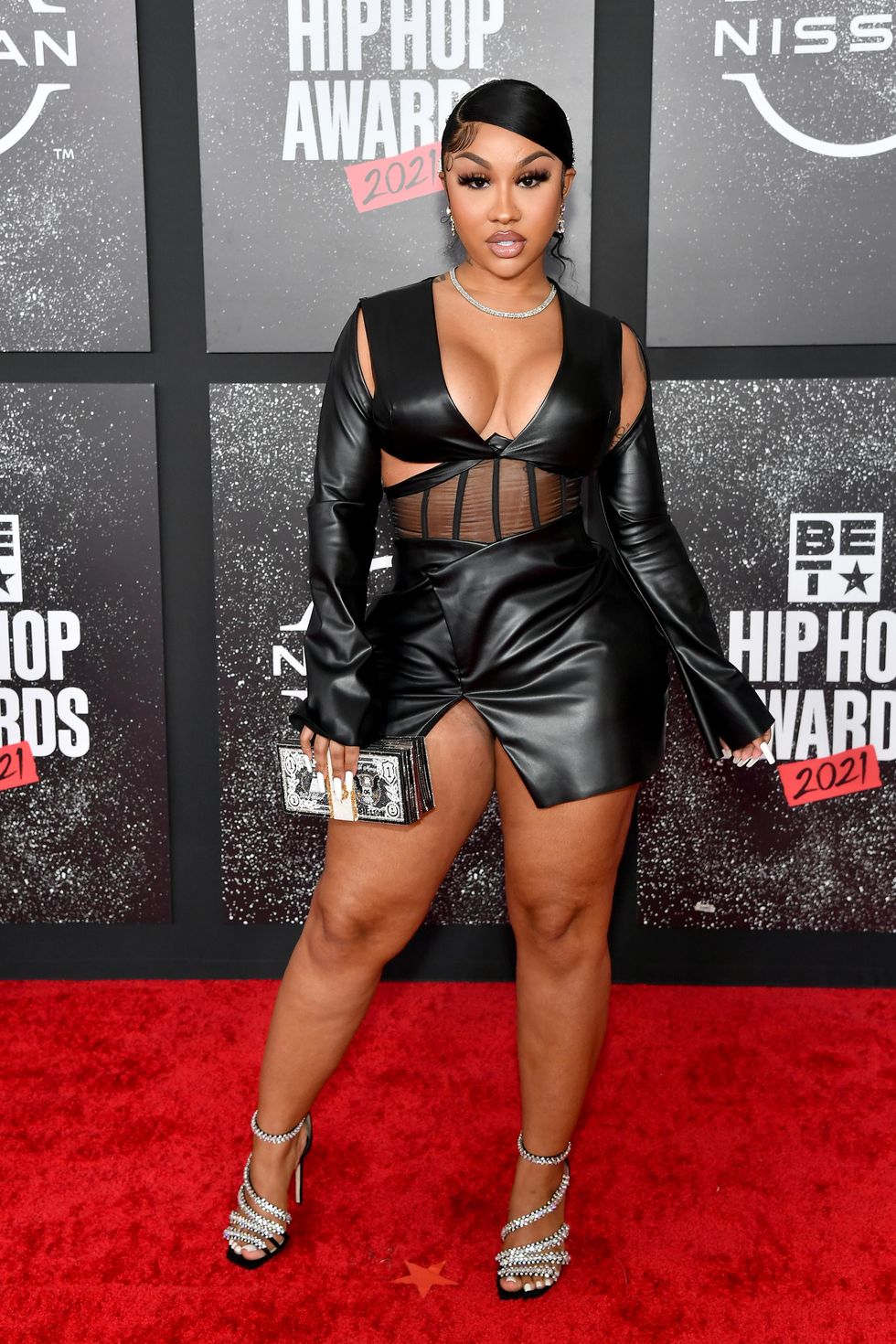 Paras Griffin/Getty Images for BET
Ari Fletcher came through to support her man, Moneybagg Yo, but she did not disappoint. In all-black custom Calechie, Ari completed the look with a sleek bun and meticulously placed diamond-studded barrettes.
Doechii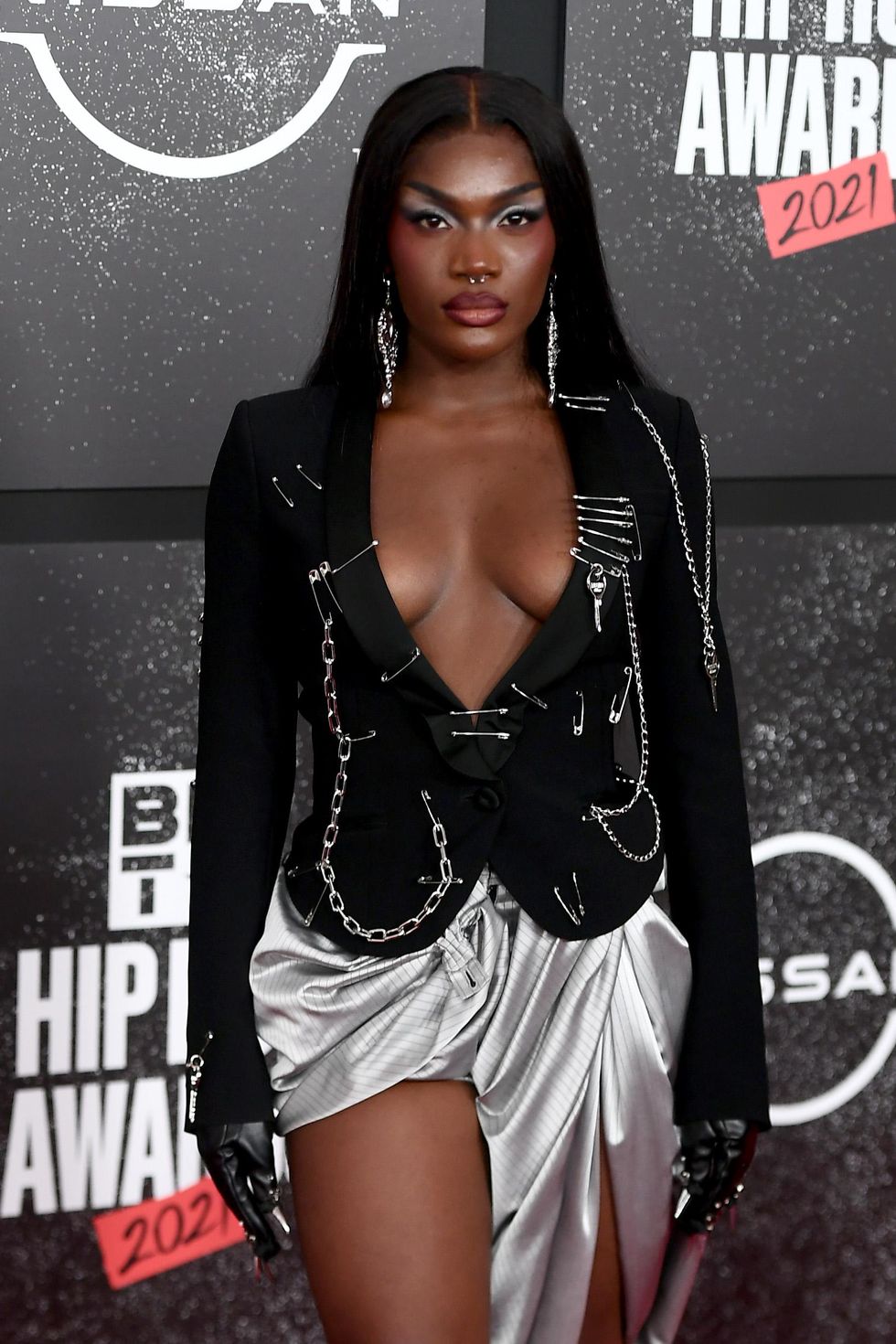 Marcus Ingram/Getty Images
Doechii stunned in a plunging neckline, secured by safety pins and the gods. The plunging neckline and metallic skirt are giving us major inspiration for upcoming holiday parties.
DreamDoll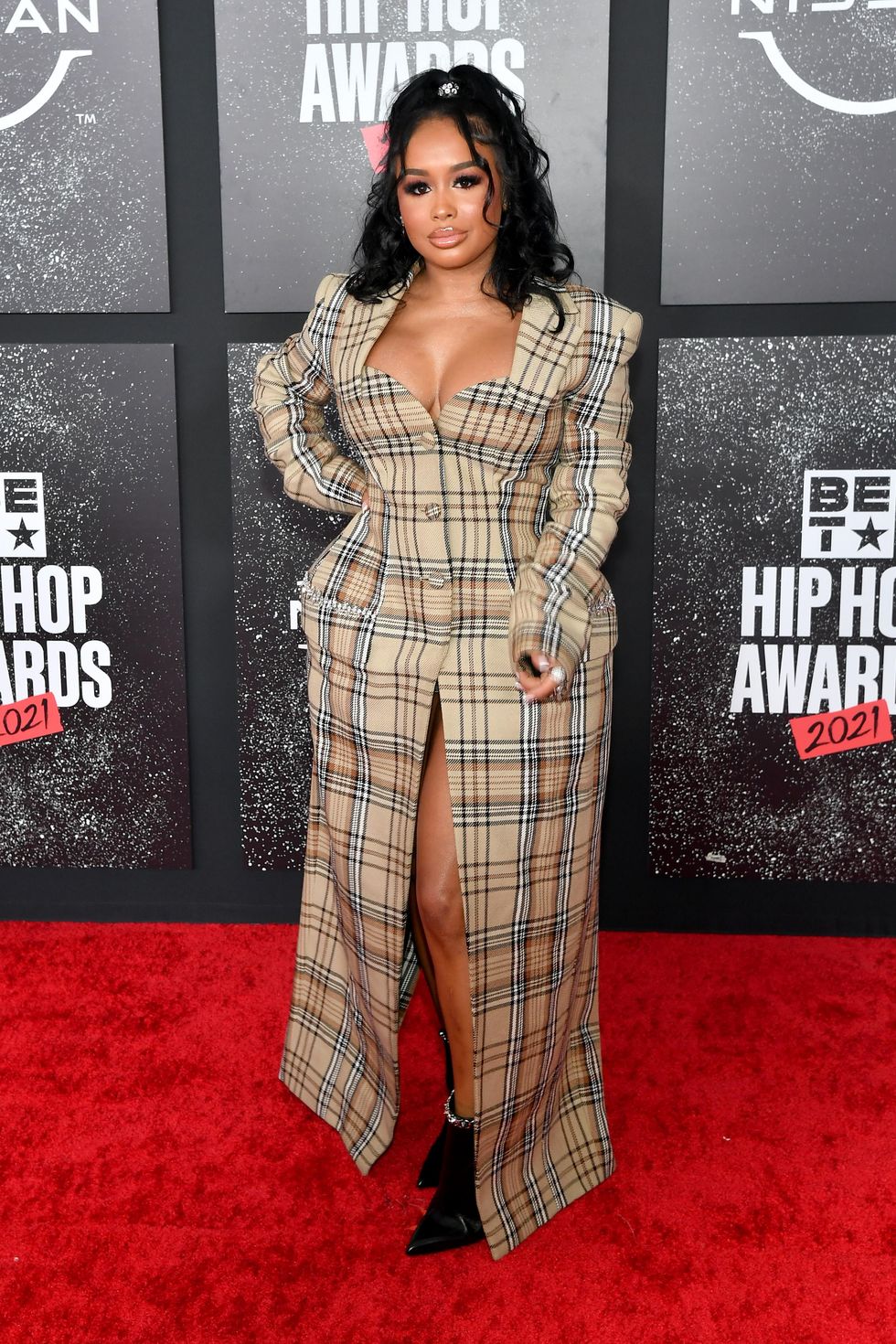 Paras Griffin/Getty Images for BET
DreamDoll decided to give us 'Headmistress Realness' in a corseted tuxedo coat-dress. Only a doll of this magnitude can pull off this plaid look effortlessly.
Nick Cannon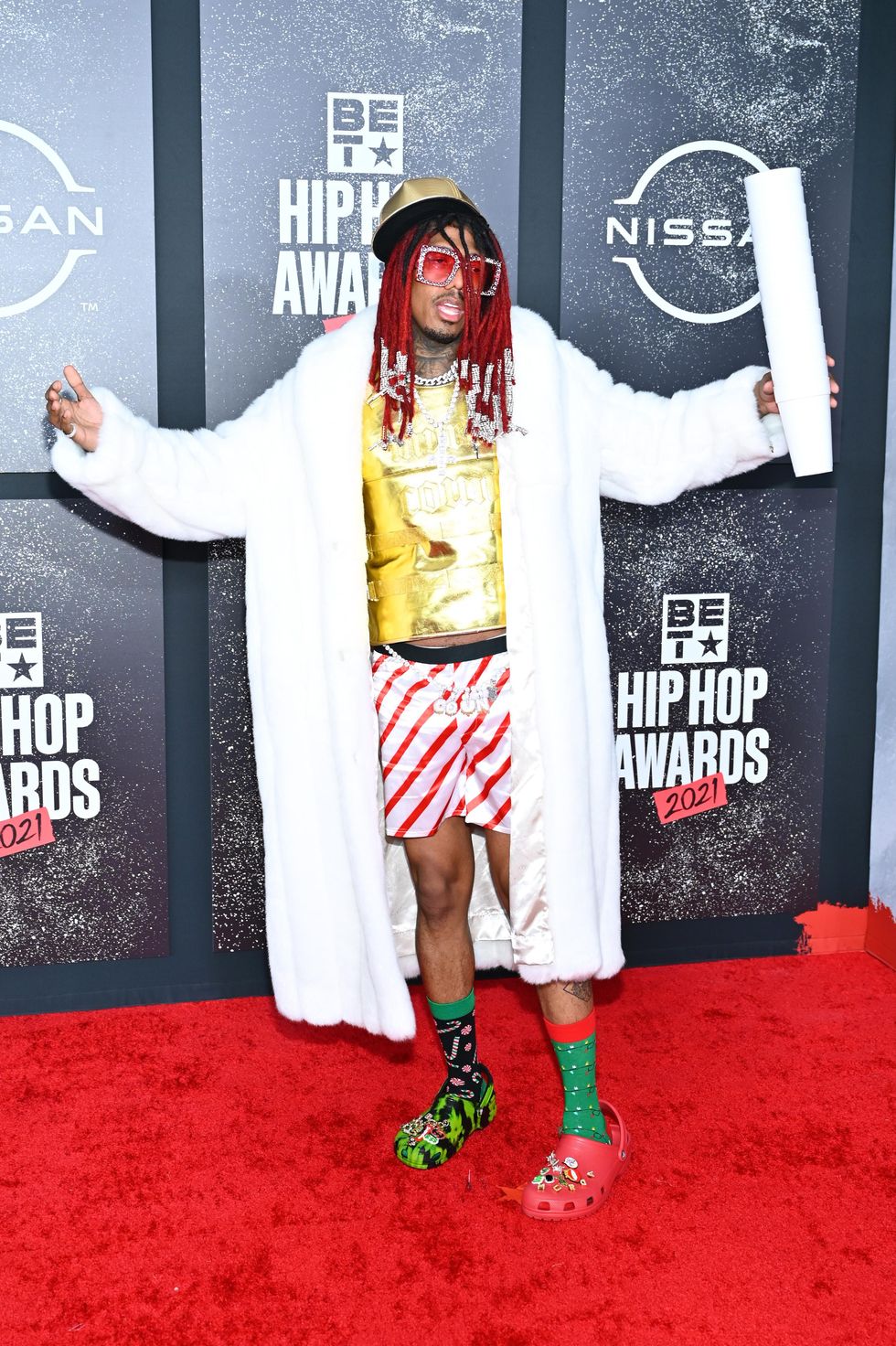 Derek White/WireImage via Getty Images
Nick Cannon showed up in Christmas crocs, a metal breastplate, and a long fur coat. Complete with red beaded braids and a stack of foam cups, it's clear that Nick opted for the classic Hollywood rockstar vibe.
Tyler, The Creator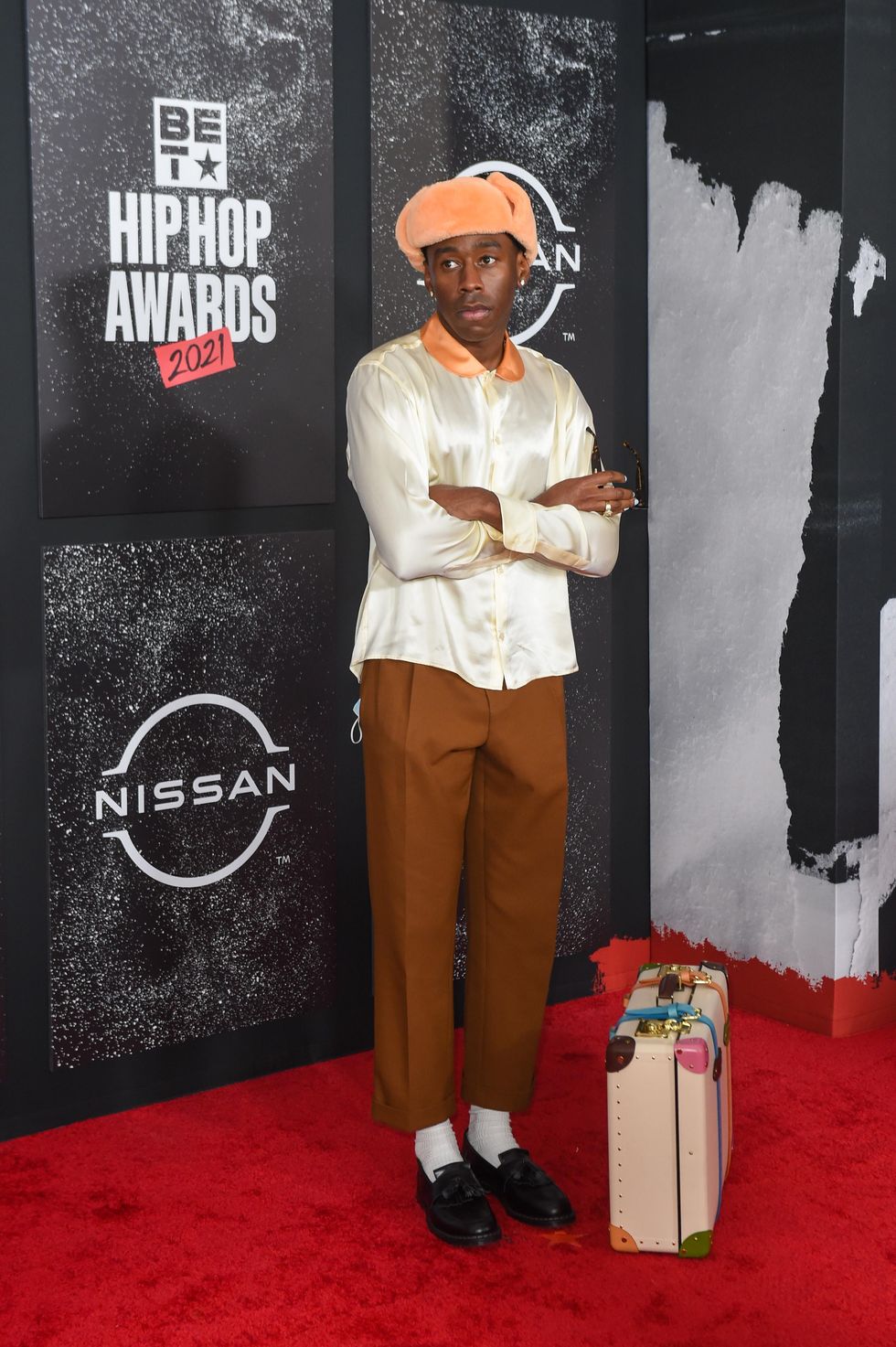 Aaron J. Thornton/Getty Images
Tyler, the Creator secured the bag literally. He channeled classic bellhop vibes in a plush orange hat, silky smooth button-up, and match suitcase that he often posed with on the carpet.
The Originals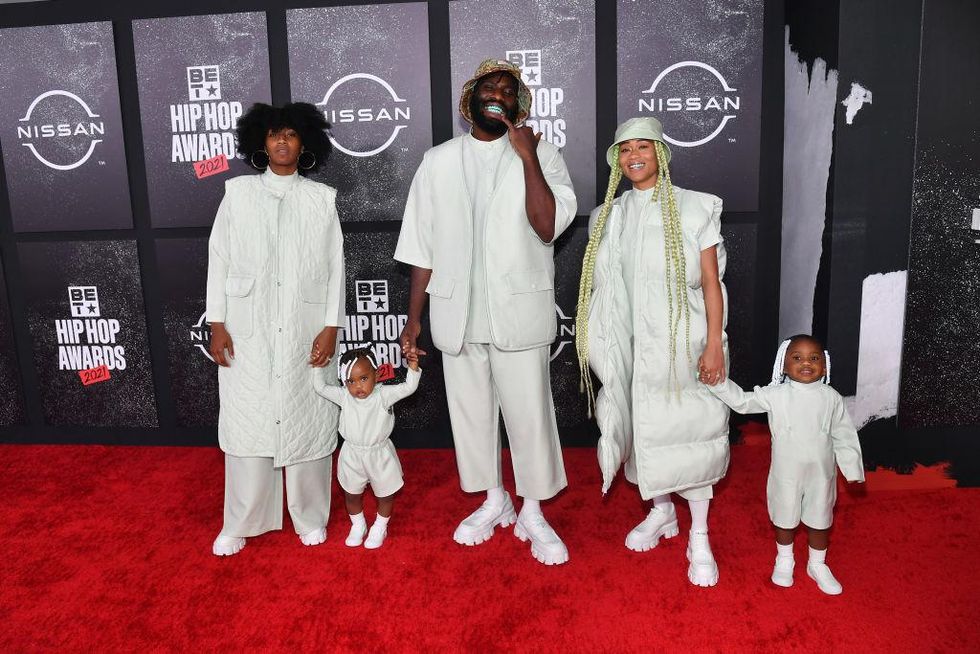 Paras Griffin/Getty Images for BET
LaNell Grant, her brother Tobe Nwigwe, and his wife Martika Ivory Rogers (also known as "Fat") were complete #familygoals on the red carpet as The Originals in coordinating sweatsuits. And we can talk about those adorable girls?! By far the cutest dressed in our book.
Remy Ma & Papoose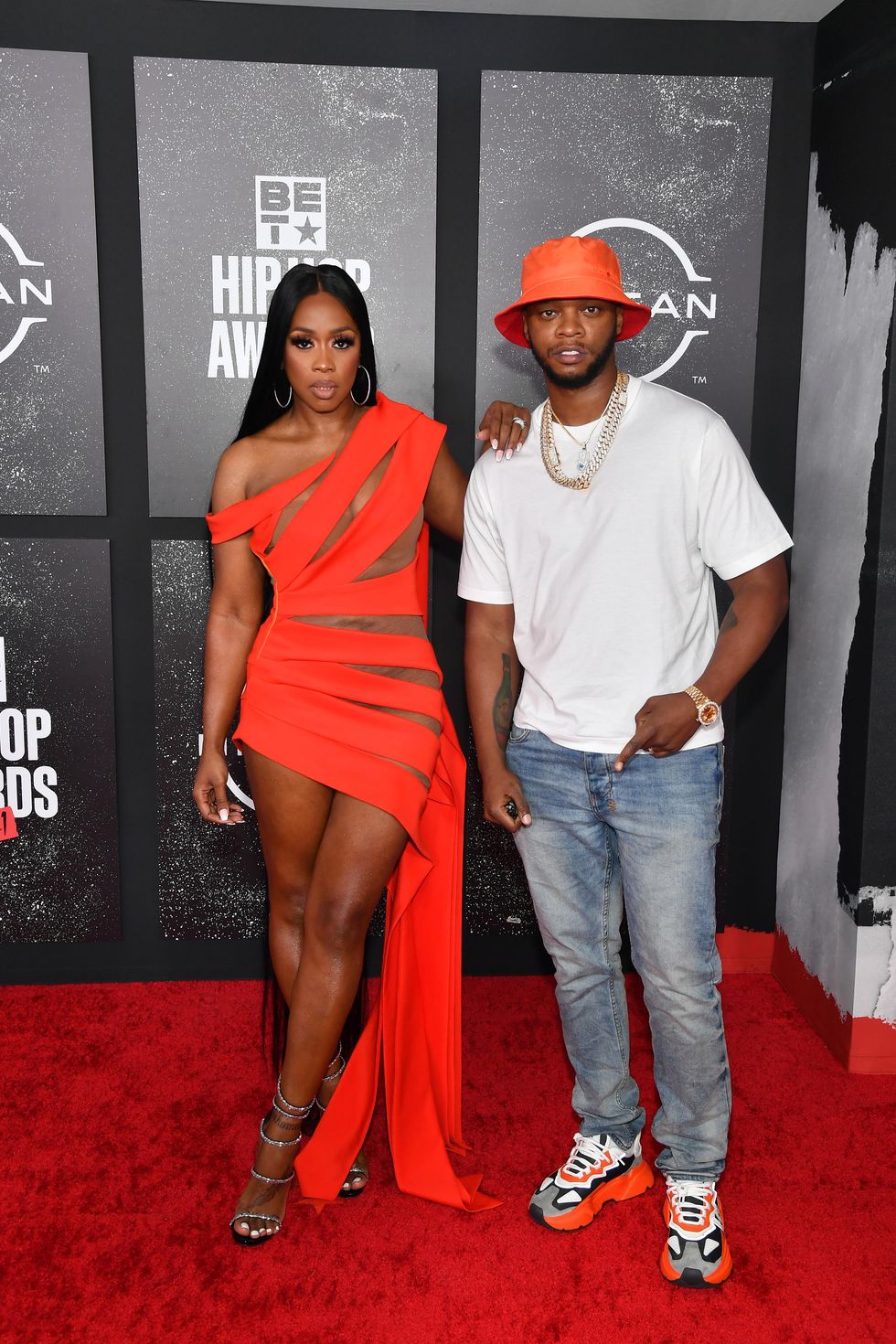 Paras Griffin/Getty Images for BET
Remy Ma left everyone speechless in a perfect cut-out red asymmetrical number, complete with gorgeous strappy heels. She pulled up with her husband Papoose, radiating Black love up and down the red carpet.
Latto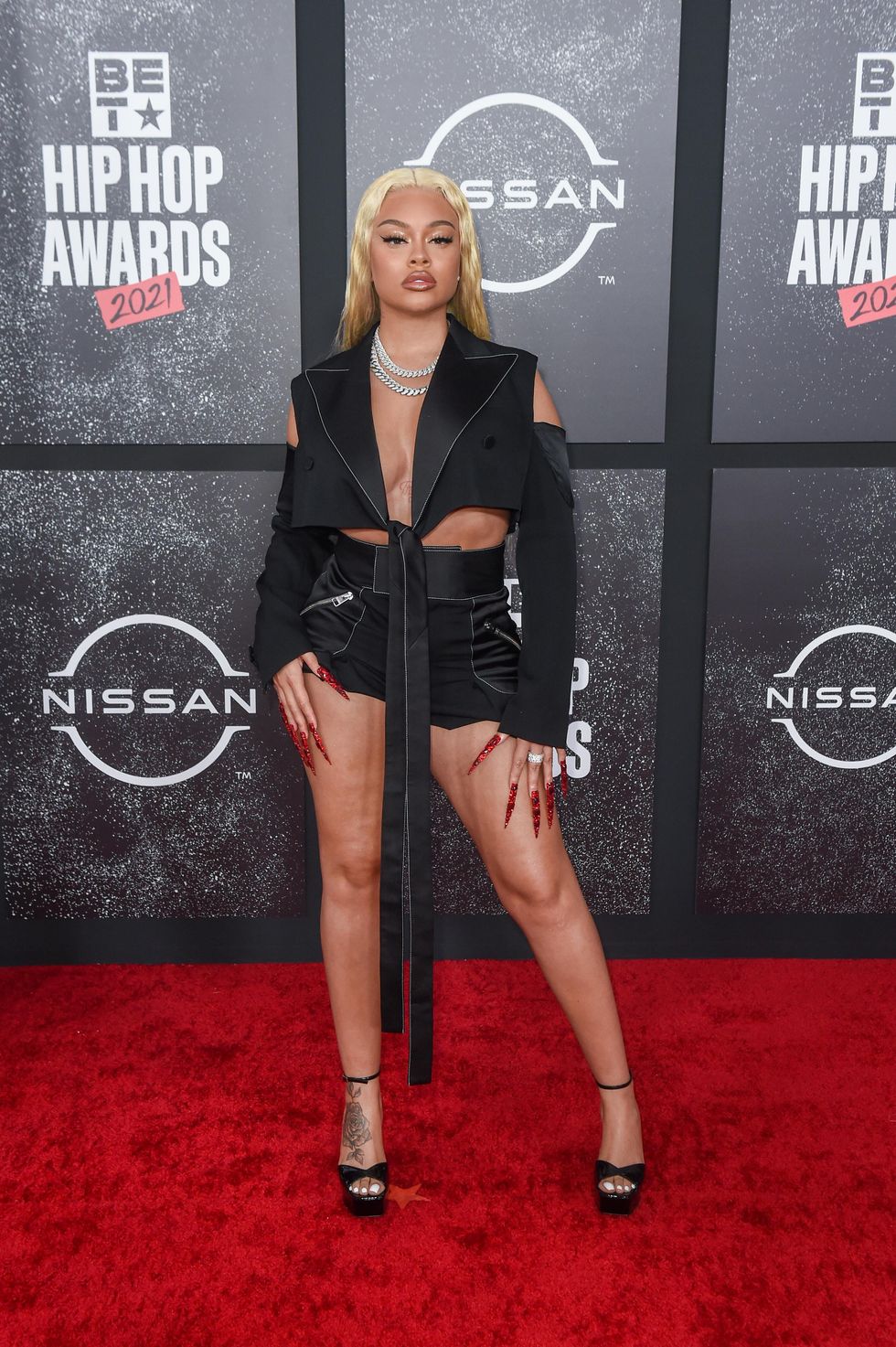 Aaron J. Thornton/Getty Images
Latto hit the red carpet in a modern deconstructed suit, with exposed, drop shoulders and 'cut-off' suit shorts. Latto personalized the look with her signature long (red) nails and layered silver chains.
Young Thug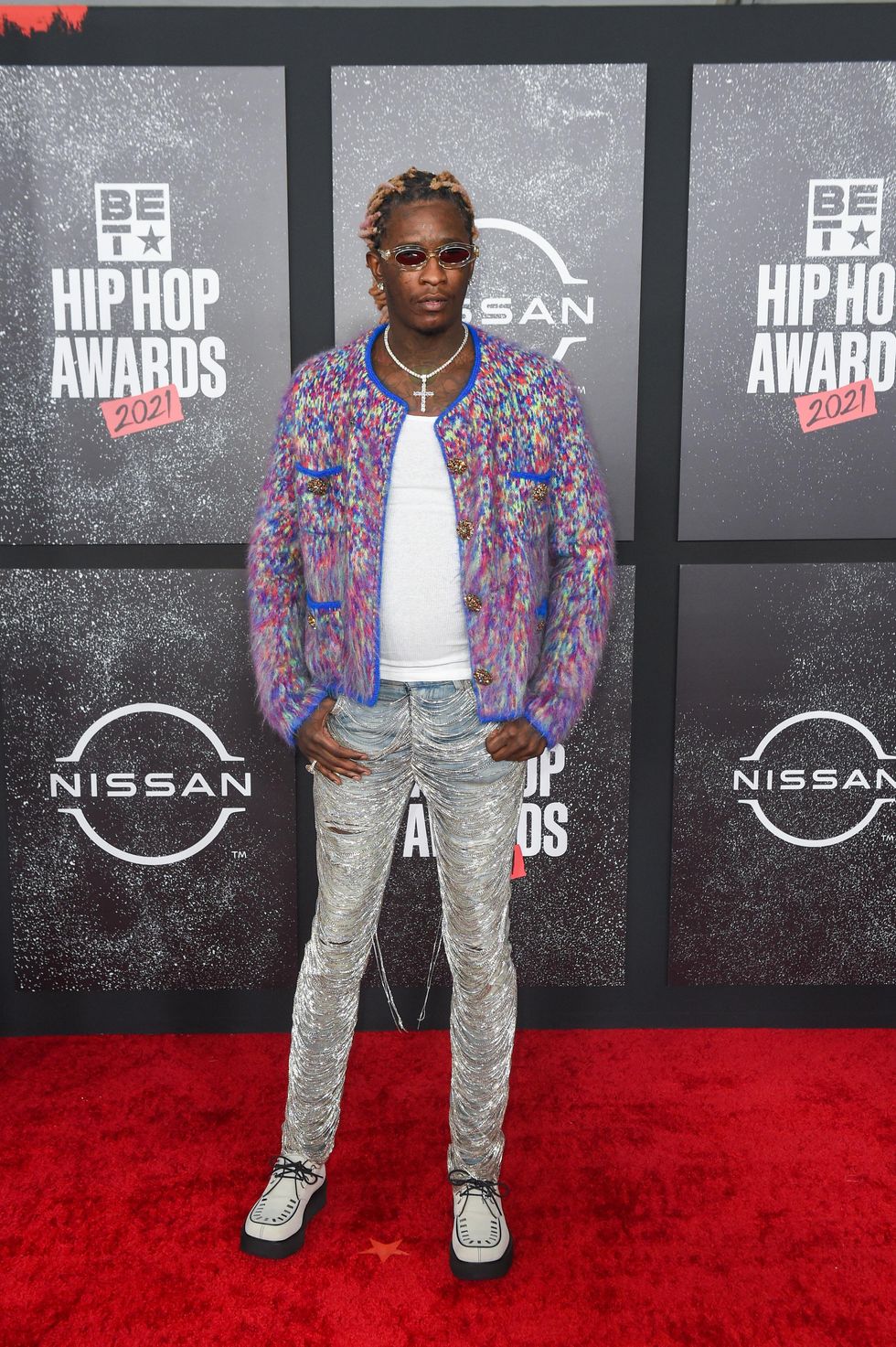 Aaron J. Thornton/Getty Images
By far one of the biggest risk-takers on the red carpet, Young Thug sported metallic-draped jeans and a fur-lined cardigan jacket. Complete with 90s style sunglasses, we always appreciate a man who takes risks in fashion.
Featured image by Paras Griffin/Getty Images for BET
Keep reading...
Show less
A fall trend quickly gaining momentum, animal prints are adorning the nails of all your favorites. There's something effortless about the neutral nature of animal prints, which also makes them the perfect accessory for the transitional season. The long-time fashion favorite is transitioning to the nail world and making waves as it does. Whether it's the ever-popular cheetah or the newly re-imagined dalmatian spots, take a look at how the best are styling this animal print nail design trend.
Featured image by Getty Images
Keep reading...
Show less
As the winds cool and the leaves change colors, it is without fail that I get this invigorating feeling. Potentially a feeling left over from childhood where every September presents a new opportunity to reinvent yourself, or possibly the contagious buzz of fashion weeks across the globe with streets lined with inspiration for how to style fall's hottest trends. Regardless, there's no doubt that my love of fashion rears its head at this time and always pulls me back into the fold. The fun, albeit overwhelming, thing about this season is the sheer volume of trends presented on the runways. In many ways, we're taking a trip down memory lane, but in other ways, we're seeing the rules of fashion being reinvented in front of our eyes.
Since fall has basically arrived, here's a deep dive into three of the top trends you can expect to see this season.
The Romantic Roaring Redux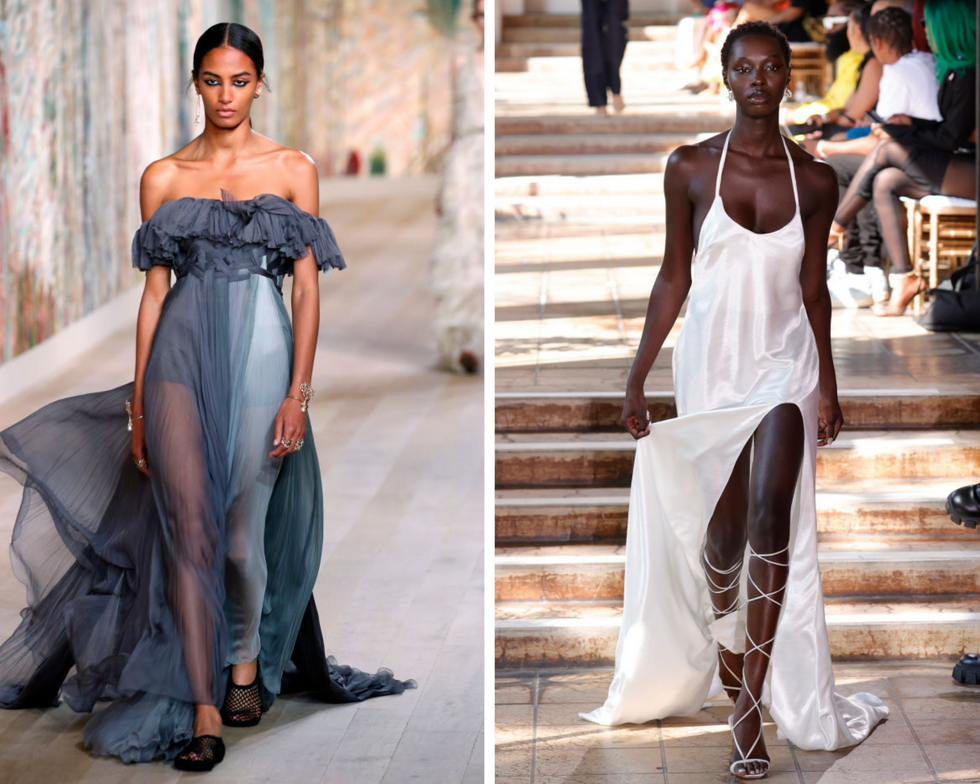 Thierry Chesnot/Getty Images
Frazer Harrison/Getty Images
Romanticism was prevalent in every runway show, and given the past chaos and upending of the past two years, it's truly no surprise that we're seeing a resurgence of romanticism in fashion. From loose tailoring and soft silhouettes to dropped waistlines and flared skirts, every designer showcased a romantic trend that'll be key for the season. There's also a beautiful amalgamation happening on the runways, between the romanticism of the 19th century and the delicate layers and lace textures of the '20s.
Designers are rejecting the clean, geometric shapes of yesteryear, and replacing them with light layers, voluptuous shapes, and extremely colorful patterns. From the design houses to the VMAs red carpet to magazine editorials, this compound trend is sweeping the scene.
Style Tip: If this trend is too feminine for you, add a youthful touch like throwing on a pair of crisp white sneakers or throwing a cropped moto jacket over top.
Straight Off The Slopes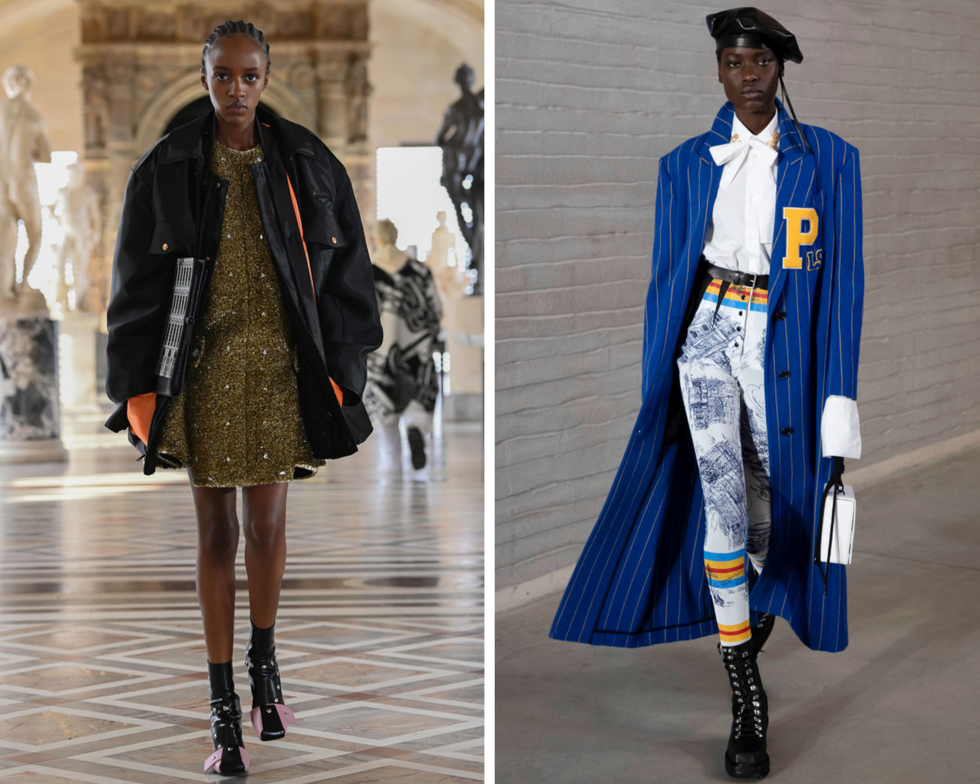 Pascal Le Segretain/Getty Images
IDI.SHOW/IDI.SHOW via Getty Images
Elevated knitwear, preppy sportswear, and specifically the ski-centric items, are gaining traction and will only escalate into the colder months. The first glimpse of this trend was prevalent in IVY PARK's #IcyPark collection, which showcased long-lined puffers, fur-lined hats, and oversized logo scarves. On the runway, big houses like Chanel presented calf-high furry snow boots and chunky wool sweaters, while innovators like LaQuan Smith opted for more understated but elevated cashmere cardigans and fuzzy mini dresses. Hanifa, known for her colorful palettes and exquisite silhouettes, dropped an entire collection centered around knit pant sets and maxi dresses that effortlessly fuse style and comfort.
Style Tip: Layering is key when styling this look properly, so opt for a sweater vest or high-neck bodysuit to add dimension to your look.
Early Aughts Girl's Night Out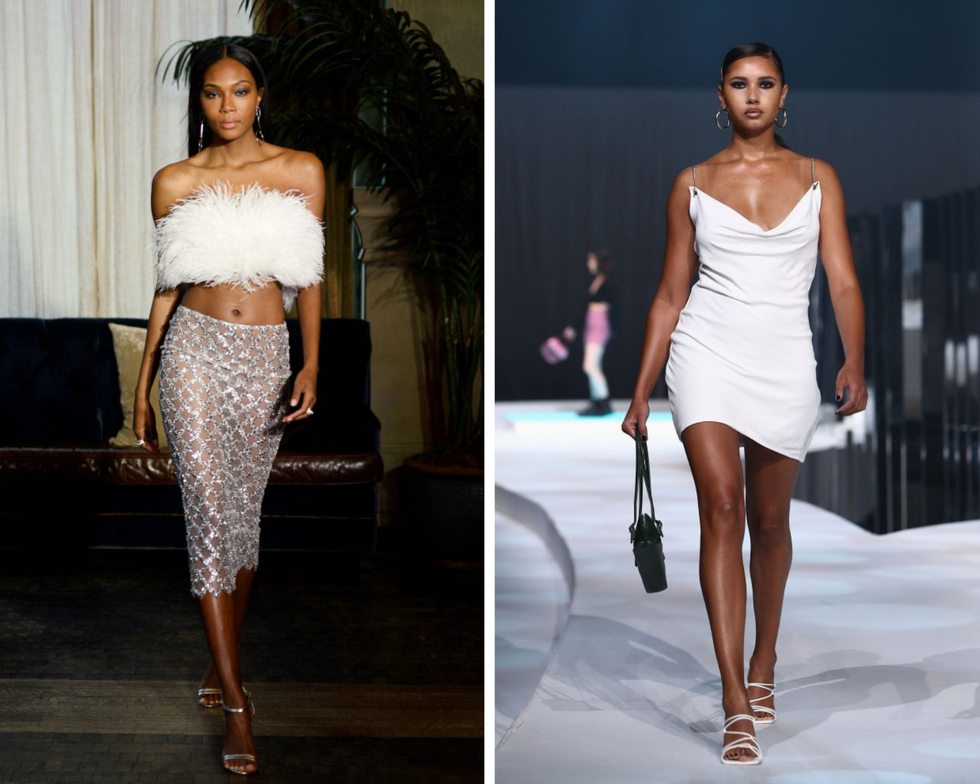 Fernanda Calfat/Getty Images for Bronx and Banco
Sebastian Reuter/Getty Images for ABOUT YOU
If you're ready for the nostalgic wave of the early 2000s to be over soon, I wouldn't hold your breath. At every corner, there are re-imagined looks from our favorite icons like Aaliyah, TLC, and Destiny's Child where the overall idea is easy - keep it short and body-con.
While this trend is not new, there is a doubling down that we saw on the AW21 runways. Many designers turned to their archives to capitalize on the collective wave, like Prada and their re-introduction to the 2005 Nylon baguette bag. Some like The Attico shortened their hemlines and tightened their silhouettes. And then others pushed the boundaries, like Off-White and Mugler, who presented statement-making partywear in the form of revealing catsuits, velvet minis, and flatteringly long trousers.
Style Tip: This look is about maximalism, so don't be afraid to add eye-catching jewelry or a colorful bag to top this look off.
To get your fashion fix and to stay up to date with the latest trends, check out the xoNecole Style section here.
Featured image by Getty Images
Keep reading...
Show less
The wave of nostalgic fashion and style trends are far from over, with the latest trend hitting timelines screaming 2001. A decade marked by flamboyant fashions and iconic VMA appearances, the 2000s were saturated with culture and innovation. That pop-infused energy has translated to the nail world; flashy swirls with the brightest hues of seasonal it-colors like hot pink and green are saturating the timelines. The designs vary from neon color blocking to fun rainbow swirls to detailed sketches of your favorite early 2000s characters.
Whether you were a fan of the early 2000s or dreadfully hate Juicy Couture, you can't deny this trend is fresh, fun, and a perfect way to transition into a new season. Cue up "Pon De Replay" and keep scrolling to get some inspiration from the Y2K wave.
Featured image by Getty Images
Keep reading...
Show less