Courtney Simpson
Courtney is a contributing writer, based in Puerto Rico by way of Tennessee. Interested in the intersection of fashion and culture, she has an affinity for fashion, empowerment, and really good tacos. Keep up with her on Instagram (@hautecourtxo).
Planning a getaway? Well, it's finally that season! Tis the season of wearing less and going out more; for mini skirts, knitted tanks, sheer everything; for fun in the sun, and everything in between.
From quiet luxury to neon monochromatic and everything in between, it can be difficult to nail down the ultimate resort wear style. So many trends, so little time.
With the ushering in of warmer weather comes a similar sentiment of light layers and colorful palettes. To help inspire your forthcoming vacay looks, we tracked down our favorite traveling ladies and dove into all things resort wear for 2023.
Achieng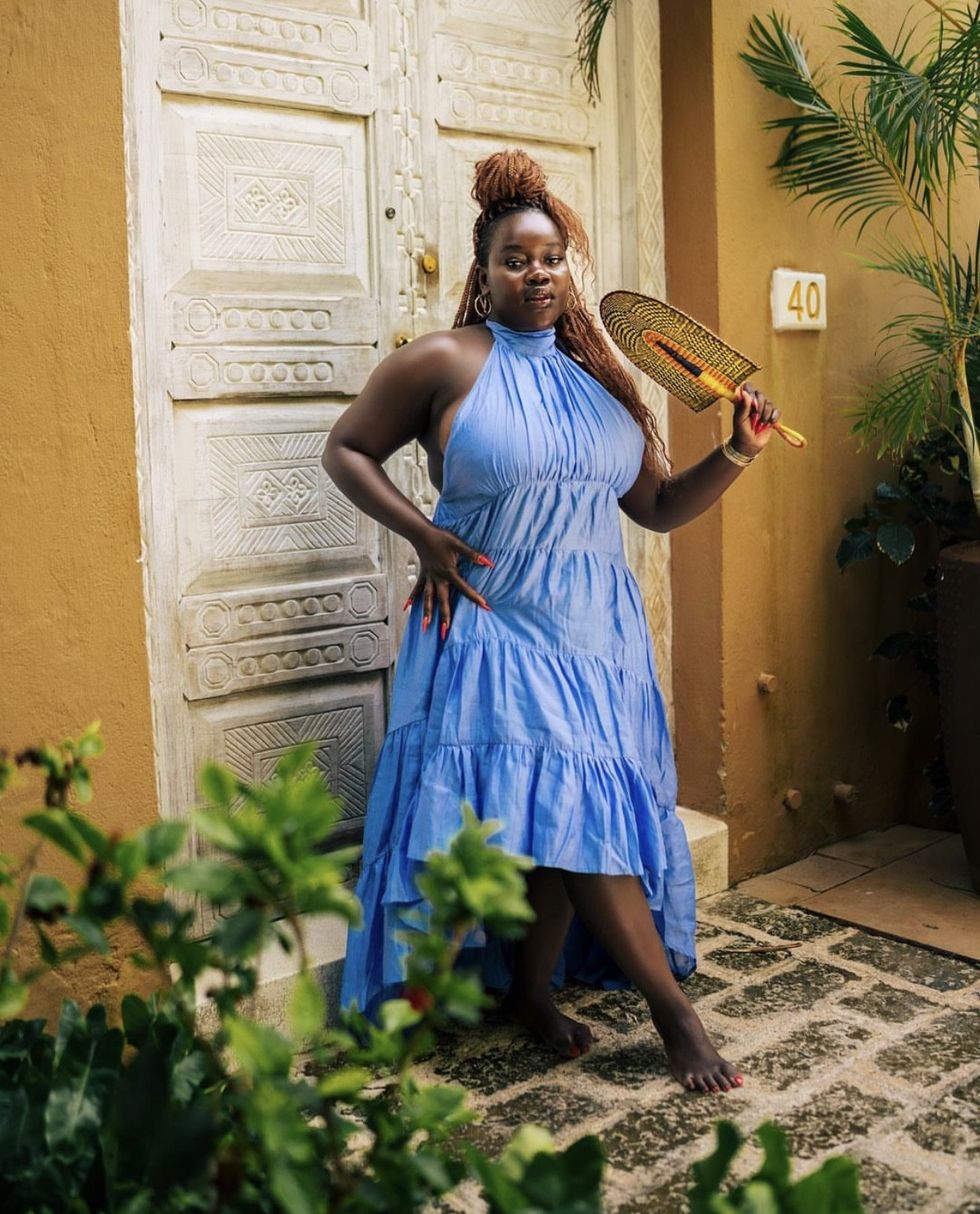 Courtesy of Achieng @noordinarynoire
Credit: Jon Navas @itsjdn
Q: How would you describe your vacation style?
A: My vacation style is clothing that feels like a second skin, clothing that is airy and light and just falls so effortlessly on the body. Satin slips, silk two-piece sets, crochet and mesh pieces, kaftans, and headwraps [are] where it is at! I also lean mostly towards bright jewel tones because how are you going to really live your best vacation life in a world that is not vibrant?
Q: What three items are you adding to your resort wardrobe this year?
A: 1.) 100000% a statement bag! Really loving the versatility of colorful straw totes or statement bags from Cult Gaia! 2.) A cute gold hoop that can take a simple outfit from 0 to 100! And finally, 3.) a little black dress that I can dress up or down on any vacation I go to!
Q: What's the biggest resort wear trend you're looking forward to in 2023?
A: One trend that I expect to be popular in 2023 resort wear is definitely vibrant and bold airy knits and crochet pieces. We have seen brands such as Cult Gaia, Simon Miller, and Hanifa really kill it on that end. Another trend that is expected to be big in 2023 is the use of sustainable and eco-friendly materials in resort wear. Consumers are becoming increasingly conscious [of] the impact of fashion on the environment, and many designers are responding by creating resort wear collections that are made from recycled materials or materials that have a lower environmental impact.
Q: Favorite resort wear brand or place to shop?
A: Fe Noel and Cult Gaia and Shopbop for all the fabulous accessories!
Q: If you can only pack one item on vacation, what is it?
A: Sunscreen, 'cause honeyyyyyy this skin has to be protected!
Ebony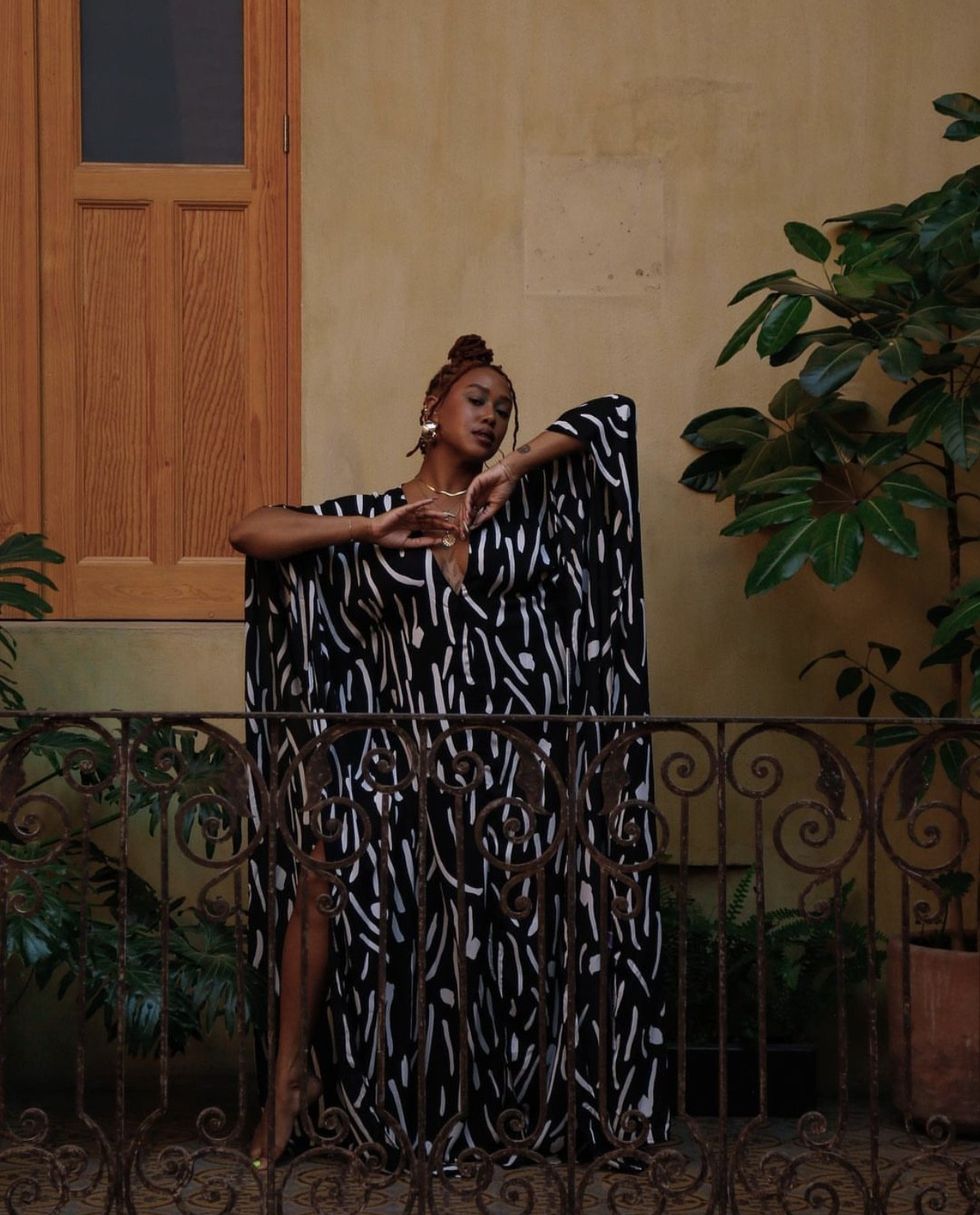 Courtesy of Ebony @fashioncrave
Credit: Luna @womaninmotion
Q: How would you describe your vacation style?
A: My vacation style is a mixture of pops of vibrant colors, flowy, lightweight fabrics like linen, silk, chiffon, wide-leg pants, exaggerated sleeves, maxi dresses, and detailed accessories.
Q: What are three items you're adding to your resort wardrobe this year?
A: I am most definitely adding corsets/bustiers, exotic floral prints, and [I] can't forget the sheer flirty silhouettes.
Q: What's the biggest resort wear trend you're looking forward to in 2023?
A: I am a colorful, print-obsessed girlie as soon as I am in warmer weather! So I am, of course, super excited for all the vibrant printed pieces that will be on trend for this year's resort wear collections.
Q: If you can only pack one item on vacation, what is it?
A: A linen oversized button-down, it's lightweight, breathable, and the versatility with styling is endless!
Marie Zoumanigui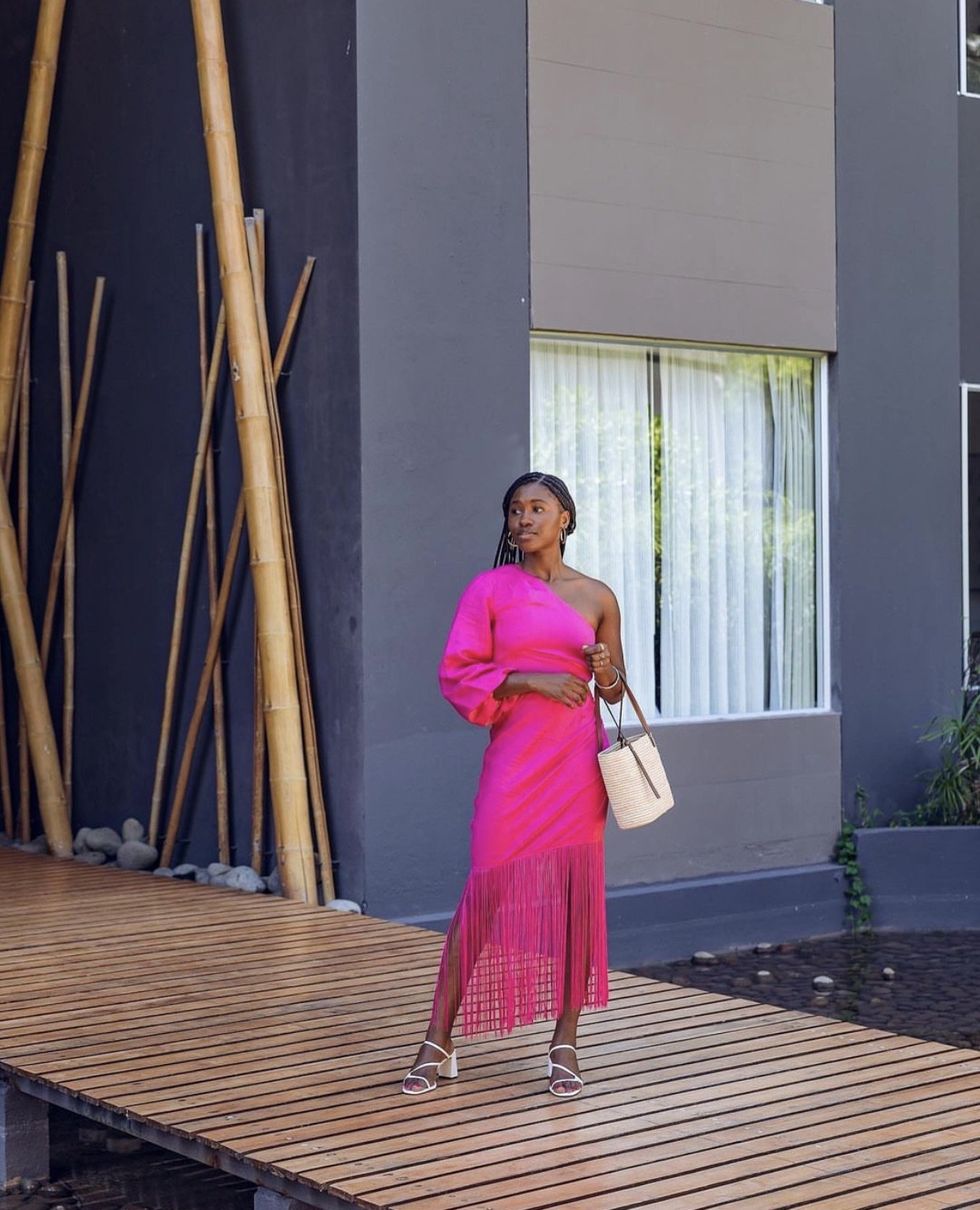 Courtesy of Marie Zoumanigui
Q: How would you describe your vacation style?

A: When it comes to vacation style, I have a bit of a dilemma: how can I pack all of my favorite clothes into one tiny carry-on? But in all seriousness, I'd describe my go-to vacation style as effortless and breezy. I love slip dresses for their versatility and comfort, and I always make sure to pack a blazer or two for those unexpected chilly nights. And, of course, a great pair of denim.
Q: What are three items you're adding to your resort wardrobe this year?
A: I'll definitely be adding some peek-a-boo knits for a touch of playful sophistication, tailored suit looks for their sleek and polished vibe, and, of course, some versatile and comfortable slip dresses.
Q: What's the biggest resort wear trend you're looking forward to in 2023?
A: I've been noticing a lot of white resort wear trends popping up lately, and I must say they are definitely catching my eye. I usually tend to avoid white clothing like the plague because, well, let's just say I can be a bit of a walking disaster. But I'm feeling bold this year, and I think I'm going to take a risk and try on some of the stunning white pieces I've seen around.
Q: If you can only pack one item on vacation, what is it?
A: I'm sure you won't be surprised by my answer - a slip dress, of course! It's my go-to piece for any occasion.
Featured image by Jon Navas @itsjdn
It's been a few weeks since the fashion industry was shaken to its core with the announcement of a co-designed collaboration between Beyoncé and Balmain. Since then, the newly released images have saturated the internet and group chats alike as the fashion industry tries to piece together the journey of Beyoncé's design career. It wasn't too long ago that ADIDAS and Beyoncé cut ties on IVY PARK, with ADIDAS retaining ownership of the brand and parting ways with the woman who founded it all, leaving many to say, "Now, what?"
For those unfamiliar, here's a quick history of how IVY PARK came to be.
Where IVY Park Began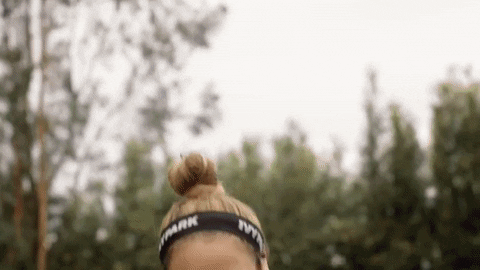 Giphy
Beyoncé created IVY PARK in 2016 with Phillip Green, the mogul behind TOPSHOP. Beyoncé was able to launch IVY PARK to her global audience with an international company like TOPSHOP, but amidst scandal in 2018, Beyoncé acquired full ownership of her company. A year later, Beyoncé announced a position as a creative design partner with ADIDAS and subsequently decided to relaunch IVY PARK under its umbrella, championing it as the "partnership of a lifetime."
In 2020, the first collection was released, featuring gender-neutral clothing and four footwear styles, celebrating "power, freedom, and individuality for anyone who has the confidence to take chances and live unapologetically." The brand handed Beyoncé full creative control and a nice $20 million annual paycheck, with the hopes of replicating the success of Kanye West's Yeezy but appealing to women.
The Demise of IVY PARK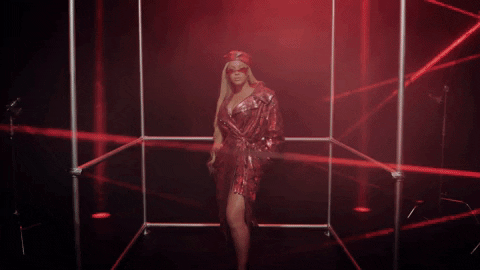 Giphy
To the average consumer, IVY PARK seems like a cash cow for the sneaker brand, but unfortunately, that was not the case. Despite the iconic iconography and cult social moments that accompanied each IVY PARK drop, only 5 of the 6 collections (not including this year's) sold roughly half of the merchandise that was produced. In fact, in February, ADIDAS reported a 50% loss over the last year for IVY PARK. Ultimately, with Beyoncé's contract set to end this year, the teams agreed to part ways with the future of IVY PARK to be determined.
According to the Wall Street Journal, Beyoncé and ADIDAS creative teams disagreed on how to label and market their products, with ADIDAS pushing for IVY PARK to align more with the overall aesthetic of the brand. It could be argued that this shift, to make IVY PARK fit in rather than stand-out, led to the demise of the brand. If a consumer can shop the same look for less on the ADIDAS website, why wouldn't they do that? The strategy seemed to dismiss the very reason IVY PARK catapulted to success; losing that unique and innovative feeling of its past.
Another significant element to the demise of this partnership was Kanye West, and the void left when ADIDAS released him in late 2022. The Void of Ye and ADIDAS' failures with their overall business and marketing strategy resulted in IVY PARK being overpromised and under-delivering. In trying to mitigate the loss gap, prices for IVY PARK have increased over the year, with the highest-selling item increasing to $600 versus $300 with TOPSHOP.
A Monumental New Beginning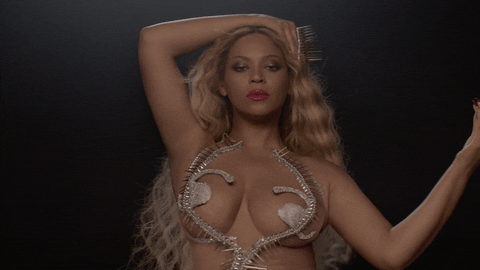 Giphy
This recent deal, and her subsequent announcement with Balmain, put a huge spotlight on an ongoing conversation within the luxury fashion industry: the expectations of a Black creative's profitability. Too often, the measurement of success placed on Black people far outweighs those of their white counterparts. One could point to as recently as 2021, when Rihanna paused her luxury line with LVMH "pending better conditions," despite the line only launching in 2019.
Even further back in the history books of fashion, one could point to Anne Lowe and Jay Jackson; two Black designers responsible for some of the most iconic looks of the 20th century, with little to no mainstream recognition at the time. The constant dismissal of Black talent led to overlooked appointments and expedited tenures, which created the incessant void of Black and brown people in the luxury space.
It's a trope we've seen time and time again, which is why the news of Balmain and Beyoncé co-designing is so monumental. To see a project born from love and intentional on celebrating the Black creative, as opposed to profiting off of them, is a surreal experience. This collection screams authenticity in a way IVY PARK couldn't anymore, and potentially never could again. The inspiration was her, the vision was hers, and the consumer buy-in was for her; it had nothing to do with ADIDAS.
This collection is more than optics, though. When announced, Oliver said, "this appears to be the 1st time that a Black woman has overseen the couture offering from a historic Parisian house." Balmain wanted to pay homage to the illustrious house while honoring the heritage of this magical performer. Keep scrolling to see more images from this historic and iconic collaboration.
Let's make things inbox official! Sign up for the xoNecole newsletter for daily love, wellness, career, and exclusive content delivered straight to your inbox.
Featured image by Mason Poole/Parkwood Media/Getty Images for Atlantis The Royal
There's a certain energy that exudes from a creative woman with a clear vision and energy you feel as soon as you interact with her. It's contagious and fills up the space with elements of empowerment, honesty, and confidence.
As soon as I sat down to chat with jewelry founder Kimberly Fomby Jefferson, there was an energy takeover, seeming new yet very familiar. It wasn't but a few moments later that I recognized where I felt that feeling before; it's the same one I experienced when I came in contact with Sucré Couture, the proactive and nostalgic jewelry brand founded by Kimberly. Over the past year alone, Sucré Couture has been featured in ESSENCE, British Vogue, and New York Magazine, to name a few.
It was my pleasure to sit down with Kimberly during one of her busiest seasons to chat with her about the why behind her brand, her key tips for successful marketing in today's saturated world, and a few tips for others who battle with imposter syndrome. If you're unfamiliar with this powerhouse, here's your chance to find out more! You can also shop this amazing brand in our ElevateHer xoNecole shop here!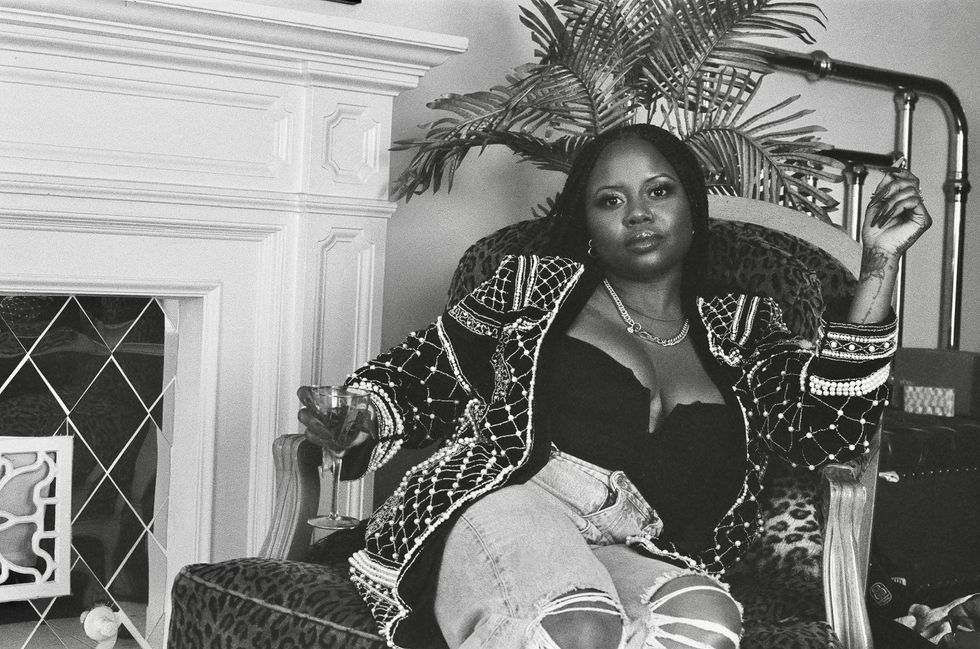 Kimberly Fomby Jefferson
Credit: Valley In Film
xoNecole: For our readers who aren't familiar, can you give a bit of backstory on your journey to becoming a jewelry designer? 
Kimberly Fomby Jefferson: My journey to becoming a jewelry designer humbly began in 2011 with $79 worth of jewelry supplies and wholesale jewelry, a Wix website, and a camera phone to take photos in a DIY lightbox made from cardboard. Between being a mom, getting an MBA, and going to a part-time marketing job, I'd be pulling together collections, promoting on social media, and selling a few trunk shows here and there.
Year after year, I'd keep at it, meeting people who eventually became amazing friends and mentors who encouraged me to continue growing Sucré Couture in the most authentic way possible.
The more I grew and gained an appreciation for my gifts, culture, style, and upbringing, the more I evolved as a jewelry designer.
xoN: What was the motivation behind launching Sucré Couture in 2011? 
KFJ: Jewelry has been an integral part of my life for as long as I can remember. As young as six or seven years old. My mother always told me to keep a pair of earrings on, or my grandmother and great-aunt would gift me dainty gold and white gold necklaces and rings as keepsakes. Even the men in my family, my father, and grandfather, were really keen on thick gold chains, heavy rings, watches, and nugget bracelets.
Naturally, my exposure and affinity for jewelry followed me throughout my life, including when I decided to launch the brand at the tail end of my residency in New Orleans. I was fresh out of college, expecting a child with my now husband, and wanting to do something creatively fulfilling. I also come from an entrepreneurial family. It's no surprise to many that I followed suit.
xoN: From the jewelry to the social media content to the editorial shoots, the Sucré Couture vibe exudes effortlessly across the board. In a world where marketing is key to any e-commerce success, what are the three strategies you've implemented to ensure seamless branding?
KFJ: Know your brand and whom you're creating it for. While, at the same time, remaining authentic to the brand and why you launched it. Because truthfully, the right people will fall in love with your brand anyway.
Be as organized as possible. Keep all of your assets and content in one place for your team. Make it easy for yourself or anyone to grab what they need to produce good content.
Lead with a campaign strategy that sets clear creative expectations at the very beginning and keep everyone informed on it.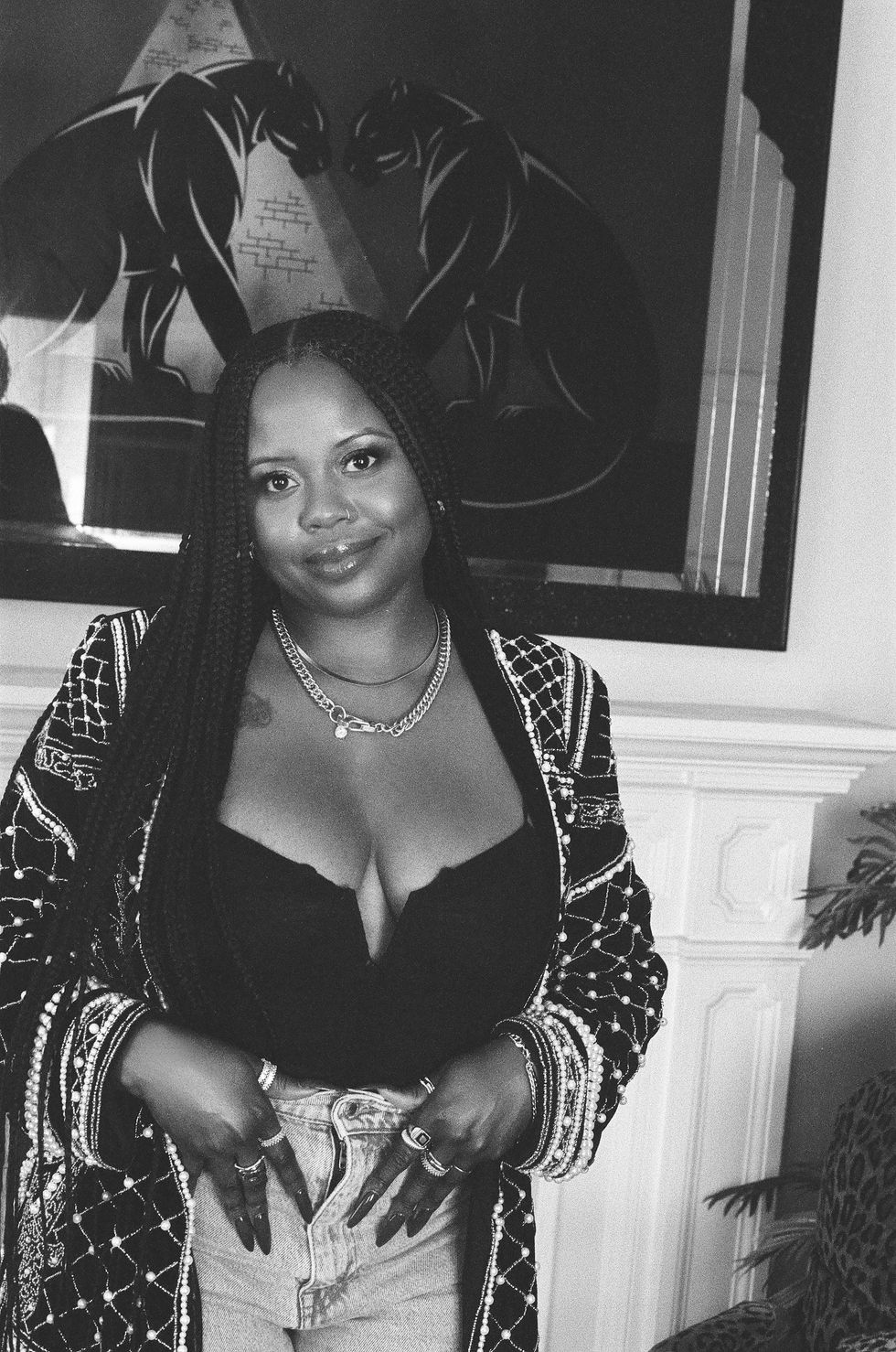 Kimberly
Credit: Valley In Film
xoN: What does success look like to you? 
KFJ: I love this question. Especially since it's come up so much for me within the last few months. Success looks like a beautiful community of heavily engaged people, a brand legacy that continues well into the future, and Sucré Couture editorial jewelry and other items that people have coveted as souvenirs of our collections for decades.
xoN: What has been your biggest challenge as a Black woman entrepreneur?
KFJ: Hmmm, my biggest challenge, and win at the same time, as a Black woman entrepreneur, has been the journey. It's no secret that Black-owned businesses, and even more so those of Black women, do not have the same access to resources as others. So I've had to get creative and roll up my sleeves to make things pop off and shine. With my knowledge bank, talents, and with the support of my team and community, Sucré Couture has managed to navigate challenges gracefully.
xoN: What has your biggest failure in this industry taught you? Please give us a brief scenario of the failure and how you found the lessons within that. 
KFJ: Fortunately, through the support of a fantastic community of other entrepreneurs, friends, and family, I do not perceive anything I have encountered in the industry as failures — only lessons. A wise woman once told me, "Write off failures as professional development." As an entrepreneur, you must be willing to fall and get scraped and bruised up, only to get back up and try your best not to make the same missteps.
On this note, my biggest lesson has been checking all the facts and not skipping steps. Check your contracts and plan, plan, plan because, baby, the devil is in the details.
xoN: What is the #1 piece of advice for anyone who wants to start and launch a successful jewelry brand? 
KFJ: My number one piece of advice for anyone wanting to start and launch a successful jewelry brand is to do it from the heart. Make wearable art with the same love you have for the brand. Get personal and vulnerable by how you engage with building it. Sit with it. Pick it apart. Don't be afraid to start anew and rebrand. Be genuine, and the rest will flow through your product and storytelling.
My second piece of advice is to get your feet wet in every single part of your business. From digital marketing to operations to photography to web design and development, good business owners, in general, should be able to roll their sleeves to pitch hit to keep the momentum going, if necessary.
A third piece of advice is to be coachable. Don't be afraid of constructive criticism—especially from a qualified source. If you have some good business advice that makes sense, I'll surely listen. In adjunct to this, you can't take everyone's advice either. Chew up the meat and spit out the bones. Trust your gut. You know your business better than anyone else.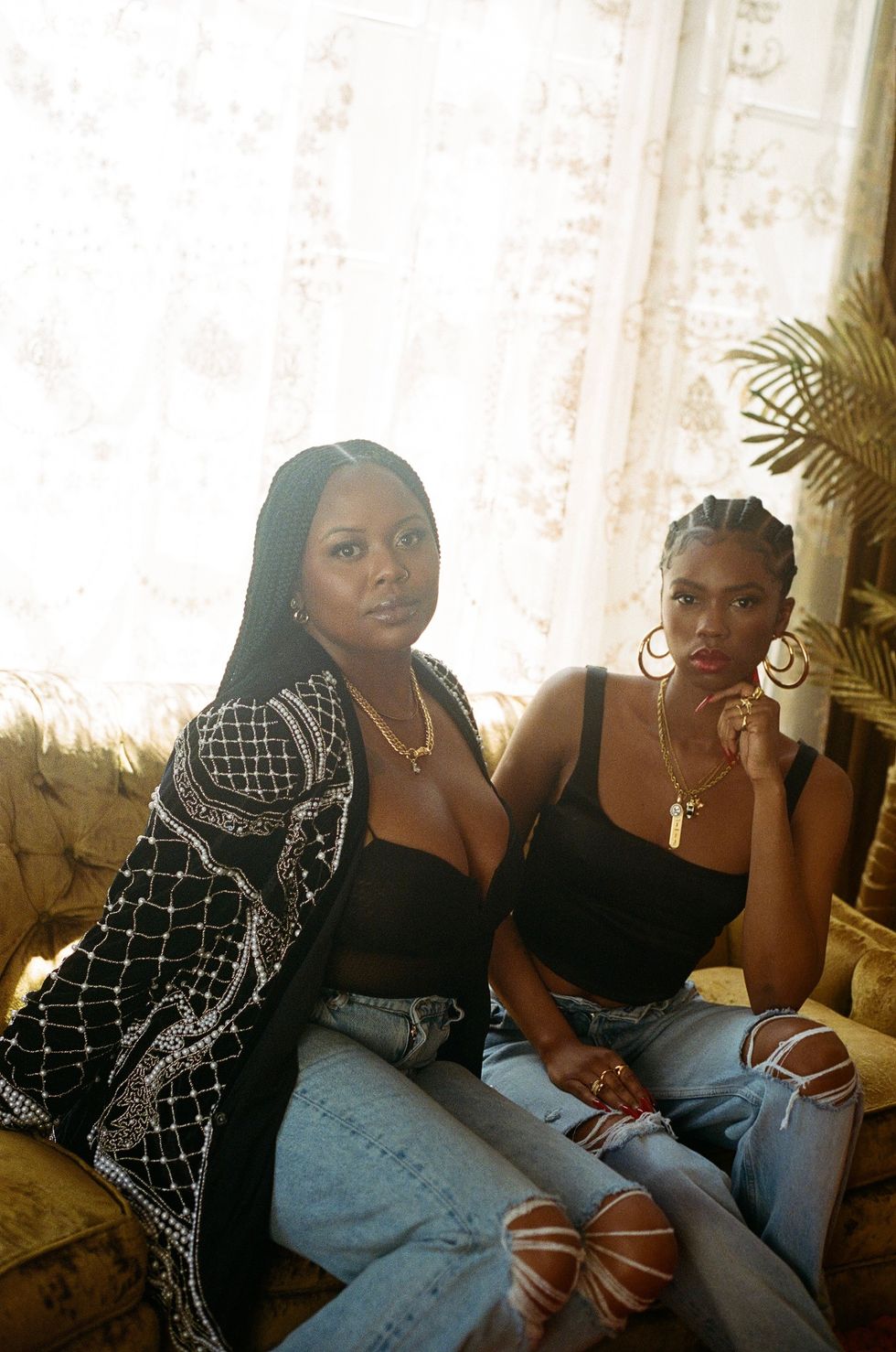 Credit: Valley In Film
xoN: As someone who has been in the industry for over a decade, I'm sure you've had times when you felt stagnant, complacent, or overlooked in regard to your brand. What is the #1 piece of advice for anyone who feels like potentially giving up because they haven't reached 'success' yet? 
KFJ: Girl! Keep pushing. My great Uncle Jimmy and Aunt Jean, more than a decade ago, told me that it would take a minimum of 5 years to see a business bloom into its full potential and to keep chipping away at the brand. That's a gem that I always hear in the back of my mind. I'm glad I listened. Paying it forward to whoever is reading that needs to hear the same thing.
xoN: Why was it essential for you to have an all-woman team behind Sucré Couture? 
KFJ: Women naturally possess an innate sense of eros, which must be reflected within the brand. Sucré Couture is deeply rooted in a love of self and love of Black culture, and our all-women home team got that down to the core. It's been tilled and nurtured by gifted hands.
xoN: What's the future look like for Sucré Couture? Any new exciting projects our readers should know about? 
KFJ: The future for Sucré Couture is about to get more experiential and profound than ever. While I can't share all the details, provocative, nostalgic, and raw art is central to the experience. And more Sucré jewelry, of course!
Feature image by Valley In Film
Sheer is THAT girl this year.
Since the debut of spring/summer collections last year, sheer clothing, or the 'barely there' aesthetic as it's being called, has been on the radar of fashion insiders for months. But after it was catapulted into the spotlight following buzz sparked around Ciara's Vanity Fair Oscar Party look, it's clear that the sheer aesthetic will be one of 2023's hottest trends.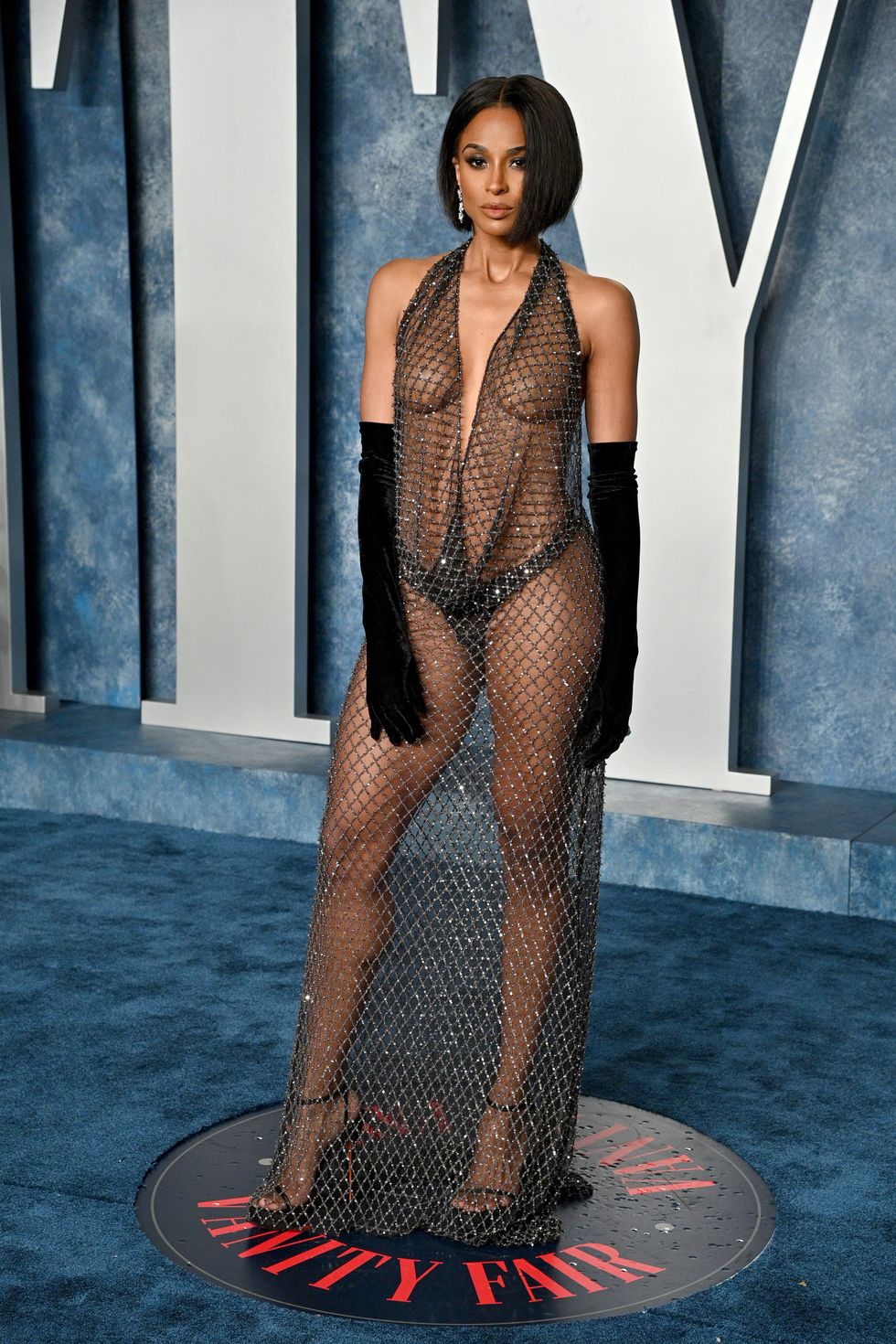 Ciara attends the 2023 Vanity Fair Oscar Party wearing a sheer dress from Dundas.
Lionel Hahn/Getty Images
Perfect for warmer temperatures, the minimalist trend packs a maximum punch no matter which way one decides to wear it. On the red carpet, on the beach, or at your local cafe, the limit is nonexistent, which is why this trend will dominate in 2023.
And while it's not a new trend (hello, Lil Kim and Naomi Campbell in the 90s), it's definitely been modernized this season.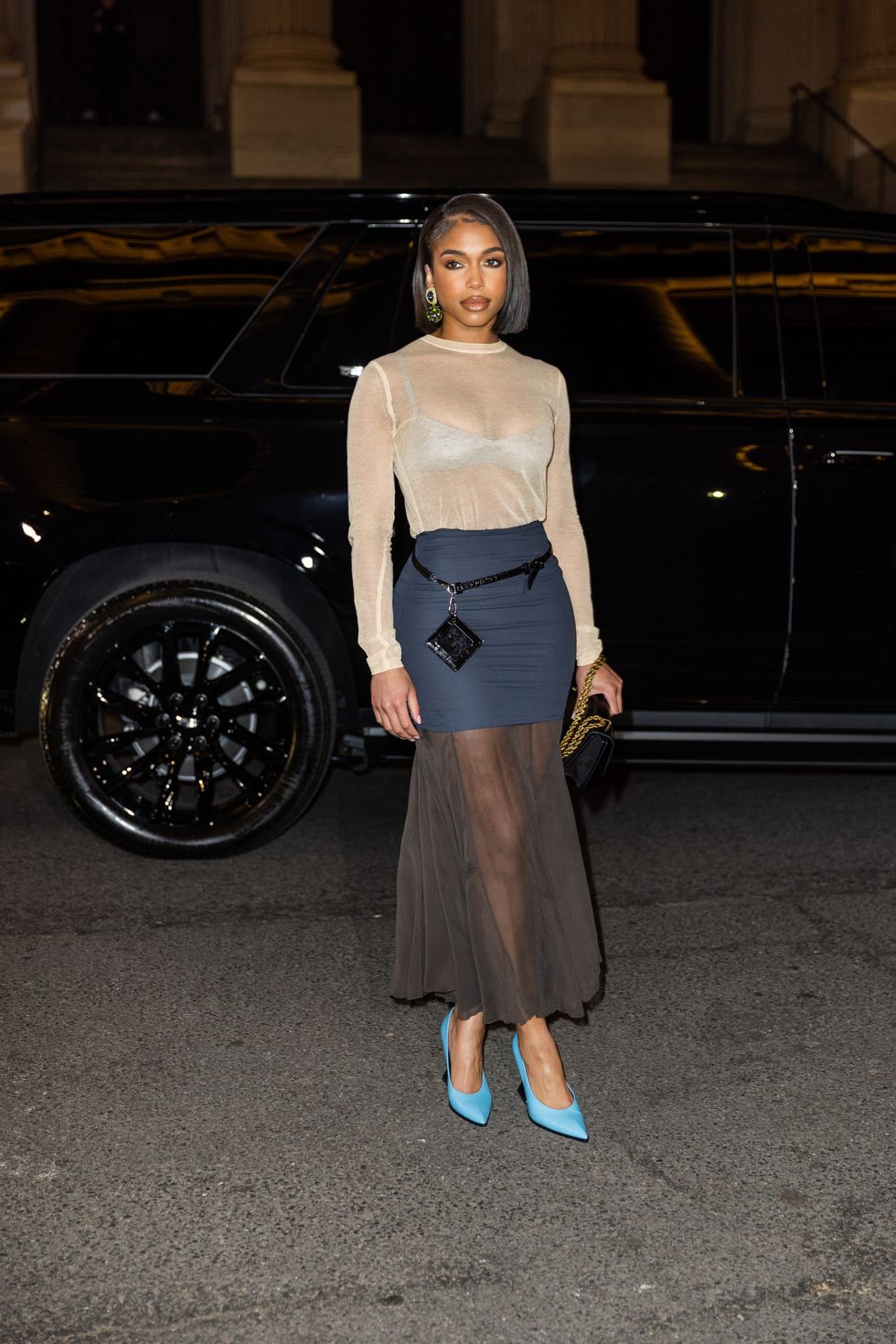 Lori Harvey wears sheer top, skirt, bag, blue heels outside Tory Burch during New York Fashion Week.
Christian Vierig/Getty Images
Does the rise of "free the nipple" have anything to do with the rise of sheer, barely there dressing? It could be argued one influenced the other, but that's not the chicken-egg battle we're discussing today. Designers are pulling out all the stops to capitalize on this trend; from all-sheer dressing to a more demure nipple slip, it's an accessible and scalable trend.
It's all about showcasing as much or *as little* as you want. This is an updated way to incorporate last year's reigning trend: cut-outs.
If you're interested in trying out this trend, keep reading for effortless ways to incorporate sheer dressing into your wardrobe.
Bare It All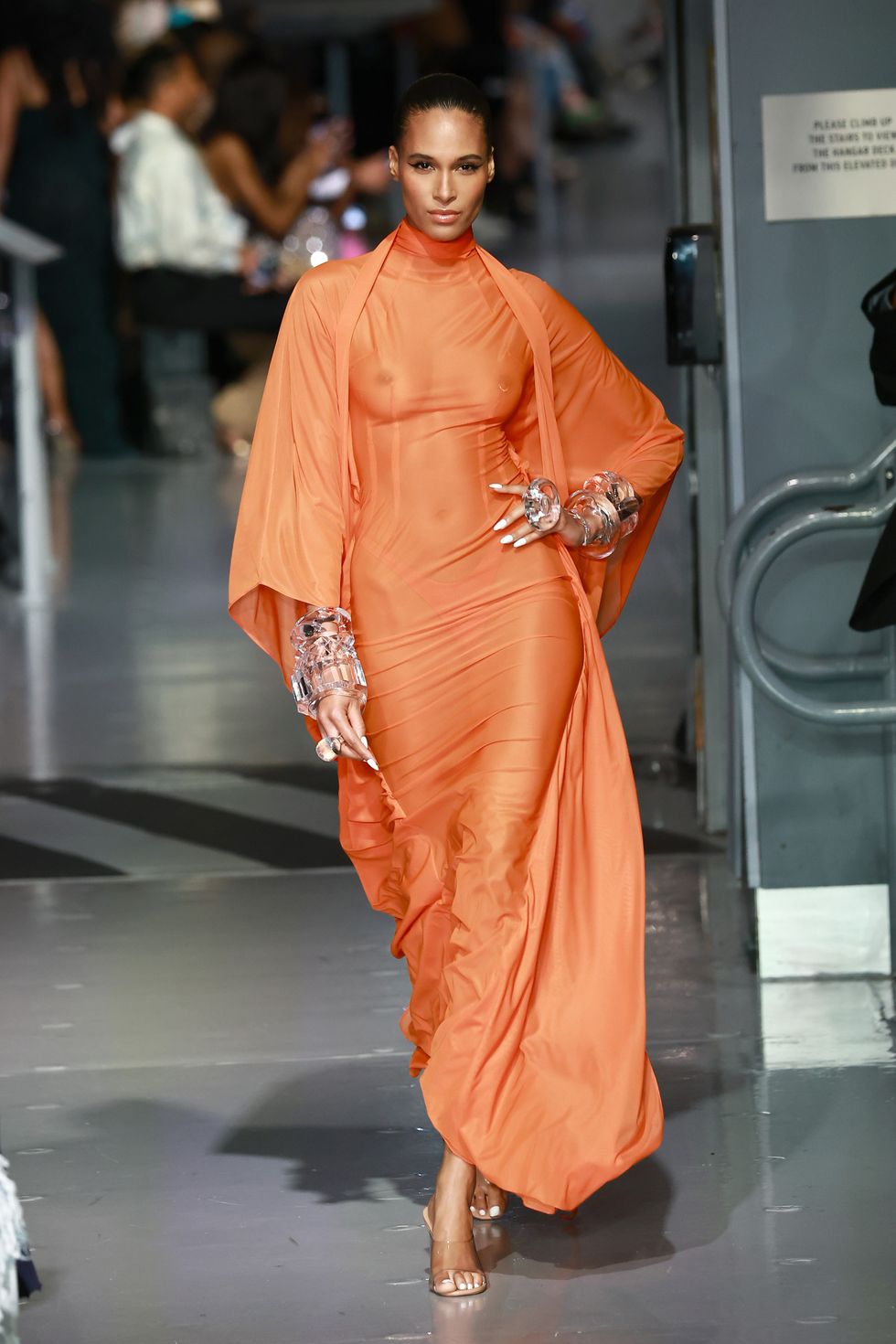 Arturo Holmes/Getty Images for NYFW: The Shows
This aesthetic lends favorably to the risk-taker in us all. This style of dress is effortlessly transcending beachwear for everyday wear, even emerging into the echelons of cocktail and formalwear. If you're comfortable baring it all, you can easily do that with a sheer dress and nothing else. But fear not, this trend is easily complimented by a structured long blazer or a belt to provide some wanted coverage.
Peek-A-Boo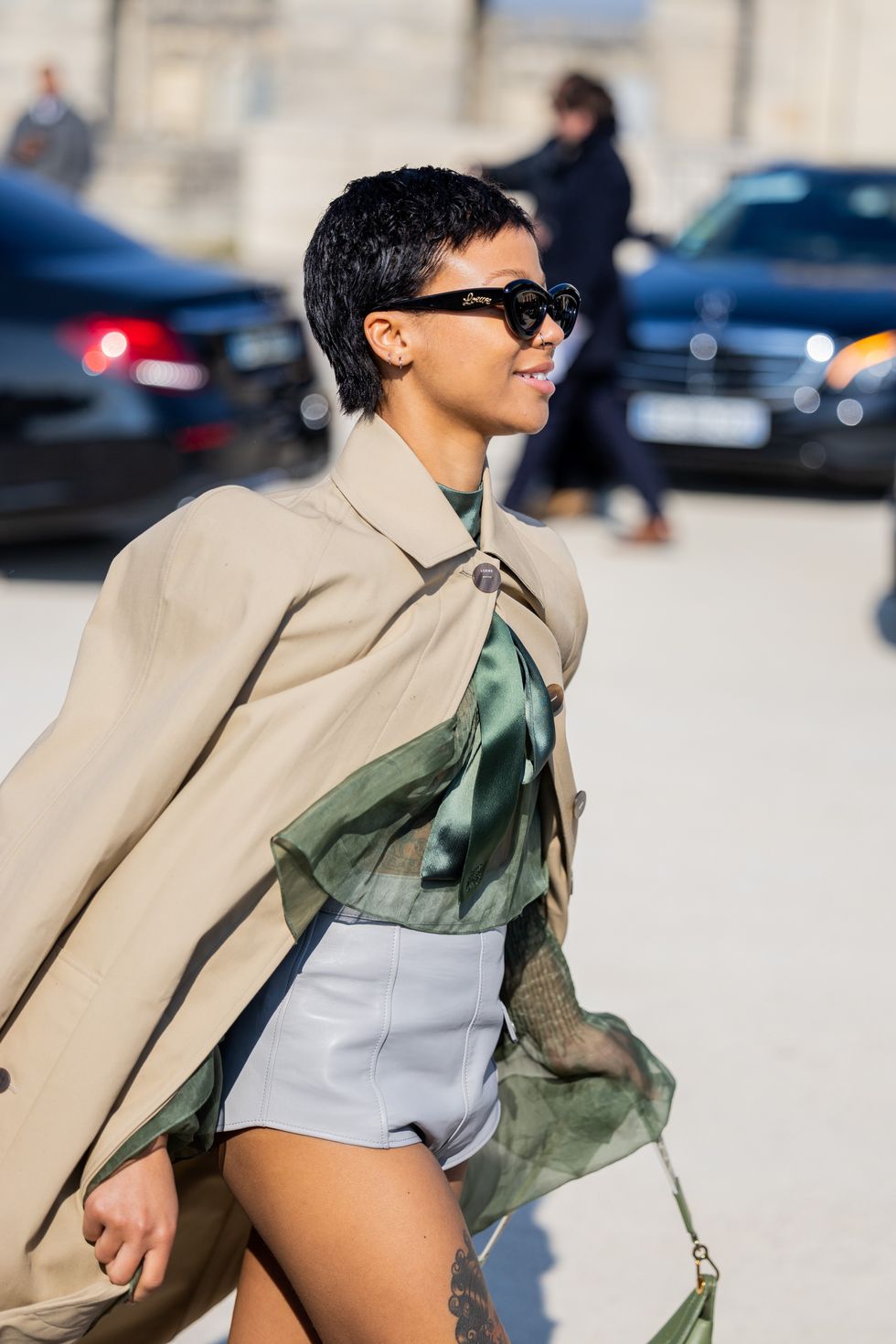 Myha'la Herrold wears green sheer blouse, gray shorts during the Paris Fashion Week.
Christian Vierig/Getty Images
Maybe full sheer isn't your thing, and that's what makes this trend so exciting. This is what I call the peek-a-boo method. Opt for a brightly colored sheer top to pair under a more neutral blazer or jacket for a very IT-girl moment. If you want to take even more of a risk, opt for a sheer shirt to pair with shorts and a trench, a la our girl Myha'la Herrold. The juxtaposition of textures and lengths is the perfect element for an understated but sexy moment.
A Touch Of Bling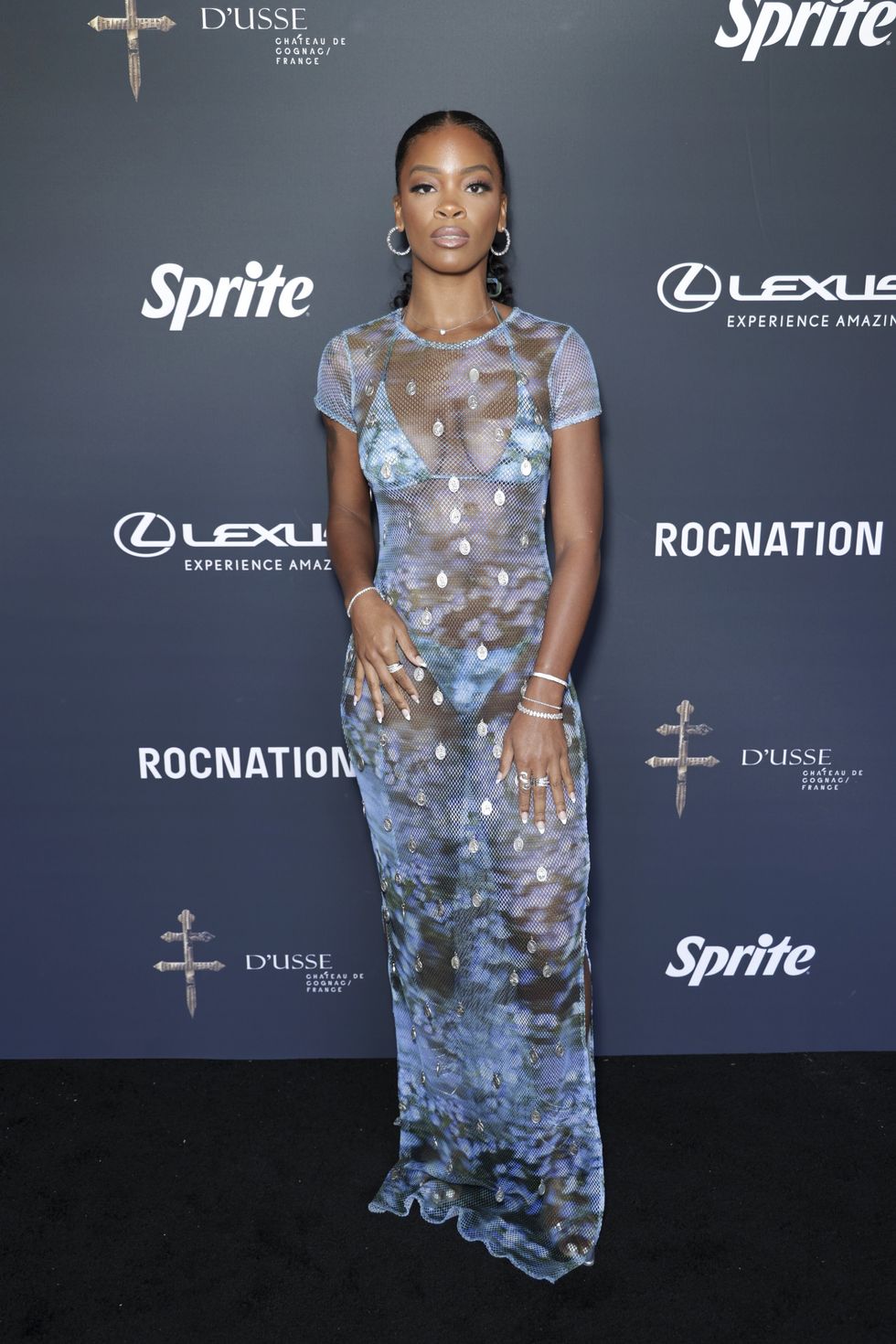 Ari Lennox attends 2023 Roc Nation The Brunch.
Momodu Mansaray/Getty Images for Roc Nation
When in doubt, go embellished! This is an easy (and sparkly) way to create coverage without sacrificing the barely there element of sheer clothing. Whether you adorn yourself with a jewel-encrusted sheer dress or merely layer jeweled accessories on top of a black dress to elevate the look, it's the perfect combination for any GNO.
A Feminine Dream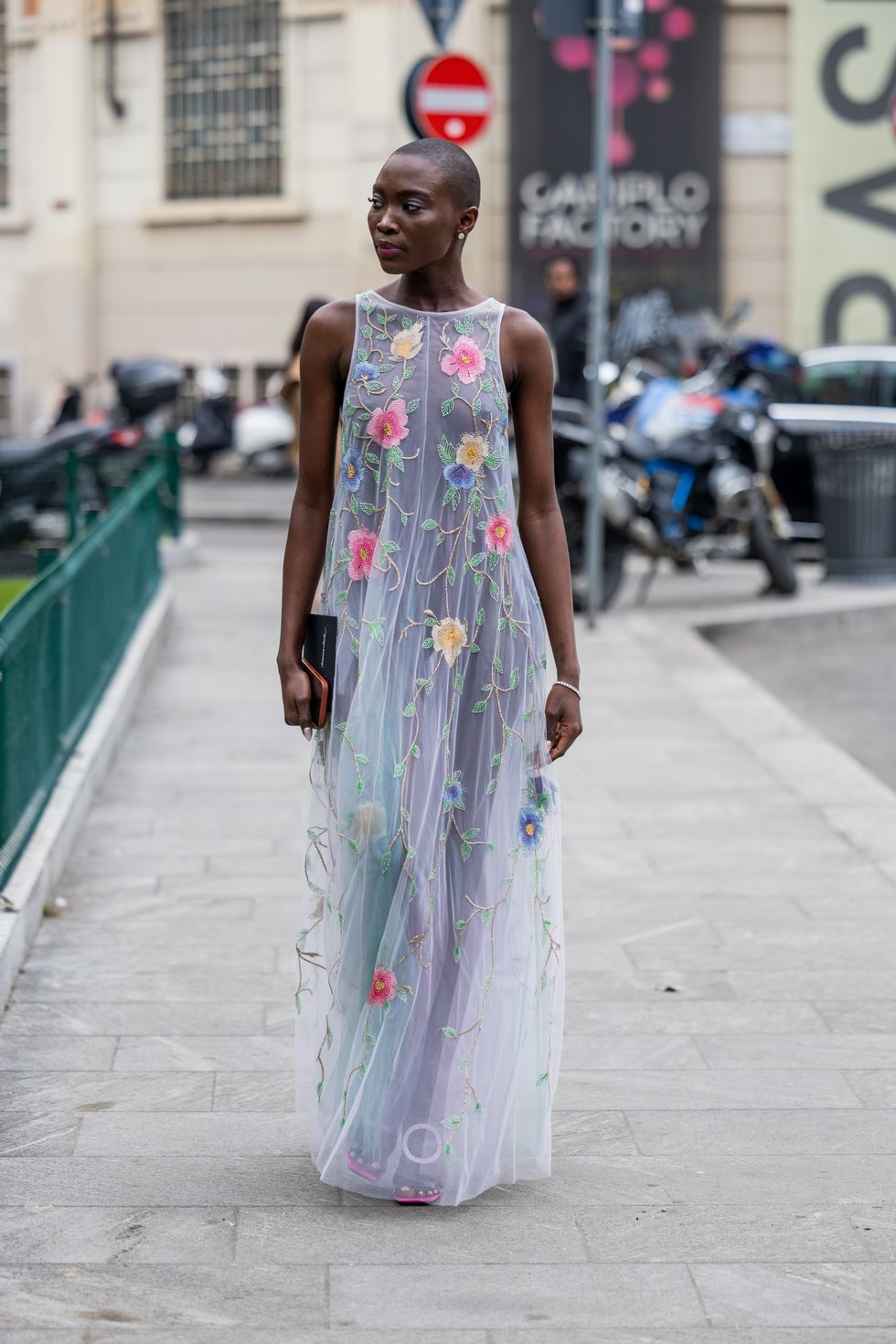 Amina Ladymya wears a sheer embroidered dress during Milan Fashion Week.
Christian Vierig/Getty Images
What is spring without a bit of pomp and circumstance? The lace detailing is a stylish way to elevate any piece of sheer clothing, especially for the spring and summer seasons. If you really want to lean into the renaissance aesthetic circling the runways, add ruffles and floral appliques to elevate this look.
Let's make things inbox official! Sign up for the xoNecole newsletter for daily love, wellness, career, and exclusive content delivered straight to your inbox.
Featured image by Getty Images

There's something about the whimsicalness of February fashion month that's different from its sister month in the fall. Kicking off with haute couture week in Paris, the spring ready-to-wear shows always inject new life into the fashion cycle every year - and this year was no different. The collections this season were all about longer hemlines, sexy draping, and neutral palettes, all without sacrificing glamour and opulence.
There was a sense of grown and sexy that exuded from the runways, with many designers doubling down on the looks that could be replicated effortlessly off the runway as well. Unlike previous years, a sense of renewal surrounded this fashion month, a nod to the continued democratization of the current fashion industry. Now, trends are curated and popularized by the people as much (if not in some cases more) than the designers.
Across the different cities, designers presented topical, holistic collections that screamed "quiet luxury" while staying loyal to their brand mission. Brandon Maxwell was rooted in abundant joy, consistency, and confidence; LaQuan Smith showcased evening suiting with a hint of retro-glamour and a suit-dress combo that was just insanely divine. Carolina Herrera expertly and beautifully combined the fantastical elements of fashion with realistic and stunning silhouettes to present a collection that wowed. Bruce Glen experimented with color and prints in an innovative way that is both chic and trendy.
For the majority of designers, 2023 is the year of letting go of forced trends and embracing the elements of style and fashion through their own lens.
Fashion month can be overwhelming with all the new trends burgeoning but it can also give you that boost of inspiration you need to refresh your personal style. Based on the forecasting from the month of shows, here are 4 of the biggest trends to rotate into your wardrobe this year.
Featured image by Edward Berthelot/Getty Images
The world does not progress without Black creativity, and that's nowhere more apparent than in the fashion industry. Throughout history, Black men and women played pivotal roles in creating and advancing technical aspects within the fashion industry, while simultaneously demonstrating previously unseen innovation. Despite mainstream acceptance or acclaim, there isn't a sector of this industry that a Black person hasn't significantly impacted.
From couturier Ann Lowe - who created the wedding gown that Jackie Kennedy wore to marry JFK in 1953 - to global icon André Leon Talley - the first Back male creative director at VOGUE; the past several decades are saturated with intriguing and brilliant Black creatives.
With the first fashion season of the year in full swing, it proved to be the perfect time to highlight the impact of Black creativity in fashion. From editorial to show production to styling, the business of fashion is complex and requires departments to perfectly align in order to deliver an exceptional product.
Keep reading to learn about 7 Black creatives that are making moves in the industry while constantly creating spaces for others to flourish.
Feature image by Robin L Marshall/Getty Images for Allure