After 22 cycles, and 12 years on television, one of the top rated fashion reality shows came to an end last year after the head honchos at CW and the host and co-executive producer, Tyra Banks, decided that America's Next Top Model had run its course.
---
After much disappointment by fans everywhere, VH1 decided to bring it to their network complete with a new host and judges. After thinking that we would never see Tyra back in the judges seat she announced recently that she's coming back to ANTM for cycle 24; she's back with new rules!
"There have been 23 cycles of America's Next Top Model and every single cycle we say you have to be 27 years or younger. You know what I hear all the time? 'Tyra, come on. Why have an age limit?' So you know what? I'm taking that age limit off.'"
I'm excited about Tyra's return of the show because I will never forget what I learned from watching ANTM. When I was just eight years old, on Wednesdays I would be dressed in my PJs, finished with my chores, and sitting in front of the TV before 8pm so that I didn't miss a minute of that show! It was considered "Tweety's TV Time"! I dreamed of the day where I would grace the screen just like the many models that appeared on the show each season.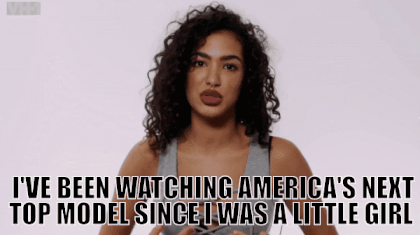 I just knew I would have my opportunity to stand before Tyra and receive my photo letting me know that I would make it to the final two.
By the time I was 13, my dreams changed and my pursuit to become a model were null and void but it didn't change the fact that I learned so much from watching ANTM. There were many lessons to take away from the show that even today, I see many beautiful girls using it to enhance their beauty on the 'gram.
Here are just a few tips that I learned from Tyra and the original ANTM that I will never forget:
1. How to Pose
Before ANTM came on the scene, we girls had a limited amount of poses. Mine was definitely the hand on my hip while leaning on my knee, or the terribly concave look that every model looks great doing but makes an amateur look quite—amateur. After watching the show, I learned how to elongate the neck to appear taller, and how to create shape with the body that can make you look lean and fierce in every photo.
2. To Always "Smize"
"Smize" is a word created by Ms. Banks that means to smile with your eyes. This is one that took some time for me to accomplish but I finally got it. Smizing has a way of making your face look bright and happy.
3. To Do the "Booty Tooch"
Another word that was created by Tyra, "tooch" means to pop out the booty just a lil bit to give shape to your profile. This is like having an instant butt lift in images.
4. Not To Be Afraid of Change
One of the most anticipated moments on the show was definitely the makeover. Yes, this when the models literally had breakdowns because they were going to be transformed into something that they were unfamiliar with. From drastic haircuts and colors to changing the models teeth (remember Cycle 6 Joanie Dodds), the young women were made to look edgier in order to take their look to the next level.
5. Full-Figured Girls Are Beautiful
Tyra was never afraid to break the rules and set trends on her show! While the industry insisted that supermodels could never be plus-sized, Tyra introduced real-sized women, like Toccara Jones, who were Ah-mazing! Toccara was featured on the cover of King and she also had a full spread in Vogue Italia showing off her all her sexiness. Thanks to people like Tyra and other trailblazers, we see more real-sized women strutting their stuff down the runway and I hope it continues.
6. Shortie Got It Going On
While Kate Moss reigned as one of the most famous short models to have a long lasting career in the modeling industry, Eva Marcille Pigford came on to ANTM and took the modeling industry by storm being featured on the cover of several publications, like Essence, and had an on-going career as an actress on shows that include The Young and the Restless.
7. The Modeling Industry Can Be a Beast
Tyra has never sugar-coated that the modeling industry is a beast and those with thin skin need to develop layers or go home. Women in the industry are faced with body shaming, color prejudice and many other jabs at people's self-esteem. Because of shows like ANTM, the standard of the fashion/modeling business has been scrutinized in order to make the business safer for young models and the young women who hope to be like them.
8. Never Take Your Opportunities Lightly
Who can forget the time that Ms. Banks went all the way off on contestant Tiffany Richardson (Cycle 4)? Yes, she let loose and let have because she felt that Tiffany did not take her opportunity seriously when she was eliminated. This was Tiffany's second opportunity as she was disqualified after getting into a fight on cycle 3. Tyra wanted her to know that her failure was because of her own actions and not anyone else's. After watching this moment, I think we all learned that all opportunities are blessings that should be counted, especially from Tyra.
9. No Matter What, You Are Beautiful!
No matter who we chose as our favorites, Tyra made sure that we saw the beauty in each of the models through their images because most of the time, then were young women who are just like us. Just look at runway model Winnie Harlow (Cycle 21), the beautiful girl with Vitiligo, who is seen taking prideful strides down the runway—stunning! Although she didn't win, it hasn't stopped her from popping up in fashion spreads like Ebony and Glamour and being featured in publications like Cosmopolitan and Complex, as well as major campaigns with brands like Diesel. Yes, Gawd! With our insecurities and flaws, Tyra taught young women to own them because they are a part of what tells our story and those stories make us beautiful.
10. #BlackGirlMagic Is Real
Tyra used her platform to feature the beauty of black women. Thanks to ANTM, young black women saw the likeness of their own beauty on the runway. Although many of them did not win the show, they are #winning in their careers.
Don't believe me?
Check out the careers of Fatima Siad (Cycle 10) who did ad campaigns with Armani Exchange, Ralph Lauren, and Pantene; Naima Mora (Cycle 4) did print modeling for CoverGirl and ELLE Magazine. She also released a book in 2012 titled Naima Mora's Model Behavior; Isis King (Cycle 11 and 17) was the first transgender on the show who became a model and actress that was featured on several episodes of the Bold and the Beautiful. She is also a spokesperson for the transgender community. And last but not least, Yaya DaCosta (Cycle 3) has made it clear that she is more than just a beautiful face. The multi-lingual and professionally trained dancer has been featured in countless ad campaigns and several movies that include her portrayal of Whitney Houston in the Lifetime film. Awesomeness!
What were some of the lessons you learned from ANTM that you continue to use and favorite moments from the show? Share below!