Chilling Adventures of Sabrina and You actress Tati Gabrielle is giving fans a glimpse into her beauty routine. While she is known for her bold makeup looks on the red carpets and in the Netflix series, she reminded fans that she is just a simple girl who believes that "less is more."
---
Skin Care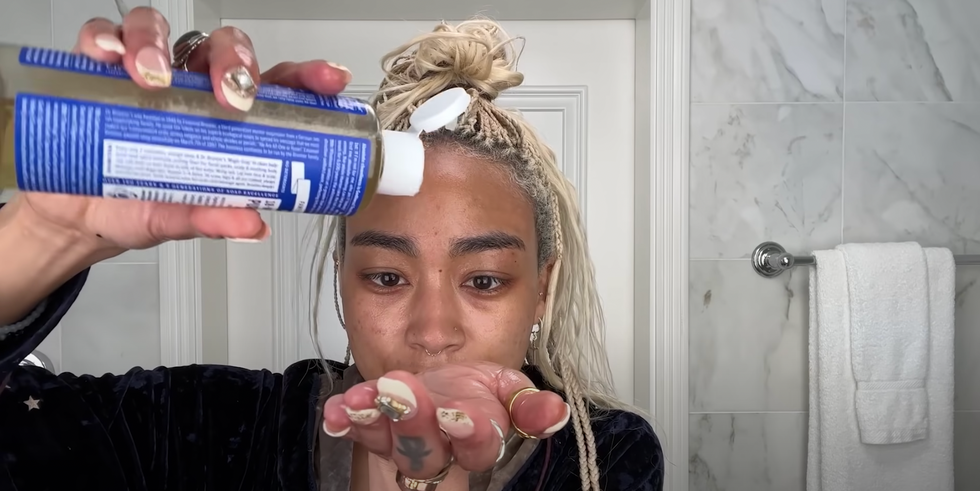 Vogue/YouTube
In the Vogue Beauty Secrets video, the 26-year-old started off cleaning her face with Dr. Bronner's Pure Castille Soap in Peppermint. She then used Dr. Dennis Gross Pewter DRx SpectraLite FaceWare Pro, which comes in three settings. When she moved on to Dr. Dennis Gross Alpha Beta Extra Strength Daily Peel she began opening up about her skin journey. The Korean and Black actress revealed that her skin started to change in her 20s.
"When my skin changed, it became a big shock to me and I didn't know what to do," she said. "I started trying all these products that I think at first made things worse." So, she decided to scale back the products she was using and also stop touching her face.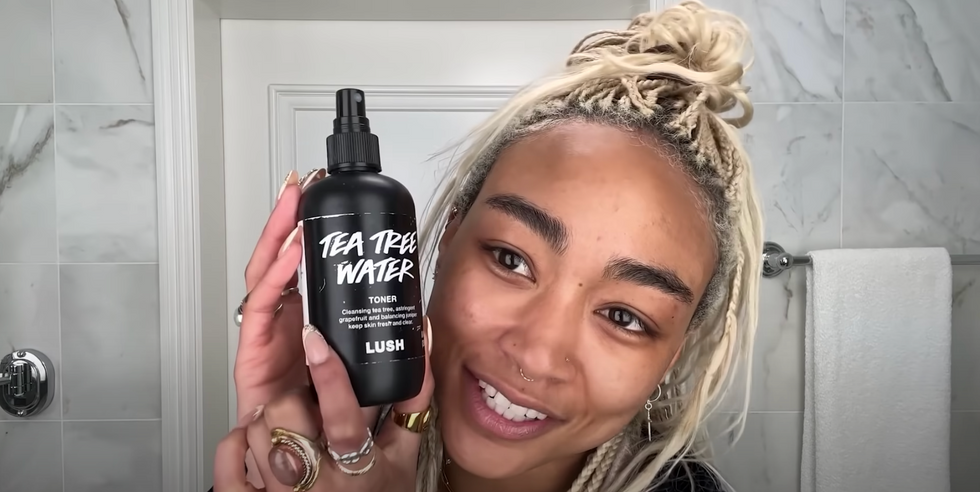 Vogue/YouTube
She loves using Lush's Tea Tree Water toner and following it up with Cosrx Two in One Poreless Power Liquid. "My mom is Korean and my dad's Black," she said. "I have all these weird combinations of my skin, hair, everything. My mom was kinda learning with me as I was growing up."
She ended up learning a lot about skin care and makeup while on set. "When I'm on set filming, I find that I have to be very diligent about my skin care routine because– a lot of makeup every day. Sometimes you're sitting in your makeup for up to 12 hours a day," she said. "With me doing Sabrina, that was of course a lot of makeup 'cause it was stylized. I just had to be very disciplined."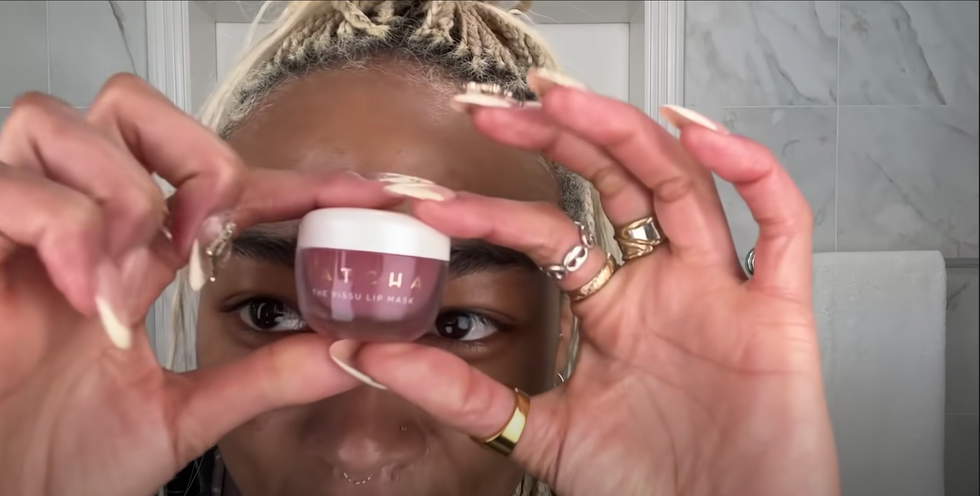 Vogue/YouTube
She used Cosrx Advanced Snail Peptide Eye Cream and revealed that she had eczema around her eyes and eyelids. And then she ends her skin care routine with Tula Protect + Glow Daily Sunscreen Gel Broad Spectrum SPF 30 and Tatcha The Kissu Lip Mask. "I definitely think skin care is a part of self-care. It's loving on yourself to give your skin what it needs to have your spa day every day," she said.
She loves to be by the water and so beach days are a must for her. "I didn't use sunscreen before and I'm realizing within the last year how important it is especially because I have a quite bit of scarring."
Makeup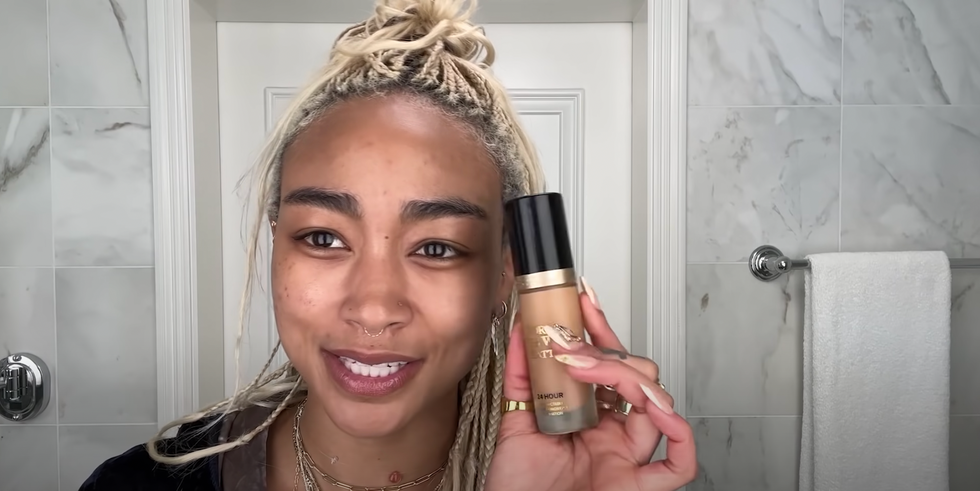 Vogue/YouTube
"What I start with always is the Tatcha Liquid Silk Canvas [foundation]. I started using it when I did Sabrina," she said. But for the video, she decided to go with the Too Faced Born This Way Matte Foundation. "I usually do a soft layer first. Then, if I want to cover my spots a little bit more and sometimes I don't cover my spots because; free the imperfections. Sometimes we don't need to cover up everything because that is a part of us as well."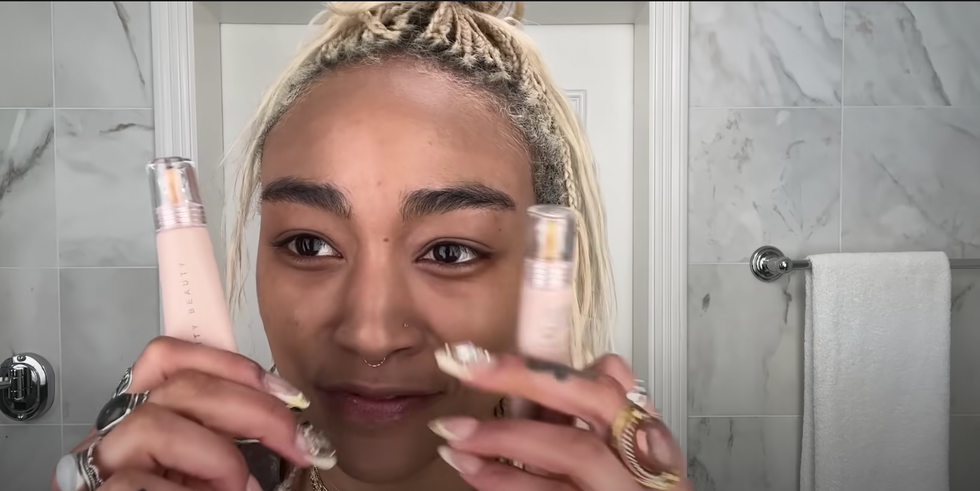 Vogue/YouTube
After applying foundation, she used Fenty Beauty Bright Fix Eye Brightener and Lush Charisma Skin Tint for contouring. She then applied Glossier Cloud Paint on her cheeks to "accentuate my apples."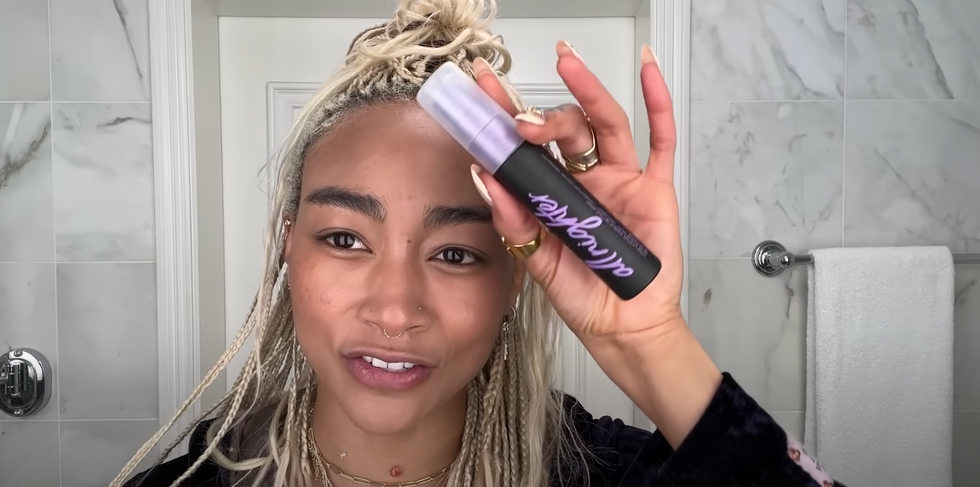 Vogue/YouTube
After using One/Size Ultimate Blurring Setting Powder to reduce shine, she topped it off with Urban Decay All Nighter Long-Lasting Makeup Setting Spray. "When I was filming season three of You and we had to wear masks on set constantly, I found that this (setting spray) helped a bunch with keeping things in place so we didn't have to do as much touch-ups."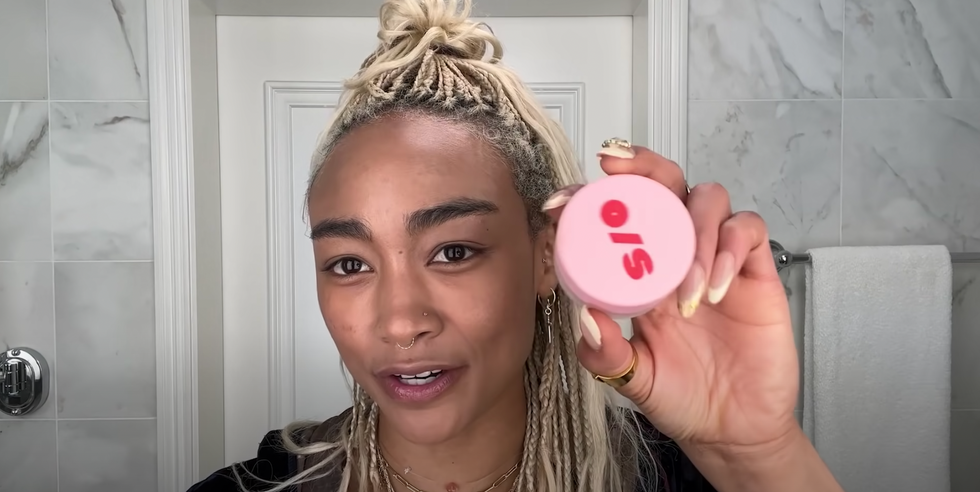 Vogue/YouTube
While the characters she plays on television often require her to wear a lot of makeup, her everyday look isn't as bold. "Less is more," she said. "Especially when I first started getting into makeup and my skin started sort of messing up a bit. Of course, I got self-conscious for a while, but by having that piece of advice, it never let me fall into trying to cover, cover, cover, cover, cover even with acne and scars and everything still allowed me to find love for myself and be able to look in the mirror and still be like I am pretty."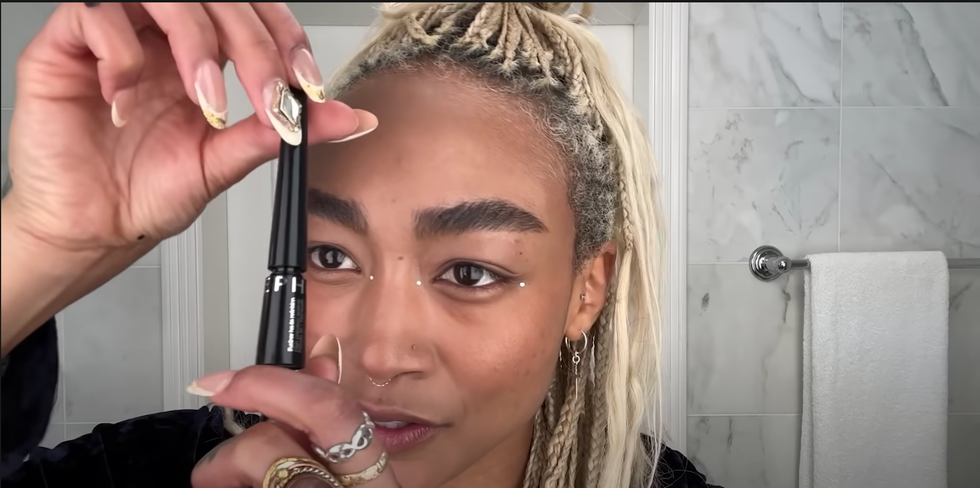 Vogue/YouTube
One of the beauty trends that she likes to partake in is applying dots around her eyes. "I started doing dots four or five years ago. I just found it as a way to shape my eyes out without using eyeshadow and things," she said. When it comes to her looks, Tati likes to make a statement from head to toe.
She ended her routine by adding baby hairs using Texture ID Edge Taming Gel because she loves the way it frames her face.
Tati Gabrielle's Guide to Statement-Making Makeup | Beauty Secrets | Vogue
Let's make things inbox official! Sign up for the xoNecole newsletter for daily love, wellness, career, and exclusive content delivered straight to your inbox.
Featured image still via Vogue Beauty Secrets/YouTube