A few months after the announcement of their split in November 2022, Love Is Blind alum Raven Ross is finally speaking her piece about the events that led to her final breakup with Sikiru "SK" Alagbada. In less than a week after Netflix premiered the Love Is Blind: After the Altar episodes that showcased Raven and SK's re-engagement, Raven was a special guest on the podcast The Viall Files. The episode gave her the space to be open and vulnerable about what happened since the Netflix hit show wrapped and also provided a timeline for SK's infidelity that ultimately led to the demise of their second chance at love.
---
The Viall Files, hosted by another reality dating show alum, Nick Viall of The Bachelor fame, was a lengthy interview where the two connected on finding love on reality TV, being cheated on, and moving forward. In the episode, aptly titled, "Raven Ross Tells All," Raven was able to demystify the image of SK that Love Is Blind portrayed and the man that she fell in love with and breakdown his web of lies, the manipulation she endured throughout the relationship, and what it felt like to live it all so publicly.
Here's what you missed.
If it wasn't heartbreaking enough to relive what must have been a high point of their relationship in the recently dropped After the Altar episodes where (spoiler alert) Raven and SK get engaged for a second time in the series (in an elaborate set-up orchestrated by SK, at that), the viewers/listeners of the episode are introduced to footage of Raven happily summarizing the beauty of her relationship with SK from a previous episode of The Viall Files.
In the clip played for the audience, she can be heard saying that the cornerstones of what makes them work as a couple are "trust" and "communication." "There is so much love there," she said in the clip. "He's literally my best friend."
Watching Raven's face as she listens to herself during happier times was just...rough, for lack of a better word. She kept it together though and said in reference to the clip, "It just really brings me back to like, I really felt like that. And I felt like, you know, we had filmed so long ago, it was nice to kind of like finally talk about our story because like you said it was so different, especially than everyone else's."
She continued, "We had some different circumstances that made our relationship different, culturally, the school thing, having to move. That was all against us and we still made something really, really cool work. And, like, I was just so proud of us and super in love. So to watch that, I'm like dang..."
The conversation between Nick and Raven then immediately segues into when Raven first caught wind of the cheating allegations on social media. Raven noted that it came at different times "with different women but it started with one girl who he actually met in San Francisco." Later, she would confirm that this was the woman SK met on Hinge while in San Francisco. Of note, by this time (unbeknownst to us viewers), Raven and SK were indeed engaged again (since August 2022 apparently).
She added about SK's cheating and seeing the video on TikTok posted by the woman, "When I found out about it, I found out with everyone else, on TikTok."
Raven set the scene, detailing that her first finding about it occurred right before Thanksgiving. SK was at school, and she was in Dallas. Her phone went "crazy" with people hitting her up asking if she had seen what the girl was alleging. Raven said during that time she watched the video she realized some of the messages and pictures the woman shared on her TikTok were the same ones SK also sent her while he was in Austin.
"Copy and paste," she said. "It was literally verbatim. The same selfie. The same words."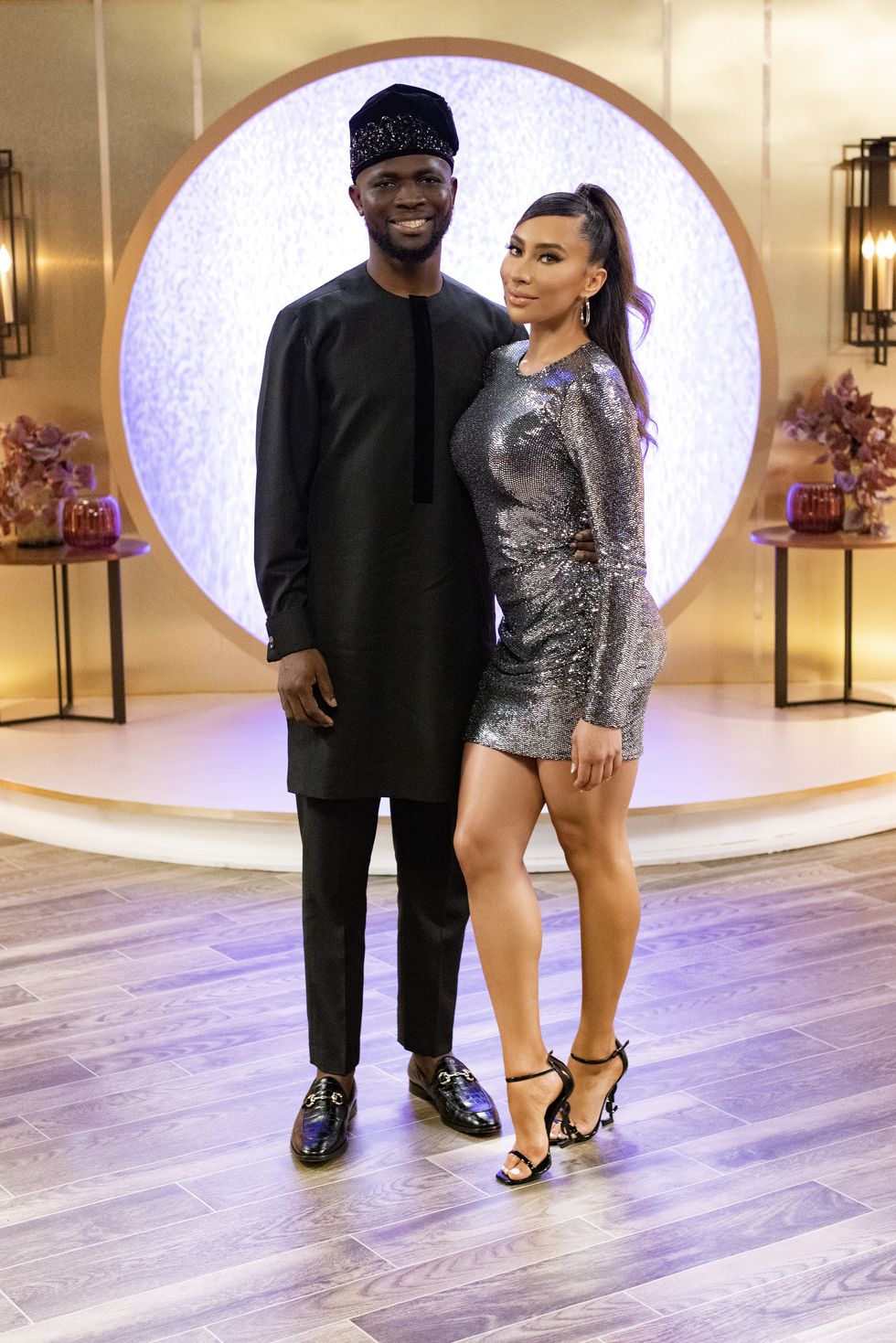 (L to R) SK Alagbada and Raven Ross in 'Love Is Blind.'
Sara Mally/Netflix
Raven explained to the hosts that she rationalized the betrayal at the time by viewing it as mostly words (aside from SK's eventual admittance to her that he saw the woman one time but it wasn't a date). She referred to that fact as his "saving grace" in her decision to move past it and stick beside him. "I'm sure this is the time when people are gonna say, 'Girl you should have known,' and yeah, I should have known. But everyone goes through this," Raven told the hosts.
"It's not like this was a thing in our relationship…I had never really had a feeling. There were little things along the way that I had kind of pushed down, but it's not like I had girls DMing me all the time, 'Oh I was with your man.' And I truly trusted him so much. I mean, by this point when I'm finding this all out we already have an apartment together. Like, we already, like, do everything together. We already were, like, making plans to move to L.A. together."
"So it's, you know, I'm like, he wouldn't be doing all of this if he wasn't into it," she concluded.
The timeframe of when the messages and the Hinge-date-not-date with the woman happened in March 2022, which she reasoned with herself was so far from where they were in their relationship in November. "We were in a far different place by the time it was November," Raven said of their growth, adding that the conversation with SK at that time was, "'I'm gonna ride for you.'"
Raven explained she was good with that mindset until a few days later when the next bomb dropped that Raven described as "more damaging" because SK shared "quite a long past" with the woman. "The second one was far worse," she revealed.
"By the time the second girl came out on TikTok, he was already back home. So we were together at this point, physically at our apartment in Dallas. And again, we were just sitting in our kitchen and both of our phones start going crazy." They watched the video together and Raven recalled to Nick, the host, that that was followed by silence, noting that SK "does that thing where he's got to ghost for a little bit and get the lies together."
Raven detailed going into her closet to cry on the floor since it's her safe space where she allows herself to break if she has to. While the second woman dropped her video and then a second one not too soon after, Raven confessed that she felt like her "life was crumbling before her eyes."
Not only was a couple's trip between SK and the girl to Europe was exposed, but a couple's trip to Cabo was also exposed some time later. The latter of which dealt a heavier blow to Raven because it showed her a different reality than the one she was led to believe by SK.
Apparently, the weekend before the Cabo trip, Raven and SK took a trip to her hometown of New Orleans for her birthday trip where they spent time with her mom and family. Raven noted that as a big deal for her and told SK during that time that it was a grand gesture on her part to show him her readiness to do things "right outside of Love Is Blind." In her eyes, the relationship was deepening, but his true actions of going on a couple's trip with another woman a week later showed another story.
"My heart just sank and I made him tell me when….That point was the first time when I started using the words, 'We're about to be done. You're pushing way past my limit because this is a bold-faced lie and you knew we were together at that point. You can't... you can't argue it.'"
When asked why wasn't she already past her limit at that point, Raven addressed the question head-on and confessed that it was hard for her to separate the truth that was unfolding in real-time via TikToks and SK's admissions, from the man that she fell in love with in the pods, the trust that she had for him and the life that they were actively building together. In her mind, they had a lease to an apartment together, and he had re-proposed to her by this time after all.
She listed things like his intelligence and his kindness toward her and the fact that he was her best friend. "You keep telling yourself, 'Well, that's the person that I'm with,'" she explained before later adding, "I'm not giving myself excuses, but I think a lot of women go through this. People [go through this]."
Raven also went on to say that when everything was unfolding, she also felt "confused." In her eyes, her actions and her intentions aligned with the things she said she saw for them and the fact that she wanted the relationship. She said she was "all in" but sometimes his actions suggested that he wasn't on the same page. In retrospect, she told Nick that the reason she felt confused in those moments was that SK "wasn't really there with me." Raven would also reveal later in the episode that SK eventually told her that she was not his "type."

She continued, "We've talked about it after the fact but he really wasn't putting in 100% and I was."
Listen to "Raven Ross Tells All" in full for even more details below: 
Let's make things inbox official! Sign up for the xoNecole newsletter for daily love, wellness, career, and exclusive content delivered straight to your inbox.
Featured image by Sara Mally/Netflix