In xoNecole's Finding Balance, we profile boss women making boss moves in the world and in their respective industries. We talk to them about their business, their life, and most of all, what they do to find balance in their busy lives.
If you haven't heard of Germanee Gerald, well, thank us later. Her Instagram alone may give you all the feels, but you can easily walk away with a new sense of fashion inspiration simply by seeing how she does WHAT she does.

---
Gerald is not only a wardrobe stylist responsible for dressing down many of Silicon Valley's C-suite and industry professionals, but she's also had a long career working in merchandising, retail management, and now, entrepreneurship. In 2015, she started GG+CO Styling Firm, where her entrepreneurial pursuits led her to create a customer-centric focus on fashion, and more importantly, style. Not to mention she also hosted her own events that bring together both men and women to learn all about dressing the part and feeling their best while doing so.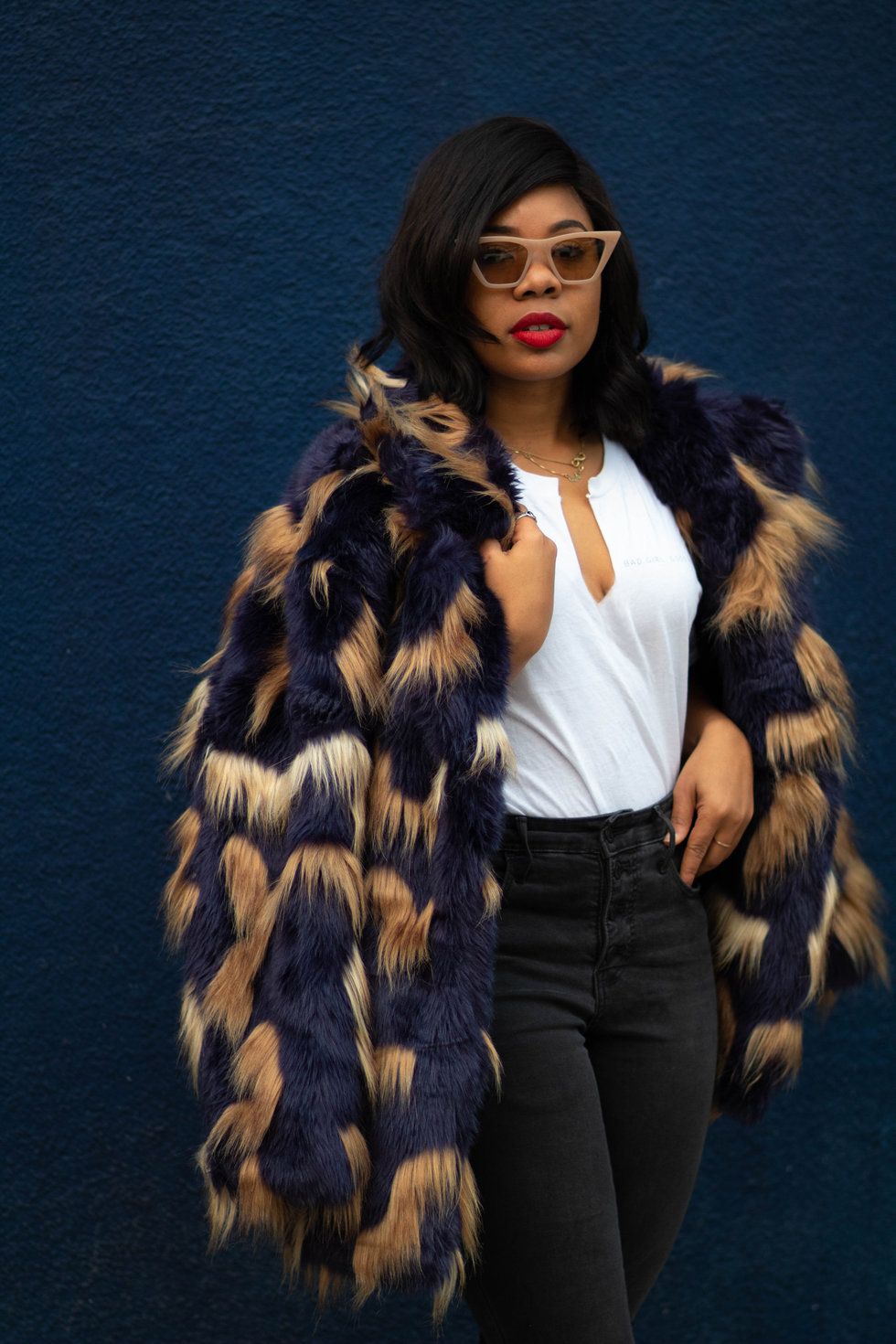 Germanee Gerald
Just because she's dealing with clothes and celebrity clientele doesn't mean that everything is easy for the Charlotte, North Carolina native. In fact, her days, weeks, and even hours are meshed with a lot of preparation, time management, and of course, big personalities.

For our latest installment of Finding Balance, we wanted to know how Germanee balances dressing some of today's hottest executives while keeping a bit of fly for herself:

What is an average day or week like for you?
My work week varies as GG+Co Styling Firm is a three-pronged business. My work as a stylist requires me to interact with clients at fittings in-person and virtually, and I also woo potential clients with pitch decks. I pivot from styling to planning with my team for our semi-annual 'Sip N' Style events, where we educate individuals on how to hone in on their personal style over cocktails all while supporting local retailers. When I've washed my hands from client and event work, I'm using the rest of my time to work my style course that I will be launching in January where I'll be teaching individuals how to curate their signature style.
What do you find to be the most hectic part of your week? How do you push through? 
I don't think I can pinpoint one singular thing that makes my week hectic. However, I often find it challenging to juggle and balance my schedule from time to time with my hands being in so many things.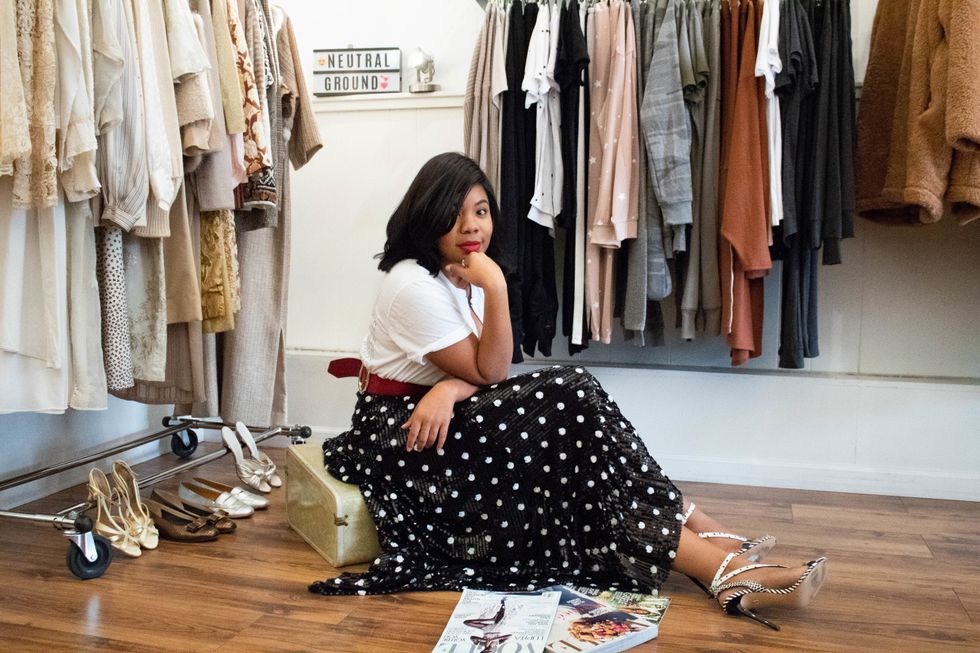 Germanee Gerald
How do you practice self-care? What is your self-care routine?
I practice self-care by giving myself space to pause, meditate, and collect my thoughts at the beginning of each week. Each Monday, I reset, catch up on Sunday's sermons (since I'm usually working on the weekends), meal prep, try to write out my to-do list so I know what's ahead of me, and treat myself to a mask.
How do you find balance with:
Friends?
It's hard, but my friends are important to me and I make an effort to show them that. For me, it's all about calendaring. I often schedule calls, FaceTime dates, or time to hang with them in person. I also make it a point to try to clear out my unread text messages I may have missed from them before I go to sleep at night.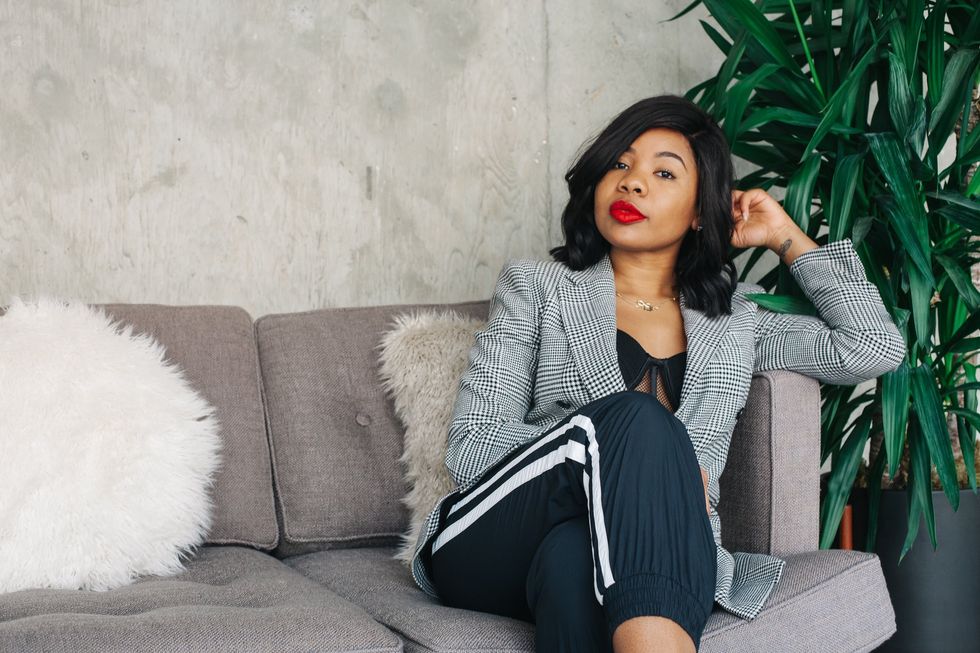 Germanee Gerald
Love/Relationships? 
At this point in life, I'm focusing on self-love. I'm making a point to be intentional about becoming the best version of myself before I allow space for someone else in my life.
Dating? 
While I'm focusing on myself, I do try to go out on dates from time to time when I'm equally intrigued by a guy. These are also scheduled out in advance, so it's important to me that I spend time with a guy who can understand and be sensitive to my schedule.
Exercise?
Exercising and having it in my routine is important to me. I appreciate it not only for the physical benefits, but it also helps me to set my intention for the day and release stress. I try to workout at least four times a week in the mornings. My workouts range from three-mile runs to cardio and weightlifting.
Do you cook or find yourself eating out? 
I typically cook my meals six out of the seven days of the week, and sometimes I even cook my cheat meals. For me, it helps cut down on spending, which is important as an entrepreneur. In addition, it allows me to have full visibility of what's going in my meals. However, I do try to treat myself to a meal out once a week.
Do you ever detox?
I've always found it difficult to detox and disconnect. Taking breaks makes me feel like I'm perpetuating listlessness and impeding my goals, so it's seldom that I detox from work. However, I've found it very beneficial to detox from social media; I compare myself less to other people's personal relationships, careers, physical appearances.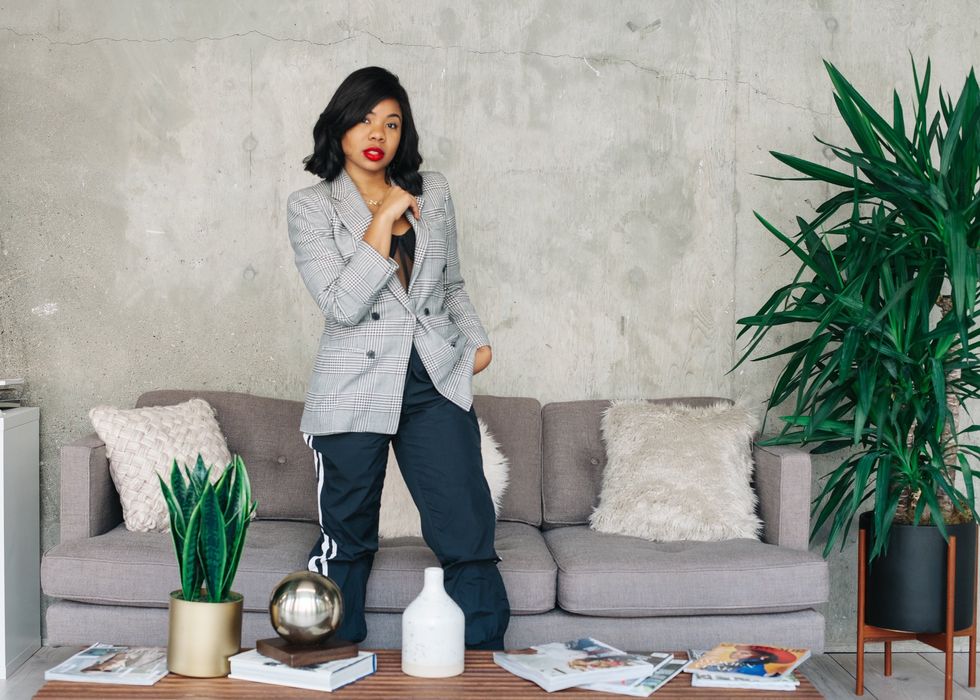 Germanee Gerald
"I've found it very beneficial to detox from social media; I compare myself less to other people's personal relationships, careers, physical appearances."
When you are going through a bout of uncertainty, or feeling stuck, how do you handle it? 
I usually lean on faith and friends when doubt arises. I pray, read scriptures, and ask for clarity. Talking to friends helps me get out of my own head and gives me a different perspective — they assure me that I'm on the right path, that I'm capable, and if I'm stuck they usually help me strategize and tease out my ideas. I also have to self-promote at times. Talking to myself in the mirror and speaking positive affirmations to tell myself I'm capable also helps.
What does success mean to you? 
The concept of success, to me, means accomplishing a goal that I set and holding myself accountable to complete it. When I was in college, I promised my parents that changing my major from biochemistry to fashion would pay off, and upon graduating I landed a position at Gap, Inc. in the company's highly regarded Rotational Management Program — which promised a role at the company working at one of its subsidiaries upon graduating the program.
I said that I would work for myself, and now, I am. I created a plan, saved for two years, and on the day of my ten year anniversary at Gap, Inc., I was able to call myself a full-time entrepreneur. I created the Sip N' Style events to educate individuals on style, how to find it, and what works best for them. Now I do that, and the event has grown from five people in my living room to hosting 250 people at event spaces in the Bay Area. Finally, last year I created a vision board with ten of my 'ideal' clients, and I've had the pleasure of working with half of them. There's still work to be done there, but I know I'll secure the bag, as I've done with the other things I've set out to do.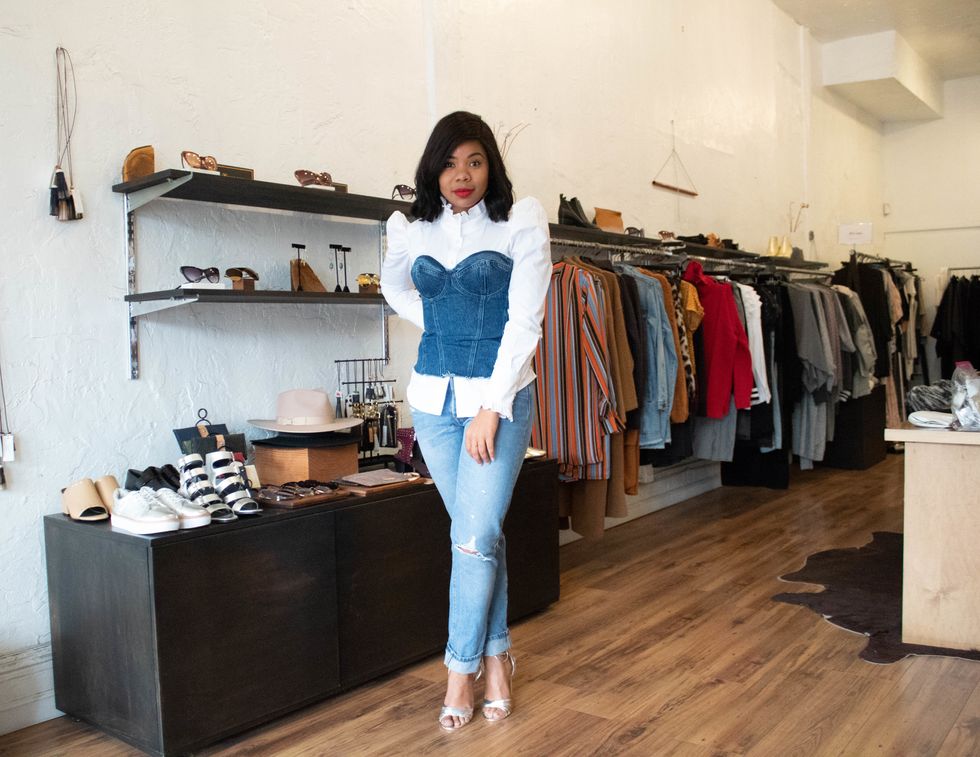 Germanee Gerald
"I said that I would work for myself, and now, I am. I created a plan, saved for two years, and on the day of my ten year anniversary at Gap Inc., I was able to call myself a full-time entrepreneur."

What is something you think others forget when it comes to finding balance?
I think people forget the importance of it (myself included). It's imperative to have a healthy balance to show up and be your best self mentally, physically, and emotionally.
To keep up with Germanee, follow her on Instagram @germanee_g and visit her website GGandcostyling.com!
Related Articles:
What Self-Care Looks Like For BuzzFeed Writer Jamé Jackson – Read More
Here's How The Founder Of CURLS Juggles Motherhood & A Million-Dollar Brand – Read More
Renae Bluitt On How She Masters Work/Life Balance – Read More
How To Find Balance When Your Life Is A Tightrope – Read More