---
In xoNecole's "How She Got Here", we uncover the journey of fearless, ambitious women at the top of their game with unconventional not-so-everyday careers. Instead of asking them about their careers, xoNecole dissects the hardships, rejections, and nontraditional roads traveled by these women to create the positions they have today.
Ever since I've been brought onto the REVOLT team as a freelance writer, I've had the pleasure of watching and recapping REVOLT Black News, a series spearheaded, produced, and hosted by the one and only Eboni K. Williams. As a co-host on REVOLT's hip hop talk show State of the Culture and the newest addition on Bravo TV's Real Housewives of New York City, it's amazing how she balances it all in legal affairs, entertainment and journalism, and still manages to be as snatched and professionally poised as she is. By kickstarting her broadcast career as a talk radio host for Los Angeles' KFI AM640, Eboni K. Williams set herself up for future positions as an anchor with hosting and correspondent roles for FOX Sports, NBA 2K, CBS News, HLN, CNN, and NFL Network.
Most recently, Williams announced the delivery of her "love child" that's been baking for two years, her podcast Holding Court with Eboni K. Williams. With the help of The Black Effect Podcast Network, a new partnership between iHeartMedia and Charlamagne Tha God, Williams alongside Dustin Ross, will be cross-examining mainstream news cases Law and Order-style while using her legal and entertainment lenses. With a J.D. from Loyola University New Orleans College of Law and background as a public defender and private defense lawyer, Eboni K. Williams is clearly the perfect woman for the job.
For the first installment of "How She Got Here", xoNecole spoke with the Pretty Powerful: Appearance, Substance and Success author about her recent announcement as the first Black female cast member on Real Housewives of New York, her hopes for the longevity of REVOLT Black News, and how she's never received the word "no" in her ministry. Check out our conversation below!
On 'Holding Court with Eboni K. Williams':
"Holding Court with Eboni K. Williams has been on my heart and head to bring to life for about two years now, so I'm thrilled that we're finally releasing and we'll be dropping every Wednesday. Holding Court is my opportunity to talk to everyday folk. We're talking to Black people, but all people who are interested in Black culture. We are talking about all of the legal going on whether it be celebrity justice or social justice stories. Everybody knows the headlines, but what does this stuff mean? That's what Holding Court gets to: it breaks down the complicated legal issues into teachable moments, and that then our audience––everyday Americans and across the world, really––can use in their everyday life. We keep this show fast-paced, informative, interesting and entertaining."
On 'REVOLT Black News' and how her previous roles led her here:
"Mr. [Sean] Combs decided during this pandemic that there was a clear need in the culture for an unapologetically Black lens as it relates to all breaking and important news, social justice and politics alike. Even post-election, REVOLT will maintain its commitment to REVOLT Black News because the need for a Black lens on breaking global and national news persists beyond this election. My hope and intention for this show is to continue to meet the needs of our people.
"I take my skills as a trained litigator coming from the criminal law court and then I apply that skill set of being extremely intellectually curious, of having a stronghold knowledge of law and justice in our society, of understanding how Blackness and minority status impact law and justice in our society, for our people in our community. Then, I add my lens that I acquired during news in my broadcasting career. You add all of that up - my experience as an attorney, news anchor, and as a political and legal analyst - I bring all of that to REVOLT Black News. Every week, our audience is getting as close to a 360-perspective on the issues as possible."
On how her fields align with her life purpose:
"I knew I wanted to be an attorney when I was five- or six-years-old and that was largely because my mother, at a very young age, found herself in a bit of trouble and unfortunately just did not have the resources [and] had no support as to how to navigate a very complicated legal system. She was a very young woman with a nonviolent offense; she was a first-time offender and she was incarcerated and separated from me for a year of my early life. That's a lot and what I learned very early is who represents you at that trial and in that courtroom matters and the consequences are high. I decided to be an attorney at that point because I wanted to be a voice for the voiceless, I wanted to be an advocate, I wanted to understand these things so there would be less young people, young Black people and young Black women being unfairly and disproportionately punished as my mother was.
"I transitioned to broadcasting about ten years ago because it wasn't good enough for me to be on the inside helping just one client at a time because it's a very slow moving process. I needed to transition to a larger microphone [by] entering talk radio and then to television, so there was a very wide access point to the knowledge and information required in our country to be able to deal with the criminal justice system."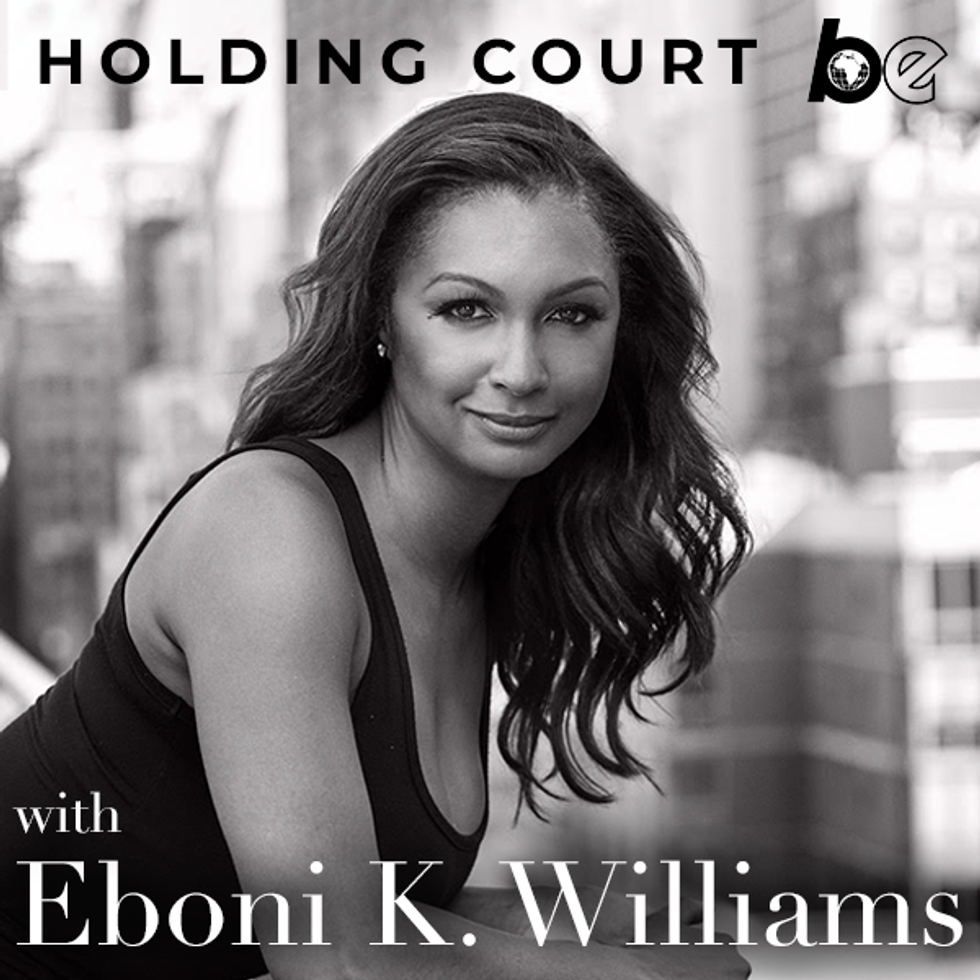 Official 'Holding Court with Eboni K. Williams' Podcast Artwork
Eboni K. Williams/GP Media
On a typical day as Eboni K. Williams:
"Let's just go with today. First and foremost, I'm a businesswoman, so I had to do some business. On an upcoming episode on Holding Court with Eboni K. Williams, we talk about how as creatives, it's very easy to get caught up in being the talent because that can be the fun part, but you have to be tight on the business. Top of the morning, I opened up with doing housekeeping business, creating invoices, distributing those to vendors who require my services for public speaking or other content that I create. Then, I transition to some phone calls with my team which includes my publicist, my podcast consultant, my digital manager, all the people that make this thing work with me.
"I did some fantastic press interviews with outlets that wanted to talk to me about being the first Black housewife of Real Housewives of New York as well as Holding Court with Eboni K. Williams. Then, it was time to create content so I went ahead and went to a studio to record some pickups, the docket, and social media teasers. I came back and had a Board of Directors meeting for Safe Horizon, and then I had a couple press interviews including this lovely one I'm having with you."
On the major challenges she encountered when she first broke into her career:
"As far as the challenges in law, I don't want to overstate what the challenges of that were. This is what you would expect with being young, Black and a woman. Of course, you go into courtrooms and people think you're the paralegal or the secretary. I don't know that that's uncommon. It sucks and it's sh*tty, but I was totally prepared for that.
"Breaking into broadcasting in general has had challenges in the sense two-fold: I didn't go to journalism school, I didn't come from Columbia J-School, so entering CBS News as a national correspondent was a big deal and it was very difficult. I cut my teeth, wasn't quite good when I got there and it was humbling going from being at the top of my game as an attorney to starting over in a new profession. When you decide to transition careers, which I have done several times throughout my trajectory, you're gonna eat some humble pie at various points. You're not gonna be good, so don't even expect to be, but what you can expect to do is get better and better."
"When you decide to transition careers, which I have done several times throughout my trajectory, you're gonna eat some humble pie at various points. You're not gonna be good, so don't even expect to be, but what you can expect to do is get better and better."
On bouncing back from major mistakes in her career:
"I can't say, knock on wood, that I've made a major mistake that I couldn't bounce back from. What I have done in my career is make major consequential choices that I knew would be devastating to the sustaining of that particular role. For example, during my time at FOX News, I made a choice to write and deliver something called "Eboni's Docket" about President Trump's, in my opinion, dangerous and cowardly response to Charlottesville. When I did that, I knew it would more or less be the wrap of my career at FOX News and it was a totally calculated decision. I knew that in that moment and at that time, if I was going to be on that network, if I did not say what I said, I shouldn't be there. It was that simple. I did it, I knew it would have great consequences for the rest of my tenure at FOX News, and I was fine with that because that's exactly how it played out."
On turning a big 'no' into a resounding 'yes':
"Girl, I get told 'no' everyday a million times and it's fine. The biggest 'no' I got last month was when I was up for a massive platform, that you, me and everyone else watches, and close to it, but no, they went with another incredible talent. That sucks, but my faith system is strong. Finally, I've totally surrendered to it and it took me a while to say, 'I'm type A, I can be controlling, and God really is at play at a higher level.' It has taken well into my late 30s to surrender to that. Now, I trust him emphatically.
"When I get told 'no' on major projects that I've prayed for, hoped for, knew was for me and clearly God had another plan, I was disappointed but I wasn't as devastated as I would have been early in my career. I just was like, 'It would have been great, but clearly there's something at play that I can't even see that God is looking at and I'm actually going to trust it.' Didn't know what it was at that time and literally three weeks later, I got the call about RHONY so it was all good."
On self-discovery as a career woman:
"I can't do it alone––I think that's what I learned about myself. I am an only child, my mother's a single mother and I've lived a very chosen isolated existence professionally. When I practiced law, I've been at firms and on teams, but ultimately it's you in that court. It's not like a team of lawyers. What I now learned about myself and was made to learn about myself if I want to plateau at mediocrity, good; I can continue to do it that way in a vacuum. If indeed I'm serious about ascending to the highest level of my career in this profession and doing things that have never been done before, I gotta figure out how to create a team, work with a team, and sustain a team with my leadership."
On whether ambition, creativity or confidence is the most important quality in her career:
"Confidence. Bar none, and it's because confidence is a result of competence. When you are competent at what you do - I don't care what you're doing - you will be confident in it. Ambition is the desire to be great, but who cares? Desire means nothing unless you have the competence to support it."
On advice she has for women who want to pursue a similar career path:
"Stay in the game. Very simple. Who cares about a 'no'? Everybody gets 'no': Oprah gets 'no', Obama gets 'no', LeBron gets 'no'. It's the 'yes' that you're looking for and in pursuit of. You can't get to the 'yes' if you take yourself out of commission and out of the game. Hang around the hoop, work on your drills, and work on that competence so it will give you the confidence that executives and partners are looking for in creatives."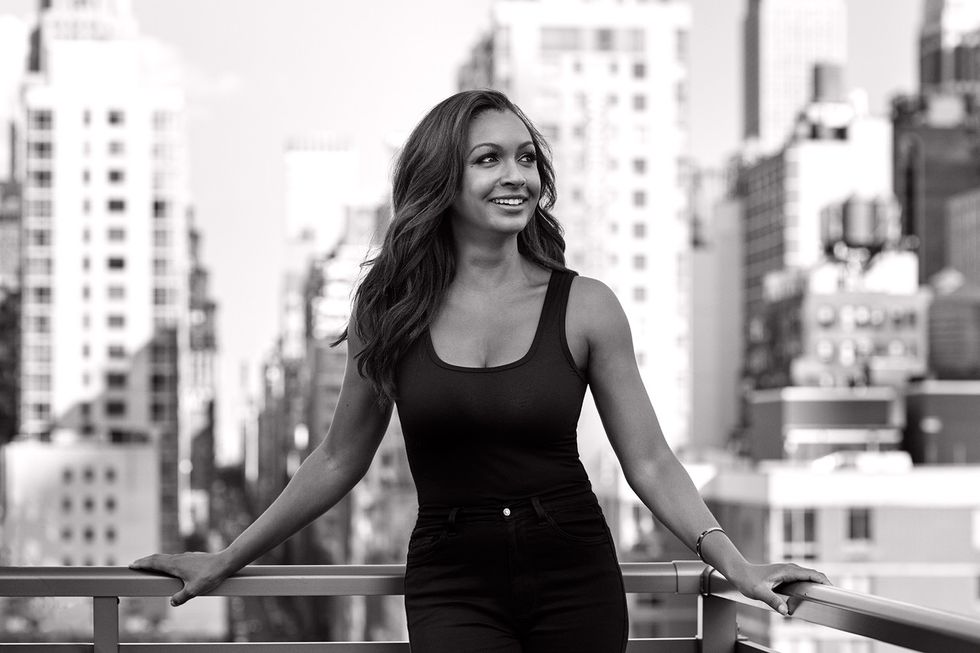 Eboni K. Williams/GP Media
"You can't get to the 'yes' if you take yourself out of commission and out of the game. Hang around the hoop, work on your drills, and work on that competence so it will give you the confidence that executives and partners are looking for in creatives."
On how she got here:
"Somebody prayed for me and somebody's still praying for me. My mother prayed for me before I was born."
On being the first Black housewife on 'Real Housewives of New York':
"RHONY is way behind. The fact that there were 12 seasons of this show without a single Black housewife is diserroneous and just egregious. I think there has been a very deliberate effort on the parts of Andy Cohen and Bravo to remedy that. The fact that they ultimately chose me, I'm honored and very humbled by that. I don't take it lightly at all. I think it's a very benevolent and important responsibility that I have to represent not only myself as an individual, but Black womanhood. I will not be trying to seek perfection, I'm human and I'm not perfect, but I will be constantly putting forth every effort to show and see Black excellence on this platform and in life."
For more of Eboni K. Williams, follow her on Instagram. Holding Court with Eboni K. Williams is now available and streaming on all platforms. Tune into REVOLT Black News every Thursday at 9 PM EST on YouTube to see Eboni K. Williams in action as host and executive producer.
Featured Image Provided by GP Media/Eboni K. Williams.