Instead of searching the mall and online boutiques for hours on end, xoNecole has taken the liberty of compiling this list of effortlessly sexy date night outfit ideas, just for you.
---
I, for one, can admit that a lot of the go-to pieces have in my wardrobe have been "gone to" a few too many times, and I thought it was time to switch it up. To help me on my quest for the perfect threads, I've enlisted the help of Denver-based designer and professional stylist, Felicia Benevidez .
Felicia and I met up at a local restaurant called The Family Jones , where she gave me all the knowledge on how to wow my date without even trying. These styles can be easily recreated using staples in your closet and a whole lot of attitude. Let's get into these looks!
Everyone has a little black dress in their closet, but Felicia shows us how to put the game down, flip it, and reverse it to create an entirely new look. For Valentine's Day, instead of rocking your usual, try adding jeans and accessories to your LBD to add flair and personality. Felicia told xoNecole:
"When all else fails, I feel like you can never go wrong with a little black dress. Creating layers by adding jeans and a sheer overlay automatically takes the look from classic to edgy. The iridescent purse, hoop earrings, and gold shoe adds the perfect final touch to complete my look for date night with bae!"

Ladies, I have the answer to the age-old question women have debated about for years: Size does matter . I mean, when it comes to clothes, at least. Rocking at oversized blazer can set your outfit off in a way that is super unique and known to turn heads. Keep it sexy by wearing thigh-high socks or boots, and feel free to add shorts for a more conservative look. The designer shared:
"I don't know about you, but a blazer always makes me feel put together. To keep it sexy for date night, I added thigh high socks and an extended button up shirt. I finished this look with a black pump and a belt to create some structure and emphasize my waist."
Nothing says effortlessly sexy like a jumpsuit and some booties. For some real fun, use some bold colors like Felicia did in this look! Your jumpsuit game has the potential to level up in a major way if you incorporate accessories and makeup that add a pop of color. According to Felicia, out of all the looks, this one is the easiest to pull off:
"A good jumpsuit makes getting dressed easy, when all you have to add are shoes and accessories! This limited jumpsuit comes from my clothing line VFM and is the perfect look for Valentine's Day! I added a pop of color by adding red booties, a matching purse, and don't forget the red lip."
Who knew a wide-leg pant and a blazer could make a t-shirt look so damn classy? This style is easy to accomplish with any flared pant in your wardrobe, but you can go the extra mile by adding some edgy accessories. Felicia explained:
"This chic date night look consist of a pair of my favorite wide leg pants from my clothing line VFM. I paired them with a T-shirt and yellow blazer to add a pop of color. The leather gloves and platform shoe completes the look and adds the perfect amount of edge."

For women like me who enjoy feeling bad and bougie on a budget, this look is perfect. The best part about this look is, it's flexible and low-maintenance but still looks expensive and elegant. You can achieve this look by mixing any animal print with the faux fur accessory of your choice. Set your look off by adding the maxi skirt of your choice and you've just created the frugal outfit find of your dreams. Felicia shared:
"For this look, I based the outfit around a pleated maxi skirt. To accentuate the deep maroon color, I added a nude animal print turtleneck. Because I love to play with prints, I finished the look off with a cheetah print bootie and fur stole. Such an easy and great look for a night out on the town!"
Grown and sexy takes on a whole new meaning when it comes to this look. Grab any piece of lingerie in your wardrobe and pair it with a pair of slacks and a blazer to turn into the seriously sultry seductress of your man's dreams. To give your fit a little something extra, add a shoe and lip to offer a bold pop of color. What's better is, this look is so effortlessly sexy, the only accessory you'll need is your smile. Felicia told me:
"When the goal is grown and sexy, a pant suit is definitely my go-to. For the perfect date night look, I added a bodysuit and bright pump. My hair was the only accessory, and yes the bigger the better."
It's my hope that you can take these tips and be as sexy as you wanna be for your partner on this special holiday, no matter how you two decide to celebrate. This year, instead of harping over how you look, remember that no matter what you wear, your sexy comes effortlessly!
Thanks again to The Family Jones for letting us use your space to create magic! To find these pieces, check out A Vintage Frame of Mind's online boutique here .
Additional styling by Joce Blake . Makeup by Bree Klee .
Related Stories
Patent Leather: The Antidote To Your Winter Wardrobe Blues – Read More
5 Date Night Ideas that Are Better Than Your Average Dinner – Read More
Style Guide: 7 Spring Date Night Outfit Ideas – Read More
Pretty Honore
Taylor "Pretty" Honore is a spiritually centered and equally provocative rapper from Baton Rouge, Louisiana with a love for people and storytelling. You can probably find me planting herbs in your local community garden, blasting "Back That Thang Up" from my mini speaker. Let's get to know each other: @prettyhonore .
Boost
Mar 13, 2023 05:34 AM EST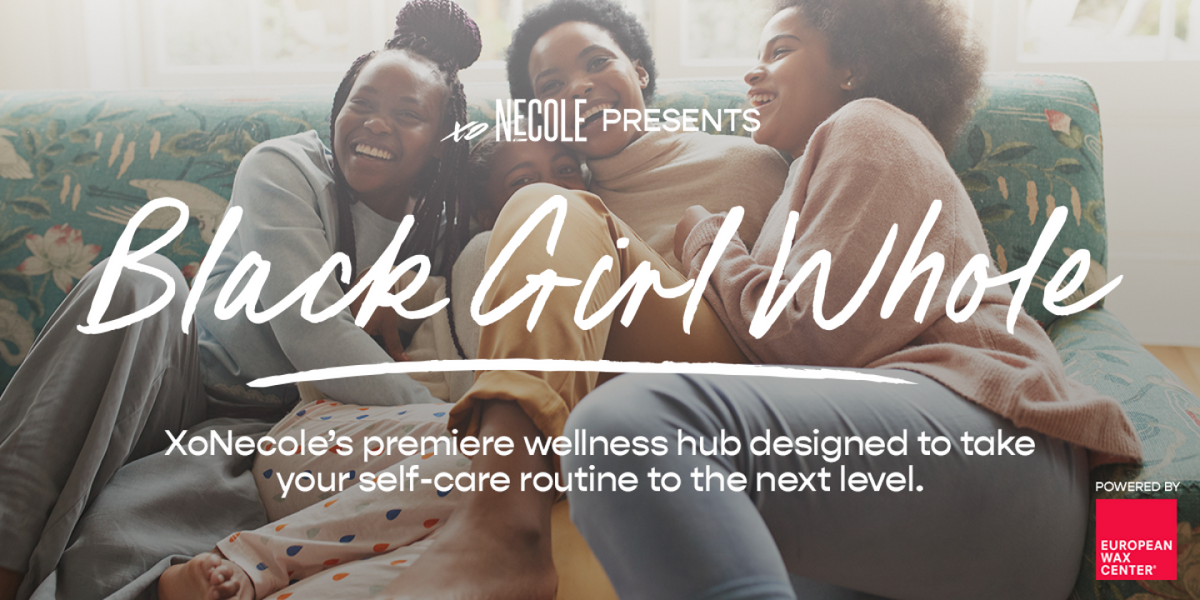 Black women are not a monolith. We all are deserving of healing and wholeness despite what we've been through, how much money we have in the bank, or what we look like. Most importantly, we are enough—even when we are not working, earning, or serving.
Welcome to Black Girl Whole , your space to find the wellness routine that aligns with you! This brand-new marketplace by xoNecole is a safe space for Black women to activate their healing, find the inspiration to rest, and receive reassurance that we are one small act away from finding our happiness.

Want to discover where you are on your wellness journey? You don't have to look far. In partnership with European Wax Center, we're bringing you a customized wellness quiz to help you up your wellness game. Answer our short series of questions to figure out which type of wellness lover you are, what you need to bring more balance into your life, and then go deeper by shopping products geared towards clearing your mind , healing your body , and soothing your spirit .
Ready to get whole? Take our quiz now !
Sex & Love - Home Page
Jul 17, 2023 11:00 AM EST

Veteran actor Larenz Tate recently revealed the unlikely and heartwarming way he met his wife, Tomasina Tate, with the assistance of his longtime friend, Jamie Foxx .
The couple, who live a relatively private life aside from occasionally attending some red-carpet events, have been together for over two decades and share four sons , Miles, Zander, and Zion Tate. The identity of Larenz and Tomasina's fourth son hasn't been publicly released.
In an interview with Buzzfeed's Cocoa Butter, the 47-year-old shared that he met Tomasina in 2000 when Jamie was throwing a party in Oakland, California, for NBA All-Star Weekend. During the June discussion, Larenz disclosed that at the event, Jamie was set to link up with a woman he invited to the party and needed a wingman because she brought a friend, which happened to be Tomasina.
Although the Love Jones star was initially apprehensive, he decided to speak to Tomasina. The pair got along so well that they exchanged numbers at the end of the night, and the rest is history.
"Jamie had a party, there was someone he was going to meet that he invited, and she had a friend. Foxx was like, 'Look, I need you to be a wingman and entertain her.' I was like, 'Bro, I ain't your wingman knock it off,'" he said. "That friend would ultimately become the person that I spend my life journey with as my wife. Twenty-three years ago."
In honor of Larenz and Tomasina's love story and 23-year romance, xoNecole looks back at the important events that occurred in their lives since they met that fateful day at Jamie's party and how they have maintained their loving bond over the years.
Relationship Timeline
2000
In 2000, Larenz and Tomasina met at Jamie Foxx's All-Star Party in Oakland, California. The couple began dating shortly after exchanging information and frequently seeing each other whenever Tomasina was in town.
2006
After six years of dating, the couple welcomed their first son Miles Tate in July 2006. Four months later, Larenz and Tomasina officially tied the knot on November 30, 2006.
2008
In 2008, the Tates expanded their family once again following the birth of their second son Zander Tate in June 2008.
2013
Larenz and Tomasina welcomed their third son Zion Tate in 2013. Although there are limited details regarding Zion's official date of birth, many outlets report that he was allegedly born in November of that year.
2016
In 2016, the couple reached a milestone in their relationship as they commemorated their tenth wedding anniversary.
2018
Nearly two years following the joyous occasion, Larenz and Tomasina's love appears to be still going strong because in August 2018, their close friend Kristen Bellamy, wife to comedian Bill Bellamy, shared that the pair were expecting their fourth son. So far, Larenz and Tomasina's son's name and date of birth have yet to be released to the public.
Larenz On Maintaining His 23-Year Union With Tomasina
Although, for the most part, Larenz and Tomasina's relationship has been away from the spotlight to maintain their privacy, the Power star did share that showing affection is the secret to keeping their love alive after more than two decades.
In the same interview with Buzzfeed's Cocoa Butter , Larenz revealed one of the ways he expresses his love to Tomasina while talking to his sons about the importance of healthy relationships and how to implement them.
"I always talk to my kids about that. I say, 'Who's the most affectionate between me and mommy?' They're like, 'Ugh, dad,'" he stated.
"Because what I want them to see is that's something that's genuine. But I think it's important for them to see a man express hisself to a woman with emotion, love, and affection. So, you got to be affectionate to your lady. We're driving in the car, and we taking our kids to school. I might just tell her she's the sunshine no matter what."
Feature image by Gonzalo Marroquin/Getty Images for MACRO