Traditionally, women with textured hair are taught to exalt their mane with deep reverence: a crown of curly tresses to be intentionally maintained and handled with care. Still, there comes a point in every woman's journey where our body begins to go through changes that can affect the very attributes that we attributed to our confidence and self-image. Such was the case with actress, singer, and mother of three, Christina Milian, with postpartum hair loss.
---
Postpartum hair loss is more common than one might believe. In fact, up to 50 percent of women in the U.S. are impacted by it, Christina included.
Around 3-6 months after giving birth to her second child, Christina started to notice thinning around her temples and losing small amounts of hair while in the shower. The shocking discovery left her self-assurance in a rocky state, "It's so overwhelming, on top of having a newborn at home, which is stressful, and all of the hormones that come with postpartum, dealing with the emotional impact of thinning hair. It really takes a toll on your confidence." She continues, "It's completely out of your control. You're literally in your head like, is this even real? Are people noticing this? How embarrassing is this?"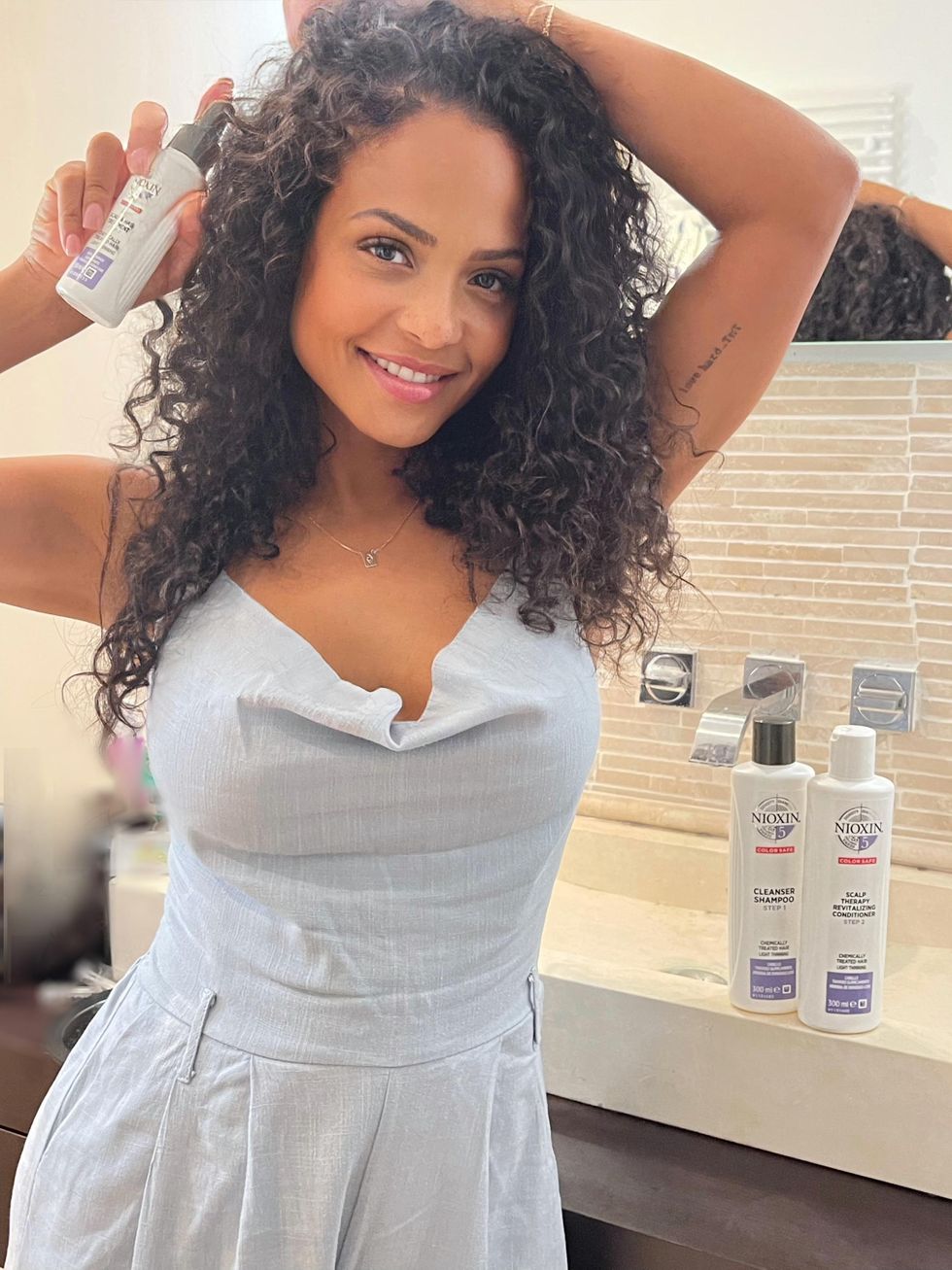 Courtesy of Christina Milian
Although she hasn't experienced the shedding after welcoming her new son, Kenna, with her husband Matt Pokora, Christina has decided to take a more proactive approach by incorporating a few products into her beauty arsenal.
Christina has teamed up with Nioxin 5, an expert-hair loss brand, as a step towards prevention. Her current routine includes the Nioxin System Kit 5, which comes equipped with a Cleanser Shampoo, Scalp Therapy Conditioner, and Scalp & Hair Treatment with niacinamide and peppermint oil as key ingredients.
If you experience postpartum hair loss, it's important to know that you are not alone. While on a recent panel, dermatologist Dr. Mona Gohara shared that the shedding process is as natural as the birth that led to it. "Postpartum hair loss is our body's response to the physiological and emotional stress of giving birth. Our hair typically goes through a growth and shedding cycle, but after you have a baby, the hair shedding phase out-paces the growing phase, so we experience excessive hair shedding."
Thankfully, Christina's vulnerability in sharing her experience is a step towards normalizing a commonly taboo conversation. "I want to share my story because I know there are many other women going through this that may not realize how common this is and that there are ways to treat it effectively," she reflects.
Christina Milian sat down with xoNecole to discuss the unexpected blessing of motherhood, regaining her confidence postpartum, the balancing act of entrepreneurship, and more!

xoNecole: You recently mentioned that in your 20s, you didn't really see yourself becoming a mother. And now you have a beautiful family of your own. What advice would you give to young women who aspire to have a career and family, but don't think they can "have it all?" 
Christina Milian: Yes. I can't believe I had three kids. If you ever told me that 10 years ago, or even five years ago, I would have laughed at you. But I think my best advice to them is don't doubt yourself. Sometimes we don't necessarily get [everything] all at once, but there's a reason and it's giving you the space to be able to handle what's happening in your life at this very moment. I think if you continue to have that passion, don't let it go. Sometimes we just feel like we're not able to achieve [our goals] just yet, or wonder, is it ever going to happen? But life is much longer and things happen in our lives at the right time. And I think when it comes down to opportunity; they present themselves when it's the right time for you.
Look at me: having more babies, multi-tasking, and doing the many jobs that I'm doing. When I was in my twenties, I had lost my record deal. I thought my career was over. I thought, 'Oh, I'm too old to come back. I'm not going to be able to do this.' But I put my faith in God and I was open to what was meant to happen. And it all rolled out and its own time.
Your time will come, so don't get discouraged.

"When I was in my twenties, I had lost my record deal. I thought my career was over. I thought my career was over. I thought, 'Oh, I'm too old to come back. I'm not going to be able to do this.' But I put my faith in God and I was open to what was meant to happen. And it all rolled out and its own time. Your time will come, so don't get discouraged."
You have a really popular food truck, Beignet Box, along with balancing your acting career. What are some core values that help you stay grounded as you balance entrepreneurship and motherhood? 
I think it's important to stay grounded, be humble, and understand people. It's one thing to know yourself, but you know yourself better when you can be optimistic and understanding of other people's stories, their backgrounds, and why they are the way they are. It makes you a better human and a better business person, especially as an entrepreneur because you're understanding your audience. Being that way opens you up for opportunity and for learning.

A common theme of your movies is love. From 'Love Don't Cost a Thing', 'Falling Inn Love', and recently, 'Resort to Love'. We don't always get to see Afro-Latina women as romantic leads, so when it comes to representation, why is it important to you to go after these roles and be that positive image?
First, I love love. I'm so happy that with Resort to Love, Netflix took a really good mainstream approach to push the movie. The reason why I do love movies and comedy is to make people feel good and laugh. I think people seek love and to feel that kind of joy. I love the fact that we get to see our people really strive and do films like this. I mean, look at Resort toLove, we were in the top 10, number one movie on Netflix. And that was globally.
It makes me happy because it opens the doors for other people. It's bringing to light that love comes in all forms and stories. And I know that there's somebody out there who's dreaming like I did when I was watching Rosario Dawson and Jennifer Lopez. I feel like there's some girl who's watching and saying the same thing.
So I hope to open doors for them, for them to feel that one day.

For more of Christina Milian, follow her on Instagram. And Netflix and chill with her new movie, Resort to Love, now streaming.
Featured image courtesy of Christina Milian