---
Black women are lit, and Shonda Rhimes and Debbie Allen just teamed up with Dove to produce a short film series to prove it. The talented duo recently announced the release of the second season of Real Beauty Productions, an initiative created by Dove in 2017 designed to redefine beauty standards to reflect real women.
Allen, a prominent actress, TV director, and dance instructor, is a perfect match for this project, given her accomplishments in diversifying markets where black women aren't highlighted. She said that she decided to hop aboard this project simply because it was necessary.
"I felt that this is an initiative that has a real purpose and real meaning, and it could make a difference in our community. This could help millions of young women step out of a dark space and into the light…They'll look at these stories we're telling and I'm sure they'll see a reflection of themselves."
2018 is the year of the Black Girl Renaissance, and stars like Shonda Rhimes and Debbie Allen are using their platforms to elevate all forms of feminine power. "An Hour With Her" encourages women across multiple generations to have open conversation about issues like self-esteem and beauty standards. Having this dialogue amongst one another will give us the opportunity to develop a theology where young women of color can develop their perceptions of beauty, and see that manifestation of beauty within themselves.
According to Dove, experts suggest that one hour of conversation about self-esteem and positive self-image has the power to change the way a woman sees her own beauty for a lifetime.
Allen told Blavity that her passion for the project came after reflecting on her own experience battling traditional European standards of beauty and learning to take pride in her own physical appearance. Allen said that her favorite part of Black Panther was when Okoye took her wig off because it revealed how beautiful and multifaceted that black women are, naturally.
"We as black women need to see ourselves, and we look so many different ways, and people have to stand there, look at themselves, and see a reflection of God. There is a reason why we don't all look the same. We don't need to look the same."
In the latest episode, actress Chelsea Harris, an ambassador for Dove's Self-Esteem Project opened up about how she was able to overcome bullying and appearance related negativity as a woman of color.

"For me, some of the different aspects of being African American became things that I just didn't feel good about. I used to wear makeup that was way too light for my skin, and I used to have these bright green contacts. Then I would wear a lot of long super straight hair extensions. It's just one of those things where I looked in the mirror and didn't even recognize myself."
She continued on to say how her collaboration with Dove Self-Esteem project 10 years ago allowed her to develop a new perspective about self-esteem.
"It was about defining my own beauty. And that's my measure of self-esteem now. How do I feel about myself when it's not based off of anybody else's standards. It's so important to define what beauty is for you."
Women of color are constantly held to a standard of beauty that is unrealistic and unattainable and we often drive ourselves to extreme measures to seem more aesthetically acceptable to a society infatuated with overtly outdated Western theology. But our melanin is poppin', and here to stay.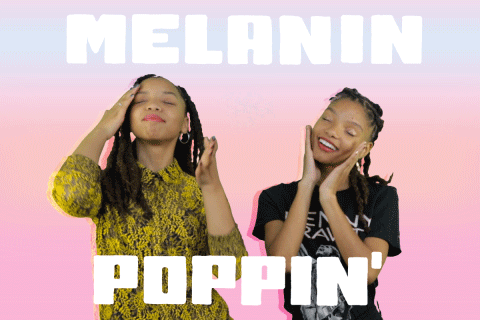 "An Hour With Her" is necessary to the current political landscape because if we don't identify our own standards of beauty, society will decide them for us.
To watch the latest episode from the second season, click here: