---
In the past, Adrienne Houghton has been candid about her battle with Hashimoto's Disease and subsequent weight fluctuation, but according to her, a change in her diet was the key to effectively her autoimmune illness and snatching her power (and her waist) back.
Earlier this year, the talk show host revealed that she and her husband were making an attempt to transition fully into a vegan lifestyle and although Israel may still be a carnivore at heart, Adrienne says that her plant-based diet has both improved her quality of life and level of self-confidence. On a recent episode of The Real, Adrienne explained:
"I know I said last season that I went vegan, I stuck with it all summer. Staying with a plant-based diet, it has made a world of a difference. A lot of you guys know I suffer from Hashimoto's, which is an autoimmune disease, so it has been really helpful for that. I just feel great and I'm happy to be back."

In February, both Adrienne and her co-host, Tamera Mowry-Housley, shut down pregnancy rumors and made it very clear that the food baby struggle is real. Hashimoto's, which causes an inflammation of the thyroid, often causes skin and hair dryness, depression, constipation, and weight gain, some of which Adrienne says she has experienced firsthand.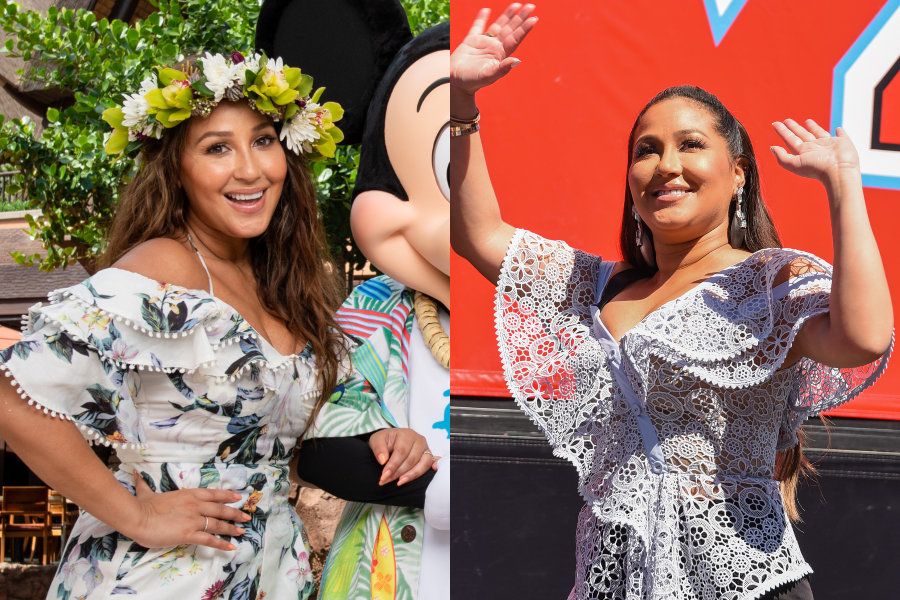 Source: Disney Resorts via Getty Images; Presley Ann/Getty Images / Getty
"This is not a baby, this is sweet potato pie. We have a health condition! I'm not pregnant! I have Hashimoto's! It's hypothyroidism. Yes, I have a fat neck! There is a reason!"
She explained that although she had not seen her fluctuating weight as an issue in the past, over time, a combination of internet trolls and self-pity began to make her feel more and more self-conscious.
"If I'm honest, my weight gain in the last few years has been like a struggle for me where I'm like, I never looked at myself as being overweight. And it was weird to hear so many comments at one point that I was fat, and 'Oh my God, she let herself go!' I was like, 'Whoa.' So that was a little bit weird."
While Adrienne credits her new vegan meal plan for allowing her to manage her illness and snatching her waist to the Gods, ultimately, it was a mindset shift that helped Adrienne become the best version of herself.
"I just did what I had to do to be comfortable in my own skin. And I think that's the most important thing. It wasn't necessarily to please other people. I actually, genuinely, didn't like the way I looked. And every day it's a work in progress. You know, girl get up and do some cardio."
Adrienne says going vegan was less about a number on a scale and more about her commitment to self-love. While Adrienne's transition wasn't immediate, considering herself an "almost vegan" in the beginning stages, she stayed consistent and it paid off. Along with eating healthier and drinking a bottle of her favorite rose water every day, Adrienne also says making time to work out helps her keep her physique and her perspective on track:
"More than looking good, it's actually healthy for you to eat healthy and actually get a little workout in. So as I get older, I get that it's going to be harder and harder, but I'm up for the challenge."
Featured image by Instagram/@adriennebailon.