---
If God blesses me with the opportunity to live 70 years on this earth, I hope that I can be as fly as women like JoAni Johnson while doing so. Black women are living proof that the fountain of youth does, in fact, exist, but sometimes, our age begins to feel less like a number and more like a countdown to the grave, but according to JoAni, getting older isn't a punishment, issa gift. Since going viral in a street style fashion video 2016, the model has been booked and busy, securing a bag from brands like Calvin Klein, CDLM, and Fenty, sending a fashion world a message that this wave of age-inclusion is here to stay.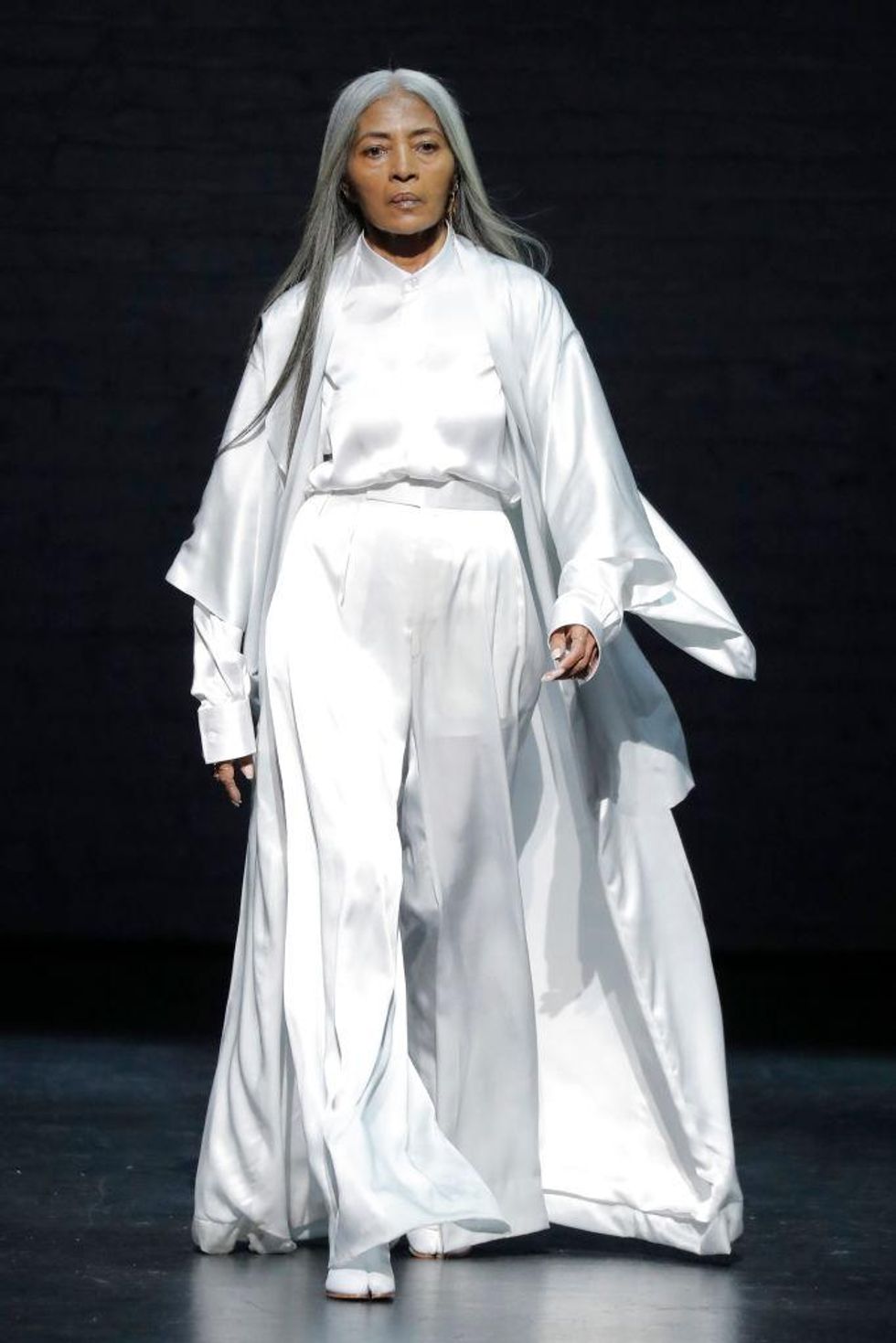 JP Yim/Getty Images
Although JoAni may seem like she has the confidence of 1,000's Beyoncés, it's both inevitable and totally human to get lost in the comment section from time-to-time. She explained that since her debut in the fashion world, she's received a number of negative comments that can often be overwhelming. She told MadameNoire:

"It is mind-boggling to me when these things come out, my biggest interest is in the comments. I gotta go through and read all the comments, like why? And the only ones that really capture my eye are the negative ones because it's natural."
Sticks and stones ain't got nothing on The Shade Room comment section, and although social media has shown JoAni a lot of love, the model says that she's also seen her share of hate.
"At first, it was hard because no one likes negativity, but, just like everything else, nothing is perfect. There is nobody on this planet that is perfect."
Ultimately, JoAni had to level up her mentality and realize that nobody's perfect, and this especially applies to trolls on the internet who try to steal your joy. Instead of giving into the societal pressures associated with ageism and sexism, and every other -ism you could probably imagine, JoAni says f*ck it:
"I'm ageless, so you can call it whatever you want to, but it doesn't apply to me. I am a person. I am a human being; that's most important to me."

Insecurities are like opinions, everybody has them; And JoAni believes that although we can get lost in the thoughts of others, we have to remember that the only image that really matters is the one we have of ourselves.
At the root of every insecurity is fear of being "too". Maybe you're too inexperienced to start a business, or think you're too old to follow your dreams, but JoAni says that ultimately, the only thing that can stop you from becoming the woman of your dreams is the ability to adapt to change:
"Fear is a mind killer, but you have to embrace your journey, and everybody's journey is different. As we grow, we change our perspectives; we adapt. Whether it's exfoliating your skin, whether it's plucking the eyebrows more, there are so many chances for you to embrace and adapt."
Although JoAni hasn't always been the luxury brand-rocking runway queen that she is today, she's wearing her crown with grace, keeping in mind that she can face any -ism that comes her way. JoAni shares that the real secret to keeping her confidence is 10 is just showing up. After losing her husband two years ago, she admits that her greatest superpower has been her ability to take a set back and keep on slaying:
"For me, confidence comes from showing up for life on a daily basis. Everything I've been through — the good, the bad and the ugly — has prepared me to know that I can handle my next challenge with confidence. Being older gives me the experience of knowing that I've overcome difficult challenges before, like the death of my husband, and that gives me the confidence to face whatever comes next."
According to JoAni, the war wounds she's acquired over the past 67 years are only beauty marks, ones that we should embrace with open arms.
"Young people should welcome new experiences — they help you build on your current abilities and hopefully add new ones. And with that, even more confidence will come."
Read JoAni's full interview with MadameNoire here!
Featured image by JP Yim/Getty Images