Janelle Monae is back to steal our hearts and relentlessly tantalizes our senses with her new single, "PYNK."
---
The video is an ode to the female form, pubic hair, and all things pink. The afrofuturistic queen's new album, Dirty Computer, featuring hit singles "Make Me Feel" and "Django Jane" and is proclaimed to be one of her most vulnerable projects yet. "PYNK" is the latest installment of this "emotion picture," which she originally began developing with her late mentor, Prince, before his untimely death.

The lyrics to "PYNK" are just as raunchy as they are empowering, as Monae reminds us all to "touch our top and let it down." The video consists of Monae's fearless gang of black women indulging in some good old fashioned pussy power.
Tabloids have previously speculated about the nature of her relationship with Tessa Thompson, who co-stars with Monae in "Make Me Feel" and was also be spotted in "PYNK" with her head between the singer's legs as she danced in vagina pants.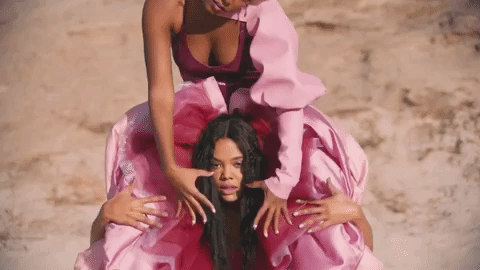 Giphy
By the way, does anyone know where I can find some vagina pants? Asking for a friend.

The anthem is symbolic of the normalization of womanhood, in its purest form. Bisexual culture and pubic hair are topics that are typically taboo in the black community, but Monae tackles the conversation head-on in her latest project, which is dripping with sexual liberation and gender fluidity.
TFW when you're the centre of female pleasure. #PYNK https://t.co/THpgM1l87J

— Hanna Ines Flint (@Hanna Ines Flint) 1523385337.0
She told The Guardian that her gender and sexuality are "undefinable" and opened up about her social responsibility to walk in her own truth:

"Sticking up for those who are often left behind and don't have a voice – doing that was one thing on film, but doing that in music is different because it's all you. So I can't sit back here and tell you I'm confident and fearless. I'm terrified right now. Like, I don't know how my family's gonna react, I don't know what people are going to say."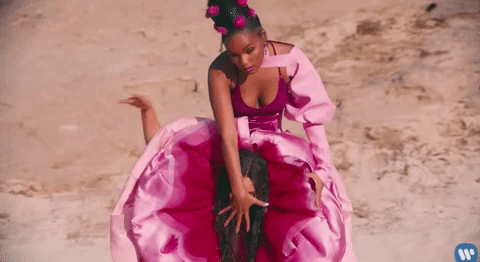 In the past, Monae has been fairly conservative about her discussion of gender identity and sexuality, but the narrative surrounding her emotion picture proves that her feelings have changed.
"I know that there are a lot of things that I haven't discussed and I think this is the album that you'll get an opportunity to get a closer glimpse into my mind and into my heart."
Monae proves in the new video that not only is the future female, female is now. The singer/activist wrote in the video description that:
"PYNK is a brash celebration of creation. self love. sexuality. and pussy power! PYNK is the color that unites us all, for pink is the color found in the deepest and darkest nooks and crannies of humans everywhere...PYNK is where the future is born...."
Monae's new visual is a tribute to the many pussies of the world, in all their glory.
Absolutely loving what Janelle Monáe is doing to recalibrate the sexual politics of modern pop. There's at once ten… https://t.co/bhOIgbQdch

— Guy Lodge (@Guy Lodge) 1523377332.0
Monae is the defiantly unapologetically black and feminist voice that is so needed in the entertainment industry and "PYNK" is our anthem.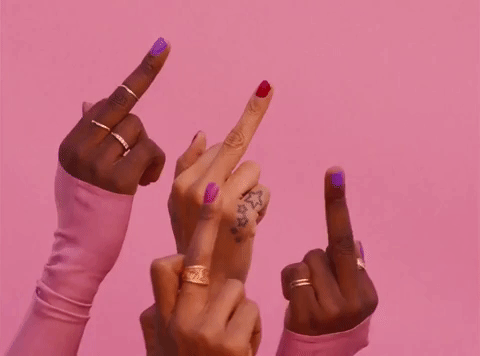 Giphy
Check out the full video below: