Career advice is something that comes a dime a dozen in an our American overworked hustle culture. It mostly sounds like, "rah rah sleep when you die" or whatever some millennial has said before. Boomers taught us to find a job, and work your way up with that company until you retire from there one day.

---
Millennials came along and decided that Boomers' way of thinking was dated, especially when factoring in cost-of-living. But truth is, when it comes to Corporate America, working is all about playing smarter, than harder, which is the aspect that Gen-Z has figured out, and damn near normalized. In fact, Gen-Z boldly shows up denouncing all of this, and instead, realized that we need to just get what we want out of these jobs and get tf on.
And they can thank many of those before them, and having access to readily available advice at their fingertips from industry giants.
Regardless, there's still etiquette to working in the States. And if one person knows a thing or two about the topic, it's our good sis Issa Rae. She understands the struggle and decided, for herself, to break out of the mold and take ownership of her career path, whichhhh I guess you can say is working out pretty well. But even she had to learn a few hard lessons along the way. In a recent video with Vanity Fair, she discussed her #LeaveThatJob journey, and the lessons she learned about doing so.
The segment, titled Issa Rae Re-Answers Old Interview Questions, is where she responds to an interview questions she's been asked in the past, with her new perspective. Her previous response is then played, to which she also offers up commentary to her old responses.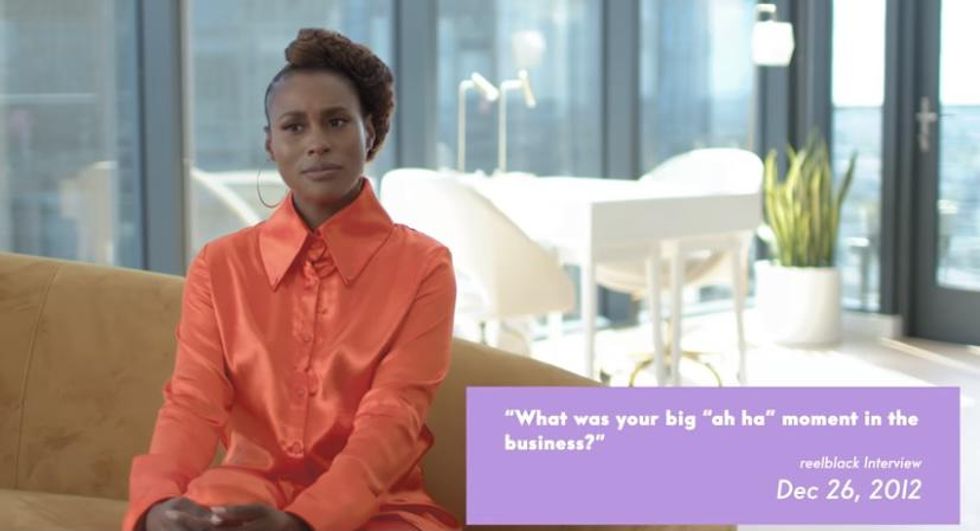 Vanity Fair/YouTube ​
So when she was asked what her "ah-ha moment" was in the Hollywood, of course her current response was full of all gems.
"I guess I'm just more hip to how and why things are made, and who is kind of in charge of saying 'Yes.' But the politics of this business have just become more clear to me in a way that I could at least, intentionally, go around and avoid making things that the studio system thinks is great or poppin. Mind you, I'm a business person and I don't want to make things that suck and that won't sell, but I do want to make things that are very true to me."
She continues:
"And I have found that while Hollywood is like, 'we love original voices, we love originality', all those things, they really don't. So it's just about finding those people who do appreciate that and who are willing to take risks."
But her 2012 response is what made her cringe at the thought of merging what she's learned in the almost decade since.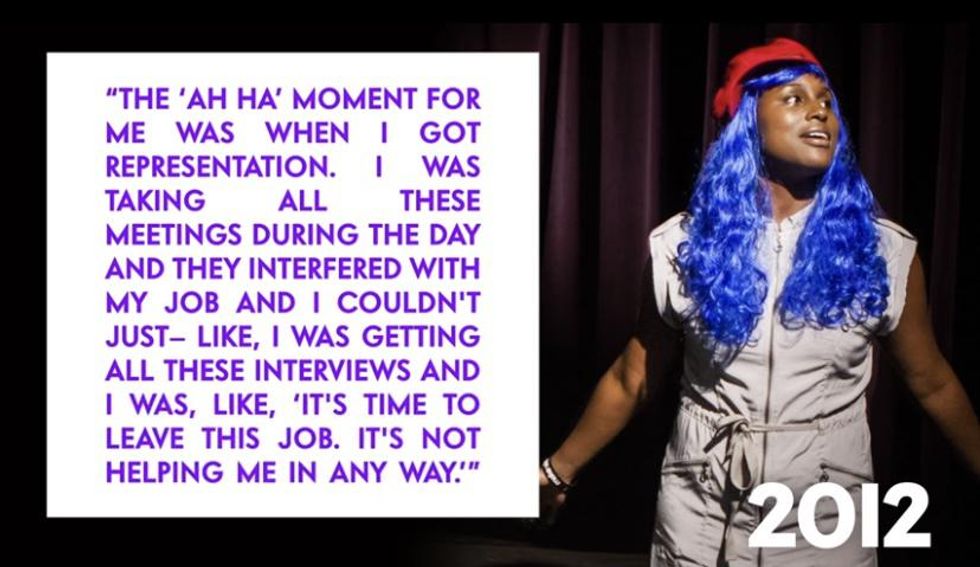 Vanity Fair/YouTube
"My dumbass..." she responds.

"I thought representation meant like, 'oh I get an agent and manager, money is about to just start coming in, whew finally! It's happened for me!' And I quit my job, and was broke as fuck...so this was not an ah-ha moment, this was a very dead moment for me. It worked out, but I should have held on to it a little longer to save, because whew, there was a struggle."
She then proceeds to give some of the best advice for us looking to move on from jobs to pursue passions with a more mature perspective.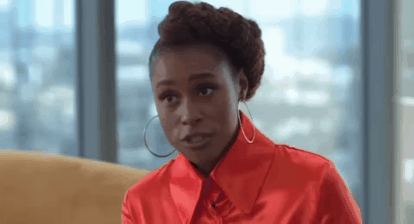 Vanity Fair/YouTube
"Before you quit your job, you should have savings, you should have a plan, and also make sure that you have a support system, whether that's your friends, or a team in place to help you make stuff. You have to have accountability partners to keep you on track."
Because her journey into being a boss was a lane she created on her own, her self-made approach to creativity is why her advice is on so many people's radar--and rightfully so. But her ultimate advice, that she never strays from and has been what she commits herself to, is simple:
"Find [your] people. One of the things that was so important for me was just finding those people who I could rely on and who I could grow with — it's not easy to do things by yourself. Because I'm a shy person, it was hard for me to introduce myself to people and ask for help, but I found that as soon as I started doing the work, people started coming my way."
Issa Rae Re-Answers Old Interview Questions | Vanity Fair
Are you a member of our insiders squad? Join us in the xoTribe Members Community today!

Featured image by Rich Fury/Getty Images for Teen Vogue