At what point do you get sick of your unhealthy food choices? For me, I'm already sick of all of the crap that I consume.
---
On top of that, the health cards are already stacked against black women. The American Heart Association reports that 49% of African American women ages 20 and over have cardiovascular disease, and only 1 in 5 are aware of the signs and symptoms of a heart attack.
Fortunately for us there are options other than pumping pills into your bloodstream. One of them is to put the chicken down and to adopt a plant-based, vegan diet instead. In case you were wondering, the word vegan refers to anything free of animal products, for example food, clothing, and self care products like shampoo or toothpaste. Although I personally won't be running to my closet and throwing out every single leather shoe and bag, I'm definitely looking to remove animal byproducts from my plate--and I'm not the only one.
Many of our favorite high-profile celebrities have adopted a vegan lifestyle: Jay Z and Beyoncé (who went vegan for 22 days back in 2013), Wacka Flocka Flame, Dawn Richard, Angela Simmons, Andre 3000, Erykah Badu, Common, Angela Bassett, and rapper N.O.R.E just to name a few (and by the way, they all look great). Thankfully, avoiding the consumption of meat and meat byproducts shouldn't be as hard as it sounds, nor is it limited to the rich and famous. Recently there's been an increase in the availability of plant-based dining options since about six to eight million adults in the U.S. are currently not eating meat, fish, or poultry. These same adults are also less likely to have heart disease, cancer, or Type-2 diabetes.
As self-motivated as I am I don't take the transition lightly.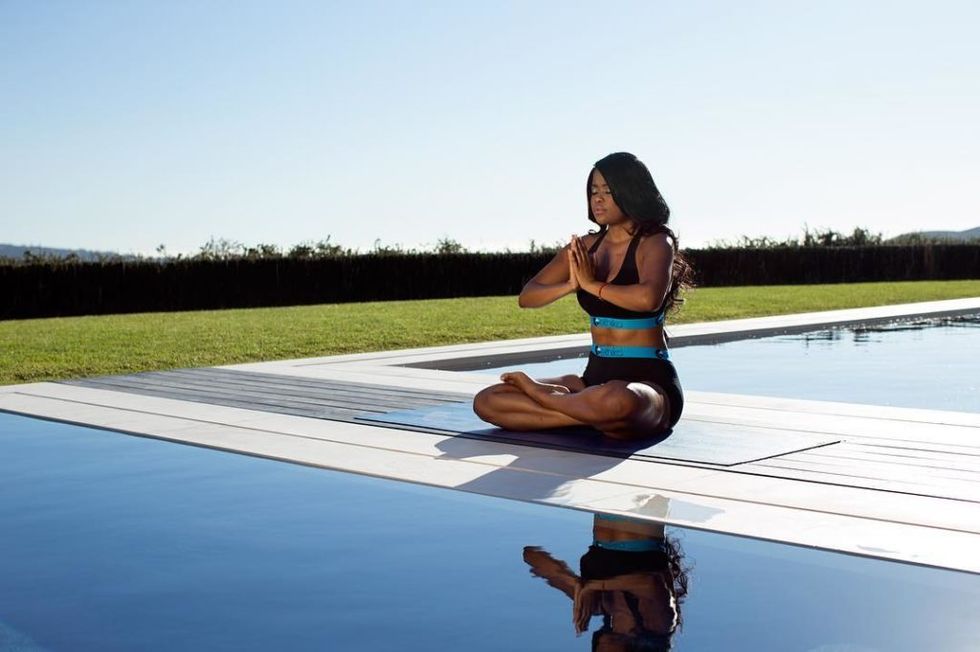 To help me better understand what I'm up against, I connected with media maven Karen Civil, who is at the tail end of her 90-day vegan diet. I asked her how she was able to successfully transition from a bona fide meat eater to a meatless diva with almost no preparation. In fact, I found her will to stay on course with a vegan diet quite fascinating because she basically became vegan overnight, and that's almost unheard of amongst new transitioners.
She admits that it has been willpower that's carried her through this journey without crashing. "The first week was definitely hard because it was kind of like...I never wanted to be that person that was like at a restaurant being too picky or reading labels," she said. "But I had to be that person; I had to find new markets, [do] research, I was definitely hungry...I have like a whole diet/discipline thing, no fatty foods, no carbonated drinks, no junk foods, no fast foods. So It was a very drastic change."
Of course, going vegan for Karen meant that her meat eating friends and family were put off by her sudden dietary switch. She recounted a story on how her dad was so confused about her new diet, that when she got sick, he encouraged her to eat steak and macaroni and cheese so she could feel better. She found what her dad had to say humorous, but she didn't give in to temptation by following his advice. "Dad, a clogged artery is not going to fix what I have," she told him. "I appreciate it though. But I want you guys to know we all watched Soul Food, we saw how that movie ended. As much as nobody wants to talk about the elephant in the room, understand that she died from diabetes."
Karen had a lot of strikes against her after her drastic dietary change, and her dad's confusion about her new lifestyle was just a drop in the bucket of things or ideas that could have potentially tanked her diet.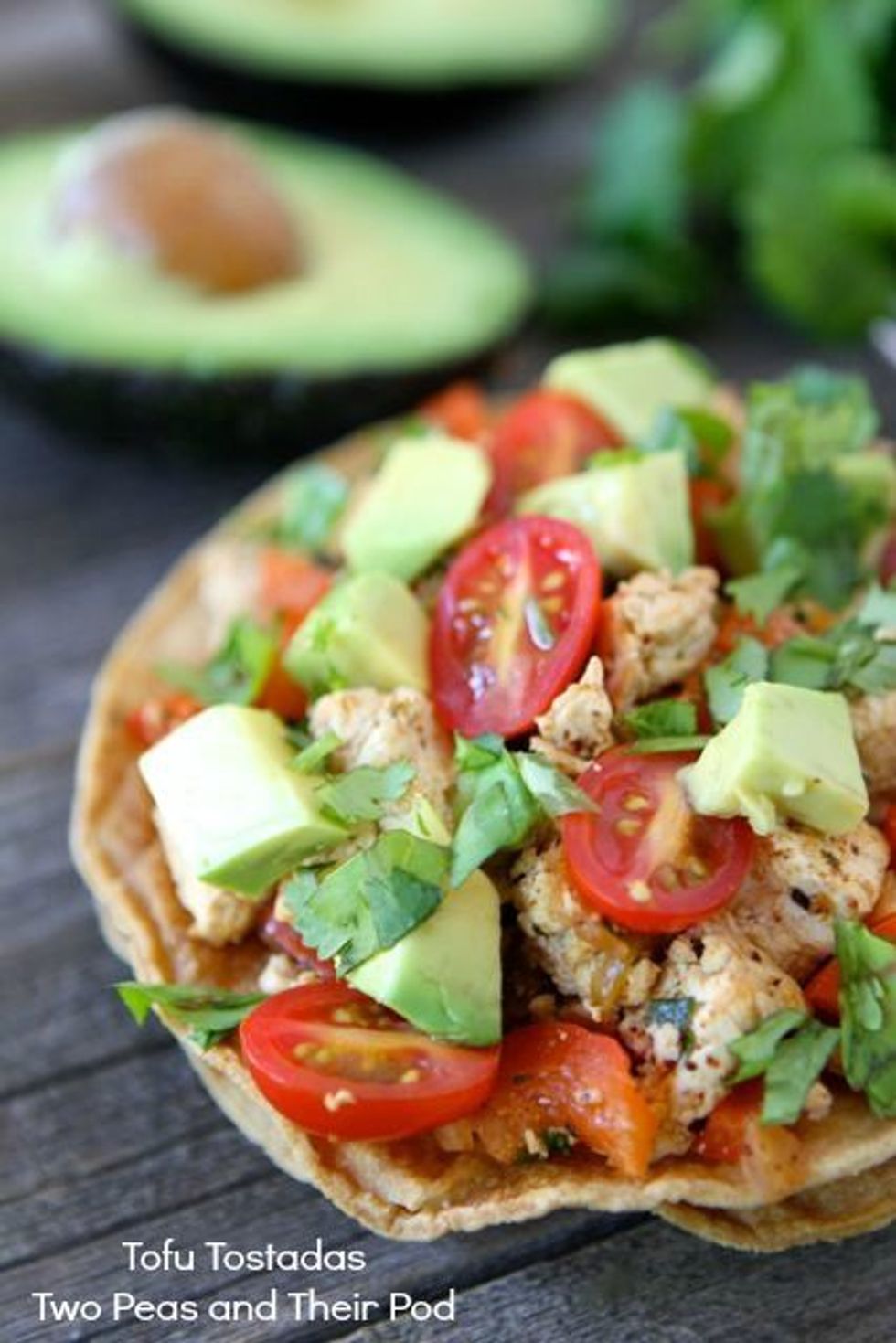 Tofu tostadas from Pinterest
The good news is that outside of her vegan friends, she was able to get some more motivation to stay the course with the help of some apps, like Pinterest and Instagram. "Technology makes things easier," she said. "Because you have so many apps and you have so many things that tell you [where to eat]."
Taking into account where social media users made suggestions for great restaurants was important to Karen, because it helped her not crash her diet. "I make sure I know my surroundings and my area," she said. "There's a juice [bar] downstairs, a market less than three miles from me. I don't ever have a day where [I feel like I'm going to crash]."
The other great thing that Karen experienced by going to vegan restaurants and eateries was seeing some celebrities hanging out at some of her favorite vegan spots.
"One of my favorite restaurant is Crossroads," she recalled. "It's great because every time I go in there, I see Jay Z, and [when I tell my friends, they're like where did you see him, and I say,] 'How's that Roscoe's treating you?' You see everyone at Crossroads, it's like a Cheers, where everyone knows your name."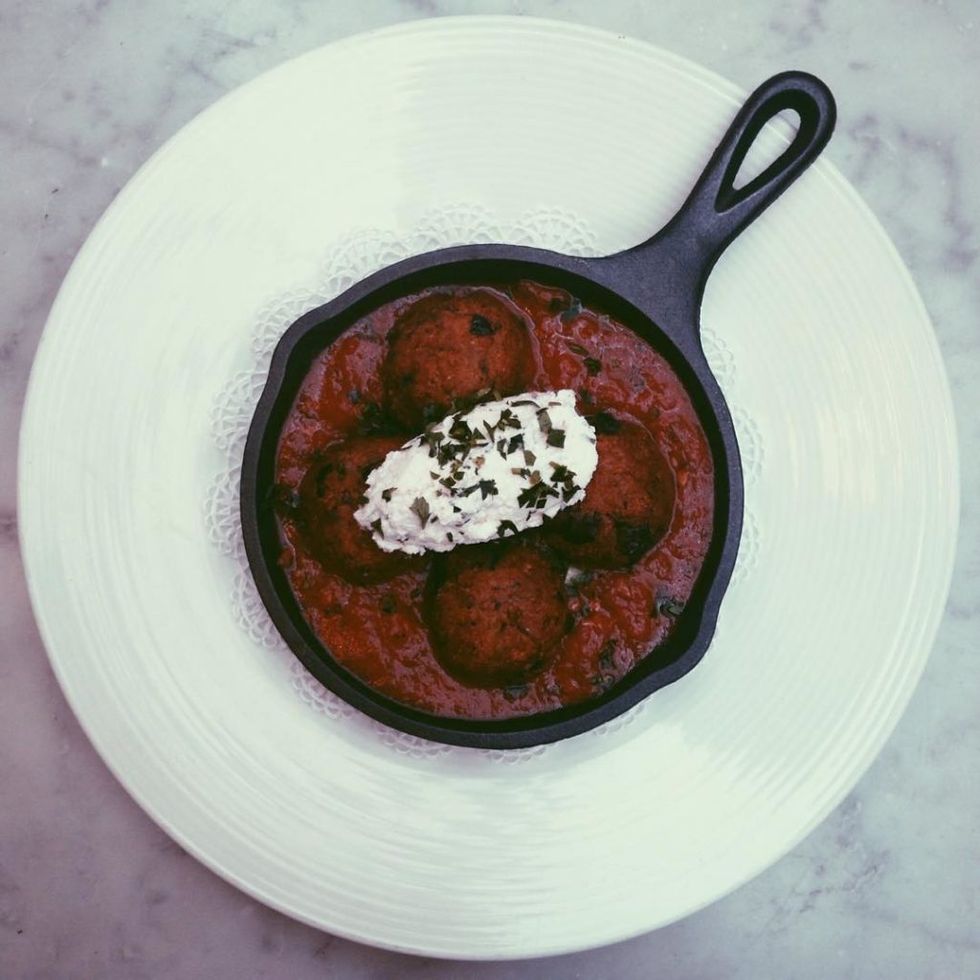 Egglplant "Meatballs" from Crossroads
I went searching through Crossroads' Instagram feed to see if the food looked as good as Karen made it sound, and sure enough, it did. I had to wipe my drool off of the keyboard after eye balling their Eggplant meatballs in tomato sauce, and the tiramisu dessert cups.
Karen said that it was the way the restaurant presented their dishes that made the spot perfect for meeting with clients who weren't vegan. "Realistically, I have all my meetings there," she said. "I don't try to sway people, but I try to go places where it's comfortable for both of us. Like it's vegan infused, but at the same time, you can't really tell."
It was great to hear that she's been doing well with her vegan diet, but was it really that easy for her? Especially considering that most new vegans complain of acne, stomach pains, diarrhea, or weight loss. Nope, it wasn't easy for her at all.
"It has its good sides, and it has its bad sides," she said. "I don't want to say being a vegan made me sick, but the certain diet that I implemented, it was probably was too strong for me. So I may have to loosen up the reigns and add certain things back to my diet. But it's really about knowing your body, knowing what's comfortable for you, and what you want to remove."
Karen's healthy lifestyle journey came with a benefit that had my eyes popping out of my head when I saw pictures of "the new her" on Instagram. She lost more than 30 pounds, and looks absolutely fantastic.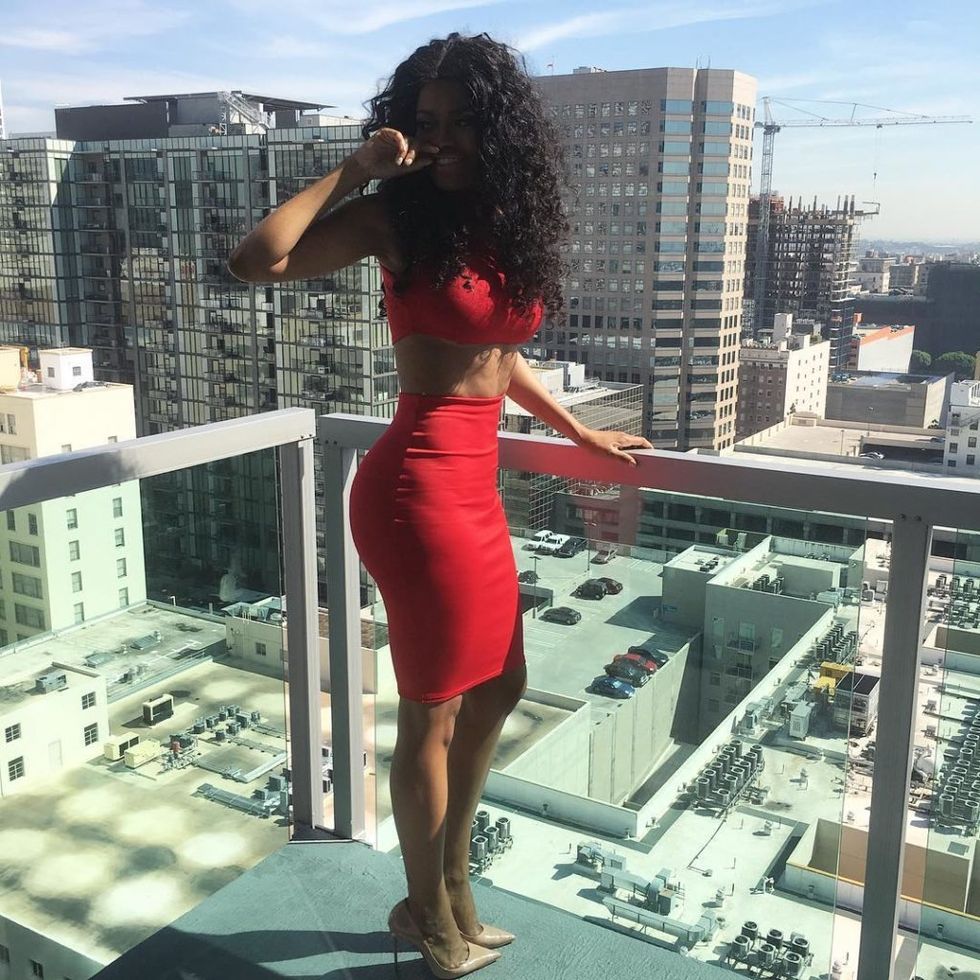 She let me know that the weight loss didn't come easy, and that her decision to go vegan for 90 days had little to do with weight loss, and more to do with getting a handle on her health. Instead she needed to get a better understanding of what her body needed to survive, and it was a great decision.
At times being vegan was uncomfortable for her, like when she went out to eat with friends, or when she read and studied food labels in the middle of the grocery store. But it was all part of a necessary evil. "I love how I look, I love how I feel," she said. "It was just like a lifestyle thing. It's [about] working out four times per week, making sure I eat a proper diet, balanced food…Even though I'm not [eating] meats and cheeses…I'm doing it for 90 days, and then I'm going to transition back to a healthy balanced diet. The whole purpose of it was to eat better, and make better choices."
By the time Karen hung up the phone I was more motivated than ever to go vegan. Passing on good health, wellness, while nixing the curse of a heart attack was the encouragement that I needed, but Karen's stamp of approval solidified the deal.
I've only scratched the surface this vegan journey. I also spoke with Chef Ahki, who has celebrities - like Lenny Kravitz, Lee Daniels, and Bradley Cooper - that fell in love with her vegan cooking. But you have to stay with xonecole.com to get the rest of that story.