---
With the rise of more and more black women breaking away from traditional 9-5s to become their own bosses, the CEO is getting a revamp as the SHEeo. In the Meet The SHEeo series, we talk to melanated mavens leveling up and glowing up, all while redefining what it means to be a boss.
In 2014, Shavone Riggins was in search of a protective style that matched her naturally textured hair. As a mom of six, it was important for her to have a good quality product that was both time-saving and convenient without sacrificing the look and style. She decided to take matters into her own hands, and within a year she launched her crochet curl brand Curlkalon— a natural-looking synthetic hair that delivers "effortless curls in a box" to women looking for textured hair protective style solutions. As the first brand of its kind, Curkalon quickly amassed a large following and seven-figure sales within months of its release. In December 2018, the company was acquired by True Glory Brands.
In this week's feature, meet Shavone Riggins of Curlkalon.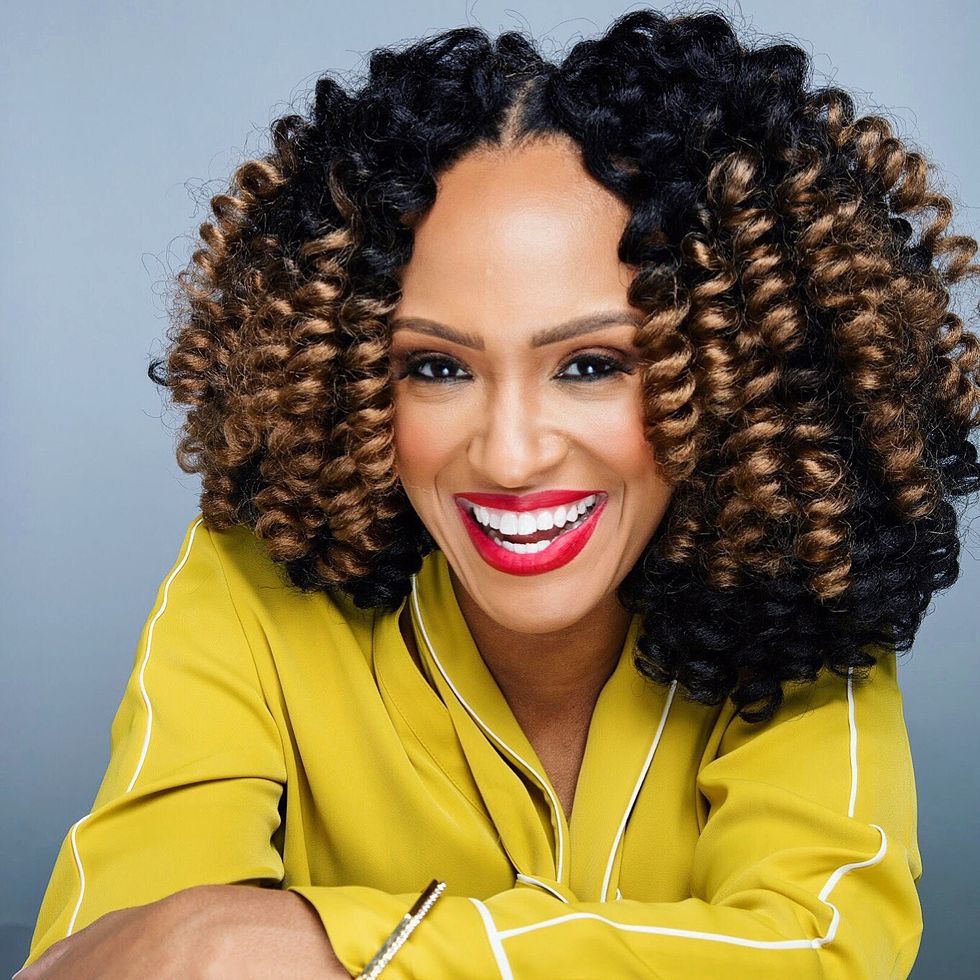 Courtesy of Shavone Riggins
Brand: Founder of Curlkalon Hair/SHE Everyday
Location: Atlanta, GA
Year Founded: 2014
# of Employees: 10+
30-Second Pitch: "Curlkalon Hair answers the call of delivering 'effortless curls in a box' all around the world to women looking for textured hair protective style solutions. In becoming the first company to market, I like to think I revolutionized the once tedious process of creating crochet curls at home into a high quality time-saving solution without any sacrifice of look and style. As a mom of six, I recognized the need for convenience in protective styling and how it could meet the look of naturally textured hair while struggling with my own natural hair routine 2014. I thoroughly enjoy helping women find effective and time-saving solutions by taking the stress out of protective styling, business and life."
What inspired you to start your brand? 
My inspiration for Curlkalon came about in 2014 after 11 years of being natural and wanting to find a natural-looking protective style that matched my texture of hair. Upon coming across the crochet braid method, I was pleased on having the look I desired.
What was your a-ha moment that brought your idea into reality? 
My a-ha moment happened in the kitchen at my stove as I was cooking up curls that there has to be a better way. My light bulb came on and I knew I had to build the brand. I hit the pavement running with my talent and skills as a digital marketing designer in creating everything from the curl prototype, the logo, the website to the product design.
Who is your ideal customer? 
Curlkalon's ideal customer is a woman who is looking for a quality textured hair solution and wants to add a time-saving ease to her daily hair routine with a "effortless curl" protective style that lasts 6-8 weeks.
What makes your business different? 
Curlkalon is different in the hair space because we're the first crochet curl brand to the niche market of synthetic hair with use of high quality fibers that gives a true showing of textured hair as that of African-American women. Plus, we have a great story behind the brand!
What obstacles did you have to overcome while launching and growing your brand?  How were you able to overcome them? 
One of the first obstacles I faced with launching Curlkalon was keeping up with the fast growth. Upon launching Curlkalon in May 2015 on Mother's Day to mid-2016, I found myself as the Founder and CEO of a seven-figure brand. The next obstacle was staffing the brand to keep up with the demand. In which, I grew the team to a 12-member team from executive level, customer service, along with shipping and warehousing.
What was the defining moment in your entrepreneurial journey? 
The defining moment in my entrepreneurial journey was when I was able to employ others and see their lives expand into being able to buy a home, purchase that new car, and have health insurance, on top of seeing women all across the world confidently rocking Curlkalon with smiles and joy from ear-to-ear.
Where do you see your company in 5-10 years?
I see Curlkalon as a community brand that will continue to meet the need of women who are looking for a quality textured hair solution and wants to add a time-saving ease to her daily hair routine with a "effortless curl" protective style. Alongside helping women
Where have you seen the biggest return on investment? (i.e. marketing, ads, vending, social media)
Curlkalon's biggest return is on marketing. In knowing our idea customer, we're able to deliver them awareness through ads, influencer marketing, and partnerships.
Biggest lesson you've learned in business? 
The biggest lesson in business I've learned is knowing when to pivot. As a CEO of a new and growing brand comes with the wearing of many hats, you can find yourself in a loop of what you know that works and be stuck there. However, things change; the market changes, numbers change, and honestly you change too. There comes a true point of evaluation that needs to take place so that key changes can be made at pivotal points.
Anything else you would like for people to know, or take away from your entrepreneurial story? 
In December 2018, I released my title as CEO with an acquisition of Curlkalon to True Glory Brands. I knew that I wanted Curlkalon to make it to greater heights and my vision had evolved to being more supportive to my brand with carrying my founder title with works on expanding the brand's audience with communications, education and strategic marketing.
Follow Shavonne on social media: @curlkalon and @shavone_riggins.