My family has always said that I'm the straight-no-chaser kind of chick. Here's a visual. My mom once told me that when I was about three-years-old, we got on a bus and a woman said, "Oh, you're such a pretty little girl." My response? I didn't bashfully smile or hide behind my mother's dress. My immediate reply was an enthusiastic, "And you look like a clown!" (I mean…)
---
Adding to this instance, my mother has said she's pretty sure that my unapologetic outspokenness has probably made her look pretty rude throughout the years. If she was on one side of the room and I found my way to another, she would interrupt whatever someone was saying, just so she could hear—and perhaps "fix"—what was coming out of my own mouth.
Since I am pretty direct, that's why I don't fully get the point of faking orgasms. Well, let me clarify that. The very few times when I have actually done it, it was because I really wanted to hurry up and get the experience over with while not wanting to flat-out say that during the act itself. But even that comes with its own level of counterproductiveness and dysfunction (more on that in just a sec). But doing it for any other reason than not wanting to intentionally hurt someone's feelings never made sense.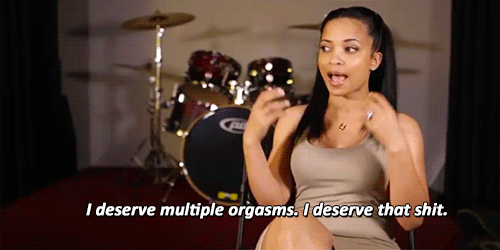 media.giphy.com
Still, tons of people do it. Although orgasms should not be the goal of sexual activity (we all should embrace the journey just as much as the destination), it definitely should be a part of the experience as much as possible. But according to my findings, a lot of us—men and women alike—come up short in this department. Reportedly, 75-80 percent of women have never had a vaginal orgasm (that's an orgasm from intercourse alone) and 1 in 4 guys (25 percent) claim that they fake orgasms (will act like they came when they didn't) too.

A part of me can't help but wonder if a big part of the reason why the stats are what they are is because more of us are faking it rather than tackling the issue of not climaxing, for whatever the reason might be, head on.
Keeping all of this in mind, if you know that you fake it more often than not (or you highly suspect that your partner does), here are seven solid reasons why you should stop ASAP:
Bottom line—all the lying does is keep things fake and frustrating. In the bedroom and out. My advice to people who fall into this particular category—try telling the truth, to yourself and to your partner. See where that gets you.

It just might set you free in some pretty mind-blowing ways (wink, wink) and make your relationship so much healthier in the process too!
Featured Image by Getty Images.
Related Articles:
10 Things You Didn't Know About The Male And Female Orgasm - Read More
My First Orgasm Gave Me The Best Sex Of My Life - Read More
I Can Squirt Whenever I Want to Now & Here's How - Read More
I Only Have One Rule In The Bedroom: I Come First. - Read More