---
Have you ever wondered where the true origins of holidays come from? I do, so I tend to research 'em. For instance, St. Patrick's Day? Long story short, he was a non-Irish slave who fled Ireland as a teen and then came back to teach Christianity to Irish people. And St. Valentine's Day? Legend has it that he was a man who was martyred for marrying Christian couples at a time when the emperor preferred men go to war than have a family. Pretty fascinating, right? Now watch how I'm about to tie all of this together.
Me? I'm a huge fan of marriage. That's why, whenever I hear someone say that Valentine's Day is a joke, I'm kind of like, "If there is any holiday that deserves some love from married folks, it should be Valentine's Day", just from the origin of it alone.
At the same time, I get that it's a holiday that can stress couples out because while the wife is wondering if her husband will observe it right (and by that, she usually means thoughtfully and romantically), the husband is wondering if his wife will do anything for him at all (it's not just a day for women; it's a day for couples).

If you happen to fall into this category or, your real issue this year is your money is tight, I've got a few ways that you and yours can celebrate the holiday without causing any financial drama on the back-end. As a bonus, these are the kinds of ideas that two can truly play. That way, your husband can enjoy the day rather than simply grinning and bearing it.
1

.

Have an Indoor Picnic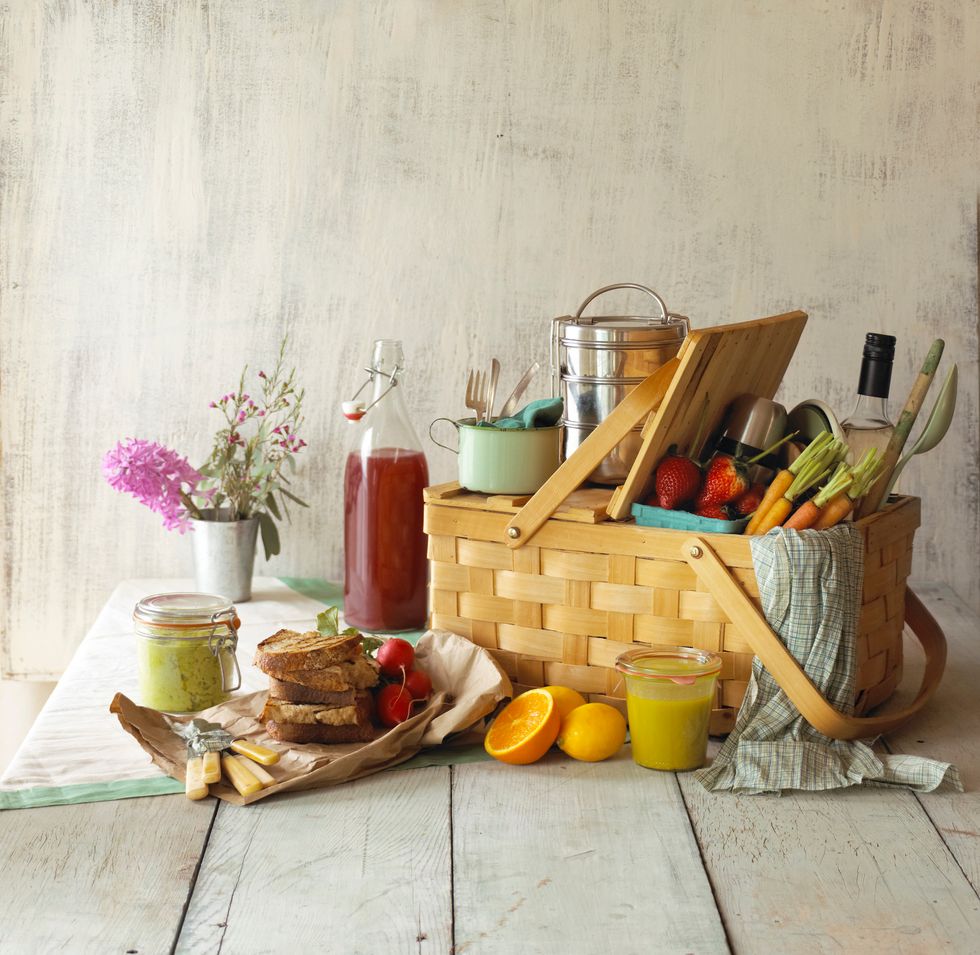 Getty Images
I'm not sure why the idea of putting a blanket on the ground and eating food on top of it is so romantic to so many of us, but I'll co-sign on the fact that it is. If you're an outdoorsy kind of person, I fully support having some soup, grilled cheese, and hot cocoa with your sweetheart at a park somewhere for lunch. But most of us ain't gettin' down like that in the dead of winter, so the alternative is an indoor picnic.
To pull this off, it's more about the ambiance than the food. First, make an indoor tent (Pinterest has all sorts of cool ideas; so does YouTube). Then put on some 90s R&B (you can never go wrong with that), light some scented soy candles (jasmine, vanilla, and cinnamon are all aphrodisiacs) and have some food delivered. It's simple. It's sweet. And it's totally stress-less. Just like how Valentine's Day should be.
2

.

Reenact Your First Date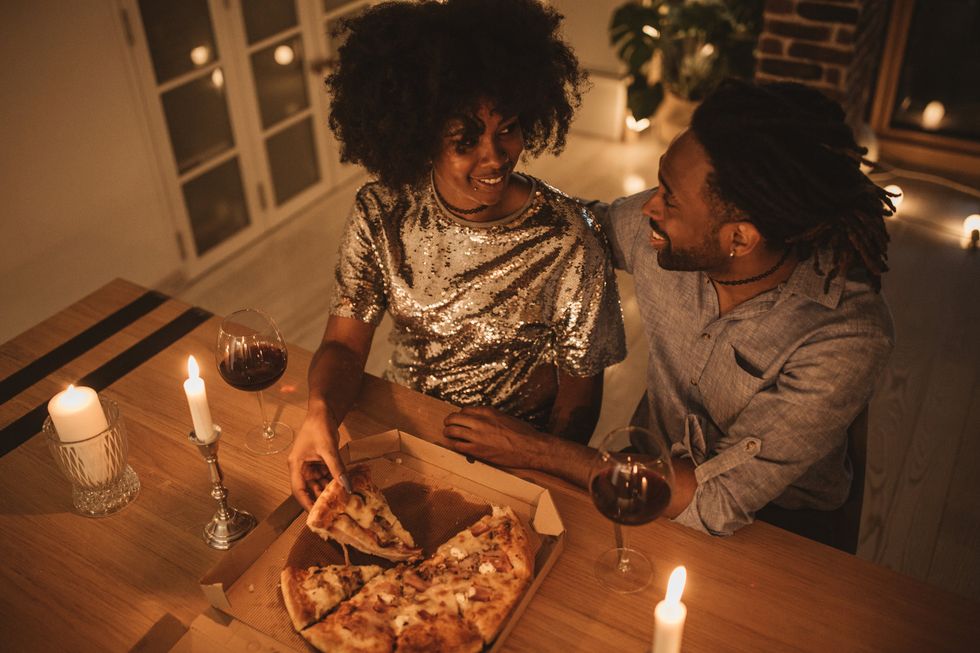 Getty Images
OK, this suggestion right here only works if your first date together was a good one. So if it was, taking a stroll down memory lane is a great way to bring some of the butterflies back.
Thanks to Amazon, YouTube, Hulu, Netflix and On Demand, you can find just about any movie on the planet. Or, if your first date was at a restaurant or coffee shop, if you call ahead, many managers will be more than happy to reserve the same table that you had or come up with something special for you and yours to dine on in order to commemorate where your first date has brought the two of you.
3

.

Eat Out on the Low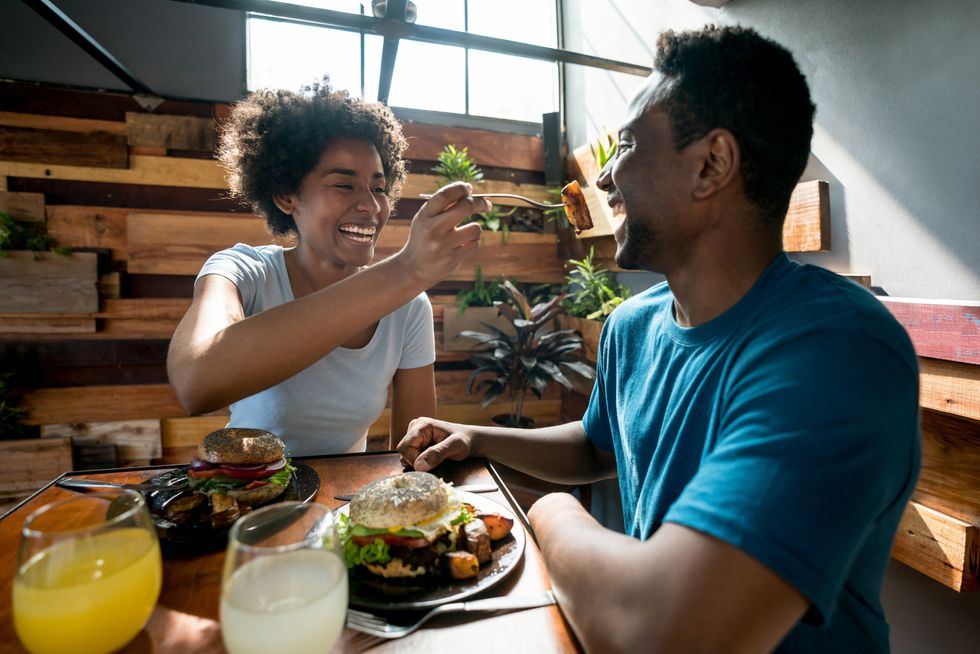 Getty Images
Speaking of eating out, if there is a restaurant that you adore but the prices on the menu are a little steep, see if they have a happy hour. 8 times out of 10, if you go during that time, you can get discounts on a lot of their items.
Some other tips for saving money on dining is to sign up for e-clubs, follow your favorite eateries online (restaurants are known for posting specials on IG and Twitter), and purchase discounted gift cards. It's not uncommon for restaurants to also offer an extra $10-25 cash reward if you purchase a gift card from them at a certain price.
4

.

Deliver Something Sweet (or Cool) to Each Other's Jobs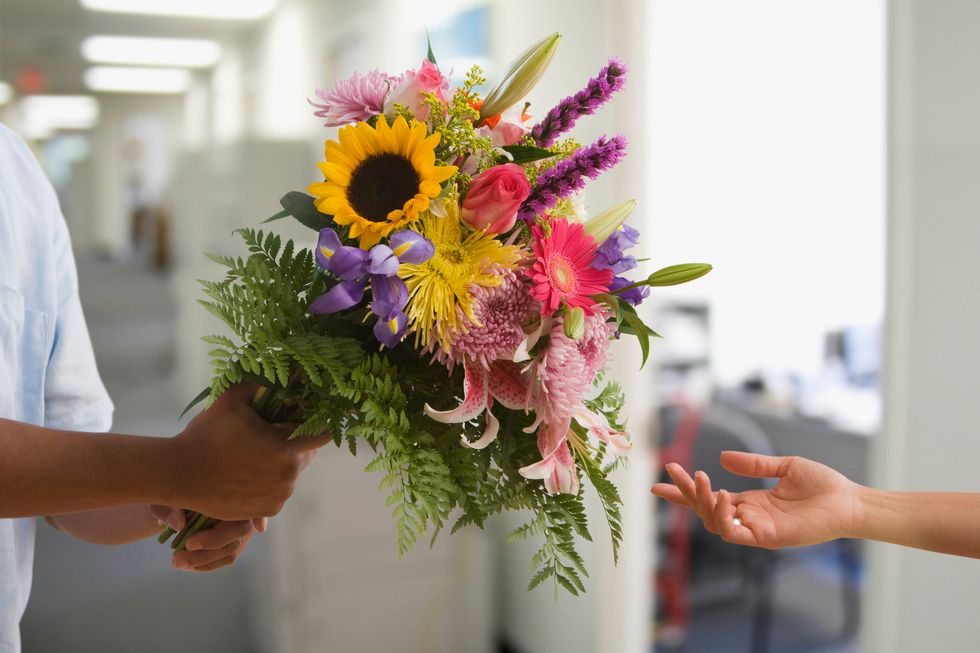 Getty Images
I try and tell husbands as much as possible that they can earn some major points if they deliver some roses to their wife (on a day other than their birthday or anniversary) every once in a while. The same thought applies to Valentine's Day — for both men and women.
As far as what you can have delivered, the ideas are endless! A favorite bottle of wine. A favorite dessert. Chocolate-covered strawberries. A subscription service for lingerie (trust me, your husband will like getting this sent to him just as much as you would appreciate receiving it). Or, if you know your man would appreciate something that's more on the light-and-fun side, how about a classic Nintendo system or tickets to an upcoming concert or game? Include a note about how much you love them too.
Being able to show your romantic side off to their co-workers will totally make their day.
5

.

Cash Some "Sex Checks"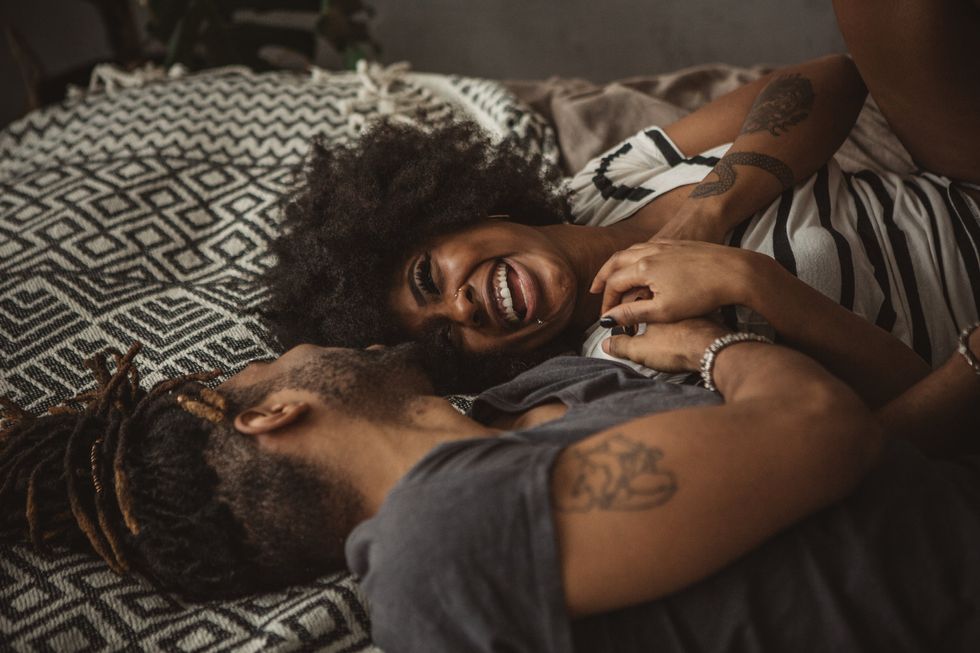 Getty Images
A couple of days ago, I read an article on sex coupons. When I went to Amazon to check them out, I saw something that I found to be even cuter — sex checks. Each packet includes 30 IOUs and 30 UOMEs.
If you add to these a bottle of DIY massage oil (all you need to do is mix some lavender oil with some sweet almond oil and heat it up), some edible body paint (you can buy some here or get a recipe to make your own here) and a couple of glasses of a love potion cocktail, you should be in for a really adventurous night. (Remember not to write a check you can't cash!)
6

.

Cook Each Other's Favorite Meals Together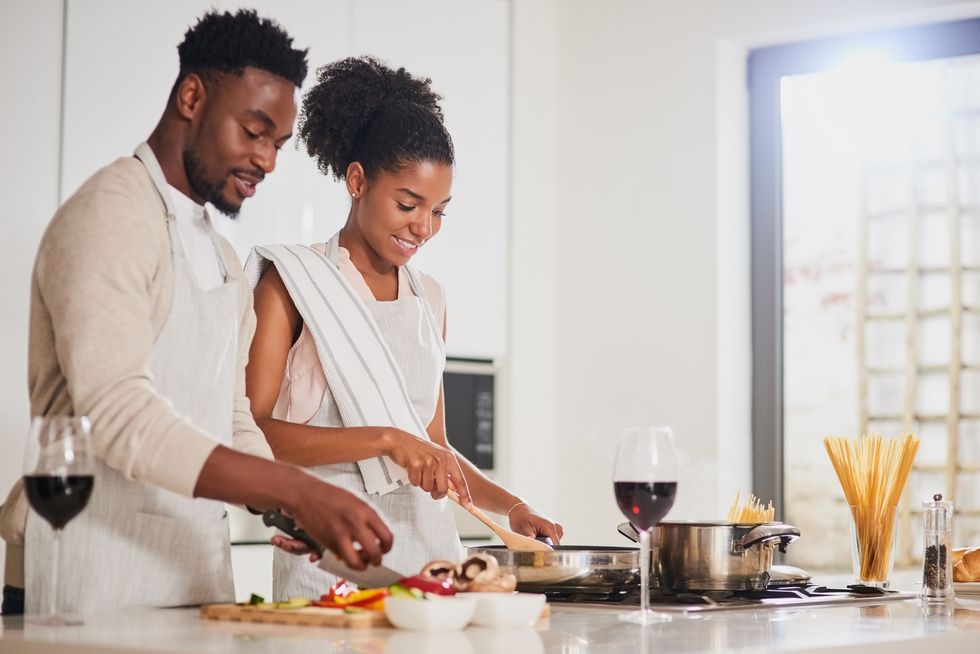 Add some fun to your date night!
Getty Images
Did you know that a lot of reputable therapists believe that a key to a couple's longevity is to cook together? It's a great way to spend quality time with one another and learn new things. There are also studies to support that cooking with your spouse reduces stress and can even lead to more and better sex as well.
Use this Valentine's Day as an opportunity to cook something neither of you has ever had before (first times for things are always sexy) or cook each other's favorite dishes. Who knows? The home-cooked dinner on the table could lead to some— eh hem — mighty fine dessert on the kitchen floor afterwards.
7

.

Buy Some "Breakaway" Lingerie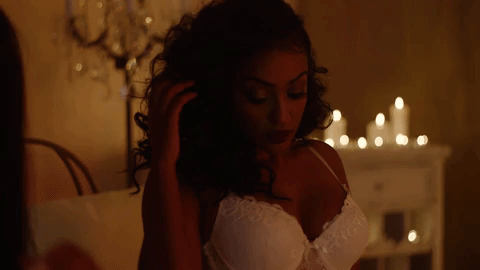 If you're a lingerie connoisseur, you already know that one nice piece of a lil' sumthin' sumthin' can easily run you over 75 bucks. But if you're on a budget and you want to get something new for your man to look at for the sake of Valentine's Day, there are all kinds of places where you can buy, what I call "breakaway lingerie". Literally, something that breaks away from the routine.
Arie is dope because it's got casual sleepwear, plus it features models that aren't photoshopped. Lane Bryant is cool because it's got something for the super curvy ladies (Ashley Stewart and Hips and Curves does too). If you love you some lace, LACELAB on Etsy has definitely got your back. If BDSM with a touch of romance is more your speed, Blossom Body features a nice collection. Or, if a sheer teddy is exactly what you have in mind, hit up Missguided. You'll be able to find one there
8

.

Stay at a Vacation House or Airbnb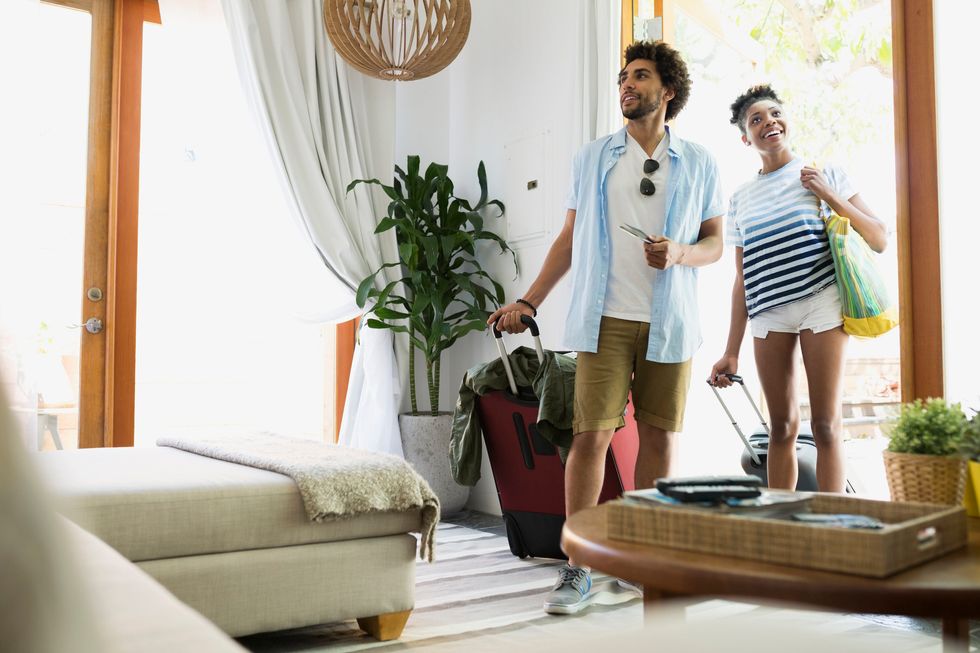 Getty Images
If you don't want to travel out of town but you want to get out of the house, and the thought of a hotel causes you to yawn with boredom, how about a vacation house or Airbnb? You'll end up with a lot more space and, oftentimes, the costs are much cheaper too.
To be fair, out of all of the things I've suggested, this one probably falls more in the "under $100-150" range. But I still listed it because I saw some vacation home rentals in my own city for $30-50. (Home to Go is a good starting point.)
9

.

Make a 12-Month Date Calendar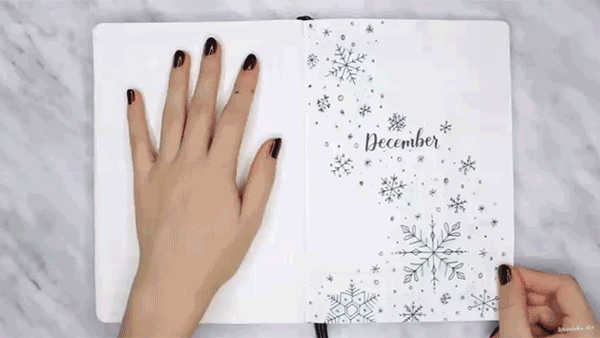 One year, a friend of mine's husband did something on her birthday that earned him all kinds of ooos and ahhs. He bought a calendar and then strategically planned out dates for the entire year. I mean, dates that he literally thought out, twice a month, until her following birthday.
What I adore about this idea is it's a reminder that proactiveness is not only underrated but super sexy too. And you know what? Since there are studies to support that monthly dates are one of the keys to keeping a marriage together, it's a great way to show that quality time with your partner is a top priority — no matter what.
10

.

Update Your Wedding Vows and Frame Them
It doesn't matter if a couple comes to me for a tune-up (we get our oil changed every 3,000 miles, so why shouldn't spouses check-in with a counselor a couple of times a year?) or they are on their last leg, something that I suggest is that they write down 10-15 things that they love about their spouse and then put it up someplace where they can see it daily.
Along these same lines, it's probably a good idea to frame your wedding vows somewhere around the house too, just as a reminder that your husband is not your boyfriend and your wife is not your girlfriend. Your commitment is a lot more serious (and legal) than that.
Then, maybe alongside your original vows, post some upgraded ones too. You know, the things that you want to promise now that you know more about what marriage is really all about. Think about it — what does "for better or for worse" really mean now that you've been through some things?
Both of you updating your vows can bring some humor to your Valentine's Day; it can also be a reminder of just how far you've come and just how "in this" the two of you really are.
Out of all of the things I've shared, this one is probably the most inexpensive and invaluable.
Happy Valentine's Day, married folks!
Featured image by Getty Images.
Related Articles:
Be The Ultimate Seductress On Valentine's Day With These Lingerie Looks – Read More
He Loves Me Like XO! 6 Women Share Their Perfect Date Stories – Read More
I Discovered My Husband's Love Language ...And It Changed Everything – Read More