I think most black women collectively did the Nae Nae with Tiffany Haddish, after her Saturday Night Live guest appearance this past Saturday.
---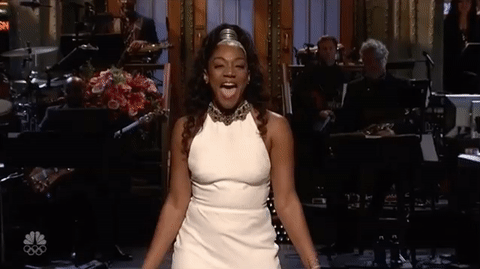 The Girls Trip breakout star made history last night as the first black woman stand-up comic to host the show in its 43 seasons. And in 43 seasons, she is only the twelfth black woman to host the live sketch-comedy show. Her monologue was definitely on point, and it also made me cheer for her a little bit harder.
Tiffany has never been shy about revealing that she was the child of a woman with mental illness issues, or that she grew up in the foster system. So when a few minutes into her set, she gave thanks to tax payers, it made me laugh, and choke up a little:
Before I was in Girls Trip, I was in foster care. And I wanna say thank you to anyone who paid their taxes between 1990 amd 1999, because if you wouldn't have paid your taxes, I wouldn't be standing here today. So thank you.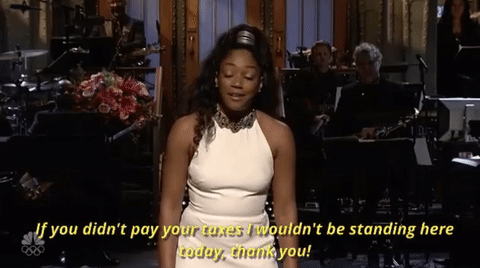 I lived in a lot of group homes, and my favorite show growing up was SNL. That's my favorite show. And you don't have no idea how difficult it is to get a bunch of black and Hispanic kids to watch SNL over In Living Color, okay? Trying to convince them that Dana Carvey was just as funny as Damon Wayans was a problem. I got stabbed twice y'all! In a bunk bed!
Tiffany has come a long way, and you could tell that in that moment, she was truly thankful. She also reminded us that she's still new money, by wearing the same dress she wore to the premiere of her breakout film Girls Trip. She explained since she paid over $4000 for the McQueen dress, she will be wearing it everywhere -- including a casual Sunday brunch, a Bar Mitzvah, and her funeral.
I feel like I should be able to wear what I want, when I want, however many times I want, as long as I Febreze it.
Another highlight of her monologue was addressing what the fellas needed to hear about sexual harassment.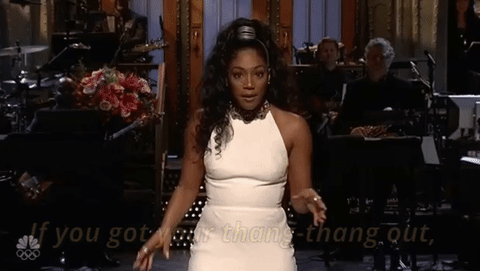 Listen fellas, if you got your thang-thang out and she got all her clothes on, you're wrong! You're in the wrong! Wait till she got all her clothes off, and then pull your thang thang out. Okay?
She was given plenty of funny sketches that held true to her personality, which was pretty refreshing. She did a spot-on impressions of Mary J Blige and Cardi B auditioning for the roles in the live action "The Lion King Screen Test" sketch.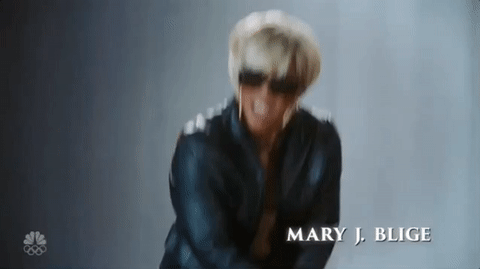 She also played Boo Boo Jeffries - a character in a Mortal Kombat-like game who hates violence; an Instagram butt model-turned movie critic, starring opposite Leslie Jones; and a touchy-feely, sneak dissing co-organizer of a cat giveaway, opposite Kate McKinnon.
But her best sketch was the too honest, rare black unicorn sketch, where she starred opposite Leslie Jones.
In the sketch, three travelers set off on a journey to find the last black unicorn. When they find one (Tiffany Haddish), the unicorn tells them about her futures, and it's all bad for them.
What I loved about the sketch, was that it may have been a bit of a reference to her actual book, The Last Black Unicorn, that's set to drop this December. Just like in her book, the hilarious sketch conveyed that life is what you make it, and even though bad things happen to you, you're not obligated to complain about it or allow it to bring you down.
She and Leslie nailed it.
Did you see Tiffany's guest appearance on SNL? What was your favorite sketch?