Admit it, you're in love with the sparkle.
---
I can't deny that sequins have at one point or another been a pivotal piece in my wardrobe. Whether it's sequined dresses, jackets, skirts, tops or another sparkly garment, there is a magnetic element of glamour that a girl seeks to indulge herself in when donning a sequined piece.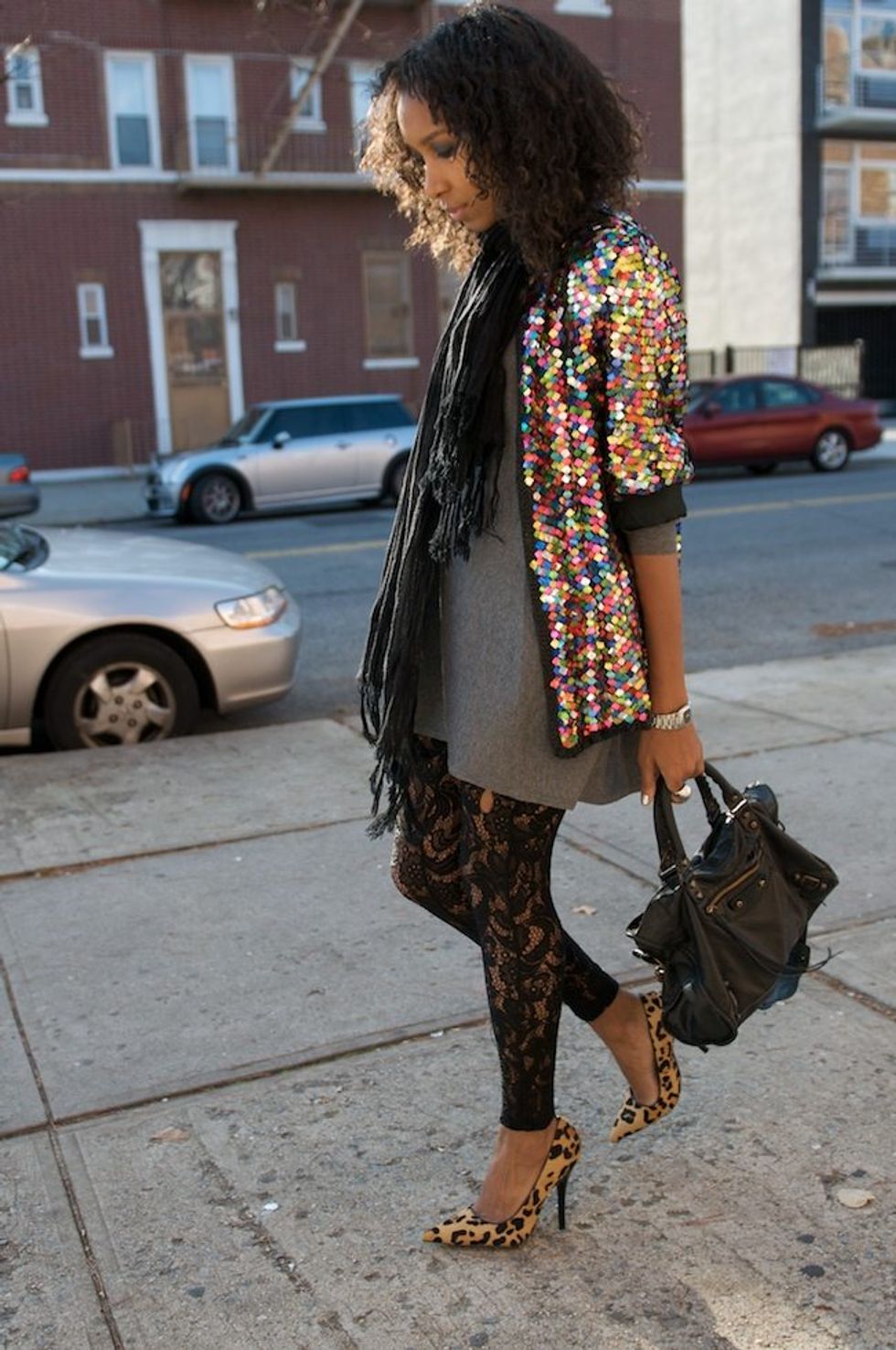 Karen "Britchick" Blanchard, Blogger
A few months ago, while I browsed for fashion inspiration for the new year, I came across dozens of girls that rocked sequin dresses in a fly way. Yet, I have to say that there was little diversity, with most looks encompassing the "sequin dress, high-heel" routine that we are so accustomed to.  But when I landed on one of my favorite blogger's websites to see what she had to offer, I was amazed and browsed her gallery of sequin styles for over an hour, inspired by the many sequined garments, new and vintage, that she had acquired and in awe of the multiple ways she pulled them off on any day of the year.
Karen "Britchick" Blanchard is what I like to call a curator of cool and, specifically, a sequin goddess. Having had her personal and street style blog, Where Did U Get That, for close to seven years, it's safe to say she has amassed a wardrobe to make any girl salivate and within all of her belongings, she possesses dozens of dazzling pieces that truly make you go "where did she get that?!" I interviewed Karen who explained that she has always been drawn to sequins and their versatility. "To me they are too pretty to be considered party clothes. Plus, they come in so many styles that they just work with my way of thinking which is to experiment and have fun with your outfits."
Not only does she have fun, avant-garde pieces that peek one's curiosity, but she wears them all in the edgiest and unique ways. The blogger's style has been refined as a result of the surrounding culture which she thoughtfully embraces."I get inspired by everyone from around the streets. I shoot a lot and so I observe a lot of different styles which is really fascinating."
Karen provides endless inspiration on how to take your sequin, and personal, style to the next level. For those daring to test the waters she illustrates a simple style tip that works for all, "pairing sequins with an everyday piece like jeans is something anyone can do. They balance each other out. I say find a drapey oversized sequin t-shirt and you are done."
Whether you've chosen a sequin dress, skirt or anything in between, this sequin queen is sure to have a look that will open your mind and give you a fresh, original, and vivacious look.
Here are five ways Karen has rocked her sequins that we're loving.
Party Ready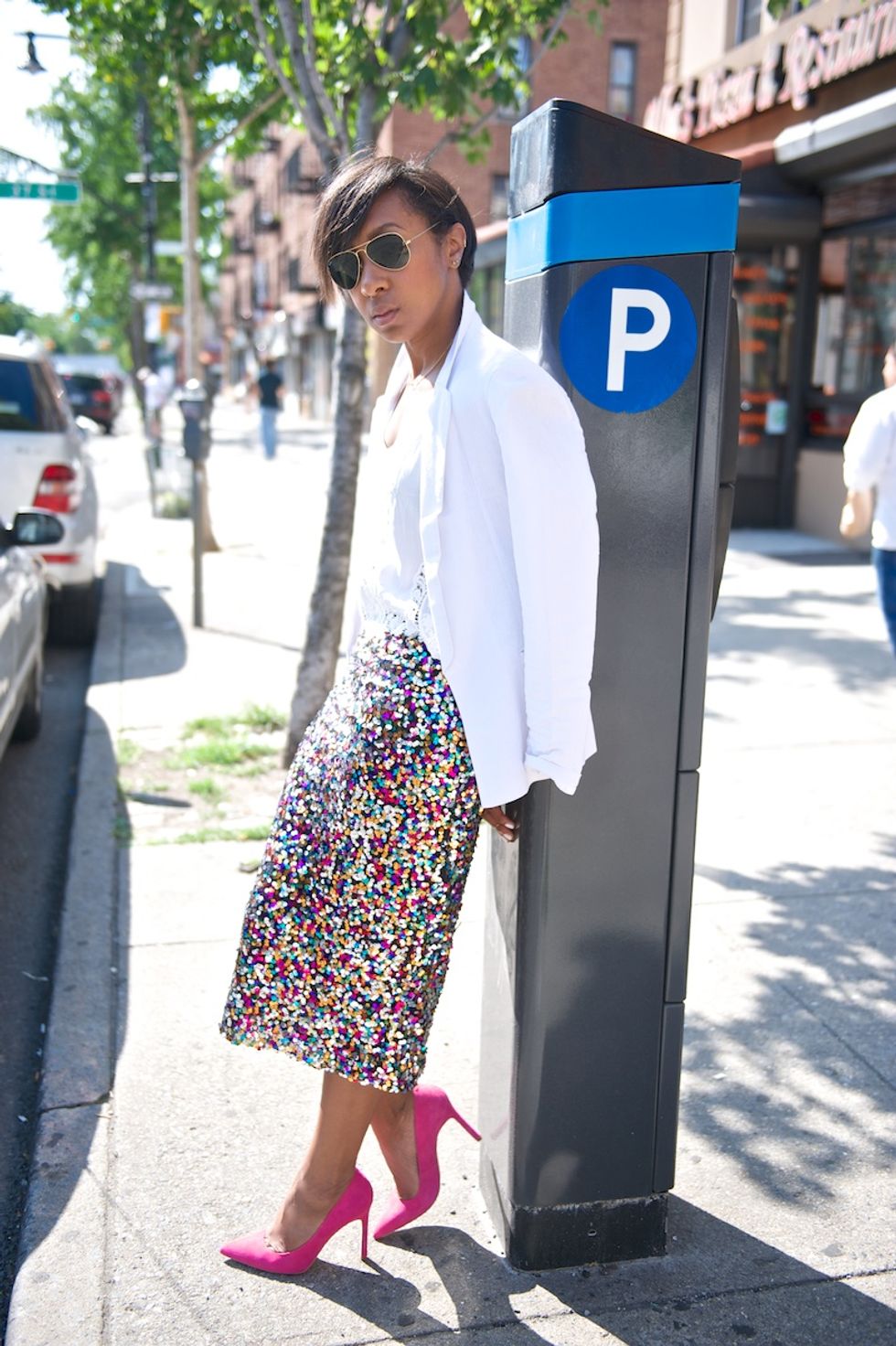 Karen dons a dazzling pencil skirt with bright pink pumps and a crisp white shirt and blazer for a fresh look that is appropriate for any party. By selecting a neutral top, she has perfectly balanced out her bold, colorful skirt and avoided an overpowering look.
Girly and Sweet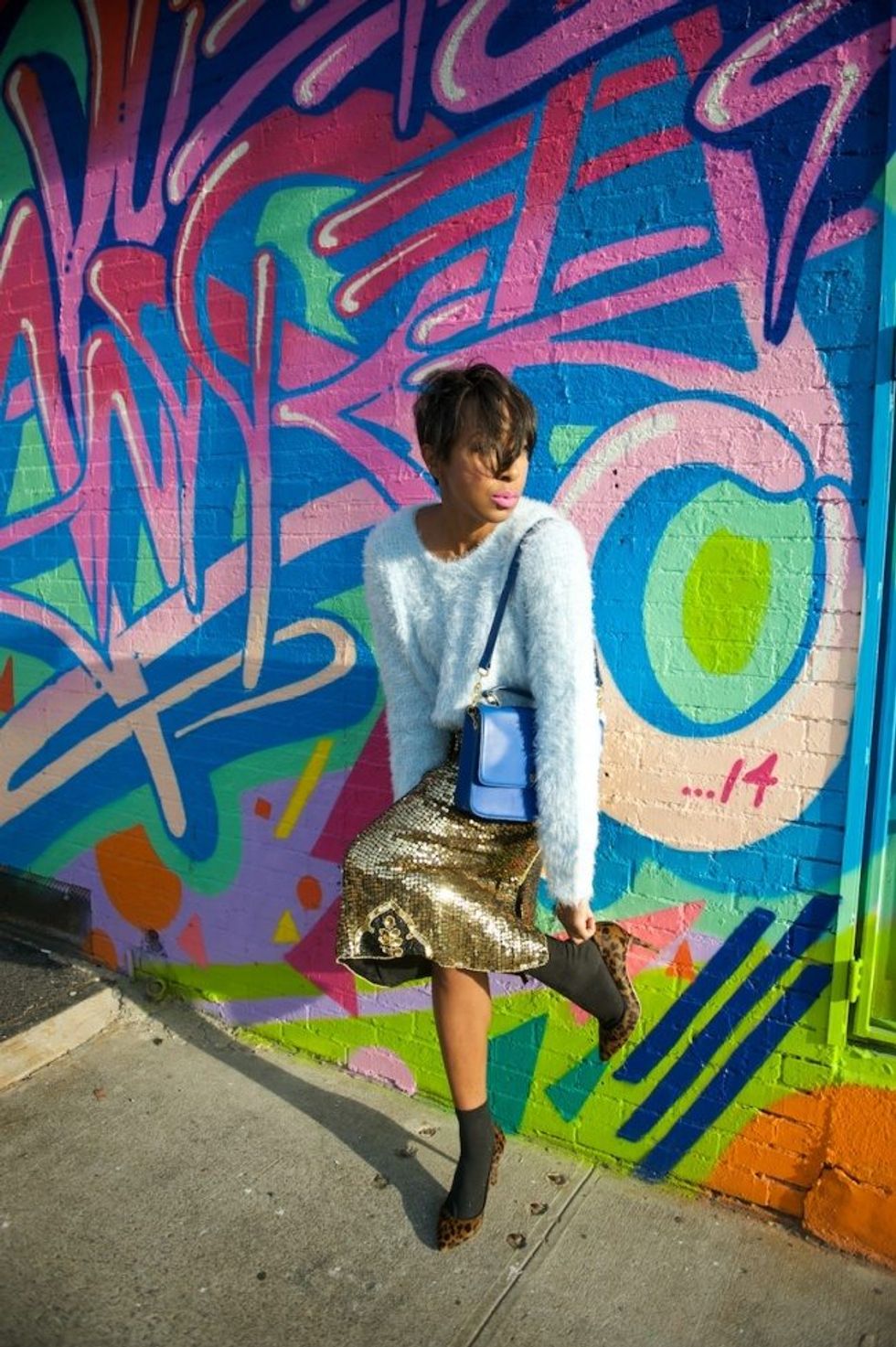 Socks with heels are always a nod to the girly aesthetic, and Karen looks every bit dainty and sweet in her leopard pumps with calf socks, gold sequined skirt and fuzzy blue sweater. Color pops help to round out a feminine look and the blogger's bright pink lips and royal blue purse took the outfit up another notch.
Edgy and Cool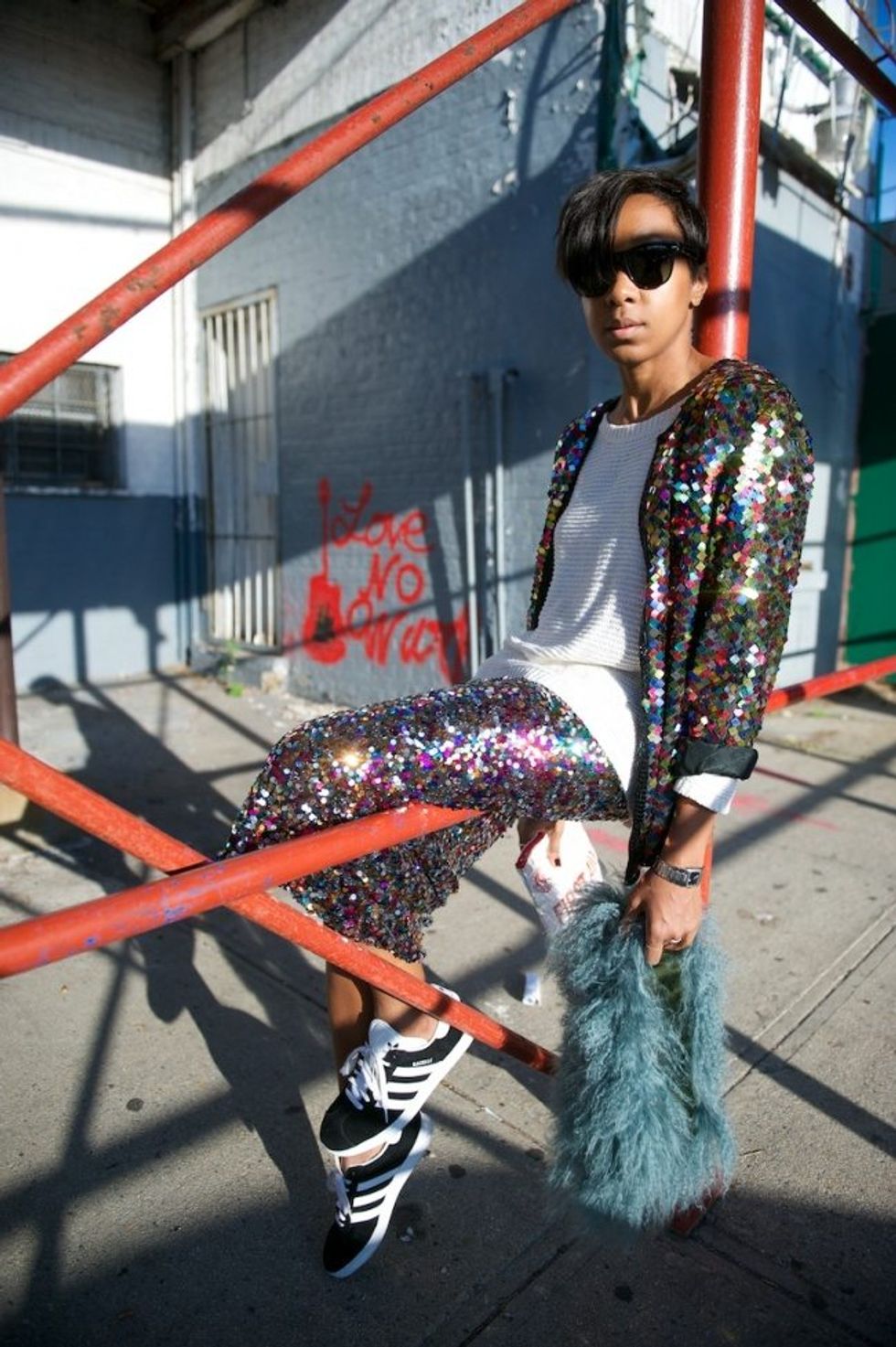 In one of my favorite looks from the blogger, Karen went full-force sequin in a glimmering skirt and vibrant, sequin jacket. By pairing the embellished pieces with casual Adidas and a blue fur accessory, she tones the look down while maintaining a unique edge. While she boldly combined two bright sequined pieces for her look, she was able to play down the shimmer with sneakers for a clean look.
Rocker Chic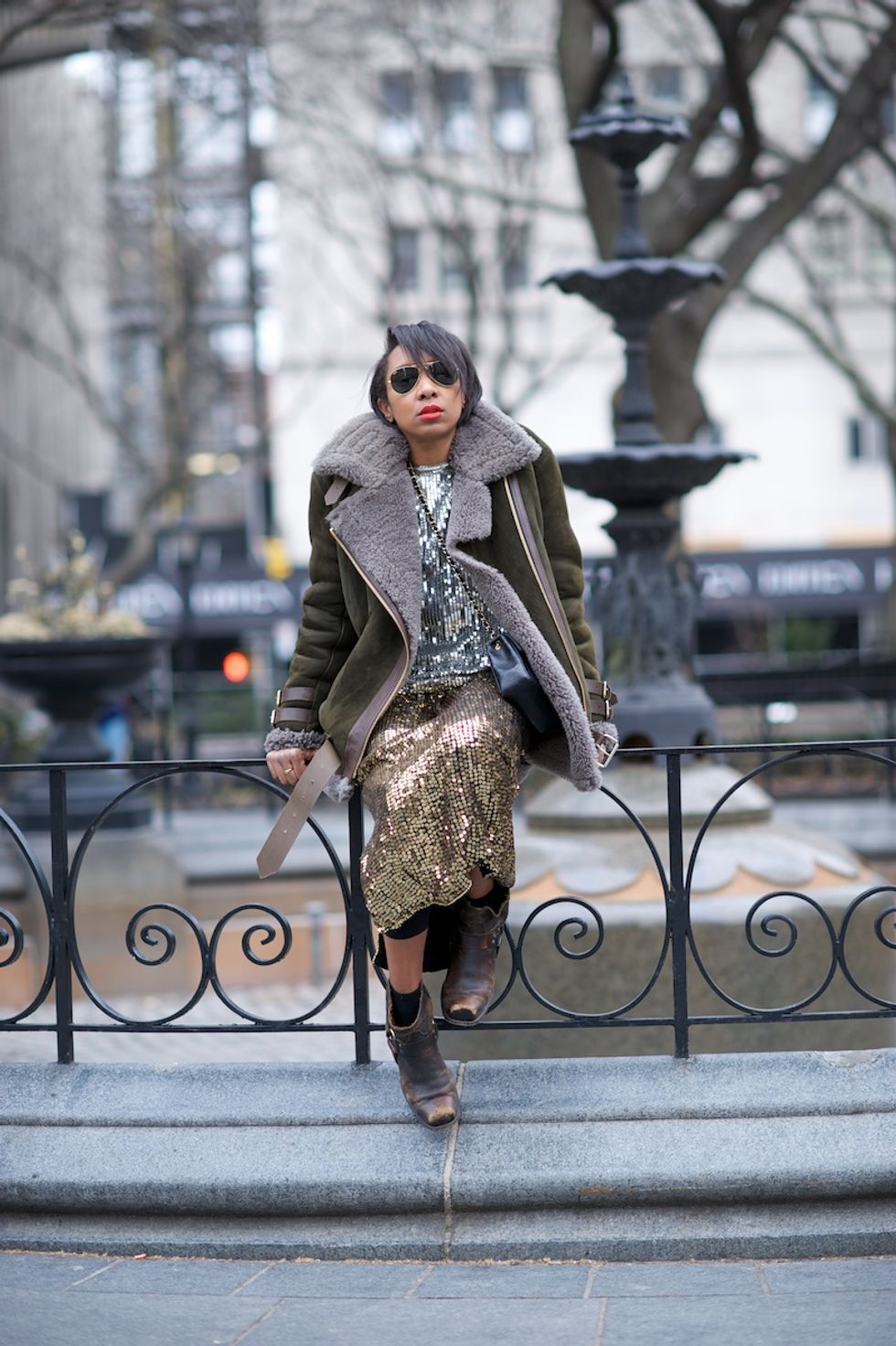 Karen brings ultimate cool with a sequined top and skirt that provide a mixed-metal feel. Her jazzy look feels rocker with the help of leather boots and a bad-ass suede and shearling Acne coat.
Casual With a touch of Sparkle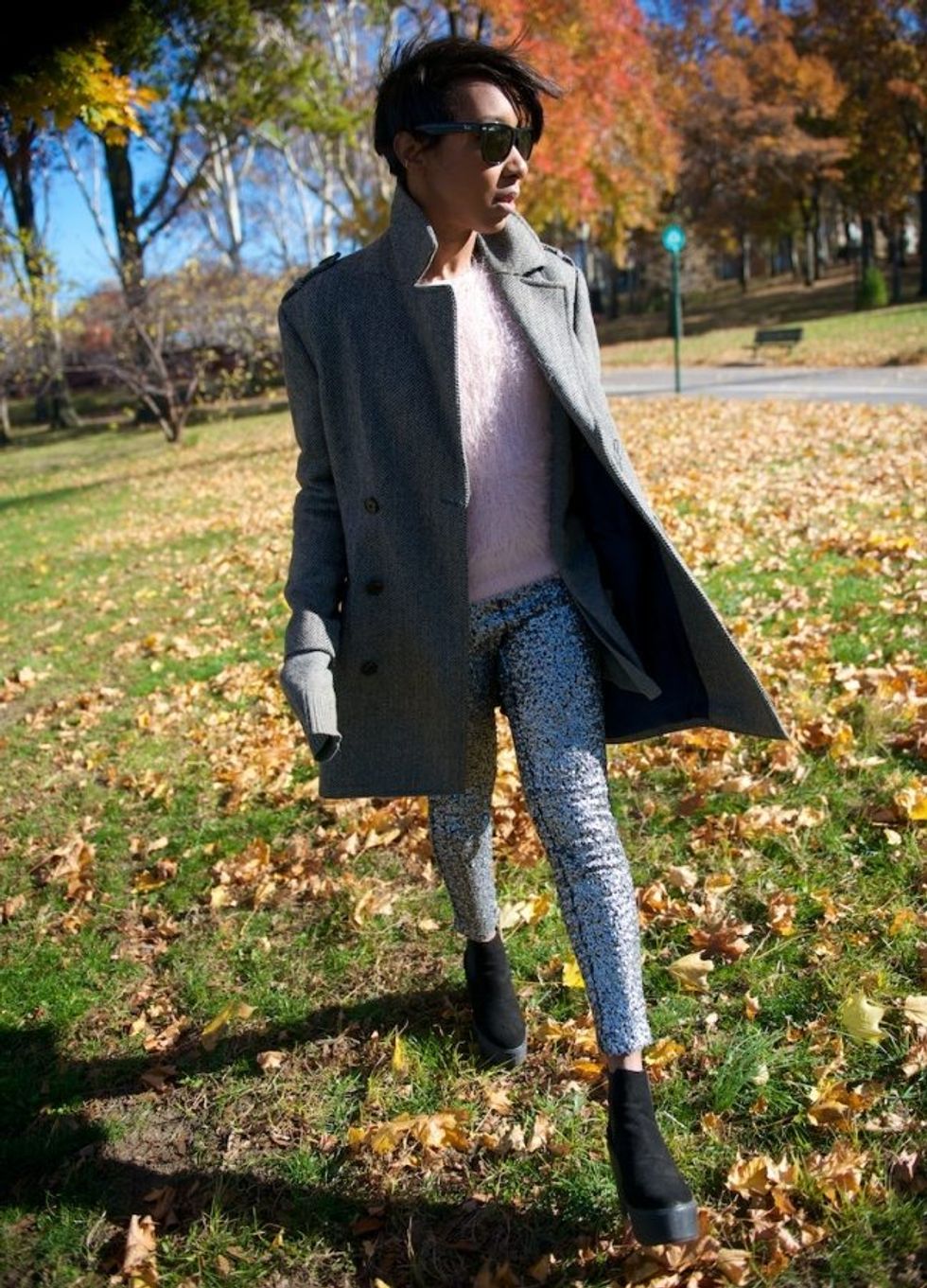 Here, Karen's sparkling silver leggings feel natural for a casual day  with her minimal black booties, powder-pink fluffy sweater and grey pea coat for a laid-back look.
Now that I've whet your palette, check out the gallery below to see some other cool ways to rock each of these looks!