Whether you're a makeup lover who loves a full face beat or someone who opts for a more minimal look - there's no denying the sleekness, timelessness, sophistication, and versatility of a nude lip.
---
However, for us Brown girls, finding the perfect nude lip color isn't always easy. With many mainstream brands failing to carry lip colors that work for our complexions, many a Brown girl (including myself) has found herself going the "do-it-yourself nude lip" route - having to improvise using a mix of lip liners, concealers, foundations and other products in order to create the perfect nude color. While DIY can be fun, finding the perfect nude lip color shouldn't have to be so hard.
In order to learn more about finding the perfect nude lip color, I spoke with some of my favorite makeup artists about the key to finding the perfect nude lip shade. Celebrity makeup artist Ashunta Sheriff, known for her work with Taraji P. Henson, likes to use nudes that are more pink or milk-chocolate. "Fenty has a shade called Uninvited, which is a gorgeous milk chocolate nude. Milani has a matte creme shade called Pretty, which is a stunning pink nude.
Atlanta-based makeup artist Noor, known for her debut product Skin Glass, explains that we need to be aware about the category of nudes. She explains, "You can have pinky nudes, peachy-nudes, and browny-nudes. Choosing the perfect one for your complexion based on your undertone and personal preference. Just don't choose anything that goes too chalky or otherwise you'll end up looking like a zombie! For tanner to deeper complexions, I love anything with a peachy undertone."
When all else fails, Noor has a pretty simple tip: "Look at the natural color of the lips and match that.If the lip has discoloration, then correct it with a warm-toned lip liner to even it out."
The secret to applying the perfect nude lip though is all about the liner. "I always use a chocolate lip liner on women of color and then I apply nude colors on top. I do this so the color doesn't read chalky or ashy in pictures and has a subtle gradient color," says Ashunta. If you want dimension, you can also try applying lip liner after applying the lipstick and then "blend the edges," adds Noor. Noor recommends NYX's Matte Lip Creme in the color London and Cork and Chestnut lip liners for darker toned women.
Armed with these tips, I went on my own personal nude lip color search, hitting my favorite Black woman-owned businesses first - and then venturing out to other brands with versatile nude lip color collections. I surveyed a wide range of contenders and came back with some of my favorites from the hunt. With the help of makeup artist Beneseth H., I was able to try and apply a wide range of products, including classic lipsticks, matte liquid lipsticks, and glosses.
Mented Cosmetics
Writer Rana Campbell / xoNecole
Berry Me $15.00 (gloss) & Mented #5 $16.50 (matte lipstick)
Mented #5 is one of my favorite nudes. This matte lipstick was easy to apply and needed no lip liner. To glam up the look and give it extra vibrance, I added Mented's Berry Me gloss to deepen the berry tones and bring out the fullness in my lips.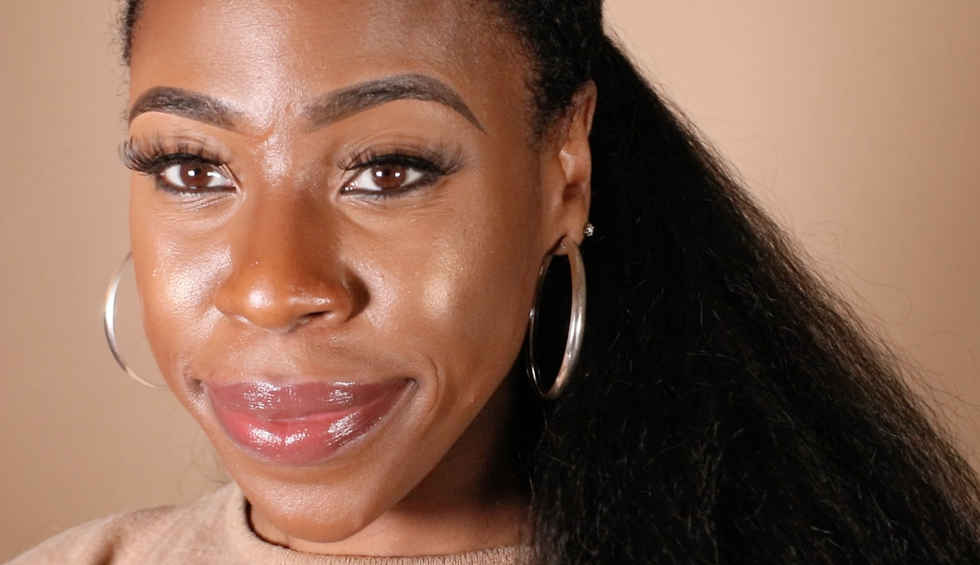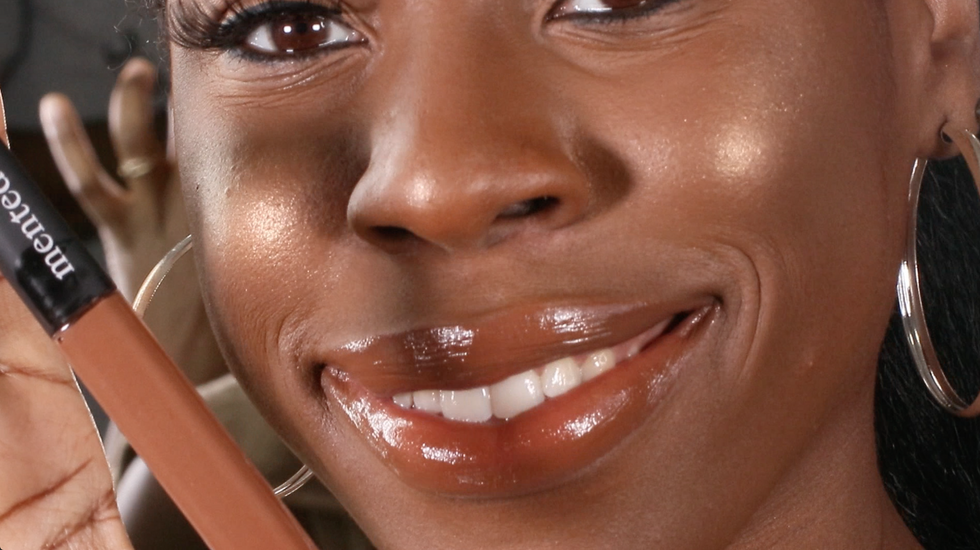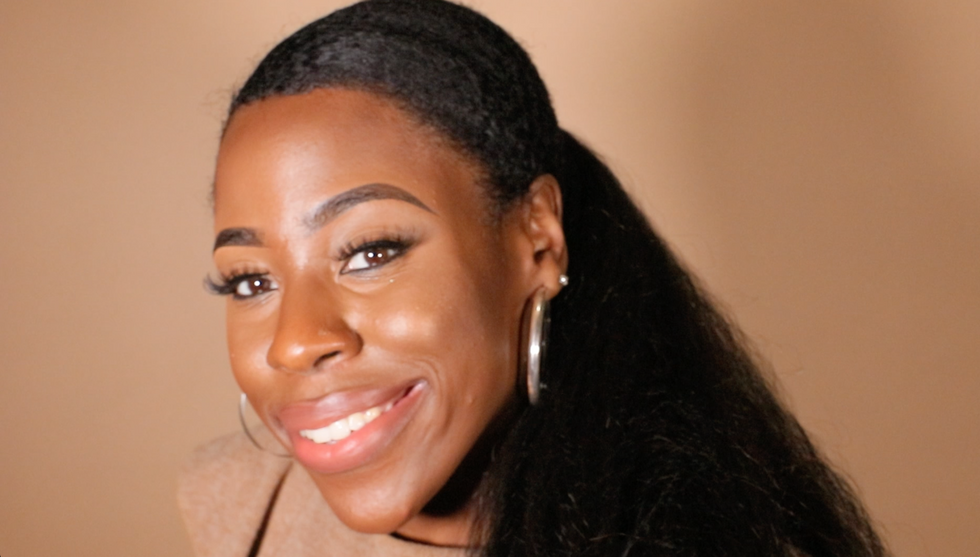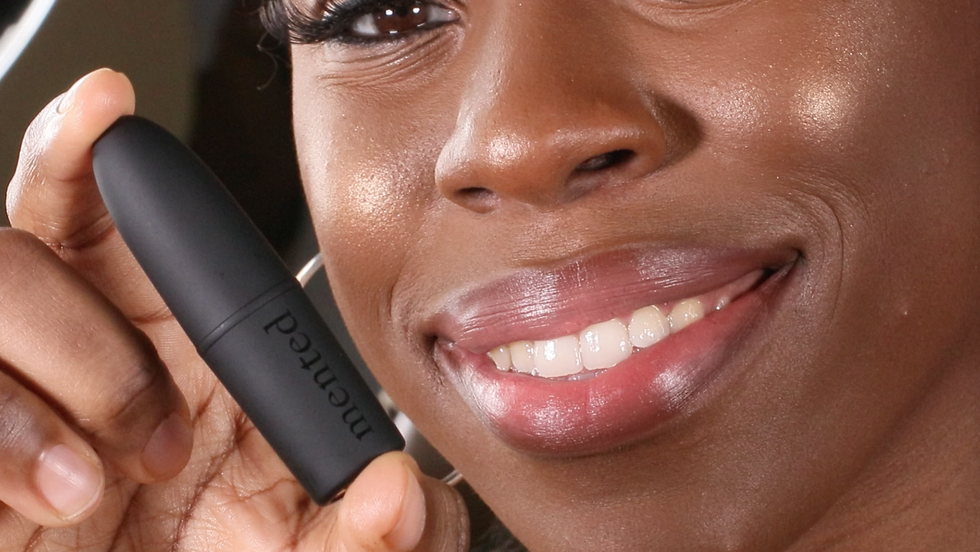 The Lip Bar
Writer Rana Campbell / xoNecole
Savage $13.50 (liquid lipstick)
Liquid lipsticks can be fun, yet tricky to apply. I used the application to "line" the lips then filled it in effortlessly. Savage is a deep reddish brown that wasn't overpowering, but still bold. What I loved the most about this color was that my lips still felt moisturized and the color stayed intact even after continuous wear.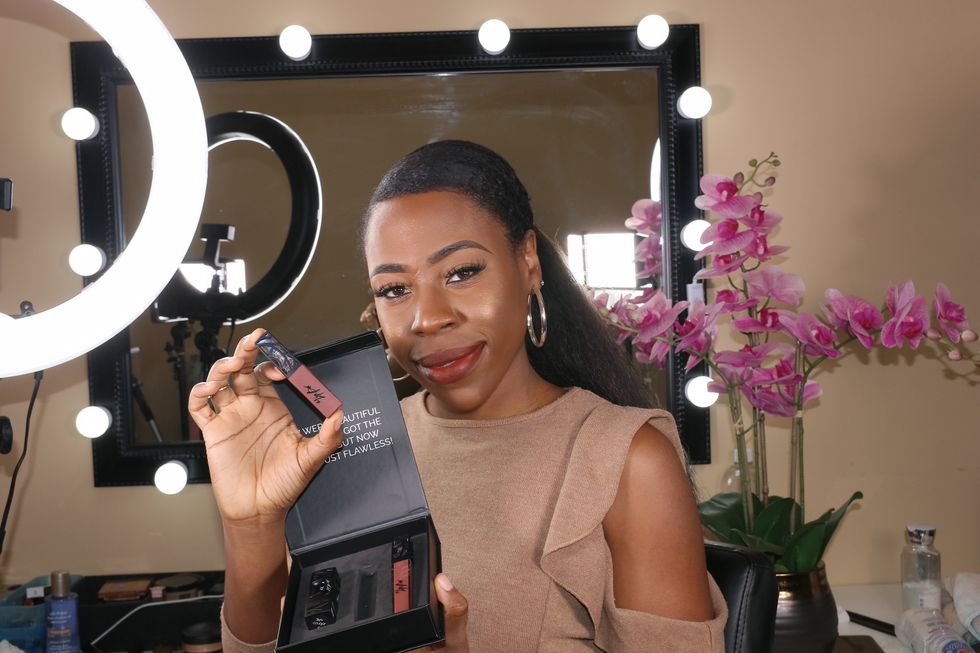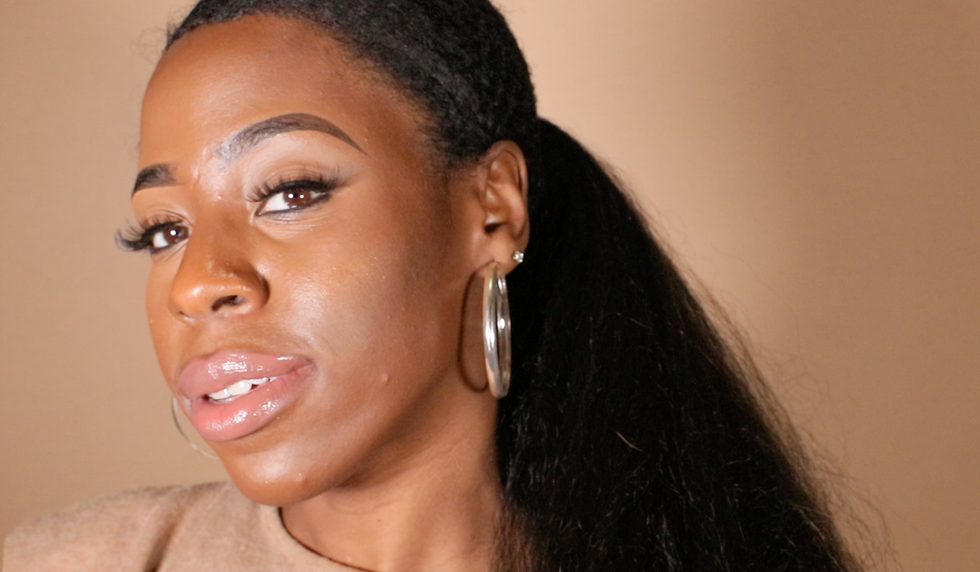 Fenty Beauty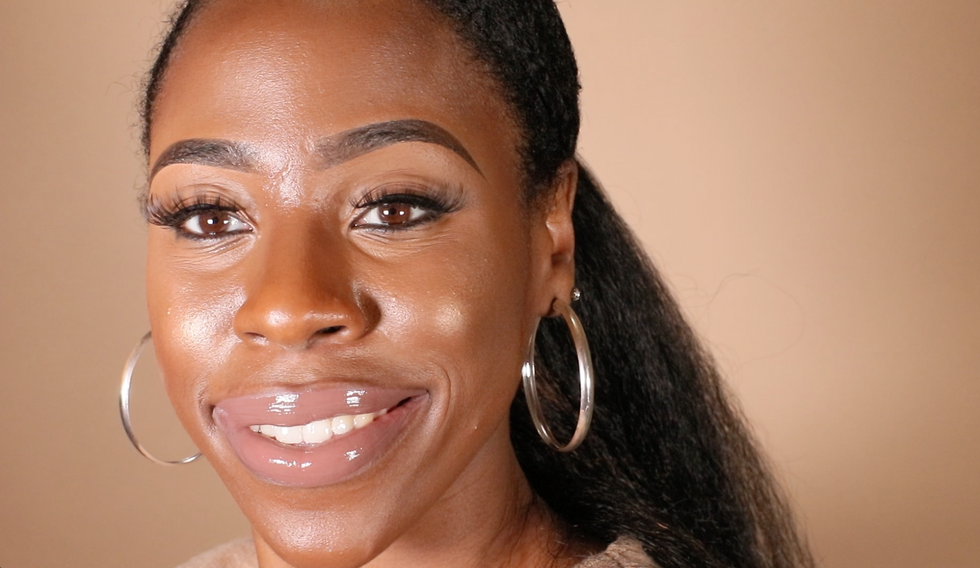 Wearing "I Quit" by Fenty Beauty
Writer Rana Campbell / xoNecole
I Quit $18.00 (matte lipstick)
This matte lipstick was a bit tricky. When first applying, the color came out too faint for my liking. However, after layering the color more, I loved the nude mauve color on my skin. For added color amplification and shine, I added a top coat of Broadway's Vita Lip Mint Oil gloss.
Jay Jill Cosmetics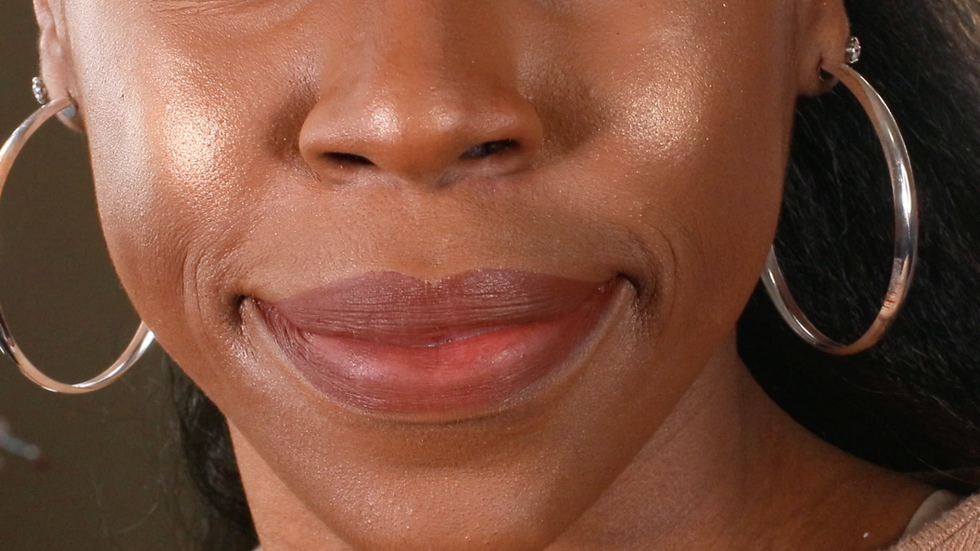 Wearing "Rum Cake" by Jay Jill Cosmetics
Writer Rana Campbell / xoNecole
Rum Cake $16.00 (velvet lipstick)
If you're looking for a reddish-brown nude with lasting color power and character, Jay Jill's Rum Cake is a good pick. It was easy to apply and had a velvety lipstick finish. On my skin tone, I found that the red + brown wasn't too overpowering and still gave me a subtle finish.
NYX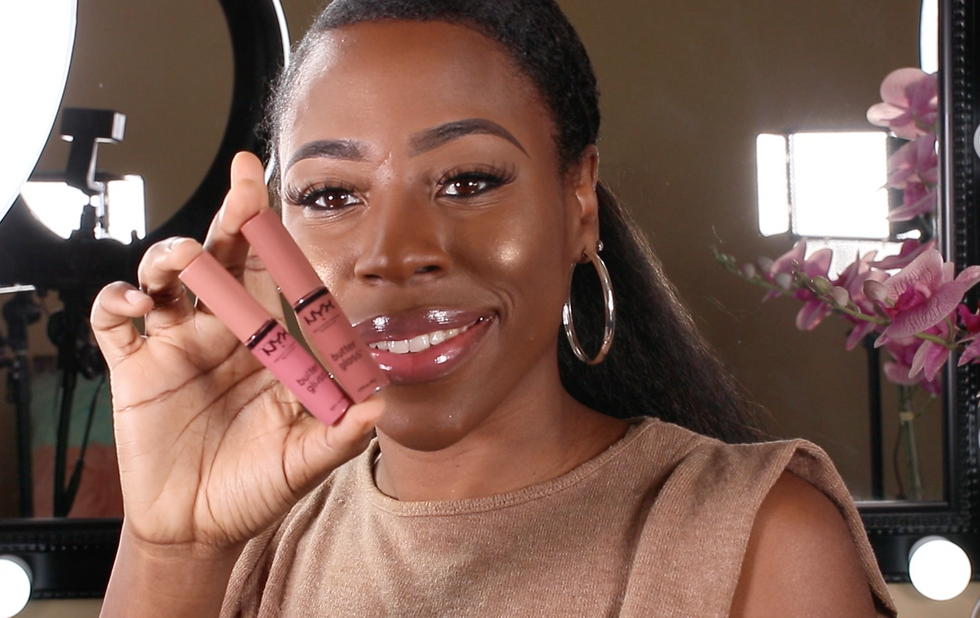 Wearing "Praline" and "Tiramisu" by NYX
Writer Rana Campbell / xoNecole
Praline & Tiramisu $5.00 (gloss)
You can't go wrong with these colors from NYX. I mixed the two together to get a natural pink + peach finish. These glosses are recommended staples for an everyday, basic makeup look.
Osmosis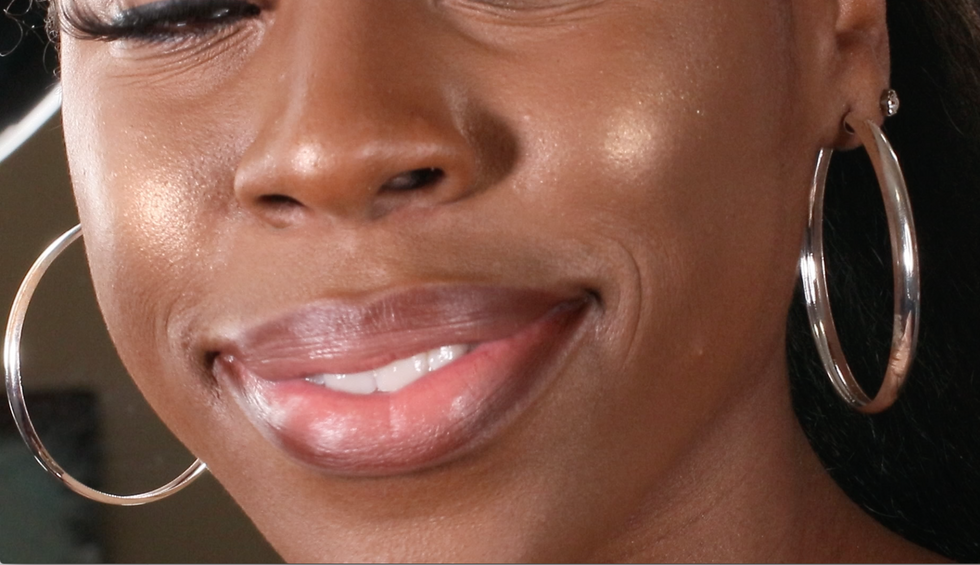 Wearing "Skinny Dip" by Osmosis
Writer Rana Campbell / xoNecole
Skinny Dip $25.00 (lipstick)
Throughout this process, I found that finding lip colors that match my natural lip color were very important. On its own, Osmosis' Skinny Dip was too bright. When paired with my MAC Chestnut liner, it gave me a super natural nude pink lip with sheer pink coverage. With this lipstick, less is more.
100% Pure
Writer Rana Campbell / xoNecole
Rum Nougat $26.00 (gloss)
This super peach nude is definitely not something I'd wear for an everyday, on-the-go makeup look. However, I loved how much color could be applied to my lips without have to over-layer. If you're someone who likes a bright nude with maximum color intensity and brightness, this could work for you.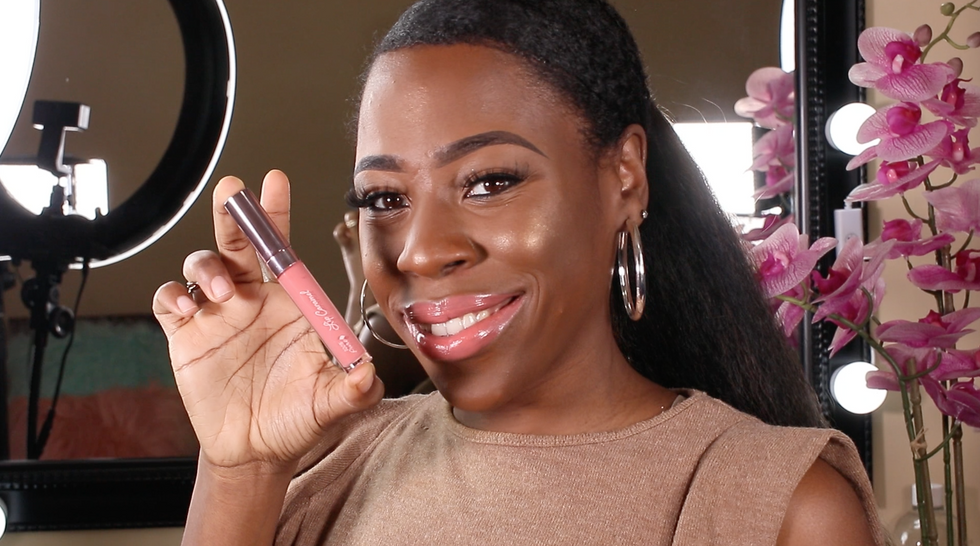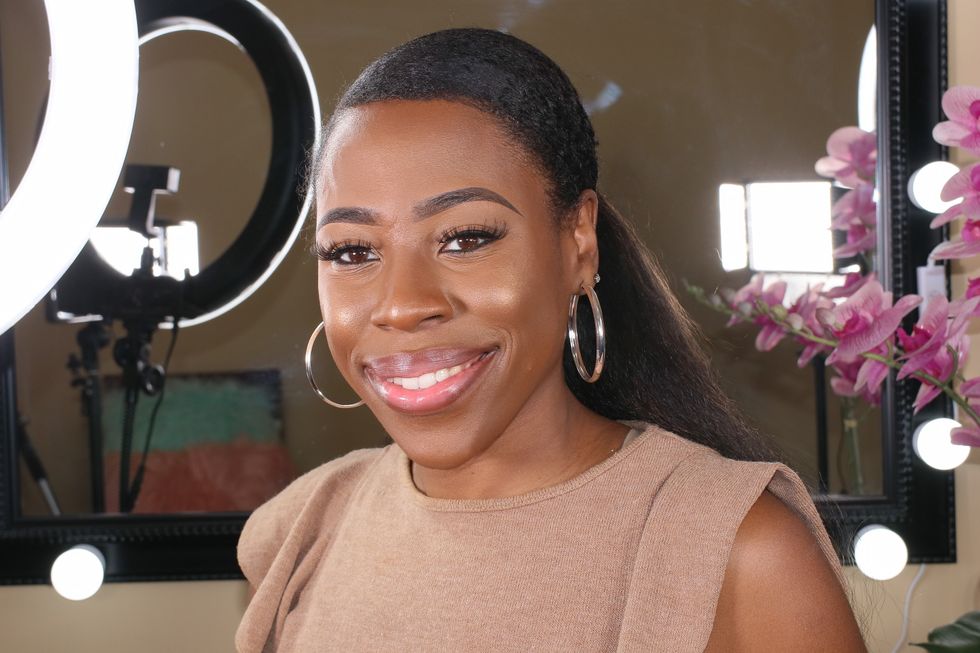 AJ Crimson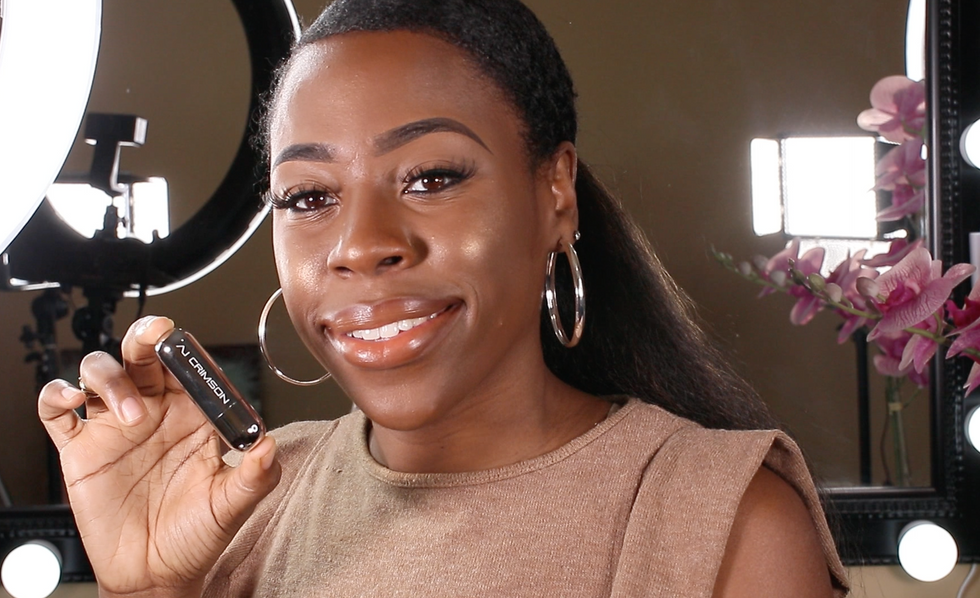 Wearing "No Shade" by AJ Crimson
Writer Rana Campbell / xoNecole
No Shade, $20.00 (lipstick)
I loved the creamy, natural, barely there brown finish on this lipstick. It was easy to apply, and the applicator tube was very stylish (an added plus). It matched my skin color almost identically, so I'd probably mix this with a pink gloss for added definition.
Prime Beauty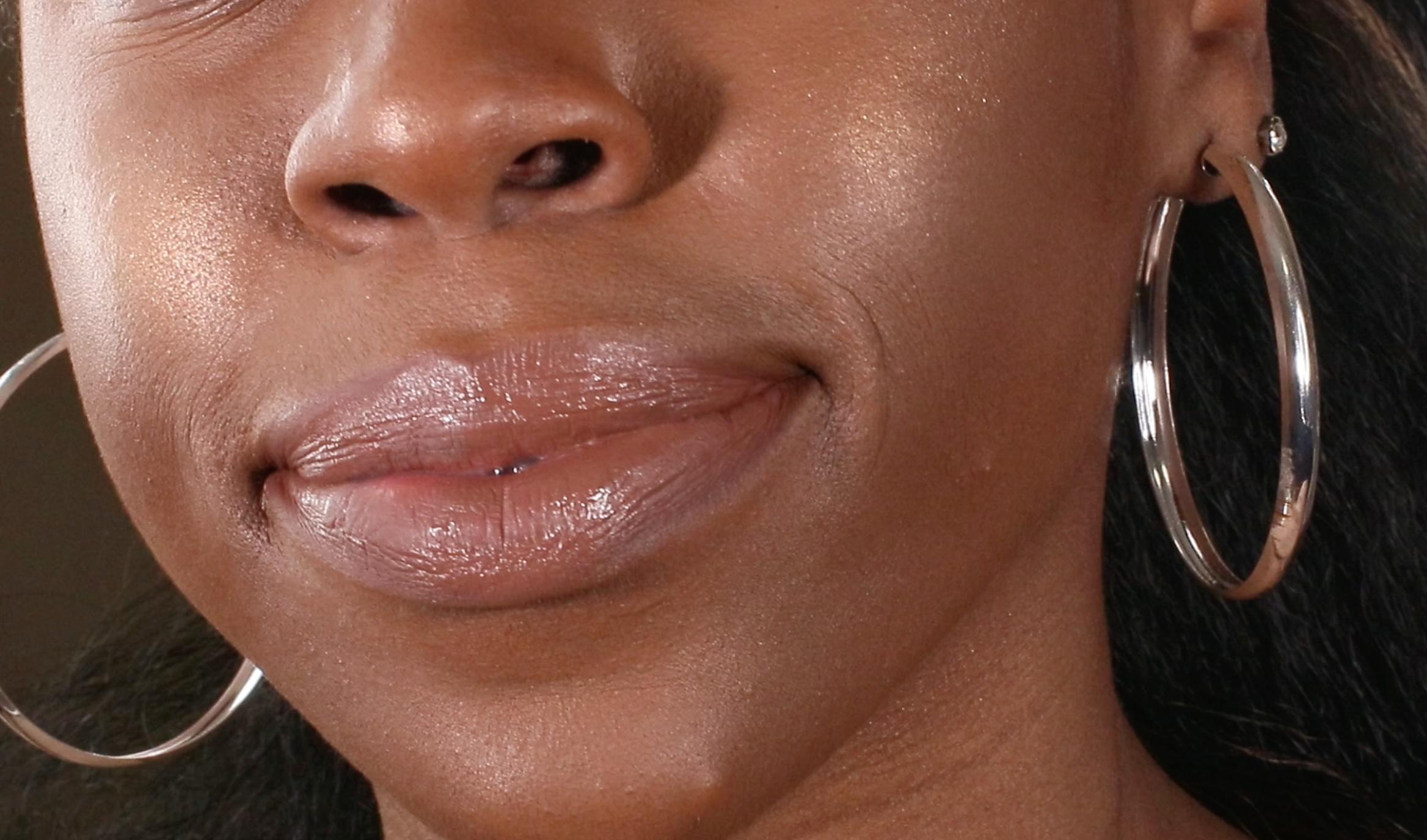 Wearing "Au Natural" by Prime Beauty
Writer Rana Campbell / xoNecole
Au Natural, $15.00 (matte liquid lipstick)
I love learning about black woman-owned brands that weren't on my radar before. If you're looking for a brown liquid matte lipstick that has pink undertones, add this to your list. The formula also feels very moisturizing even after application, which is very important when wearing matte lip colors. If you are looking for something a bit brighter, try Prime Beauty Strip instead.
Thrive Causemetics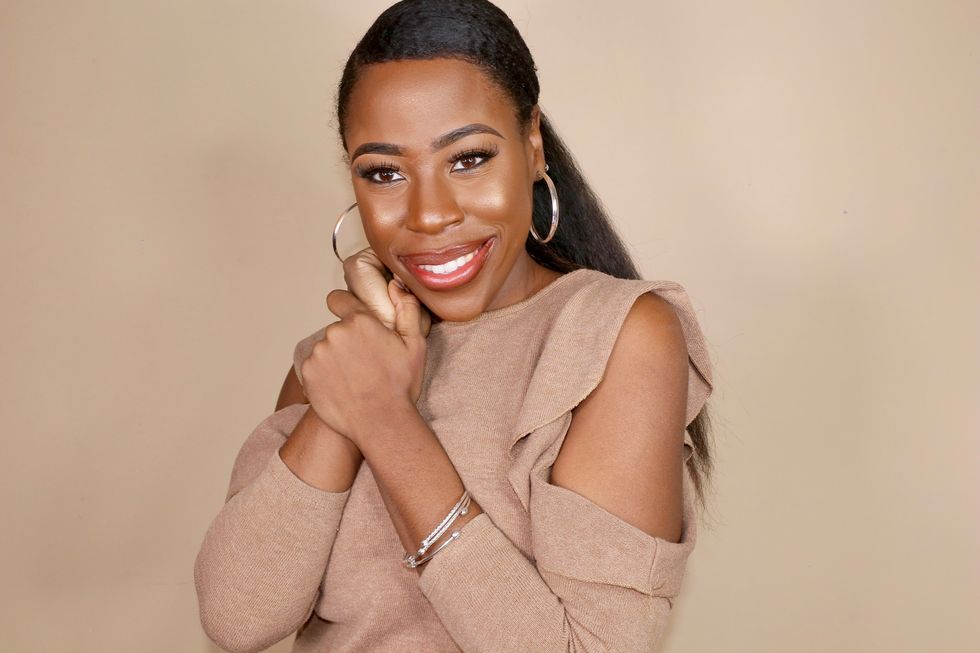 Wearing "Ruth" by Thrive Causemetics
Writer Rana Campbell / xoNecole
Ruth, $26.00 (gloss)
I'd never heard of this brand before searching for nudes for this project, but loved how the taupe tone paired with my skin. It can be worn alone or layered on top of another nude color for a shimmering effect. Here, I used my MAC Chestnut liner to help define and direct the powerful shine of the product towards the center of my lips.
Here are some of the biggest lessons I learned while finding the perfect nude lip color:
1. Finding what works for your undertone and natural lip color is important.
As someone who has natural two-toned lips, I generally gravitate towards brown nudes but really ended up loving the pink and mauve-hued nudes that matched my lip color. There is no one size fits all when it comes to nudes, so take the time to understand your unique color profile preferences. Thanks experts for this crucial tip!
2. It really is all about the application.
Take your time when applying nude lip colors. Make sure the product is applied smoothly. Don't be afraid to add layers for maximum color effect.
3. When in doubt, line it out.
MAC's Chestnut lip liner (or any dark brown liner) is the truth. Creating a gradual lip color gradient helped mute nude colors that may have seemed too bright for my skin color at first.
4. Don't be afraid to have fun and get creative.
I loved added gloss to amplify some of the shades. At the end of the day, there are no set rules when it comes to finding the right lip color. Experiment. Combine colors. Find what works for you.
Most Affordable: At $5.00, the NYX Butter glosses are great options when you need a simple nude color on the go, that you won't be too mad if you lose.
Best Color Range: Made especially for women of color, Mented Cosmetics offers a wide range of nudes from pinks and peaches to brown and berry-tones.
Brand I've Never Heard Of Before But Loved: Though pricery, Thrive Causemetics Ruth was the perfect nude, shimmery, yet colored gloss for my lips. It was easy to apply and created a beautiful gradient when paired with my Mac Chestnut lip liner.
Wildcard: Fenty's matte lipstick I Quit paired with a clear gloss gave me a mauve-nude that I surprisingly loved. It's something I wouldn't normally do, but from here on out, would love to try again.
What are some of your favorite nude lippies?
Want more stories like this? Sign up for our newsletter here to receive our latest articles and news straight to your inbox.