Some women have all the luck.
---
Between Angela Simmons, Draya, Teyana and Ciara they all have been making pregnancy look super easy! And it's all because of one thing. Exercise.
A few years back when Kelly Rowland got pregnant I can remember seeing her workout posts and thinking that she had to be crazy to be going so hard in the gym with a whole other load attached to her. But after speaking with fitness trainer, Jeanette Jenkins I realized that in order to make sure your snap back game is strong, working out while pregnant is key.
Jeanette provided us with these five tips to keep in shape while pregnant:
#1. Consult with your doctor.
First and make sure that it is okay for you to work out while pregnant. Every woman's journey through pregnancy is unique and everyone has to consider their own health parameters. Each woman has unique health issues to consider and this will result in specific guidelines.
#2. 5 Exercises for Pregnant Women:
Cat-Cow Stretch 4-5 reps, 3 sets
Butterfly Stretch hold for 8-10 deep breaths, 3 sets
Kegels 10-25 reps, 3 sets
Hip Circles 5 reps each direction, 3 sets
Deep Breathing and Meditation, take deep inhales and exhales for 3-5 minutes while listening to relaxing music and meditate on 5 things you are grateful for.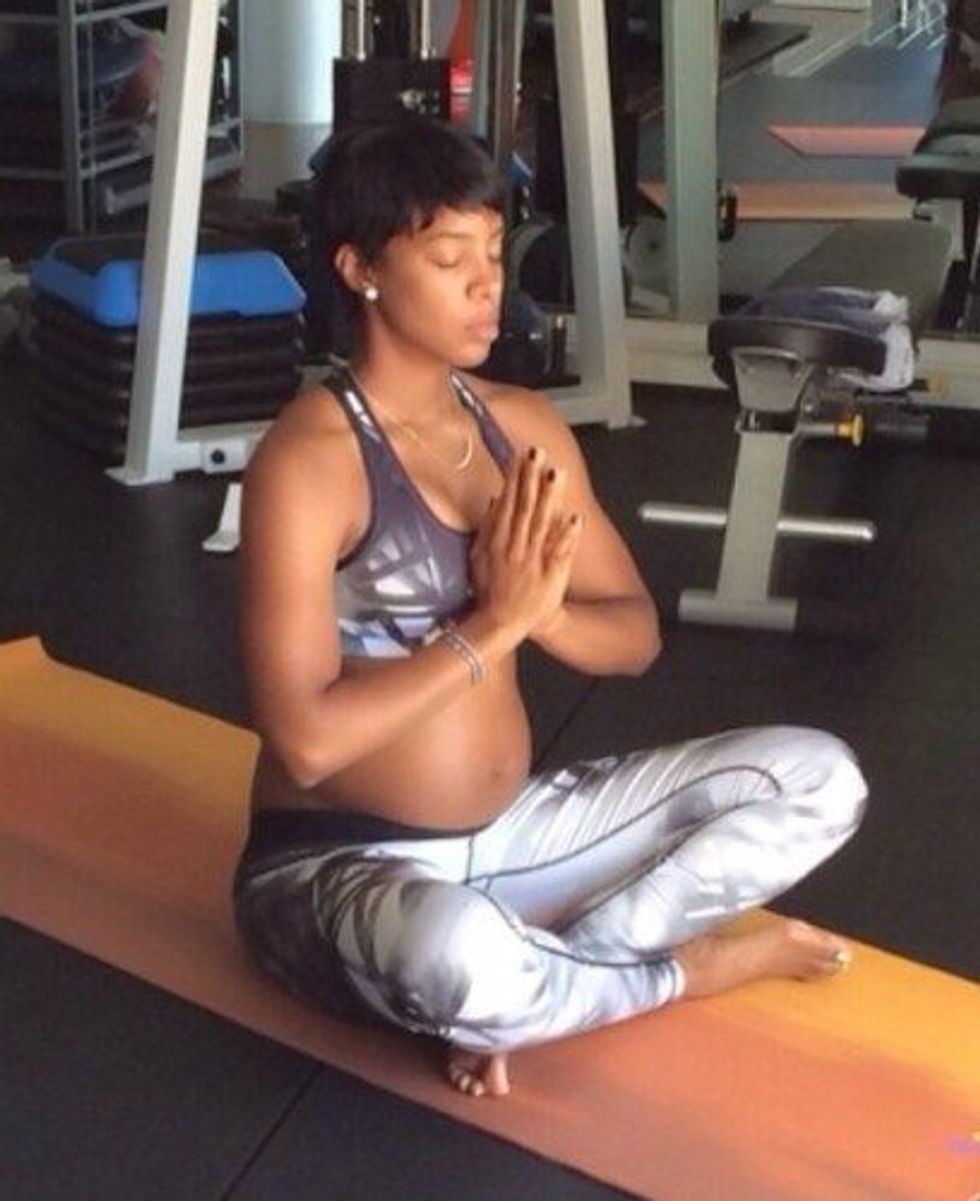 Kelly Rowland working out when she was pregnant.
#3. Take your daily prenatal vitamins.
Try adding 1-2 freshly squeezed vegetable juices to increase your nutrients. Beet, Carrot, Apple, Lemon & Ginger and Spinach, Kale, Apple, Lemon, Ginger are great juices for pregnant women among many others. It is always best to see a nutritionist when creating your daily meal plan but most importantly listen to how your body feels after you eat. If a certain food does not agree with you and your body reacts with gas, bloating or discomfort then listen to your body and adjust your meals.
#4. Morning Power-walks.
A simple 20 minutes in the morning is a great way to get the blood circulating to deliver fresh oxygen and nutrients to your baby and throughout your body and increase your happy hormones so you start the day feeling great!
#5. Post Workout Energy Boost.
Always remember that you will feel better after the workout. Most people don't feel like working out so focus on the fact that you will feel great when you are done. Working out while you are pregnant is just about getting the body moving so you have more energy through the day and to keep you strong through your pregnancy and for your delivery.
I'm waiting on one of these celebs to come out with a prenatal exercise DVD.
Have you ever worked out while you were pregnant? What helped you the most?