Toya Sharee
Writer, sexual health superhero, and #BlackGirlMagic and #BlackBoy curator regularly featured on @Madamenoire. Toya can usually be found in between her earbuds, listening to trap music and refreshing her browser for concert tickets. Tweet her @thetruetsharee.
My husband and celebrated our fifth wedding anniversary in September. Raising a four-year-old, navigating my job layoff and his full commitment to entrepreneurship are just a few of the things life decided to throw at us in these first few years after we made it official.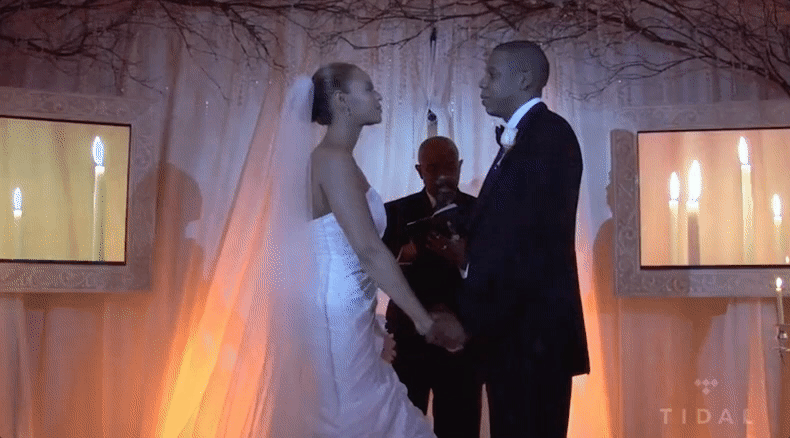 After what felt like sometimes was "surviving" my marriage instead of thriving in it, it's understandable that my memory was a little foggy and I almost forgot how long we've known each other. After recalling a few random milestones and encounters that stand out in our memory, we came to the agreement that we've actually known each other for about 15 years.

Slumps or dry spells are inevitable for anyone who has been in a long-term romantic relationship, particularly when you're living with someone and find yourself going through the motions on auto-pilot most days. As great as our marriage is, there are definitely plenty of times when our connection takes a backseat to pulling overtime at work, "Back to School Nights" and trips to Target for bathroom cleaner.
When I remember the people we were when we first met, I remember us eating Johnny Rockets and laughing on my porch when he got off his late shift and making love on his pull-out couch in the living room with episodes of The Office playing in the background. In the past year or so, however, Netflix has become the main event and there's no "chillin", just starting the dishwasher before we go to bed and start another day full of responsibilities.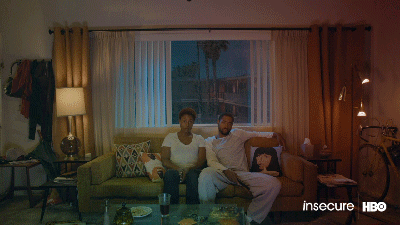 thoughtcatalog.files.wordpress.com
However, this past summer, a series of events happened that made me look at my husband in a different way. For whatever reason, whether it was the clients he worked with or a neighbor that was being a little too nice, women (who didn't know he was married of course) started shooting their shot like they were Stephen Curry with ten seconds left in the final quarter.
He'd come home and tell me how he'd politely decline and expected us to laugh at the awkwardness of it all. But of course, I'd get irritated and want ALL the details, "Were you flirting? Did they see your wedding ring? Why aren't you wearing a big ass neon sign that says 'TAKEN'?" There's nothing quite like an outside perspective to remind you of exactly what you have, so when hubby shared with me a general contractor he was working with had asked if he could talk blueprints over Cheesecake Factory, I couldn't help but laugh before thinking, "I will cut that h*e."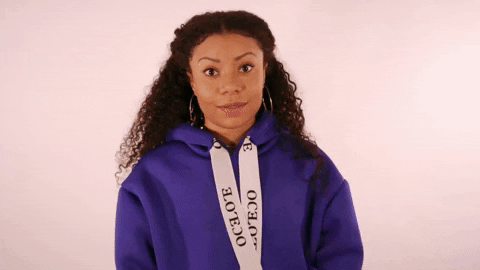 It didn't help that just a few weeks before there was a female friend that he had for years who suddenly began hitting him up for love and relationship advice. On the outside I was joking, "You should have gotten us some free slices of Oreo Dream Cheesecake," or "Your homegirl can't keep a man because she's too busy posting Instagram stories." But a part of me was annoyed and felt like my marriage was being threatened.

Admittedly at first, all I wanted was for all of these chicks to miss me and my marriage with the inquiries but it did make me realize something: Maybe I wasn't recognizing exactly what I had.
Meanwhile, hubby was out maneuvering through all of the advances and attention like Keanu Reeves back-bending under bullets in The Matrix. Still, a very insecure part of me went from 0 to 10 protecting my marriage. And all I could hear was Iyanla Vanzant's voice in the back of my head saying, "A marriage can only be destroyed from the inside." It wasn't so much anything that my husband was doing to invite the attention, but my response to him being open and candid with me was to question myself and what I might be neglecting to contribute to the marriage.
Furthermore, the increased attention he was receiving brought out a jealous side of me that I never had in our relationship. We had never been the type of couple to keep secrets, sneak and go through one another's phones, or get tripped up on things we considered "silly" like Instagram follows or acting like marriage made us pull a Stevie Wonder on other attractive people. But because of the vulnerable place, I was at with career frustration and the stresses of motherhood, my imagination went wild and I tried to make my husband into Terrence Howard from Ashanti's "Foolish" video while I created problems that weren't really there.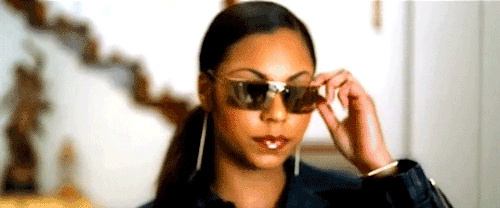 66.media.tumblr.com
I recognized I was projecting my own insecurities in other parts of my life onto my marriage. My husband didn't ask me to marry him because he was looking for the Beyonce to his Jay. He wasn't expecting me to pop out a baby and then get my belly flat for the 'Gram within a week. What I began to realize was that I was unrealistically seeking perfection. I knew who I married and trusted and loved the man I knew he was, but with all the changes, and the realization that I had control issues, I recognized the subconscious pressures I was placing on myself.

I'll never forget the epiphany I had at the intersection of Broad and Poplar in Philadelphia one summer while dropping off our daughter.
A voice in my head stated: "You're finding fault in situations that aren't there because of your need to get in front of a problem and control the outcome."
By June of 2019, I had been through a new job that didn't end up working out, a rejected proposal for a short film, and a severe cut to the freelance writing income I had become accustomed to for years. With all of the rejection making it feel like the rug was being pulled from under me on a routine as regular as my menstrual cycle, a part of me wanted to predict the next problem in my life and get my defenses up. Fortunately, that problem wasn't my husband's loyalty, as much as my crazy ass tried to make it be.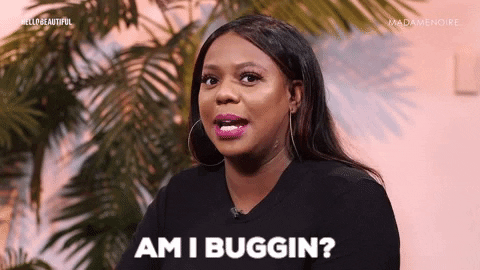 My own insecurities made me overanalyze, overthink and make a few unwarranted advances from other women more than what they actually were. I also realized how much I was internalizing the toxic relationships that were taking place around me at the time. I had one friend calling me constantly to complain that the married man she was seeing was never going to leave his wife and another friend who was one "Ebony BBW" search away from leaving her boyfriend and his porn addiction. That's the thing about toxicity; if it lingers around too long it starts to seep into your own feelings and thoughts.

Even when you're making a committed effort every day, it can be easy to take the solid relationships you have in place in your life for granted.
It was funny because on my end, I thought we were doing the things that marriage counselors and life coaches would suggest. We made an effort to schedule date night at least once a month (even if date night was the predictable dinner and a movie). I made sure to keep up my appearance when I had the energy so he wouldn't start to think my satin bonnet had become my signature hairstyle. And whether it was his favorite body spray or a meal to take home for my man after happy hour with the girls, I made small gestures to let him know he was appreciated.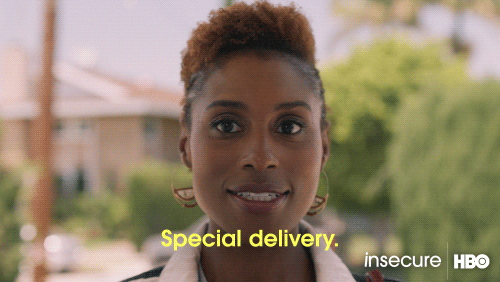 media1.giphy.com
But marriage requires more than child-free nights and a new hairstyle. It's about checking in and make sure your marriage is growing and adapting to the changes that take place in it. It's also about giving yourself grace and understanding the young, fly twenty-something you were when you met your partner is no longer the woman you are nor should necessarily be almost two decades later.

Over the course of a few days this past summer, my husband and I had conversations about boundaries, communication, shared goals and expectations to ensure that we were on the same page. More than anything, all the drama and distractions from the outside were a much-needed reminder of the importance of checking-in and maintaining our marriage. I also began to allow myself to start living my life, including all of its ups and downs, instead of trying to defeat it.
The thing is, with any relationship you can't expect that because you've landed a good catch, those other fish will keep on swimming and pay that person no mind. And honestly, besides a few petty arguments, something unexpected happened: I suddenly wanted to hump my husband every hour of the day.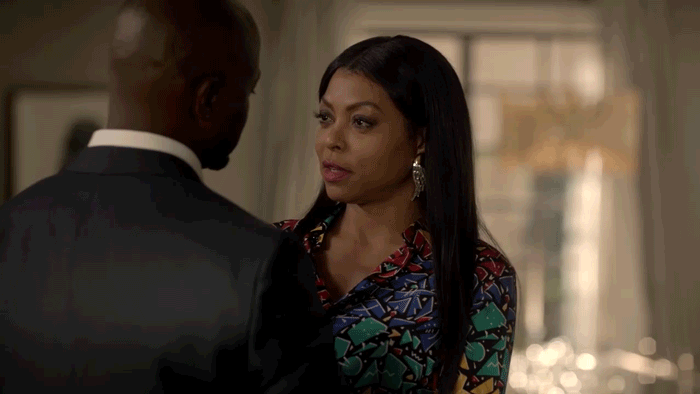 media0.giphy.com
Maybe it was the fact that another woman wanted my man, maybe it was because the first time we had some conflict that was about our actual relationship and not who ate the last yogurt or gave the baby a popsicle before bed. It was a reminder that before kids and bills, all we had was each other and a whole lot of extra time.

Make-up sex shouldn't be the only sex you're having, but being reminded that outside of a husband, father and professional, your partner is a whole snack (and can keep his cool even when your jealousy gets the best of you) is not only humbling but one hell of an aphrodisiac.
Did you know that xoNecole has a new podcast? Join founder Necole Kane, and co-hosts Sheriden Chanel for conversations over cocktails each and every week by subscribing to xoNecole Happy Hour podcast on Itunes and Spotify.
xoNecole is always looking for new voices and empowering stories to add to our platform. If you have an interesting story or personal essay that you'd love to share, we'd love to hear from you. Contact us at submissions@xonecole.com.
Featured image by Shutterstock.
If you've been keeping up with my "balancing a 9-5 with dreams of being a famous writer struggle," you know that my past four years in non-profits have been tumultuous.
Between lay-offs and navigating small office politics with big boss egos, my "Come to Jesus" moments have been plentiful. In fact, he probably has me on unfollow for 30 days on his personal Facebook because he's tired of hearing my repeated prayers to work in a place with people who actually want to work, who spend their days excited about the mission instead of the latest office gossip with managers who think that their responsibilities end where their titles begin.
Thankfully for me, sometime at the beginning of December, the stars aligned in my career constellation: I stood up to a toxic boss, was offered a position at a new organization that had me at "Book Clubs featuring the work of Iyanla Vanzant," and officially gave the peace sign to a job I had literally spent every day surviving for the past two and a half years. With a fresh outlook on my career path as I start the new year (with a week off solely for reflection), I decided that as difficult at the past few years in the workplace have been for me, they would be a complete waste without taking away a few lessons that will not only help me continue to navigate my career path as a better professional, but a more balanced person.
Even your worst work experiences can potentially give you tools for success if you know what to look for. Here are several points where the workplace had me f**ked up at and how I learned to dodge the pitfalls and punches like Adonis Creed:
Want more stories like this? Sign up for our newsletter here and check out the related reads below:

It's Okay Not To Talk To Toxic Parents – Read More
The Self-Care Of Ghosting Toxic Girlfriends – Read More
5 Signs Of A Toxic Friendship That Is Secretly Poisoning Your Life – Read More
Is Hustle Culture Toxic? – Read More
Featured image by Getty Images.
I work at a non-profit that I've recently decided is generally too damn woke and for the most part I want many of my colleagues to go back to sleep. The awareness of microaggressions, preferred pronouns, and a recently formed "Racial Equality Committee" has most of us walking on eggshells, afraid to ask someone how their weekend was out of fear that it will eventually lead to mediation in HR. To quote one of my colleagues, there are times when working while a person of color is exhausting solely due to dealing with "white guilt, feelings and the endless Trader Joe snacks."
While it's great that safe spaces like these are being created, many times it feels like they only exist to fulfill a grant requirement or to make people feel like they're using their privilege for the power of good.
But to be honest in its first few weeks, the "Change Team" served as nothing more than an opportunity for people to hear themselves talk and process their own personal grievances and less as a place for reflection, new perspectives and ways to improve work culture.
For the past three years at this job, I've felt like Issa Rae's character on Insecure. Most days I spend at my desk or completely out of the building avoiding most of my co-workers, particularly the melanin-deficient ones who never miss an opportunity to point out the "Ally" crown they're rocking with "Black Lives Matter" bamboo earrings to match. By the close of business, they're sprinting to the train to make it to the safety of their suburban homes because outside of bars and clubs in Center City, Philly is too dangerous to actually spend too much time in. Actually, it's just like Issa's former employer except more so, "We Got Y'all…Until We Hear Gunshots".

A few weeks ago, some staff members initiated an aggressive recruitment campaign for the newly formed committee. With every announcement at a staff meeting and every flyer posted in the kitchen with the perfect Nelson Mandela quote, it became clear that they wanted and needed black people on the committee. Most of us expressed hesitation for the same reason: Was our presence being requested to actually make a difference or were we being tokenized to make the monthly newsletter look good?
At some point, the current melanin-challenged members of the committee got the message that the black folks in the office weren't feeling their whole campaign. One afternoon, one of the members, a fair-skinned Latina from South America, asked if she could speak to me privately and apologized on behalf of the committee if I was made to feel singled out and pressured to join solely because of what my skin color alone had to offer. Honestly, for me, the campaign was doing the most and accomplishing the least. Between being a part-time writer and a full-time parent, the last thing I wanted to do at work was serve on any committee, let alone one where it seemed like I'd be using a portion of my work day to educate folks on how to be a respectful, decent human being, regardless of someone's skin color. One of the things the current committee failed to realize is that black people have to deal with racism directly and indirectly on a daily basis. The last thing we want to do is come to work and create Powerpoint presentations on "How Not To Be Racist".

After our conversation, I couldn't help but wonder if my colleague had approached other black co-workers on this apology campaign. While discussing the theatrics with another co-worker (also a person of color), we joked about the possibility that our colleague was possibly only approaching the "approachable black girls" in the office. I didn't exactly know how to feel about it. There are several folks at my job who damn near have anxiety attacks when approaching the desks of the few black women who work here. Ironically, none of us have ever cussed someone out or threatened anyone, but we do communicate directly and stand by our firm (and sometimes unpopular) opinions. We joke and laugh loudly, and admittedly can be extra as hell at times which for some (for whatever reason) can seem intimidating. However, unlike the others, for the most part, I choose to focus on my job, my paycheck and going home and I assume my introverted nature can appear less threatening to some, as opposed to some of my counterparts. It's probably because I've become jaded and figure if folks fail to understand the rules of basic respect, we got a long way to go before we tackle racism. Also, I don't get paid to teach my co-workers how to act normal around black people.

Rather than spend my time fighting the power, I'd rather invest my efforts into people who really want to be awake, instead of folks who only want to be caffeinated for a popular cause.
Being a black girl in the workplace is constantly trying to find a balance between being the "I will slap the shit out of you" stereotype and not code-switching so much that white folks think it's cool to let their racism casually slip around you. Everyday seems like a constant struggle to suppress the urge to ask, "Who raised you?" to white colleagues who treat every interaction with a black person like the Woke Olympics. So trust and believe when I say, when I sit at my desk and smile and nod when approached with the repeated need for my white colleagues to distance themselves from their privilege, it's not because I am meek or want to avoid conflict. It's because I am exhausted and I just want to finish listening to this episode of "State of the Culture" and send this damn email, not because I'm a black person that fails to see through the nonsense.
Before I even punch the clock, I've survived a morning of news headlines updating me on the lastest xenophobic comments made by the leader of the free world, white guys in suits and ties who act like they own the downtown sidewalks and refuse to step out of anyone's way, and a barista who repeatedly screws up my coffee order because she's too focused on making an iced latte for the blonde housewife who is a "regular" even though she's at the back of the line. There's a multitude of microaggressions and sometimes blatant racism before I have even had breakfast on a weekly basis.

Wokeness is not something you can schedule on an Outlook calendar, especially if you fail to keep that same energy outside the office doors.
The last thing I want to do when I walk into work is bust out in a rendition of Queen Latifah's "U.N.I.T.Y." for folks who didn't realize racism existed until the last presidential election. Some might call me approachable, but honestly I'm just tired.
When I come to work, that's exactly what I'm there to do. I'm not going to slap you if you say "Black" and not "African-American" nor is it my job to give you a black history lesson along with my quarterly report. But if you think all black girls in the office with box braids look alike, it might be because you need to approach us all a little more often, whether we're cussing or laughing a little too loudly. Loud isn't always offensive and quiet isn't always polite. Being approachable doesn't mean I'm meek or that I'm fresh out damns to give about race relations in the workplace, but it does mean that I'm willing to listen to where someone is coming from and start a conversation, which I think is one of the most basic forms of respect.
However, we all have to be honest about the fact that conversations about race and power, particularly in the workplace will be awkward and will force us out of comfort zones. We have to recognize that some conversations will reveal truths about ourselves that we are not ready to face. And white people especially must realize that they won't always feel safe or comfortable. So if the only reason you're approaching my desk is that you think your comfort will be accommodated, you and your Mochi Rice Nuggets can miss me with BS.

Featured image by Shutterstock
The last thing I expected last Tuesday was to be leaving my office in a stretcher begging paramedics to help me make it home to my daughter, but thankfully I walked away from the situation with my life and a loud and clear lesson that balance is the best defense against work burnout. For weeks, my body hadn't felt quite right. Anything I ate led to bloating and just a general feeling of discomfort when it came to digestion. For weeks, I had been exhausted, barely able to get myself energized to write and edit on the weekends.
I was often pushing through sleep deprivation, but fatigue is something you gradually get accustomed to when you're parenting a four-year-old who isn't the best sleeper. Because my nights were filled with interrupted sleep for the past several years, it was easy to neglect that my moderate asthma probably wasn't being well-maintained. Most nights, I was popping up from my pillow at 3 a.m. in response to my daughter's cries to sleep in my bed, have another cup of water or disappointment from wetting her "big girl draws". While parenting through partially closed eyelids, I'd take a few puffs off of my inhaler before comforting my daughter, so much that I didn't notice I was way more dependent on my asthma inhaler than I probably should be.
Working seven days a week on minimal sleep had become a normalized part of my life.
I was no stranger to hard work and had often worked more than one job at a time since undergrad. But what wasn't normal was the stress I had taken on at work. My colleagues and I were involved in an HR issue at work which involved an abusive boss, restructures in the organizations and adjusting to new supervisor. When I wasn't at work navigating transition, I was elbows deep in the search for private school with my spouse for our future pre-schooler. The month has been filled with coordinating work schedules so we could meet up for school tours and Pre-K assessments. With every meeting and appointment that was slowly holding my life hostage, my anxiety was growing and there were days when I definitely felt like my brain was on auto-pilot and my body was damn near being left behind as the responsibilities of adulting were running full speed. However, this particular work day there was no catching up in the rat race and I literally could not catch my breath.
I went to lunch that day walking about ten minutes from my desk job to treat myself to some ridiculously unhealthy McDonalds. I returned to the office that day after walking ten minutes in 32 degree wind, talking to my sister and living my best life with a gut full of Big Mac. As I was getting myself together to return to my work, my lungs felt slightly irritated, but like most asthmatics I figured a few puffs on my inhaler and sitting the hell down and breathing slowly would have me right back at it. But after a few puffs, I realized the medication wasn't working and my chest was growing tighter and tighter. I was sweating and in what seemed like minutes could barely call out my colleague to call 911. It seemed like I was waiting for an hour for the paramedics to arrive but in all actuality it was probably only about ten minutes and the rest of the scene I only remember as a big blur of breathing masks, me begging for help and being sped past my coworkers on a stretcher in tears.
Every breath felt like my last as I struggled to breathe.
I didn't care about my purse, my day planner or even my open Facebook direct message on my desktop computer. I could barely muster the strength to unlock my phone so HR could call my husband. And to be completely real, I felt like that day I was going to die. I was going to die in that damn cubicle surrounded by people who the deepest conversation I ever had with was mainly office gossip and our dreams of flipping the finger to senior leadership the day we walked off the job. One minute, I was scheduling conference calls and doing data entry and the next, I was begging for my life while being wheeled past the boardroom. In that moment, I knew that none of those things mattered if I wasn't healthy, making work/life balance a priority and choosing self-care.
The whole ordeal was hella embarrassing but a glaring reminder that although mentally you may be booked, busy, breaking necks and cashing checks, your body is not invincible and may have other plans.
By the end of the work day, I was sitting in the ER on a breathing mask. My co-worker had brought my personal items from work and, while I fiddled for my insurance card, a doctor casually informed me that I was one intervention from being intubated and that the asthma flare-up was probably due to the cold weather. I was more embarrassed than anything and medical providers determined that I should stay overnight in the hospital for observation. This would be the second stay I had in the past ten years for asthma complications. My parents lectured me about burning the candle at both ends, and while I knew their criticism came from a place of fear and concern, I couldn't help but think about how many women like myself repeatedly put their health last under the heavy burdens of career, motherhood, and personal relationships. For me, it was asthma, but so many other women are putting off that pap smear for the parent/teacher conference.
In a survey discussed on HealthyWomen.org, it was found that when it comes to the health needs of their families and themselves, women often put themselves last and prioritize healthcare in the following order: Children, Pets, Spouse or Significant Others, and Themselves. In our household, the dog only gets her needs met when she has a health scare and my husband forces time into his busy schedule. However, when it comes to flu shots, fillings and eyeglass exam, I am typically the one armed with my day planner and cell phone coordinating my family's care, navigating insurance and hoping I'll remember to schedule my annual exam at some point when the weather is warm and I have enough PTO left over at work after all of my daughter's appointments.

In addition, many women are often too exhausted to get around to their own health after filling out internet forms, double-checking insurance coverage and making appointments for their family members. The survey revealed that many women have just plain checked out of maintaining their own health:
"A shocking 78 percent said they often put off taking care of themselves or getting their health appointments made because they are so busy taking care of other family members' health.
It's not surprising women feel busy. Approximately 82 percent of women do most of the health-related research for their kids, 86 percent of women schedule the majority of the health care appointments for their kids, and 72 percent arrange for the payment of the majority of the bills for their kids health care. And, unfortunately, navigating insurance and health care bills can take lots of time because the process can be incredibly confusing."
But more than a missed pap smear, falling completely apart at work was an epiphany to me that staying committed to small moments of self-care matters much more than we think. I also recognized that self-care is about more than Taco Tuesdays and Lush bath bomb binges. My soul was tired.
Every day seemed like an uphill battle to search for the energy to do the bare minimum while overwhelmed with thoughts of the struggles of the world around me.
A few months later and I'm dedicating each month since to a detox of some sort, whether it's been not reading work emails at home or removing the social media apps from my phone. As much as we'd like to think it's the big misfortunes in life that make it more difficult, it's actually the slightest imbalances, anxiety triggers and repeated reminders that adulting is difficult that can slowly suffocate us if we don't keep them in check.
Featured image by Getty Images
Want more stories like this? Sign up for our newsletter here and check out the related reads below:
The Tell-Tale Signs Of Burnout & What To Do About It
I used to think in order for my writing career to go anywhere, I had to literally go somewhere and get out of Philly.
There was no way I had a shot at being the next Iyanla Vanzant or the black Mindy Kaling if I was located anywhere outside of New York City. While it's true that changing your area code can give you better access to certain opportunities, there's no substitute for hustle, ambition, and a healthy dose of talent, especially when it comes to writing in a Wi-fi/Wordpress kind of world. For some of us, success is as simple as of change of address, but far too often many of us use "chasing our dreams" as a way to run away from our real problems.
Chances are we all know (or have been someone) who's packed up and moved to Los Angeles, New York City, or, the latest fave, Atlanta with the belief that relocation was the key to making their dreams come true. What about that person who is constantly quitting a job, moving to a new apartment, getting engaged, or even having children believing that the next big life change is the key to their happiness?
If any of this sounds familiar, then you may be affected by destination addiction (and it has nothing to do with frequent flyer miles). The term, coined by psychologist Dr. Robert Holden, creator of The Happiness Project, refers to the idea that success or happiness is a destination that we are traveling to which is unfortunately limiting many of us from enjoying the ride.
We find ourselves in a continued pursuit of happiness without allowing ourselves to enjoy the space we're presently in.
According to Dr. Holden, that pursuit is making many of us unnecessarily unhappy:
"We suffer, literally, from the pursuit of happiness. We are always on the run, on the move, and on the go. Our goal is not to enjoy the day, it is to get through the day."
I began to notice fleeting episodes of destination addiction among my friends and I the closer we all got to our 30's. It was as if there was this life checklist that we were frantically trying to complete that included college degree, professional career, home ownership, committed relationship and 2.5 kids all by the age of 35. I don't know why, but there's something about the big 3-0 that makes some people feel like they're captain of the Carnival Broken Dreams cruise ship if they are still living at home with parents and miles away from achieving the American dream.
The biggest problem with destination addiction is that it robs you of the opportunity to learn more about yourself in the moment and focuses on everything outside of your control. Some of us suffer from destination addiction because we truly believe happiness is always coming with the next big change. Others avoid spending too much time focused on the present because it forces them to deal with the real problem.
To be blunt: You have to step back every now and then and be honest about the part you play in your own unhappiness. Moving to a new home is not going to give you a fresh start if you allow your f**kboy of an ex-boyfriend to lay up under you whenever you're lonely. If you can't ever seem to get along with your co-workers, maybe the issue is your work ethic and not who you work for. And lastly, if you have no hustle in little No Name Town, USA, odds are moving to New York City won't suddenly make you get on your grind.
Destination addiction is deceptive because it makes you believe that happiness is something you have to seek rather than create.
There's nothing wrong with having goals, creating vision boards and generally wanting more for your life. I personally believe that life is about progress and every day I work on being a better person than I was the day before. The problem comes when your definition of better is solely based on your next move, material things and what looks good on paper. I can't tell you how many people I've met who can't wait to tell you about their Master's degrees or six-figure salaries, but can't even hold a decent conversation about current events because they spend their time scrolling through headlines without actually reading the articles. On the other hand, I've come across very humble people who are content with having 307 subscribers to their YouTube yoga channel and can talk about everything from Iran's nuclear program negotiations to Beyoncé's latest black power moves.
The one thing everyone who seemed genuinely happy and successful had in common: They enjoyed their lives because they were authentic to who they were and what they wanted specifically from life. Not what Instagram, their peers, or the American Dream told them they should. They were also focused on the quality of their life, not the quantity of experiences and making the most of the moment they were in, instead of rushing from one achievement to the next.
All of this Oprah Super Soul Sunday talk sounds good, but I can't tell you how much of an effort it takes to be at peace with the space I'm in lately, especially after being laid off about a month ago. As many quotes as I "pin" to my Inspiration Pinterest board, all it takes is one minute in my Instagram feed to make me instantly question my definition of "winning". The funny thing is, I first found the above "destination addiction" quote on Angela Simmons' Instagram page. It was sandwiched in between an #OOTD that I'm sure cost more than a week's salary for most people and selfies of her in a bikini on some exotic beach and I thought to myself, Hey Angela. I see you're jet-setting yet again. I'm just going to sit here and figure out how many more days I have until my student loan payment is officially delinquent.
The fact is, social media and an era of excess make a major contribution to this epidemic of destination addiction.
Scrolling through our Instagram and Facebook feeds are making many of us believe the good life is one waist trainer, designer handbag, or international vacation away.
I always think its funny when people say things like, "(Insert celeb name here) must not have any problems as much money as they make." How many Kanye West emotional outbursts do we have to witness before we realize that fame and money aren't the keys to happiness? It's an everyday to struggle to experience this moment in my life for what it is, and perhaps it's not about the next career move right now. Maybe it's time to enjoy my family, to balance myself and attach happiness to nothing more than my state of mind.
None of us are immune to destination addiction and we all have times where we have to convince ourselves that better times are ahead just to make it through the day. But the key to defeating destination addiction is to find happiness with the life you have and to achieve the goals that are important to YOU, not the ones you think will impress everyone else.

Going back to school to get that Master's degree? Get it because you want to be better educated, not because you want to impress your in-laws. Wait to marry someone you can't imagine living without, not because you're tired of your girlfriends giving you the side-eye because the longest relationship you've been in is with the Supernatural series. Most importantly, put that phone down and actually experience your trip to the Cook Islands instead of snapchatting the whole damn thing or planning the next impressive trip you'll take before you even board the plane.

You shouldn't need a passport in you pursuit of happiness. Learn to look forward to the future while finding peace with your present and attach the meaning of your life to the moments and not the milestones.
Featured image by Getty Images
A few months ago, I had a breakthrough. After a promotion led to me having a completely different supervisor, what was once a five-year plan to transition out of the organization I was working at, turned into five-month plan. It's a scary point in my life that I haven't found myself at before: I'm not leaving a job because I want better pay or a higher position, I want to leave simply because I'm unhappy. Being thrust back into the job search made me come clean about what I'm lacking as a mid-level professional, and one thing stood out in particular: I'm a horrible negotiator.
It's something I know I need to work on. I'm the kind of person that's happy to have health insurance and being able to maintain my Netflix subscription. But as I get older, and now that I have a family of my own, I'm realizing I need to fight for what's fair when it comes to my salary, because the truth is most companies will aim to get away with compensating you as little as possible.
Women are often told that a closed mouth doesn't get fed, and they need to negotiate their worth, but are employers insulted when they actually do?
Turns out my hesitation with negotiating might be completely justified, as Maria Konnikova pointed out in her New Yorker essay "Lean Out: The Dangers For Women Who Negotiate." She refers to negotiation where gender is involved as "a careful balancing act," and looked at a study on how gender affects negotiation done by Hannah Riley Bowles, a senior lecturer at Harvard's Kennedy School of Government and the director of the Women and Power program. Bowles collaborated with Carnegie Mellon for a series of studies that found that women were penalized far more than men when they asked for higher salaries.
It gets worse.
The studies also found that women were just as guilty of penalizing other women who didn't take what was initially offered, but they also penalized the men just as much. Bowles says, "They just didn't seem to like seeing someone ask for more money."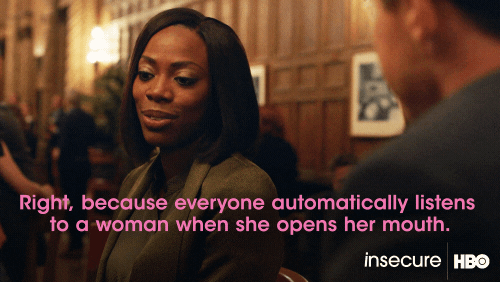 media0.giphy.com
In a follow-up study, Bowles asked participants to switch roles so that the employer was now the prospective employee. When she asked the women were they comfortable negotiating their salaries in the same situations, the women responded that they weren't and in fact were afraid the conversation would turn against them if they did. Bowles came to the conclusion that once any conversation turns to money, regardless of what pronoun you prefer, employers just plain don't like having to pay out money they wouldn't have to if you just shut up and accepted their first offer. But women are on the losing end because men were less likely to be looked at unfavorably for demanding more pay, in fact, it was almost expected.
"Lean Out" also revealed that employers looked for different values in women than they did men. In a study done by Rutgers, researcher Julie Phelan discovered that during the interview process employers focused more on women's social skills than their professional background, where interviews with men revolved solely around qualifications. Sorry ladies, it appears that Mean Girls didn't just end in 2004, getting a job is apparently a popularity contest too.

So does this mean that we should just shut up and be thankful for whatever is thrown our way during the job hunt? According to Katie Donovan, that's exactly what we should do, well at least the keeping our mouths shut part. The founder of consulting agency, Equal Pay Negotiations says that women give themselves an advantage when they learn to handle a little awkward silence. "In sales, this is something that people are constantly trained in," she says in the article "A Woman's Most Powerful Negotiation Tool? Silence."
"You need to stop selling against yourself. That's what happens when you keep talking. You need to ask a question, then shut up and give the other person a chance to respond."
Donovan says it helps to ask questions and listen, give prospective employers a chance to wonder where your head is at and yourself a chance to evaluate if this is the place you really want to be.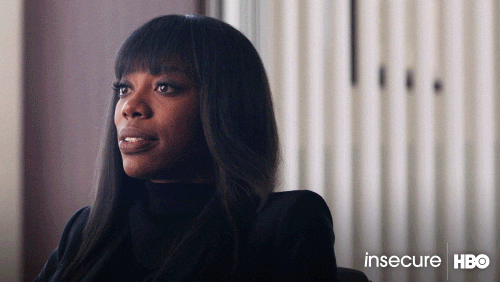 media3.giphy.com
She also suggests thinking of negotiations as more than what your direct deposit is going to look like. Perks are just as important as pay. Maybe the organization genuinely just doesn't have the money to give, but take into consideration things like a company car, working from home or having a flexible schedule. These things can be negotiated as well. Donovan also warns women to not be blinded by the B.S. "Employers have many savvy ways to convince you not to negotiate. Sometimes, it will come across as flattery: 'You're such a great candidate that I didn't want to bother with negotiating—so I went to bat and got you the highest salary you could possibly start with.'"
She warns you to do your research. Search what professionals in your area are making in their positions with sites like Salary.com. Be ready to present why your background is worth what you're asking and role-play situations until negotiating doesn't seem so foreign.

What I learned most from researching the art of negotiation is how different men are socialized from women. Boys are often raised to be confident and to question authority when they feel taken advantage of, while girls are often raised to be respectful and follow the rules.
Unfortunately, this is hurting us where it literally counts the most: our pockets.
I'm still working on the confidence to counter-offer, and now that I think of it, a dress code that includes graphic tee Tuesdays would be pretty dope too, but one thing is for sure: my well-being at work is something I refuse to ever compromise on again.
Have you ever negotiated a good deal or were you and your demands shown to the door?
Originally published May 8, 2017
Featured image by Getty Images