Kiah McBride
Kiah McBride writes technical content by day and uses storytelling to pen real and raw personal development pieces on her blog Write On Kiah. Follow her on Instagram and Twitter at @writeonkiah.
On set inside of a mid-city Los Angeles studio, it's all eyes on Chlöe. She slightly shifts her body against a dark backdrop amidst camera clicks and whirs, giving a seductive pout here, and piercing eye contact there. Her chocolate locs are adorned with a few jewels that she requested to spice up the look, and on her shoulders rests a jeweled piece that she asked to be turned around to better showcase her neck ("I feel a bit old," she said of the original direction). Her shapely figure is tucked into a strapless bodysuit with a deep v-neck that complements her décolletage.

Though subtle, her quiet wardrobe directives give the air of a woman who's been here before, and certainly knows what she's doing. At 24 years young, she's a "Bossy" chick in training— one who's politely unapologetic and learning the power of her own voice.
"I'm hesitant sometimes to truly speak my mind and speak up for myself and what I believe," she later confessed to me a couple of weeks after the photoshoot. "It's always scary for me, but now I'm realizing that I have to, in order to gain respect as a Black woman— a young Black woman— who's still navigating who she is. And you know, I'm realizing that closed mouths don't get fed. And if I keep my mouth shut just because I'm afraid of what people's opinions of me will be or turn into, then that's not any way to live."
For Chlöe, the journey into womanhood is about embracing who she is, without succumbing to the perceptions of what others think of her. From the waist up she's everything you'd imagine. A gorgeous goddess with the kind of sex appeal that some work hard to embrace but fail to exude. But unbeknownst to anyone not on set, her bottom half is covered by a white robe, surprising coming from the girl who boasts "'Cause my booty so big, Lord, have mercy" on her first hit single "Have Mercy."
But that's the beauty of Chlöe. There's more to her than meets the eye. More than what a few sensual photos sprinkled throughout an Instagram feed could ever tell you. Just like the photo-framing illusion of her portrayed from the waist up, what we know about the songstress is just the tip of the iceberg. There's so much more beneath the surface.
Some hours later Chlöe leans back in a high chair as her locs are transformed from a formal updo to a seemingly Basquiat-inspired one. It's pure art, and at her request, no wigs are a part of the day's ensemble. She's fully embracing her natural hair, a decision that wasn't always a socially accepted one.
In the suburbs of Atlanta, Georgia, (Mableton, to be exact) Chlöe began to explore the foundation of her self-image. At an early age she and her younger sister, Halle, demonstrated a vocal prowess and knack for being in front of the camera that caught their parents' attention. Soon after, they were sent on a parade of local talent shows and auditions, and eventually broke into the digital space with song covers on YouTube.
It was during these early years that Chlöe first learned that the entertainment industry could be unforgiving to those who didn't fit a particular beauty standard. Despite the then three-year-old snagging a role as the younger version of Beyoncé's character, Lilly, in Fighting Temptations, casting agents requested that her natural locs be exchanged for more Eurocentric tresses. Ironic, considering that growing up Chlöe saw her hair as no different than that of her peers. "I remember specifically in pre-K we had to do self-portraits and I drew myself with a regular straight ponytail, like how I would put my locs in a ponytail," she says. "I just never saw myself any different."
Chlöe would also learn the true meaning of a phrase that would later become an affirmation posted on her bedroom mirror: "Don't Let the World Dim Your Light." After attempting to wear wigs to fit in, the Bailey sisters instead chose to rock their locs with pride, which undoubtedly cost them casting roles. Yet they would have the last laugh when making headlines as the "Teen Dreadlocked Duo" who landed a million-dollar contract with Parkwood Entertainment, and the coveted opportunity to be groomed under the tutelage of a world-renowned superstar.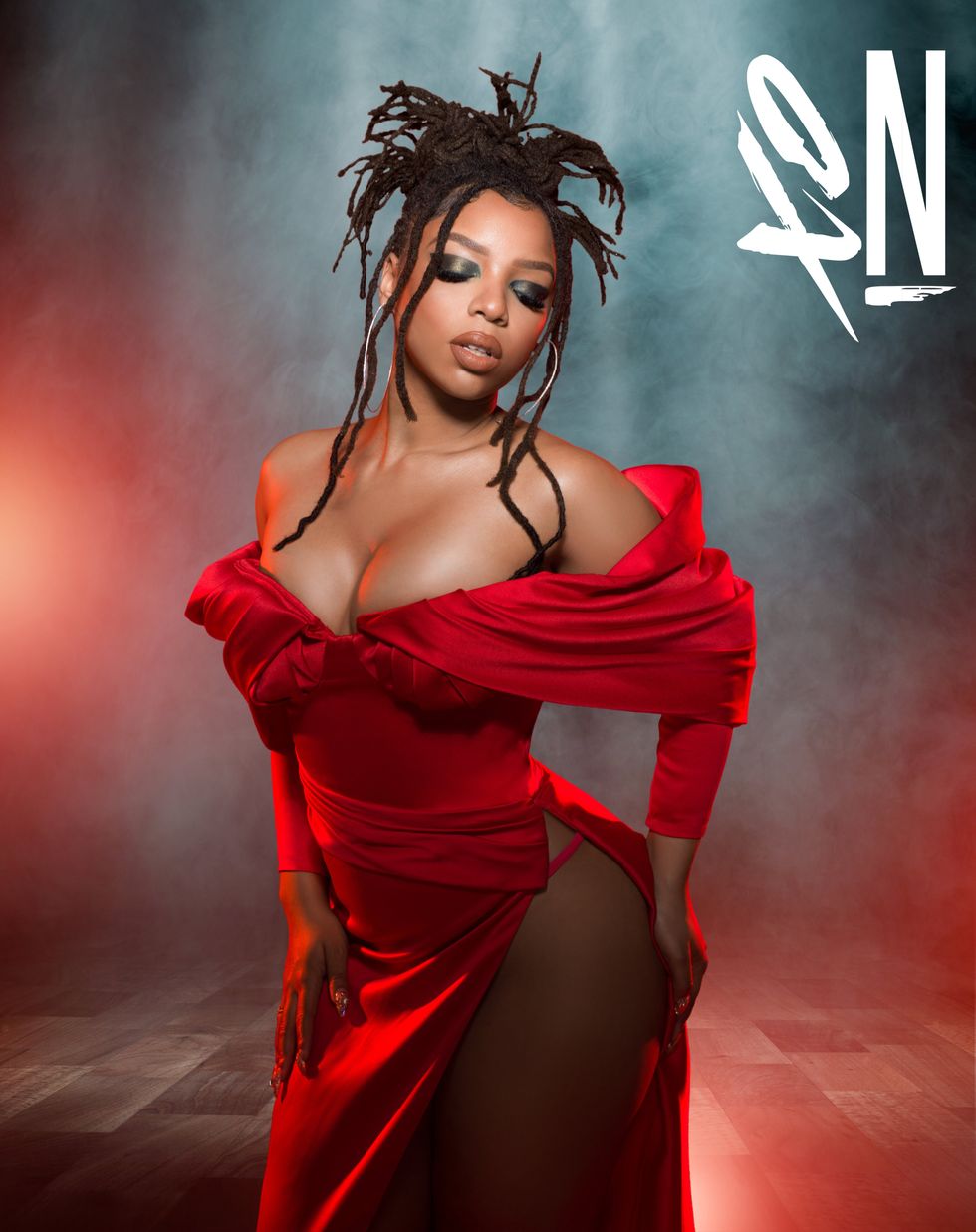 Credit: Derek Blanks
While that could be the end of a beautiful fairytale of self-empowerment, the reality is that it's just the beginning of the story of her evolution. For most girls, the transition into womanhood takes place in the comfort of their own worlds, often limited to the number of people they allow to have access to them. But for Chlöe, it's happening in front of millions of critiquing eyes just waiting for an opportunity to either uplift or dissect her through unwarranted commentary.

Many in her position wouldn't be able to take that kind of pressure. But Chlöe is handling it with grace. "I feel like all of us as humans, we have the right to interpret things how we want," she says. "I put art out into the world and it's up for interpretation. I'm learning that not everyone is going to always like me and that it's okay."
Chlöe isn't the first artist to receive criticism for her carnal content, and she certainly won't be the last. In 2010, Ciara writhed and rode her way to banishment on BET when the then 24-year-old released her video for "Ride." In 2006, 25-year-old Beyoncé received backlash for "Déjà Vu."
"I put art out into the world and it's up for interpretation. I'm learning that not everyone is going to always like me and that it's okay."

So much so that over 5,000 fans signed an online petition demanding that her label re-shoot the video because it was "too sexual." Even 27-year-old Janet didn't escape critical headlines when she shed her image of innocence for a more risqué appearance with the 1993 release of janet.
It's almost as if public reproach is a rite of passage for young Black women R&B singers on the road to stardom. Good girls seemingly "go bad" whenever they embrace the depths of their femininity, and fans only like you on top figuratively. But Chlöe has learned not to bow down to other people's opinions, but to boss up and control the narrative. As the saying goes, well-behaved women seldom make history. If sex appeal is her weapon, she wields it well.
On set, Chlöe exudes the energy of Aphrodite in an apple red, off-shoulder dress with a sexy high split. In between shots, she mouths the lyrics to Yebba's "Boomerang" as it echoes throughout the space in steady repetition at my recommendation. The hour grows late, yet Chlöe is heating things up as eyes stare in deep mesmerization of the girl on fire.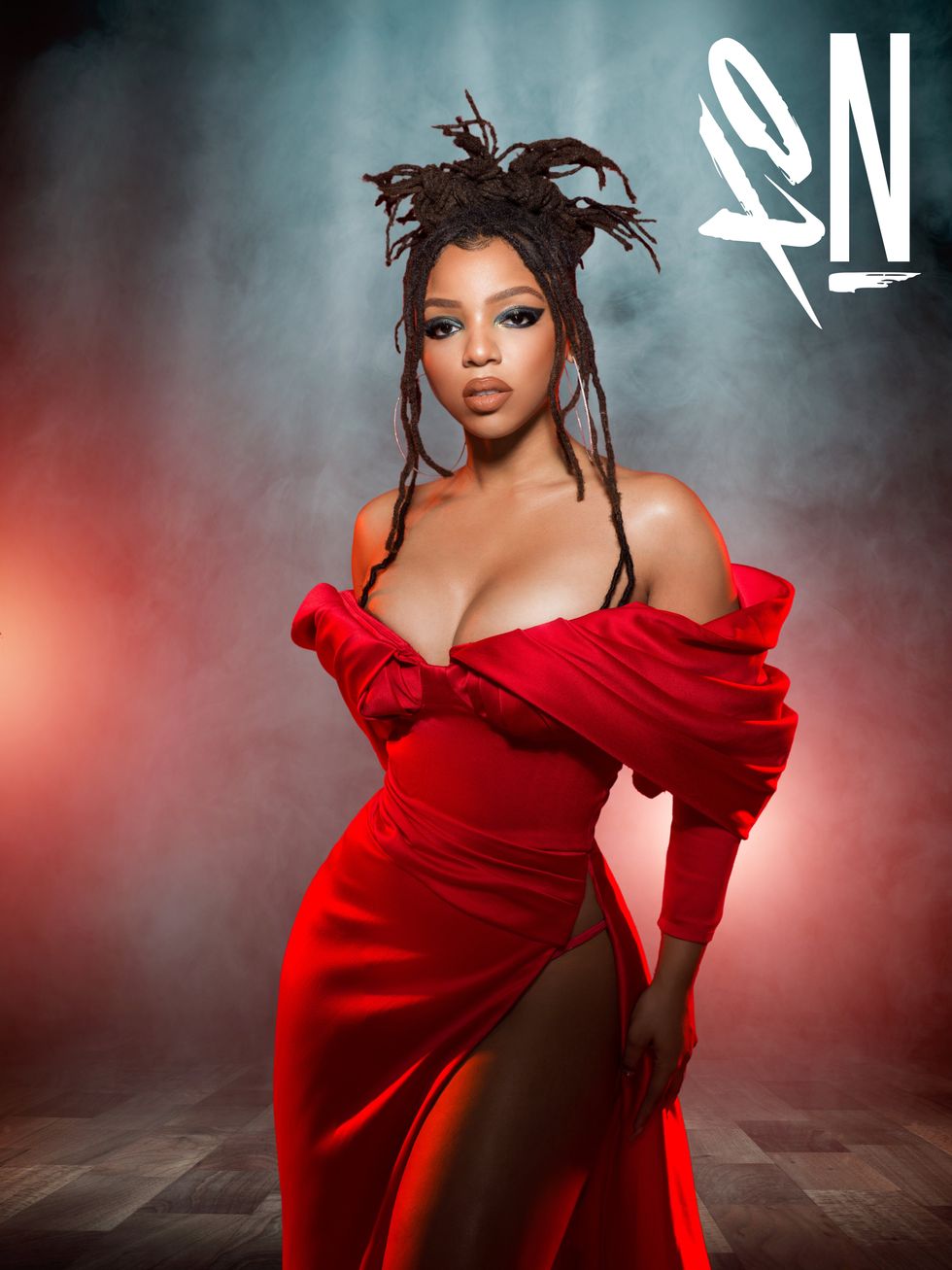 Credit: Derek Blanks
Through music, she explores the depths of her being, a journey that seems to be, at its foundation, rooted in self-discovery. Whereas their debut album The Kids Are Alright (2018) boasts a young Chloe x Halle empowering their generation to embrace who they are while finding their place in the world, their second album Ungodly Hour (2020) shows the Bailey sisters shedding the veil of innocence for a more unapologetic bravado.
What fans looked forward to seeing is who Chlöe shows herself to be on her debut solo album In Pieces. In an interview with PEOPLE, she confesses that releasing her first project without her sister was "scary." "It was a moment of self-doubt where I was like, 'Can I do this without my sister?'"
Chlöe has never been shy about sharing her insecurities or her vulnerabilities, all of which are laced throughout the 14-track album. "I want people to have fun when they listen to it and to just realize that they're not alone and it's okay to be vulnerable and raw and open because none of us are perfect; we're all far from it. And I think it's healing when we all admit to that instead of putting up a facade."
The gift of time has given the self-professed "big lover girl" more encounters with romance and heartbreak. Love songs once sung for their beautiful riffs and melodies become more than just abstract lyrics and are replaced by real-life experiences, which she tells me is definitely in the music.
In her single "Pray It Away," for example, she contemplates going to God for healing instead of going at her ex-lover for revenge for his infidelities. "With anything dealing with art, I am completely vulnerable," she says. "I'm completely myself, I'm completely open and transparent. So it's pretty much all of me and who I am right now."
Has Chlöe been in love? That still remains to be said. Of course, she's been linked to a few potential baes, but dating in the digital age isn't as easy as a double tap or drop of a heart-eyes emoji. It requires a level of trust and vulnerability that's hard to earn, and easy to mishandle. To let her guard down means to potentially set herself up for disappointment. "It's difficult dating right now, honestly, because you really have to kind of keep your guard up and pay attention to who's really there for you. And you know, I'm such an affectionate person and I love hard.
"So when I meet the one person that I really, really am into, it's hard for me to see any others and I get attached pretty easily. And you know, I don't know, it's…it's a scary thing."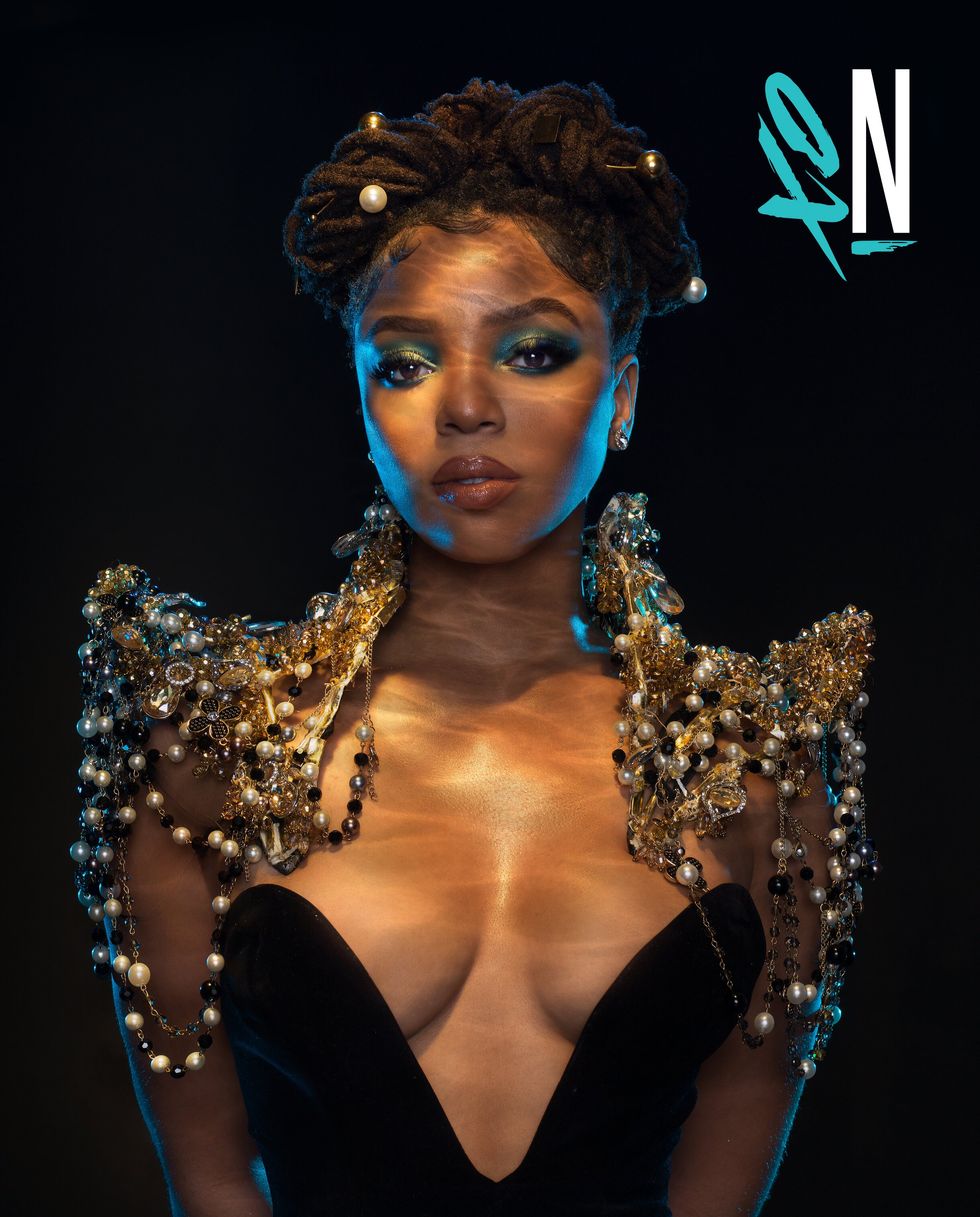 Credit: Derek Blanks
​"With anything dealing with art, I am completely vulnerable. I'm completely myself, I'm completely open and transparent. So it's pretty much all of me and who I am right now."
While broken hearts yield good music (queue Adele), what's in Chlöe's prayer is the desire to be happy. What does that look like? Well, she's still figuring that out herself. "Honestly, I'm the type of person who I don't truly learn unless I experience it. So it's like I can view and watch my parents and watch the loving relationships that I see in my life and be like, 'Oh, I want that. I would love to have that.' But then I also have to experience [love] on my own and see what my flaws or my faults might be or see what my good things about myself are. I feel like it's really all about self-reflection. And even though our base is our family and that's our foundation, we are still our own individuals and we have to find out specifically the things about ourselves that may be different from what we saw from our parents when we were growing up."
Her ideal beau, she tells me, is someone she can feel safe to be her fun, goofy self with, but who also gives her the space to be the boss chick chasing her dreams. A man who understands that just because the world compliments her doesn't mean she doesn't want to hear those words from his lips or feel it in his touch. A bonus if he shows up on set after a long hard day of work with vegan cinnamon rolls. You know, the basic necessities. "I like whoever I'm with to constantly tell me they love me and that I look beautiful because I do the same. I am a very mushy person, and if I see something or you look good, I will never shy away from saying it out loud. And I want whoever I'm with to do the same, be very vocal. Tell me that you love me. Tell me what you love about me because I'm doing the same for you because that's just the person I am."
Noted.
​Until she meets her match she's married to the game, and for now, that seems to be perfect matrimony.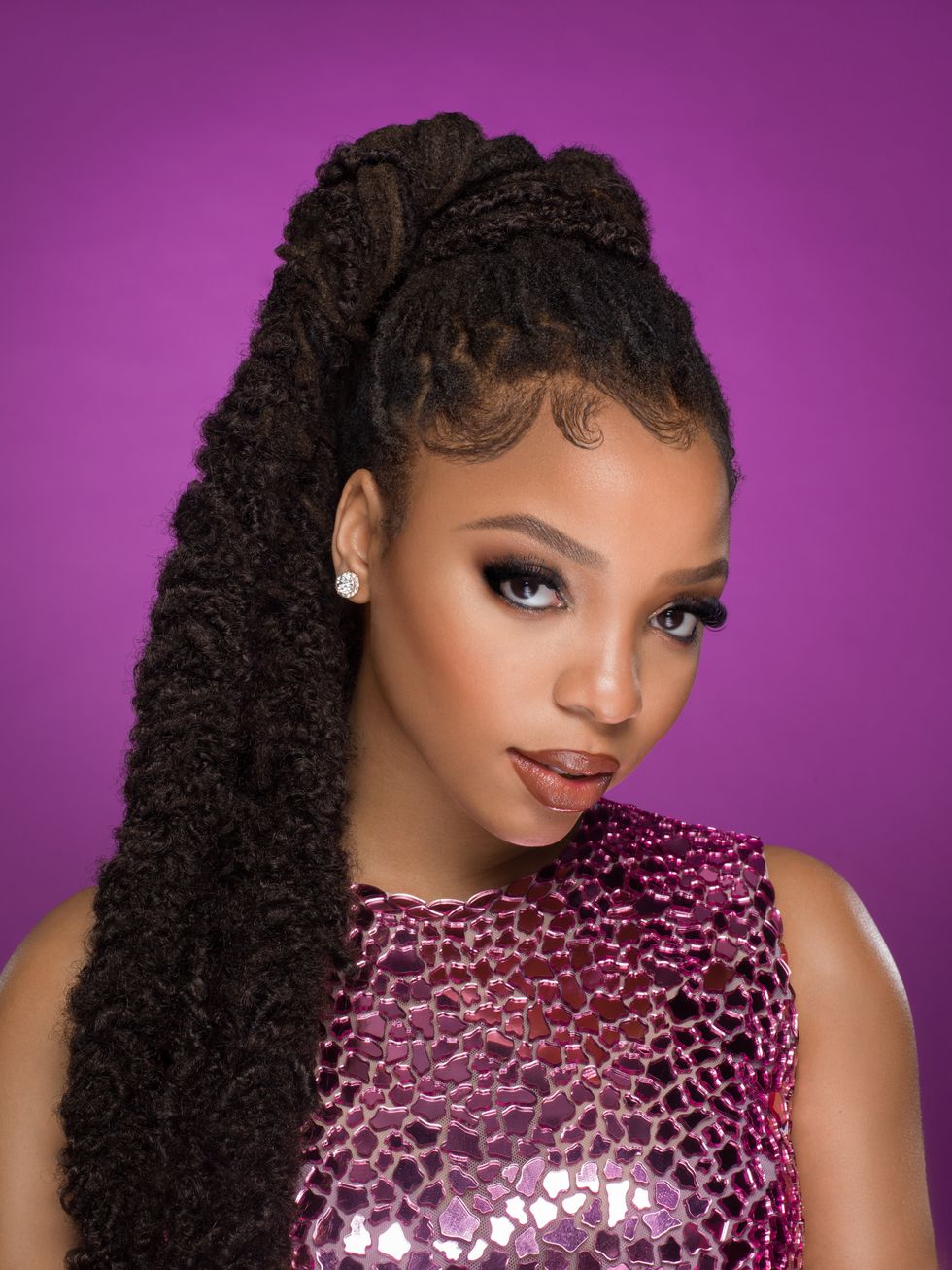 Credit: Derek Blanks
On stage at the 2021 American Music Awards, Chlöe solidified her position as a force to be reckoned with. It was a full-circle moment. In 2012, bright-eyed and baby-faced Chloe and Halle would walk onto the set of The Ellen Degeneres Show and blow the audience away as they bellowed out their future mentor's song. Ellen would present the sisters with tickets to attend the AMAs, assuring them that they would be back and had a promising future. Nine years later, Chlöe descends from the sky cloaked in a snow-white cape and matching midriff-baring bodysuit for her debut performance. It's the first time she's graced the stage of the very award show that she was once an audience member of.

As she shakes and shimmies and boom kack kacks out her eight counts, it's clear that she's in her element. Just like her VMA performance a couple of months prior, and the many more stages she'll continue to grace, she brings an energy that has earned her comparisons to the beloved Queen Bey herself. An honorable statement, considering few R&B songstresses are getting accolades for their entertainment capabilities. It's on these very stages, in front of hundreds of astonished eyes and millions more glued to their televisions at home, that she tells me she feels most sexy. Powerful, even.
But off stage, it's a different story.
It's more than just the commentary about her image and media-flamed rumors that get to her. Mentally, she's in competition with herself. The desire to be the best burns at the back of her mind with every performance, every production, and every time she steps into the booth. Before, she could share the weight of this burden with her sister. Being a part of a duo meant she could turn to Halle for quiet confirmation and encouragement without a word being exchanged. But lately stepping on the stage means stepping out on her own. And despite being a breathtaking, five-time Grammy-nominated star, Chlöe doesn't escape the reality that sometimes we can be our own worst critics.
Over the last year, she's been coming to terms with who she is on her own while overcoming the fear of failing to become who she's destined to be. While the world waits to see how Chlöe wins, the real triumph is in every day that she chooses herself and continues to walk in her purpose. "I don't really have anything all figured out, honestly. But what I try to do, a lot of prayer. I talk to God more and I just try to do things that calm my mind down and just breathe."
To whom much is given, much will be required. She's been chosen to walk this path for a reason. Once she fully embraces that everything she's meant to be is already inside of her, she'll be an unstoppable force. "My grandma, Elizabeth, she just passed away and my middle name is her [first] name. So I feel like I truly have a responsibility to live up to her legacy that she's left on this earth. I hope I can do that."
There's no doubt that she will. With a role in The Fighting Temptations at three years old, a million-dollar record deal, a main role on five seasons of Grown-ish, five Grammy nominations, a number one solo record in Urban and Rhythmic Radio, a debut solo album, and starring roles in recently released movies Praise Thisand Swarm (just to name a few), Chlöe's certainly already made her mark, and she's just getting started.
No flex.
Credits
Photographer & Creative Director: Derek Blanks
Executive Producer: Necole Kane
Co-Executive Producer: EJ Jamele
Producer: Erica Turnbull
Digitech: Chris Keller
DP: Alex Nikishin
Gaffer: Simeon Mihaylov
Photo Assistant: Chris Paschal
2nd Photo Assistant: Tyler Umprey
Features Editor: Kiah McBride
Special Projects: Tyeal Howell
Hair: Malcolm Marquez
Makeup: Yolonda Frederick
Fashion Styling: Ashley Sean Thomas
This is what financial freedom looks like. It looks like being completely debt-free, student loans and all. It's doing work that you love and not just settling for a steady paycheck at a job you hate, or maybe packing up the kids and taking them on trips to St.Thomas, Ocho Rios, or to the Discovery Children's Museum in Las Vegas. And in the case of Jamisa McIvor-Bennett, it also looks like a $3.2 million real estate portfolio with 21 properties— all paid for in cash with the exception of one home.
It all started with an unexpected question that would lead to a life-changing opportunity when a 19-year-old McIvor-Bennett, then a cashier at ShopRite Supermarket in Philadelphia, was approached by her grandmother. "She said, 'I just wanted to know what would happen to the house if something was to happen to me?' I said, 'Grandma I'm not really sure, I can find out.' She was like, 'No, I was just asking because, if something was to happen, I want you to take full responsibility for it. You're the most responsible one.'"
At the insistence of her grandmother, the pair did a quitclaim deed transfer, allowing her grandmother to transfer the property to McIvor-Bennett for $400 total once the dust settled. Over a year later, her grandmother passed away unexpectedly, and all hell broke loose as the family clamored to make claim to the home, unaware of the agreement between McIvor-Bennett and her grandmother. "We made a video because this is during the era of record everything, so I had what I needed in terms of a paper trail."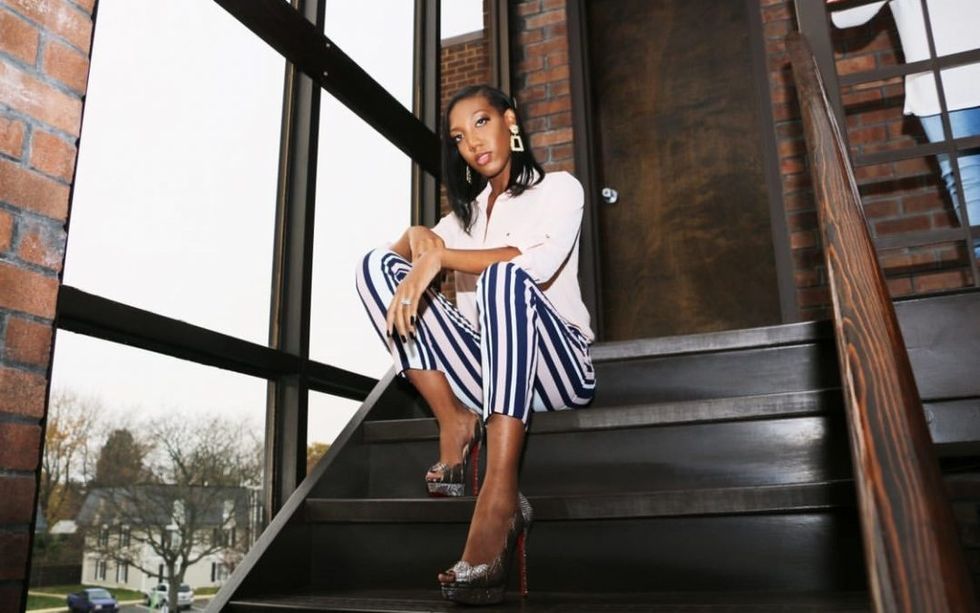 Courtesy of Jamisa McIvor-Bennett
With no knowledge about financial literacy or real estate, McIvor-Bennett got to work on researching her best options for turning a lemon into lemonade. She didn't have the funds to make the necessary repairs to the home, so she decided to sell the paid-off abode for $152,000 at the encouragement of a real estate agent. And thanks to advice from a real estate investor turned mentor, she used the profit to purchase her first home in cash for $400— a house that she still owns today and that's worth $330,000.

Gaining more knowledge and experience through mentorship and mistakes, McIvor-Bennett has since bought 21 properties worth $3.2 million in the Philadelphia area, affording her a lifestyle that at one point never seemed imaginable for the now-married mother of two. Seems impossible? Well, don't just take our word for it. The real estate mogul is spreading knowledge on the power of investing through her company Rosebud's Investments to those looking to get in the game. "I have so many people who are interested in real estate investment just by seeing my lifestyle change gradually," McIvor-Bennett says.
xoNecole chatted with the self-made millionaire for tips on tapping into lucrative deals and how to build generational wealth through real estate investing.
1

.

Learn From Others' Mistakes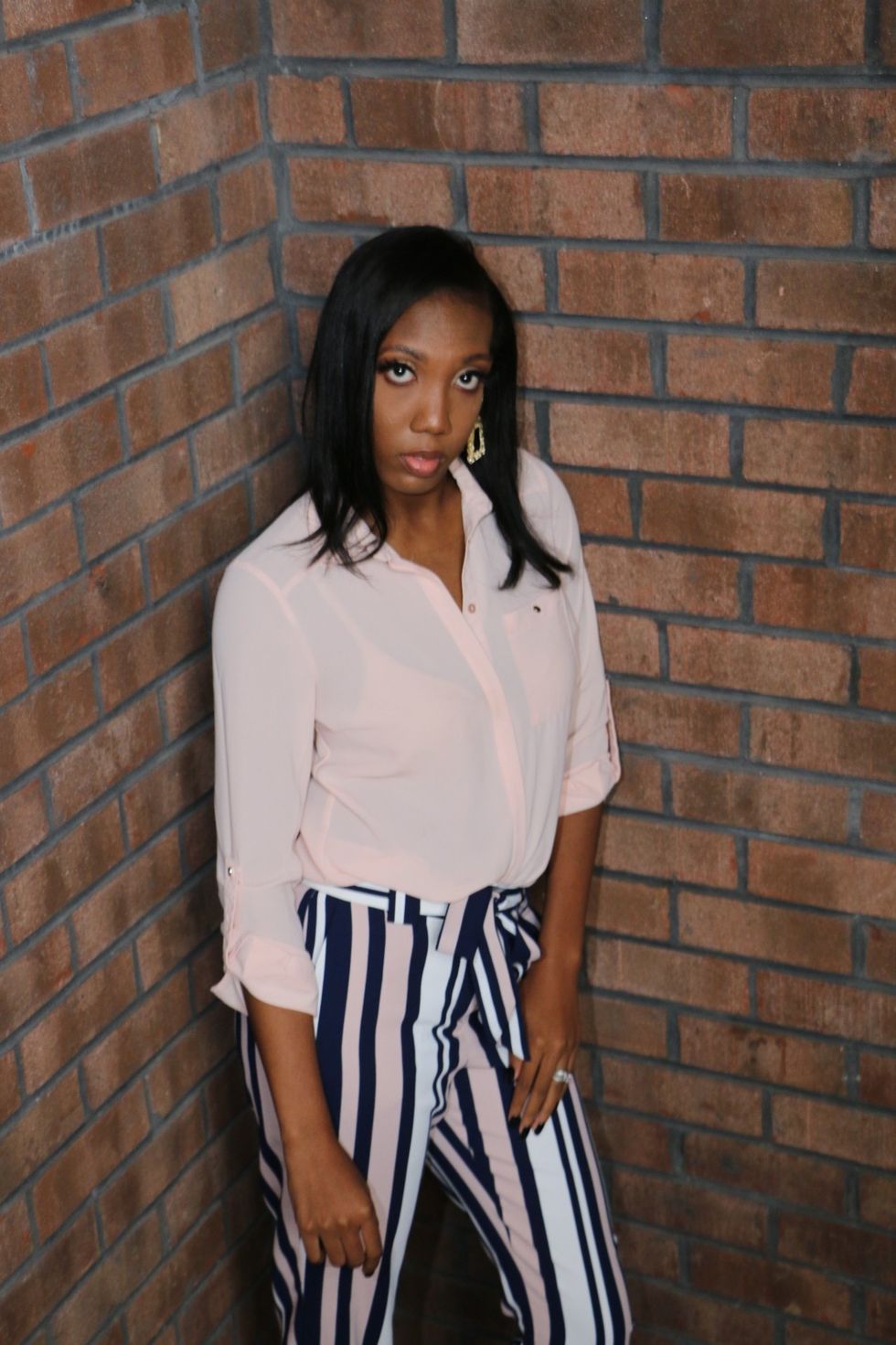 Courtesy of Jamisa McIvor-Bennett
"I learned so much from my mentor just through his mistakes. He gave me a lot of information, but he showed me a lot of stuff just because I was paying attention. He was a really big dreamer. He would get really good deals and run out of money. That's why he ended up selling me the properties he did out of desperation because he was locked into a deal and ran out of money to finish it and needed to close. So he was selling off what he had just to get their money to get through that next deal.
"The second time he did it, it ended up helping me because I was down to my last $50,000. And he was like, 'I need money.' So I'm like, 'All right, I'm going to give you the money to finish your deal, and you give me back the money in interest.' And he did. He gave me 25% interest on my return. But I learned a few things— don't get into these high ticket deals without a contingency fund. I was taking notes, which is why it took me so long. I didn't get any mortgages until literally the 13th of December [2019]. So all of these houses later, I was kind of scared because of what I watched him go through."
2

.

Don't Overlook Ugly Houses
"The second house sold to me was for $6,500. It looks like a scary movie. I call it the Treehouse, literally, there was a tree growing inside. But I bought it because it was $6,500, and my mentor had purchased it for $2,500. Even though it was ugly, it was structurally sound. So it wasn't one of those things where I had to do anything to it. We put a new roof on it, boarded it up to winterize it, and made sure it was safe. We had to buy a vacant property permit for it. I didn't know what equity was, I was just buying time until I conjured up enough to figure out what I wanted to do at home, but it was worth a lot. Year two [of investing], I started to really get into markets and stuff like that. By year three, the house directly up the street had sold for almost $200,000, and it was smaller than mine. I didn't know it was going to end up being a good deal, but now I knew that buying a house for $6,500 was OK."
3

.

Check The Comps
"When you're in real estate, you do what's called comps, or comparable property. So if you ever want to know what your house is worth, you have to find something that's comparable to it. Then we look at the work that was done to it. Obviously, if I put a waterfall and elevator in my house, and you got a little patio and vinyl sliding, mine is going to be worth a little more. But this is how you compare the numbers and you look at what [the] dollar consistency [is] in that area. You look at the last three things that sold and you get the average."
4

.

Buy Cheap Properties At Auctions
"When you buy a house in an auction, you get the equity, but you don't get the debt. There are actually nice houses sometimes, especially foreclosures. Somebody went through the whole mortgage process and out of the 30 years they might've had a good 125 months and they can no longer pay the mortgage. You are getting all of that equity per penny on a dollar because somebody else fell on hard times, which is bad for them, it's very sad. But if they're losing it anyway, you just happen to be the one to purchase it.
"I had purchased my own property for $1,700, and what was really interesting about it was that when I purchased it, I didn't even have to buy it. I had the money. But when you are at an auction, you can't pay for it there. You have to actually finalize your paperwork elsewhere on another day. I had to put down a deposit. The deposit is either 10% or $600, whichever is the highest. After that you have 30 days to do one or two things, the first thing you can do is obviously pay the remaining balance. But the second thing that you can do is sell the property, which I thought was really cool. I ended up returning like two or three days later and then I decided to go back every single month because they had them every month. I still have the $1,700 property. Right now the comp in the area is like $175,000. It's a bad area, but it's coming up. So I will just wait."
5

.

Buy Properties With Positive Cash Flow
"For myself, I'm looking for positive cash flow. I'm an urban investor so I like to stay true to my roots. I think people spend a lot of time focusing on gentrification, and they are pushing us out. I got a home that's in the city right now that's worth $600,000, you can't tell me that I'm being pushed anywhere. I typically stick to urban properties and the overhead is way less. We usually have about 1,200 to 1,600 square feet, depending on if it's a corner house or not. So with that being said, it's only but so much work that needs to be done to a house of that size."
6

.

Decide If You Want To Flip Or Rent
"As an investor, I never went in with the intention to flip. I sold one or two during the course of time just because I needed some fast cash and because I'm living off of the rental income, so I was like, 'All right, let me free up something.' Then I would sell one and replace it with two more, but I wasn't really interested in the flipping aspect. Some people need a quick flip. I have children and I like freedom. To me, flipping is too much of a job. You do all this to make money to then do what? You have to do it again because once you get the money, you've got to spend it on something. I like the idea of buying a house and renting it out. Right now my portfolio total is $3.2 million, cash flow is a little under $50,000 a month."
7

.

Look For Hard Money Lenders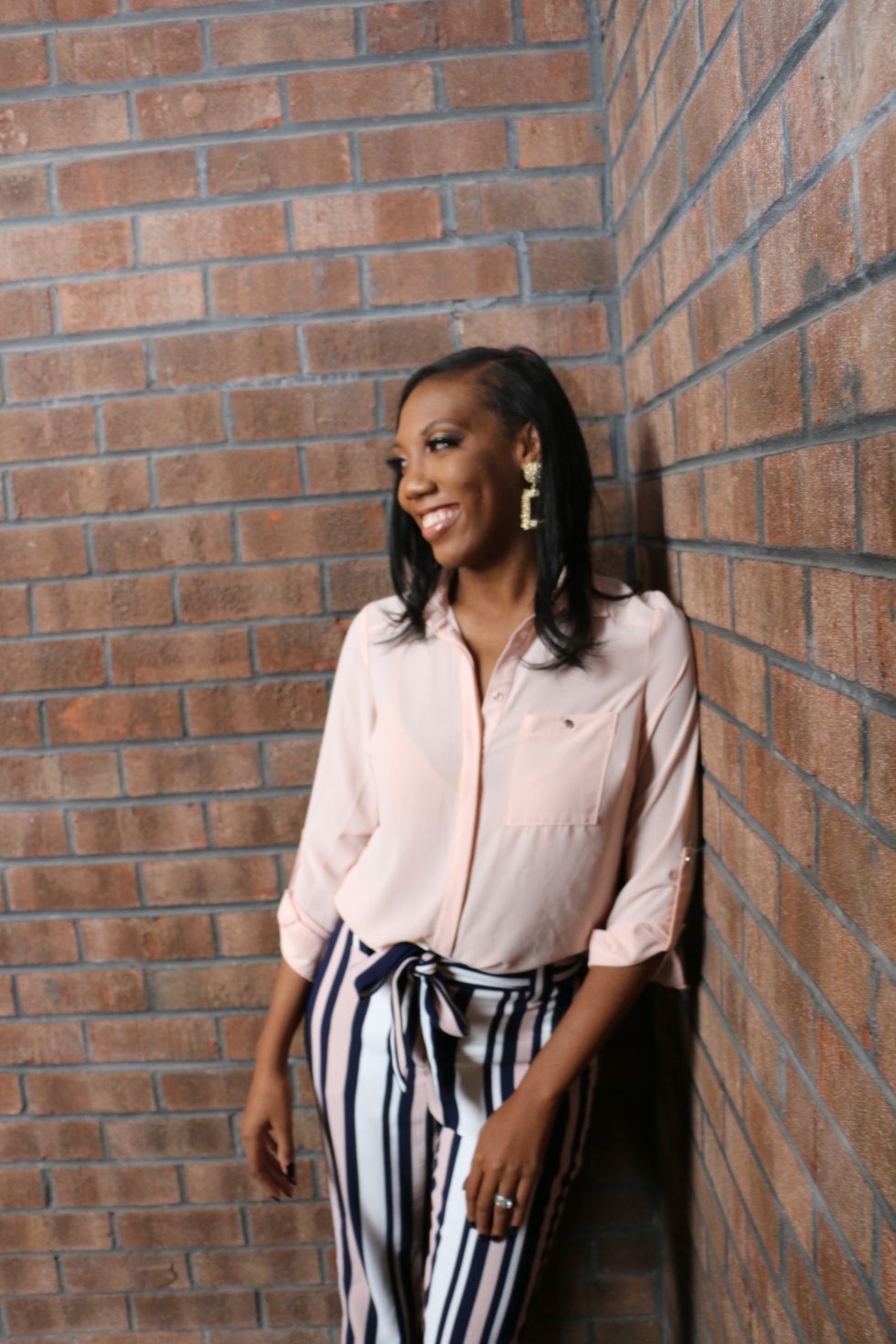 Courtesy of Jamisa McIvor-Bennett
"Hard money lending is a go-to for investors because it doesn't require tax returns and you don't need anything except a good deal because they're funding you based on how much the property is worth. You do need 10% of the money because they'll give you money to purchase and rehab it, but they don't give you the money to fix it up outright. So you have to actually put money into it and then they reimburse you. And when they reimburse you, you use the reimbursement money to keep going. When you are getting a regular loan from a bank, they need at least two years of consistent tax returns. With hard money lending, you decide how much the house is worth. So it's easier to get funding, but you have to pay more upfront and altogether because it's interest-only payments too.
"The benefit of it is [money] is accessible fairly quickly. But you got to do it right because the first couple of payments are interest-only payments, and then you still owe whatever you borrowed. So let's say you did $100,000— $50,000 to purchase and $50,000 to rehab, times it by 10% interest. You owe $10,000 additional on a loan, where a normal loan is usually around 3.5% percent or so. So now you divide that $10,000 by 12 months because usually the loan is between 12 to 13 months. You have to pay them $830 every single month. Then at the end of the loan, you still give them back their whole $100,000."
8

.

Cash Is Still King
"You definitely get more of a return when you leverage, but the moment that you get a mortgage you owe somebody else. The market goes up and down, and what can end up happening is if the market crashes like it did last time, the value of your property decreases, which is why it's good to be an owner. Let's say for instance you bought a property worth $100,000. A bank will give you up to 80% of what the property is worth. So at $100,000, they will give you the $80,000 to play with. Then the market crashes, now the $100,000 property is only worth $60,000.
"You borrowed $80,000, so now you owe $20,000 more than what it's even worth. Not to mention most people who are investing don't even live in their investment property, so they still maybe have a mortgage. Now, you're struggling to even pay what you owe. If you are a more financially stable person, you can move money around, and then investors do things called diversification, so they have different streams of income other than [real estate] investments. But it depends on what your risk tolerance is."
9

.

If You Don't Have The Cash, Consider Wholesaling
"Wholesaling isn't hard at all. You find a seller and you find a buyer. The most involved part is having time. That's what people underestimate. If you don't have credit or money, you have to have time, because the hardest part of wholesaling is finding a seller. But it's definitely not difficult depending on the numbers. Let's say a friend came to you like, 'Listen, I've got this house, I'm over it. I want to sell it for $80,000.' You sign a contract. You don't actually have to have the money when you sign a contract because the contract says that if the original buyer can't secure funding or can't close, they have the right to assign it to somebody who can. You sign a contract agreeing to purchase it for $80,000. You know I buy houses. You call me like, 'Hey, I have a house for sale for $100,000,' and if the numbers make sense and it's worth what you're asking for, I buy it and you give her $80,000 and take the other $20,000."
10

.

 Protect Your Primary Residence
"Every person's situation is different, but I'm not going to ever tell a person to outright start with debt unless they absolutely have to. Once you lock into a 30-year mortgage, you owe them, no matter what. If things go right, good. If things go bad— you lose your job or you break your foot — you owe [the bank], and this is your primary residence. You want to always make sure your home is safe. You should be in a situation where your assets protect your liabilities. Even if you live in a house and you're like, 'I love it, it's beautiful,' it's a liability. It doesn't do anything for you other than makes you happy when you see it. You live there so you're not getting any gains from it."
11

.

 Consider Investing In Multi-Family Units
"The idea is you get a mortgage and you get a multi-unit as opposed to a single-family. A multi-unit can be a duplex or a triplex, or it can even be a quad, which is four units. You live in one unit, you rent out the other units, and what they pay covers what you owe. Now it's not so much of a hassle on you, and then at the end of the day, you are still building equity. So if you ever decide you want out, you can still pull the equity out of your house and then reinvest it into a single-family, or you can go on to a nicer house and a nicer place."
12

.

 Change Your Mindset Towards Money
"Believe it or not, people in urban communities have a whole lot of money. You still got people like, 'I'm not ready to buy,' and I think they're just afraid. When it comes to these properties, these tenants, they spend money consistently. I've met people who've rented for years straight, never missing a day. How do you have the discipline to know that you have to pay a landlord, but you don't have equal discipline to pay yourself? How do you invest in somebody else's equity and tell yourself you're not good enough to do the same thing for yourself? And they do it time and time again."
13

.

 Ignore The Naysayers
"I tell people, it's not what you do is how you do it. I see people posting like, 'It's not like she got it from the muscle.' I did. [My grandmother] didn't give me 20 houses at random, she gave me an opportunity and I made the best of it. I've read, 'Oh she sold her family's legacy for money.' No, I've created a legacy. There was none."
Jamisa McIvor-Bennett is the proud owner of Rosebud's Investments, which offers individualized services in investor processes, for both new and seasoned investors who are looking to enhance their knowledge and expertise, and helps provide a blueprint for purchasing property without using credit.
Featured image courtesy of Jamisa McIvor-Bennett
Originally published on March 2, 2020.
At first glance, Corey Calliet may come off as a bit intimidating. With a beautiful smile complementing his chiseled frame, the modern-day Adonis, who ironically trained Michael B. Jordan for his role as Adonis in the Creed series, has a well-deserved reputation for building the bodies of some of your favorite Hollywood celebrities.
But the vision the self-proclaimed body architect has for his career doesn't end in the gym or on the red carpet. In addition to training some of the top stars in Hollywood, he has his own apparel company (Levelz), is a featured trainer on Revenge Body with Khloe Kardashian, and has more recently caught the acting bug.
Despite having an impressive resume, it's the trainer's rags-to-riches story that has us begging for more. Growing up between New Orleans and Baton Rouge was no easy feat for Calliet. After losing his mother at the age of four, he was shuffled between his sister and grandmother before finally settling with his aunt and uncle in a crowded home. Enticed by the street life, Calliet learned the art of the hustle that eventually carried him into a successful career.
But he didn't leave home without picking up a few relationship gems from the women who raised him. "We saw love where no matter what you were going through, you weren't going to give up. No matter how bad the situation was, no matter how hurtful, they never quit."

While he may rock sweatshirts that say he's "emotionally unavailable", we can't help but to sneak a peek into this Cancer's emotional side, and dare we say that we like it. As the saying goes, never judge a book by its cover, so we're taking a dive between the sheets of this open book to find out his thoughts on love, why he's not looking for an independent woman, and his biggest fear in a relationship.
Necole: Your life sounds very busy. How do you keep the fire going when you are in a relationship?
Corey Calliet: It takes a very special woman, and I'm single right now, so I haven't mastered it. Every time I get into something serious, I get better, and it's hard because you can't give the love that you want because we know that love is patient, love is kind, love is all of these things. I can't give that to a person all the time. So, it's hard and to be honest with you, I haven't found that woman that can understand what I got going on.

You get up and train early every day. If you were with someone, how does she fit into your mornings? 
When I'm with a woman, she comes first.

When I wake up, I have to make sure she's okay. Is there anything I can do before I get my day started? Anything I could do to make you comfortable? If she's hungry, I need to get breakfast. I need to make sure that everything is taken care of with her first because she's laying next to me, and this is my girlfriend now, this is not some random situation. This is somebody I take care of, somebody I want to be with. So I make sure she has the things that she needs and then I carry on to take care of what I need to take care of myself.
What are some important qualities that you look for in a woman? 
Maybe this is wrong, but I don't need the most independent type woman. We have a generation of women that are coming up and saying, "I don't need you for nothing." I need a woman that's caring, that's nurturing. I need a woman that loves God. She doesn't have to be super successful, just be passionate about what you do. Love what you do. Love yourself. I need a woman, not to just love me, but to like me because if you notice, a lot of people love each other, but they don't like each other. I want a woman that will love my daughter as if she has hers. I want a woman that's strong. A woman that could have my back.
I feel like a woman could bring substance into my life. She could be my foundation. She could recharge me when I need it and we recharge each other.
My thing is, I didn't have a mom. So, I don't know what that's like. So, I don't look for a mother in every woman, but I look for her to have motherly qualities, especially if we plan on having kids. I'm already successful. I probably could help make her life even better. Just support her and build her up.
Sometimes, people want the person they're going to end up with to make a certain amount or at least be financially well-off, and some people don't care. Where are you on that?
I'm not going to say I don't care, but bring something to the table. I'm going to give the analogy of, if I bring a plate, the spoon, the fork, at least just bring the glass. That's it. Just bring the drink. I got everything else.

Looking back on your most recent relationship, if you could name one thing you would have done differently, what would it be? 
I would have paid attention a little more. A lot of times we assume and do stuff that we shouldn't do because we didn't pay attention. I would have paid attention, and she would've been able to understand me because I wouldn't have got it wrong all the time. If I paid more attention, I would have known that I was going down the wrong road, and I would have seen the signs.
If I had a meeting with one of your exes, and I said tell me one thing I should know about Corey, what would she say? 
He's emotional. [laughs]. 100%. She'd say, don't let that hard rock fool you. Don't let his tone fool you. Love him, and tell him that. Let him hear it, and he will give you everything you want. Nobody has been able to do that.
What is your love language?
My first love language is words of affirmation. I want you to be able to look me in my eyes and tell me how much you love me, and how much you care about me. I want to hear it.

To be honest, sometimes the words, "I love you," "I care for you," "I need you," and "I want you" – hearing those words are better than sex.
When you are personally going through something, and your partner has to stand in the fire with you, how would you like for her to support you?
I remember I used to date someone and she'd always say, "I don't have as much as you have. I don't have this. I don't have that." And I told her, "Take away all the accolades in the world and just give me you."

What happens is when I'm going through a place, I don't need nothing that you come with, I need YOU because those things will not last forever. Physically, mentally, emotionally, and spiritually, be there. Be my person that says, "You know what? No matter what, I got you. It's okay. We're going to get through this."
Do you have a fear of abandonment?  
Yeah, to being rejected and shut out. That hurts. That was one of the issues in my past relationship before I moved to LA. She would shut me out at the drop of a dime. She would just cut me off. She lived almost 40 steps away from me, and she would just drop me. Don't answer the phone. Don't answer the door. Don't answer my texts. Don't do nothing. Just cut me out, and I believe that that takes a special type of mean person to just cut a person out completely, and then drag them back in when they feel like it. Like tell me, "I need time. I need space, but I'm letting you know I need this. I will be back, but I just need this."
Don't just cut me off. That's one of my reasons of being afraid of letting people in too close, but I can't help but to let them in 'cause that type of person I am.
So if there's a disagreement, who apologizes first? 
Me. I'm going to apologize first unless you beat me to it. I have the gift of seeing things both ways. I take a step back and understand where you are coming from and why you may not have understood my point, and I will apologize for my actions and my wrongs. I will apologize even if I'm right just to get you to open up, and tell me why you handled things like you did, and what was going on.
Is sex an important part of the relationship?
Sex is very important, but don't overthink it. Sex shouldn't become something we have to do like a time schedule. Sex is about two people wanting each other. When I get married, sex is important, but I'm not going to put a strain on it, like, do we have to have sex every single day? Hell, no.
Your daughter is getting to that age (13) where boys are going to be interested soon. How are you preparing her for that? You got to get your shotgun ready?
I talk to my daughter all of the time. I think the best situation is being able to have an open relationship with the child. Me and Cammy have real conversations like she's almost my age, which is the great thing because we have such a close bond since she was a little girl, and having that open relationship and being able to talk, I think that's how I'm able to prepare her for what's going on. I don't hide nothing from her. I'll let her know what's going on because I need to let her know now so that she can be prepared for it in the future.

When you're dating someone, what's the prerequisite for who gets to meet your daughter? 
Most of the time that she's with me, she meets who I have in my life, but Cammy has this thing where she says, "I'm not getting attached to anybody." She experienced something with my last big relationship with my ex-girlfriend. When we stopped talking, my ex cut her off too, and my girlfriend was like a stepmom to her. She told me she'll never get close to no one again.
For more of Corey, follow him on Instagram.
Featured image via Kathy Hutchins / Shutterstock.com

Originally published on March 4, 2019
It's press day for Nafessa Williams, and xoNecole is her last stop on the press run. If she's low on energy after fielding back-to-back interviews, the movie star is keeping it well under wraps. She hops on our call with good vibes and a level of enthusiasm that is the epitome of gratitude begets success.
And truth be told, she worked hard to get where she is today and prayed even harder. Just a few years ago, she was interning at the district attorney's office daydreaming about a more fulfilling life in Hollywood. No longer willing to work a job that didn't align with her purpose, Williams began auditioning for roles, not realizing that her leap of faith would cost her a steady paycheck when the company ultimately decided to let her go.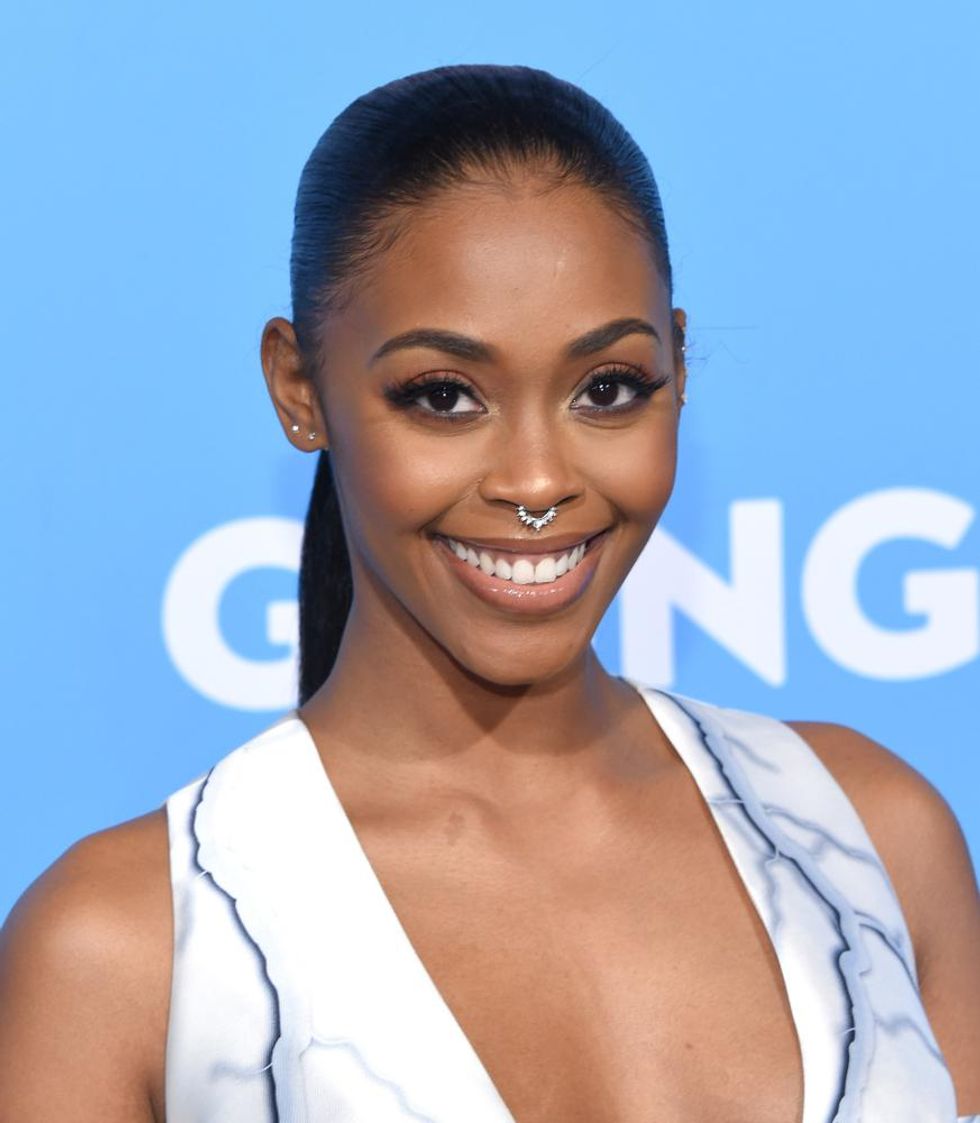 DFree / Shutterstock.com
"I felt like I became my own superhero that day when I took it upon myself to just do what I felt like I needed to do for me. That was the first day of the rest of my life."

Over the next few years, Williams built an impressive resume of television and movie roles before receiving a call that would lead her to be crowned network television's first Black lesbian superhero on CW's Black Lightning. Keeping with the trend of being a part of history-making projects, she hit the big screen this fall alongside Naomie Harris, Mike Colter, and Tyrese for her role as Missy in Black and Blue—the first film to feature a Black woman lead as a police officer.
And if you think the flashing lights and red carpet appearances have her feeling herself, she's quick to remind you that she's the same ol' Nafessa, just a Philly jawn going for gold with no intention of slowing down. We catch Williams as she continues to level up on and off the screen for some good girl talk about the importance of trading fear for faith, bringing her girl tribe with her as she elevates, and why she's choosing selfishness as a form of self-love.
xoNecole: What drew you to the script for 'Black and Blue'? 
Nafessa Williams: I like to take on projects that I feel are going to help shape the culture and have a message that serves us as a society. It was really unique with this group because it was a film about a rookie cop who witnesses a murder, but it's led by a female, which is very unique in and of its kind. We don't typically see a female leading a movie based around the police department. Also, the fact that the script mirrored what we're going through right now in our country with racial injustice and the judicial system and the injustices that are within, that really caught my attention.
xoNecole: You've previously talked about your interest in television and film, even as a child, but then you pursued a career in law. What initially made you decide not to dive into television and film?
Nafessa: You know, it felt like a hoop dream. It felt like something far-fetched. I didn't have anyone really in the industry or my family or close friends that could help guide me towards it, so I went with something a little bit more practical like most people do. I went to college and I was like, "I'm going to go be a lawyer." I interned at the DA's office and I soon learned that it was not for me. I had to do what spoke to my soul and what spoke to my heart, which was acting. No matter how difficult it was going to be, no matter if it took me 20 years to get the first "yes", I knew that it will happen eventually if I stuck with it.
xoNecole: At what point did you realize working in that law office really didn't align with your purpose and how did you overcome the fear of taking a leap?
Nafessa: I used to dread going to work every day. Some moments I would cry that I had to do it and I was like, "OK, you can't do this anymore. You gotta be happy. You got to really get aligned with your purpose." I'm really grateful for my insight because I saw it all so clear and for the faith that I have and the drive to do it all. I was sitting in the office and realized that this would be my life 30 years from now if I made the decision to stay, or I had the option to start from scratch and make a lot of sacrifices. I couldn't travel for a while. I couldn't do certain things some of my other friends were doing because I decided to follow my dreams, which can be very tough and [there] can be a lot of ups and downs. But I just made a promise to myself that if you start, you gotta really go full throttle, and I did that from the very first day.
"I was sitting in the office and realized that this would be my life 30 years from now if I made the decision to stay, or I had the option to start from scratch and make a lot of sacrifices."
xoNecole: How long did it take for you to start seeing success in television and film?
Nafessa: I was 22 going on 23 [when I got fired], and then I booked my first regular series two years later. It was on One Life to Live, and at the time you could not tell me nothing. I was able to pay my rent. I was able to work on my craft every day, and I knew that would only strengthen my skills and help me get to the next level. So, it was about two and a half years into it, which was fairly quick. That was confirmation that I was on the right track, and it gave me hope to keep going.
xoNecole: What were you doing in between that time since you weren't working a 9 to 5?
Nafessa: I had saved money so I was living off of savings and I was auditioning like crazy. I was in acting class, but I wasn't technically working on the books yet. I was going on auditions and I would tell everybody I'm a working actress even though I hadn't booked anything, but I was just really trying to manifest that and do everything in my power to make it become real.
xoNecole: Did you ever experience Imposter Syndrome?
Nafessa: Oh, of course. Especially when you get to LA because I had started to make a name for myself in New York with being on One Life to Live and just hanging out in the acting community. But when you go to LA it's like starting all over, so it can make you feel really small. I told myself you will hear no and to just get comfortable with that rejection because eventually, you're going to get a "yes" that's going to change your life.
xoNecole: Did you get that kind of character from your family or is that just something you developed as you went along in this business?
Nafessa: I think that's something that's within you, but there are influences that can inspire that. Also, growing up in Philly and wanting to get out of the environment and wanting to just be different from what I saw. Again, it goes back to Black and Blue where you could become a product of your environment or you could want something completely different, and whatever your choice is, your friends are going to reflect that and your environment is going to reflect it. So I think it's about the environment that you choose. We don't have a choice at first, but after a while, you can make a choice to decide what it is that you want.
"I think it's about the environment that you choose. We don't have a choice at first, but after a while, you can make a choice to decide what it is that you want."
xoNecole: So, I know set life is crazy, and it can obviously take a lot of toll on your body. Are there certain things you do to maintain your self-care and wellness? Because you look good, girl!
Nafessa: Oh my gosh, the hardest thing is to stay away from all the badness and crappy food. I work out a good bit. Meditation is really, really important to me. My spirituality is very important to me. I think that's what keeps me centered and grounded throughout all the chaos and the strict schedules. What else? Oh, massages. I treat myself very often, especially with all the fighting that I have to do on set. It's very important to me. I love Deepak Chopra; I listen to him a lot. I've learned how to meditate through Deepak. So, whatever podcast he's on, I have those on my phone.
xoNecole: Being young and in Hollywood, what has your dating experience been like?
Nafessa: I can't say that I haven't dated here and there, but the last five years, my main focus has been my career and I've been really gung-ho on that. It's literally my boyfriend. I feel like that's been a priority to me; it's been about laying my foundation. I'm still a baby in this industry and I'm just starting out. The blessings of Black Lightning and Black and Blue, I take very seriously. So it's really all about work for me right now.
xoNecole: Do you feel like you're sacrificing your love life in lieu of your career?
Nafessa: You know, I realized that I chose a different path. If I had stayed home in Philly, my life may look a little different. But I'm still young; I feel like I have time. And again, I'm just getting started. I believe in coming into a relationship whole and knowing who you are and setting the foundation of your career so that you don't need anything from anybody else. And I believe you attract who and what you are. So to me, it's really about laying the foundation with myself and my career, and self-healing and self-care is high on my list. It's really all about me right now though, I'm so selfish [laughs].
"I believe you attract who and what you are. To me, it's really about laying the foundation with myself and my career, and self-healing and self-care is high on my list. It's really all about me right now though, I'm so selfish."
xoNecole: Oh, tell me more about this selfishness!
Nafessa: I was in long-term relationships really young, so I felt going into my 30s, it was really important to find out who I am as an individual and by myself and to learn what it is I really want, and then link up with somebody else.
xoNecole: Have you figured out what that is yet or are you still in the process of figuring it out? 
Nafessa: I'm definitely still on a journey of that. And I think soon, starting a family is ideal for me. But again, I'm still in the thick of having and enjoying where I am in my career. You don't want to break that. I guess I'm just riding this wave right now.
xoNecole: As you should be. So when the cameras are turned off, who would you say you are at your core?
Nafessa: Just a real simple, down to earth, funny girl. Somebody who you feel like is your cousin. Somebody who likes to have fun. Somebody likes to dance and just always tries to remain true to who I am and at my core who I was when I left Philly. I posted me dancing on my InstaStory and somebody who I went to college with was like, "Damn, you really are the same person. You still like to have fun; you didn't change." To me, that's a compliment because you always want to remember who you are and remember what got you here.
xoNecole: So what's next for you?
Nafessa: I really want to do comedy. I love to have fun. I love to make people laugh, and I think it's going to be interesting for people to see a different side of me. A lot of what I've done so far has been a lot of drama. Even the superhero show, it's still very dramatic and I'm really excited to dive into the comedy realm. My ultimate comedy job would be SNL.
Keep up with Nafessa on Instagram by following her at @NafessaWilliams on Instagram!
Featured image by DFree / Shutterstock.com

Originally published November 11, 2019.
This music business is a fickle industry. It chews up and spits out even the best of them, and sifts out those who attempt to get into it for glitz and glamour, celebrity shoulder-rubbing and clout-inducing social posts.
But for those who truly love music, working with artists and the brands that back them, it offers an opportunity to get paid for your passion. The late nights and early mornings eventually give way to real relationships and worldwide travel with the artists you love and the power players behind them, and what seems like a dream life often becomes a reality that conjures the phrase "find a job you enjoy doing, and you will never have to work a day in your life."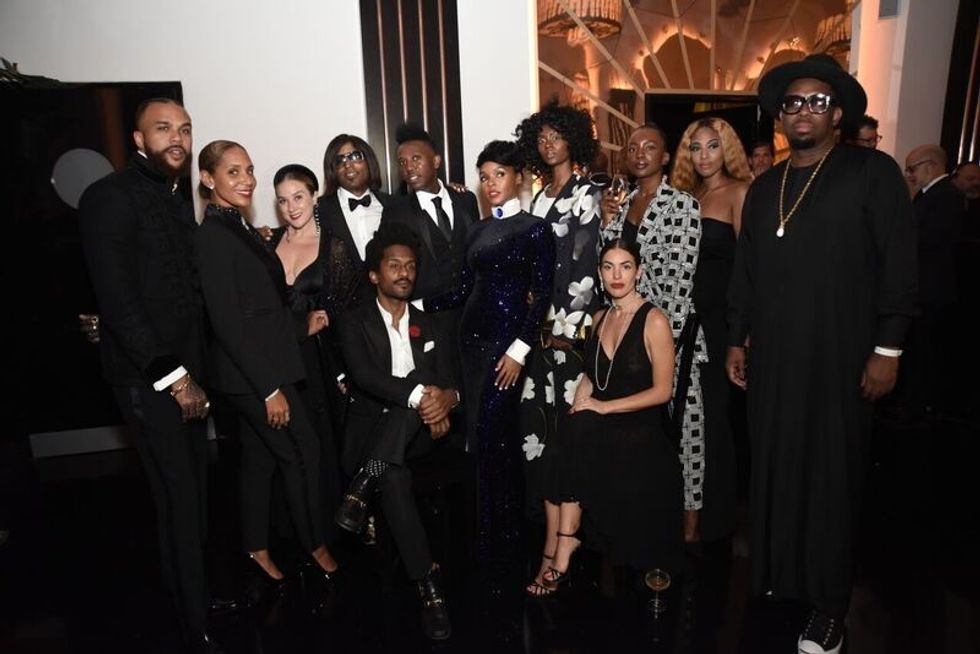 Courtesy of Joy Young
I first met Joy Young on a warm summer evening after a Women in Music panel in which she dropped major gems for up-and-coming artists and creatives climbing their way up the music industry ladder. As a manager at Wondaland Management (home of Janelle Monae and Jidenna) and CEO of Playtime Talent Group where she manages the day-to-day of R&B group Hamilton Park, Young boasts an impressive resume that's led her to speak on music panels both local and international, attend coveted entertainment events, and garner the respect that allows her to walk into rooms that others aspire to be in. Starting as a Marketing Assistant for Trill Entertainment during her college years has evolved into over a decade-long career working for companies like Atlantic Records, BET Networks, Roc Nation and many more.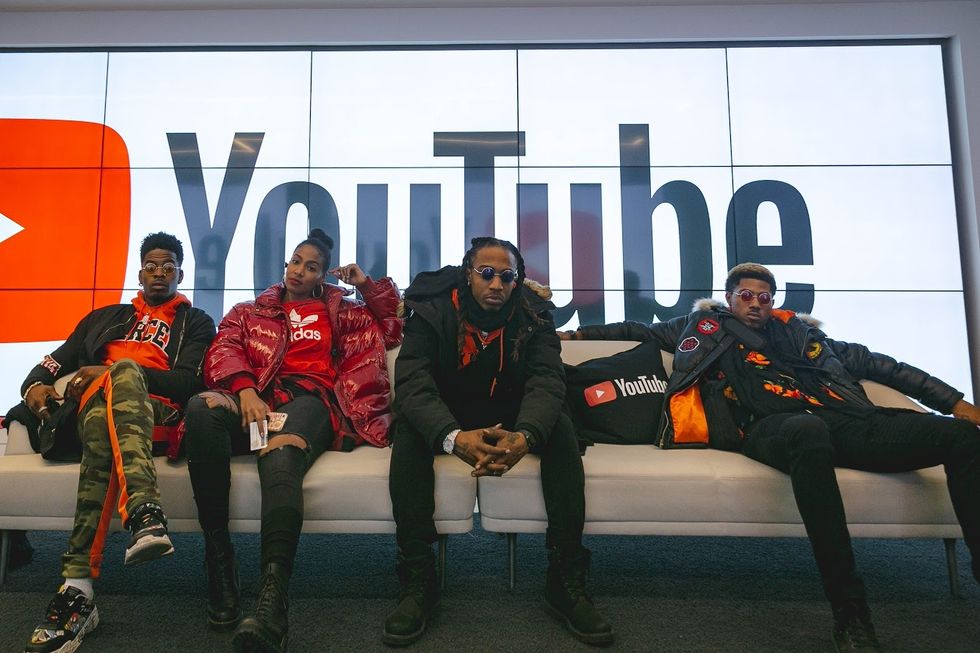 Joy Young pictured with her artists, the men of Hamilton Park.Courtesy of Joy Young
But like all things worth having, her career didn't come without its share of setbacks that would ultimately set her up for success. There were many years plagued with frustration, financial instability, and fighting for what she believed in, even if it meant letting go of jobs and people that no longer served her. But in those very moments, God would remind her that the little girl from Baton Rouge, Louisiana who would rush home from band practice to watch AJ and Free on BET's 106 & Park could dream big and manifest the life that she desired.

In this interview, xoNecole chats with the music maven on the different phases of her life and the lessons she's learned from them— from getting your first clients and finding mentors, to knowing your worth and winning in a male-dominated industry without losing your soul.
Get your notebooks out; school is in session.
Lesson 1: Start With Your Circle for Your First Clients 
" Issa Rae said it best when she mentioned to network horizontally versus vertically. All of my initial clients have been very close friends of mine. The first client that I had was a friend of mine, a pastor actually who was starting a ministry. He wanted to branch out to Atlanta and do a conference here. And I was like, 'Well, why don't I help you?' So he hired me to coordinate his first conference in Atlanta.
"My second client was a very good friend of mine, DJ Poizon Ivy. When she started, she had a college show and after she graduated she started opening for different people like Wiz Khalifa. She's now the first female DJ for the Dallas Mavericks, she's gotten an Emmy, and she's just been featured on the Forbes list this year.
"So [the advice] I would give people is to not strive to shoot for the stars, but look around you and see who has talent and who has potential and offer your services."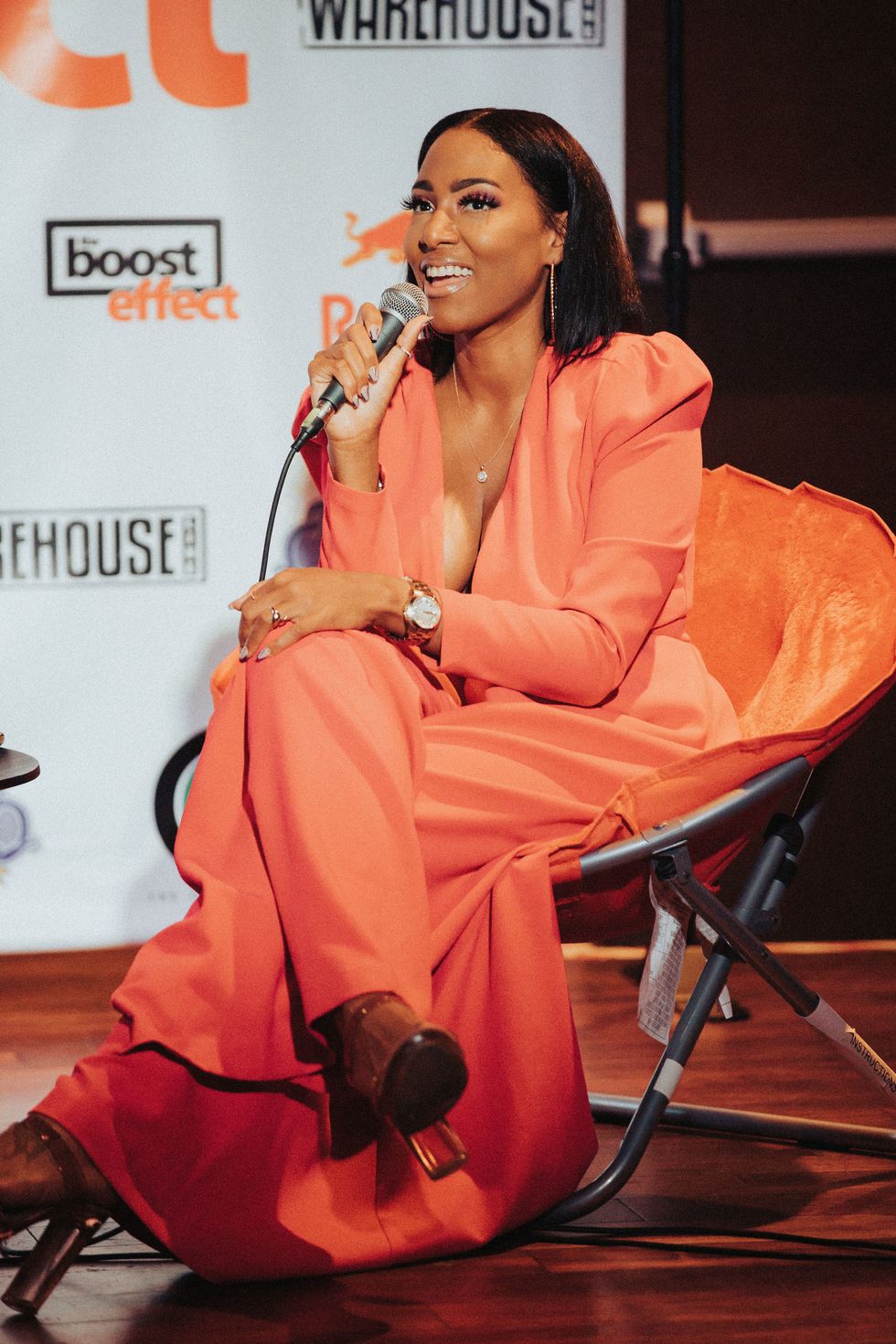 Courtesy of Joy Young
"[The advice] I would give people is to not strive to shoot for the stars, but look around you and see who has talent and who has potential and offer your services."
Lesson 2: Protect Your Reputation
"There was a situation where the management of talent that I was working with tried to hit on me, and because I did not accept what he was offering, he tried to throw me under the bus. When I would try to make moves or make money or connect with different executives at the label that I was working for, he literally would put in phone calls like, 'I don't want her to work on this project,' and I'm just like, 'Why did you do this?' But at the same time, I never let it stop me. I had people fighting for me inside the building. It affected me in a sense where I had to fight harder or prove myself harder. Even certain relationships I never wanted to be public because I didn't want to be looked at a certain way. I made sure that my reputation was protected. I made sure I didn't wear certain clothes. I made sure that I wasn't presenting myself a certain way on the internet. I just made sure my shit was straight so nobody could have anything to say about me."
Lesson 3: Know Your Worth 
"Women need to understand their worth and their value; they don't need to take disrespect. I once had an assignment where I had to pull receipts from years prior to my being [at the company], so I found as many receipts as I could, printed them out, and organized them in a cute little folder. When I handed [my GM] what I put together, I guess it wasn't in the way that she wanted it. She literally took it and she threw it across the room. So I looked at her, I looked at that folder, I picked up my shit and I walked out. After that, a few weeks go by and I get a phone call from that same person offering me a paid job and I turned it down. I was like, 'No because I see how you guys treat the people who work for you.' So when I declined the first offer, she came back to me with a second offer with a different position as a marketing assistant with more pay, and then I accepted it. The second time around, I was way more respected and I was way more valued."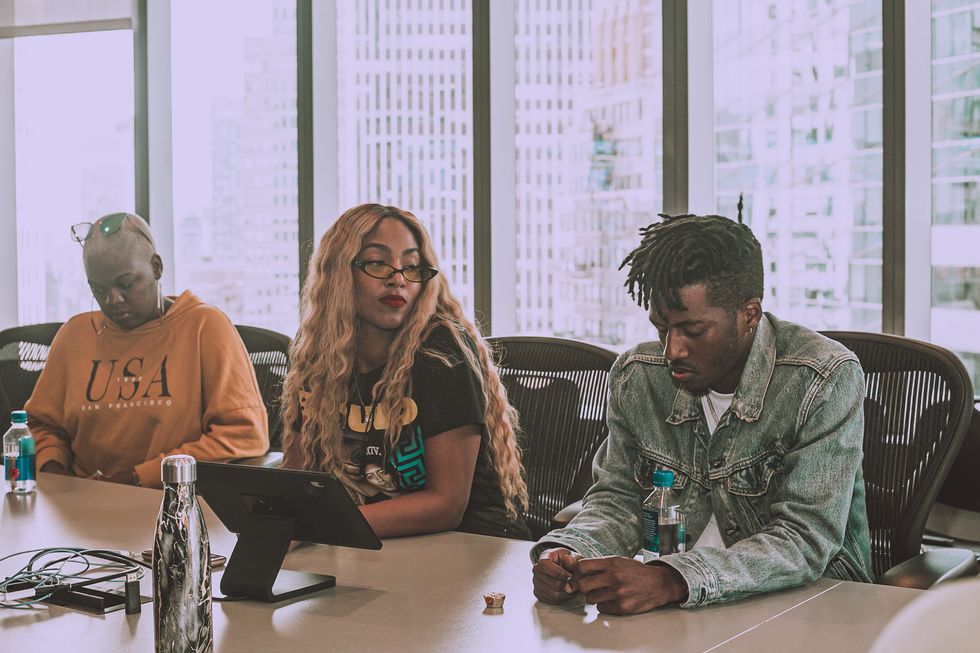 Courtesy of Joy Young
"Women need to understand their worth and their value; they don't need to take disrespect."
Lesson 4: If It's Not Serving You, Move On to Something Better
"Don't look at a client or any situation that you're in as it's the best that it can get and that you need to just take whatever because that's not the case. I've been in a situation where I dealt with a lot of shit for longer than I should have, thinking that it was the best that I could get at that time. At the end of the day, no matter who you're working with or who you're working for, what's for you is for you. So if you feel like a situation doesn't serve you, then you can leave because no matter what you're still going to get what you deserve."
Lesson 5: Invest In Yourself & In Others
"You need to invest in yourself. If you're getting a $2,000 retainer, take a percentage of that and invest it back in your company. Don't be scared to invest your money thinking you're not going to see your return because you will. That's the only way you're going to grow as a business owner and as a company, you have to invest in yourself and into your dream because if you don't do it, no one else will. Also, be open to giving. From a spiritual perspective, the whole purpose of God blessing you is to bless other people. So whether it's giving $5 to somebody on the street, that's the seed that you're sowing to come back to you. If you see a friend selling whatever product they're selling, support their business, support their dream because that's also a seed that's going to come back to you."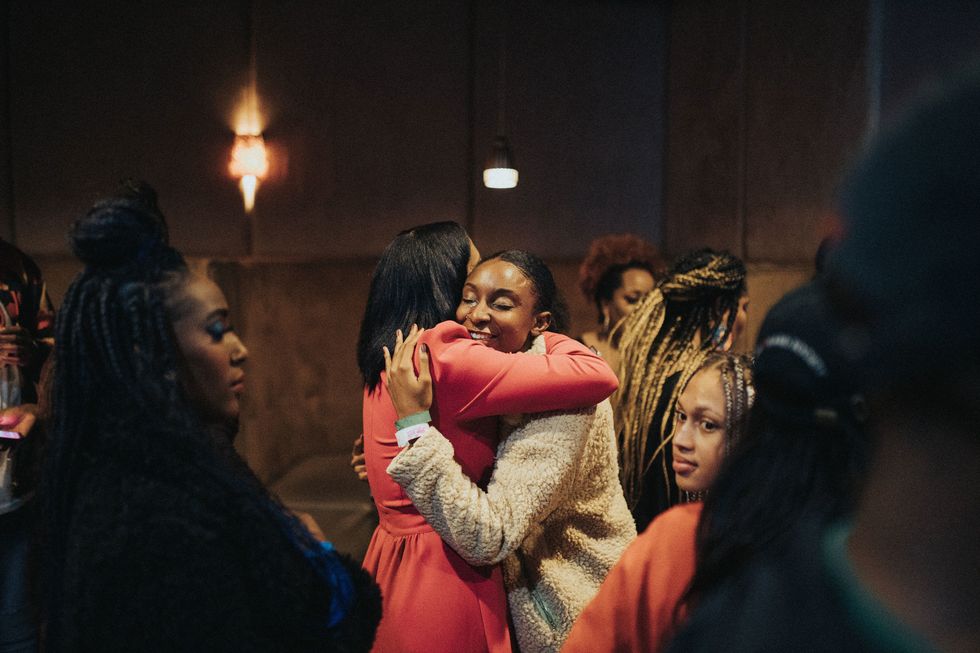 Courtesy of Joy Young
"Be open to giving. From a spiritual perspective, the whole purpose of God blessing you is to bless other people. So whether it's giving $5 to somebody on the street, that's the seed that you're sowing to come back to you. If you see a friend selling whatever product they're selling, support their business, support their dream because that's also a seed that's going to come back to you."
Lesson 6: Build Relationships by Caring About People
"The key to cultivating relationships is treating someone like they're human, treat them like they are your friends. People have to remember that you have feelings and you're a person, you're going through shit. So consider that when you approach people, consider that when you're engaging in conversation with people. Instead of the first thing that comes out of your mouth is asking for something, ask me how my day is going to get a gauge on if I can even have this conversation with you right now. Text me like, 'Hey, I hope your day is going well,' or just make me feel that you actually think about me. People are there with their hands out and don't really care about what you have going on. So my biggest thing on building relationships is you have to be considerate about that and cultivate relationships. Try to get to know me a little bit before you just jump in with the ask."
Lesson 7: Offer Your Help Before Asking for Handouts
"Be open to having different kinds of mentorships, whether it's through literature, one-off conversations or even organically having a day-to-day mentorship. There are some mentors that I consider myself having that I've never met, but I read their books. There are also mentors who I may have had one or two exchanges with in the past or professionally who I just followed their careers and take notes based on how they operate, how they move, things they've accomplished or even nuggets that I have just been having short conversations with them. Then there are the mentors who I actually get to have access to on a consistent basis. I started off asking them how can I help them? I think that's the key. If you really want to be able to get access to someone, offer your help because we all need something, especially people at this level. We need help with a lot of shit, and if you can fill the void and serve then that's the best way to get access to somebody."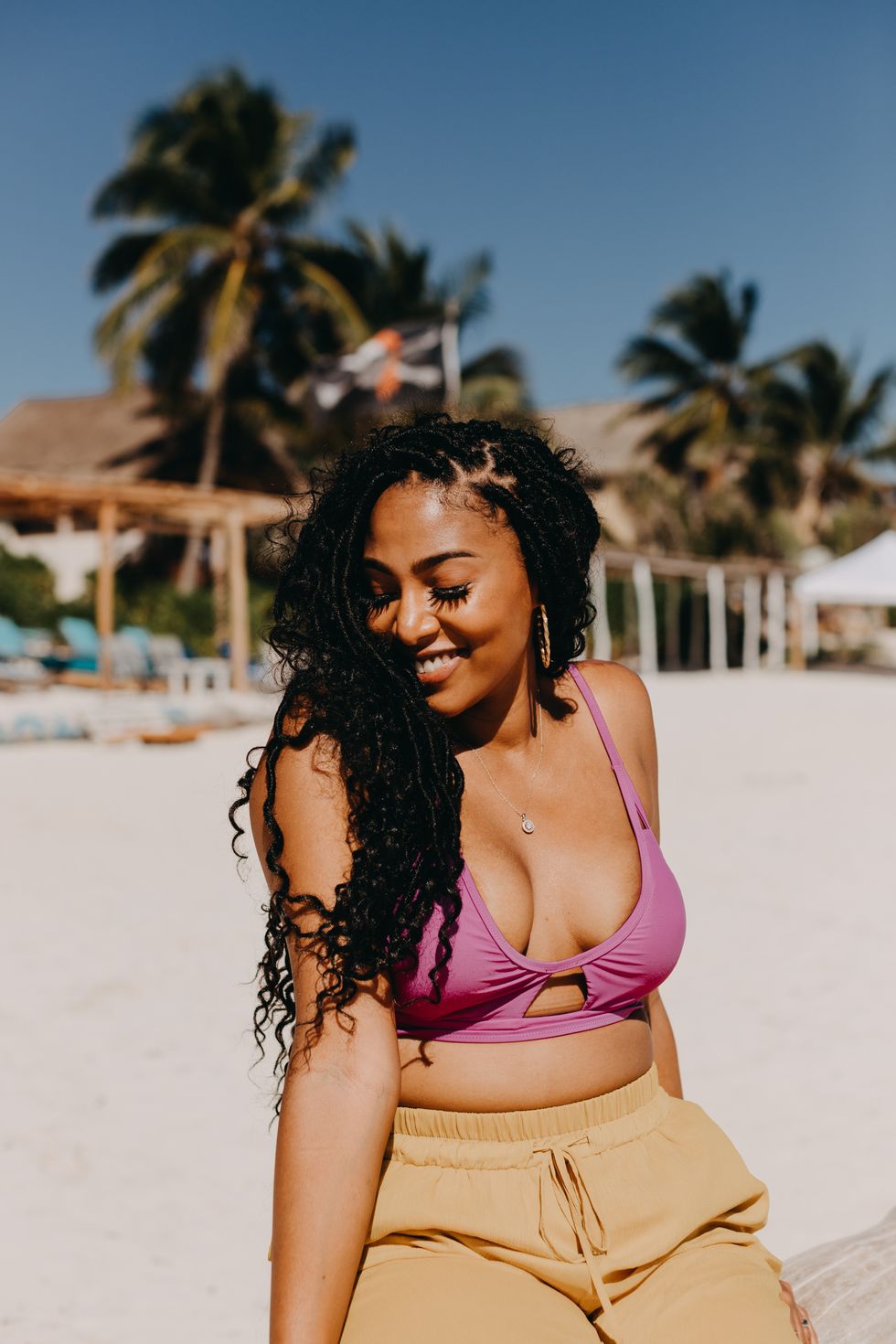 Courtesy of Joy Young
"Being a manager is a selfless job. You have to be a mother figure, sister, aunt, a counselor, a therapist, a cook, and a personal assistant. And there are different levels too because each client is different."
Lesson 8: Create Boundaries for Balance & Peace of Mind
"Being a manager is a selfless job. You have to be a mother figure, sister, aunt, a counselor, a therapist, a cook, and a personal assistant. And there are different levels too because each client is different. Some clients might not need all that, but then there are some clients who are a little bit more sensitive and need a little more attention. If you're not super intentional about your self-care regimen, then sometimes you get lost in that. You have to set boundaries like I can't be available for phone calls after this certain time if it's not an emergency, or I need Saturday and Sunday to myself. Or hey, I'm going on vacation and I'm cutting my phone off. Do not call me. Make sure you provide them what they need before you leave, but you have to set those boundaries to be able to have that balance."
For more of Joy, follow her on Instagram.
Featured image courtesy of Joy Young
Originally published on January 20, 2020
"As soon as I get back to Chicago, I'm definitely getting some Lou Malnati's Pizza or something," Jasmine Jordan confesses.
Currently quarantining from her home in Charlotte, North Carolina, the Chi-town native speaks of better days when the coronavirus no longer confines us to our couches. She's not complaining though. The newly-engaged mom is appreciating the trips that were traded in for some much-needed family time. "I could go for a deep-dish pizza right now."
OK, so maybe she craves just a little bit of normalcy.
But normal looks a little different for the daughter of a basketball legend. And though her life may seem predestined, Jordan is determined to build a legacy that lives beyond that of her father's accomplishments. After all, the apple doesn't fall far from the tree. She's a star in her own right.
DADDY'S LITTLE GIRL IS MORE THAN A PRINCESS.
Born and raised in the Windy City, she lived a life of both sunny skies and winter storms. Growing up in the lap of luxury afforded her a privileged life that she certainly doesn't deny, but her parents made sure that she was aware of life on the other side. Grandma's house on Wallace Street gave her a taste of the Southside talked about in headlines.
"[My mom] was like it's not about a scare tactic or anything like that, you just need to know how the world is around you," says Jordan, reminiscing on days of family visits where pops would play ball in the backyard with the neighborhood kids. "It felt like home. No matter what we did behind those gates, we knew we're still a part of this community. They made sure that we knew how life was around us so we never felt like we were in a bubble or sheltered, and never felt like we couldn't connect and relate to other people that look like us because of our economic backgrounds."
At Loyola Academy, a predominately white private school where wealth wasn't uncommon, Jordan was welcomed as the heiress to the throne. But she wanted to be known for something more than her pedigree. "My father is my father. He has his fame and he's built his empire and brand, but at the end of the day those are his accomplishments," she says. "Do I reap the benefits of it being his daughter? Absolutely. But I have no right to claim those things, and I never do because those are his accomplishments. I'm his daughter and I'm still going to make a name and do whatever I need to do so people can see me for me."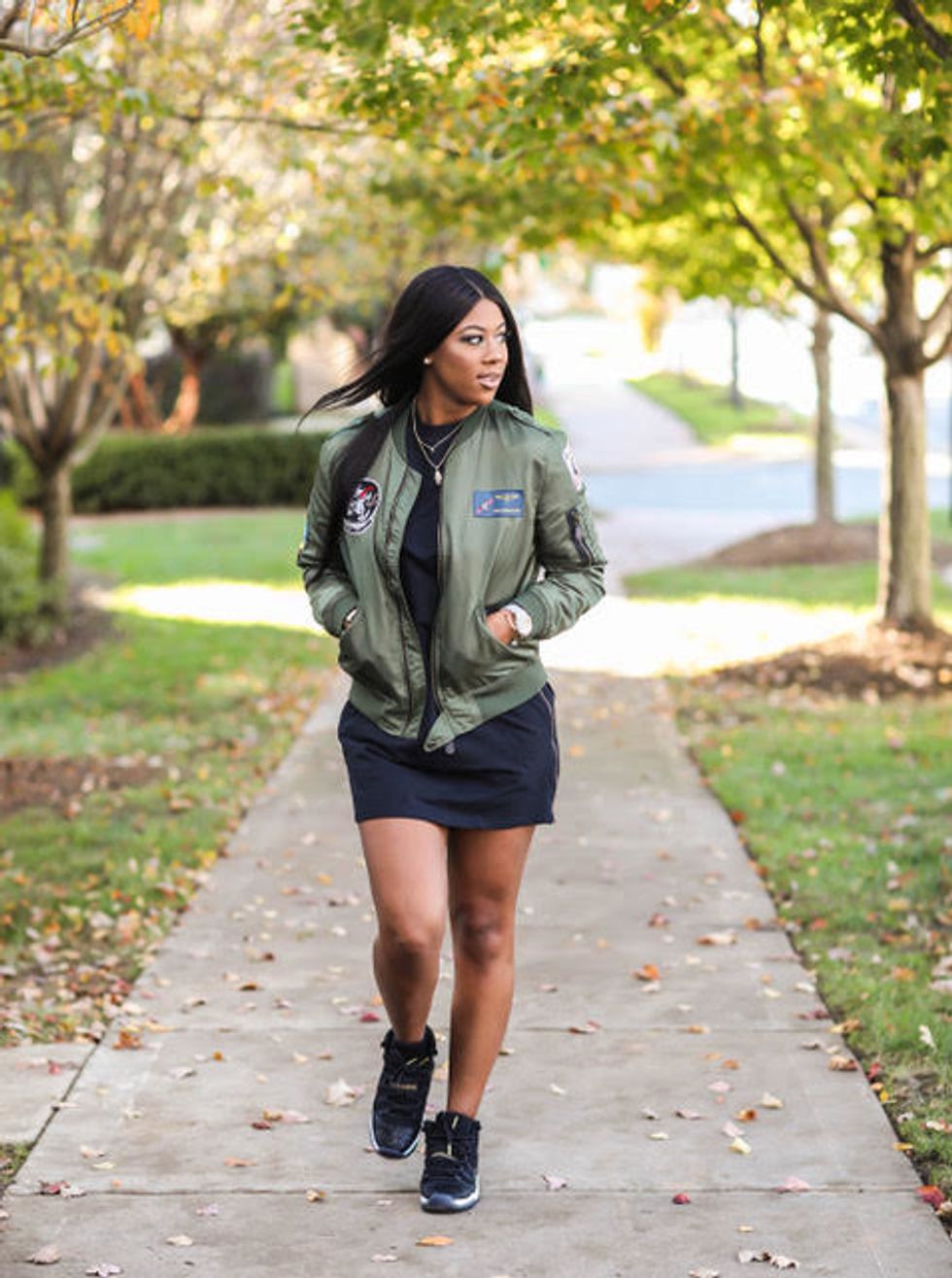 Courtesy of Jasmine Jordan
"My father is my father. He has his fame and he's built his empire and brand, but at the end of the day those are his accomplishments. Do I reap the benefits of it being his daughter? Absolutely. But I have no right to claim those things, and I never do because those are his accomplishments. I'm his daughter and I'm still going to make a name and do whatever I need to do so people can see me for me."

When she transitioned to public school during her junior year, however, titles and worldly treasures no longer held rank amongst her new group of friends. "They're not checking for my bank account. They're not checking for my last name. They're trying to see, all right, can you hang with us? You know, do you know how we go off? Do you know our background? And my thing is, I may not have grown up on the streets or anything like that, but I'm fully aware of it. I'm a well-rounded individual and that's critical."
Living in both worlds gave her the confidence to own her privilege and simultaneously embrace her people. While life at home was much different than the one at school, moving amongst her peers where she wasn't defined by who her parents were allowed her to become her own woman.
"We knew we were fortunate. We are blessed, but we aren't different. Once you remove those materials factors away then you realize that I'm just Jasmine. I'm just me."
SHE'S DADDY'S LITTLE GIRL BUT ALSO A GROWN A** WOMAN.
And as an executive of the Jordan Brand, the 27-year-old boss chick is helping to run an empire, working as the liaison between the Jordan Brand and its respective athletes. From ensuring the players get their footwear and apparel to ball in style to coordinating efforts for photoshoots and media appearances, Jordan often takes on the role of a mama bear protecting her young, many of which aren't too far off in age.
"Being their representative and making sure that they are representing the brand as well, I'm going to be super protective about them and make sure they're comfortable and make sure that they're being heard in different settings," she says. "I just want to make sure that my athletes and whoever I'm working with or having meetings with are comfortable in that setting as we get the job done, and whatever that entails. [I want to] make sure we execute at the highest level."
As a Black woman in a male-dominated industry, Jordan is fighting for her own voice just as much as those of her athletes.
And as the oldest, female sports representative for the Jordan Brand, all eyes are on her, and expectations are set high. Not to mention the fact that her father's a legend. That's pressure on another level of pressure. "I'm getting hit left and right with all these expectations, but I don't run from them. I embrace it because at the end of the day, if I can pave the way for more Black women to get into this industry, then I'm doing my job."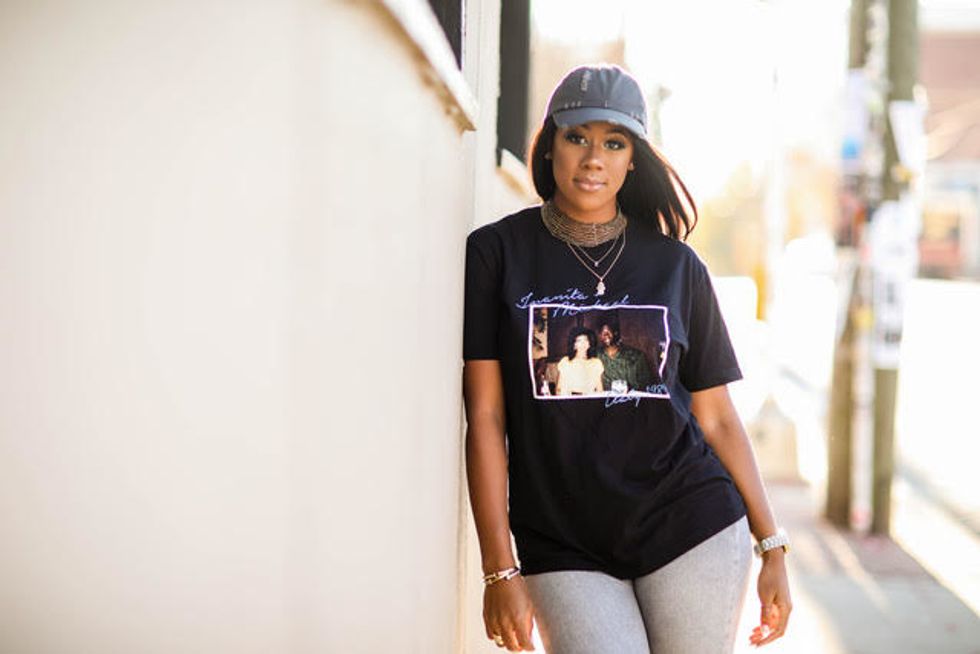 Courtesy of Jasmine Jordan
"I'm getting hit left and right with all these expectations, but I don't run from them. I embrace it because at the end of the day, if I can pave the way for more Black women to get into this industry, then I'm doing my job."

A 2014 graduate of Syracuse University with a degree in sports marketing, Jordan hit the ground running just three days after graduation working as the coordinator of Basketball Operations for the Charlotte Hornets, where she stayed for four seasons before moving on to the Jordan Brand. She credits the job for giving her the business etiquette required in her role today.
"A lot of my communications outside of the athletes were with the teams or colleges, so it was a lot of emails," she recounts. "It really took me out of my element. I'm a people person, I like to talk on the phone or see you and engage with you in person and knowing that I couldn't connect with the colleges or the reps from other NBA teams on a consistent basis outside of email was definitely hard. So, I definitely loved the fact that I had to really sit down at a computer for eight or nine hours out of the day and constantly engage that way and make sure that they still felt my personality or my words through the emails I was sending."
Despite what naysayers may think, her transition to the Jordan Brand, initially as a Field Representative, was no easy feat. "I'm not checking for people who think I have a handout or assume because it's my father's brand it should be easy for me. I had to go through the same process as everybody else. I had to do interviews, I had to submit resumes, so on and so forth. My work ethic is definitely going to speak for itself."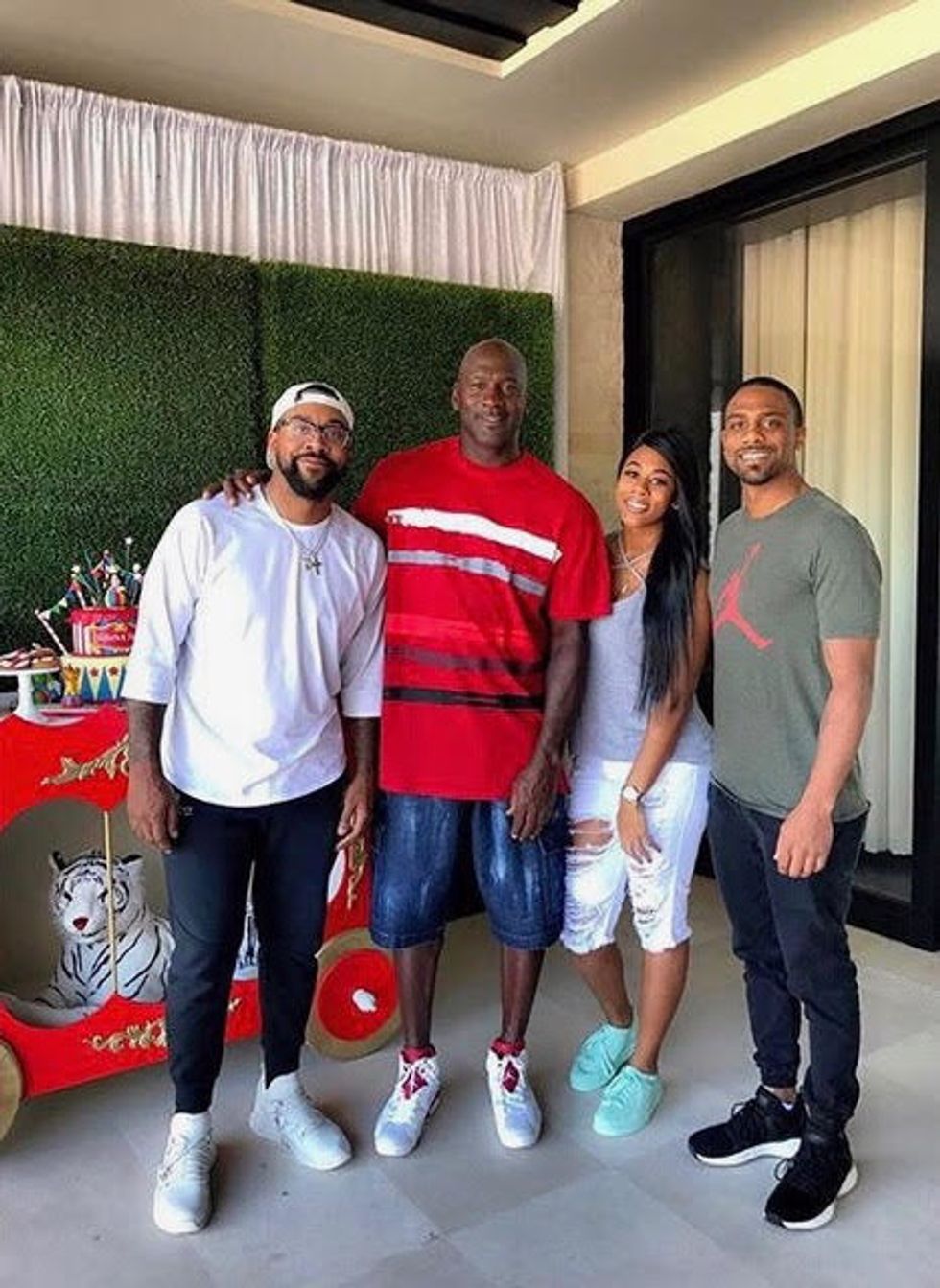 Courtesy of Jasmine Jordan
"I'm not checking for people who think I have a handout or assume because it's my father's brand it should be easy for me. I had to go through the same process as everybody else. I had to do interviews, I had to submit resumes, so on and so forth. My work ethic is definitely going to speak for itself."
On her first day, she felt like the new girl on campus. Dividing her time between Nike's headquarters in Portland while maintaining relations with the team in Charlotte presented its own set of challenges, and she spent the first few months in her role trying to prove herself, only to learn that there is no "I" in "team". "I didn't reach out and ask for help when doing projects," says Jordan. "At first I was like, I just want to hold everything close to me and master it. I'm going to figure it out and then, boom, I'll present."

That mindset failed her when Kemba Walker, who was known for sporting Air Jordan 32s, expressed that the shoe design was uncomfortable when having to cut and drive to the basket. "Instead of asking the team for the proper language to explain what Kemba was uncomfortable with, I just kept saying, 'No, it's the Achilles; it's hurting him.' So, we had to create like three or four different shoes and none of them were accurate or correct because I wasn't speaking in their language."
Pride often comes before a fall, and her own mistakes led to an understanding that asking questions and learning the designer's lingo would help better translate her requests and reduce inefficiency. "I really had to humble myself and understand it's not that anyone's taking anything from me, it's the fact that we're a family. We're a small organization, Jordan Brand. I've got to look at them as family and not just colleagues, and understand that if one person's down, then we're all down."
SHE'S BUILDING HER OWN LEGACY.
Embracing her new "family" would help her go on to launch the Jordan Heiress collection, complementing the growing line of women-focused sneakers. A sneakerhead and fashion lover herself (her personal collection is well over 500 pairs), Jordan regards the experience as a passion project, echoing the advice of her mentor Jeanie Buss, President of the Los Angeles Lakers, to "make sure you love it and it aligns with your heart and it feels right."
"I wanted it to feel like that rich design and have that texture really feel like it could be a designer shoe like the Louis Vuitton, but it's still true to Jordan and true to our retro story," she says.
It's that love and commitment that has allowed Jordan and the Jordan Brand team to continue to catapult the brand which, according to Forbes, just reached its first billion-dollar quarter after an impressive $3.1 billion in wholesale revenue over the previous fiscal year. "If I can have my work ethic, my accomplishments, and my success on projects outshine the fact that I'm my father's child, then my job is done."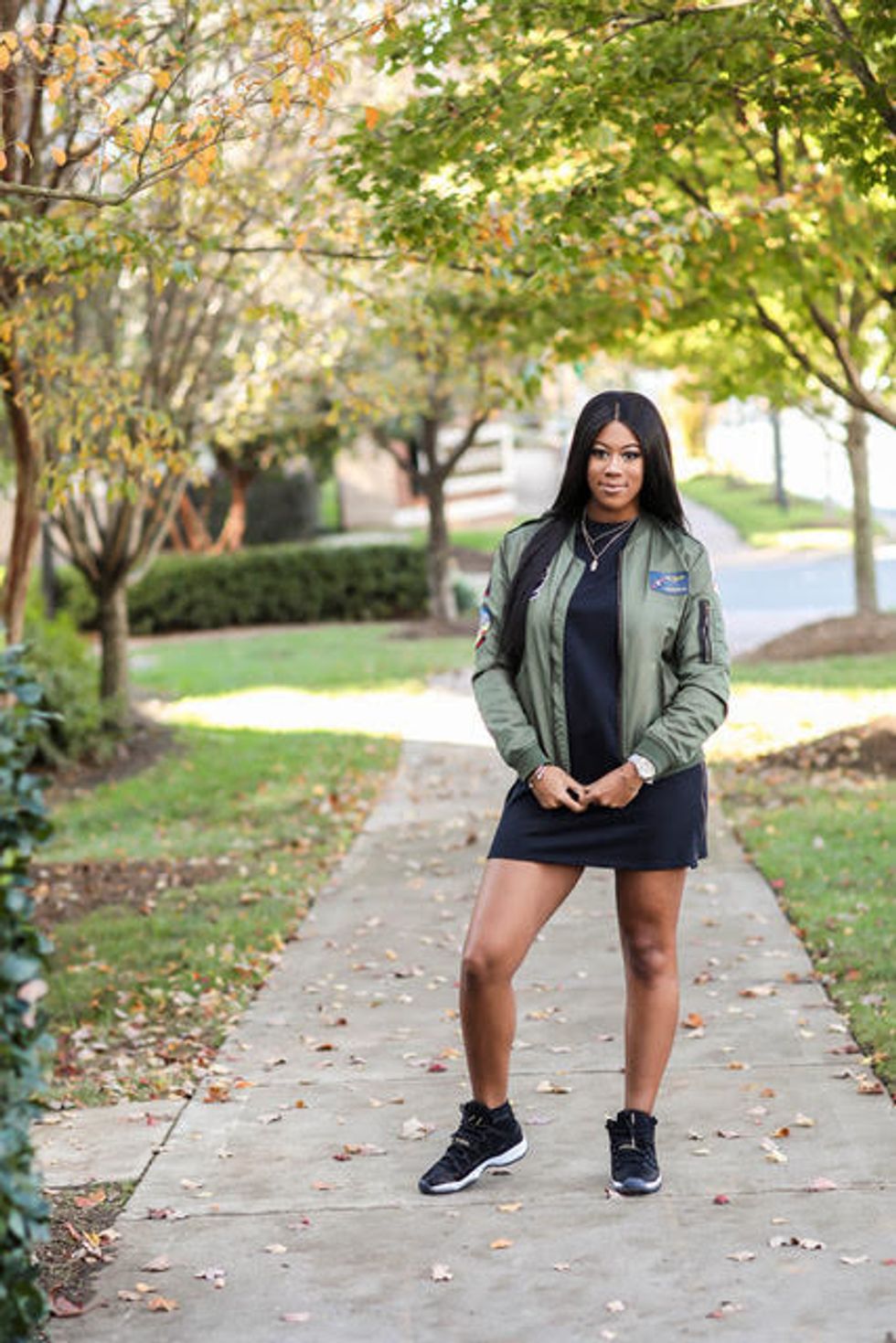 Courtesy of Jasmine Jordan
"If I can have my work ethic, my accomplishments, and my success on projects outshine the fact that I'm my father's child, then my job is done."
Jasmine Jordan's building her own. She's a hustler and a go-getter, just like Mike. But she's also a new mother and a soon-to-be wife to fiancé and NBA player Rakeem Christmas. Both roles she embraces with open arms while carrying the workload of a corporate executive on her shoulders. But no worries, she was built for the league of extraordinary women. Between phone calls and emails from work and the never-ending demands of life at home, she slips in five minutes of prayer and meditation here, a currently self-administered manicure there—moments of stillness that are much welcomed in her busy schedule. Motherhood has taught her to practice patience and peace, lessons that extend from the baby room to the boardroom.
"He's new to this world and he's depending on me—depending on his dad and really just depending on us to figure out how to function and understand what's happening around him, and that takes a lot of patience and being calm and laughing," she admits. "I think those are definitely the things that have really come because of becoming a mother. But I appreciate it because now I'm way more patient and I laugh at almost anything and everything just to shake off whatever I might actually be feeling."
It doesn't escape Jordan that she's also raising a Black son in a world that judges him not by his bank account but by the color of his skin. Success, it turns out, isn't a shield from white supremacists or racism.
"He's only blind because he doesn't even realize what's happening, which is a blessing in disguise," says Jordan. "But it is going to be the conversations that I remember my mom having with my brothers (Jeffrey and Marcus) and just saying like, hey, when you go out in public, make sure you're like 'yes or no sir,' 'yes ma'am no ma'am.' You know, manners and be polite. Don't sag your jeans, things that aren't typical conversations for white people or anybody that's not Black. It's about making sure we've raised him just to be a respectful young man and a respectful individual, but we're going to have to have those additional conversations so he can understand what life is like as a Black man."
For now, the little prince can rest easy knowing that he's well-loved and taken care of, though Jordan is clear that she won't just be handing over the keys to the empire. Like her, he'll have to learn about business beyond that of her family to make sure the bag stays secure. "I'm now working with financial advisors and wealth management programs to truly understand what it is to be a beneficiary of wealth," she says. "It's not just about getting money and being able to spend it, you want to make sure that money outgrows and outlives you."
For five Sundays in a row, millions of viewers tuned in to watch The Last Dance, which documented the life and the legacy of her father. But Jasmine Jordan's own story is just getting started, and she's already proving that she's just as worthy of the spotlight.
For more of Jasmine, follow her on Instagram.
Featured image courtesy of Jasmine Jordan.