Who doesn't love a good hack, especially when it's one that actually makes your life a hell of a lot easier? We've all seen them in practice, popularly on TikTok or passed down to you by a smart and savvy auntie or friend. They're ways we can work smart, not hard, decreasing the stress in our lives. They can also save us money and ensure that we're maximizing our earnings to build the quality of life we want.

Here are a few lifestyle hacks that can help you go from broke to financially free. Try these simple tweaks and see how they'll benefit your pockets: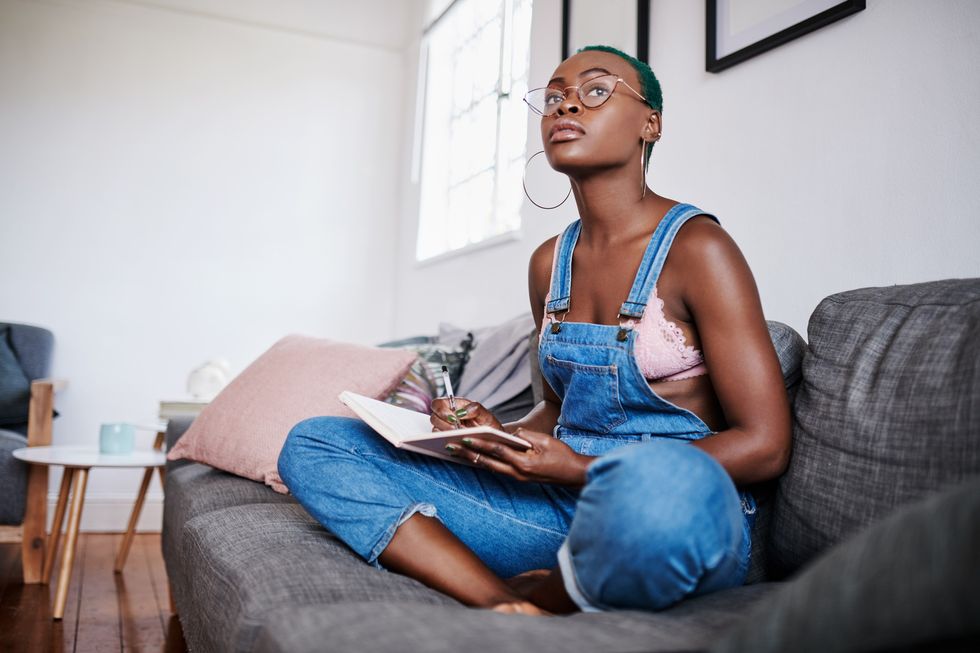 Laylabird/Getty Images
​1. Practice mindfulness, especially when it comes to food, fashion, and other product consumption. 
Mindfulness is defined as "the practice of becoming more fully aware of the present moment—non-judgmentally and completely—rather than dwelling in the past or projecting into the future." Research has found that Black millennials and Gen Zers are more likely to give in to impulse buying, especially via social, which is something that can definitely affect your bottom line in all the wrong ways.
Also, with impulse buying, you're typically getting something you'd never planned to purchase in the first place, feeding a need for that instant gratification of getting something that, while it might be the best bargain, pair of jeans, or "limited," isn't going to push you toward your financial goals.
The same goes for food. Sometimes we spend recklessly, buying produce we know we aren't going to eat before it goes bad, or we impulsively eat at a fast-food spot knowing good and well we probably could've cooked a much better meal home (with the aforementioned produce).
With mindfulness, you're able to pause, breathe, and truly meditate on your choice in the moment. Take note of how you feel, why you're doing what you're doing, or why you're having the urge to spend. That way, you might be less likely to continue wasteful consumption habits and save money in the long run.
2. Carry and use cash and stick to a daily, weekly or monthly limit. 
Many of us shop with cards and it's so easy to just tap, buy, and go. If you keep a certain amount of cash on hand–and stick to that limit for when you're out and about— you're less likely to overspend. (And y'all know I love a good study to back up what I write, so read that here.)
Now, I know this might not work with larger purchases or things you'd like to buy with your credit card (for those points and that boost to the credit score, sis!) but if you're simply going out to run an errand, are purchasing groceries or getting your nails done, why not try using cash so that you'll literally have to inconvenience yourself in order to overspend? Some small businesses even offer discounts for using cash instead of your debit or credit card, so be sure to ask.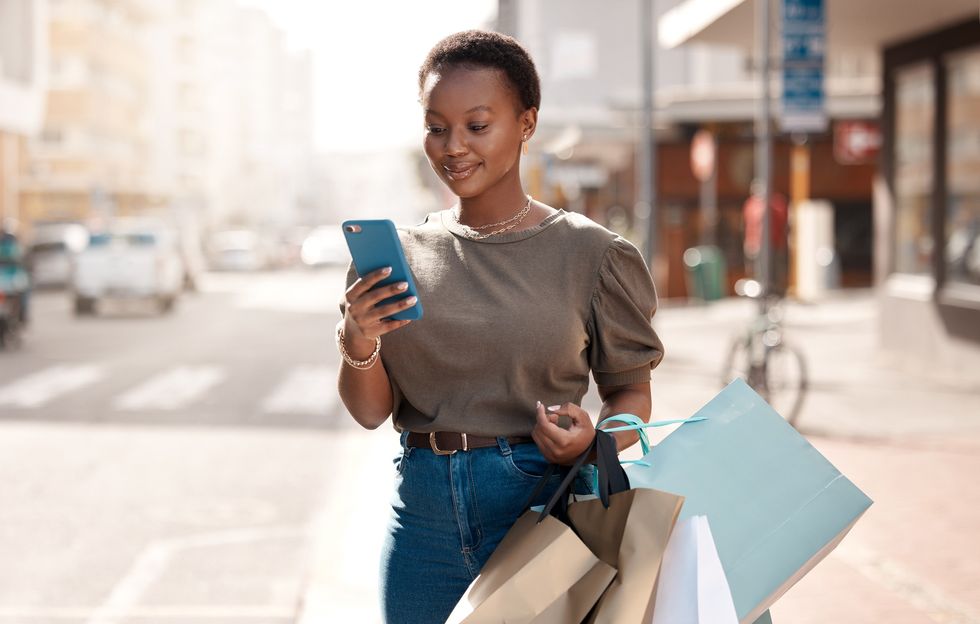 PeopleImages/Getty Images
​3. Only use credit and debit cards that offer rewards or points, especially for larger purchases.
I know, I know. We just talked about using cash. But if you're a frequent traveler, love to stay in hotels, or are constantly using your card for the same sorts of purchases, it's a smart move. Airlines, hotels, and retailers offer credit cards that allow you to accrue points or get discounts when you use them, saving you money in the long run if you're smart about it.
For example, you don't want to be buying $700 VIP Beyoncé concert tickets on a credit card but struggle to pay the bill—along with your other necessary expenses—each month. You do, however, want to get a credit card that offers perks like pre-sale access, first dibs on the best seats, or one that you can use the points to buy concert tickets with, especially if you're a super-fan or frequently use your card for entertainment splurges.
Talk with a representative, read the fine print, or discuss the perks of each card with your local credit union or bank to be sure you're making smart decisions in this regard. (Here's a great list of top-rated credit card and debit card options to get you started.)
4. Stop doing everything solo and group up. 
Again, another contradiction from me. I'm a huge fan of solo anything, but in this case, there's power in numbers. Whether it's travel or shopping for household items, when you can, grab a partner or group. Oftentimes rates for hotels and trips are much more affordable in groups, as there are discounted rates based on the number of people. The same goes for hotel and resort bookings.
Also, when shopping for almost anything, why not carpool, combine lists, and buy in bulk? With all the buy-one-get-one-free options or discounts for buying multiple units of something, it's a good look if you can swing it. Or when eating out, try dining with groups in order to split the bill and costs. It's a great way to get more social (since that horrible pandemic has disconnected many of us) and to save money in the long run.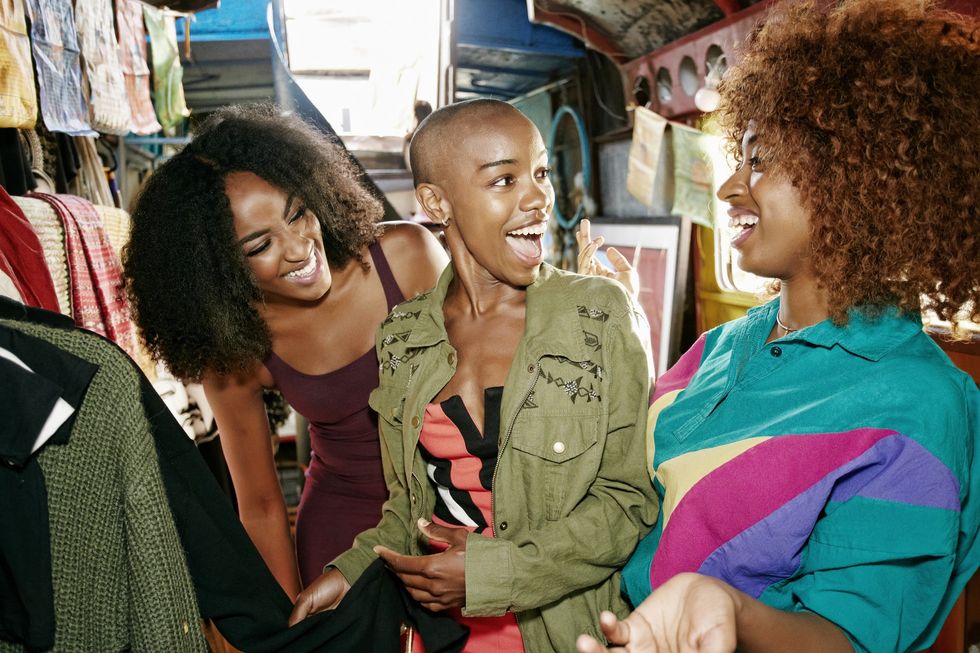 Peathegee Inc/Getty Images

​5. Put a 24-hour "hold" on making purchases of all kinds. 
Just like hotels do in case you tear up their stuff, you can simply halt pulling the trigger on purchases for a day. Unless it's a bill that needs to be paid, a necessary expense, or an emergency, give it a day of thought before actually buying or spending money on those small things that add up and can be money leeches.
I actually apply this to almost every purchase decision I make simply because, after journaling and really looking at my bank statements, I found that I tended to shop or eat out when I was feeling anxious, stressed, or sadness.
One day I looked around and found three of the same graphic T-shirt from Target in my closet, four jars of the same expensive protein powder (with two that expired!) in my kitchen cupboard, 10 new wigs of the same texture and length gathering dust on the packaging, and five huge Eco Styler gel containers that I know could last me through the next two years.
Now, when I wait a day, I find that the majority of the things added to my Amazon wish lists or that I just abruptly thought to go to Target and buy just aren't must-haves, and I figure out how to smartly spend the money elsewhere (like buying a cheap plane ticket to Jamaica, saving up for retirement abroad, keeping an emergency fund for my 9-year-old car, or paying my health insurance.)
And it isn't even about denying yourself pleasure. If it's something that you really want and it's still there to buy the next day (or the next month or year even), it's meant to be, sis. (I've even gone back sometime later to find out an item was on sale or that the same item was listed for a lower price elsewhere.) Practicing a bit of restraint and patience can lead to a major blessing, and I've saved a lot of time, money, shame, and space implementing this hack.
As with anything, a "hack" isn't helpful unless applicable to your end-of-the-day goals, so be sure to just take a look at where you'd like to improve financially, and what life you'd like to create for yourself, and apply these accordingly.
Let's make things inbox official! Sign up for the xoNecole newsletter for daily love, wellness, career, and exclusive content delivered straight to your inbox.
Featured image by South_agency/Getty Images
I think it's fair to say that most of us long to reach that place where the money resides, especially in the present times when life is so uncertain and people are likely to lose their jobs at any given moment. On the other hand, perhaps thanks to the plethora of entrepreneurs that document their journeys on social media, there's the sense that abundant financial wealth seems more accessible now than it ever has before. With that said, despite all the step-by-step guides to becoming rich available on the market, we can still hear the same question echoing in our heads: How do I get to the bag, though?
Well, apparently, it's in the mind, chicas. It all happens in our minds first.
The mind is a powerful tool that, depending on how we choose to use it, has the power to make or break us. This is a fact that the bomb business owners I had the opportunity to interview as part of this feature said to have learned the hard way while on the path to acquiring their Boss badges. The four ladies got real on the struggles that they've faced in the past which almost prevented them from becoming who they are today, the mindset shifts that helped overcome them, and more.
Befriending Fear To Unlock a World of Luxury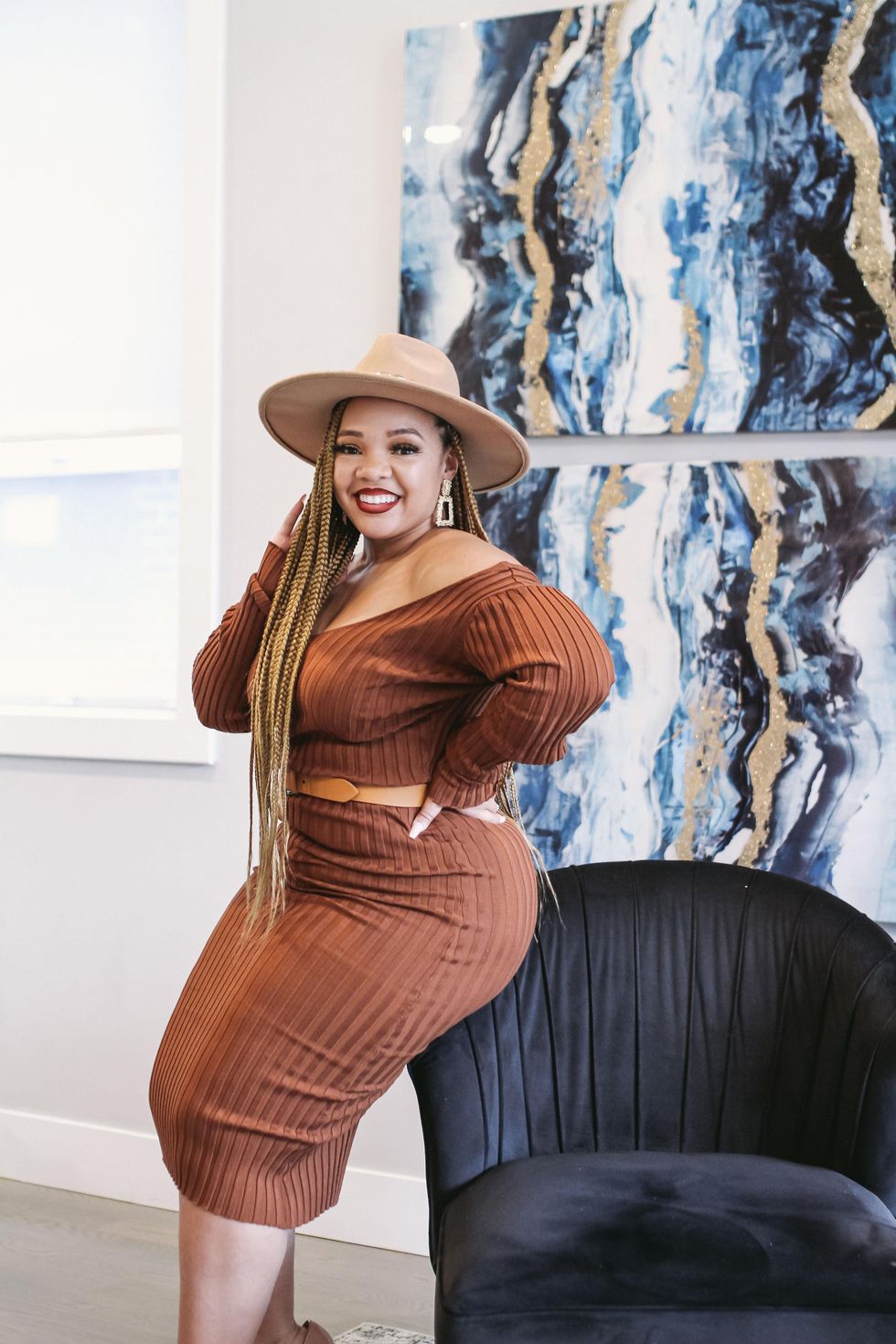 Image courtesy of Candace Junée
For the longest, I followed the 'American dream.' I studied mechanical engineering in undergrad, received my MBA by the age of 23, and transitioned into a job in Corporate America [and] began earning six figures. However, despite all the benefits of working that job, I knew after a little time that it wasn't what I wanted to do forever. Corporate America, I felt, deprived me of being the master of my own time. My time was theirs and I had little to no say on that.
Many times, I found myself wiping my tears because I had to work extra hours or on the weekends to complete the tasks that I was asked to do at the last minute, all while my personal life and loved ones were waiting on me. When September 2017 came, the moment finally came for me to reclaim my freedom. Although I was deathly afraid and almost talked myself out of it, I decided to quit my job and pursue my dreams.
Fear, I must say, is the companion that's been following me throughout this whole journey from giving up on a six-figure salary to building my own six-figure company. It's still there, to be honest, but I've learned how to tame it.
In the beginning, I feared wandering in the unknown. While we do know what we decide to walk away from, there's no certainty that what we'll find on our path will be any better. And then, once I became my own boss, the fear that my finances would never advance as much as my career did quickly took over me.
A year before taking this leap of faith, I launched Epic Fab Girl, "a community for women entrepreneurs who want to build profitable brands and grow their faith." The latter initially started as a blog but after I quit, I had to figure out a way to monetize it to generate revenues. On top of that, in January 2018, I launched my own marketing agency. I wanted to offer my target audience coaching services and digital courses to help them scale their businesses to six figures. Funny thing is, I was nowhere near earning such an amount of money myself, even after giving my business more than a year to grow and flourish.
While my clients were getting the desired results, on my end, I was struggling financially; I faced difficulties paying my bills, my car had been repossessed and I'd received foreclosure papers on my home as a Christmas present. Earning six figures has never been a requirement for me, but it was somewhat mandatory if I wanted to maintain the level of comfort I was living in. All of which ultimately had me contemplating [whether or not] to go back to Corporate America. However, while it's a move that my entourage encouraged me to make, I never received any signs from God that meant this was what He wanted for me. So, as a woman of faith, I continued walking the path that I was already on.
As soon as 2020 rolled around and the pandemic hit, that's when everything changed for the better. Within the first semester of the year, my revenues reached six figures for the first time—which wouldn't have happened had I decided to take some steps back or had I simply not shifted my mindset to believe that my services are worth the luxury price point.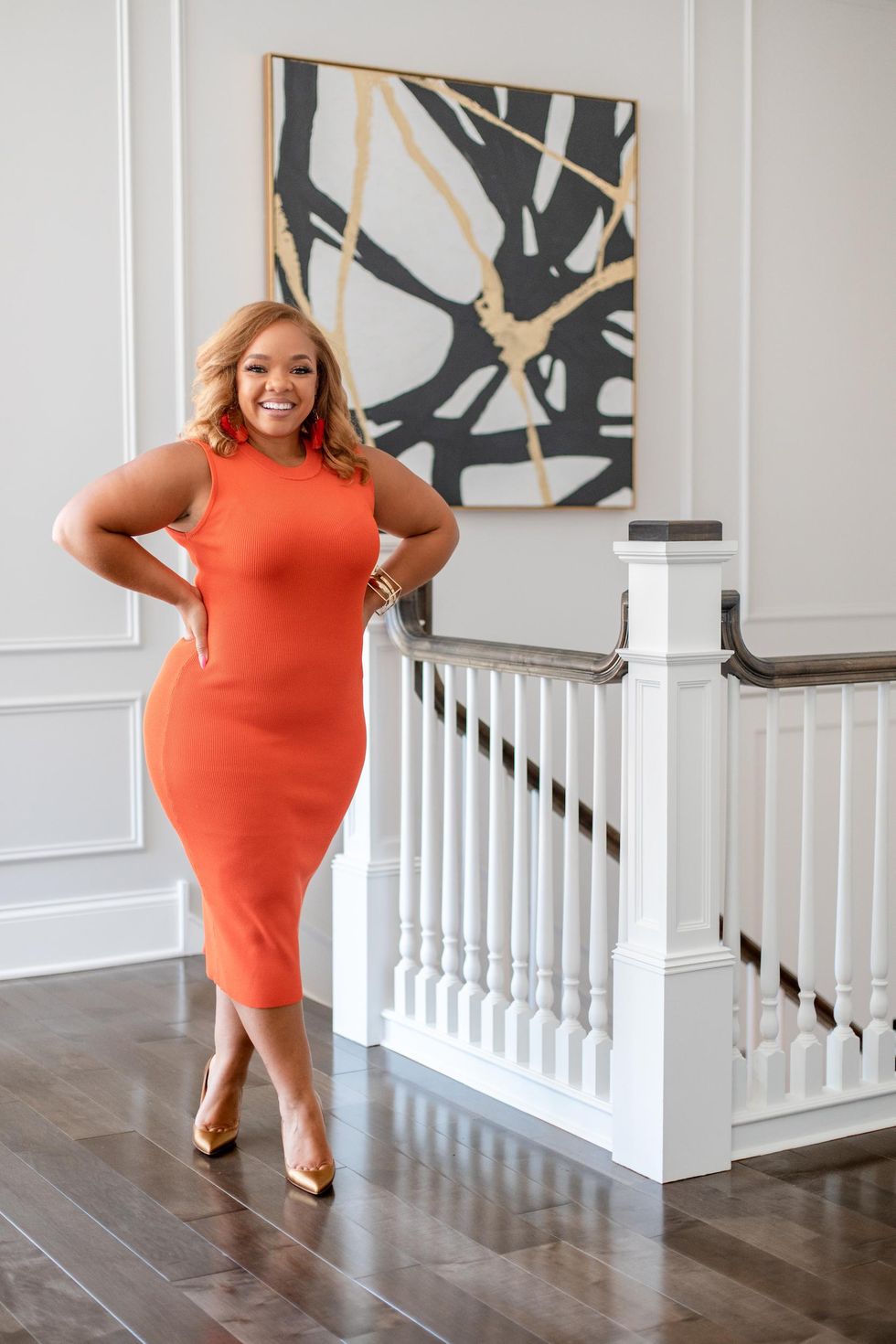 Image courtesy of Candace Junée
It probably wouldn't have happened either if I hadn't invested in a coach to help me make the shift on top of using affirmations and visualization to help me own my abilities and brilliance when I'm doubting.
Here again, fear made me doubt whether I was making the right decision or not because I wasn't fully convinced that my audience would pay those prices—although some of my clients were already paying me four figures monthly for some of the services that I offer. But because I'd managed to reach a level of self-confidence high enough to recognize that I was excellent at what I was doing and understand that my financial situation was only the consequence of me undercharging for my services, I was ready for those who want to work with me to pay premium prices.
The best thing was to realize that I wasn't insane for believing that numbers don't necessarily throw people off. Quite the contrary, they attract the right clients, the kind that can afford your expertise, and therefore make a way for money to flow to you easily.
Wherever you find yourself in your journey, fear is going to rear its ugly head. To me, it's a sign that you're on the right path. You've probably read somewhere that, "If your dreams don't scare you, they're not big enough." I believe that it couldn't be more true. Be willing to bet on yourself and know your value. Trust that anything is possible.
Follow Candace on Instagram @candacejunee.
Unlearning Scarcity To Discover Absolute Abundance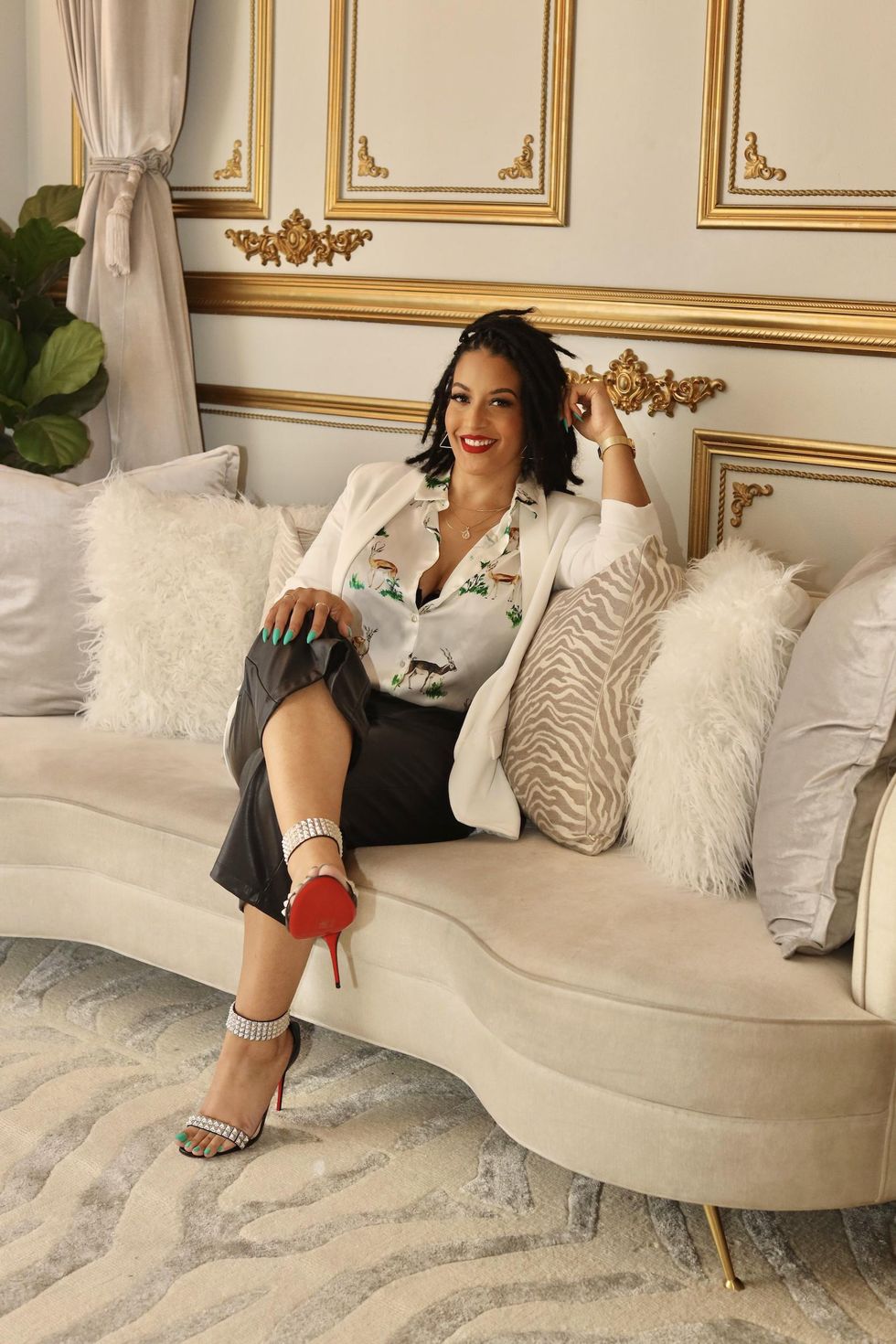 Image courtesy of Chris Bible
One of the biggest personal breakthroughs I've experienced thus far is realizing the vital value of unlearning. Unlearning the things that hold you back is just as important as learning new [things]. It's necessary to be successful and unlock your potential.
I was a mother at the age of 16 and was raised by a single mother solely responsible for five children. Needless to say, I had to unlearn the scarcity mindset engraved in my head from childhood. Becoming a mother before I became a woman also played a major role in the endless struggles that prevented me from exploring the boss lady hibernating within. Like many, I didn't have a direct example of entrepreneurship; I was raised to play safe and to think that financial stability was something that only Corporate America could offer.
With age and an evolved self-awareness, I began to take risks and explore opportunities I normally wouldn't as a way to overcome those struggles.
In 2012, I relocated from Los Angeles to Arizona after being laid off from a corporate position that I occupied for five years. This move that I considered to be bold truly cultivated the opportunity for me to discover what my passion was. Thanks to Arizona's low cost of living, I was able to quit the new job that I'd found after working there for a year to live off of savings and explore revenue-generating opportunities which I'd hoped would unveil my purpose and passion. Moment of transparency, I must give credit to my supportive husband and his steady income. Without him, I wouldn't have been able to do so.
I tried fashion blogging and freelance writing for local publications. I even dabbled in fashion event production. Although all of that was fun, it wasn't what ignited the fire in me, which is truly what I was seeking. After many failed attempts, I found myself enrolled in a lash extension training class—a $1,300 investment. My lash artist at the time encouraged me to do so because I'd always ask her thousands of questions about how she did mine. Unexpectedly, this training class is where I found my spark.
Back in the day, I wasn't aware of all the doors that would open from just trying something new.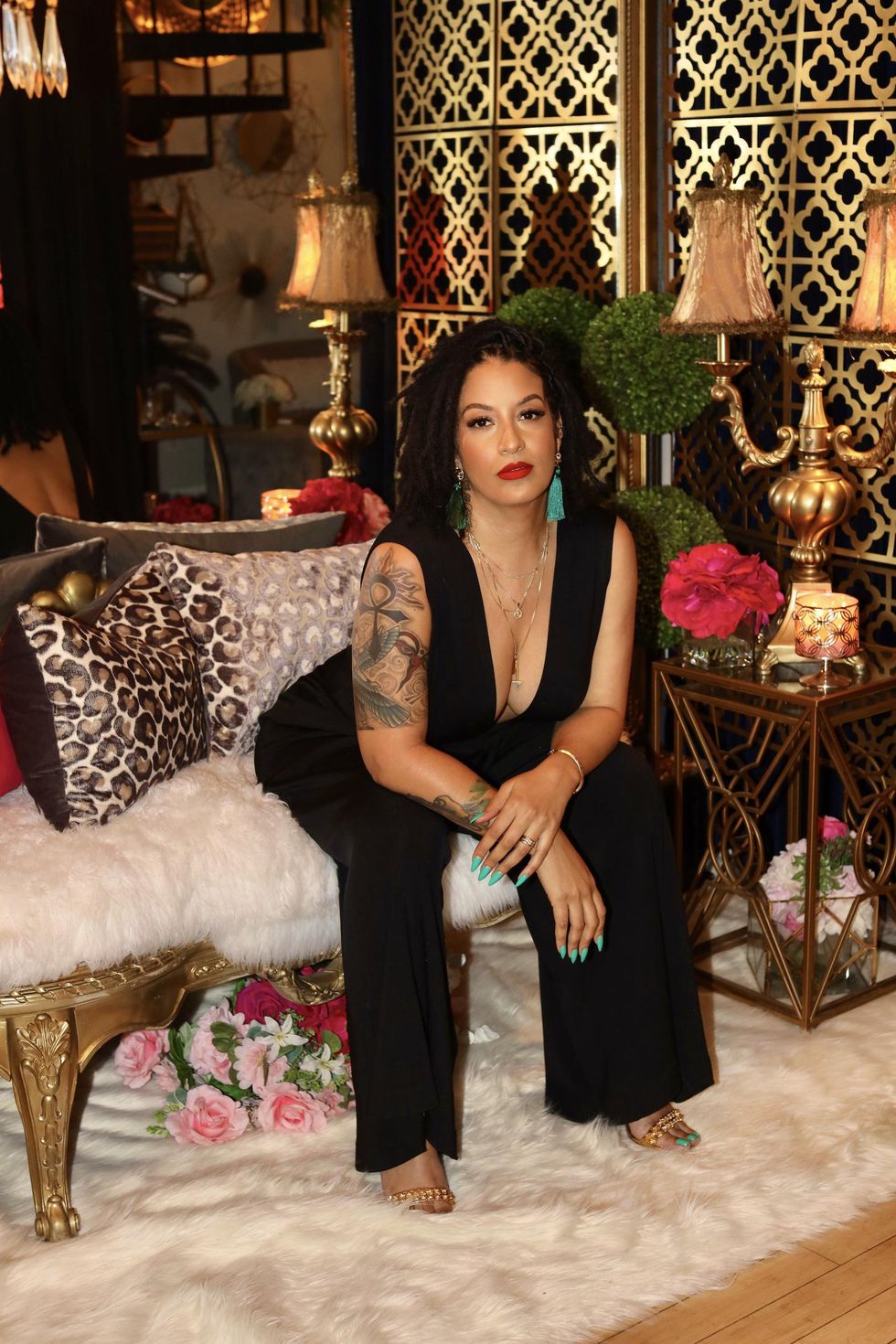 Image courtesy of Chris Bible
Never would I have thought that I'd one day run my own business, let alone work in the beauty industry. But it turned out that lashing was a service that quickly led to the creation of my own training academy and a full-fledged lash product line.

Seeing the revenue that I was generating is partly what helped break the scarcity mindset that I earlier mentioned I was suffering from. What was truly life-changing, I'd say, was practicing daily affirmations as well as investing in a mentor, Pauleanna Reid for instance, salon staff and marketing experts. This is what truly propelled me to my current level of success and showed me that taking control of your daily rituals on top of having an organized process for goal-setting is the difference between having a side hustle and running a six-figure business.
A boss, in my world, is a leader. She has clear morals and values, yet balances that with an attitude that gets ish done by any means necessary. Sacrifice, hard work, and patience are the ingredients to achieve success.
I didn't reach boss status before I made countless mindset shifts, alleviated excuses, welcomed uncertainty with confidence, and followed an unorthodox schedule. Most importantly, I had to embrace that I was worthy and capable of reaching a certain level of success and that it could be done all on my own. Of course, some of these shifts were easier to implement than others, while some were made out of necessity. The hardest changes dealt with inner work and self-love. I struggle with imposter syndrome and reminding myself that I am worthy is a constant fight. Having to embrace who you're meant to be can be frightening but growth never comes from comfort; it thrives in the newest version of ourselves.
Follow Chris on Instagram @sheluvslashes.
When Failure Serves as an Expensive Stepping Stone to Success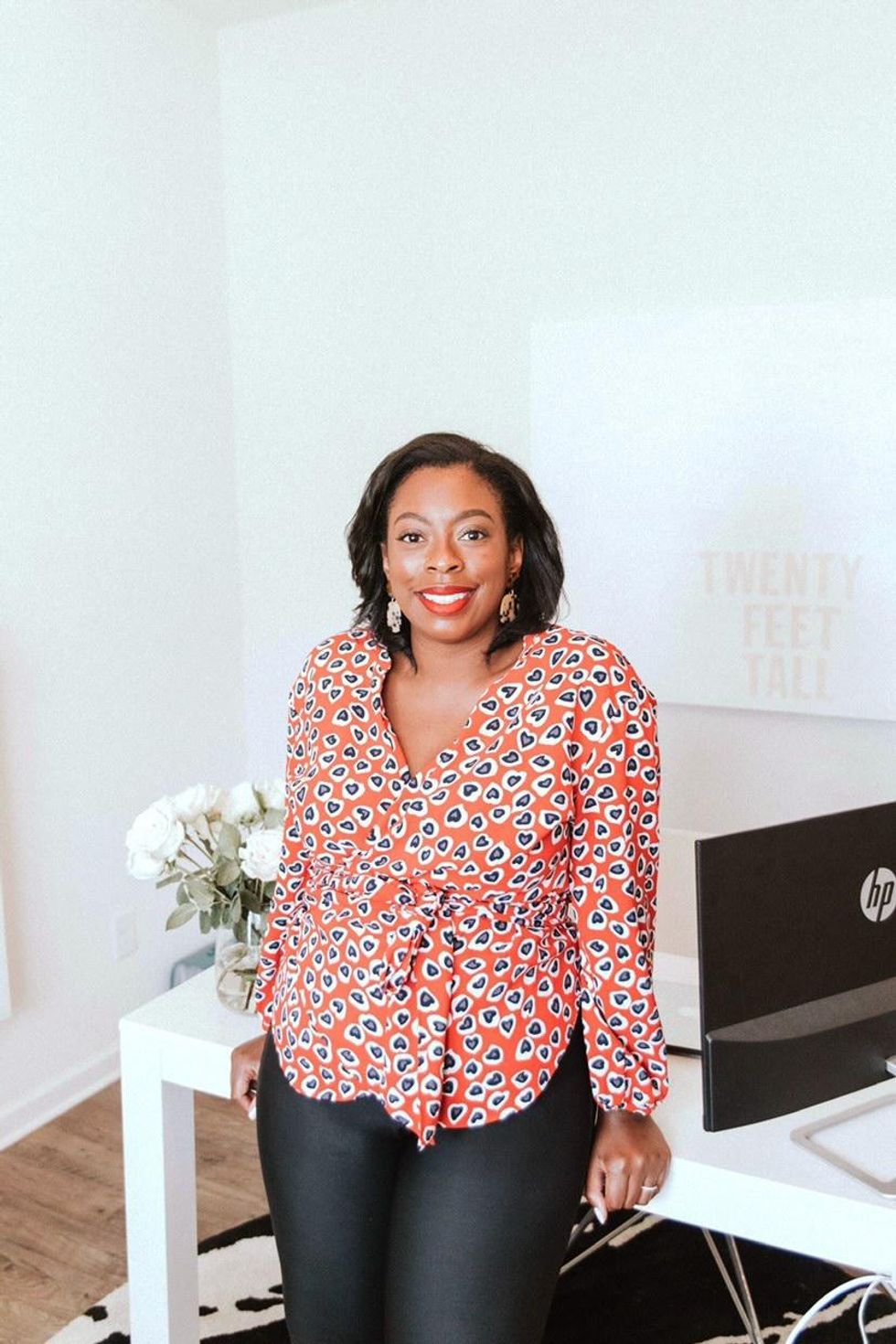 Image courtesy of Miranda Mader
I had a huge mindset shift in my early 30s when I launched a business that failed—but from which I recovered. That experience taught me a ton from bringing a dream to fruition to pivoting and iterating.
Five years or so ago, I launched a business with two friends and partners whose purpose was to encourage college students, particularly HBCUs students, to travel the world. My friends and I who are all HBCU grads have had the opportunity to travel abroad when we were younger and being aware of the benefits of doing so, our desire was to give that opportunity to an audience that didn't have the same ability as we did.
We made a ton of mistakes during the launching process. We firmly believed that this project would be the solving of an issue, however, we didn't succeed to shed light on the said issue in a way that resonated with our target audience. We failed to properly grab their attention. And then, we launched too big, way too big—and we actually paid for it.
Looking back, that situation was ironic considering that prior to that, I'd spent a significant amount of time teaching as a product manager—and now as a product management career coach and business coach to women of color entrepreneurs—to actually not do this [launching too big]. It's always best to start small and test your audience first, which is a fact that I was proven once again when I later found myself launching another venture with a pair of two other friends.
For years, we'd casually played a game about dating deal breakers during our girls' nights and wondered if it would be commercially viable. We wanted to create it and then sell it to the public. However, despite how good we thought this idea was, having learned from my past mistakes the hard way, I made it clear from the start that spending any money was out of the question for me; an announcement that caused my friends to glance at me with a confused stare stating that it would therefore not be feasible. But I knew we would figure something out. And we did.
We managed to come up with the simplest launching strategy which cost us the bare minimum but enabled us to maximize our success.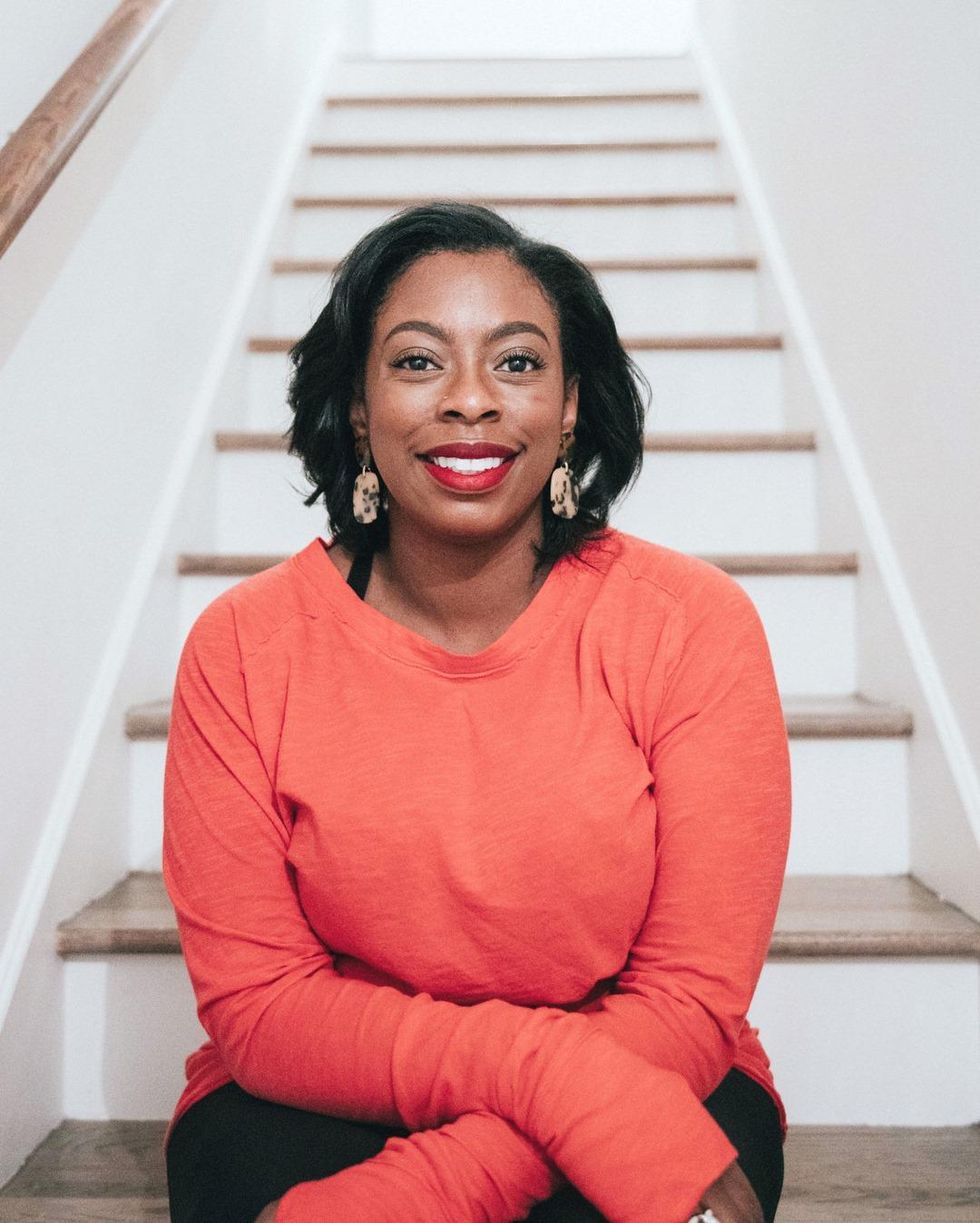 Image courtesy of Miranda Mader
To introduce the game to our audience and test both, we decided to organize a small gathering with our friends. The plan was to play with them so they could see how much fun it is and therefore potentially turn those friends into customers. As for the cards' prototype, my partners and I had opted for at-home printing, a cheap and efficient solution. When the ladies validated our concept that night, we were given the green light to start the next step of our launching process: social media promotion. There again, we'd only invested a few dimes in marketing, just enough to get a decent number of customers to pre-order the deck and allow the real production of our card game to finally begin. We suddenly had the cash to order inventory to cover the pre-orders and more, without taking a hit upfront.
While my initial attempt at entrepreneurship was a complete failure, the lessons that I've learned from our mistakes [not building proper brand awareness and launching too big] are the main reasons why my other partners and I managed to turn this second endeavor into a complete success. I told them that I wouldn't risk losing any more money and adopting such a sales strategy that spared us from buying in bulk without being sure whether we'd sell allowed me to honor my vow.
As I previously briefly mentioned, I now work as a business and career coach. I've been self-employed for approximately two years now, and the services that I offer allow me to generate a six-figure revenue. I believe it's worth noting that the journey hasn't been linear and didn't come without low-grade anxiety. Self-doubt was also ubiquitous; the "will-I-be-able-to-sustain-this-long-term" fear was real. But the thing that I did and which today allows me to say that I'm living a life beyond my dreams was pairing my ability to execute, my vivid imagination, and Godly faith. It's been equal parts of each: envisioning an outcome, believing that it's available to me—which has been difficult because as a young girl, I hadn't met many black women entrepreneurs who independently monetized their talent for the personal and professional benefit of others—, and creating and executing a plan to achieve.
Shifting from fear to possibility has gotten easier over time. I equate it to the first time you tackle a small fear. It's nerve-wracking at first but through repeated actions, it becomes a part of your muscle memory.
Follow Blair on Instagram @blairpres.

Learning How To Cope With Introversion and Impostor Syndrome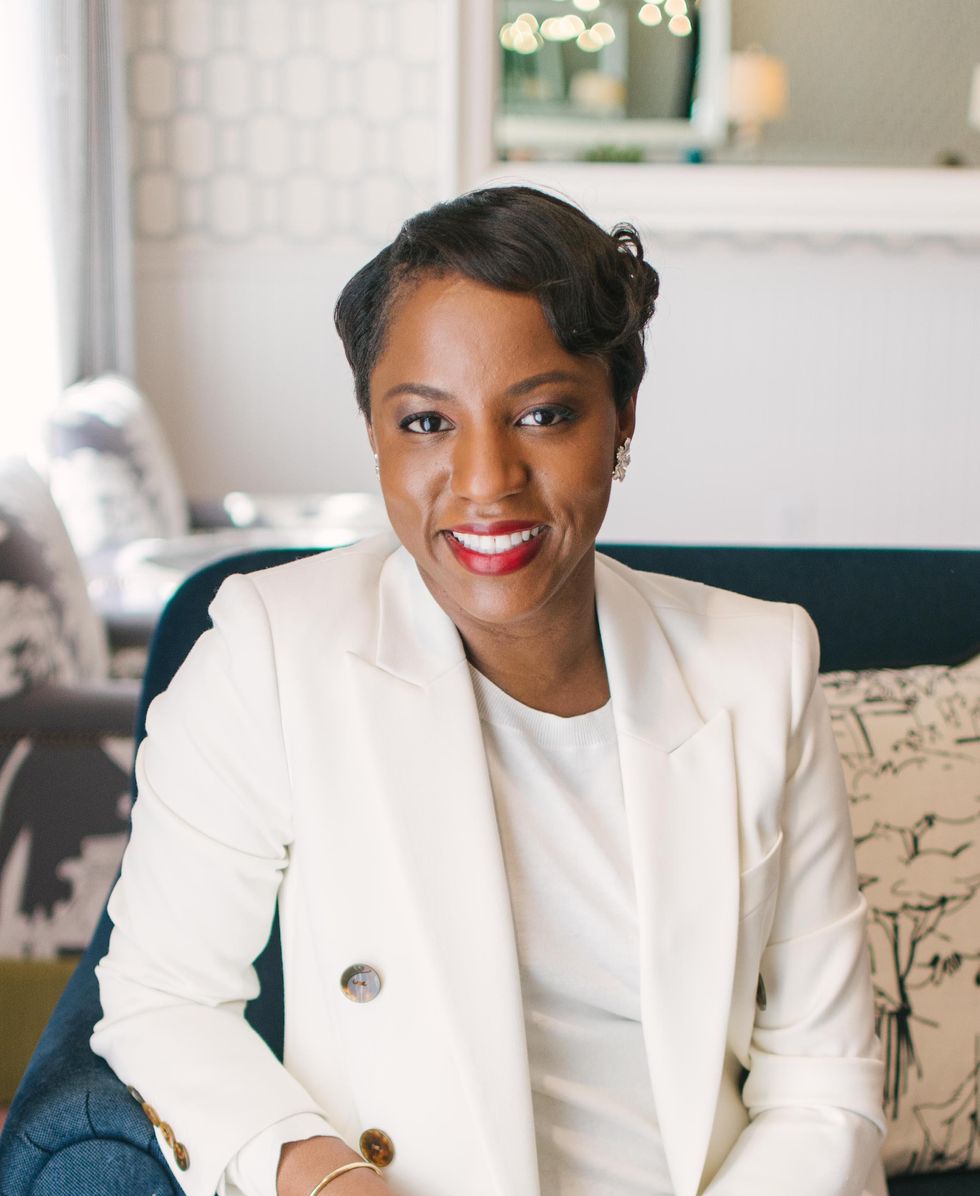 Image courtesy of Caroline Beffa Photography
My name is Bola Sokunbi, I'm the founder and CEO of Clever Girl Finance, "a mission-driven financial empowerment platform aimed at providing women with the right products and services as well as financial guidance." I'm also a super introverted individual who happens to suffer from impostor syndrome, all of which can be a tad bit problematic when you have high professional ambitions. I wish I could say that these feelings fade away with time and experience, but they don't. However, what the former and the latter did help with was to figure out my coping mechanisms.
Before I started my business, I remember how much of a struggle it was for me to make myself seen and heard when I found myself in important rooms. Instead of being as aggressive as my colleagues were in the pursuit of coveted promotions, I was trying to stay as quiet and as little as possible. I was unable to position myself for further opportunities—and had my advisor not convinced me that the founder of a brand is as important as the brand itself, my inner struggles would've probably prevented my company from growing as well.
One of my biggest challenges was to believe that my story—the story of how I managed to save $100,000, for instance—and accomplishments are valuable enough to be shared with the world. The question that would always pop up in my head was, "Who are you to actually say these things?" When I finally had the guts to put it out two years after the launch of my business, it turned out it became a huge anchor in terms of brand awareness. The exposure my story was given by other media outlets showed me that my fears of being judged were unfounded for people were actually inspired by it, and it also made me realize that what I'm doing is bigger than me.
When I first launched Clever Girl Finance, I used to decline all public speaking appearances and big events that would make me the focal point. Now, because my mindset shifted to thinking of purpose before self and I've learned how to cope with them, I'm able to seize those opportunities.
My secret when it comes to surviving being an introvert plus impostor syndrome as a business owner is to step out of my comfort zone when I need to and step back into it when I can.
When I step out of it, I prepare by repeating affirmations out loud, hyping myself up. I look for an accountability partner, whether it's a friend or my husband so that I have someone to push me and make sure that I do whatever it is that I'm supposed to do. And then, once it's done, I allow myself to rest. Keyword: rest.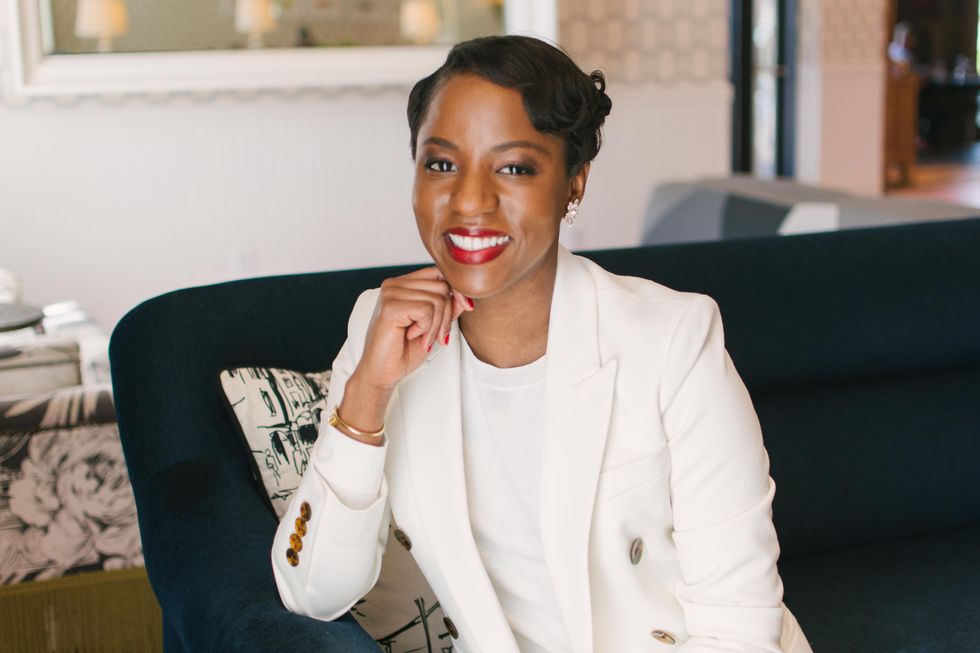 Image courtesy of Caroline Beffa Photography
I came to realize that being an introvert was so much of a struggle for me—not just as a professional but in my daily life as well—because I never took the time to recover after I do an event. Or a video. Or a webinar. Basically, anything that puts me in a place where I'm surrounded by a lot of people.
By not giving myself time to recover, I was just compounding the effect of how much I disliked being out there and being the face of my business. But when I allow myself to step back into my comfort zone and sit there in silence for as long as I need to, I feel rejuvenated and motivated enough to go out and do it again.
Since I discovered the benefits that this technique has on me, 'recovery day' made it to my weekly calendar. It usually occurs on Fridays and to make it possible, I hired a team to help me alleviate the work, take the pressure off of me and allow me to hide for a short amount of time. My staff has been the best at pointing out when I need them to take specific tasks off my plate. Because one thing about introverts, when they don't feel like doing something, that's when a whole nonessential delay game begins and time gets wasted, which is a fortune that as business owners, we cannot afford to lose.
On top of my team, I can also count on my three advisors to help me to be my best self. These ladies, whom I consider my sisters and aunties in my head, make sure to speak life and words of encouragement into me. They also make me uncomfortable, but I like it because the discomfort is private. It's not happening on the public stage, but one thing that's for sure is that it prepares me to stand with confidence in front of my public.
As I said earlier, impostor syndrome and introversion are unfortunately not easy to get rid of—provided it's possible. For me, these are uneasy feelings I'll always have to deal with and I can tell from experience that they evolve with each level that you reach throughout your journey. But there are going to be times when you'll have to tell them to sh*t up because you have work to do. You have a purpose to serve—and recovery day is coming soon anyway, so you can do it.
Follow Bola on Instagram @clevergirlfinance.
Featured image courtesy of Candace Junée
Originally published on February 19, 2021
It's one thing to be totally financially responsible for self, but it's a totally different ball game when you have little ones to care for. And the cost of parenting is far from cheap. Research shows that the average cost of raising a child through age 17 is more than $230,000. And while many parents happily do what they have to do to ensure their children are not only surviving but thriving, the cost reinforces the importance of grasping healthy concepts about wealth and money management and putting them into action.
Oftentimes, our mentality about money dictates how we use it, and the fact that Black people have endured decades of systemic racism, discriminatory employment and banking practices, and other historical societal horrors that affect how we get to the bag, many of us are actively dealing with the good, bad and ugly impact generations later. On one hand, the challenges have built habits of resilience, tenacity, initiative, and innovation, while on the other hand mentalities and habits centered on scarcity, overworking, overspending, and mismanaging of personal finances. Lessons have been learned from one spectrum to the other, one generation to the next.
There are communities of Black parents who are making changes that will not only empower themselves but their children and grandchildren, building off the foundation of their ancestors and strengthening financial fitness and power through action. They're taking deliberate steps to ensure their children's mindsets are balanced and prepared for financial prosperity.
Check out more on three such power women—mothers who have learned vital lessons about money management and financial freedom in their parenthood journeys—from becoming new moms to transitioning into empty nesters. They speak further about how they're changing narratives and raising children unafraid to think big and limitless about wealth:
Shifting Money Management Strategy Along the Way
Vioree Brandon-Nettlesford, the founder of Divine Enterprise L.L.C., was a divorced single mom and college student with her first son, navigating not only taking care of him but taking action to secure their future. Back then, she says, she wanted to focus on building up her savings because she wanted to "establish a firm foundation" for her son. "I didn't want to live what I was taught which was, 'Buy, buy, buy, and don't worry about tomorrow.'"
"I didn't want to live what I was taught which was, 'Buy, buy, buy, and don't worry about tomorrow.'"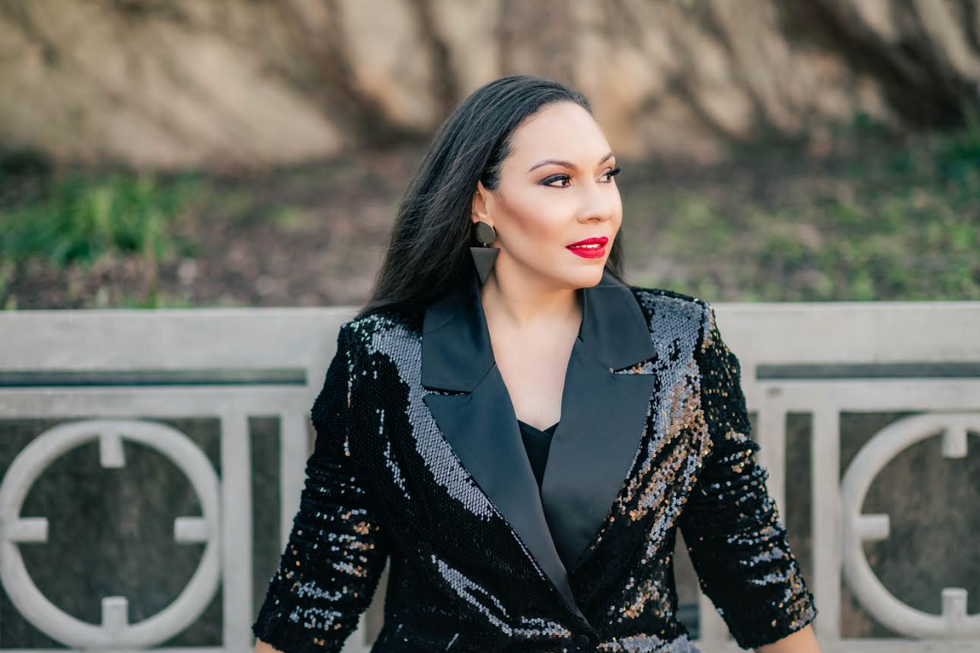 Courtesy of Vioree Brandon-Nettlesford
Years later, she met her second husband and had more children, ushering in a dramatic change in her finances and how she'd handle money. "My story is a bit unique because I got married for the second time and then, my husband passed away. I found myself becoming a single mom again, and I actually became homeless," she recalls. "During our marriage, I had that old-school mindset that the husband works and [the wife] stays home. You don't have to work. Re-establishing myself changed my perspective and my relationship with money because I realized I can't teach my kids certain things I learned because it didn't reap good fruit."
She also began working on establishing herself as an author and transitional life coach, creating streams of income for herself that would mean independence, empowerment, financial freedom, and a legacy for her family in the future.
She shifted back to a focus on saving and squirreling away funds to ensure she can meet the financial demand of taking care of her now-larger family and covering emergencies. She began planning more for the long-term versus the right now. "We're looking at three different stages: My son is 20 years old now, and he's in his third year of college. He goes to a private institution. I did not save well with him like, for instance, with a 529 plan," she says. "I find myself now paying tuition of about $18,000 a year."
With her younger daughter, who will soon be a college student, Brandon-Nettersford changed up and created more of a strategic plan for financing her education. "I have a fund and now tap into scholarships for her because she's a straight-A student and she goes to a military school. There are resources out there for you in whatever stage of [parenting] you're in. It's up to you to educate yourself and seek them out, and that's what I began to do."
She also decided to be more collaborative with her children in setting a plan for their future. "I established a relationship and open communication with my children to help them understand what they want their future to look like. As parents, we have a plan for our children, but they also have a plan for themselves. It's up to us to take accountability and responsibility and not to deflect our plans on them."
Honing In on Generational Wealth
Layo George, the founder of Wolomi, an online community and an app for expecting mothers, began planning for the birth of her son three years before he was born. "I knew I wanted to be able to breastfeed and stay home, and in order to do that, you have to be financially stable. I thought, 'What kind of pregnancy, post-partum, and first year did I want to have?' I began making choices with my husband in terms of finances. We wanted to make sure we were in a good space to carry out that idea. We didn't want stress to impact our pregnancy or that first year of parenting."

Today her son is four, and while, she says, she does teach him about the concept of money, her focus is to give him a sense of what sustainable wealth-building is. "After he was born and we got past that first year, it was, 'Well, what kind of life do I want for [my husband and I]? If you don't think about yourself, in terms of taking care of things in your own financial journey, it's hard to financially be there for a child."
"If you don't think about yourself, in terms of taking care of things in your own financial journey, it's hard to financially be there for a child."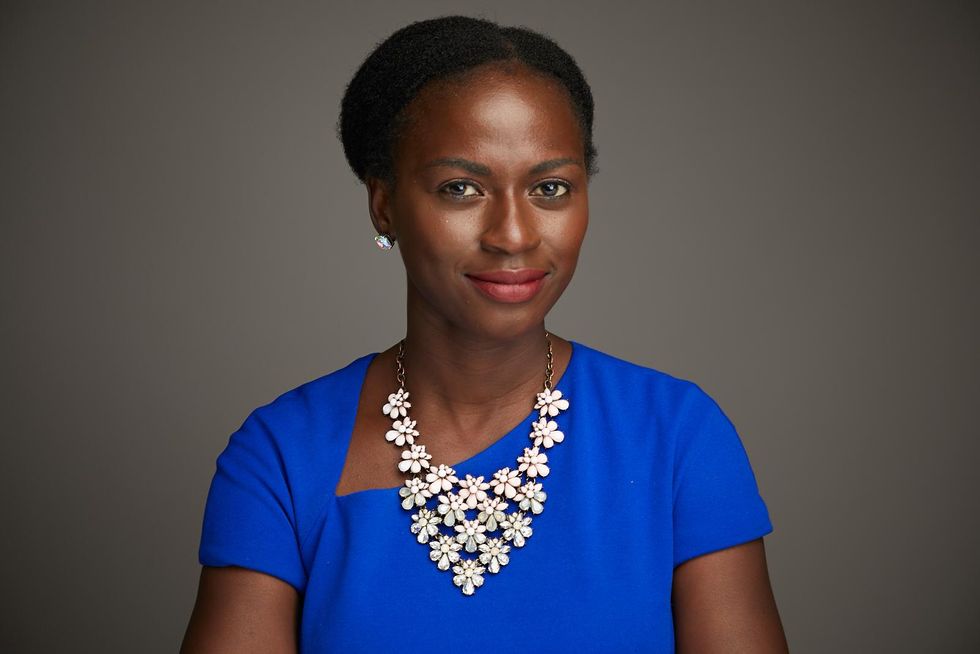 Layo George, Founder, Wolomi
Courtesy of Wolomi
She and her husband began a process to tackle debt and tie up loose ends when it came to their own financial profile. Then, for her son's first birthday, they'd asked friends to put money into a 529 plan instead of giving the usual gifts. "I started learning a bit more about 529, and found that that wasn't what I really wanted, so we opened an index fund account for my son. It's not a lot of money because, as I said, [we were] focusing on [ourselves] as well," she adds.
George is also pursuing her own financial and career goals in helping other women through their pregnancy and post-partum journeys with the online community and tech resource she built. That, in turn, not only enriches her and her family's lives financially but provides an example of entrepreneurship that her son can learn from. "It's also [about] pouring into Wolomi in the hope that not only will we have this brand that will support women but it also is going to be something that can give us generational wealth so that my son can have the freedom we didn't have."
"It's also [about] pouring into Wolomi in the hope that not only will we have this brand that will support women but it also is going to be something that can give us generational wealth so that my son can have the freedom we didn't have."
Her parents are immigrants, and culturally, she says, there's a traditional sense of respectful obligation to take care of them financially in their golden years of retirement. While she understands the expectation and she and her husband are well prepared and happy to take on the responsibility, she says, "I don't want that for my kid. I want him to not have to think about me, but about the bigger picture. It isn't just about one generation. There's a limit to what I can do for him. It's about putting him in a state where he's able to multiply what I have. Then we can really start to build for our people."
Making Financial Literacy Relatable and Empowering
Karen Stevens, the founder of Frugal Feminista, is also a huge proponent of redefining our relationships with money, and with a background in education, she relies on communication and teaching by example to instill certain values in her daughter. She takes her 6-year-old to the bank with her and allows her to see how the banking world works, even down to signing her own checks given to her by her grandmother. She also started a brokerage account for her daughter as soon as she received her social security card and contributes to a 529 account for her education.
She believes that today's parents can inspire their children to elevate their understanding of how money works and become more mindful of the conversations that are had about everyday financial scenarios. "For Black women, in particular, I think because we're in a race-based society, some of us are quick to adultify our kids and bring them into conversations that they have no mental, emotional, financial ability to reconcile, and I think that [is detrimental] to their relationship with money," Stevens adds.
"For Black women, in particular, I think because we're in a race-based society, some of us are quick to adultify our kids and bring them into conversations that they have no mental, emotional, financial ability to reconcile, and I think that [is detrimental] to their relationship with money."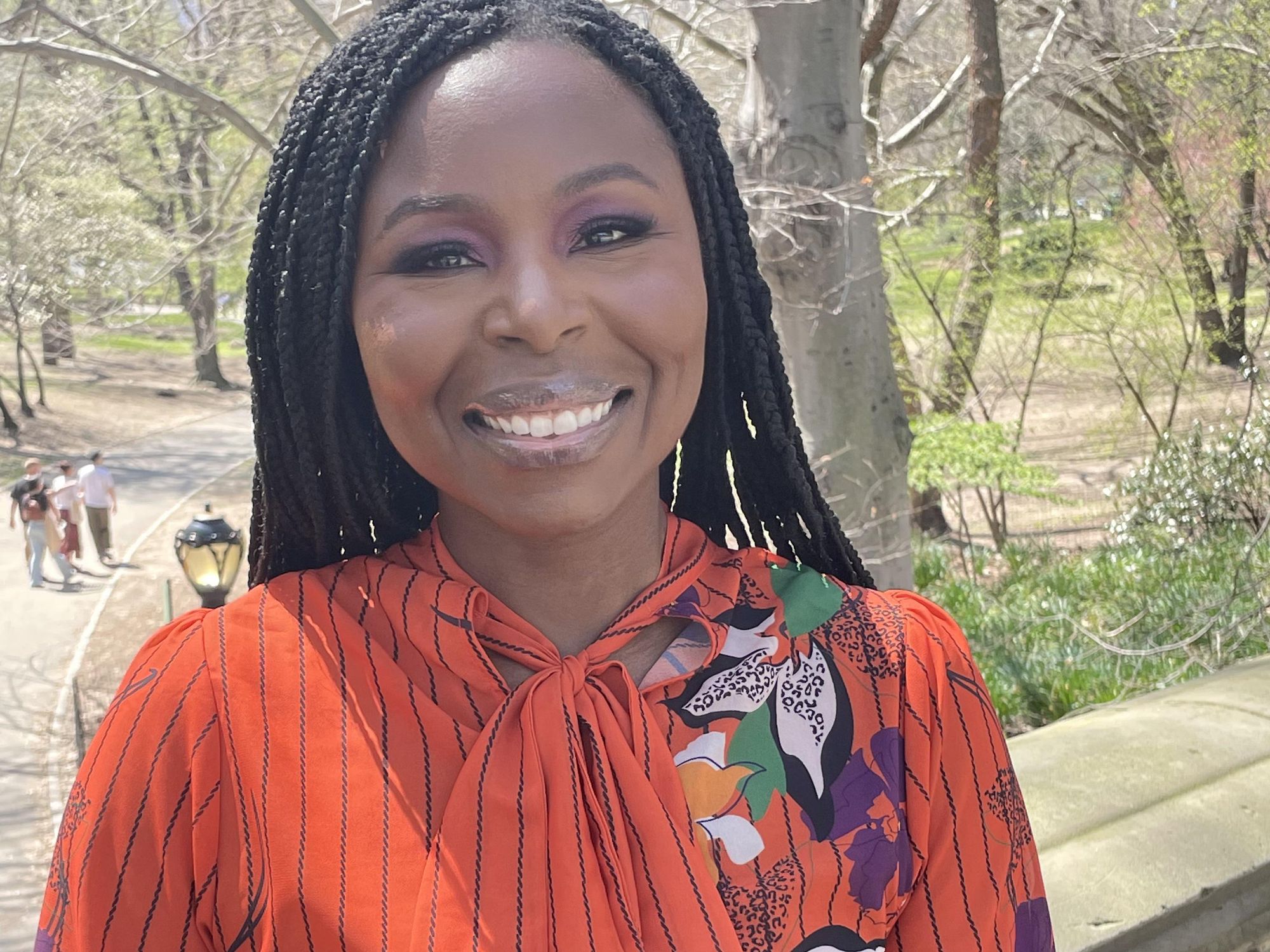 Courtesy of Kara Stevens
Reframing dialogue and interactions in a way that allows children to understand from their own perspective, considering their age and development, is key, she says. "I don't think it's appropriate for a mom to say, 'We ain't got no money,' or 'Your daddy's gone. You're the man of the house.' Let's say maybe you lost your job. Instead of saying, 'We don't have any money,' you can say, 'We're going to really take care of the things we have because we have more than enough. What role can you play in taking the lead in putting your things away?' It lands differently."
She also believes that, as parents, it's important to guide children toward balanced and education-based conclusions about money and to highlight positive aspects of Black buying power, Black excellence in business, and Black wealth.
"As Black people, because we have been marginalized, we want to make sure that we don't color our children's lenses in the same race-based, wealth-based narrative. All Black people aren't poor. All white people aren't rich. It's about making sure that we give them–whether it be through books, online resources, or family members—the sense that Black people got it. We been had it. And if we don't have it, we can get it. We need to give them a positive narrative about all things Black and a more nuanced understanding when it comes to money. Then, you're able to raise a child that will be critically thoughtful about money, take more risks with money, and understand what their values are around money."
Featured image by Ridofranz/Getty Images
Dr. Lakisha Simmons, an author and single mother of two children, saved $750,000 in four years and is on the road to be a millionaire by the end of 2022. However, this wasn't always her reality. The Nashville, Tennessee resident once described herself as "house poor."
Growing up, Simmons followed the "American Dream" path until she realized it wasn't the dream it was sold to be. "I was doing all the things that you're taught you're supposed to do: Go to college, get a good job, a nice car, house, get married, and have kids," she told xoNecole.
But that path led her to hit rock bottom. After a divorce in 2016, her finances were being used to keep up with a lifestyle that no longer satisfied her and left her feeling depleted. "It was completely draining me," she said.
"My money was going into the house and utilities with $300 a month. The lawn care was $150 every two weeks. I'll never forget. I was in this huge house that was supposed to be a happy home, yet I was broken and cried my way into the new year in 2017."
After hitting rock bottom, she knew there was nowhere left to go but up. She started asking herself questions about her finances such as: What can I do to grow my money? What can I do to be financially independent?
After being honest with herself and researching, she discovered a solution that would change the trajectory of her life: the FIRE Movement, which is an acronym for Financial Independence Retire Early.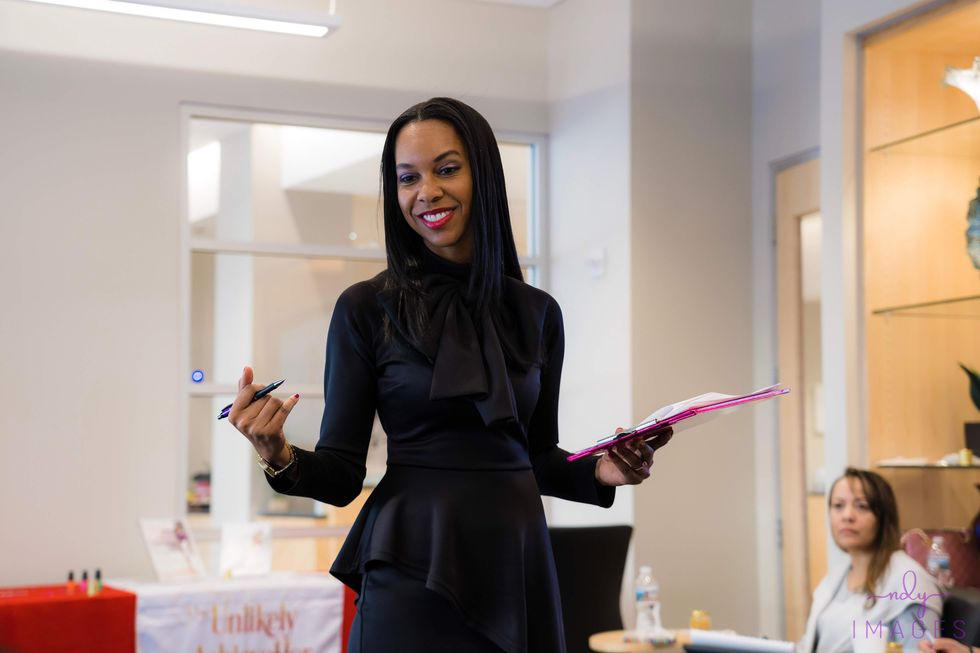 Courtesy of Lakisha Simmons
For adopters of the FIRE Movement lifestyle, the intention is to save and invest in extreme amounts over a short period of time with the goal being to retire early as a result. Lakisha explained:
"I focused on the idea of financial independence by saving up 25 times my annual living expenses and I will live off of 4% of that lump sum."
Simmons is now teaching people through courses and workbooks about her financial freedom journey and how the FIRE Movement put her on a path to becoming a millionaire.
"I've consistently invested 60% of my income and proceeds from my workbook to help women learn how to skills to make themselves more marketable in The Unlikely AchieveHer. Not having to 'work' to pay my bills and live a comfortable lifestyle is a stress-free way to live so it isn't difficult for me to cut back on some luxury items here and there in order to invest more money. I have more choices on how I spend my time and that's what life is all about," she added.
If you're ready to level up your finances in 2021 and expand your mind to what is financially possible for you, then here are the steps Simmons recommends.
1

.

Reduce Your Expenses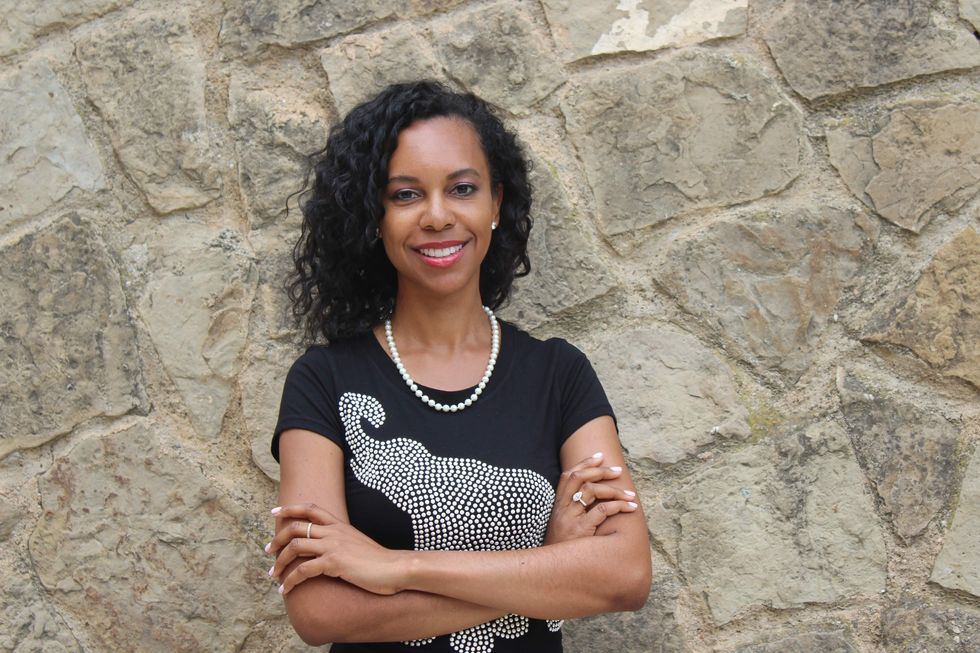 Courtesy of Lakisha Simmons
One of the first steps Simmons took was selling her home. Even though the appearance of it was nice, she knew she no longer needed it for where she wanted to go. This decision allowed her to save $12,600 a year, according to Business Insider. To slash your expenses, you should look at where your money is going line by line in your budget, and identify areas you can cut back on.
Cut your grocery bills by considering Aldi (gluten-free, organic, and fresh produce options available).
Cut your phone bill by switching to Mint Mobile - plans start at just $15 a month. Simmons says she's been a customer for years.
Shop around for auto and home insurance every two years.
Don't be afraid to downsize, don't be ashamed.
Ask yourself what you truly value, and determine the expenses holding you back that can go. No need to keep up with Joneses!
2

.

Invest. Invest. Invest.
Simmons highly encouraged women at any age to start investing. "It's not as scary as it seems," she said.
Adding, that a common fear she noticed was that people believed they would "lose all their money in the stock market." She explained that you should calculate your risk in the stock market and allow your money to sit, grow, and mature.
"We're going to plant a seed out of our 401k this year, and in five years, seven years, 10 years, that seed will be fully grown in blossom and harvest into a nice lump sum."
If your employer doesn't contribute to your 401k, she went on to explain what it's still important to contribute:
Your contributions are tax-deferred which means you get to invest the money pretax. That actually allows you to save money that isn't taxed and lowers your taxable income on your paycheck.
Compound interest is your friend. Over the years, the stock market's compound interest is working for you growing your money even if you stop contributing new funds.
3

.

Maximize Your Retirement Accounts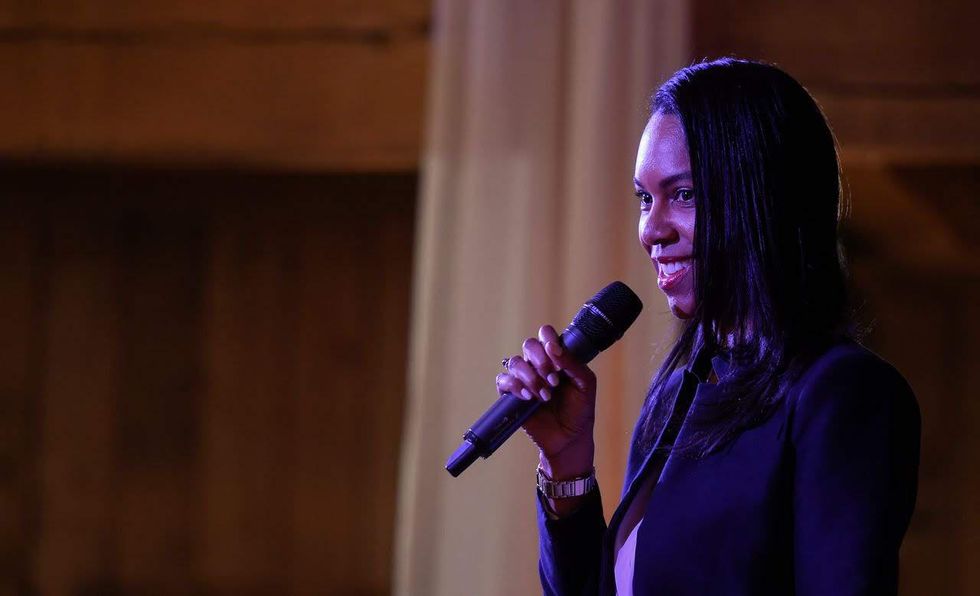 Courtesy of Lakisha Simmons
One of the main challenges Simmons sees among women is that they are not taking advantage of their tax-deferred retirement account at work.
"That's how I built most of my wealth," she said. She noted that she has a 457(b) through her employers. A 457(b) plan is an employer-sponsored, tax-favored retirement savings account. With 457(b) plans, you contribute pre-tax dollars, which won't be taxed until you withdraw the money.
"The benefit of the 457 is as soon as you leave that workplace, you can start accessing that money. So it's perfect for people in the FIRE Movement because I'm planning to retire early. I can go ahead and start using my 457 as soon as I decide."
One of the biggest challenges she had to overcome was her mindset and belief that she could do it. She encourages women to find community. Simmons offers a free Facebook group people can join and courses and coaching opportunities for people ready to dive in.
Looking back on her financial journey, she can't believe how far she's come, and if she could tell her younger self anything, it would be to be fearless.
"I would tell her to be fearless, set a stretch goal for yourself. Because anything that you put out in the atmosphere that you want, you can have it as long as you believe you can have it," she said.
For more of Lakisha, check out her website.
Featured image courtesy of Lakisha Simmons

Money Talks is an xoNecole series where we talk candidly to real women about how they spend money, their relationship with money, and how they spend it.
Meisha Amia, originally from Cambridge, Maryland, has changed the game in the healthcare industry. While she has been in the industry for over eight years, she has taken her passion in helping people into multiple streams of income, where she can live the lifestyle she deserves. In 2012, Meisha Amia started blogging to share her journey as a travel nurse. This led to her writing her own self-help book entitled The Bedside Boss: From Scrubs to Six Figures. This book has inspired so many other nurses to step outside of their comfort zones and strive to generate more wealth.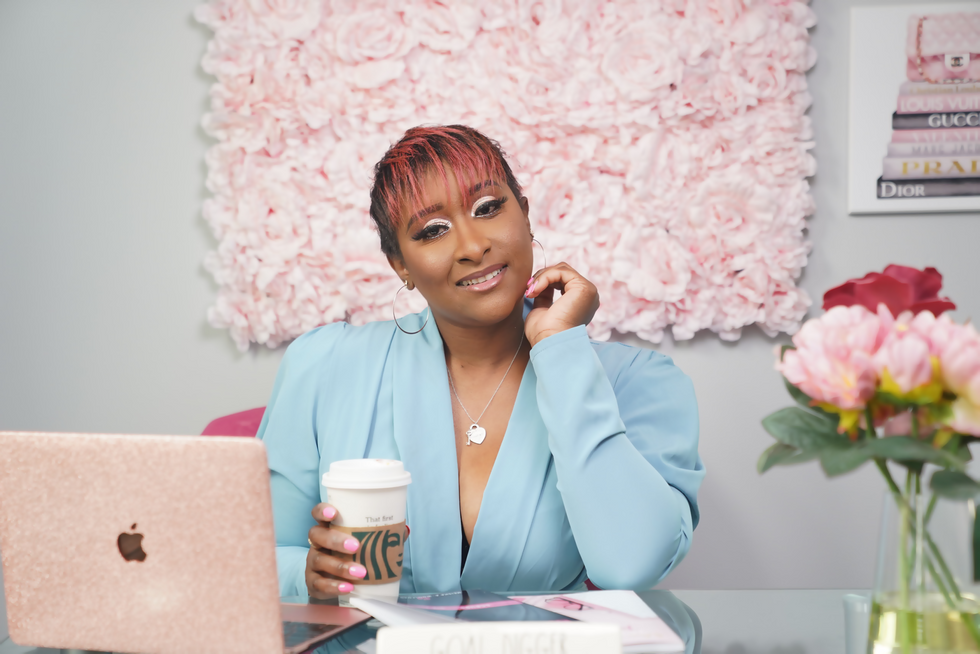 Courtesy of Meisha Amia
In 2016, Meisha Amia created the online platform, Chicks with Cheques. Chicks with Cheques is a full membership based curriculum that teaches hundreds of digital strategies needed to run an online business and grow a profitable brand. This community has grown to more than 30,000 female entrepreneurs and nurses. Meisha Amia is not only passionate about helping nurses create wealth for themselves, but she is adamant about changing the narrative of black women who deserve to have the finer things in life. Meisha does not believe in the idea of cheating ourselves in financial freedom and is determined to teach others how it's done.
In this installment of "Money Talks", xoNecole spoke with Meisha Amia about how she pivoted from dealing with a traumatic loss, the importance of being strategic with money, and how every woman deserves a Chanel bag.
xoNecole: How much money do you make in a year? A month?
Meisha Amia: I am used to having a $20K - 40K monthly income since becoming a travel nurse. Basically, I am contracted independently or through a third party via hospital organizations that are short staffed. I usually negotiate my contracts and before the pandemic, I was making around $20K a month. But during the pandemic, it has been $40K a month.
What do you define as "wealth" and "success"?
Wealth to me is freedom. What I mean by that is having the freedom to say "no" or taking a vacation for a month when you feel like it. Just being able to have the freedom to make choices that doesn't jeopardize your net worth. That is what wealth looks like to me. Now success, success is being able to serve and make an impact on others. It's not really the monetary side in my opinion. I can find success through the amount of people I've helped during this journey or the amount of people I've inspired because of my story.
What's the lowest you've ever felt when it comes to your finances?
Being a contractor can be up and down. So at those low moments, I have definitely felt hopeless and depressed. I went through a traumatic loss two years ago and within those two years, I was not motivated to work. I unfortunately lost a lot of money that eventually got me into debt. What got me through was getting into therapy. Therapy was a game-changer for me and I was able to find my motivation again. Once I gained my motivation, I also became more aggressive in paying off the debt I created within six weeks.
"I unfortunately lost a lot of money that eventually got me into debt. What got me through was getting into therapy. Therapy was a game-changer for me and I was able to find my motivation again. Once I gained my motivation, I also became more aggressive in paying off the debt I created within six weeks."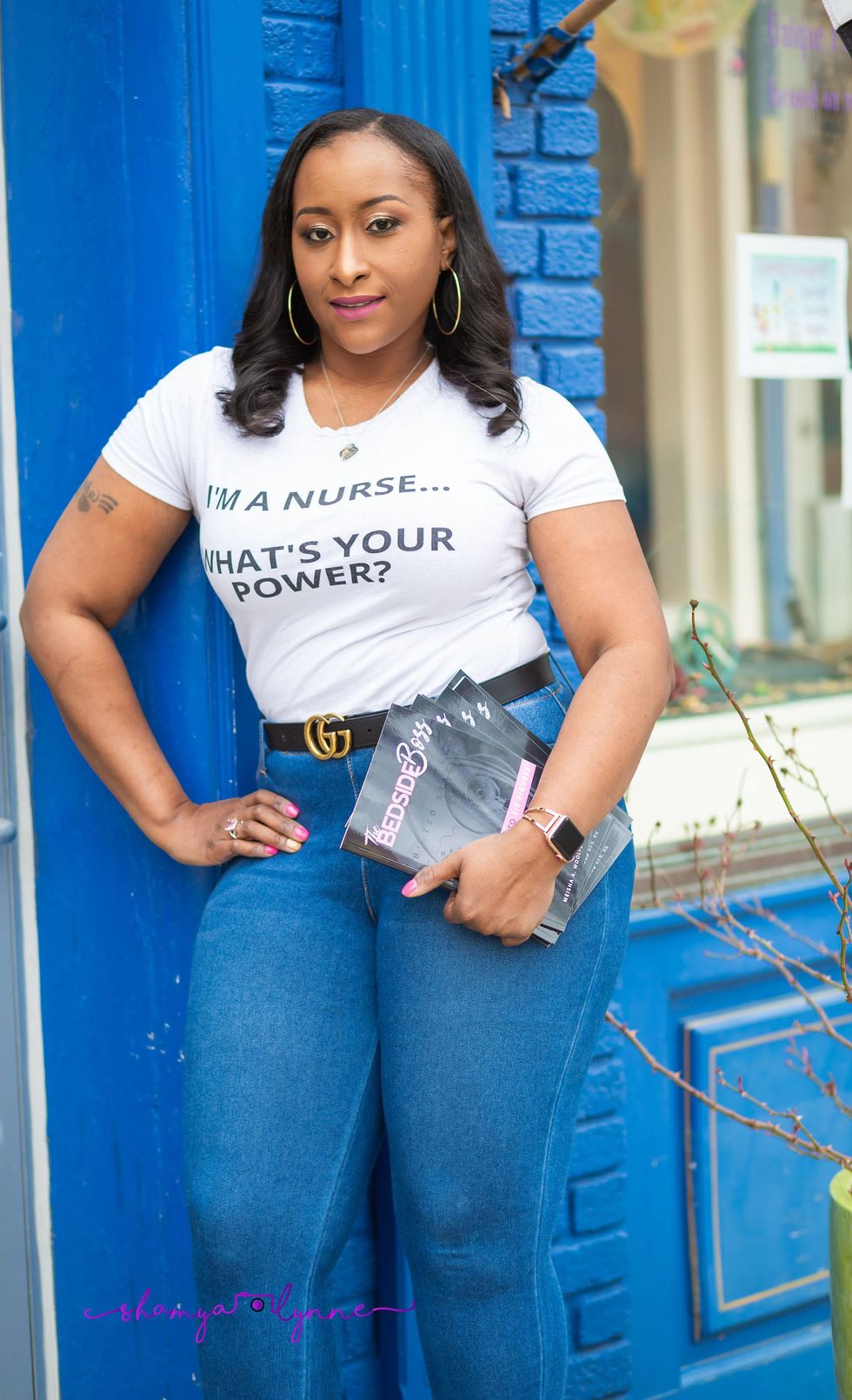 Courtesy of Meisha Amia
Be honest, what's been your biggest splurge so far and why did you purchase it?
I have always been a saver. I usually save 20 percent of my earnings a month. But I also live a lavish rich lifestyle. I'm not gonna lie, I am definitely into buying the finest of everything. So I would say my biggest splurge last year was a Chanel bag. I really want the world to normalize women of color, especially black women, having luxury and wealth. It can coexist. Us women just have to learn more about financial literacy and we would be good (laughs).
Never cheat yourself or feel you are not worthy of something nice. If your bills are paid, your savings account is good, and you have your investments, you deserve that bag, girl.
What are some unhealthy habits about money or some unhealthy mindsets about money that you had to let go of to truly prosper?
That 'spend a check and get it right back' attitude (laughs). I say that in the most humble way. Being a nurse, you can get used to having that mindset. But we forget about the physical part of putting in those extra hours and what it does to our bodies. I have taught myself that once I see my account at a certain amount, I am in panic mode. I still have a good amount in there, but it helps me be more intentional about my spending. It's important to be very strategic about how you save, how you invest, and how you splurge.
"I have taught myself that once I see my account at a certain amount, I am in panic mode. I still have a good amount in there, but it helps me be more intentional about my spending. It's important to be very strategic about how you save, how you invest, and how you splurge."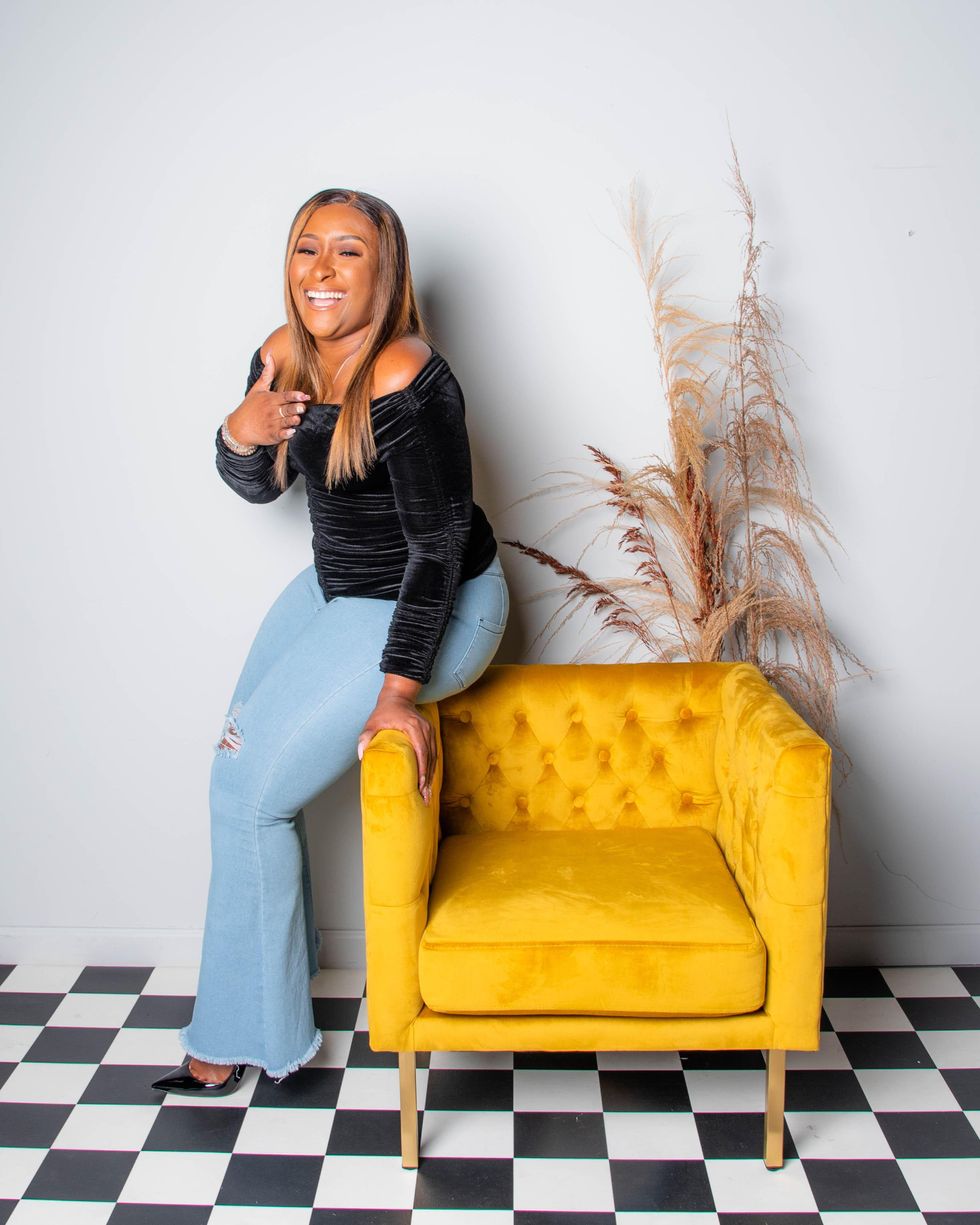 Courtesy of Meisha Amia
What is the money mantra you swear by?
"I don't work hard for money, money works hard for me." For me, that is when I use my earnings and invest it into my other businesses. I am always thinking about if I put an X amount of dollars here, then Y amount should be my return. This is how we should all be thinking when it comes to money.
What is the most important lesson you've learned through being a business owner and running multiple businesses?
The most important lesson I've learned is having multiple streams of income does not mean you need to have multiple businesses. You should not exhaust yourself being a CEO of multiple things. That is where the burnout will come from. If you are passionate about different things, focus on that. But make sure you are thinking about how to create most of your revenue under one roof.
What's the best advice that you've received about finance during your first year of entrepreneurship?
One thing about being an entrepreneur is that I do not do this alone. I have my mentor and I have invested in multiple coaches to help me reach my goals. The best advice I have received is to set those prices and be firm with them. When you are starting a business, people usually start with low prices. We have this mentality and fear that people are not going to show support if we come off too "expensive". But what I have learned is that we are actually cheating ourselves when we set the bar low. Because when you want to change your price and increase it, the people that were supporting you before are no longer interested. You have already told them your worth.
To be better respected, set those prices at a quality rate and the right people will pay you exactly what you are worth.
To learn more about Meisha Amia, you can follow her on Instagram and check out her business here.
Featured image by Meisha Amia

Walking into our twenties feels like we're stepping into our artificial glow of the "I'm grown, and no one can tell me nothing" phase; however, it's the decade we're prone to making the most money mistakes. What we do with our money in our twenties could also roll over into what we're doing in our 30s. And if you're not careful, your poor spending and saving habits can cost you in the long run.
Next thing you know, when you're ready to buy a home or car and they run your credit, and it looks horrible – you have no one to blame but yourself. Stepping into adulthood, we have to own our spending habits and pave the way to build financial wealth. It's never too late to change your money mistakes, but you have to be committed to following that plan instead of enabling those bad habits. Here's a list of things you may be doing now that you NEED to change ASAP.
Not having emergency funds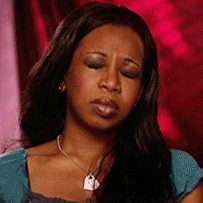 Over It Reaction GIF
Giphy
I know when we're young, we tend to think we're untouchable. Life won't shatter in our faces, but that's a false narrative; emergencies happen to all of us – despite our age. Though we may be committed to the jobs we work at, they aren't always committed to us when they have their personal quotas to meet.
So it's possible in some part of your life you can lose your job, and what happens next when you don't have the financial backing to depend on while you're job hunting? You should aim to have at least three months of living expenses saved in an emergency fund just in case that storm ever hits where you have no income and need some grace period money to get you off your feet. Start small and begin by saving $1,000 and then keep adding to it month to month until you have three months. Dave Ramsey has a great resource on how to quickly build your emergency fund. You can find that here.
Spending more than you make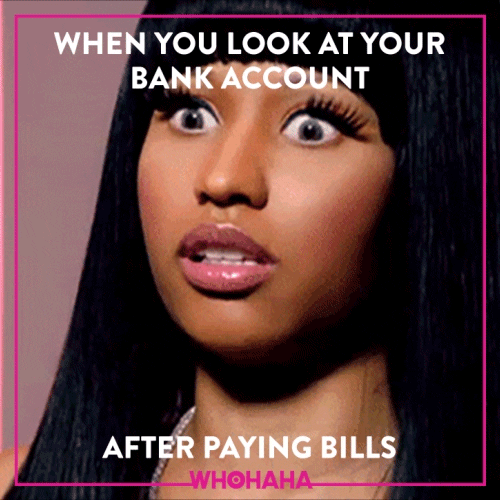 nicki minaj money GIF
Giphy
Learning to live below your means is the top tier secret to building wealth. I know the media plays a significant role in our spending habits as we see everyone do everything, and then we sit back and question why we aren't doing that too. Don't let comparison steal your joy and mislead you into financial ruin by living above your means.
No, you don't need every cute shoes you see or to say "yes" to every vacation your friends invite you to. You have to create a financial structure that will help you thrive in the long run, not just in the present. If you want that business, house, or car, it's not going to invest in itself; it needs your disciplined spending to build it.
Living off credit cards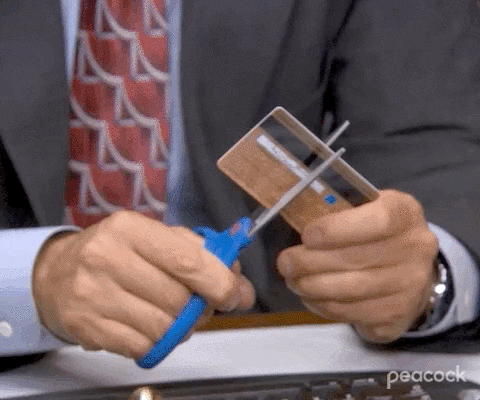 Season 4 Episode 6 GIF by The Office
Giphy
Listen, y'all, credit cards can be life-saving when you're in a bind, and they can also ruin your life if you don't know how to manage them. According to WalletHub, Americans started the new decade last year by owing a collective $1 trillion in credit card debt. For those who have credit card debt, the weight of the financial burden can feel quite debilitating and it can sometimes be a hole that is hard for debtors to climb out of.
In fact, the more you owe on your credit cards, the harder it is to bring up your credit score, and oftentimes credit card companies do not raise your credit limit when you owe a balance. So in order to get ahead of credit card debt, pay more than the minimum payments, factoring in the interest cost to reduce the amount of credit card debt you will have and increase your credit score.
Not saving for retirement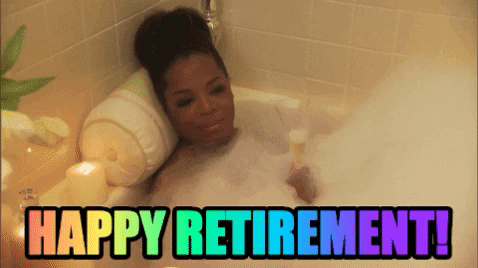 Oprah Retirement GIF by swerk
Giphy
The sooner you start investing in your 401k or other retirement accounts, the longer that money can accumulate interest and the more funds you'll have when you are ready to retire. Saving for your retirement doesn't have to start out big; you could start out at 22 years old with your first job, investing two percent of your income to retirement and increase that rate every year or every other year. So when you step into your thirties, you'll be at the healthy ratio of investing 10 to 15 percent of your income into your retirement funds.
Not diversifying your income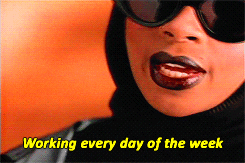 work working GIF
Giphy
Monogamy is meant for relationships, not our careers. Don't over-commit to one job because when they need to cut their budgets or just feel like you don't fit their role anymore – they'll just let you go without warning. It's always great to have a side gig or several side gigs you can jump back into if things ever go south with your main job.
Don't burn the bridges of your side gig braiding hair, flipping homes, babysitting, dog sittings, etc. If you're a great chef, still cater events when you can; if you're a jewelry designer, work on designing your own pieces and selling them in your spare time instead of only focusing on your corporate jobs design line. Bringing in more income opens doors to invest more and build generation wealth, so those little side jobs can be investing in your child's tuition or buying that condo you have your eyes on.
Not getting renter's insurance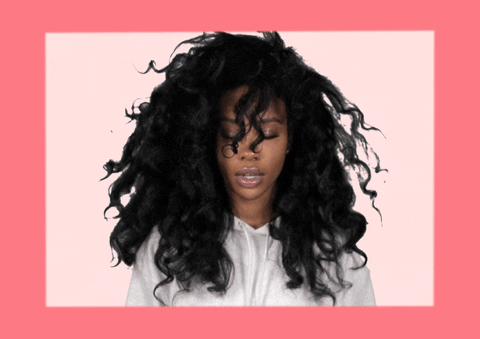 stressed out stress GIF by SZA
Giphy
In our 20s and 30s, we're mainly focused on moving out of our parents' place and living independently in our new apartments. I didn't even know of renter's insurance until a year of living on my own. Some people may think it's pointless because what are the odds water damage or a lousy tornado will occur and ruin your place? Or the odds that someone breaks into your apartment and steals your laptop and TV? But it happens and if you stay ready, you don't have to get ready.
So now that you have the picture painted on the potential loss, that small monthly expense doesn't seem unnecessary; it becomes a no-brainer to have some sort of renter's insurance while living in your apartment. It's better to be covered just in case versus having to cover the expense of your things if they are destroyed or stolen.
Not having a financial plan when you move in with a partner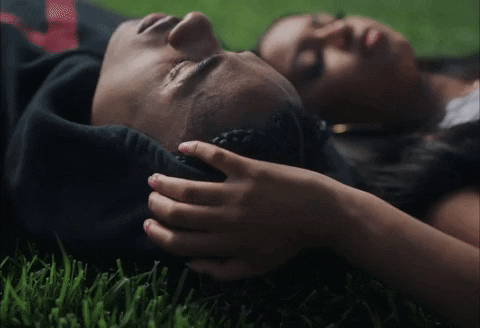 Couple Chillin GIF by Ryan Trey
Giphy
Testing out the waters before marriage by living together is cute and all but you and your partner need to have the heavy conversations regarding finances. Deciding who pays what bill and how much of the rent you'll contribute, and more than anything, what you both are saving towards. Openly discussing your budget and spending habits helps to hold each other accountable to work on your credit scores, pay down debts, and entertain conversations like buying a house together and investing in vacations, babies, businesses, etc.
It may be an awkward conversation initially, but it's a conversation worth having to make sure you both grow together financially. If you find that you are not on the same pages financially, it might be worth holding off on cohabitating. Additionally, it might be useful to get something down in writing that covers the both of you if the relationship ends and you want to skip the potential mess of figuring out who lives where and if the lease will be broken.
Ladies, money mistakes are going to happen one way or another. But we have to start making big money moves by adjusting how we spend our money and what we invest in. It's never too late to stop those bad habits and create new ones to open the doors to financial freedom.
Are you a member of our insiders squad? Join us in the xoTribe Members Community today!
Featured image by Shutterstock