Many things come to mind when I think of October. Mean Girls (October 3rd, anyone?), Halloween, and most of all Breast Cancer Awareness Month. I'd be remiss if I didn't take this opportunity to say, "In October, we wear pink." For the cause, of course. This is a cause near and dear to our hearts as women but also because we all know and love someone who has been impacted by breast cancer. Not only is the month dedicated to them but it's also dedicated to creating awareness and funding around preventative measures.
Why Breast Self-Exams Are Important
Unfortunately, for Black women, we're already overlooked in the healthcare system which likely has a lot to do with why the mortality rate associated with breast cancer is higher for us despite being diagnosed at similar rates as our white counterparts. In addition to having a trusted physician on your side (ahem, one that looks like you), this means we have to take extra care and remember to do our regular lump checks outside of office visits. Furthermore, thorough screening for breast cancer isn't offered as a recommendation for those under the age of 40. Thing is, "11 percent of all new cases in the United States are found in women under the age of 45," according to the CDC. So in this instance, knowledge is our friend!

And we know you know that a lump can mean breast cancer, but this time we want to spend time going over the other things that lumps may indicate—causes that may have nothing to do with breast cancer in the least bit. To get answers, I reached out to some doctors of color to see what other lumps we might come across while doing our at home checkups.

The Different Kinds Of Benign Breast Lumps
1. Cysts:
"Not all breast lumps are created equal. There can be many reasons why a woman may feel a lump in their breasts or see one on imaging, such as a mammogram or ultrasound. While we are always concerned that these may be cancerous, there can be benign reasons to have a lump. Cysts are another common cause and are fluid-filled round lesions within a 'sac' or lining. They can change in size on their own or can change with your menstruation. Lumps during your menstrual cycle in general are common as well, and are referred to as fibrocystic changes. This is one of the main reasons why it's important to regularly do self-breast exams so you are familiar with how your normal breast feels.
"Breast imaging such as mammograms, ultrasounds, or an MRI are likely to differentiate between these various lumps. In certain instances, your doctor may recommend a biopsy or fine-needle aspiration to obtain a definitive diagnosis or may discuss removal of the mass completely."

—Smita R. Ramanadham, M.D., F.A.C.S.

2. Fat Necrosis:
"Fat necrosis is benign breast lump that usually happens after trauma to the breast, surgery or injection of foreign material. In this case, the part of the fat in the breast dies and becomes calcified and hard and feels like a tumor. These are noncancerous and usually need surgery to rule out if they are painful or to differentiate from cancer."
3. Breast Abscess:
"An infection, categorized by pus in the breast tissue. Associated with pain and sometimes a fever, it's usually a complication of an infection of the skin. There's usually redness on the breast and antibiotics may fail. Your physician may feel a lump that is tender. It is easily diagnosed by ultrasound. And it's treatable."
—Lamia Kadir, MD
4. Intraductal Papilloma:
"Intraductal papilloma is a small growth within the milk ducts in a female breast. These may be associated with bloody nipple drainage and can sometimes result in a mass or lump. A blocked milk duct is another cause of a bump or mass to form in the female breast. Typically, this occurs during breastfeeding."
—Smita R. Ramanadham, M.D., F.A.C.S.

5. Fibroadenomas:
"Generally, about 20% of breast lumps are cancer. Fibroadenomas - these are the most common benign lumps. If you push on them, they are solid, round, rubbery lumps that move freely. They're usually painless. Women between 20 and 30 get them most often. They're also more common in African-American women. Fibroadenomas can be surgically removed. There are other types of non-cancerous breast conditions as well."
Every doctor presented here stressed the significance of making sure we're checking for lumps on the regular, so I want to echo their sentiments here as well. According to the National Breast Cancer Foundation, the best time to examine your breasts is "7-10 days after their menstrual period starts which is also when their breasts are the least tender and lumpy."

Are you a member of our insiders squad? Join us in the xoTribe Members Community today!
Featured Image by Shutterstock
Keep reading...
Show less
You gotta love a good show or movie with a strong black lead and story you can get lost in. Since we're no longer obligated to stay at home, you might find yourself ready to indulge in a little big-screen escapism---social distancing guidelines in place, of course. Even if you might be among those still putting a pause on sitting in a theater or joining a watch party, we've got something for you. (Hey, we don't blame you sis.)
Check out these 10 must-see films and shows featuring black leads, from horror, to comedy, to thrillers and beyond.

HORROR: Lovecraft Country
Jordan Peele (Get Out) is one of the executive producers of this HBO series set to debut in August. Based on a novel by Matt Ruff, it follows a man's journey through 1950s Jim Crow South in search of his missing father. If you're thinking, 'Well, where's the quirky, thought-provoking twist Peele is known for?' you can find it in the inclusion of forest monsters and strange zombie-like characters. The star-studded cast includes Courtney B. Vance (Cork'd, Law & Order: Criminal Intent) Jonathan Majors (White Boy Rick, The Last Black Man in San Francisco), Jurnee Smollett-Bell (Underground, True Blood) and Michael Kenneth Williams (The Wire, Empire).
DRAMA: Greenleaf, Season 5​
We can't get enough of this Memphis megachurch drama, slated to see its final season on OWN this summer. The bishiop (Keith David) and his wife (the never-aging Lynn Whitfield) return with other mainstays Deborah Joy Winans, LeToya Luckett, Lamman Rucker, Merle Dandridge, and Kim Hawthorne. Oprah's also set to make an appearance, and there are reports of Patti LaBelle and Rick Fox showing up as well. (A spin-off is also reportedly in the works.) If you haven't caught up to all the drama, scandals, and secrets, all four previous seasons are available on Netflix, so go ahead and get your binge on if you haven't already. Be sure to catch the latest episodes of the final season airing on OWN Tuesdays at 9pm.
MYSTERY: Antebellum
Janelle Monae. Janelle Monae. Janelle Monae. Need I write more? OK, well, if she didn't already wow you in Hidden Figures, at least intrigue in in Homecoming, or have you enjoying the luscious fabulousity of a being a black woman via her 2018 album Dirty Computer, I almost don't know what else to tell you. This psychological mystery, which will be available in theaters if all is back to normal by August 21, centers on an author who is transported into an alternate reality of Get Out vibes and Roots travesties. The thought of being placed back into slavery as a woke woman of the 2000s is already horrific within itself, so it will be interesting to see how this plays out.
THRILLER: Tenet
An espionage agent who can bend time, wear the hell out of a tailored suit, survive beatings and near car crashes and doesn't have the name Bond? Yep, that's this film. (We love James Bond by the way, so that wasn't a dig.) John David Washington stars in this flick, set to hit theaters July 17. I'll go ahead and leave out the comparisons to the Original Mo' Betta Blues-giving, Equalizer-fighting, Malcolm X-swagged Zaddy out of this. (I mean, Denzel is his daddy, sis.)
NOLLYWOOD: Merry Men 2
If you like films like Ocean's 11, or Takers, you'll like this action-comedy available for streaming on Netflix. It showcases the glitz and glam of the Nigerian elite in an international adventure to fight corruption, steal from the rich, and give to the poor. Nigerian host and comedian Ayo Makun and musican-actor Falz star in this film along with other Nollywood vets including Ramsey Nouah, Ireti Doyle, and Jim Iyeke. This sequel takes things to the next level with a fierce female mercenary crew who give the four leading men a run for their money. This isn't your typical three-DVD soap opera drama you'd typically enjoy while getting those Marley twists redone at the braid shop, sis. (Though we love those, too.)
COMEDY: The High Note
Tracee Ellis Ross stars as a Hollywood superstar singer (a great nod to her real-life mom Diana Ross) and faces a career and life dilemma when her manager (played by Ice Cube) presents her with an interesting opportunity. If not for the fashion and endearing goofiness of Ross, you'll want to check it out just to see if the (musical) apple doesn't fall far from the entertainment royalty tree.
DRAMA: The Chi, Season 3
This Lena Waithe hit returns with the inclusion of new faces including RHOA's Kandi Burress, who plays the love interest of the show's gangsta lead Douda (played by Curtiss Cook). Actors from the previous season including Common (who plays Selma), Jacob Latimore (who plays Emmett), Yolanda Ross (who plays Jada), and Ntare Guma Mbaho Mwine (who plays Ronnie). Waithe makes cameo appearances, along with Luke James and La La. It looks like there will be a quite a few plot twists but one is no surprise since Tiffany Boone (who played Jerrika) and Jason Mitchell (who played her chef bae Brandon) won't be returning this season. Tune in July 5 via Showtime.
DARK COMEDY: I May Destroy You
British actress Michaela Coel is back with an eyebrow-raising depiction of how a woman deals with the aftermath of being slipped a date-rape drug. The series explores sexual consent, contemporary dating, and reevaluating life choices as a woman in London, and if you liked her quirky Netflix series Chewing Gum, you might be able to give this HBO series a chance.
DRAMA: Miss Juneteenth
This film, which was a Sundance Film Festival selection and a hit at SXSW, centers around Turquoise Jones (played by Nicole Beharie of Sleepy Hollow fame), a single mother and former beauty queen. She goes on a journey in getting her rebellious daughter to follow in her footsteps and how she navigates love, parenthood, forgiveness and redemption in the madness. The film is debuted June 19, the 155th anniversary of Juneteenth, via multiple streaming platforms. You'll see a familiar face in Insecure's Kendrick Sampson (Issa's halfway-boo Nathan) who plays Jones' love in this film.
COMIC ACTION: Falcon & The Winter Soldier 
Disney+ is debuting this series, starring Anthony Mackie as Marvel Comics' Sam Wilson AKA "Falcon". He's joined by actress Adepero Oduye (When They See Us) for this classic interpretation of the comic, and stars alongside Sebastian Stan (who plays Bucky Barnes AKA The Winter Soldier). Samuel L. Jackson is also rumored to return as Nick Fury in the six-part series set to debut in August. Each show will be released weekly versus all at once, so you'll get to hold on in suspense to see what will happen with the Marvel Cinematic Universe.
Want more stories like this? Sign up for our newsletter here to receive our latest articles and news straight to your inbox.
Featured image by Shutterstock
Keep reading...
Show less
Every time I meet a man who gets me all hot and bothered, before I have sex with him, I ask myself one question: did I masturbate first?
Flicking your bean. Spanking your monkey. Diddling Miss Daisy. Whatever fun euphemism you use as a term for masturbation, I'm here for all of it, sis. While having some alone time with your vagina may be an awkward topic for some women, Janelle Monae has no shame in having a girl's night in. When asked about the many things in life that bring her joy, Janelle basically said what we were all thinking.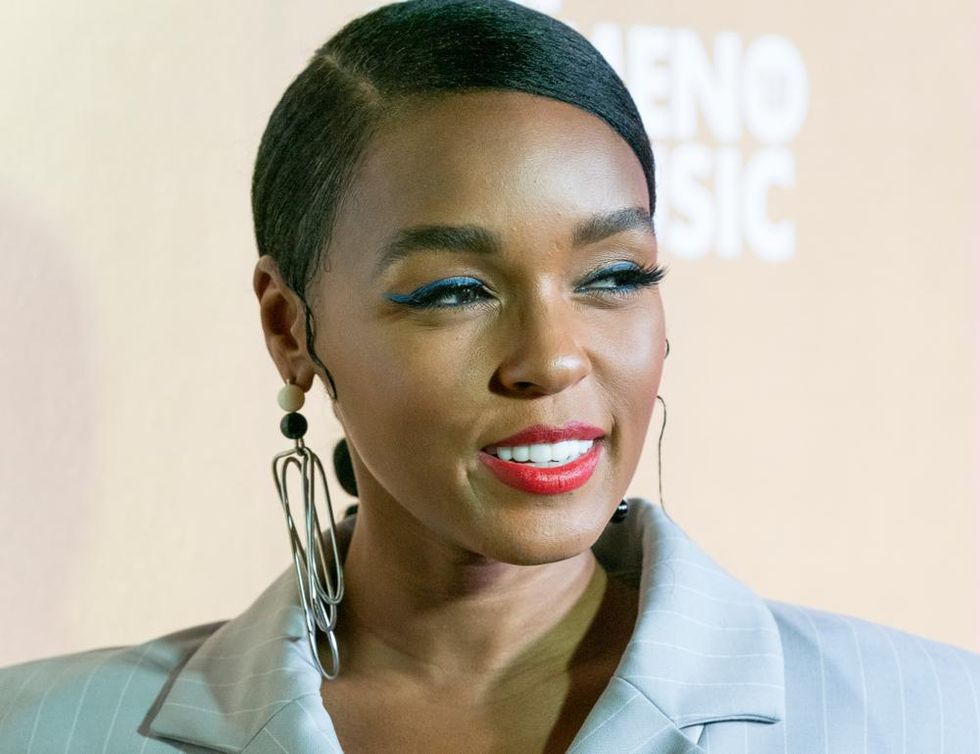 lev radin / Shutterstock.com
Many of us, including Janelle, grew up in a religious household where we were shamed for our sexuality and are often shunned for expressing the need to have an orgasm. But to Janelle, walking in her truth means being real about the fact that one of the best parts of the day is usually spent exploring her own lady parts. In her recent interview with InStyle, the singer said:

"I have to talk about my sexuality. I have to talk about my blackness. I have to talk about my womanness. I have to talk about these things. This is who I am as a person."
Although Janelle may be secure AF with her sexuality today, things haven't always been this way, and according to this 30-year-old superstar, having a full understanding of her pleasure zone early-on may have saved her from a number of unsavory situations.
"I have been in situations where, as a young girl, you have compromised your morals and your values and you feel used."

These days, most kids receive a lot of their information about sex from the Internet or uninformed peers, and some form of sex education is usually made accessible by the age of six years old, so it only seems right that we start asking: how young is too young to start talking to your little one about the birds and the bees?
To Janelle, her parents allowing her access to more information could have made a world of difference when it came to defining her sexual identity. She continued:
"And I'm like, 'If my mother had let me have a vibrator at a young age to be in touch with my body more, I could have saved myself from so many poor decisions.' You know what I'm saying?"
Take it from Janelle, girls need love too; even if that means you have to show it to yourself.
Read Janelle's full interview here!
Featured image by lev radin / Shutterstock.com
Keep reading...
Show less
Music has existed for as long as mankind has had a voice, and most likely some time before that. Classified as "the art of combining tones to form expressive composition; any rhythmic sequence of pleasing sounds," music has evolved past its very definition to becoming a prominent figure in everyone's lives. Music can be found everywhere in our world, transcending past cultures, experiences, and languages. With a variety of instruments, themes, and forms of voice singing that can be added to it, music takes us on an endless adventure.
And although the importance of this adventure is often overlooked, or reduced to background music, on June 21st that will not be happening. On June 21st, we will celebrate this endless adventure and those who dare to take it, by celebrating World's Music Day. World's Music Day is an annual celebration of music in all its forms and the impact it's had on the world and the human spirit.
On World's Music Day, many are encouraged to play music outside in their neighborhoods or in public spaces and parks. So, in order to ensure your day of music, and the first day of Summer, is kicked off with the greatest tunes to date, here is a playlist made with you all in mind.
Enjoy.
"Workin' On Your Fitness" Playlist
"Black Girl Magic" Playlist
"I Don't Dance, I Work" Fitness Playlist
"It's A Vibe" Playlist
"You Could've Had a Bitch" Breakup Playlist
"Soulful Gents" Playlist 
Featured image by Getty Images
Keep reading...
Show less
Women should be seen and not heard, speak only when spoken to, and mind their manners in the presence of others. A "well-bred" woman will refrain from using foul language, wear only clothing that is deemed socially acceptable, and be discreet about her sexuality.
If you were raised in the church or any old heads in the South, you know that historically, this way of thinking was dominant in the black community and pretty much the entire world. Oh, the hoops women have to jump through to be considered "ladylike"; it should be a paid position in and of itself. Luckily, we now live in a world where I can proudly say "f*ck that," wear whatever the hell I want to and know that it doesn't make me any less of a woman.
Prince prodigy and sci-fi superbabe Janelle Monae agreed with my way of thinking in a recent interview with ESSENCE. The 33-year-old star of the upcoming feature film, Ugly Dolls, told the publication that how you gauge her womanhood is not and never has been a reflection of the woman that she actually is.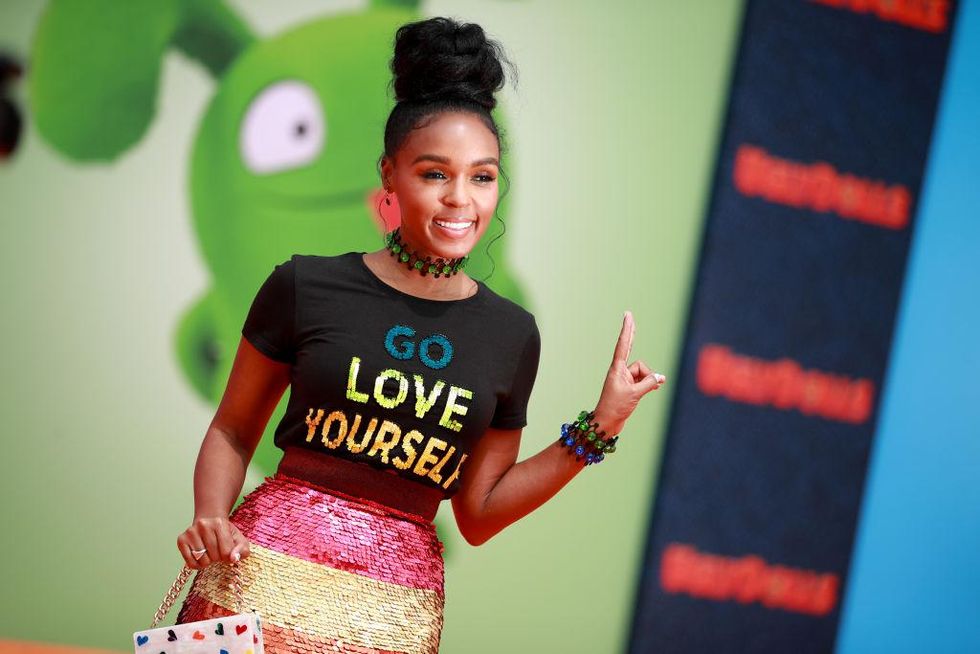 Rich Fury/Getty Images
"There's always this constant idea of what's ladylike and what a woman should do. Let's stop listening to what people tell us we should do and just do what's in our hearts and what's in our spirit."

In the past, the androgynous star has been transparent about her sexuality and her refusal to conform to societal norms has made her one of the hottest entertainers in the industry. After coming out as a member of the LGBTQ+ community last year on the cover of Rolling Stone, she's made an effort to shift the narrative in the black community of what it means to be a queer, Black woman one boss move at a time. In an intimate conversation with fellow songwriter, Lizzo, she had this to say:
"With 'Dirty Computer', I made a bigger declaration to myself — that I'm not putting out an album if I can't be all of me. You're gonna take the blackness, you're gonna take the fact that I love science fiction. You're gonna take the fact that I am a free ass motherf*cker. You're gonna take that all in and because that is what you're gonna get."
She told ESSENCE that her confidence to be the pro-black, non-conformist badass that she was by learning to take the advice of others with a grain of salt. Janelle explained that she knows what it's like to have both your body and sexuality policed by people that don't even know you; even the people we love can sometimes try to push us into being someone that we're not.
The singer emphasized the importance of letting the people around you know that your body is your own, they don't own you. This is why the previously somewhat conservative artist says she's grown comfortable with showing more skin on stage:
"I've always been clear that it's important for me to remind myself and remind others that I have agency over my body. I get to decide when, where, how, and not live by anybody else's interpretation of what they thought I was. The message has always been very clear."
According to Janelle, being honest with others starts with gaining the ability to be real with yourself. Walking in your truth also means learning to love and accept your eccentricities and know that they are what makes you truly unique. She told POPSUGAR:
"We are one living, breathing organism — humanity. We depend on each other to survive. What makes us one is the many unique things about us. A puzzle piece is not the same, but when you come together, you create a beautiful puzzle that was put together and everyone can marvel at. That's what humanity represents. We each are a piece of that puzzle, and we're designed uniquely to do a specific thing."
"Self-love starts inward. If you don't love you, I don't think you could ever really love anybody else."

The Hidden Figures actress explained that after being bullied in her childhood, she had to learn that she may never be ladylike enough for other people, so she just had to be good enough for herself. Once she did, she learned:
"Once you start walking in your truth, you'll start finding your tribe of folks who are walking in their truths. And then you guys can take down the patriarchy and abusers of power."
Power to the people, Ms. Monae.
Read the full ESSENCE interview here and check out the trailer for her new film, Ugly Dolls below!
UglyDolls Trailer #1 (2019) | Movieclips Trailers www.youtube.com
Featured image by Rich Fury/Getty Images
Keep reading...
Show less
Janelle Monae has been bringing Black Girl Magic to our radar lately, whether it be with her bold fashion sense, her bomb music, or her acting career.
Her album Dirty Computer was nominated for Album of The Year at the 2019 Grammy Awards, which was a major milestone for Monae as this piece of work was the most revealing for her as she gave us a glimpse into her life and sexuality. Monae shared:
"This album is so much bigger than me. It's not about me, it's about a community of dirty computers, of marginalized voices. Being a young Black queer woman in America, there was something I had to say."
In addition to her music, she is gracing the big screen yet again in Welcome to Marwen, where she will play a physical therapist to a WWII soldier suffering from PTSD. Interestingly enough, she recently admitted to Essence Magazine that one of her biggest priorities, once she was financially able, was to seek therapy herself:
"When I first started getting a check, I went to therapy. Therapy is important. And being a Black woman that was not something that was pushed in my community, it was always 'pray about it, God will take care of it'. I believe in a higher power but I also believe that that higher power gives you people on Earth to help walk you through some of your darkest times and help you cope and deal."
Therapy is an important part of Monae's self-care regimen, especially for the confident and increasingly transparent persona that she embodies.
A deeper understanding of yourself, where you have been, and where you intend to go assisted by the help of a professional is so beneficial to your well being. Perhaps her time in therapy is what led the 33-year-old singer, songwriter, and actress to become more forthcoming and less guarded in her work. Monae admits that bearing her inner-self was a bit nerve wracking at first, especially after breaking the news of her pansexuality:
"It's uncomfortable for me because I've always been a private person. But when you make art that's so personal, folks wonder how much of this is your real life versus the concept."
However, after being mentored by the Emperor of Pop and Funk himself, Prince, Monae learned that regardless of the parts of herself that she would like to keep private, it is important to guide and empower others just as her idol Prince did for her, explaining that he "never let his mystery get in the way of his mentorship."
As we move into our New Year resolutions and an increase of self-care is high on the list for many of us, let's not forget therapy is a great way to kick start your wellness and self-care journey!
Welcome to Marwen is currently out in theaters. Watch the trailer below.
Welcome to Marwen - Official Trailer youtu.be
Feature image by Getty Images for Absolut Elyx

Keep reading...
Show less