---
Blacks, browns and grays are our usual go-tos for fall but this season your palette is getting a bright power boost to help liven up your wardrobe.
Back in February, the runways from all over the world told us that your favorite neutrals need a break. Fall 2019 is dedicated to the bold and the bright. You may find that color trend reports will vary but we have gathered an array of shades, tones and hues that will make you excited for this new season. Every time the weather changes, we can depend on Pantone to tell us what colors we should be wearing. While they have their own predictions, we have our prophecies for the most wearable hues.
Keeping our melanin in mind, flip through our canvas of colors for some inspiration.
Shades of Blue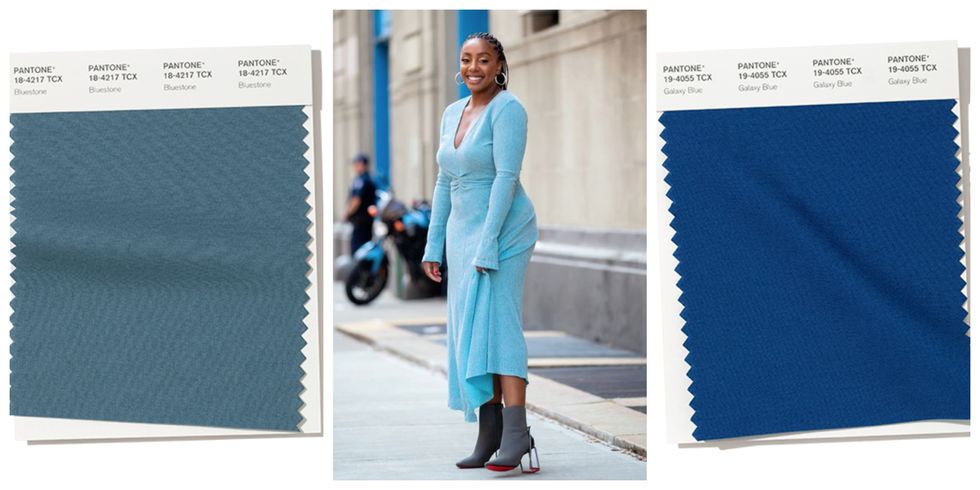 Lindsay Peoples Wagner
This color gives me earthly yet galaxy vibes. While it can be subdued because of its calm undertone, the outfit choices are endless. We predict blues in shades of bluestone, a color of quiet resolve according to Pantone, and galaxy blue which screams royalty.
Of the color palette, these shades of blue are considered the perfect primary color. Our favorite Editor-In-Chief, Lindsay Peoples Wagner, stunned in bluestone knit dress and gray booties.
Look 1: Dress (SHOP HERE)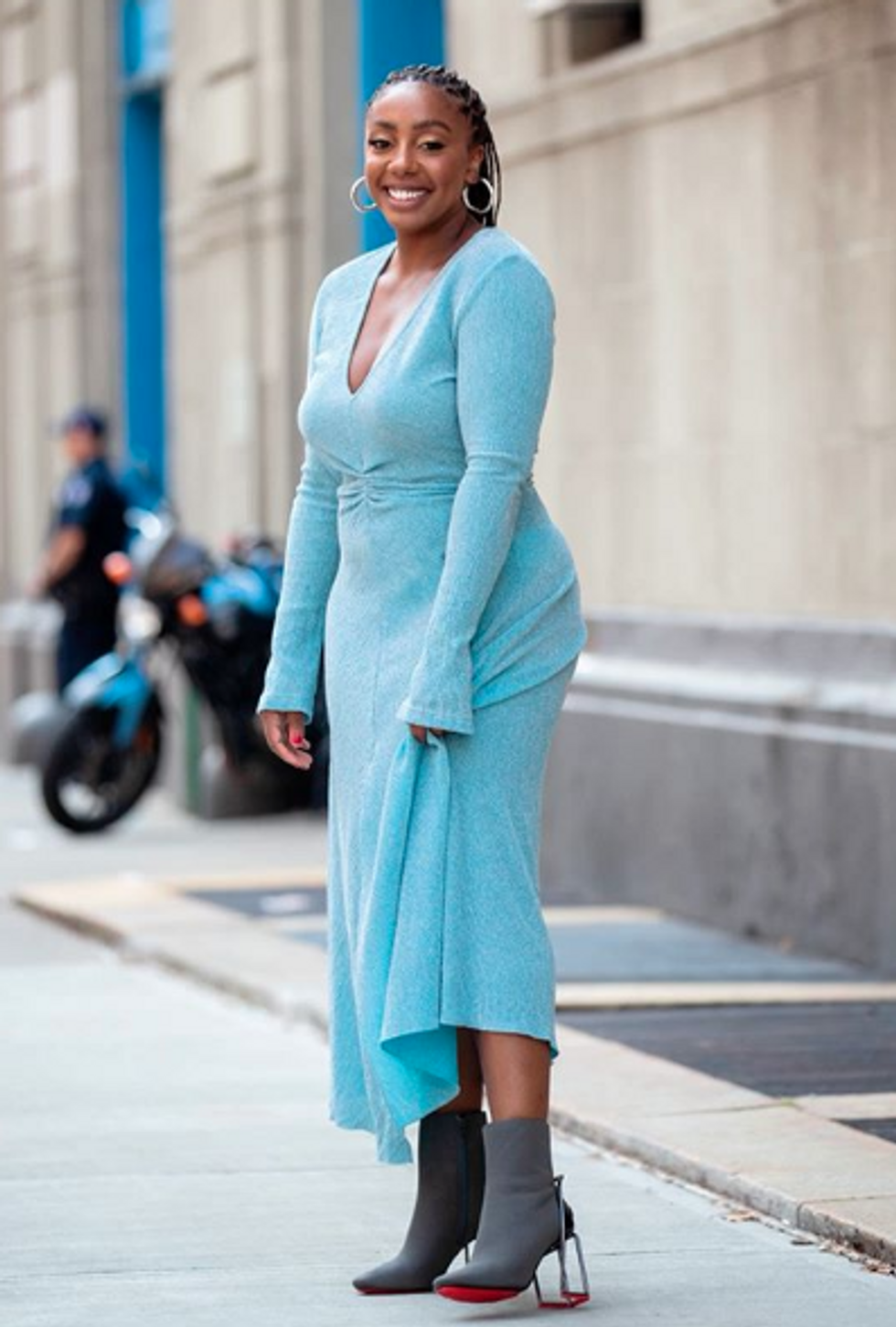 @lpeopleswagner
Merlot-ish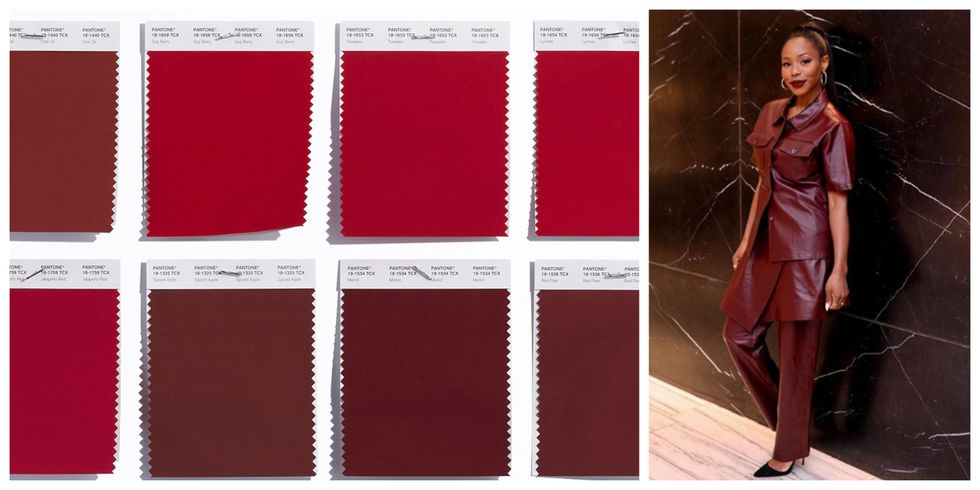 Kahlana Barfield Brown
I like my fashion like I like my wine: merlot. Did you know that when the temperature is cooler, the tones should be warmer? Well, this tint is proof of that as it exudes strength and power with its balmy properties. Designers like Oscar de la Renta and Tom Ford showcased the hue in various ways, showing its massive versatility.
Need some inspo? Kahlana Barfield Brown is your girl! She created a stylish, merlot look by layering leather pieces. She topped it off with a matching lippie giving us so much life.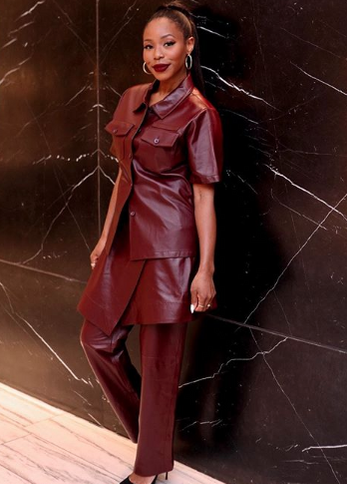 Fruit Dove aka Popping Pink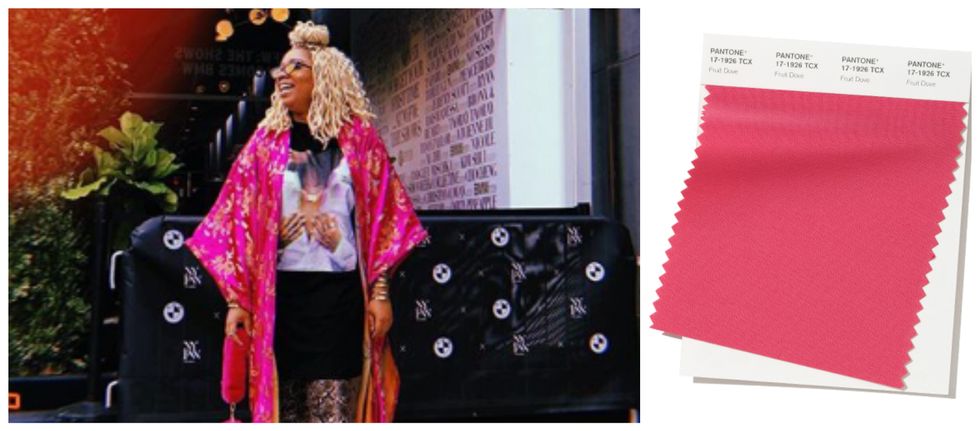 Joce Blake
Last year, it was all about millennial pink but this season it's time to cop some bright, hot pink in everything. So bright and hot that it's shocking. Pantone says that it creates a presence that can't be ignored. Jacquemus, Molly Goddard, Chanel, Valentino are all on the pink wave. You can style a suit or coat to give the tone a try.
Since pink is my absolute favorite color, I decided to make it grown and sexy by elevating a bodysuit and high waist trousers with a custom kimono.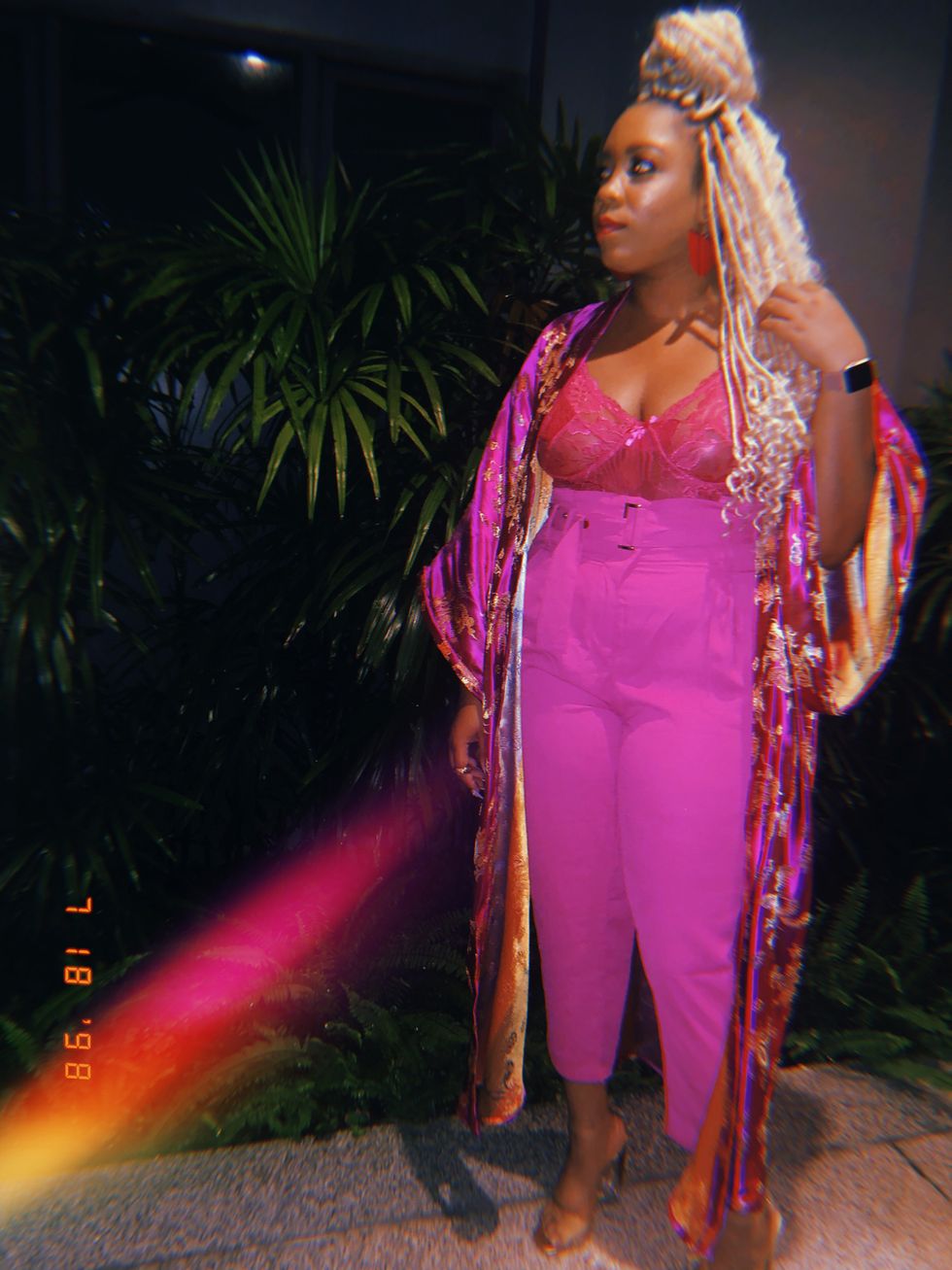 @joce_blake
Lime Green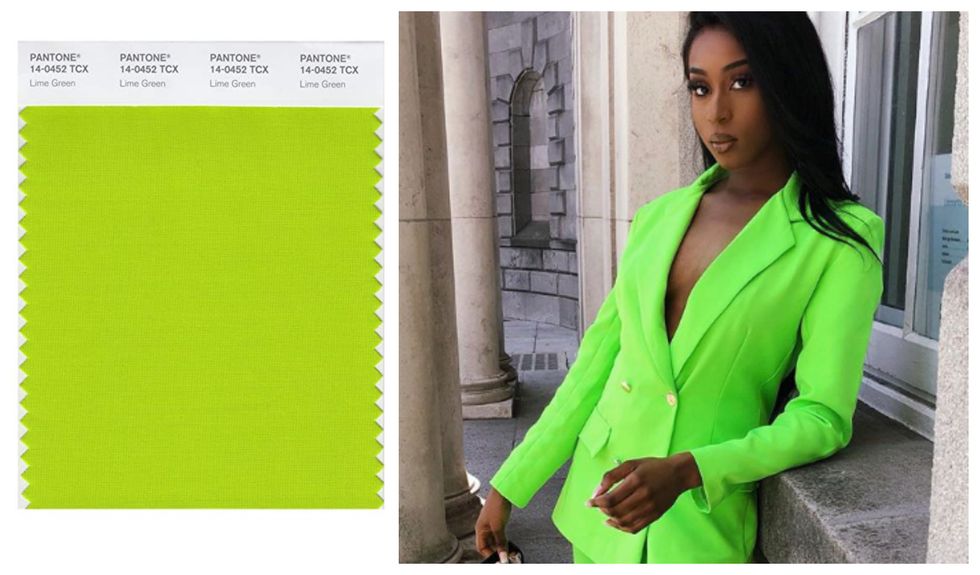 Nina Aigbe
Breaking News: the neon trend is here to stay. The electric color is the vibrance fall needs as it is sure to turn heads. You can opt for an oversized sweater or a slinky slip dress; no matter your decision, you will be one to watch.
Nina donned a chic, futuristic suit and we love how she showed some skin by not wearing a top underneath. You can easily rock this look for dinner or add a ruffle top to rock it to work at the office.
Look 1: Suit (SHOP HERE)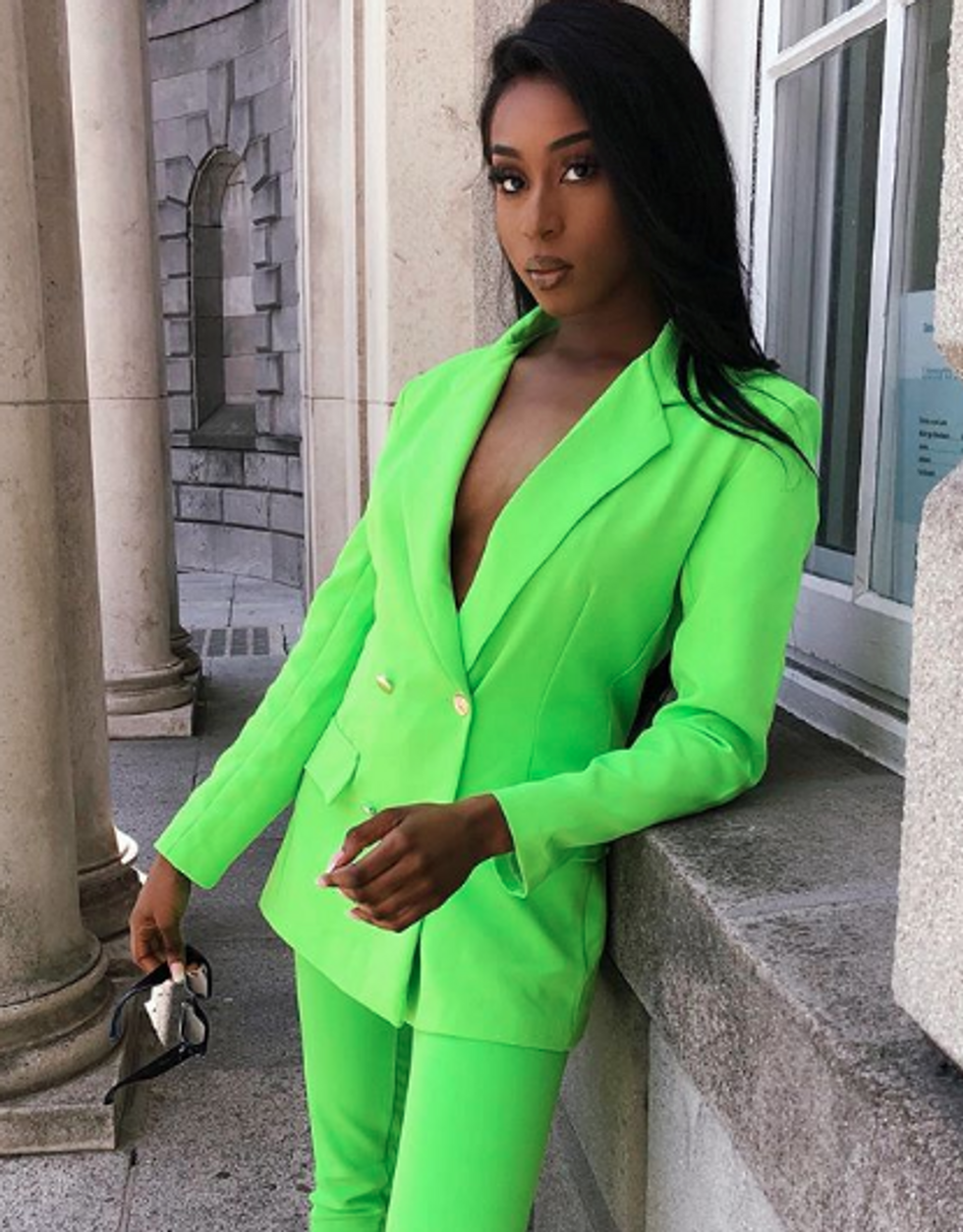 @NinaAigbe
Bright Orange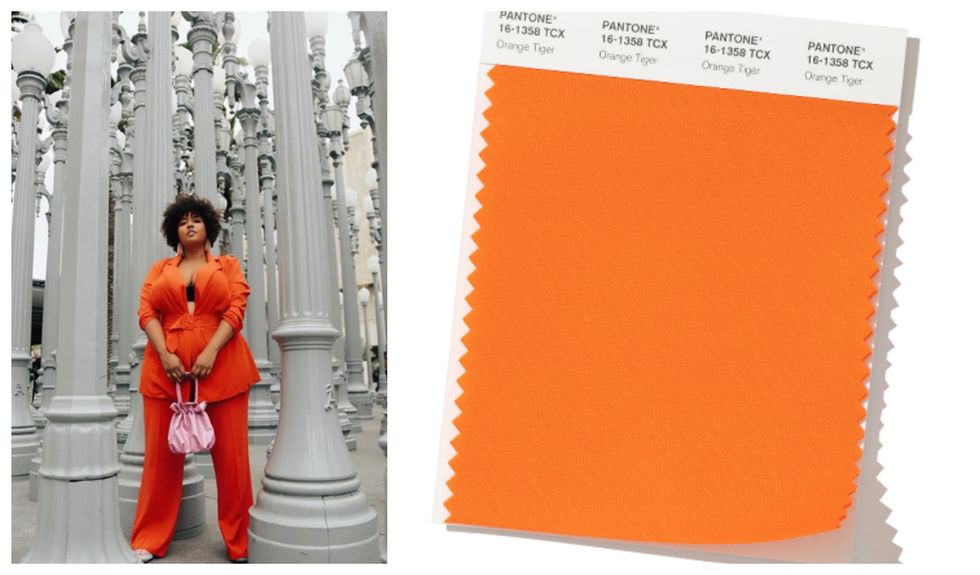 GabiFresh
In an unexpected twist, bright orange is coming for the necks of the other colors. Pantone has variations from orange tiger to dark cheddar. The names are interesting but the color is definitely one that you need in your life.
Fly girl Gabi shows us what bright orange looks like when paired with pink and it's a dream. This fall, we challenge you to pair colors from this palette as a fun fashion experiment. You can even pair this blazer with boyfriend jeans and another day pair these pants with a graphic tee.
Look 1: Similar Look (SHOP HERE)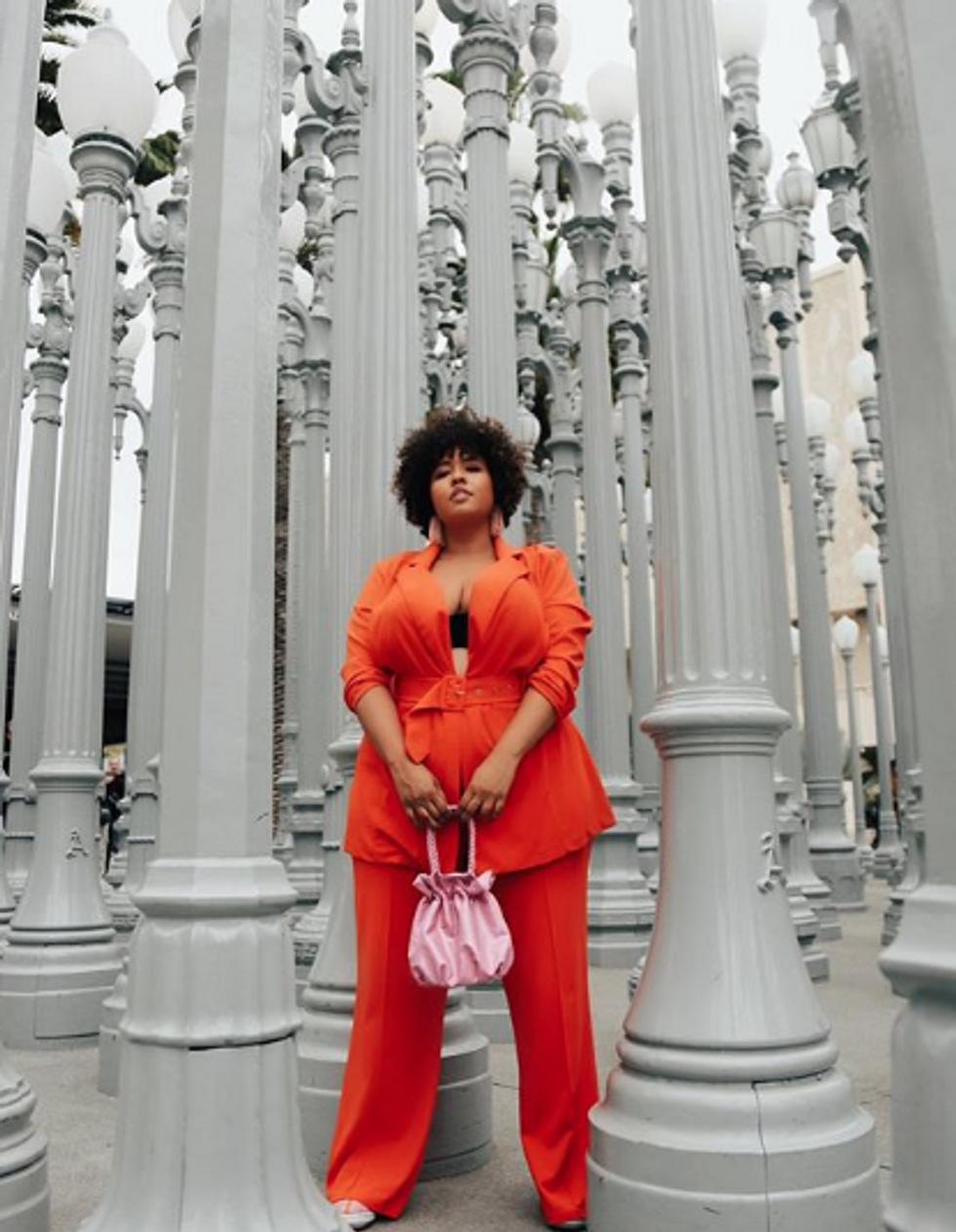 @GabiFresh
Want more stories like this? Sign up for our newsletter here and check out the related reads below:

7 Ways To Revamp The Mom Jeans Trend
8 Outfits That Reimagine The Bodysuit
12 Effortless Outfits For Days You Don't Know What To Wear
9 Pairs Of Sneakers Every Girl Should Own
Featured image by @theyusufs (gave permission)