Black really is king and we are so happy we are gang! As we inch back into our new normal, we can't help but gush over the events we missed last year. The BET Awards is at the top of the list because of its Blackity, Black, Blackness. Since 2001, Black Entertainment Television has made it their business to highlight the achievements of our people in music and entertainment overall. This year marks the 20th year of the awards show that has always shown up and shown out as a true custodian of the culture.
---
In a press release, EVP of Specials, Music Programming & Music Strategy, Connie Orlando, shared, "As we return LIVE with culture's biggest night, this year's show marks many firsts-including the highest number of performers in 21 years of BET Awards; and viewers can expect several surprise moments. Some of today's hottest talent will join us for our return to LA for an unforgettable night celebrating Black excellence ."
This year's theme: The Year of the Black Woman. The stars are aligning to "honor and celebrate the immense cultural impact of Black women." From the ultimate cheerleader Taraji P Henson as the host, to showcasing the magic of superheroes like Stacey Abrams and Lifetime Achievement Award recipient, Queen Latifah , the motif couldn't be more accurate for this year and every year.
Of course, we are here for any celebration of Black women and we are also here for the lewks! After a year of no glam, this feels like Christmas. Keep reading for some of our favorites from this amazing show of Black excellence.
Taraji P. Henson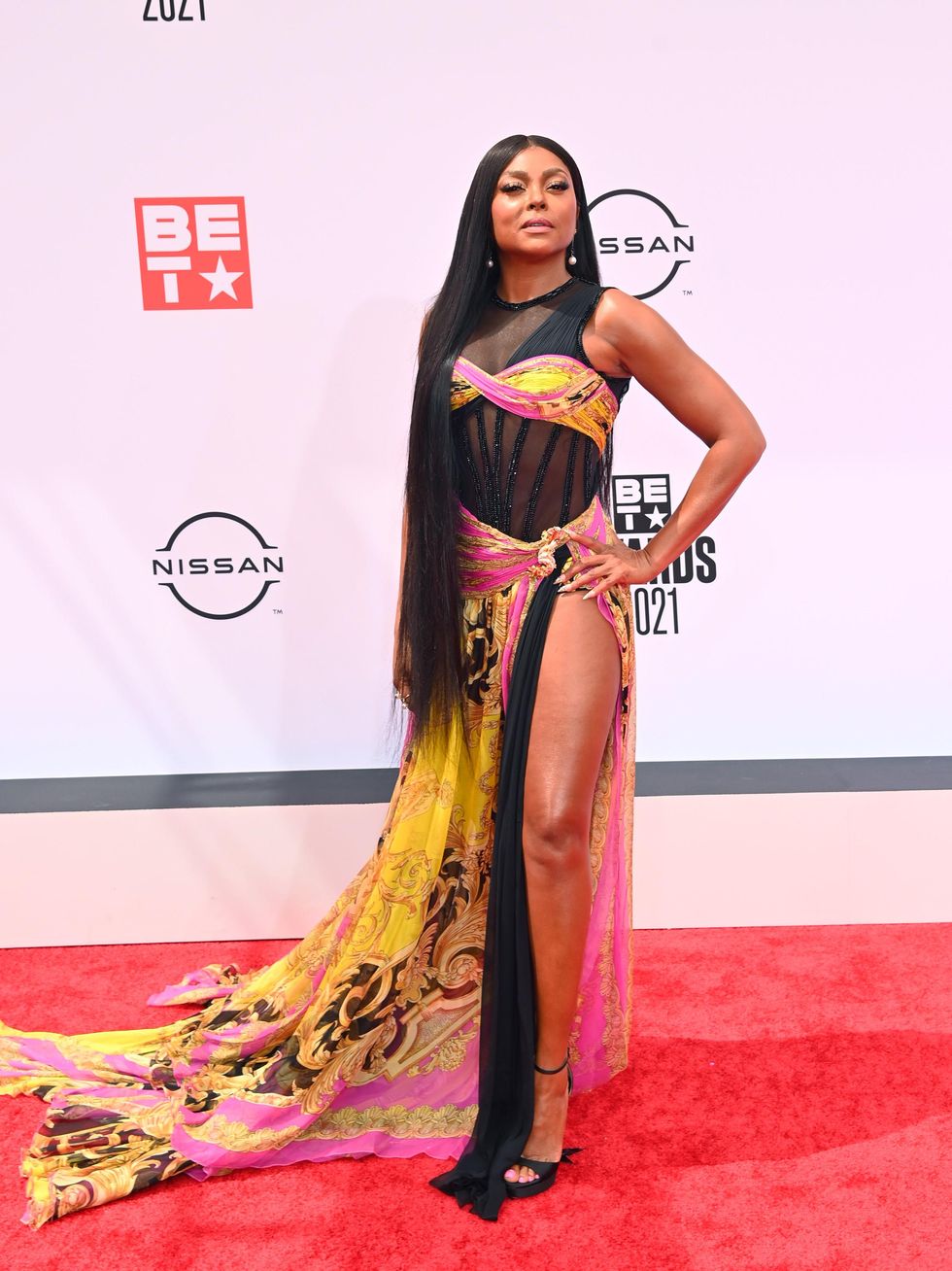 Paras Griffin/Getty Images for BET
We love a hostess with the mostest and this multi-hyphenate boss came to slay dripping in Versace. The high-slit showing off her gorgeous gams, the cutouts, the colors – it's everything. The platform heels and long, silky-straight hair creates a true Hollywood getup ideal for tonight's show.
As the quintessential girls' girl, Taraji told People that she's so thrilled "that young Black and brown girls have a large selection of successful women to look up to like politician and activist Stacey Abrams and historic Vice President Kamala Harris."
Lonnie Chavis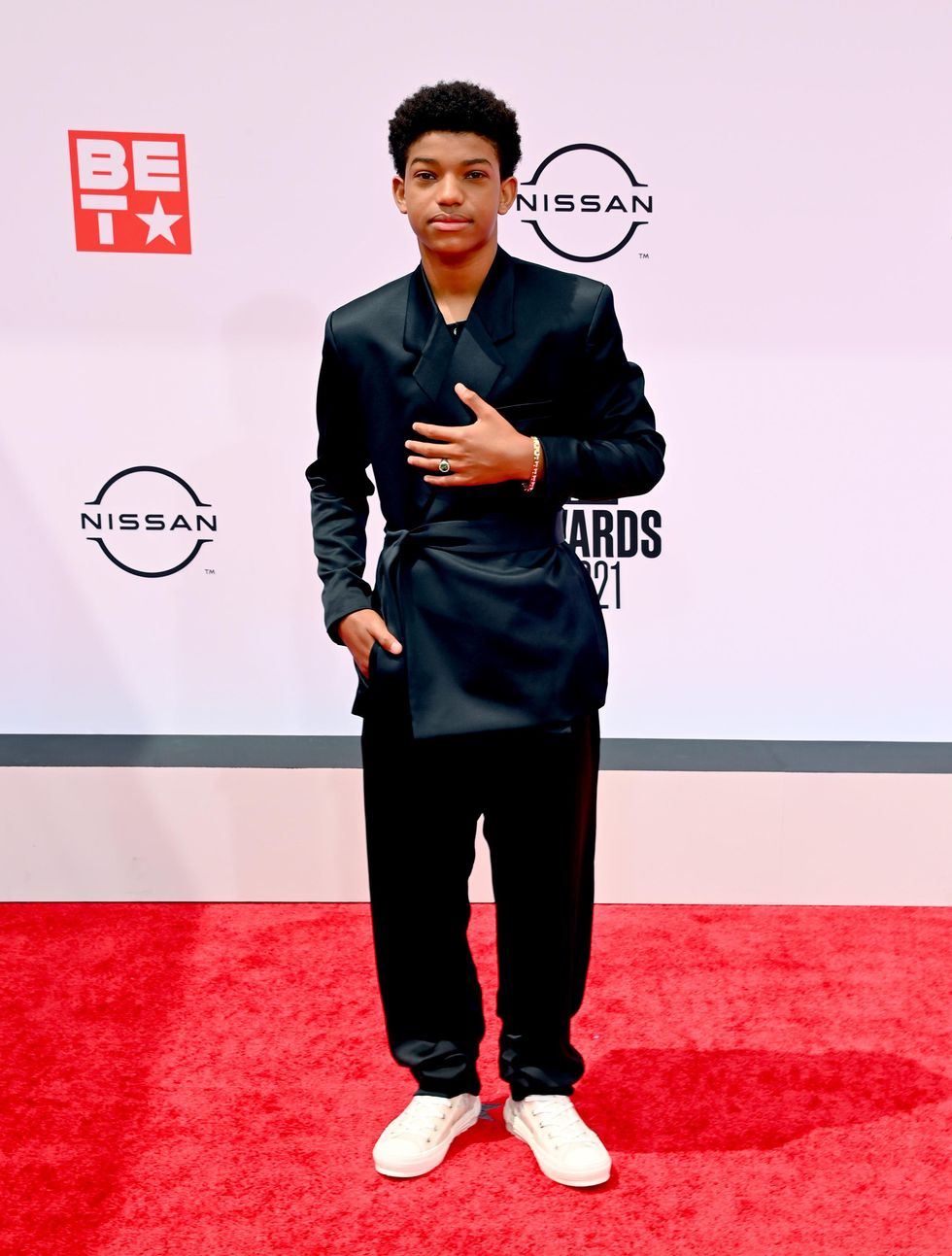 Paras Griffin/Getty Images for BET
Somebody tell Lonnie Chavis that we aren't ready for him to grow up because he isn't Lil Randall anymore. Especially in this Dior fit because he looked fire in the matching silk suit. When he's not making us cry on This is Us , he's apparently showing us Black Boy Joy is so real.
Zendaya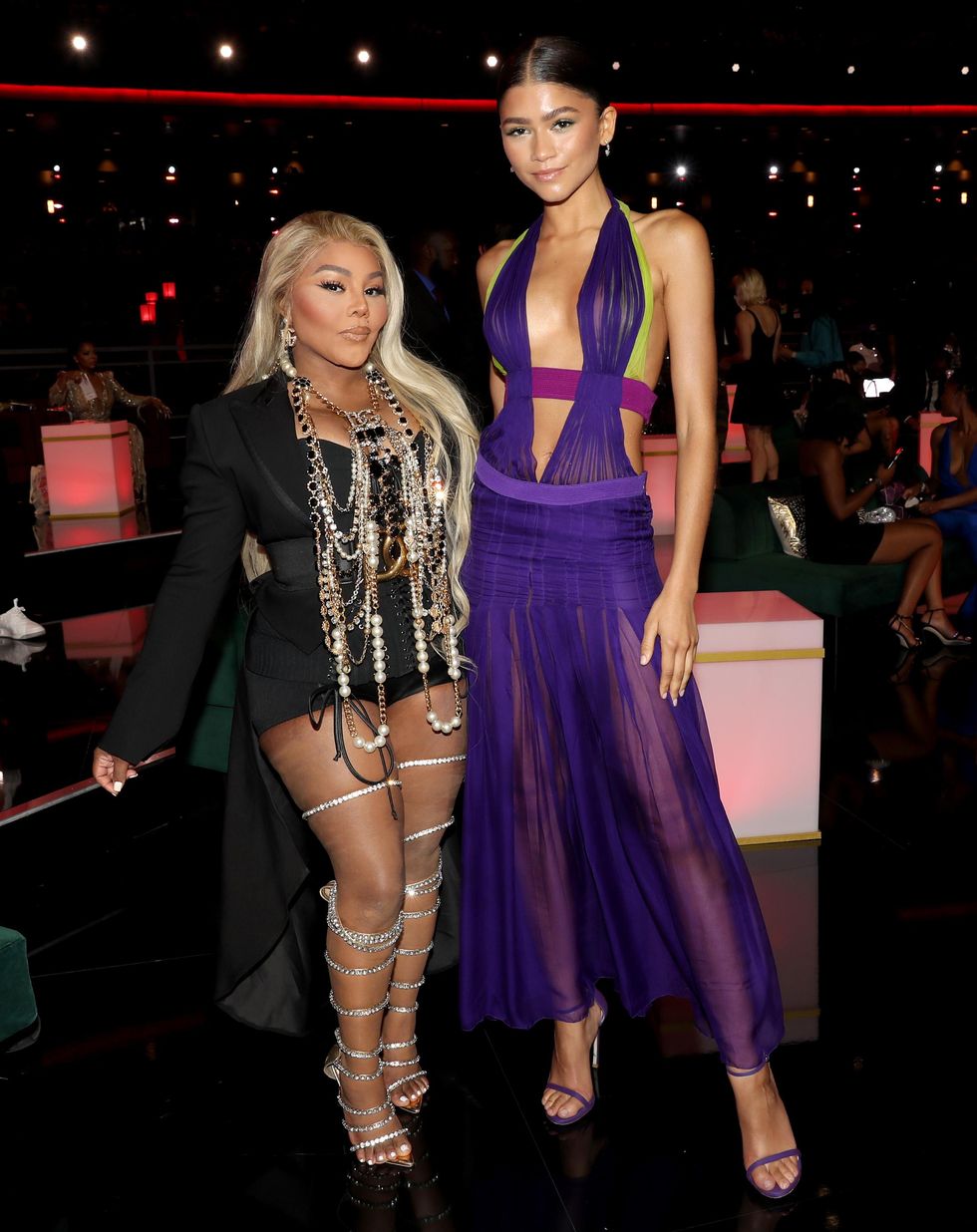 Bennett Raglin/Getty Images for BET
Leave it to the red carpet slayer, Zendaya , to give us all the BET Awards nostalgia we didn't even know we needed. Wearing vintage 2003 Versace, the style icon paid homage to Beyonce by wearing the same dress she donned at the 2003 BET Awards during her unforgettable "Crazy In Love" performance. Zendaya's stylist, Law Roach, always understands the assignment and tonight was no different.
Giveon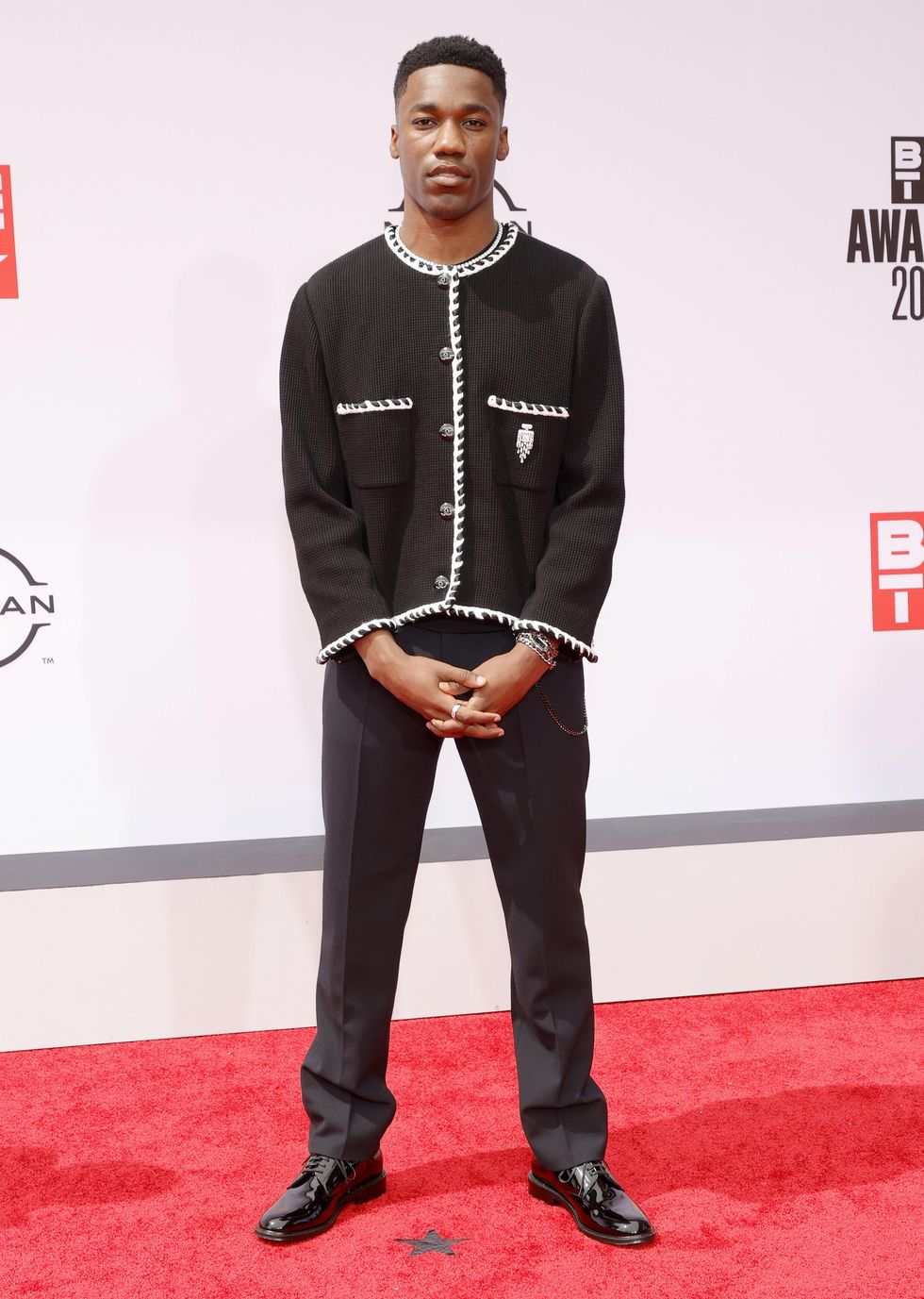 Amy Sussman/FilmMagic
It's not our Heartbreak Anniversary but we are fawning over Giveon's black on black outfit. God took his time with this Black man and we just want to stop and say thank you father!
Saweetie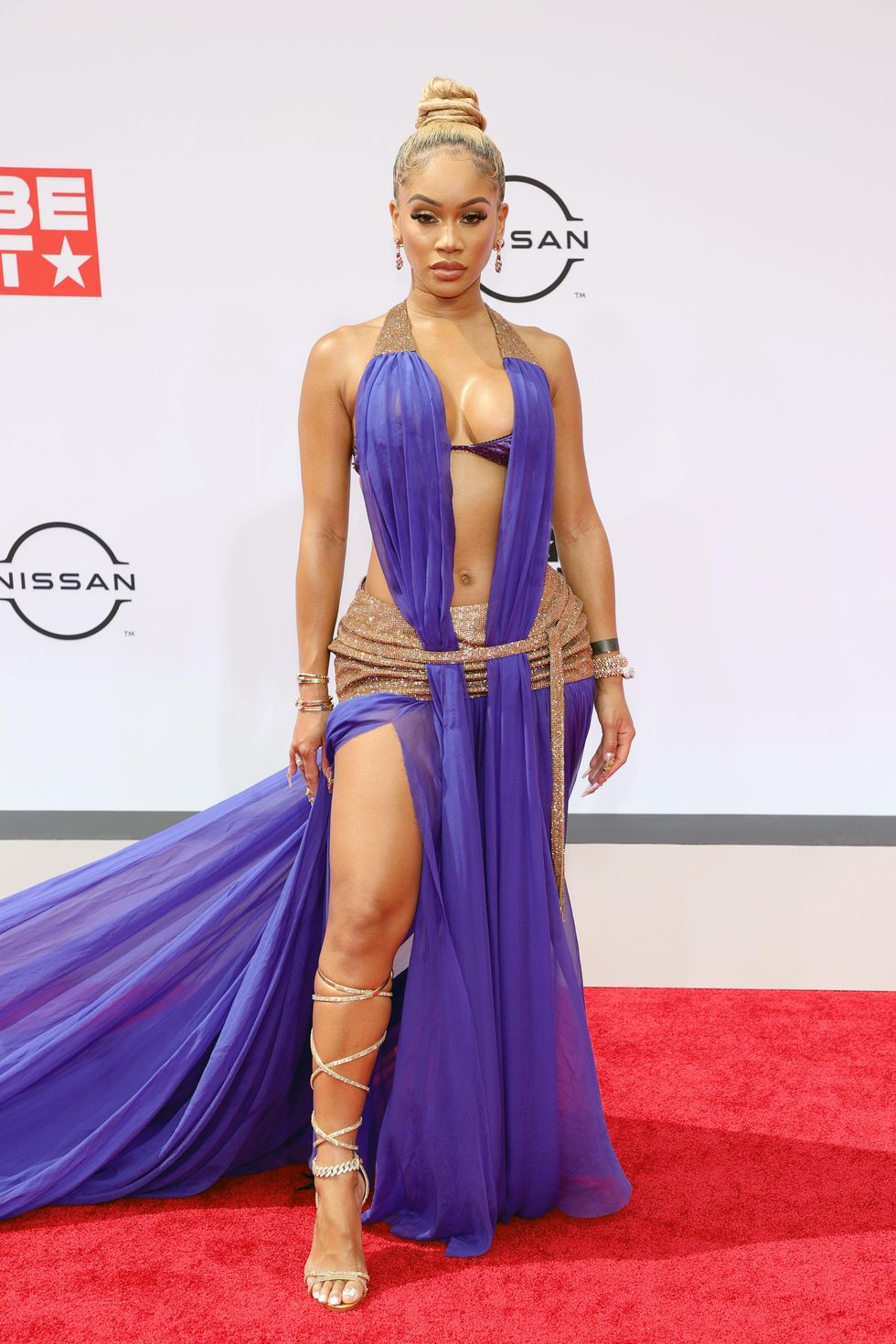 Rich Fury/Getty Images
Our unproblematic queen, and bestie, Saweetie pulled up to the awards in the most queenly Dolce & Gabbana gown. Please get into this makeup look also because she is glowing like never before. It may have something to do with the way she minds her business and drinks her water but that's just our theory.
Lil Nas X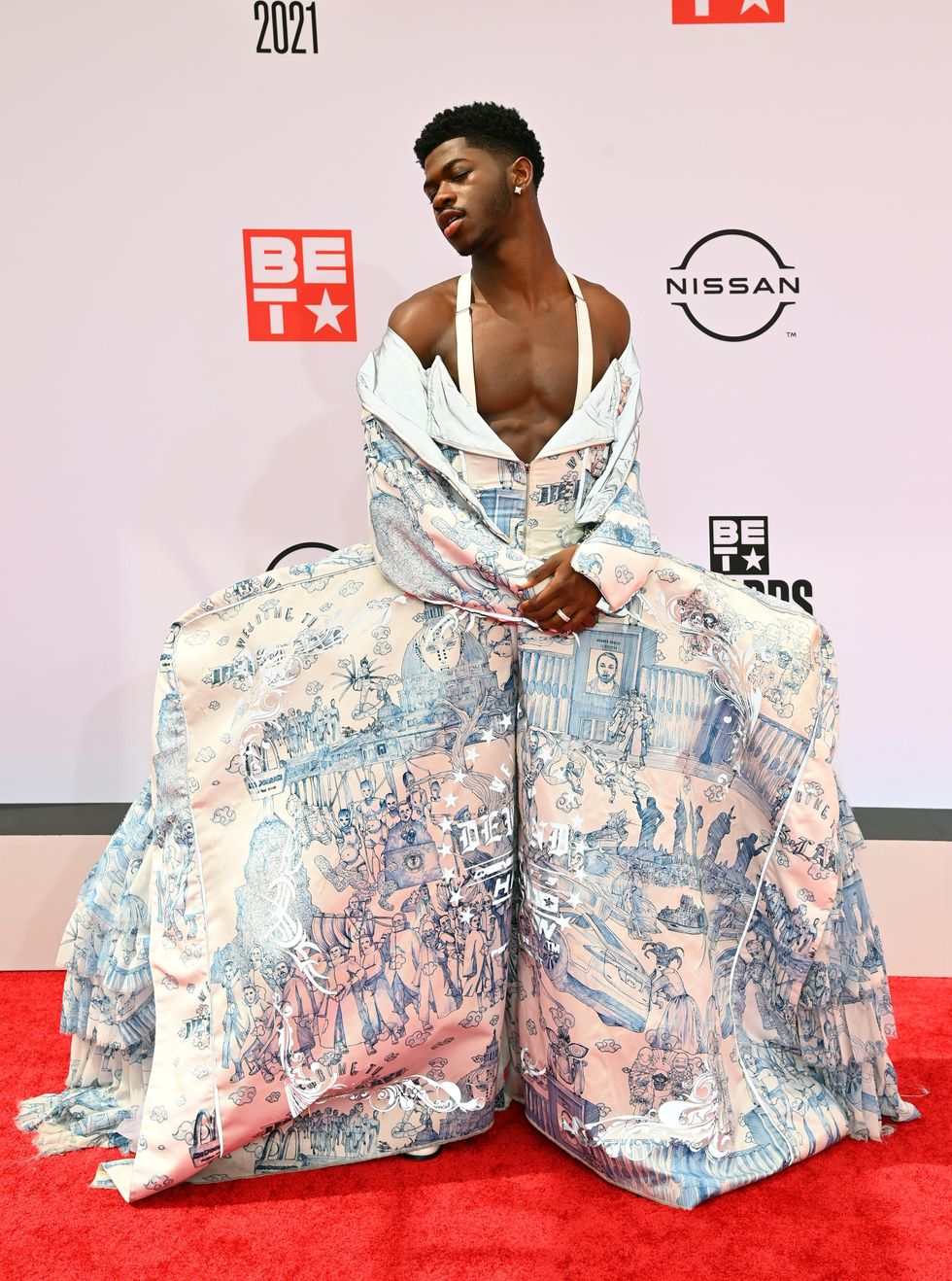 Paras Griffin/Getty Images for BET
"MONTERO" singer, Lil Nas X, glided down the red carpet in a beautifully structured gown. He is living his Cinderella dream and we are so honored that we get to experience his light.
H.E.R.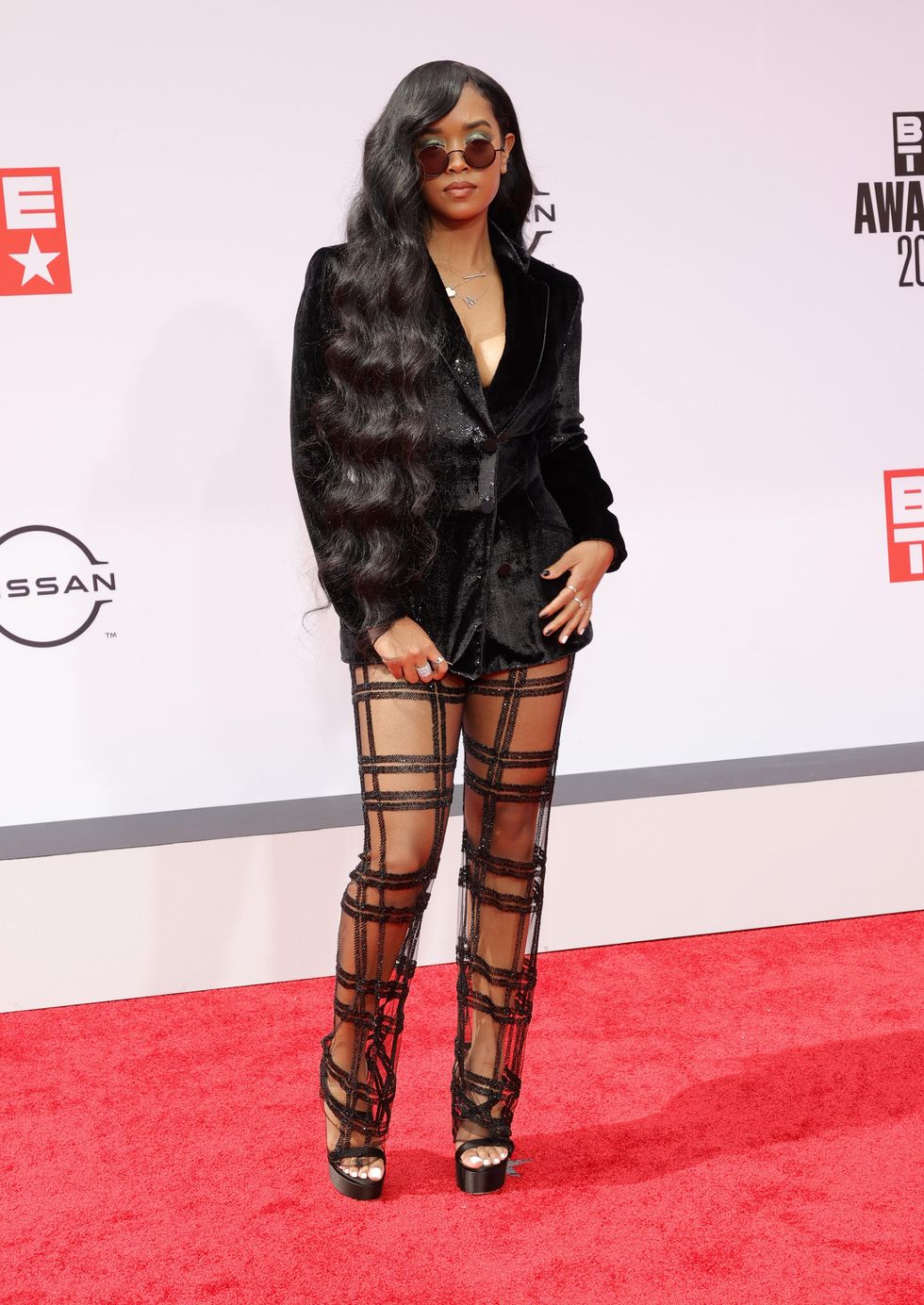 Amy Sussman/FilmMagic
We can always depend on this songbird to serve up a crazy, sexy, cool lewk. Her take on the classic suit matches the star-studded night. Fun fact: H.E.R. is celebrating her birthday today at the BET Awards. What better way to celebrate than at the biggest night for the culture celebrating the amazingness of our Blackness.
Sevyn Streeter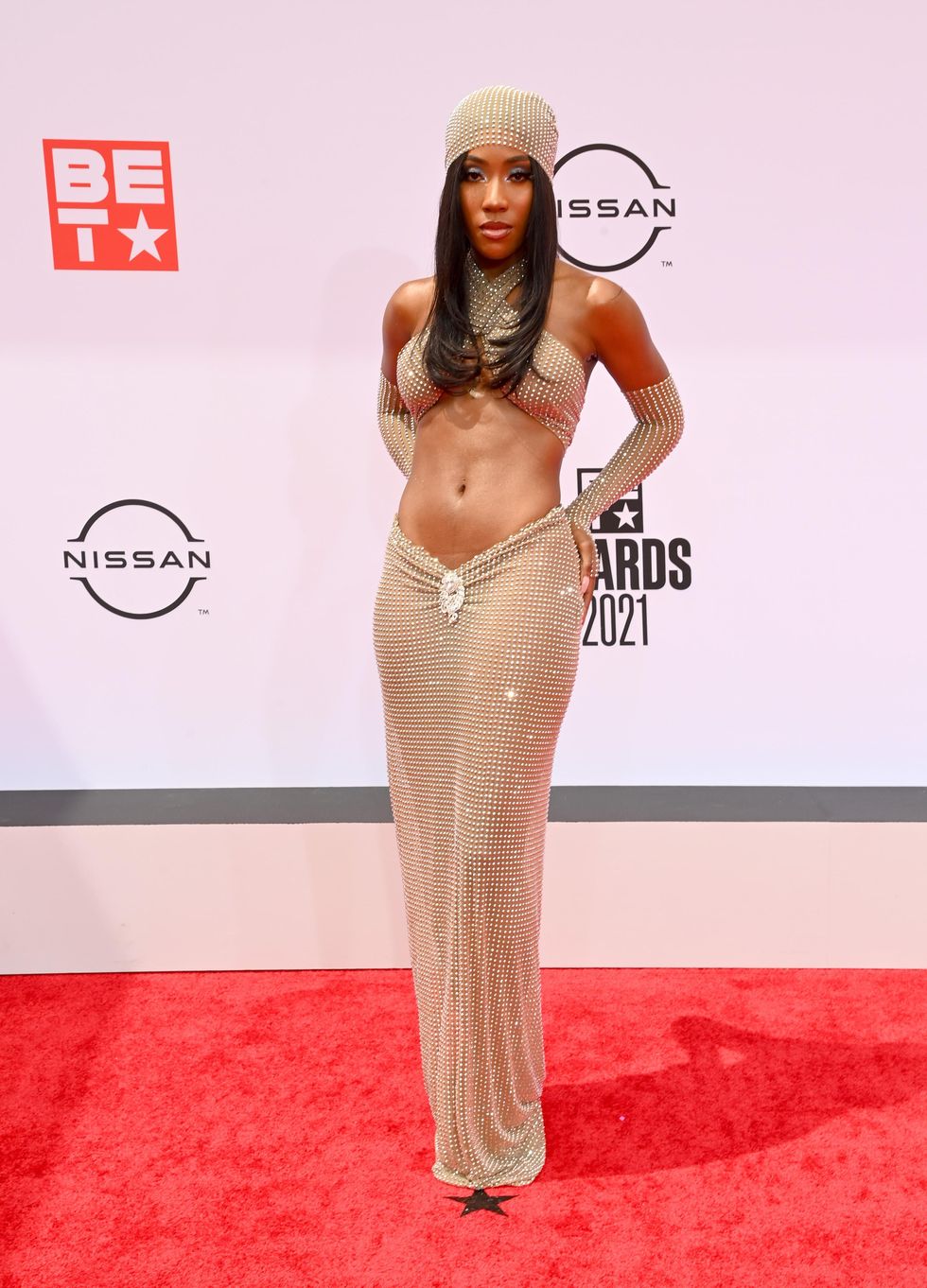 Paras Griffin/Getty Images for BET
Aaliyah is definitely smiling down from heaven looking at Sevyn Streeter in this pearl-embellished ensemble. From her body giving what it's supposed to had gave to the matching headscarf, Sevyn was definitely a style stunner on tonight's carpet.
Chloe Bailey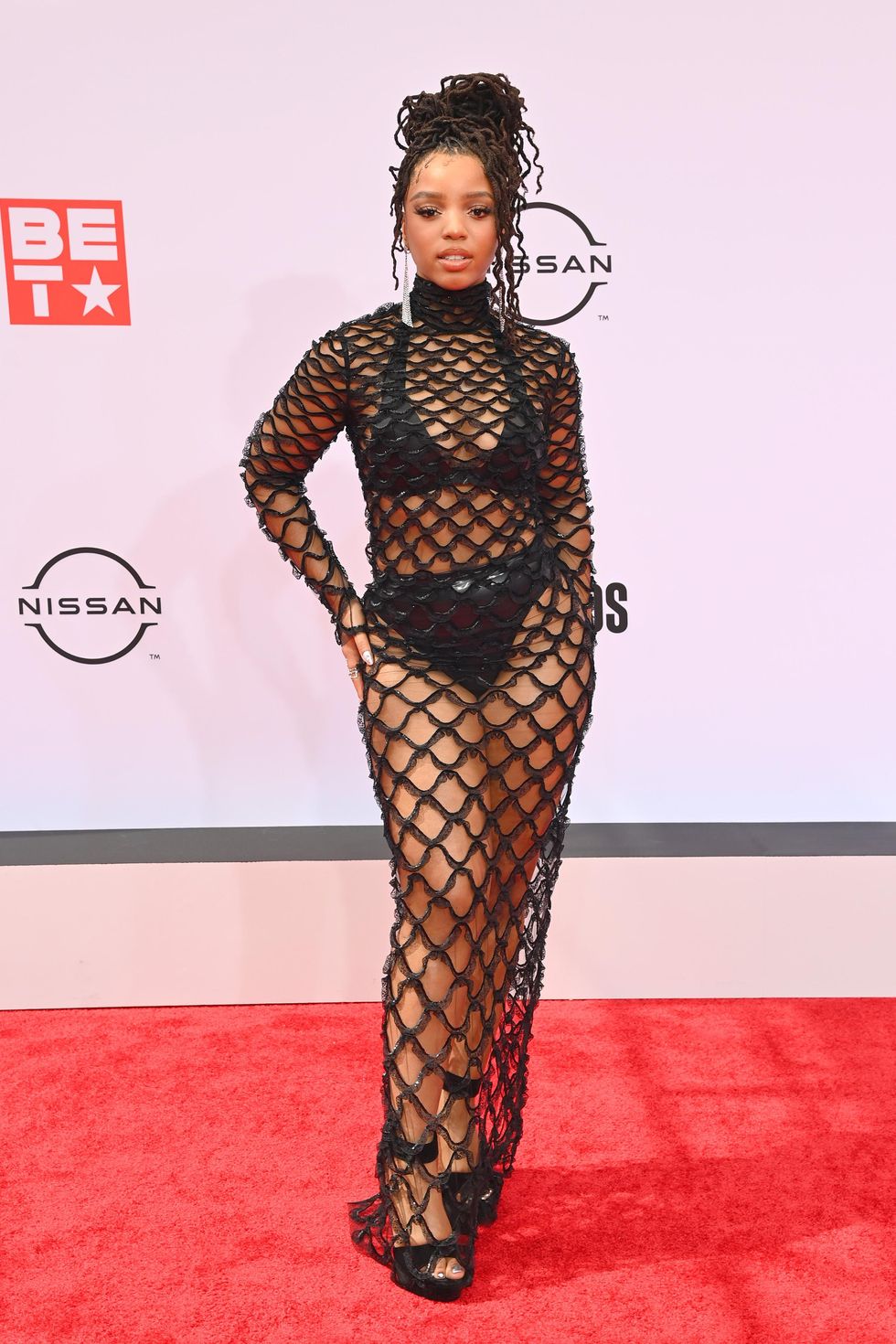 Paras Griffin/Getty Images for BET
One thing about the elder half of Chloe x Halle , she's going to break the internet when she leaves the house. Wearing a lace netted frock with leather undergraments, she is proof that Black girls are straight magic. Even her locs perfectly drape her face because they know their place on an angel's face.
Ciara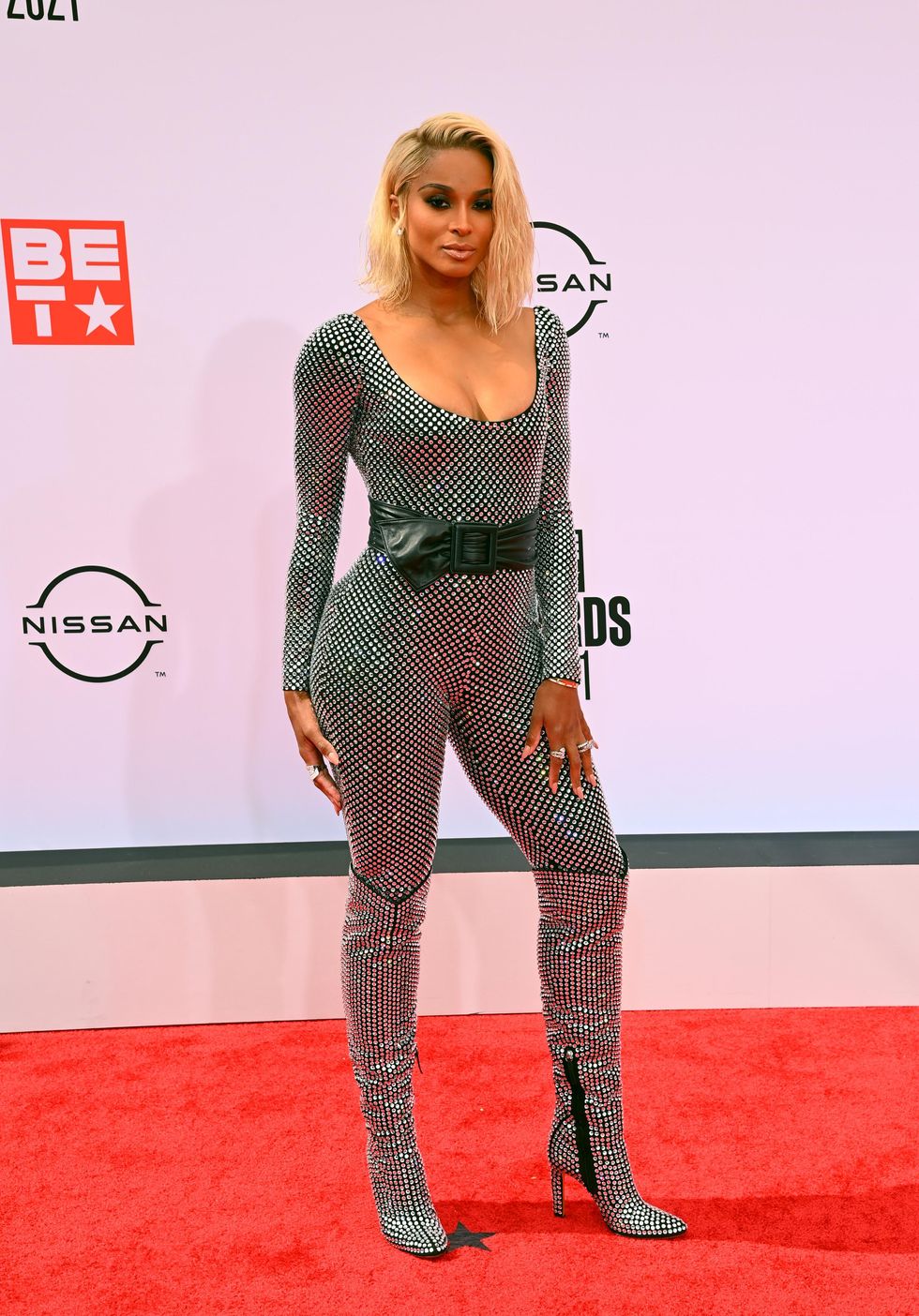 Paras Griffin/Getty Images for BET
Alexandre Vauthier must have sewn this onto CiCi's bawdy because it is perfection. She has always been a vision in her lewks but she has really stepped it up as of late; it's safe to say this is a Ciara stan account.
Tyler, the Creator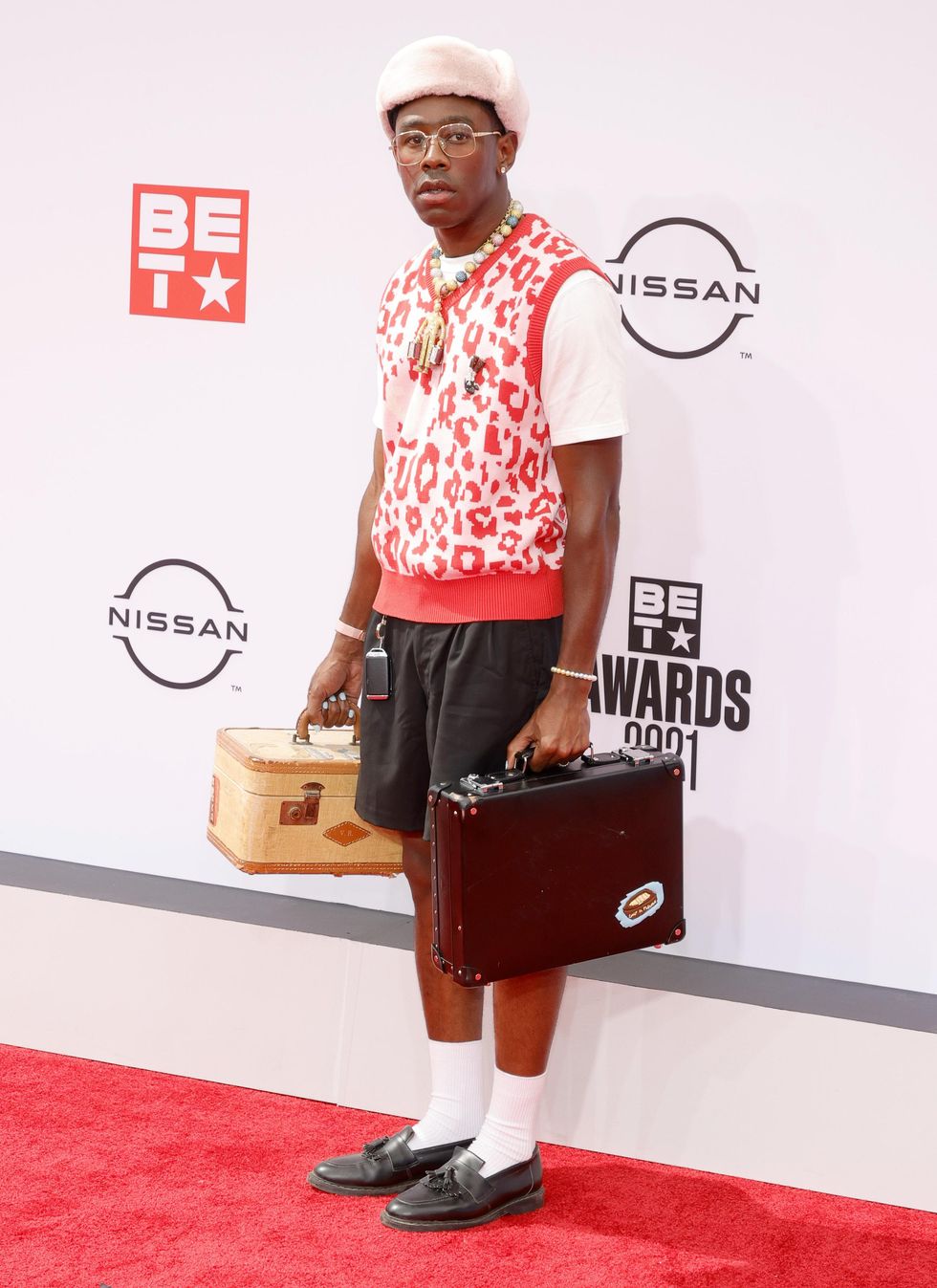 Amy Sussman/FilmMagic
Oh, Tyler. Thanks for being you. We need little Black boys to see your quirkiness and know that it's OK to try different things. We are not a monolith and that's what makes us.
Ashanti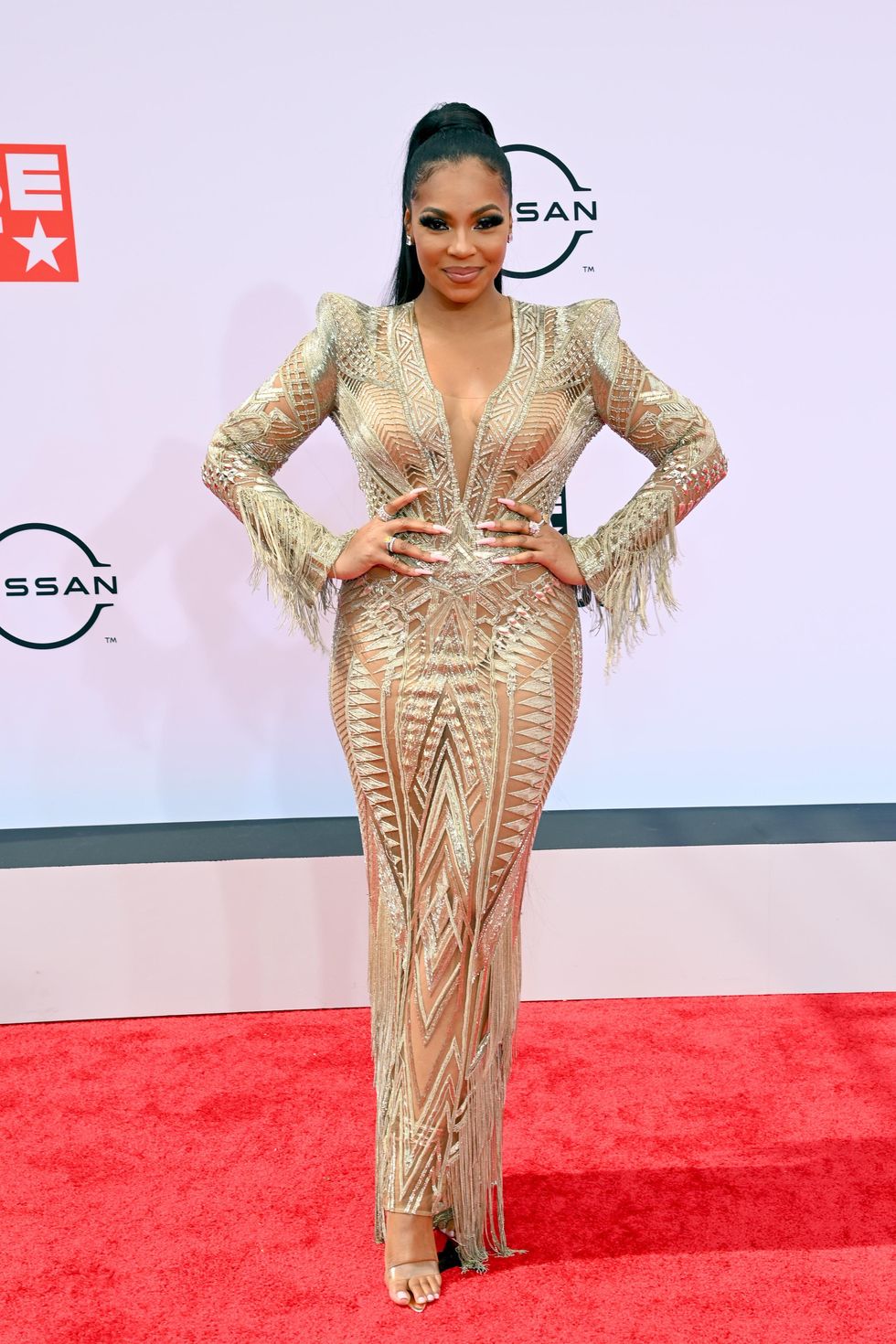 Paras Griffin/Getty Images for BET
Baby, baby, baby, baby, babbbbbyyyyyyy ... Ashanti always reigns supreme whenever she graces us with her presence. This Julien Macdonald gown exudes whimsy on the Long Island native's melanated skin. The high pony paired with the plunging neckline deserves its own award.
Join our xoTribe , an exclusive community dedicated to YOU and your stories and all things xoNecole. Be a part of a growing community of women from all over the world who come together to uplift, inspire, and inform each other on all things related to the glow up.
Featured image by Rich Fury/Getty Images
Joce Blake
Joce Blake is a womanist who loves fashion, Beyonce and Hot Cheetos. The sophistiratchet enthusiast is based in Brooklyn, NY but has southern belle roots as she was born and raised in Memphis, TN. Keep up with her on Instagram @joce_blake and on Twitter @SaraJessicaBee.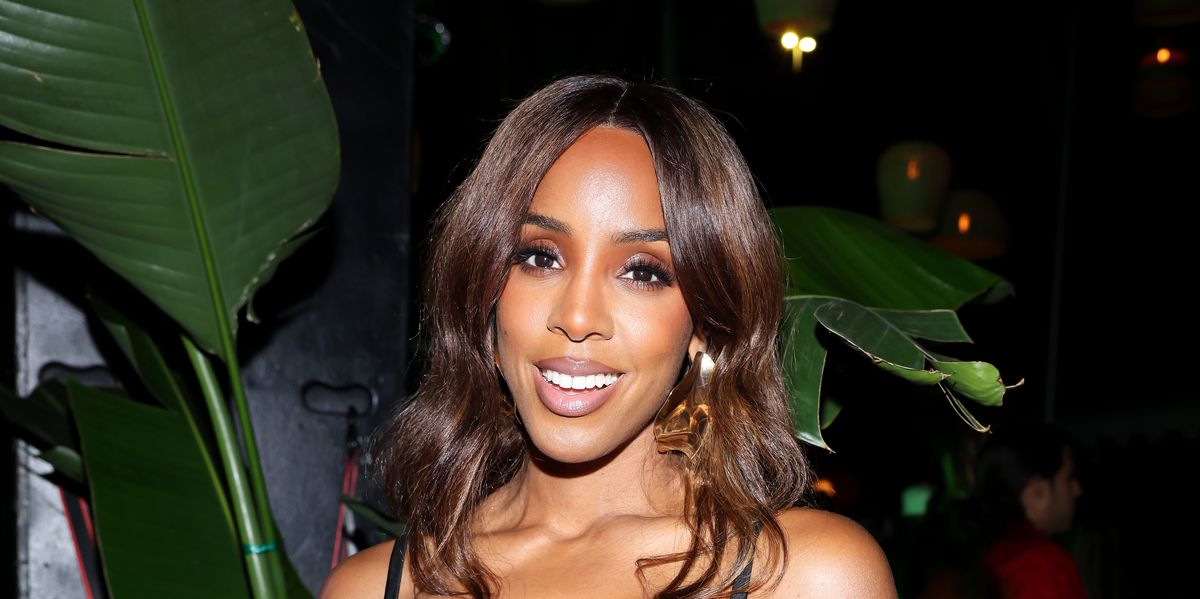 Kelly Rowland is like a bottle of the Earth's finest wine; she only gets better with time. Even in her early forties, the Destiny's Child member and singer has somehow found a way to age backwards, with a level of grace and class that we could only dream of. And she does so while juggling multiple hats and roles at once. In addition to giving us hits like "Motivation," the multi-hyphenate is also a wife, actress, executive producer, and, her greatest role of all, a mother.
Always proudly doting on her two sons , Titan and Noah, Rowland shares how teaming up with WaterWipes for their Hallowclean campaign and kickoff event in New York City on October 21 was an easy choice for her—as the brand is one that she keeps stocked regularly.
"WaterWipes has been in my household for I don't know how long. We don't just use them for Noah; I keep them in the car and my makeup bag, too," Rowland shares in an exclusive interview with xoNecole . "I also like the fact that they are natural. I'll definitely have them in my fanny pack for trick-or-treating. This is Noah's second Halloween, and I know he's going to be excited and digging in his pail to try the different candy, and his little fingers will be messy. He's going to want to get dirty. So, I love that WaterWipes is putting up ten Hallowclean stations across the country for parents to use; it's such a great idea. I just love Halloween, and I really love Halloween with my kids, so I thought this campaign was a really great idea."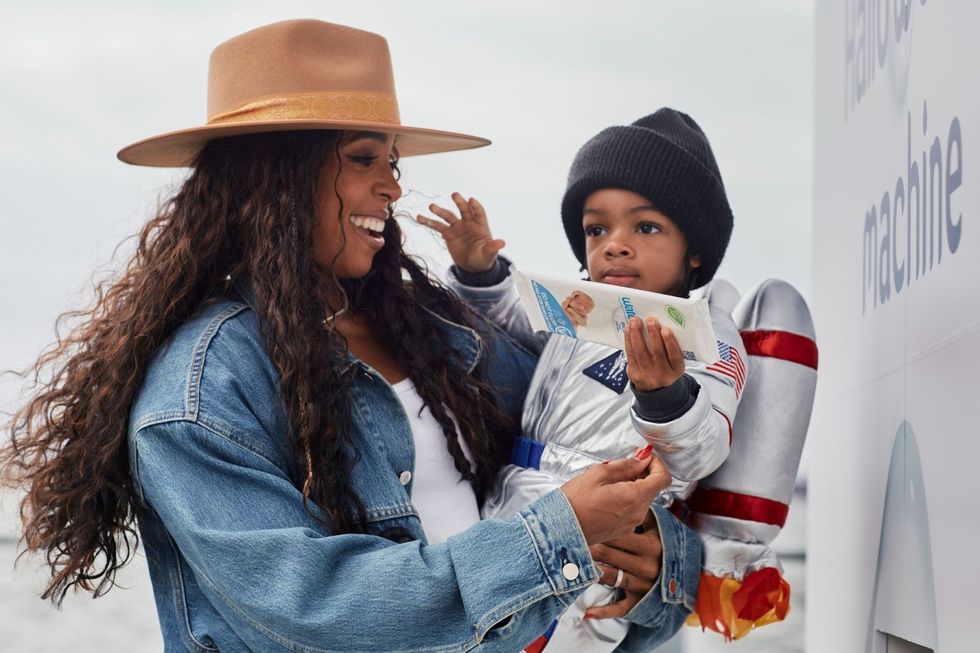 Kelly Rowland and son Noah at the WaterWipes Hallowclean Machine in Brooklyn, NY.
Photo courtesy of WaterWipes.
She and her youngest son, Noah, attended the event, where the two enjoyed a day of family-friendly activities while he sported the most adorable astronaut costume. But the Spooky Szn fun doesn't stop there for the Merry Liddle Christmas actress and executive producer.
We recently caught up with Kelly Rowland over Zoom to learn more about her Halloween (and holiday) plans, her keys to a healthy marriage, and she even dropped her go-to cold-weather skin routine —finally.
xoNecole: What are your family's upcoming trick-or-treat plans? Will you do a fun group costume, or is everyone going to do their own thing this year?
Kelly Rowland: I'm preparing for tour, so I've been in rehearsals and pre-production. And my husband's schedule has picked up, too. But the kids are going trick-or-treating; we usually go with people we know, so mommy and daddy will definitely be home to take them. We're actually letting the kids dress us up this year, which means my costume will be a complete surprise to me. I told Noah he could paint my face or even go to the costume store and pick something out—it's literally up to them. So, I don't know what that will be. And, right after, I'll be back to rehearsals.
xoN: Speaking of holidays, what do you look forward to most during the season?
KR: We love having people over, especially during the holidays. It looks like we will be home this year—thank God— just enjoying each other and spending quality time together. I like to decorate the house and go completely ham; it always looks like Christmas threw up in my house. From the stairwells to the exterior of the house and the lights—everything. We go so crazy. I also love the smells, it's one of my greatest memories with my mom, God rest her soul. So I love to play all of that up.
I like to bake something every day, I like to make sure there is something for the kids to do or make each day, we watch Christmas movies, and we even do a wine tasting sometimes. It's just all really sweet and cozy.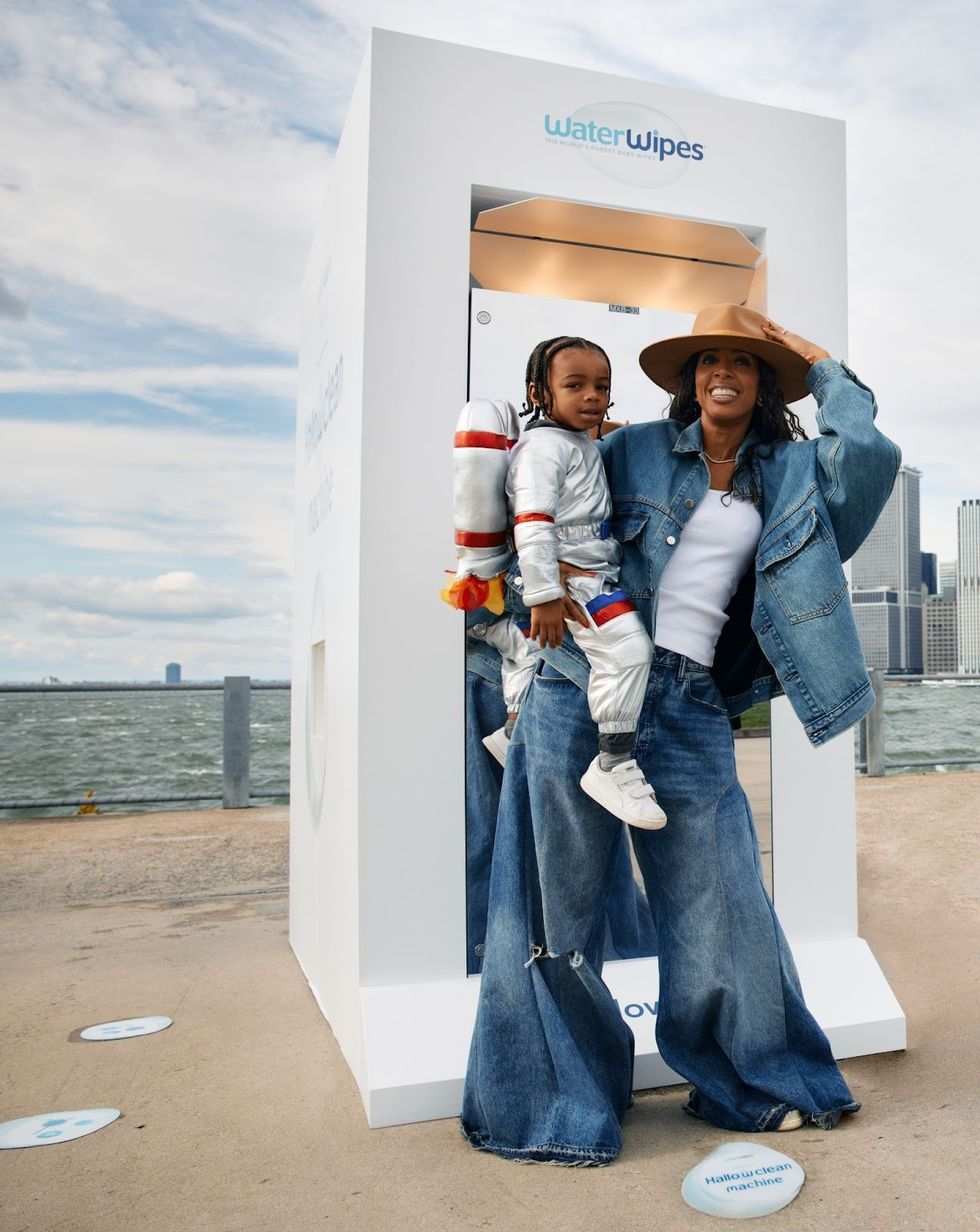 Kelly Rowland and son Noah at the WaterWipes Hallowclean Machine in Brooklyn, NY.
Photo courtesy of WaterWipes.
xoN: We love that family is so important to you, and it always shows in your posts, especially those with your husband. What would you say has been that "key" to a healthy marriage as partners and spouses for you two?
KR: I would say, each of us doing the self-work . I have not seen marriages last long in my lifetime. I haven't been given the tools to "make it last forever." We just try to do the work on ourselves and not sweat the small stuff.
Communication is key for us, too. We communicate everything. Whether I'm upset or I'm not sure about something, I communicate it. I also just like being around him, he's fun. He's a really great person and makes me laugh. We can literally sit together and watch a game and not say anything. We understand what true intimacy is, and now we're almost ten years into our marriage.
xoN: Now, Kelly, we have to ask. Skincare. What is your cold-weather routine and the products you're reaching for as temperatures drop?
KR: Right now, I'm all about moisture . I will wash my face morning and night, I do not skip. I'm obsessed with this 111SKIN toner. It smells good, but it also feels good on my skin. There's also this product from Vanessa Lee of The Things We Do. They are these coconut eye patches with these little beads. I place them under my eyes and around the corners of my mouth—talk about a game changer. I like to put them on at night and then rub in the extra serum all over my face. Between that and this lactic acid by Shani Darden , they are both game-changers for me this season.
xoN: So, since you've found the key to aging backwards, should we be on the lookout for the Kelly Rowland skincare line anytime soon?
KR: Honestly, that market is so saturated. I wanted to do it a while back, but I have to really think about what I want to bring to the marketplace to really impact culture. It's not just about a product for me. I love the way Selena Gomez has created a community. I want to be able to create a community as well. When it's not just about skincare, it turns into a space for people to be their most authentic selves. And that's what I love.
Feature image by Natasha Campos/Getty Images for Tres Generaciones

Whenever Gabrielle Union graces the movie screen, she immediately commands attention. From her unforgettable scenes in films like Bring It On and Two Can Play That Game to her most recent film, in which she stars and produces Netflix's The Perfect Find , there's no denying that she is that girl.
Off-screen, she uses that power for good by sharing her trials and tribulations with other women in hopes of helping those who may be going through the same things or preventing them from experiencing them altogether. Recently, the Flawless by Gabrielle Union founder partnered with Clearblue to speak at the launch of their Menopause Stage Indicator, where she also shared her experience with being perimenopausal.
In a xoNecole exclusive, the iconic actress opens up about embracing this season of her life, new projects, and overall being a "bad motherfucker." Gabrielle reveals that she was 37 years old when she was diagnosed with perimenopause and is still going through it at 51 years old. Mayo Clinic says perimenopause "refers to the time during which your body makes the natural transition to menopause , marking the end of the reproductive years."
"I haven't crossed over the next phase just yet, but I think part of it is when you hear any form of menopause, you automatically think of your mother or grandmother. It feels like an old-person thing, but for me, I was 37 and like not understanding what that really meant for me. And I don't think we focus so much on the word menopause without understanding that perimenopause is just the time before menopause," she tells us.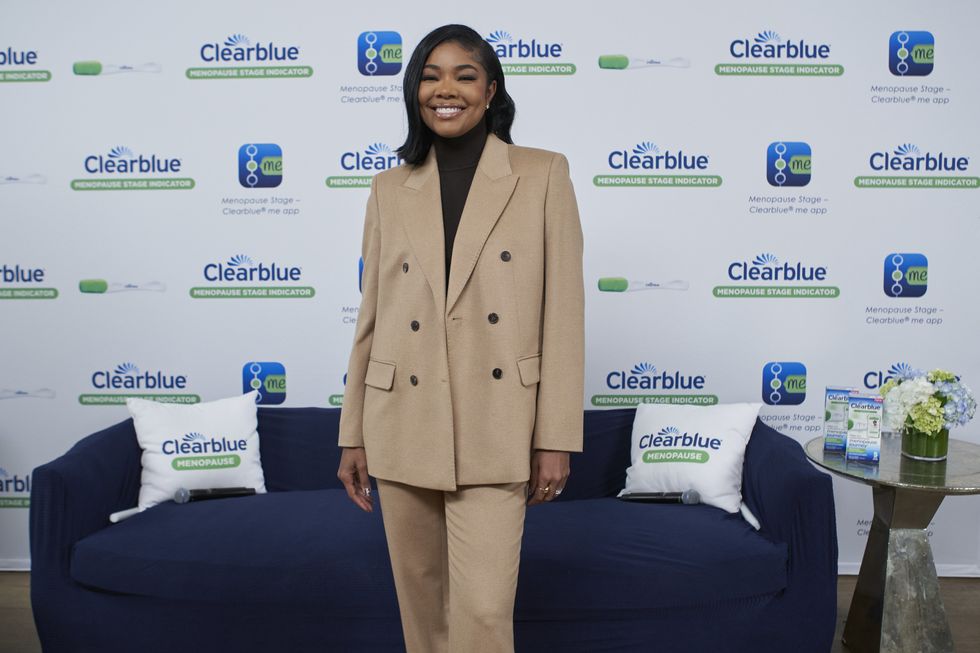 Gabrielle Union
Photo by Brian Thomas
"But you can experience a lot of the same things during that period that people talk about, that they experienced during menopause. So you could get a hot flash, you could get the weight gain, the hair loss, depression , anxiety , like all of it, mental health challenges , all of that can come, you know, at any stage of the menopausal journey and like for me, I've been in perimenopause like 13, 14 years. When you know, most doctors are like, 'Oh, but it's usually about ten years, and I'm like, 'Uhh, I'm still going (laughs).'"
Conversations about perimenopause, fibroids, and all the things that are associated with women's bodies have often been considered taboo and thus not discussed publicly. However, times are changing, and thanks to the Gabrielle's and the Tia Mowry 's, more women are having an authentic discourse about women's health. These open discussions lead to the creation of more safe spaces and support for one another.
"I want to be in community with folks. I don't ever want to feel like I'm on an island about anything. So, if I can help create community where we are lacking, I want to be a part of that," she says. "So, it's like there's no harm in talking about it. You know what I mean? Like, I was a bad motherfucker before perimenopause. I'm a bad motherfucker now, and I'll be a bad motherfucker after menopause. Know what I'm saying? None of that has to change. How I'm a bad motherfucker, I welcome that part of the change. I'm just getting better and stronger and more intelligent, more wise, more patient, more compassionate, more empathetic. All of that is very, very welcomed, and none of it should be scary."
The Being Mary Jane star hasn't been shy about her stance on therapy . If you don't know, here's a hint: she's all for it, and she encourages others to try it as well. She likens therapy to dating by suggesting that you keep looking for the right therapist to match your needs. Two other essential keys to her growth are radical transparency and radical acceptance (though she admits she is still working on the latter).
"I was a bad motherfucker before perimenopause. I'm a bad motherfucker now, and I'll be a bad motherfucker after menopause. Know what I'm saying? None of that has to change. How I'm a bad motherfucker, I welcome that part of the change."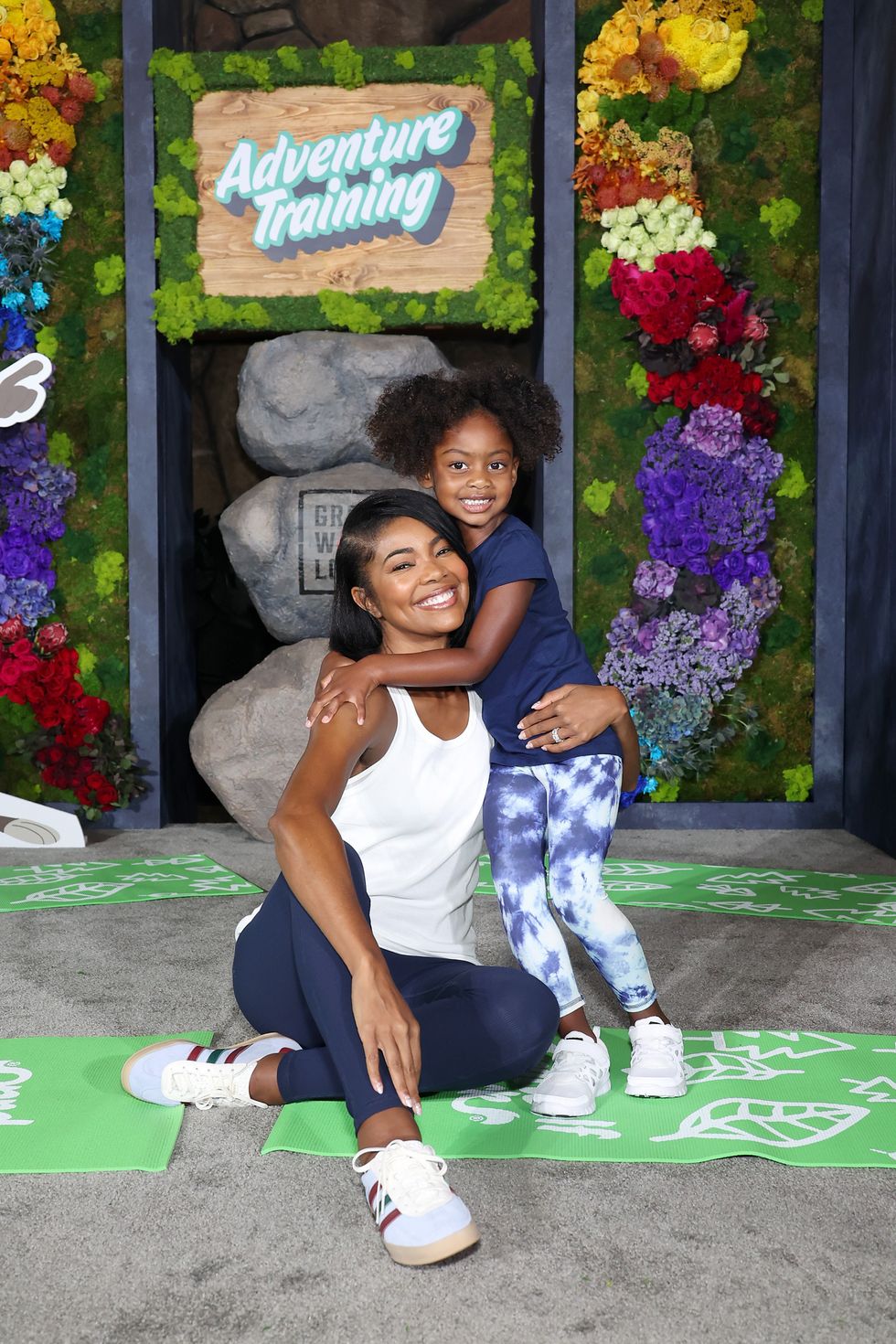 Gabrielle Union and Kaavia Union-Wade
Photo by Monica Schipper/Getty Images
"I hope that a.) you recognize that you're not alone. Seek out help and know that it's okay to be honest about what the hell is happening in your life. That's the only way that you know you can get help, and that's also the only other way that people know that you are in need if there's something going on," she says, "because we have all these big, very wild, high expectations of people, but if they don't know what they're actually dealing with, they're always going to be failing, and you will always be disappointed. So how about just tell the truth, be transparent, and let people know where you are. So they can be of service, they can be compassionate."
Gabrielle's transparency is what makes her so relatable, and has so many people root for her. Whether through her TV and film projects, her memoirs, or her social media, the actress has a knack for making you feel like she's your homegirl. Scrolling through her Instagram, you see the special moments with her family, exciting new business ventures , and jaw-dropping fashion moments. Throughout her life and career, we've seen her evolve in a multitude of ways. From producing films to starting a haircare line to marriage and motherhood , her journey is a story of courage and triumph. And right now, in this season, she's asking, "What's next?"
"This is a season of discovery and change. In a billion ways," says the NAACP Image Award winner. "The notion of like, 'Oh, so and so changed. They got brand new.' I want you to be brand new. I want me to be brand new. I want us to be always constantly growing, evolving. Having more clarity, moving with different purpose, like, and all of that is for me very, very welcomed."

"I want you to be brand new. I want me to be brand new. I want us to be always constantly growing, evolving. Having more clarity, moving with different purpose, like, and all of that is for me very, very welcomed."
She continues, "So I'm just trying to figure out what's next. You know what I mean? I'm jumping into what's next. I'm excited going into what's next and new. I'm just sort of embracing all of what life has to offer."
Look out for Gabrielle in the upcoming indie film Riff Raff , which is a crime comedy starring her and Jennifer Coolidge, and she will also produce The Idea of You , which stars Anne Hathaway.
Feature image by Mike Lawrie/Getty Images