I was cruising on auto-pilot; going through the motions of my daily life but not feeling as though I were really living. Holding a management position at my 9-5, I felt as if I were showing up every day but not really making an impact, nor did I care to put effort into doing so.
My personal relationship felt more like an obligation than the adventure that it was.
Socializing with friends was more of a chore than enjoyment.
My passion projects even began to feel like weights weighing me down.
If I were being unfair, I would say that those environments and those people were toxic and they were leaving me drained and unmotivated to put in any effort. But the truth is they weren't; it was something inside of me that wasn't allowing myself to live my life to the fullest or shine the brightest.
And while my loved ones did the best they could to engage, inspire, and uplift me, I could feel myself drifting further and further away.
Every morning I would lay in bed and promise myself that today would be different from the days before. I promised myself that today would be the day that I rose before the sun and started tackling all of the things and the people that I had on a back-burner.
But instead of getting up and doing something differently, I would feel chained to the bed were I would relive the memories of my life in a haze and come down on myself for wasting time or making those who love me feel as though I didn't love them.
Once I was all out of pity for myself, I would begin planning. I would no longer feel sorry for myself, so my inner saboteur used procrastination against me. I would lay in bed and plan, meticulously, the ways in which I would bounce back to being my bubbly and outgoing self. All of this planning, and still doing nothing really.
And after I was burnt out "planning" I would become overwhelmed by all of the work I planned out for myself. Instead of being empowering, it felt impossible.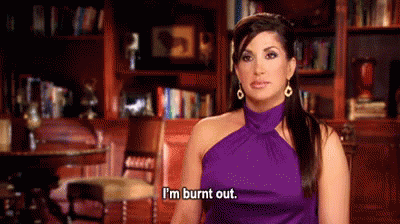 media1.tenor.com
Next dread would set in and I would begin to think of ways and excuses to get out of doing what I had just spent weeks planning and plotting in an effort to get out of the funk.

It was a destructive cycle. I won't even call it unproductive, because productivity is a construct, but I will say that the day in and day out depression and the feeling of being paralyzed was not a pleasant feeling at all. It was as though I were sinking into myself, free-falling into my soul, not a part of the world of which I lived.
It was terrifying.
And I honestly cannot remember where I got this advice, but the words "start small and start where you are" resonated with me. They sounded like a bell, the answer to my problem of existential dread and feeling of being burnt out. Just start living again… even if it's small steps.
So I picked up a book. Comparing my life to the life of others was one of the things that kept me feeling burnt out, so I thought to change that by reading. In the pile of books I purchased at the start of the pandemic that I said I was going to read, and two months later I hadn't picked up nary a one, I picked up Beloved by Toni Morrison.
Immediately, I was immersed in the world of Sethe and Denver, and was not only captivated by their story, but I was also reminded of what a brilliant and prolific writer Toni was. How she could create magic with her words and craft a story so profound that I was inspired to tap into my own creative writing energy.
After finishing Beloved, I was inspired to start again on a passion project I had put down, finishing my collection of poetry. I'm the type of person that dates poems or stories when I write them, and the last entry in my poetry journal was from two years prior. After reading Toni and picking my poetry journal back up, I churned out pages upon pages of drafts of poems. I was proud. I was excited to share. I was excited to get back to working on getting my book published.
I was so excited that I opened my laptop and began outlining a plan for completion for the project, researching costs associated, potential self-publishing platforms, hiring someone to design the cover, and hiring someone to help format. The cards were falling into place for this project that I had put on a back-burner for two years, and now after just a matter of weeks was on its way to completion.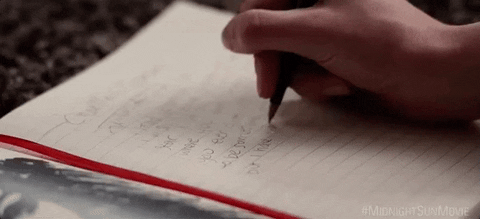 media4.giphy.com
As I began to immerse myself into long days and nights of pouring myself into writing, I began to feel the effects of no sleep on my body. I knew I needed rest to sustain this burst of energy and to not burn out again.

I usually struggled with taking breaks and rest, but I began going to sleep as soon as I needed to. When possible, I would sleep without setting an alarm. I would even leave my phone in another room so I could fall asleep without a screen in my face. I faced my thoughts and learned to not need a constant distraction from them by constantly scrolling social media. My rest became deeper, longer, and more healing. I found that daily my energy was increasing and my thoughts weren't as cloudy.
Since creating and resting were both equally important to me, I knew that I needed to gather better time management skills. After reading about others' experiences, I found a time management skill that works for me. Time blocking is a tip I use that allows me to allot specific amounts of time to specific tasks (both personal and professional). That way I can plan out my day, commit chunks of time to the to-do lists, and can be fully present and focused while doing that task because I know I've allotted time elsewhere in my day to do the other things I need to do. It took the anxiety away from having a day full of plans. I looked forward to them, they were more digestible and tangible.
Learning to make time in my days for the things I wanted and needed to do made my outlook on life brighter. It didn't seem overwhelming or as though there were no end in sight. I began to see it as the journey that it is and learn to look forward to the unknown that lies ahead.
I made time for my partner more and for friends more. I looked forward to plans and stopped looking for excuses to cancel. I could be fully present and there for the people that needed me without being consumed by my own inner turmoil.
And it all started with a small step.
What those small steps look like for you may be different than what it looked like for me. I picked up a book, but for you it may be taking a walk, cooking a meal, starting to journal, creating a morning ritual, or having daily prayer. But I want to pass along the knowledge and wisdom that starting small and starting where you are can be the first step in getting out of the smoke and fog that is a burnout.
Featured image by Shutterstock
I honestly was just looking for a part-time job; not a spiritual awakening. So when I became a fine jewelry consultant, little did I know I was in for a journey. The job was meant to be temporary and I never thought that it'd become anything other than something to do three to four times a week. But I quickly fell in love with the jewelry, taking the time to really appreciate the art and design of the pieces.
I was attracted to the beauty and the delicateness of gemstones and gold.
After setting aside a few coins, I decided to indulge myself in a 14-karat white-gold anniversary band with one-carat worth of diamond accents. It was the first piece of fine jewelry that I had ever purchased for myself. It was also the first piece of jewelry that I wore daily. It soon became a piece I'd never take off.
Before buying the ring, I had never paid much attention to my hands. Mainly because I'd consider myself to have chubby hands, and I never grew up with an appreciation for them. But by wearing my ring every day, I began to see my fingers and hands in a whole new light. They seemed tender, delicate, and sensual.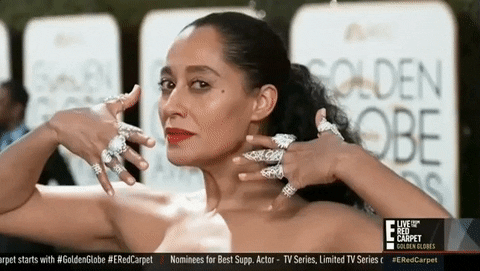 Giphy
I began paying extra attention to getting my nails done, keeping my hands soft and supple, and being more intentional and graceful in the movements of my hand. I noticed all of these subtle changes in my behavior and attitude about my hands from just from wearing the ring.

After that, I wanted to see what else I could use jewelry to tap into.
As I worked my way through the ranks and worked in various levels of the fine jewelry industry, I added dozens of pieces of jewelry to my collection: delicate gold necklaces, bracelets, earrings, anklets, waist chains, golden bralettes, and more rings to my collection.
Each piece has helped me tap into sides of sensuality and sexuality that I didn't even know I was repressing.
Feeling the gentle touch of the stones and metals awakened senses in erogenous zones all over my body. Neck, wrists, ankles, tips of toes, tops of fingers, the ears, the waist, lips, nose and the chest are all considered by sexual health experts to be the top erogenous zones (otherwise known as areas most sensitive to touch).
Wearing jewelry that grazed against the tender skin made me pay more attention areas, and made me start to fall in love with all the different parts of my body.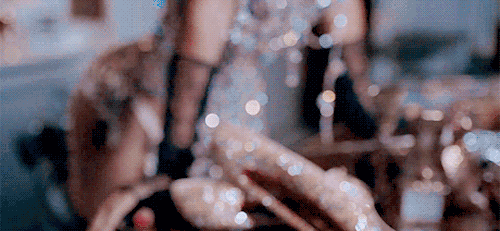 data.whicdn.com
I fell in love with the way that gold necklaces felt hugging my neck, drawing attention from my clavicle all the way down into the shadows of my cleavage.

Anklets made me pay more attention to my ankles and feet, and in turn I began to feel more grounded.
Bracelets made me feel tall and graceful; feeling the cool gold on my wrists made my arms feel lighter.
Waist chains and golden bralettes were my own little secret, pieces that the public didn't see but I could feel. I would be in a meeting and could feel the cool metal against my skin; the touch of the jewelry making me love the curves of my hips, the roundness of my belly, and the soft spots below my breasts.
Wearing a small diamond in my lip piercing made me pay attention to my pout, put me in a kissing mood, and made me conscious of how I speak and how I let words form in and flow out of my mouth.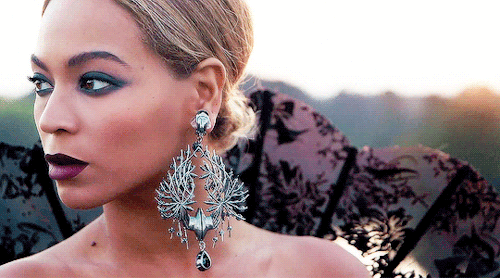 64.media.tumblr.com
I began to hone in on parts of myself that I took for granted, and was able to vibrate higher than before. Learning to love myself though jewelry made me want to care for my temple even more. I started taking my skincare and my eating habits even more seriously, wanting not only for the gold of the jewelry to glow, but for my skin to glow as well.
Loving the way my body looked made me want to make sure that I was doing all that I could to make sure I loved how my body felt.

Along with the sensual awakening and experience I would have when wearing jewelry, it also served as a source of attraction. My golden bralette would peak beneath my blouse and catch the eye of my date and I'm sure they would wish that they were as close to me as that chain. The jewelry would also serve as a kind of foreplay. Taking off the pieces layer by layer added another level and element to intimacy that I hadn't experienced before.
Not only was it something that could give me pleasure when worn, but it also gave my partner something new to explore on my body.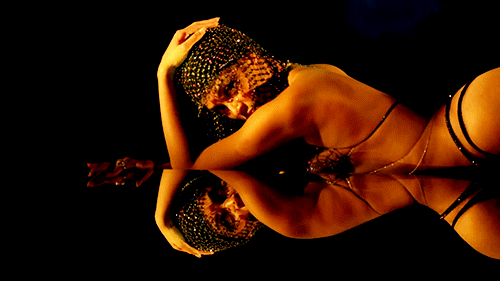 37.media.tumblr.com
I also used stones, gems, and metals to attract certain energy and to manifest visions. I wear my citrine ring when I need to manifest joy and abundance. I wear my green quartz to channel my negative energy into positive energy. I use my tanzanite to uplift my spirit and to put warmth in my heart. I wear emeralds for prosperity, diamonds for elegance, and amethyst for healing and protection.

Tapping into my spiritual side through jewelry has not only been a way to indulge in luxury, but also a channel through which I can focus my energy. Just as one would adorn an altar with crystals, wands, and points, I adorn myself with crystals and gems for attraction and protection.
I love seeing black women indulge in luxury and all the while find their strength. I would love for all women to have a piece of jewelry that they wear regularly, and let it serve as a reminder to love, honor, and explore your body and your spirit.
Featured image via Giphy
I was so over church the day one of the older women in the congregation pulled me aside and basically said my tattoos and piercings made me look like a Jezebel.
No really, she called me a Jezebel. I was through.
I was raised in a church that identified as Baptist, and later went to one that identified as the Church of God in Christ (COGiC). Growing up, I liked reading scriptures and the history of the Bible. I had always been a very spiritually aware person, but one thing that used to throw me off was all of the rules and regulations that, to me, had nothing to do with the Bible. Length of clothing, wearing jewelry and makeup, hairstyles, hobbies and friendships seemed to all be regulated by men and not God.
I understood some "rules" were Biblical, given the seven sins and anecdotal stories in the Bible. Yet, as I grew older, I began to question a lot of things that happened in church that seemed to be more religiously correct motions and not practices that actually reflected a passion to please God, but more so a passion to please people. I continued to go to church, but as I began to challenge and question the religious practices, there seemed to be more and more tension between myself and fellow church-goers, especially the elders.
As I got older, I became more liberated in my way of thinking with topics such as feminism, sex, and self-expression. All of the views I possessed seemed to clash with my "religion". I had (and still have) many homosexual friends, and oftentimes I was questioned/scolded about my allegiance to the LBTQ community (even though I identify as heterosexual). Scripture after scripture and prayer after prayer were used to try to counter my argumentl and I felt that it was my duty not to judge, but love.
I began to study and embrace a feminist mentality, which led to chastising about going against the submissive way of thinking that a woman should have in the relationship with her husband. I didn't particularly think that being submissive to a man was a way to keep him, but the elders of the church thought otherwise. I'd always been fond of tattoos and piercing as forms of self-expression, and opted to utilize those methods as I got older. In return, many of my fellow church members thought the method of my expression meant that I was being sexually deviant and "loose", and that such methods took away from my femininity.
These different viewpoints and ways of thinking ultimately led me to stop going to church altogether.
I felt as though the religious space I was occupying was a space that used rules and regulations as a marker for your relationship with God or how perfect you could make that relationship seem. I didn't understand how following rules set by man could be indicative of whether or not I was following rules set by God. It seemed as though religion was more about pleasing the people you occupy religious spaces with, trying to impress them by how diligently and fervently you could follow religious doctrine and less about being accountable for how you ran your life. I knew people who followed all the rules set by the church but were seemingly breaking all rules set by God: their skirts were the appropriate length and their skin was virgin, yet they were rude, greedy, and had laid with plenty unwed.
After I left the church, I remained without a church home for some years, but continued to maintain my spiritual relationship by reading my Bible regularly, praying, and living life to my fullest by trying everyday to be kind, considerate, and honest. Even by finding my own spiritual path without a shepherd or communing weekly in a temple, I found that I was able to grow by working through my own trials and errors.
I was better able to examine my life and the mistakes I made by viewing myself through an introspective lens; not through the lens of those who were merely judging by how many rules or rituals I didn't live by.
I was better able to clearly see my life's purpose, my areas of spiritual weakness, and things I needed to work on as a member of humanity who happens to call themselves a Christian.
Yes, I did get tattoos, piercings, go out on Friday nights and break "rules" set by a church, but I realized that my true faults here things that were beyond superficial. I was able to work on my patience with others, become more open-minded and more in tune with the emotions and feelings of others. By taking a break from the church, I was able to figure myself out for myself without worrying about judgmental eyes peering over my shoulder.
Though I do miss the concept of a church family and being around people who share the same spiritual beliefs as me, right now I'm in a frame of mind where I feel as though the church I belong to needs to be a space where I can grow in my faith, instead of a place where I feel like I have to follow their rules. While I'm not currently actively searching for a new place of worship, I do hope to find a church family in the future.
Until then, I'll be very careful before aligning myself with a group that goes by "religion" and not by God's word and principles.
xoNecole is always looking for new voices and empowering stories to add to our platform. If you have an interesting story or personal essay that you'd love to share, we'd love to hear from you. Contact us at submissions@xonecole.com.
Featured image by Shutterstock
Originally published October 12, 2017