Money Mitra
Follow Money Mindset Coach @MoneyMitra on IG. If you're looking to gain clarity and heal your relationship with money, go to www.ownyourmoneymindset.com and schedule an epiphany call. This immersive coaching experience transforms your money mindset addressing your subconscious beliefs, intergenerational trauma, and abundance blocks around money using a variety of modalities to shift you from surviving to thriving.
Why is it that you know "all the things" which can feel like information overload when it comes to your money; like spend less than you earn, save, and don't forget the "b" word: Budget. The one that makes you feel restricted in your pants after eating all the quarantine snacks with an aftertaste of guilt. What would it feel like to actually earn more, spend more, and save more?
April is Financial Literacy Month and, regardless of what is going on in the world, which may be bubbling up deep and painful insecurities around money, there's no better time to uncover the root of your money worries so you can own your money mindset and gain the clarity to create the life you imagine. As your resident Money Mindset Coach, I am here to guide you on your journey and raise your money consciousness so you can leave the shame, guilt, and avoidance around your dollars at the door.
To get to the fruit, we have to address the root. And that means going back to your foundation where you received your programming and conditioning that drives all of your behaviors. So many of you are running on autopilot, and that is why awareness is key.
After doing many case studies with my clients, whether they grew up in poverty, middle class, or wealthy, I have found similar patterns often accompanied by an excruciating pain around money that bleeds into other areas of their life like their personal and romantic relationships, work, and their own worthiness. Whether this shows up as memories of not having enough money for school lunch, being unable to buy things you wanted as a kid, or having your parents using money as a bandaid, measure of success, or as a way to control, the impact of childhood trauma is real.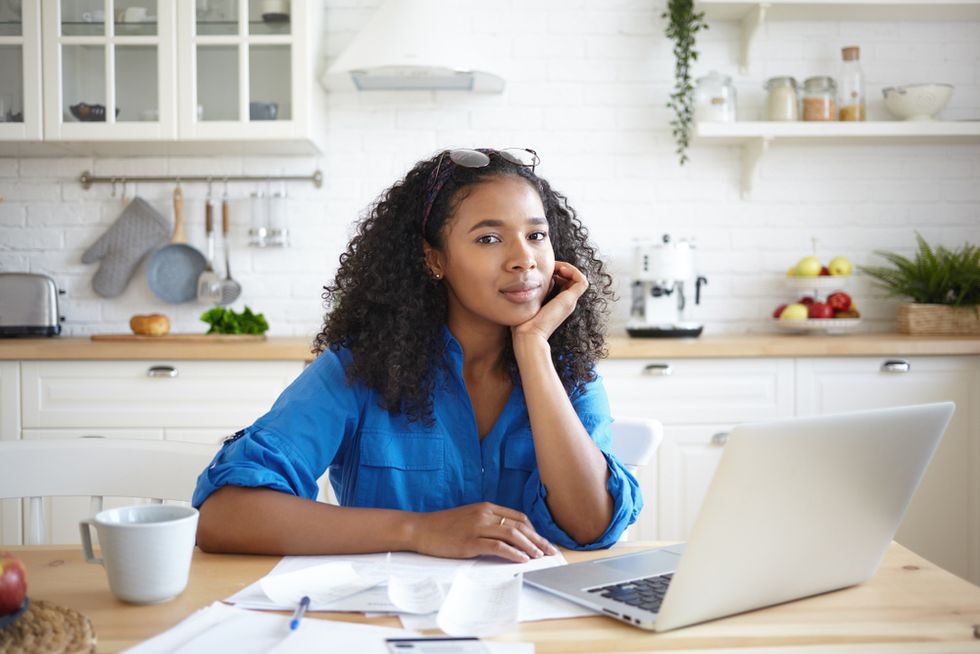 Shutterstock
Talking about the limiting beliefs around money and shifting your thoughts is a good place to start, but it skims the surface. What did your parents or caretakers say about money? Rich people are greedy? Money is the root of all evil? Money doesn't grow on trees? There is power in words and these sink into your subconscious mind which develops during the ages 0-7 and then drives all of your behavior.

"The work" lies in reframing these beliefs and regaining your confidence around money.
But then we have to go a step deeper where the trauma lies. Did you have emotionally immature parents? Were your parents distant, inconsistent, or preoccupied with their own unresolved trauma? When we don't have safe and secure attachments, we seek our sense of worthiness externally and that's what comes at a great cost.
So what are the core childhood wounds that lead to unresolved issues with your money that could be costing you big time?
Feeling Unseen:
If your parents were playing out their own unresolved intergenerational trauma and felt unseen, maybe they found themselves in a pattern of "keeping up with the Joneses", focusing more on seeking external validation and sacrificing financial peace because they were taught money is a status symbol. You may find yourself using retail therapy as a way to manage difficult emotions.
Feeling Unlovable:
If your parents were self-absorbed (not in a blame-y way, just unconscious to their own pain), they may have felt like they weren't worthy of love. Instead, they chased money, fame, or social status to feel the void and to prove themselves worthy of love. For you, this may show up as overgiving, people-pleasing, and hustling for your worth in both your careers and relationships. And whew child, can it get expensive. The burden of success is real, and the guilt of feeling like you're the one that made it is heavy. The good news, it can be healed. Start asking yourself, "Am I doing this with love, or for love?", and watch your world change.
Fear of Abandonment: 
Did your parents have a parent that left them? Whether it be physically through divorce, separation, death, or absenteeism? If so, the fear of someone leaving could unconsciously have you proving your worth, overspending, and caretaking. It could also keep you in toxic work environments, afraid to leave and find a more conducive situation. It's time to heal this, sis.
Not Being Enough:
If you grew up with very critical and harsh parents, you may have this deep inner feeling of not being enough. Your parents may have overcompensated in various ways when it came to how they used money, making up for the things they never had. For you, this may show up as buying friends, overgiving, and then feeling resentment when it's never enough. Sound familiar?
Whenever we FEEL we are operating from a place of lack (and I say feel because we are born worthy by our divine birthright), we operate from a place of scarcity despite the economic status of the family we were born into. And when this happens, we are in survival mode. Your pain is not your fault, but your HEALING is your RESPONSIBILITY. Your parents did the best they could with what they knew.
I want you to do an exercise.
Hold your breath. OK, now release. Now hold your breath for 30 minutes. Impossible, right? That's what it means to operate from survival mode and a place of scarcity. All you can think about is taking your NEXT breath stuck in the same negative thoughts, pattern loops, and traumatic experiences. If you are ready to stop just surviving and stop thriving, make the investment into your greatest asset: You. It's easy to be told you're worth it, but do you ACTUALLY believe it?
It's time to stop just surviving and start thriving, are you ready to make the shift?
Want more stories like this? Sign up for our newsletter here to receive our latest articles and news straight to your inbox.
Featured image by Shutterstock
It's official. You've been grounded for a few weeks and are being forced to stay in your home, which can feel like solitary confinement. Mama Corona did not come here to play with you!
While you've been prescribed to socially distance yourself, the isolation can leave you feeling idle and anxious with concerns around the impact this will have on the economy, your job security, or your business. Times like this can feel like punishment, bringing up those same fears, frustrations, and feelings of being "bad", but this time with money, leaving you uncertain about your financial future.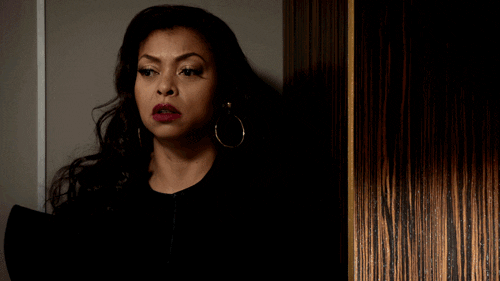 Image via Giphy
Many people think worries about money are just a "broke" person's problem, but SPOILER ALERT, they're not. The truth is, even HIGH EARNERS can still have a TON of fear around money. It's the equivalent of hearing someone cough around you during this pandemic--the kind of fear that makes your body tense up and makes you question why your throat or stomach is hurting all of a sudden or why you aren't feeling well.
As a Money Mindset + Business Coach, I am here to help you replace panic with peace, and turn your fears into financial favor. Here are 7 steps to get started:
1. Get grounded (in a good way).
First, take inventory of your bills. If you are concerned about the months to come, figure out what is a necessity versus a luxury. If you have the money, pay your bills. If you're experiencing financial hardship, take action.
Call the creditors and see if you can receive a 60-day suspension of payments or interest.
This may apply to mortgages, rent, cable, electric, student loans, etc. While the debts won't necessarily be forgiven, it will provide you an opportunity to get on solid ground. Connect with nature, take social media breaks when needed, and make sure you are still connecting with others and not isolating yourself during social distancing.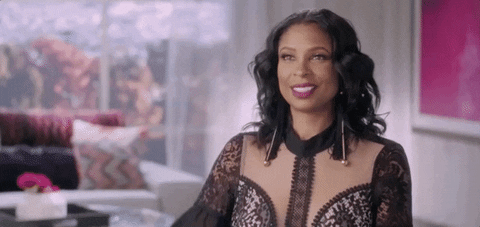 Image by Giphy
2. Get out of your own head (and into your body).
With gyms shutting down across the country, your usual workout routine may not be available. Get creative with home workouts or take them outside for some fresh air and sunshine. You can find plenty of free workouts online or support your fitness friends that have taken their businesses online.
The endorphins will help you find a sense of peace in the midst of chaos, helping you to make better, more informed decisions. Make a habit of this, and if you find yourself overextended financially once the panic over coronavirus subsides, you can cancel your gym membership and pay yourself instead.
3. Shift your mindset.
Balance is key. Enjoying experiences and guilty pleasures are necessary as life is meant to be enjoyed. When you're feeling financial uncertainty, shift your mindset from CONSUMERISM to OWNERSHIP. Your emotions and boredom can get the best of you during this time which will only make you feel more financially strapped. With the way Amazon Prime is so conveniently set up, you may find yourself spending unnecessarily.
Rather than letting boredom take all your dollars that you won't see again, get in on the greatest sales of the year by making purchases that will actually provide you a return on your investment.
Just because you can't fly right now doesn't mean you can't buy and hold a piece of your favorite airlines. Those stocks might just bring you back some "free flights" in the future. Cryptocurrency and stocks are having their biggest sales in a long time right now. Plant a few seeds that will potentially help you rebound or pivot in the months and years to come.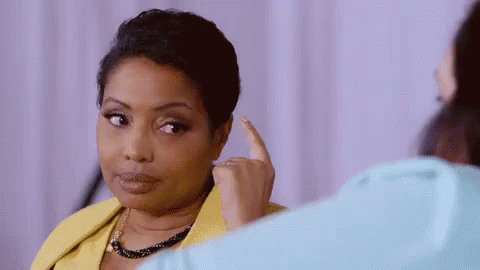 4. Go digital.
Create or take your side hustle or business digital. And no, I'm not talking about unethical business practices like hoarding 17,000 bottles of hand sanitizer and getting banned from selling them online during a global pandemic. I'm talking about a business that feels like it's made for you because it is. Do you think it's a coincidence you've been forced to sit and slow down? It's times like this when you have more time to find and develop your purpose.
Take this time to assess your aptitude (innate gifts) and learned skill sets to monetize your talents. The world has been changing right before your eyes, and if you've been distracted by life, it's providing you with an opportunity. Will you take it?
5. Adapt.
Remember your ex, Blockbuster? It can be hard to recall when you found the current love of your life, Netflix. When Blockbuster didn't adapt, refused to do his inner work to heal and get with the times, he became a thing of the past and just didn't do it for you anymore as you evolved. This rings true more than ever today as society and technology continue to evolve. Some of the most lucrative and disruptive ideas were born from the last recession.
It is during these times it pays to be more receptive than ever to new money strategies and understand that through change comes opportunity.
Need an example of how to adapt? If you've been driving Lyft or Uber and this income stream has left you financially stressed, adapt to the current environment and consider food or grocery delivery (i.e., UberEats and Instacart, respectively).
6. Financial wellness is not determined by your bank balance.
This may sound counterintuitive. However, how much money you make or have does not determine your financial health. While being cash strapped can create anxiety, financial wellness is how you feel about your current financial situation. True abundance is being grateful and at peace no matter where you are. As we navigate through the unknowns in the wilderness of the coronavirus and the economic impact, focus on financial peace and balance. There are a lot of people whose identity is tied to money, who have lots of it, and they are being challenged to figure out what's really important.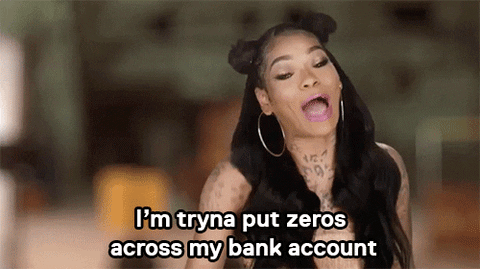 Image via Giphy
7. Own your money mindset. Don't let it own you.
What does this mean exactly? It means to gain clarity and take hold of the way you think and behave when it comes to your money. Oftentimes our beliefs around money and scarcity mindset run deep, connected to our childhoods. If you've never healed your relationship with money, it's a great time to invest in doing so. The fear, anxiety, and avoidance around money that has you stuck in cycles of shame and guilt aren't even yours and it's time to unpack that.
A truly abundant mindset is being grateful with what you currently have no matter where you are in your journey to financial wellness, even during a quarantine.
Staying grounded and connected especially during these chaotic times will help you shift from fearful to favored, like scoring the last pack of toilet paper. Don't you agree?
Did you know that xoNecole has a podcast? Subscribe on Apple Podcasts or Spotify to join us for weekly convos over cocktails (without the early morning hangover.)
Featured image by Shutterstock
With summer coming, Vitamin D and vacations can subconsciously be a source of both peace and pressure. Wedding season, brunches, last minute roadtrips, and other summer activities can lead us to spend more than anticipated.
While the extra sunlight often gives our moods a boost of energy, this can also contribute to more frivolous spending with increased cycles of shame, guilt, and avoidance when it comes to your finances. So whether you're a Hot Girl, a City Girl, or on your Lizzo flow this summer (cues your summertime theme song), here are a few tips on how to maintain your cool as things continue to heat up:
​Gas yourself up while keeping your cool.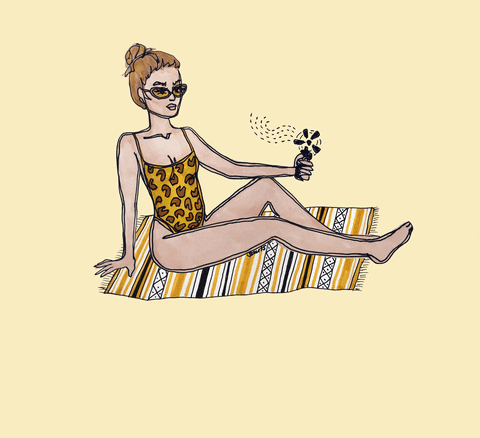 Giphy
If you're hitting the road, try filling up midweek on a Wednesday or Thursday (notice any airline pricing parallel?). Simple economics (supply and demand) means gas stations have a tendency to bump up their prices on Friday when most people travel and fill up last minute. A little planning can go a long way. Want another hack when it comes to your utilities? Keeping your A/C at 68 degrees is a 60% increase in utility spending on average in comparison to 78 degrees when you leave your home. Remember to make this adjustment manually or check with your utility company about a technology upgrade allowing you to control your A/C remotely, helping you to keep your cool in more ways than one this summer.
Pay cash or use debit.
Using money you've already earned will save you a ton of money. Cash is queen (or "king" as they say) because we feel the "pain" of spending cash over a simple swipe of a card. But we also don't have a way to track what we have spent. Debit on the other hand gives us a breakdown of where we spent our money and helps us to avoid "credit card hangover" (where we tend to beat ourselves up when we make money mistakes, say we won't do it again, and then find ourselves spending more to cure the "hangover", further perpetuating the cycle). Spend with purpose and fulfill your emotional needs with awareness.
Go on a staycation.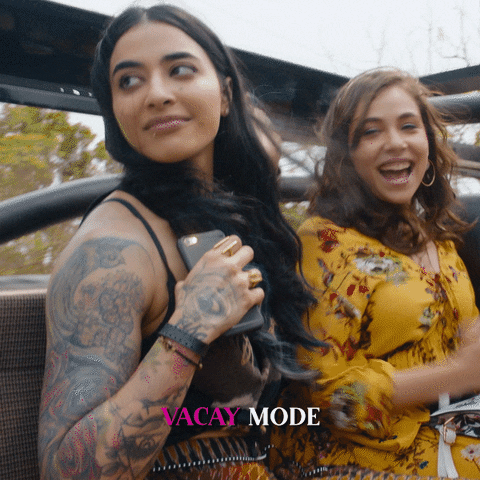 Giphy
Accommodations tend to be two-thirds of our already-growing expenses when it comes to vacationing. Add in gas, food, and fun money, you know how quickly this all adds up. On the other hand, a staycation can be lighter on our wallet but heavy in fun! Vacation rental sites like Airbnb, Noirbnb, VRBO, and Homeaway can give you more bang for your buck as well as the local feel we often crave when we travel. Pair this strategy with finding free fun, like creating a bucket list, attending free informational classes, parks, recreation, and other events, and you are well on your way to smart summertime spending with all the vibes!
Set a social calendar.
With increased events during the summer (can you say wedding/bachelorette season?) and a natural tendency to want to visit others/be visited more, setting a social calendar will help to keep your spending in check. To live with purpose and intention, boundaries are important in all aspects of our lives and it's no different when it comes to your finances. Exercise your right to say NO to avoid unnecessary stress and drama!
Make spontaneity a part of your spending plan.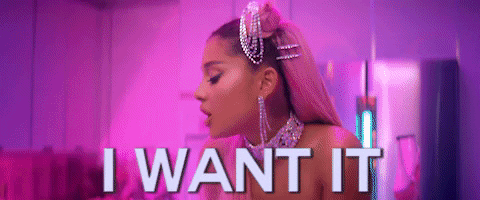 Considering we are more likely to engage in random activities during the summer months, we should make sure this is a part of our spending plan (I prefer this phrase over "budget" because anything too restrictive can often lead to failure like a fad diet because guess what? We are HUMAN!). Ditch the traditional rigid "budget" and include the inevitable. It's okay to plan for a splurge. Your future self and self-worth will thank you!
Be less social (media).
Sis, comparison is the thief of joy so be more intentional with the accounts you are following. Keep in mind that social media is only one side of a story and everyone who appears to be happy, rich, and joyful isn't always. Sometimes the images we are being fed are simply others managing their perceptions and "doin' it for the gram." It's no surprise that depression and anxiety rates are up and directly correlated. Don't let what others are doing deter you on YOUR journey. Remember this is just a season, and delayed gratification is worth it!
Be more nostalgic.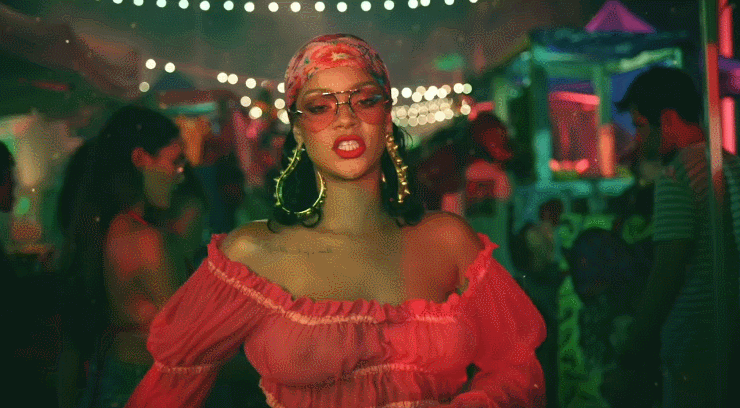 It's time to tap back in to your inner child. You know, the younger version of you, the little girl who was full of joy from the little things where cost and impressing others wasn't a factor? Do you remember catching/admiring fireflies, being on the porch with family and friends, or playing "punch bug"? What made your summertime self sing in your childhood days? Do more of that! Be intentional. Focus on being more present which costs nothing but simply putting your phone away.
By implementing these 7 summertime strategies and putting them to good use, you will find yourself increasing your holistic health and wealth. You are deserving and beyond worthy of this, Queen. Life is meant to be enjoyed and just in case you forgot, it's not a dress rehearsal. So whether you find yourself in sundresses, shorts, swimsuits, or even sweats this summer, continue to soak in the sun, create a summer to remember, and elevate your money mindset.
Are you down?
Featured image by Getty Images
Want more stories like this? Sign up for our newsletter here and check out the related reads below:
Money Management Tips Every Millennial Should Know
How To Break Free From A Broke Mindset & Attract Abundance
In case you haven't noticed, we are in the midst of a collective awakening. And even as consumers, we are demanding the truth when it comes to brands and how we spend our dollars. With truth comes personal accountability and increased awareness. Now in order to build generational wealth and make sure your legacy has a seat at the table (or the resources to construct their own), we have to stop putting band-aids over our "money wounds" and start thinking long-term about our less stressed and financially-free FUTURE selves.
My mission is to normalize money conversations and to create a safe space for dialogue to increase financial and emotional wellness.
Just like with your healing journey, it is your personal responsibility to seek out resources to elevate your money mindset on your path to financial wellness. I mean, that's why you're here, right? And the good news is that many of you are already out here doing THE WORK (yes, the grueling, unattractive personal work that doesn't typically make it onto the social media highlight reel). So while you are ELEVATING sis, here are some tangible tips to help you eliminate debt and stop the bleeding:
1. Break Your Pay Down Into A TIME VS. MONEY Comparison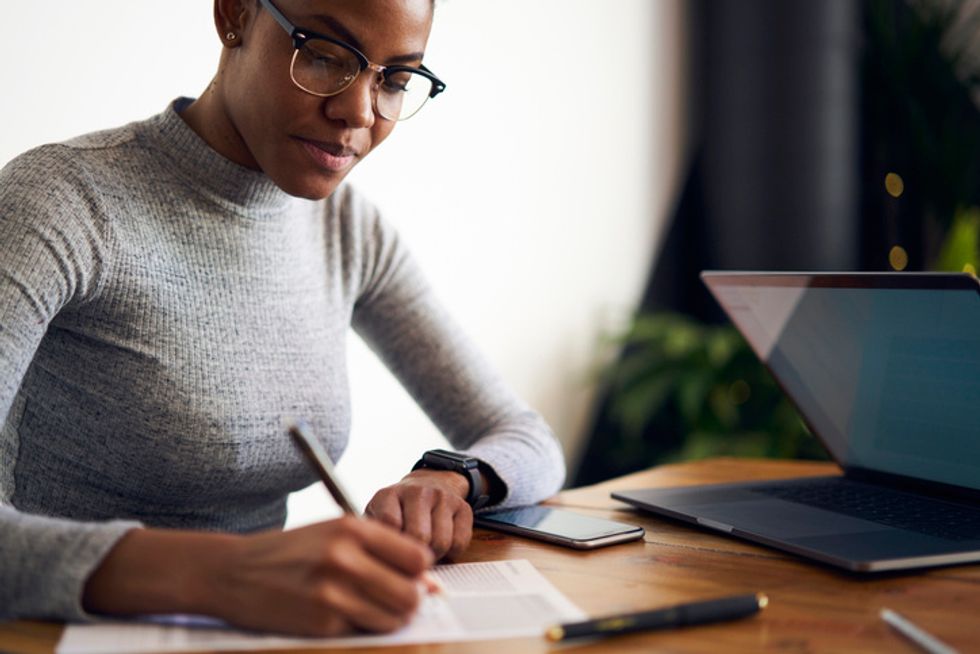 Getty Images
Time is the only nonrenewable resource. Break your pay down into how much it costs you per hour. For example, if you make $25 and want to purchase something that cost $200, that's 8 hours of pay (and of your day). Now ask yourself, is this time vs. money exchange really worth it or do you prefer to allocate my pay in another way (BARS)? If you decide against the purchase, decide whether or not it would be worth it to throw the money you thought about spending on a splurge towards your purpose. Ask yourself if you should allocate those funds to a major stressor in your life and knock out some debt sooner so that you'll eventually acquire more disposable income for the things you really want to do later in life. Instant gratification in a small sacrifice in the grand scheme of creating the life that you want.
2. Sleep On It
Give yourself a certain number of days to think before you make a purchase that is not a NECESSITY or an investment in bettering yourself. For example, anytime you make a purchase that is entertainment, clothing, or NOT need-based, sleep on it for three nights and then decide if you really need it. You may find most of your purchases are emotional.
Sitting with your feelings (taking note of what you are feeling or what happened when the urge to splurge comes up) and increasing your emotional intelligence will allow you to dodge making impulsive decisions to fill a void perhaps linked to a source of pain that may be outside of your awareness. For example, you don't have to be SEEN through what you wear to feel SEEN in a society that has marginalized you if it sets your bank account back and sends you down a slippery slope of guilt, shame, and avoidance. If no one has ever told you, you are enough just as you are. The rest is a luxury, and luxury my dear is meant to be comfortable.
3. Do A Subscription Review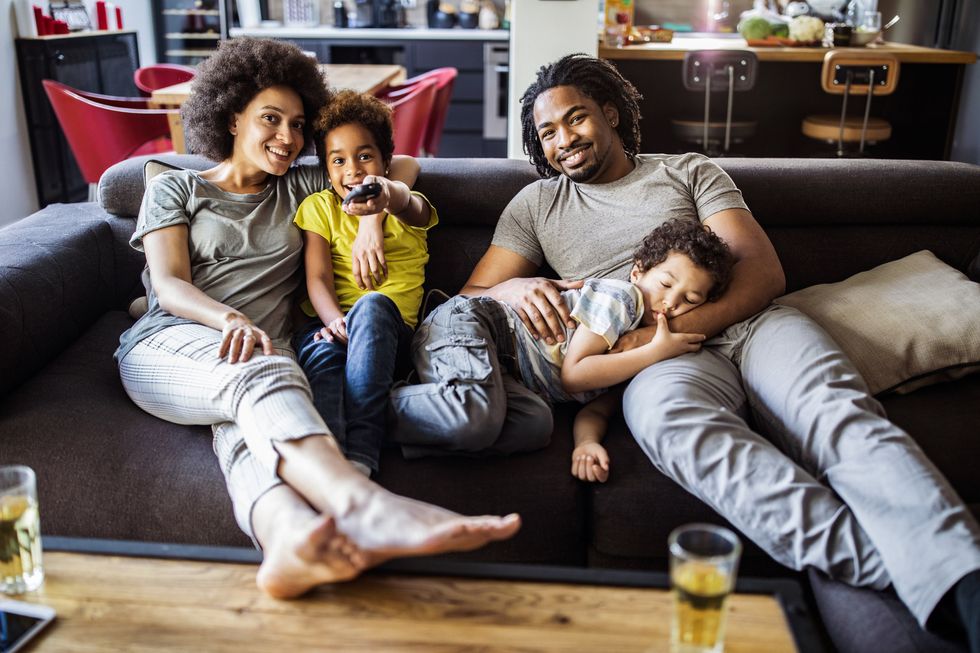 Getty Images
Monthly subscription services are all the rage. The problem? They add up quickly and many times we have them on autopilot, completely forgetting that it comes out of our account every month. Is this a coincidence or a brilliant sales strategy? Take a quarterly inventory of these and release yourself of the ones that you don't or rarely use or find more economical options and start allocating those autopayments to the debts you are looking to eliminate!
Common subscription service culprits include: gym memberships, Amazon, hair vitamins, themed box subscriptions that you really don't use, streaming services, lead generation if you're a business owner but aren't using the leads etc.
4. Try The SNOWBALL Effect
Or let's use the bowling ball analogy. Whichever you prefer, target a certain debt or "pin" that you want to knock down. A good way to select your "pin" is tackle the smallest debt or the one that is the biggest thorn in your side and greatest point of pain. Use the money you are saving in the tips above and begin to aggressively attack those debts. Once you've paid that one off, the monthly payment you had now becomes leverage to snowball into the next debt. Keep letting the (snow)ball roll until you have a domino effect and eventually you will be debt-free.
5. Consider A Balance Transfer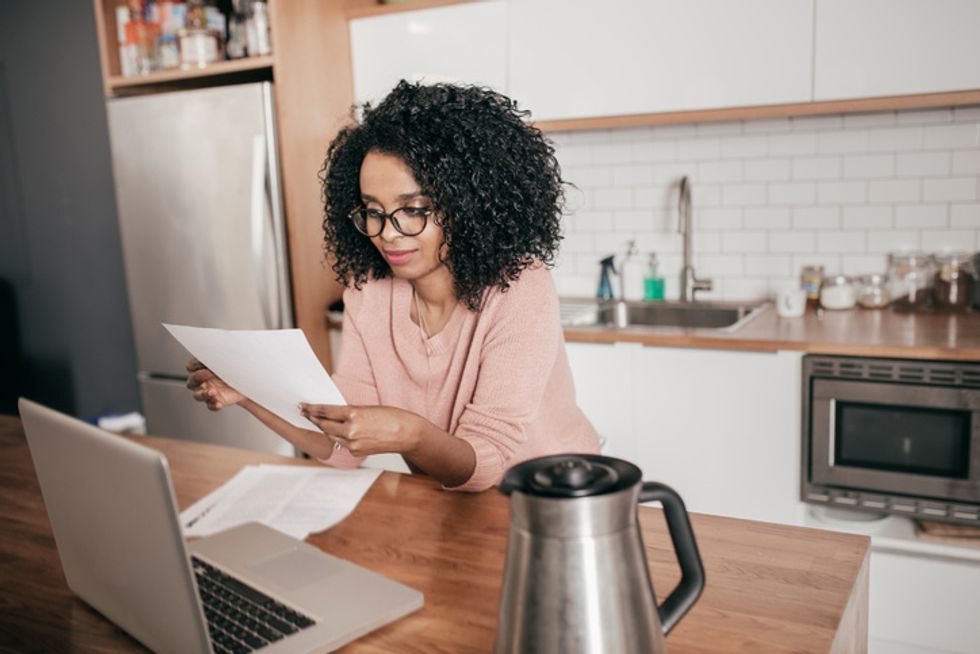 Dealing with bills
Getty Images
Balance transfers are a great way to hit the reset button and help get out from under compounding interest where you're paying interest on yesterday's interest. A balance transfer allows you to reset your debt at 0% interest for 12 or 24 months (find the right introductory offer) with a fee. Make sure you have the funds available to attack the debt and pay off the WHOLE thing before the introductory period ends and set it up on autopay. Your future self will thank you for it. Your birthright is not to survive, but to THRIVE.
6. Make Autopay Your Friend
I talk to many people and clients who wait to pay their rent or credit cards until the last day because they don't want the creditor to have the money. Then what happens? They owe the creditor more money in fees because they forgot to pay it...sometimes requiring all the interest over the introductory period of no interest being called due. Hold yourself accountable and make autopay your friend. Don't let your ego get in the way and cost you more money that could go towards a debt.
7. Use Your Home As A Bank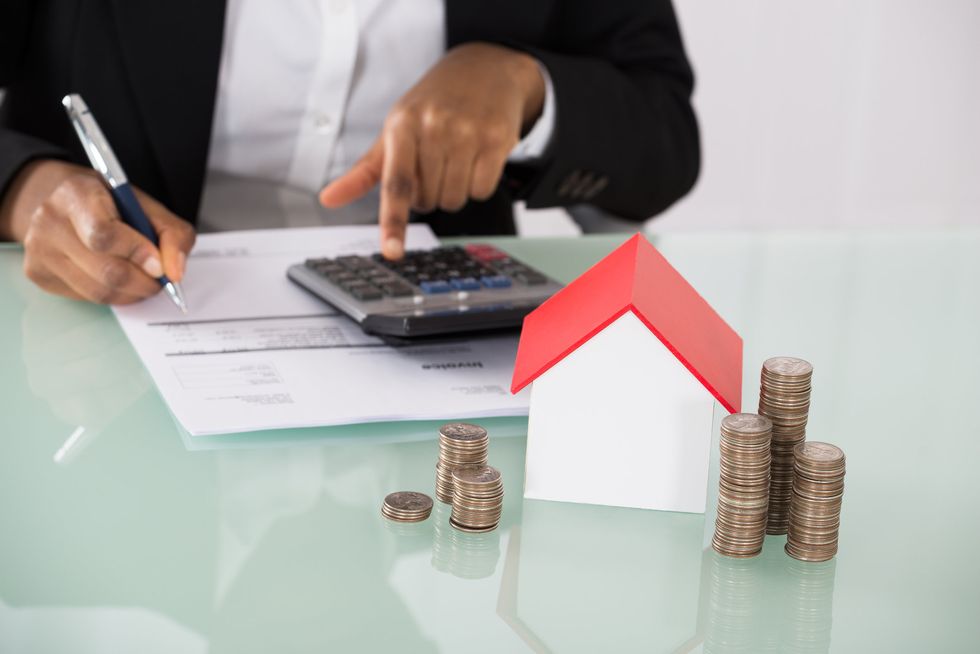 Getty Images
Now, if you are a Dave Ramsey fan, this might make you question your life. But the truth is, fixing your finances is not one size fits all. I have a lot of respect for Dave and agree with many of his principles. However, there are some that I disagree with... like requiring 20% down payment to purchase a house (not to mention missing out on free money through the form of DPA, down payment assistance). If you are buying in a good market, by the time you saved 20% for your down payment (or waited for a gift from your parents who don't have generational wealth to pass it to you), your home value could have increased significantly and you could be getting cash out for another investment. EQUITY is paper, and if you don't use it you lose it during downtimes.
If you are a responsible person who has a tendency to pay more than the minimum payment on your credit cards and debts, then this may be a great way for you to feel relief from massive monthly payments of credit cards and student loans.
8. Figure Out Who You Really Are, What You Really Want And What's Your Definition Of Success
This will allow you to be proactive and identify what debts if any are critical to your goals and dreams. If formal education is important to you, student loan debt may not be a bad idea. Just make sure the ROI (Return On Investment makes sense) based upon the field you are going into or going back to school for. Many of us can relate, I started out pre-med to achieve the highest level of formal education and took another direction. Never be afraid to reinvent yourself. Stay true to you. Life is about balance and is meant to be enjoyed. Hustling for our worth is hustling backwards. Trust me, I've been there and didn't even know the source until I got to the root of the need for my own validation and started to peel back the layers of my own money story.
To see true, lasting change, it's time to have some real, open, and brutally honest conversations with a trusted advisor, therapist, or money and mindset coach. Be real with yourself about the reasons you make purchases regardless of whether you do or don't have the money. Is it to be seen, or to feel worthy or validated? Is it an inability to say no or a byproduct of people-pleasing? Don't get me wrong, life is meant to be enjoyed and living your best life or stunting from time to time while acting your wage is perfectly fine.
Issues arise when our life becomes a full-time stunt like a Big Tymers music video and our budget doesn't match the image or persona we are putting out.

It's time for us to evaluate what we really want and need out of life and who we really do things for that continue to set us back from our authentic selves. Inner peace is the real bag and eliminating debt is key. Are you ready to secure it, QUEEN?
Featured image by Getty Images
Want more stories like this? Sign up for our newsletter here and check out the related reads below:
I Cleared $35K Worth Of Debt While Making $12 An Hour
A 5-Step Guide To Getting Out Of Credit Card Debt