Last week, I asked, "
How Black Will Oscars' Night Be
?" And just as I predicted, it was pretty Black! The 94th Academy Awards made Black history several times over on Sunday night. Not only that, but ratings were up 56% over last year's all-time low. There is a lot to celebrate about what went down at the Oscars this year! But what's been on everyone's minds and Twitter fingers ever since was the Slap heard 'round the world.
---
xoNecole was in the Dolby Theater for our parent company Will Packer Productions'
making history as the first all-Black producing team
in the Oscars' 94 years--and yes, the moment was shocking and confusing, with guests reacting much like those at home, wondering was the presumed Best Actor Will Smith doing a bit when he walked onto the stage and open-handed slapped Chris Rock after a joke about Jada Pinkett-Smith's bald head? It was quickly clear that it wasn't, with those of us up in the theater's rafters looking to Twitter for a replay of what exactly went down.
But we should not forget some truly amazing moments in Black history that went down at this year's Oscars.
xoNecole was on the red carpet talking to your faves about what this moment meant for Black people, Oscars host Regina Hall, Best Supporting Actress Aunjanue Ellis, Oscar winner H.E.R., Oscar winner Ruth E. Carter, presenters Chloë x Halle and more:
Oscar Winner Samuel L. Jackson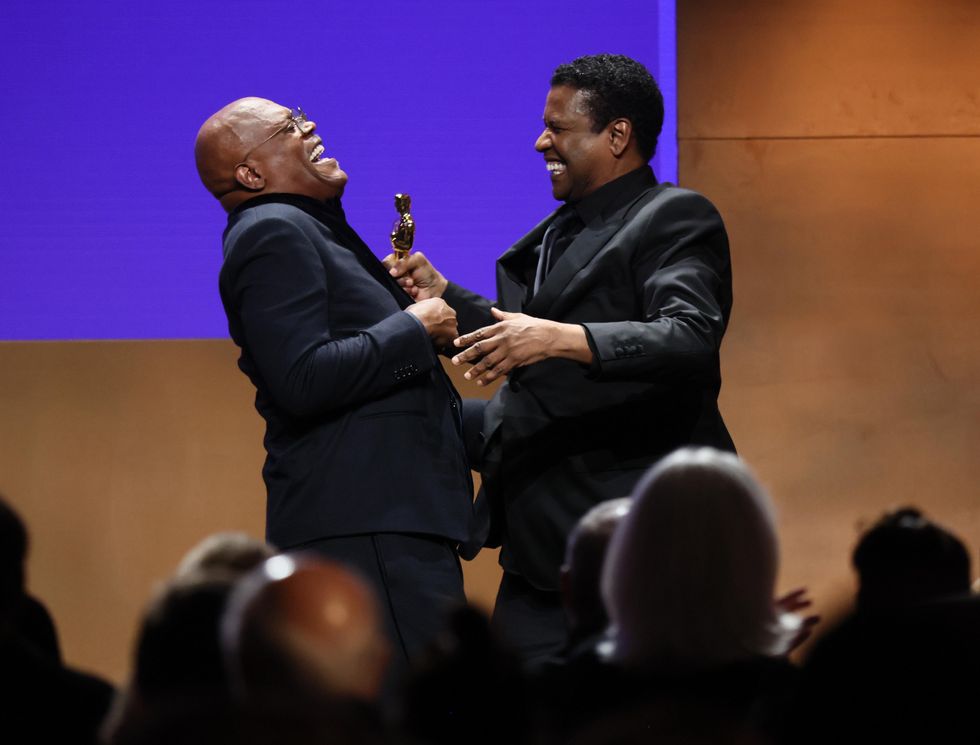 Samuel L. Jackson celebrates his Oscar with Denzel Washington
Mike Coppola/Getty Images
At The Academy's Governors Awards the night before the Oscars, Denzel Washington presented his peer and friend Samuel L. Jackson with this year's honorary Oscar. The 73-year-old acting veteran has been on our screens for most of his life, alongside Washington and Spike Lee. After being nominated for Supporting Actor for his role in Pulp Fiction, Jackson now has his first Oscar!
Blue Ivy Gave The Opening Performance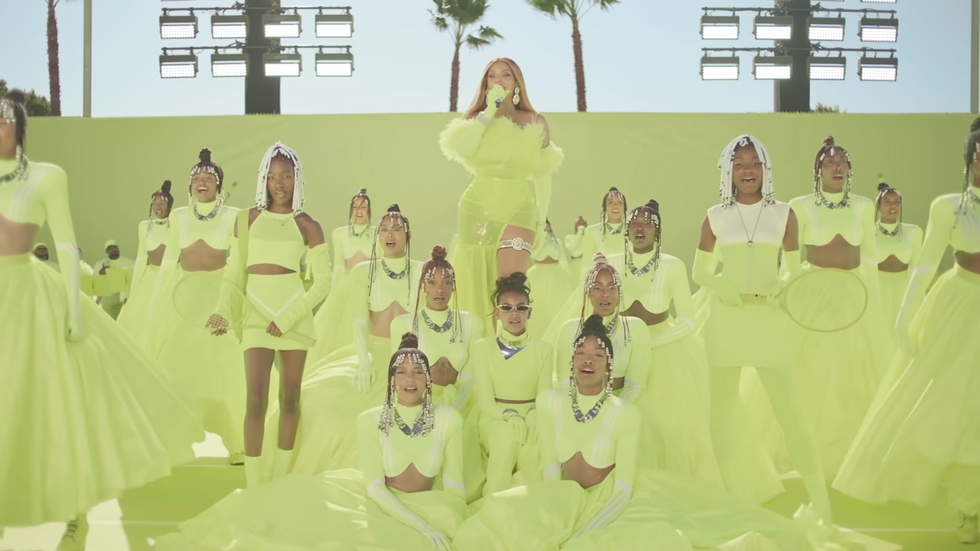 Baby, Blue Ivy was MOVING, okay? Dance moves on point. An icon. A legend. We didn't deserve it, but I'm so glad Blue Blue let her mom sing background for her debut performance at the Oscars. She can add this accolade to her illustrious Emmy, Grammy and literary awards.
'The Queen of Basketball' Received Best Documentary Short 
One of the early, exciting moments from the pre-taped show was when The Queen ofBasketball won for best documentary short (just as I predicted!). The floor vibrated as the family of Lucy Harris, the first woman to ever play in the NBA, celebrated the Oscar win in her honor. Sadly, Lucy passed just months before the nominations were announced, so she never got to see how her pioneering story would reach international acclaim. "Hallelujah! Thank you, Jesus!" Her family and loved ones shouted out from the rafters above and behind me in the Dolby Theater. Their energy and joy were electric! And Director Ben Proudfoot ended his acceptance speech with an appeal: "President Biden, bring Brittney Griner home!" A Black history moment and icon we should never forget. Watch the Oscar-winning documentary short below:
Ariana DeBose Won Best Supporting Actress 
The first award of the (televised) night went to Ariana DeBose for Best Supporting Actress in West Side Story, (as predicted) making her the first Afro-Latina, openly queer woman to win the award. Quoting her famous musical in her acceptance speech, she said "So to anyone who has ever questioned your identity, or you find yourself living in the gray spaces, I promise you this: there is indeed 'a place for us.'"
Megan Thee Stallion Is The First Female Rapper To Perform 
One of the more pleasant surprises of the evening was seeing Megan Thee Stallion performing the hit song from Encanto by Lin Manuel Miranda, "We Don't Talk About Bruno." While you may remember the famous performance from Oscar winners Three-Six Mafia of "Hard Out Here For A Pimp," Megan's performance was the first-ever by a female rapper in Oscars history. Keep doing it big for the Hot Girls, Meg!
A Disabled Black Woman Was Defended Against Ableism and Misogynoir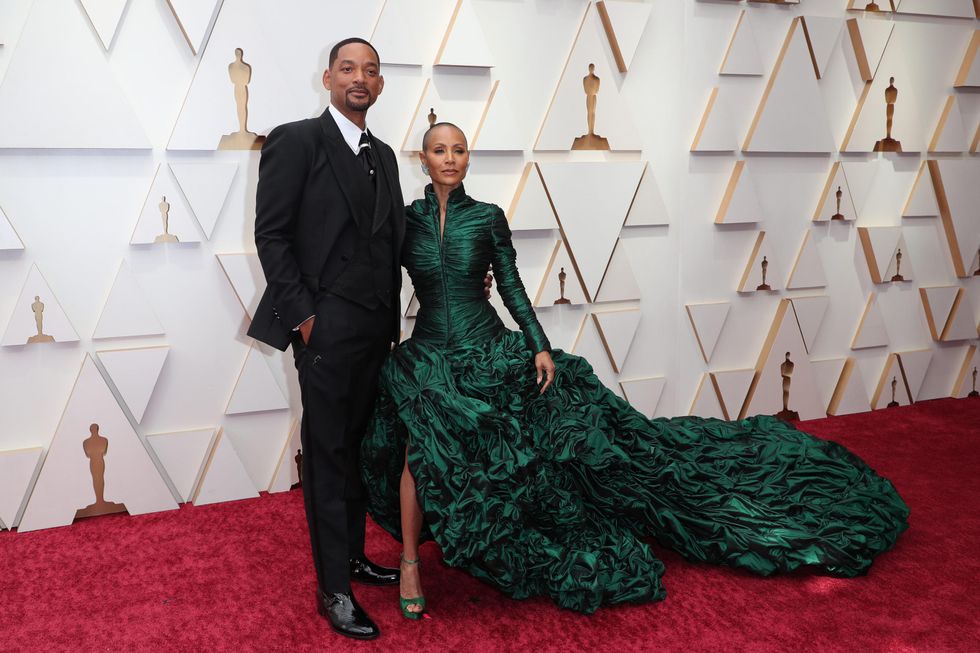 WILL SMITH, JADA PINKETT SMITH
THE OSCARS® – The 94th Oscars® aired live Sunday March 27, from the Dolby® Theatre at Ovation Hollywood at 8 p.m. EDT/5 p.m. PDT on ABC in more than 200 territories worldwide. (ABC)
For too long, comedians like Chris Rock have built their entire careers on mocking how Black women look, talk, dress and act and we're always expected to take it because it's "just jokes." I'd wager that part of what seems to be so offensive to people in the aftermath of the Slap is not that Chris Rock got popped in the mouth for mocking a Black woman's appearance, it's that this violent, ableist, misogynoiristic 'joke' is supposed to be acceptable. Open season on the most unprotected and disrespected people in America, the Black woman, is assumed, and how dare Chris Rock face consequences for it? Alopecia is an autoimmune disease. Jada Pinkett Smith is disabled. A Black disabled woman was defended against ableism and misogynoir in front of the world on Sunday night. While we'll have to wait for Jada to speak specifically on how she felt about the offense or the defense, I hope more 'comedians' think twice before mocking Black women for a white audience's laughter and actually try to be funny next time.