Effortless grace, undeniable natural beauty, and a voice hand delivered by God and his angels themselves are just a few of the notable ingredients that make up Jordin Sparks. The former sixth-season American Idol winner - who made history as the youngest winner of the entire franchise at just 17 years young - has gone on to release hit after hit, marking her territory as a key voice in the 2010s R&B scene with "Tattoo," "One Step At A Time," "No Air," and "Battlefield." Now, the Sparkle star has added a few new titles to her resume, including wife, mother, and Cantu Beauty ambassador.
---
The Grammy-nominated singer-songwriter has been personally tapped by the hair care brand to join forces in an effort to shine a light on the brand's community initiatives to give back to women around the world. This includes her partnership with the global nonprofit organization Women Empowering Nations, which kicked off in 2022 with a surprise virtual visit to the final 11 young women who were awarded a spot in the Cantu GLOW Global Fellowship, a four-month hands-on experience in the beauty industry.
In an exclusive interview with xoNecole, Jordin opens up about her natural hair care journey, how self-love and self-care work hand-in-hand, and how becoming a mother and a wife has challenged her self-care maintenance.
xoNecole: How did the partnership with Cantu first begin?
Jordin Sparks: Well, I actually ran into [Global Marketing Director] Dametria [Mustin] down in New Orleans for ESSENCE Fest. We were at this Black excellence brunch and our paths crossed, and we just kind of connected. I really love what the company stands for and how they are empowering women, and at the same time making and helping women feel beautiful with their hair no matter how they rock it. Anytime I can be a part of something that helps uplift women and empower them, I want to do it, so it just seemed like the perfect partnership.
xoN: When did you begin to fall in love with your natural hair?
JS: Honestly, I think it took a little while to fully embrace my hair. I always loved my curls, but when I was growing up, I always wanted something that I didn't have naturally, which was straight hair just because it was different; it was so pretty. My mom's hair was straight as well, but I loved my curls - always. I never wanted to get rid of them. I think it wasn't until probably my mid-twenties that I really started to understand my hair and what it needs, what it doesn't need, how it works best, how to take care of it with a crazy schedule, and different things like that. I would say my mid-twenties was when I really started to embrace and love my natural hair.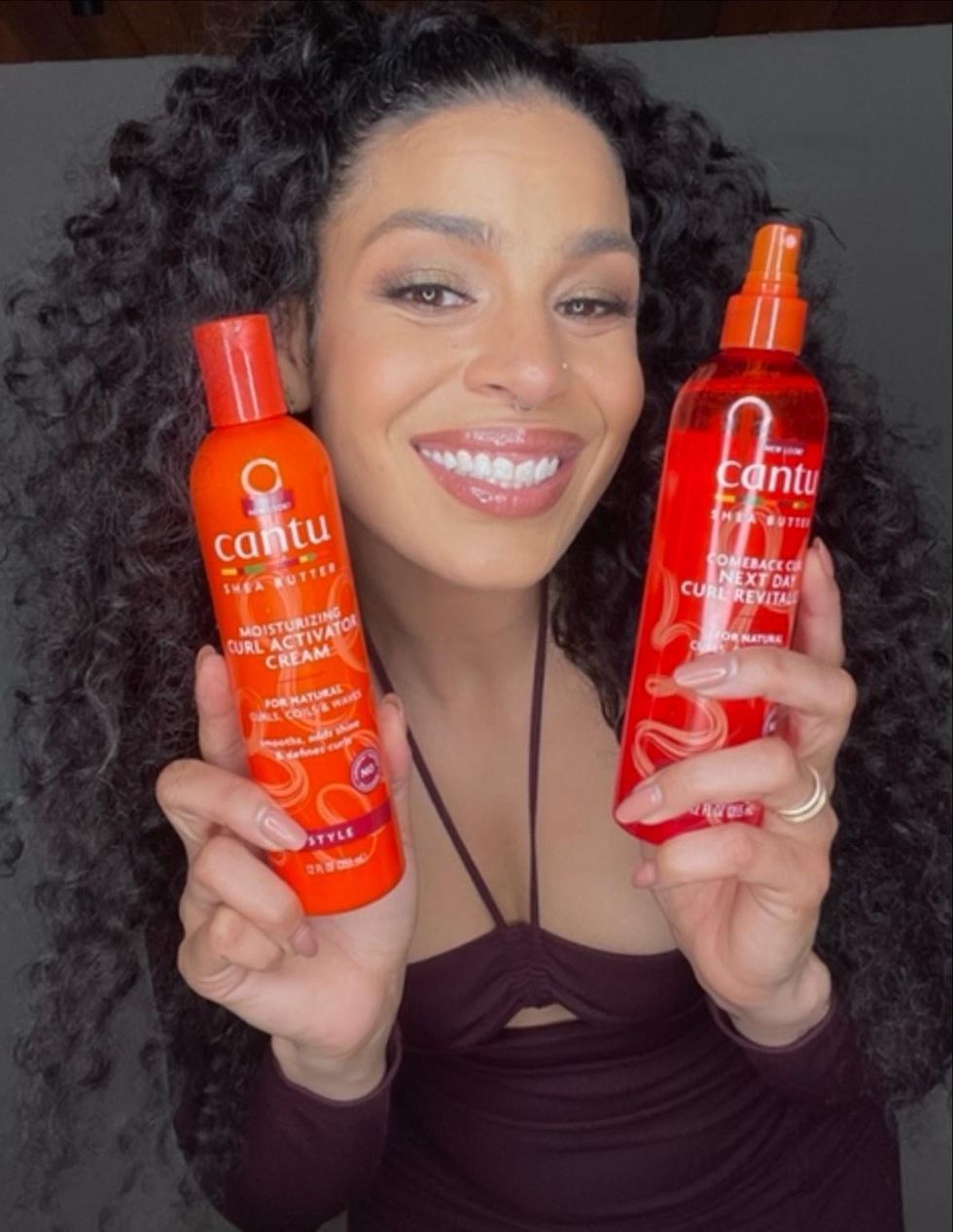 Jordin Sparks.
Image courtesy of Cantu.
xoN: When does your hair feel the most beautiful?
JS: Honestly, I love it when my curls are doing what they're supposed to and being wild and free. I love them when they're like that, but now that I've discovered protective hairstyles, I also love my hair in braids. I feel really beautiful when I have those, and I especially love the fact that I can do so many different things with them as well.
xoN: How has your hair routine changed since you've become a wife and a mother?
JS: Well, I definitely don't take as long to do my hair like I used to. That's also why I love the protective styles. With braids, I tried faux locs, I tried the Marley twists. I love them all, but the best part about them is that you just wake up and go. You don't have to do anything and you still look fly no matter where you go. It's definitely changed as I have less time and I need less fuss, to be honest.
xoN: Why is it important to include natural hair into conversations about self-love?
JS: Honestly, I think this is a really good question because if we can't love our hair, which is our crown, it naturally comes out. We can change it when it's out with different treatments and stuff, but we can't change the type of hair that we have. I mean, I'm sure technology has come so far that maybe we can now, but as of now, I don't know if we can do that. If we're talking about self-love and loving ourselves in all that we are, that would definitely include the crown of hair that we wear.
I know when I was younger, my hair just did what it wanted to do. I didn't quite know how to do my hair yet, and sometimes it would make me feel a little self-conscious because I was already tall and stood out where I was. When my hair kind of just did its own thing, it stood out even more. I'm grateful. I know we're all individuals and I'm meant to stand out from the crowd, but when I was younger, I just wished my curls would've just done what I told them to do.
Embracing my hair has definitely helped me embrace the rest of me as well. My natural beauty and what I have. I love my cheeks, I love my eyes, I love my face, my skin, my smile especially, and I love my hair. When you look in the mirror, those are the things that you see. You see your eyes, you see your face, and you see your hair. I think that it's definitely important to include that in the conversation with self-love because it's one of the first things that you notice, and the first thing that you see, and it's going to be with you. I mean, hopefully, it'll be with us for as long as we are around, but it depends.
"Embracing my hair has definitely helped me embrace the rest of me as well. My natural beauty and what I have. I love my cheeks, I love my eyes, I love my face, my skin, my smile especially, and I love my hair."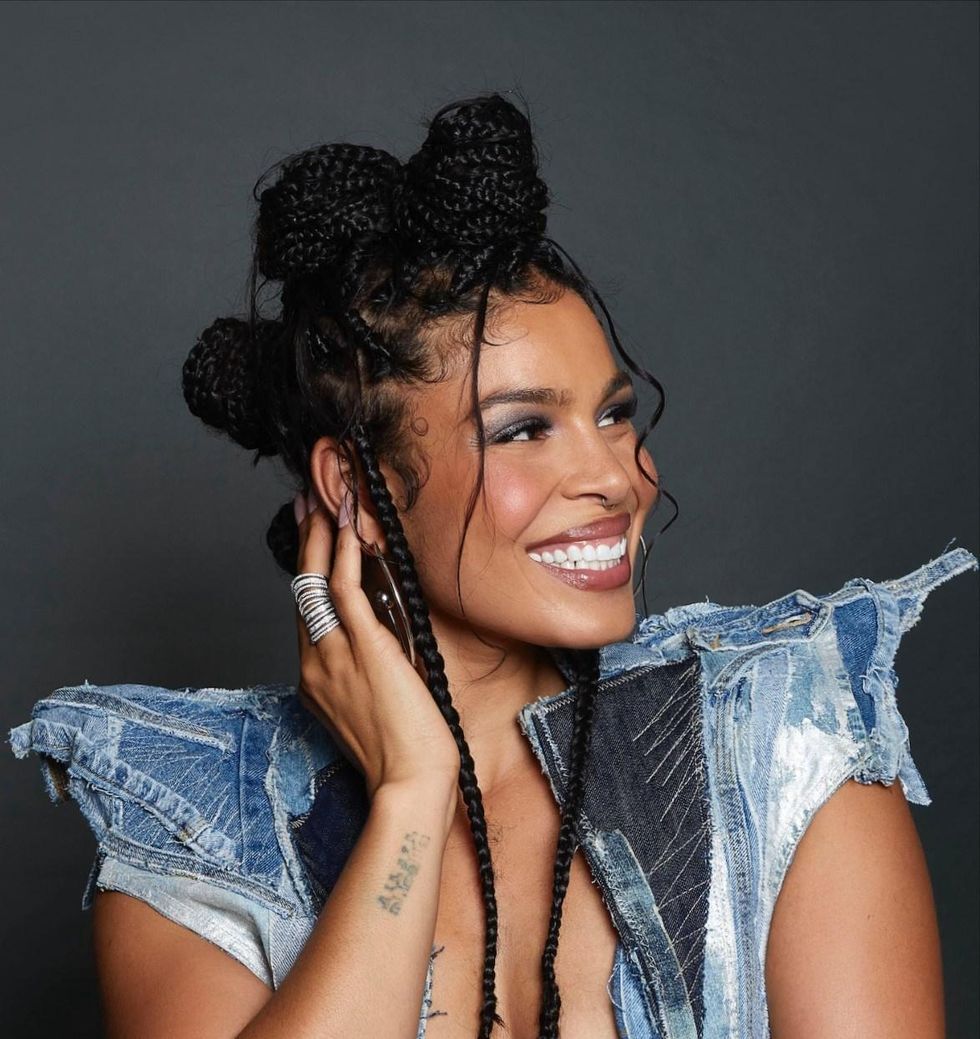 Jordin Sparks.Image courtesy of Cantu.
xoN: Who are some of the women that you turn to for natural hair advice?
JS: Honestly, this is a good question as well because I have learned a lot over social media, and with all the different women that I come across and I run into. Everybody that I have met, all these different women, these amazing artists, and songwriters, and actresses that I've come across, and in other fields as well. Everybody's got a different way of how they do their hair and it's always so interesting to me. If the conversation comes up, I definitely love to ask, but I learn a lot of different ways to do your hair and different hacks from social media, to be honest.
xoN: What are some key lessons that you've learned about natural hair and self-love that you wish you would've learned sooner?
JS: I wish I could have told my younger self that doing my hair is a process and that it's something that you have to learn. When you're young, you want everything to happen right then and there. I don't remember spending a ton of time crying over my hair, but I do remember moments where I felt frustrated and just wished it would've been easier. But nothing that's ever worth doing is very easy, so I'm grateful that I've learned to exercise patience in that way with my hair. Being able to love and embrace my hair has really helped me with who I am and all the things that make me me.
In the self-love department, I feel like I've had a good grasp on who I am for a long time, but I feel like I would have wanted to tell myself that true beauty and true inner peace do come from the inside when you shake off all those external things that don't really define who you are. Clothes don't define who you are - they're an extension of who you are, but they don't define you. An accessory in your hair, a shoe, makeup, all of those things don't define us. It's who we are inside and how we treat other people. Especially being in the industry, sometimes that message can get blurred and cannot come across so easily.
I think I would've just told my younger self to not worry, don't sweat the small stuff, you'll be coming into your own, and you'll be coming into your power as a woman the more you grow and the more that you learn, and that it's going to be amazing. I'm still the same person to my core, but I know that 18-year-old Jordin couldn't mess with Jordin now.
xoN: In the entertainment industry specifically, how have conversations around natural hair evolved, and where can we see improvement?
JS: I have seen a ton of conversation about natural hair. There's tons of think pieces, there's clips, there's videos, there's hacks, there's all these different things on social media and all over. I think it's great that we're having that conversation so the youth can hear these conversations, see them, and realize that they're not alone and that we've all had to figure out our hair journeys together. On the other hand, I do feel like what we need more of is people who know how to do these types of hairstyles. It's very few and far between where you find somebody who can do what is asked for a character as an actress.
Then have somebody come in and try and do natural styles in the way that we know that they should look. I don't think that there is enough. Basically, we need more hands on deck. All hands on deck. We need more people who can do natural hair. I've got to give a shout-out to my girl Alicia, who did my hair while I did my Christmas movie (A Christmas Treasure) in Vancouver. She took such good care of my curls. They were beautiful. We had a plan where I wouldn't put so much heat on my hair so that my hair could still grow and look great. I really love her, so I want to give her a shout-out because she really is helping us girls feel like we know what we're doing with our hair when we come to set.
xoN: How do you include your hair into your self-care routine?
JS: To be honest with you, right now, for my self-care routine, I just need something that I don't have to think about. My hair is in a protective, braided style right now and I love it. I know if I need to glam it up a little bit I can. If I want to be casual, I can do that as well, but for my self-care and my mental right now, I need something that I don't need to think about and I can just get up and go. That's where I'm at right now.
For more of Jordin Sparks, follow her on Instagram @JordinSparks.
Featured image courtesy of Cantu.