Could you imagine God having a Facebook page and sending you a friend request? For some, this sounds intriguing, for others very feasible---considering they already consider God a bestie--and for a few more the premise sounds like a hoax or crazy troll. Well, the idea is set to come alive in the form of a CBS show called God Friended Me, debuting Sept. 30, and the cast includes some breakout black star power you won't want to miss.
One such star is Javicia Leslie, a Hampton University graduate whose career leap of faith that led to a fast-track path to acting credits including CBS's MacGyver and the lead on Lifetime's Killer Coach.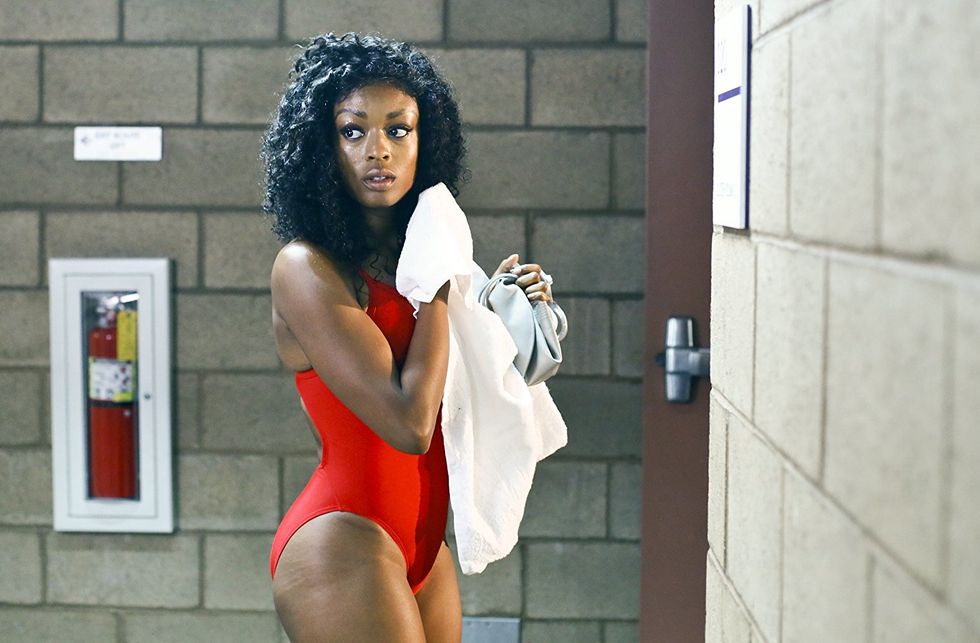 Javicia Leslie in 'Killer Coach' (2016)Lifetime
Now, she'll be playing the role of Ali Finer and joining a cast that includes Hollywood vets Malik Yoba and Joe Morton (hey, Papa Pope). Ali is the sister of the main character, Miles (played by Brandon Michael Hall), an outspoken atheist and preacher's kid who is forever changed when he gets a friend request from God and becomes an unwitting agent of change in the lives of strangers.
"When I got this, I posted on my social media, God Friended Me, and what a title for this point in my life," she shared in an exclusive xoNecole interview. "I really connected to the role of Ali. The character is very much [like me]--she psychoanalyzes everything and she loves to give advice. That's who I am. She's artsy and she's creative. But, more than anything, I really connected with the relationship she has with her brother. I have an older brother--he's two years older than me--and I admire him like crazy. And that's Ali, with her brother."
The show has themes that include acceptance and exploration of diverse religions and issues related to purpose, human connection, and community.
"No matter what you believe in, human connectivity is always the most important thing," she said. "You can sit in front of the TV with your family and every single member of the family can find someone or something to connect with on the show. Miles [the main character] is on a mission and it's one he struggles with… He comes from a father who is a Christian, but it's very much a spiritual show. … You'll see that it's going to help people of different faiths---acceptance for people being exactly who they are---that will be the catalyst for the whole show. It gets deep---Ali has secrets, Arthur [the preacher and Miles's father] has secrets, Miles has secrets. It's going to get interesting."
Leslie's true-life foray into acting is one that reads like its own interesting feel-good TV drama script. After earning a business management degree, Leslie did what many grads do and went the safe route---taking a job that could provide a stable income and benefits---until she felt led to pursue a desire that never died. While in college, she'd acted in plays including Ntozake Shange's For Colored Girls Who Have Considered Suicide / When the Rainbow Is Enuf, and the acting bug was still biting post-graduation.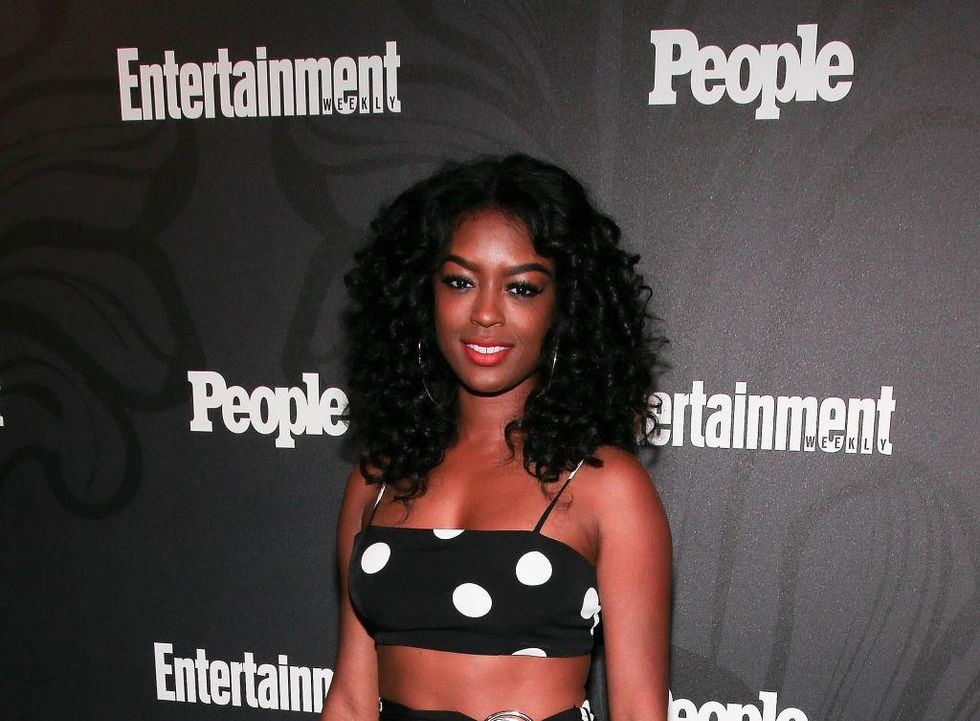 Paul Zimmerman/WireImage
"For about two years, I was helping soldiers [and their] families while working in Washington, D.C. It felt good to help, but you know, only dealing with sadness can weigh you down a little bit," the 31-year-old actress recalled. "The entire time I was there, I was thinking I wanted to move to LA. So [one day], I finally packed everything up. I knew [I'd have] to break my lease. I was like, 'Oh, I can't do this. I have this job that's taking care of my bills.' Around that same exact time, our [work] contract ended... and a random person came to my building and said they'd take over my lease. It was a God-send; I had a perfect exit door. So I moved to LA, I met my manager a month after I moved there, at an event where I was helping a friend sell scarves, and I signed with her. We got an agency, and it's just been history since."

Leslie has taken her own trek toward spiritual awakening and self-realization through exploration that has helped to provide a foundation for her life and an authentic connection with God and purpose. She has enjoyed connecting with faith---on her own terms---by being inquisitive and open to expanding her awareness through experience. "My faith is who I am. It's in every part of my life. It's the purpose that I walk in. When I got to 10th grade, I decided I wanted to go to church, and every single Sunday I would go---even if I had to go by myself," she said. "I did that journey as a choice. I think making that choice on my own---as a child, pretty much---is why I feel so strong about it now. From the beginning of my walk with Christ until now---it has all been about transitions and learning."
"My faith is who I am. It's in every part of my life. It's the purpose that I walk in."
Leslie is a big advocate of learning by seeking answers and advancing through lessons of failure. "Mistakes are necessary in order to grow. Anything I've prayed for, whether I've gotten it or not, I know God heard me. It's not about whether you get [what you've prayed for], it's about the communication with Him. The more I communicated, the more I felt my prayers were strengthened. Thank God for [lessons from] the failures and the successes."
She also believes that faith and community intertwine when pursuing an ultimate goal of turning a dream into reality. "I realized...start praying for other people and start praying for your network and family---that way you strengthen your team. Another thing you realize in this industry is that you can't do this by yourself," she added. "God gives us the community for a reason, even if we're not related, like a blood situation. There are people in your life that are there for a reason."
Having, supporting, and being inspired by a tribe of fellow black female actresses, including Tessa Thompson and Nafeesa Williams, has kept Leslie motivated and hungry for success in continuing to change the game.
"We don't feel, a lot of times, that black actresses are getting the opportunities to tell authentic stories. That's going to be the most important part of my career. I want to be able to tell these authentic stories. I want to break those barriers," she added. "That's what I also love about this show. [They've] written a beautiful character in Ali who has something to say---she has depth. I want to find characters who talk about something---those who, when I was a little girl, I looked up to."
"I have a strong faith that God gives us a passion, and when we follow our passion, we find our purpose, so a lot of what my steps were [was] listening to how I felt about things. I had to pay attention to my surroundings, to myself and how I felt about things---the answers are right there."
For more on Javicia, follow her on Instagram. The CBS series God Friended Me premieres September 30.
Featured image by Paul Zimmerman/WireImage