Whitney Barkley
Whitney Barkley is a quirky Midwest native and All-American go-getter. She is an entrepreneur, professor, and host of Pink Lemonade Podcast, where she teaches you how to turn life's lemons into lessons. She is a sucker for good food, adventure, and all things Beyoncé. Connect with her on Instagram @whitneylbarkley.
Motivation can feel hard to come by when you get to a place in life where you no longer feel moved to operate at your full capacity.
The things that pushed you to hop out of bed each day can make you feel stressed, overwhelmed, or resentful when you lose sight of your "why" or worse: realize that you haven't found your "why" at all.
Motivation stems from three areas of your life: autonomy, competence, and relationships. When you lose touch of these areas, you may feel stuck and unable to move forward.
Event planner Champagne Braswell felt all of the feels of being stuck and unmotivated when her life changed dramatically in 2020. "Last year, COVID messed up my income. I lost a lot of business, my home went into foreclosure, and I didn't know what I was going to do," she says.
Braswell felt pressure and anxiety because instead of fearing the unknown, she was staring directly at it in the face. "I knew I had to pivot and use my resources to survive," she said.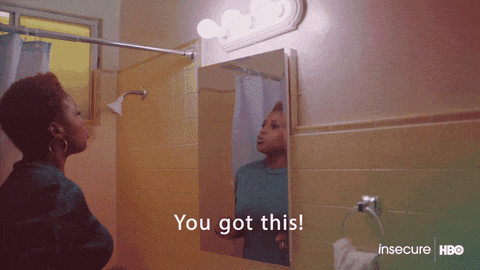 Image via Giphy
Set Specific Goals
"What can I do to keep myself focused?" is the question that Mija asked herself when she realized she was getting off track. She created laser-focused goals that kept her preoccupied as she coped with her loss.

The American Psychological Association shares that people who set specific and challenging goals are 90 percent more likely to achieve what they've set their mind to do. The more detailed and out of reach a goal may feel, the more adrenaline you'll receive to bring it to life.
Incorporate Mediation and Journaling Into Your Routine
After losing what felt like everything, Champagne began to incorporate meditation and journaling into her life.

"Daily meditation helped me visualize what I was going to do that day. I started a journal because it helps me talk through things and how I feel. I hope my thoughts can eventually help somebody else.'"
Research shows that meditating for as little as 20 minutes can increase your focus and allow you to achieve more. People who journal each day experience a 22 percent increase in performance and achievement.
Pay Attention to Your Body
Sometimes the root of a lack of motivation may stem from physiological or mental issues. For example, if you have anemia, you may experience decreased motivation from iron deficiencies. If you are experiencing mental issues, you may experience avolition. This condition is a total lack of motivation due to mental illness or medicines used to treat mental illnesses.
Consult with a doctor to see if the changes in your body are the root of changes in your motivation. It may be easy to lose and hard to gain, however, you have to re-explore your why and pivot if necessary to preserve your sanity and peace of mind.
Motivation will manifest when you put yourself in a position to understand what is making you feel stuck and detail a master plan on how to get back on the saddle and ride.
Are you a member of our insiders squad? Join us in the xoTribe Members Community today!
Featured image via Getty Images
Have you ever heard the saying you are what you consume? If you are career-focused and want to move from the basement to the corner office suite, the manifestation of your dreams starts with your mindset. What are you putting in front of you that is getting you closer to where you want to be? Outside of the here-today-gone-tomorrow dance challenges, mouth-salivating recipes, and cute outfit compilations, TikTok has become a clutch resource for inspiration and career advice—whether you like it in a serious tone or delivered as pure comedy.
While you scroll on your way to your next lunch break, take a look at these Black women on TikTok who are not only engaging and entertaining but provide advice and tips that will set you up to live your best professional life:
This self-proclaimed nurse coach helps students and professionals become more successful by showing the real (and hilarious) day-to-day encounters of working in the field. Her advice spans from how to survive nursing school to how to find your dream job making big bucks.
Rawan uses her TikTok skills to empower underrepresented communities by sharing career tips, resources, and advice. She offers a combination of tech-industry advice as well as general tips that can benefit you no matter what you do for a living. The Facebook project ops manager immigrated to the United States at 16 and adds stories of her personal journey and love for travel in her videos, too.
If you follow influential women who work at the executive level in entertainment, then you're probably no stranger to the name Bozoma Saint John. The global chief marketing officer (CMO) at Netflix gives a behind-the-scenes look at life in the C-suite and beyond. She also posts super-impactful interviews on career advice, confidence and leadership that she's given on physical and virtual stages.
She's a sports fanatic who spends her days in floor seats tweeting pics and posting bomb updates for the Boston Celtics. On top of letting us live vicariously through her TikToks, Robyn also shares job opportunities in the sports industry, as well as the day-in-the-life of her career as social media manager.

Are you a member of our insiders squad? Join us in the xoTribe Members Community today!
Featured Image via Shutterstock
I don't know who needs to hear this but, you are not (and should not be) the end-all-be-all solution to everyone's problems. Burnout is a real issue among women, and it often stems from overcompensating, over-performing, and overextending yourself until you finally give zero F's and become over it.
I recently came across a term that made me do a double-take on my own life: overfunctioning. According to the experts at Psychology Today, overfunctioning happens when you go above and beyond to control a situation and other's perceptions and feelings around it. You try to become the hero who will do anything to make sure that all is well, even if it means putting yourself last or not getting what you truly want.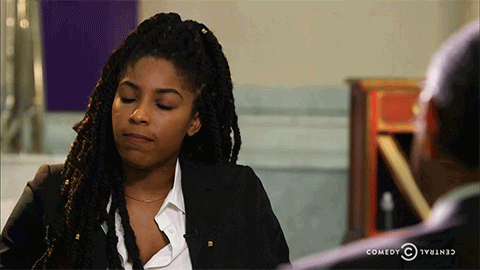 Image via Giphy
A study found that 70 percent of working women have experienced burnout since the start of the pandemic. In addition to being "Zoomed" to death, women have to deal with household and care-giving responsibilities, educational pursuits, and other commitments that put them in overfunctioning mode.

Here's what overfunctioning looks like:
Excessive people-pleasing to avoid disappointing others
Avoiding saying "no"
Setting goals for other people without their permission
Taking on more responsibilities even when you are not asked
Enabling bad behaviors in others
Always talking and never listening to others
Giving unsolicited advice
Feeling like a victim when others do not recognize your efforts
As an overfunctioner, your anxiety is the driver of your actions because in your mind, if you are not in control of everything, something has to go wrong eventually. You may argue that overfunctioning is "just how it is" or "just the way you are," but it's actually a response to anxiety related to things that honestly have nothing to do with you.
Here's the thing: For so long, we've heard the narrative of being a "strong Black woman." We have to be tough, resilient, independent, and ready to take on life without a flinch because that is what we were taught to do. However, we have to be conscious enough to understand when we follow generational or societal trends by default or subscribe to the need to constantly be in control at all times.
Whatever your reason, take time to understand the emotional, physical, and mental toll overfunctioning can take on your life. "Doing the most" gives you an illusion of being in control when, in reality, you are losing control of yourself.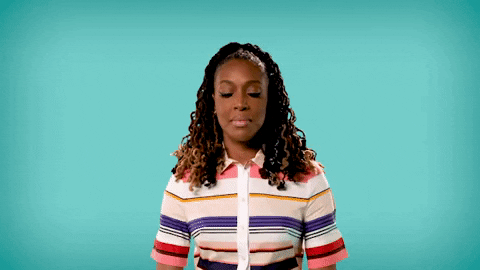 Image via Giphy
If you're overfunctioning, understand this:
You don't always have to be the bigger person if it's to your own mental and physical detriment.
You don't always have to give people, work, and situations every bit of your being.
You don't always have to find a solution just because someone comes to you with a problem.
You don't always have to be a helicopter wife, girlfriend, parent, or friend, trying to stop others from learning from their own mistakes.
You are ultimately responsible for yourself and how you react and respond to life.
You will find better peace of mind knowing that you can eliminate burnout when you stay and operate within your lane and live a life where you can let your hair down and let others do the same, live life, and learn for themselves.
Are you a member of our insiders squad? Join us in the xoTribe Members Community today!
Featured Image via Shutterstock
When you find yourself counting down the number of days you can take PTO or how you can finesse calling off to start looking for another position in your first 90 days, you may be suffering from a case of saying "yes" to the wrong job. Here's an example: During the pandemic, Jorden Patterson, a freelancer in the Midwest, landed the perfect job. After being laid off from her previous gig at an insurance company and spending months surviving off unemployment checks, she happily accepted a call center position.
Her interview process went at the speed of lightning, and she got a call back before she could even get home. When she attended her training on the first day of work, she realized that she made a mistake. "What the trainer shared about the position was not what the recruiter told me in the interview," says Jorden. "Before lunchtime, I knew that the job wasn't for me and I had to have an exit plan."
Jorden is one of the 49 percent of U.S. workers who are not in love with their job according to Forbes. People feel stuck in a company or a position that may pay their bills but doesn't feed their passion to work.
Whether you are looking for a job to fulfill a sense of purpose or just crave a dope work environment until your next professional adventure, you deserve to be at a company that you don't have to resent later.
Here are six warning signs that will help you avoid a work nightmare and steer you toward the job of your dreams:
1. The Job Hired You Very Quickly
Beware of a company that's thirsty to fill a position via a short process. The average hiring turnaround time is 27.5 days because recruiters value finding quality talent. A fast hire may show that the company is looking to fill a role with a warm body by any means necessary. Being placed in a role faster than you can blink can cause anxiety and stress because it is possible that you can inherit problems that haven't been resolved (i.e. lack of processes, distrustful work environment, minimal training; the list can go on!).
2. They've Gotten Trash Reviews From Previous Employees
If you can browse on Indeed.com or Glassdoor on any given day and see more negative employee feedback than positive, you've got yourself a doozie. Researching employee experiences can give you an idea of the company culture and how management treats its employees. While some reviews may have a little bias or exaggeration, the volume of bad reviews might tell you everything you need to know.
3. There's A Misalignment Of Values
As Drake eloquently told us, "Know yourself, know your worth." Quiet as it's kept, what a company stands for can play a part in whether a job is a good fit for you or not. Employees who are satisfied with their company's values report 20 percent higher alignment with work culture. If you find yourself not feeling a company's values, you have to examine your own to make sure the stars are aligned for employment there.
4. The Company Lied In The Job Description
It's been proven time and time again that a job description may not always match the actual duties. If you find yourself often frustrated, bored, or confused in your role, the reality of the job just might not fit what you dreamed it would be. It is important to work in a position that fulfills your expectations so that you can bring your best self to work. Anything less can cause you not perform well and could damage your professional reputation if you don't do well at work.
5. You Don't Have Support From Your Supervisors Or Coworkers
Research shows that 44 percent of women feel unsupported at work. If you hit the ground running with no guidance from your boss or coworkers, that may be a sign that your company is not setting you up for success. Observe who trains you, how they train you, and how confident you feel in the role when (or if) you get any training at all.
6. It's Not The Company, It's The Job
Let's face it - sometimes, it's not the workplace or you. It's the gig itself, sis.
Jorden says that while she thought she was hired too quickly and wanted to skedaddle from her role, she realized that though she liked the company, she just disliked her position.
"After a few weeks on the job, I saw other roles that I got excited about," says Jorden. "My exit plan to leave the company turned into my blueprint to get a promotion to something that I think is a better fit."
Recognize the difference between being unhappy with the duties in your job description and being unhappy with a company. If promotion opportunities are available and you match the company's culture and vibe, stick it out to see if you can get another role. Otherwise, take the red flag for what it is and move on to the next job that's a better fit for your skills, aspirations, and experiences. Period.
Are you a member of our insiders squad? Join us in the xoTribe Members Community today!
Featured image by Shutterstock
Imagine this: After a long job search, you interview at the company of your dreams that checks all the boxes. Flexible hours, check. Competitive pay, check. A solid 401K, check. A diverse and inclusive work environment? (Cue danger music.) Welp. Back to the drawing board, sis.

If a company looks good on paper but doesn't have a diverse culture that matches its benefits, it's easy to say on to the next one in your job search. Four out of five black women say that a diverse and inclusive workforce is a major key to choosing a company that creates a safe space to bring your whole self to work.
Diversity and inclusion is a buzz-term that's been floating around Corporate America for a while. With the rise of global movements like #BlackLivesMatter and #MeToo, more companies are making aggressive moves to create a work culture that values top talent with unique backgrounds and non-traditional experiences.
Research shows that companies who embrace diversity have positive benefits, including more profit, less turn-over, and higher job satisfaction.
Want to know how to spot a company who's truly down for diversity or boasting their diversity efforts for clout? Here are five signs to show who's doing the work:
1

.

They Implement Mentoring and Employee Resource Groups (EGRS)
"A lot of companies pride themselves on hiring diverse talent," says Stephanie Alston, CEO and freelance recruiter of Black Girl Group. "The real winners are the companies who make it their priority to retain that talent through mentoring or Employee Resource Groups (ERGs)."
EGRs are employee-run groups designed to bring employees together with common backgrounds, demographics or interests. Companies who integrate ERGs provide a platform for diverse employees' voices to be heard and build engagement with employees outside of the day-to-day hustle.
2

.

They Have a Clear Pathway to Leadership
Googled the photos of a company's leadership team lately? Who's at the top can provide a clear view of what diversity may mean to a company.
"You know that a company is really about diversity when the organization's leadership team is as diverse as their labor force," says Lynnise A. Smith, a supplier diversity manager.
Companies who create career advancement mentoring programs and initiatives to create more inclusion at the top level are likely more dedicated to diversity. In fact, those who build diverse executive teams 36 percent more above-average profitability than their competitors.
3

.

They Create Diverse Initiatives and Partnerships
A company's diversity and inclusion efforts can go beyond internal culture. According to Monique C. Johnson, a career strategist and diversity consultant, companies who are doing the work strategically create meaningful alliances.
"The companies that make an intentional effort to partner with the local community on projects and initiatives that support D&I truly show their investment in a community connection," says Johnson.
Look at a company's track record of their collaborations in the community. If the company consistently joins forces with other causes and organizations that highlight thought-provoking conversations, causes, or cultural holidays or traditions, it is on track to keep diversity at the forefront of its brand.
4

.

They Put Their Money Where Their Mouth Is
Diversity and inclusion work is not cheap or free -- it's a long-term investment.
"Doing good DEI work costs [money] and may include any number of adjustments, '' says Dr. Monica Cox, a D&I advocate. "Adjustments can include policy changes, reallocation of funds to authentic efforts that promote the professional wellness of all employees, or the enforcement of changes that cause conflicts in the organization."
Organizations who regularly budget and allocate funds for diversity are taking action and accountability to improve their culture.
5

.

They Promote Diverse Branding and Language
Sometimes people have to see themselves in a role or at a company before applying. Companies that intentionally brand their website, emails, and social media with diverse images and language create a welcoming vibe for potential applicants. A company that is also intentional about crafting job descriptions with language that is gender-neutral and empowering for all shows that it is attempting to attract candidates that may not have typically applied for a role previously due to unwelcoming visuals or language.
Are you a member of our insiders squad? Join us in the xoTribe Members Community today!
Featured image via Shutterstock.
When an interviewer hits you with, "Do you have any questions for me?" at the end of your job interview, you have two options. You can nervously blurt out the first random question that pops in your head, or you can confidently pull out a list of carefully curated questions that you prepared in advance. Because, girl, nobody has time to waste.
Remember that a job interview is a two-way street. While the interviewer may be the final decision-maker for employment, you have equal power to curve an offer if it doesn't meet your desires. Factors like salary, responsibilities, and benefits should naturally be part of your conversation, however, it is essential to dig beyond the surface level, sis.
Getting to the bottom of a company's culture and expectations during the interview process will help you hit the ground running with information that will make you feel like you made the right decision.
So, what questions do you ask to make sure a company is a winner? Keep these 10 in mind the next time you're in the interview hot seat:
1

.

What kind of duties can I anticipate that are not listed in the job description?
"Other duties as assigned." What does that really mean? Ask this question to avoid taking on annoying additional responsibilities. A study from Paychex shows four out of 10 workers take on more responsibilities outside of their work scope. Having this info upfront can help you figure out if the pay and benefits are worth taking on fifty 'leven extra tasks.
2

.

How did the company adjust during the pandemic?
The COVID-19 pandemic drastically changed the way that people work. It is important to understand how a potential employer reacted to the changes, how they made the transition process smooth for employees, and what to expect if another future crisis occurs.
3

.

Why is there a need for this role to be filled right now?
A role may need to be filled for multiple reasons. It can be brand new, past employees may not have been a good fit, and so on. Learning why the role is open can tell you if a company is growing or having a hard time keeping employees.
4

.

Who would I be reporting to directly?
An employee-supervisor relationship can make or break the office vibes and affect the flow of getting ish done. Learn who you are reporting to regularly to decide if the working relationship will be good for you.
5

.

Based on my background, how do you think I can add value to this role?
This question puts pressure on the interviewer, but it can be a sign that they believe you are a good fit for the role based on their response.
6

.

What key performance indicators (KPIs) are most important for this role?
KPIs are your best friend. It is important to know how your performance will be measured. Knowing upfront KPIs can help you see if the company is realistic about what can be accomplished based on your previous experience.
7

.

How is the company committed to diversity?
As a woman of color, it is essential to know if your presence will be valued in the company. Knowing if a company is truly down for diversity may be a deciding factor of whether you want to be there.
8

.

What initiatives are in place to promote employee wellness?
Forty-eight percent of Americans consider themselves workaholics, and this stat is bad for business. Understanding a company's position on work-life balance can give you peace of mind that they value their employees' well-being.
9

.

What milestones will the company achieve in the next three years, and how does my role support them?
Where a company is going in the short-term can help you see a future with them. Their plan can give you an idea of how you will be a part of their evolution and opportunities to grow within.
10

.

What would NOT make a person a good fit here?
This question can expose your incompatible traits with the role or the company. Understanding what a company doesn't want can help you determine if you are the best fit.
Are you a member of our insiders squad? Join us in the xoTribe Members Community today!
Featured image by Shutterstock