---
As we enter into a new month and fall approaches, many of us are focused on realigning our energies. One artist that understands that more than most is Alicia Keys, who proved that with her new song "So Done". Centered around the ideas of letting go and living your life on your own terms, the video's backdrop is a high school prom and features singer Khalid and Keys as modern-day band leaders. While the video is saturated with stunning images, we want to focus on Alicia Keys' luxurious twists.
Celebrity hairstylist and co-founder of Flawless by Gabrielle Union, Larry Sims, had the vision behind Keys' music video hairstyle. The length emphasizes the relaxed vibe of the oversized suit the vocalist dons, while the zig-zag parting perfectly compliments the diamond-encrusted bralet she rocks. The hair is both the finishing touch and the highlight of the ensemble.
A hairstyle perfect for any occasion (and so easy to do at home), Sims provided a step-by-step of how to recreate the look:
*Some links are affiliate links. If you make a purchase, xoNecole may earn a small commission.
"Step 1: Part hair diagonally at the nape of the neck and split the hair evenly down the middle horizontally."
"Step 2: Make triangle shapes throughout the head, smooth sections of hair into small ponytails using the Flawless by Gabrielle Union Defining Curl Hair Cream."
"Step 3: Repeat on your entire head with making diagonal partings that will result in triangle sections for your mini ponytails."
"Step 4: Start with the next section which is on the temple and goes through to the next line from the section at the back of the head."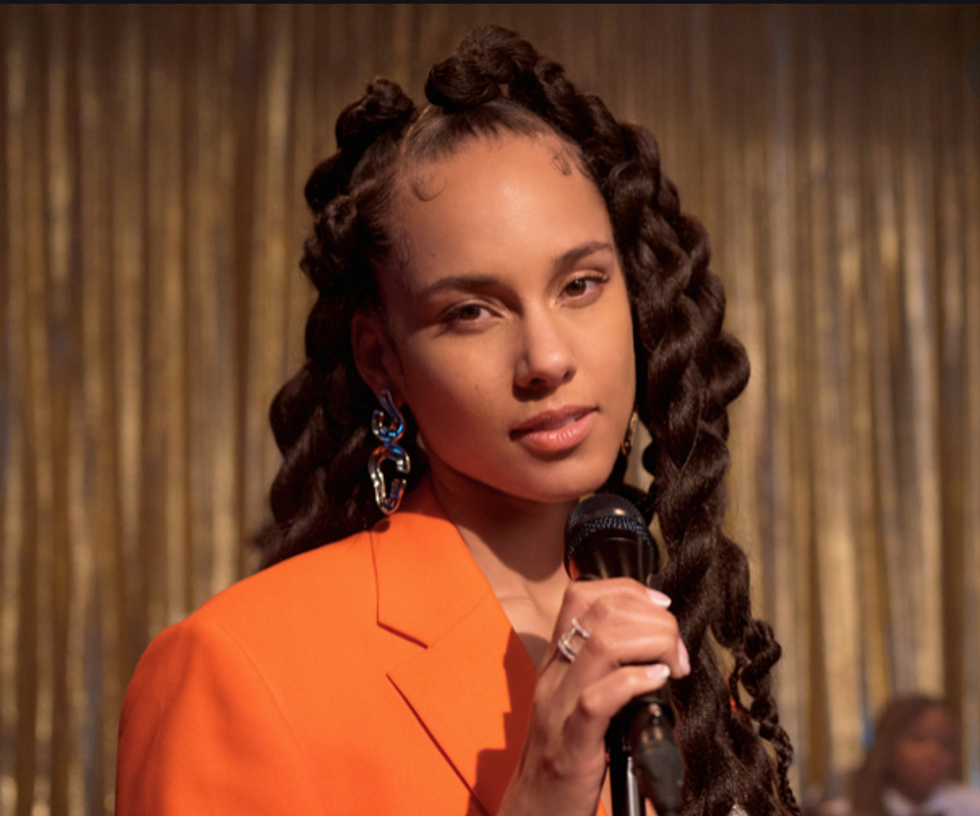 Alicia Keys/YouTube
"Step 5: Next, grab a medium-sized section of your pre-stretched braiding hair & slide a small hairpin in the middle to split into two bundles of strands."
"Step 6: Split the difference of your natural hair evenly and double-strand twist your hair clockwise."
"Step 7: After your whole head is twisted, dip the ends with freshly boiled water to soften and seal."
"Last Step: Finish off the look by spraying L'Oréal Elnett Satin Extra Strong Hold Hair Spray on your twists for extra security and flawless finish."
Make sure to tag @xonecole in your recreation on the 'gram!
Featured image provided by Alicia Keys/YouTube