As a writer, it can be fairly easy to succumb to the dreaded phase of creative block in my process. When the ideas flow, they feel light and airy, and the words leave my mind with little to no effort. And when they don't, I can easily find myself staring at my laptop, both overwhelmed and underwhelmed by the blank page in front of me. Filling the blank space with words no longer feels like second nature, and where there once was ease, there is suddenly resistance. Whether it's due to burnout or the ideas are just not as free-flowing as I'm accustomed to, brain fog is real. However, through trial and error, I have learned that it is very possible to access creativity by exercising those areas of the mind.
---
I never thought the answer to not being able to write could be more writing, but there is something there in that recipe. Through journaling, I have been able to free myself from the confines of mental blocks, find my center, release anxious thoughts, and discover answers to questions I didn't know I had. Recently, I have taken journaling a step further by moving away from guided journaling and embracing flow even more through the practice of morning pages.
What Are Morning Pages?
For those of you unfamiliar with what morning pages are, it consists of writing three pages in a stream of consciousness. No rhyme or reason, just writing your thoughts by putting pen to paper and thereby offering you a release. The concept of morning pages got its origin from author Julia Cameron and her book The Artist's Way. In it, she described how utilizing the tool has transformed her ability to create. Although her solution was given in the context of being a writer, creativity flows in and out of our lives in a plethora of ways. You don't have to be a painter or a musician to be creative.
Creativity is everywhere. It finds us as we create solutions for problems we may encounter in our life, love, and work just like it does when we're thinking of composition in the next photo we take. Bottom line, morning pages are an outlet for decluttering your mind while also helping you connect to your creativity which in turn speaks to your inner child in a nurturing way.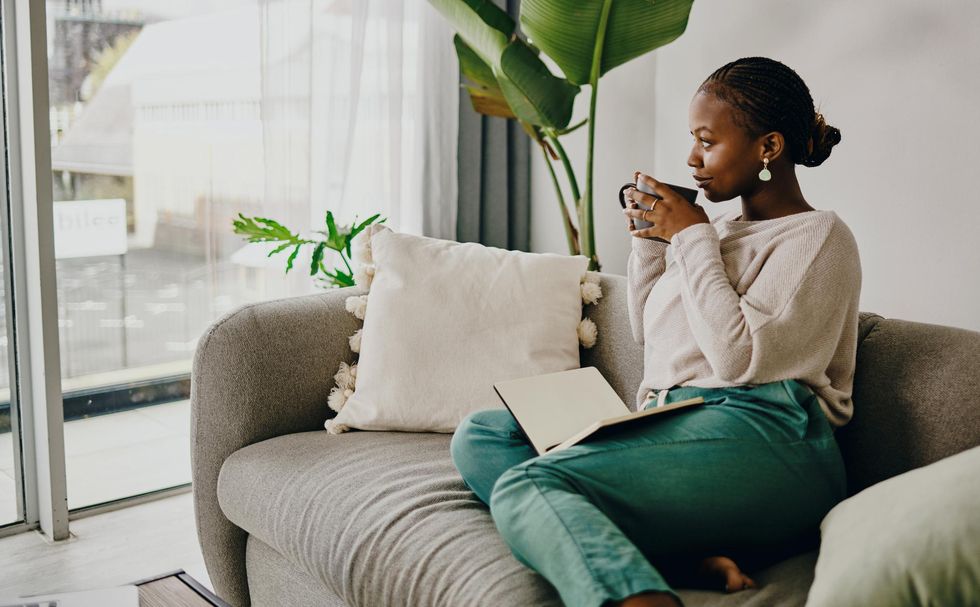 Delmaine Donson/Getty Images
The Difference Between Journaling and Morning Pages as a Daily Practice
​For people who might already be into traditional journaling, you might be wondering what the difference between journaling and morning pages is. While both practices can be done daily and act as tools for catharsis, morning pages hold a deeper purpose, and the practice is done in a more ritualistic way. Morning pages is a practice that is structured, as you do it daily, it acts as a means to spark your creative process, and isn't bound by feelings. Instead, morning pages are more focused on the mind and clearing what's in it. As Cameron said in her book, the intention behind morning pages as a daily practice is to "sweep our consciousness clean."
Journaling, however, is often done more sporadically with the intent to write out your feelings. Journaling can cross over into morning pages territory but is often less rigid in frequency and length. Conversely, morning pages are written every morning and are generally three pages in length.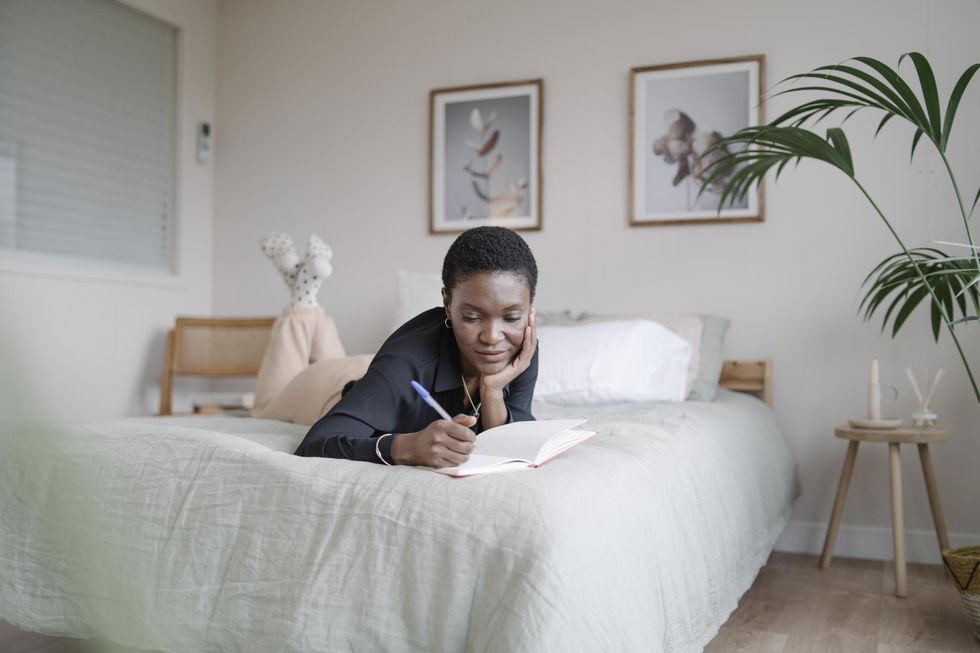 COROIMAGE/Getty Images
Prompts for Writing Daily Morning Pages
So, what do you write in your morning pages? It is encouraged to take time in the morning to sit and write down your thoughts for three pages with a pen to paper. The beauty of writing morning pages daily is that you begin your day with clarity and creativity. There is no specific guideline about what you have to write about. However, for people who might find themselves stalled on where to begin, prompts for writing morning pages might be helpful to start.
If you want to start writing morning pages but don't know how to begin your practice, here are 10 prompts for morning pages to get you started:
Do you believe your dreams speak to you? If so, what have yours been saying to you lately?
What are you currently most grateful for in your life?
If gratitude is something you're just adopting, what was the journey to gratitude like?
Name 5-7 things you love about yourself and your life.
Name the things you feel neutral about in regard to yourself and your life.
What are things that you absolutely don't like about yourself or your life?
Is pleasure something you allow yourself to feel freely? What are some ways you give yourself pleasure?
Where are you right now and what are things about your surroundings that make you feel safe?
Are there things about yourself or your life that you haven't forgiven yourself for yet? Why or why not?
What is a word that defines your life right now? In turn, what are some lessons you're currently learning or relearning?
Featured image by COROIMAGE/Getty Images