Olivia Hancock
Olivia Hancock is a writer who can constantly be found putting pen to paper or typing away at her keyboard. The transplant ATLien is currently working on her undergraduate degree in Journalism and roots for all things #BlackGirlMagic. Connect with her on Twitter and Instagram at @oliviahancock_.
Whether we're rocking a bare face or complete beat, lashes have the power to take our look to the next level. But these days, our lash options extend far beyond drugstore strip lashes. To amp up the look and volume of our natural lashes, we can opt to get a lash lift or lash extensions. If you haven't tried either lash service yet, you may have a few questions about just what each service entails and which one is right for you. That's why we spoke to lash extension expert and licensed esthetician Jazmin Walker to get the scoop on everything you need to know about lash lifts and lash extensions–from the cost to how long they last.
Lash Lifts vs. Lash Extensions
The Difference Between Lash Lifts & Lash Extensions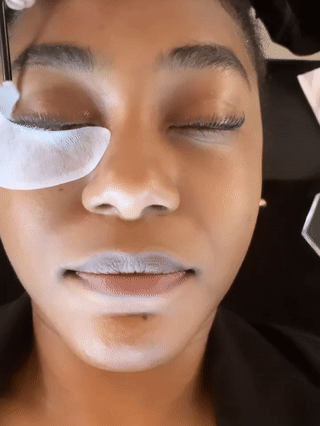 You can think of lash lifts like a perm for your eyelashes. "The point of the perm is to give the client a more defined curl and length. No volume is added," Walker says. Lash lifts are ideal for people who cannot get lash extensions or have naturally long lashes.
If you're looking to add volume to your lashes, then lash extensions may be a better choice for you. "Lash extensions are single or multi-strand hairs placed in one individual natural lash to extend, enhance, define, and thicken the lashes," Walker explains.
Lash Lifts & Lash Extensions Cost
While rates will vary depending on your location and your lash technician's expertise, there is a typical price range associated with each service. Walker says a lash lift will cost you anywhere between $60 to $120. Lash extensions are a bit pricier, ringing in at anywhere between $100 to $300.
The Process: Lash Lifts & Lash Extensions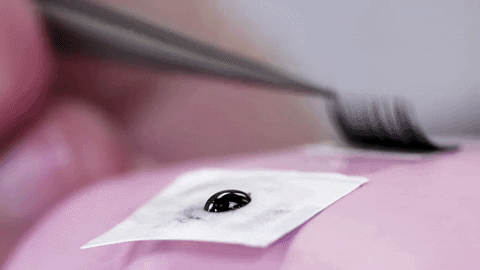 Each lash service involves a multi-step process. If you book a lash lift appointment, your technician will use an eye-safe perming solution to achieve the lifted look. "The lashes are coated with the solution and rods are placed on the eyelashes. An eye-safe glue is used to secure the curliness of the lash. An oil-based solution is then applied to remove the solution and then the lashes are cleaned to finalize the process," Walker says.
When it comes to lash extensions, the process differs a bit. Your lash expert will instead use an eye-safe professional bonding agent to adhere the lashes to your existing lash hairs. "Each natural lash is isolated one by one using tweezers. Once isolated, the extension is placed on the lashes," Walker explains.
How Long Lash Lifts & Lash Extensions Can Last
Walker says that lash lifts will typically last four to 10 weeks with proper care. With lash extensions, you will need to get a fill every two to four weeks, depending on how well you care for them.
The Risks: Lash Lifts & Lash Extensions
There are a few things you should be cautious of before booking an appointment for a lash lift or lash extensions. With lash lifts, there is a possibility for an allergic reaction, infection, or damage to your natural lashes. "Pregnant women and breastfeeding women should also avoid lash lifts. The solution used may interfere with their hormones," Walker notes.
Walker says that lash extensions are safe for everyone, however allergic reactions to the glue may occur and eye infections are possible if the lashes are not thoroughly cleansed daily.
Are you a member of our insiders squad? Join us in the xoTribe Members Community today!
Featured image by Shutterstock

Euphoria was one of the buzziest series to hit HBO in 2019. But, it wasn't just the show's storyline and talented cast members (like our faves Zendaya and Storm Reid) that had us hooked. The unique, eye-catching makeup looks worn by Rue, Cassie, Maddy, Kat, and Jules kept us tuning into the show every week. From gem-covered eyelids to glitter tears, the show's head makeup artist Doniella Davy made sure that each episode gifted viewers with a new batch of beauty inspiration. Davy told Vogue:
"On 'Euphoria', all conventional beauty norms that have existed are meant to be broken. It's absurd to think that you can't wear pink glitter out to the grocery store. People are just celebrating using color and textures on their faces."
While the COVID-19 pandemic has delayed production on season two of Euphoria, the show is slated to release two bonus episodes starting on December 6, and we're betting that they will be loaded with moments of beauty inspiration just like episodes past. Ahead of the show's winter return, we've rounded up seven of the best Euphoria makeup looks. FYI: You'll want to recreate them all.

Gothic Gold Glitter
Here, the brows take center stage. Davy added glitter to Jules' eyebrows and gold foil to her temples, using products from Kryolan.
Bold Turquoise Eyes 
We're obsessed with Cassie's blue and green jewel eye makeup. Davy created this look alongside Euphoria makeup artist Kirsten Sage Coleman using a turquoise eyeshadow from Maybelline's Eye Studio Color Tattoo line and paired it with beautiful rhinestones from Amazon.
A Bold Vampy Look 
All we can say is that this look is absolutely bomb. Davy and Coleman used a palette from Claropsyche for the red eye makeup and two Lime Crime lipsticks (Black Velvet and Blood Moon) for her lip look.
Red and Black Liner
Kat's bold red and black liner instantly captured our attention. Davy and Coleman used Chanel Beauty's Calligraphie De Chanel Eyeliner in Black for Kat's top liner and Suva Beauty's Hydra FX Water Activated Neon Liner for her waterline.
Are you a member of our insiders squad? Join using the xoTribe Members Community today!
Featured image via Euphoria/GIF
It's no secret that shopping for new hair products isn't always an easy task. With so many different brands and products hitting the market, it can be hard to figure out what will actually work on our hair. Whenever I visit my local drugstore or beauty supply store, I spend so much time scrounging the internet for reviews and texting my girlfriends for advice before committing to purchasing a product. But, finally, a solution exists that makes haircare shopping more efficient for Black women everywhere.
Meet: the Coily app.
Founded by tech entrepreneur Asha Christian, Coily is a one-stop-shop for product reviews, product recommendations, and hairstyle inspiration. "After spending money on edge gels that didn't work, moisturizers that left flakes, or wigs that didn't last that long, I just got frustrated and decided to pair my background in technology with my passion for hair and create Coily," Christian says.
After beta testing the app in Guyana in 2019, Coily made its official U.S. debut in February of this year. One of the app's most enticing features is its barcode scanner. "You can walk into a store and scan a barcode on a hair product or even scan a product you have in your home and see product reviews for it," Christian says. "You can see image results of women who use the product on their own hairstyles. You can also sort those reviews and styles by your unique hair type."
To make your experience more personalized on the app, you can fill out Coily's hair quiz– a brief survey that asks questions about your hair texture and hair goals. Filling out the assessment unlocks your ability to receive curated product and hairstyle recommendations in the app.
Christian says that the community-focused features of the app have also received positive feedback. Coily users can upload hairstyle recipes, share product reviews, bookmark hairstyles, and build community with other haircare lovers on the app. One of Coily's standout elements is its hair type percentage match feature. You can visit any users' profile on the app and see how similar their hair type is to yours. "I know, it's been exciting for [users] to click on a profile and see that they have like a 60% match or an 85% match, and then be able to see how exactly they match up," Christian says. "They can see if they both style their hair a certain way, if they both have a certain hair texture, or even if they both have dyed their hair in the past six months."
As she maps out the future of Coily, Christian has her sights set on growing the platform into the largest and smartest black, black haircare marketplace in the world. Her next move? Brand partnerships. "Some of the coolest feedback we've gotten is that once they discover their products, they wish they could buy it right then and there on the platform," she explains. "So, we've spent the last month creating brand partnerships so that we can begin selling products on the platform this month." In line with her mission to encompass the Black haircare system from end to end, Christian also plans to add hairstylist booking to the app so you can easily browse and book appointments with stylists in your area.
You can download Coily in the App Store and stay connected with the brand on Instagram, Facebook, and Twitter.
Featured image by Shutterstock
At every stage of her career, Gabrielle Union has adorned beautiful hairstyles– from protective styles to edgy bobs. That's why when she announced the launch of her hair care line Flawless by Gabrielle Union in 2017, it seemed like a natural move. The 10-product collection was a hit at Ulta Beauty, and all seemed well. But behind the scenes, Union was dealing with personal struggles. In several recent interviews, the actress and entrepreneur shared that during that time she began experiencing hair loss due to multiple rounds of IVF, and was pressured by her white hair care brand investors to promote a product she wasn't satisfied with.
After taking three years to reimagine the brand, Flawless is officially back and better than ever. This time around, Union teamed up with her longtime hairstylist and friend Larry Sims. Together, the duo worked to create a new and improved line that offered textured-hair friendly formulas at an affordable price point (FYI: everything is $10 or less).
During my most recent wash day, I had the chance to try four of the staple products from the Flawless collection. Ahead, I'm sharing my honest thoughts on how they worked on my curls.
My Flawless By Gabrielle Union Haircare Review
Hydrating Detangling Hair Shampoo
First up, the Hydrating Detangling Hair Shampoo. For me, the perfect shampoo is one that cleanses all of the build-up from my hair and scalp without drying it out. This one did just that. When I applied it to my hair, it created a luxurious lather and as I worked it throughout my hair and scalp, the shampoo made detangling my hair a breeze The shampoo is formulated with a potent blend of oils and butters–including Coconut Oil, Shea Butter, Passionfruit Seed Oil, Rice Oil Complex, Acai Palm Oil, Moringa Seed Oil, and Brazilian Bacuri Butter–so my hair felt intensely hydrated and super soft after rinsing it out.
Hydrating Co-Wash Cleansing Hair Conditioner
I followed up with the Hydrating Co-Wash Cleansing Hair Conditioner. The conditioner has a thick, creamy texture so I knew immediately it was going to envelop my hair in a cloud of moisture. It is infused with tons of hair-loving ingredients like Castor Seed Oil and Acai Palm Oil, and together they work to nourish the hair. Per the instructions, I massaged it into my hair from root to ends for five minutes. When I washed it out, my curls were so juicy and full of moisture. I can honestly say Gabby and Larry did their thing with this conditioner.
Detangling Leave-in Hair Conditioner
Flawless' Detangling Leave-in Hair Conditioner is my favorite product out of the four that I've tried from the line–hands down. After I hopped out the shower and squeezed out excess water from my hair using a cotton t-shirt, I sprayed the leave-in conditioner liberally all over my head. It instantly soaked into my strands and added more moisture into my curls. When my hair fully dried, I was left with curls that were incredibly soft and bouncy. This leave-in conditioner spray also doubles as a great hair refresher. I've loved using this post-wash day to rehydrate my curls and make them pop.
Defining Curl Hair Cream
I finished things off with the Defining Curl Hair Cream. Upon opening the jar, I was immediately greeted by a fresh and subtly sweet scent. I worked the product into each section of my hair, making sure to distribute an even amount to each area. After letting my hair air dry, I noticed that the cream provided my curls with noticeable definition and reduced frizz. My one complaint: the cream left a bit of an oily residue on my hair after use.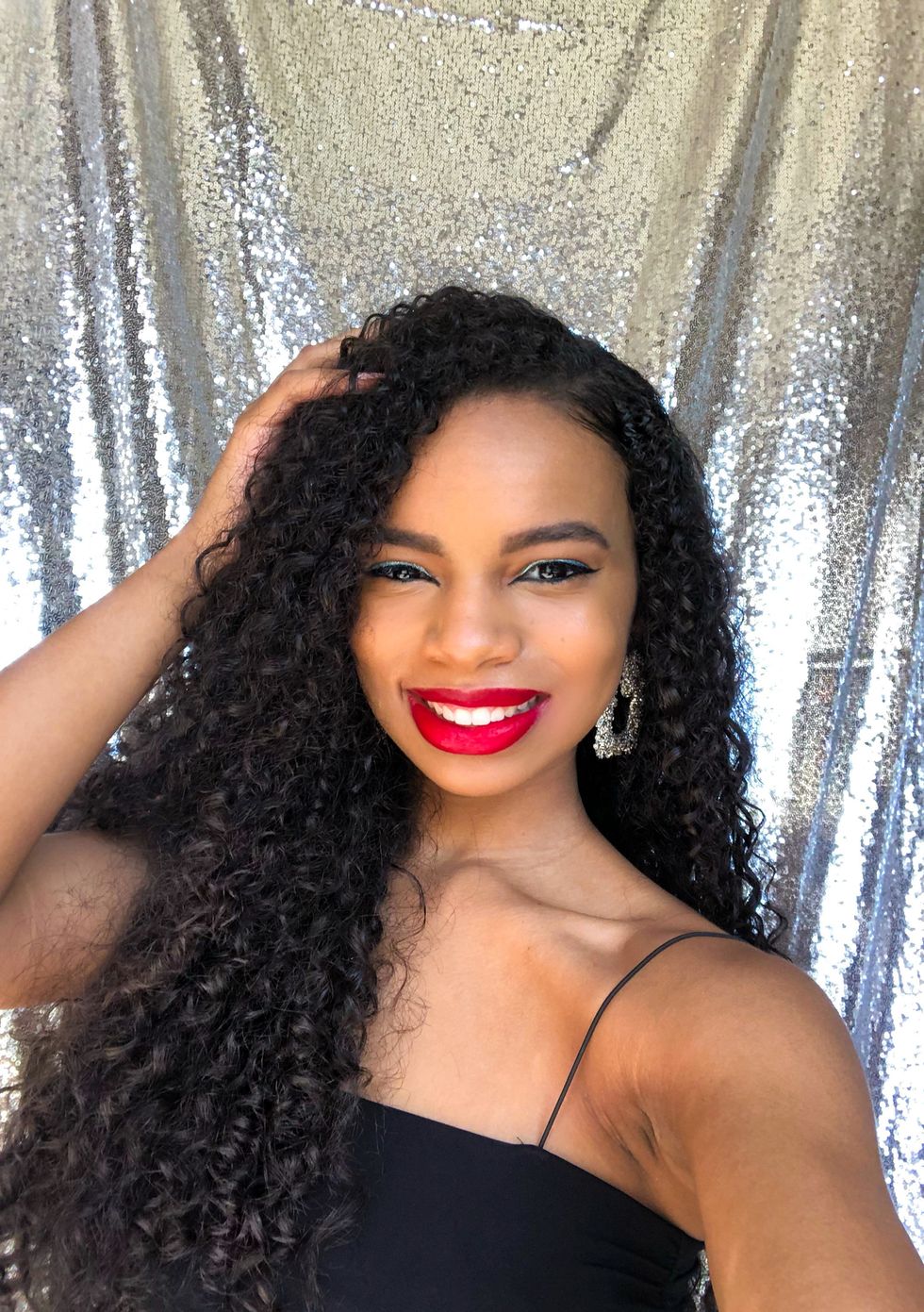 Olivia Hancock/xoNecole
The Final Verdict: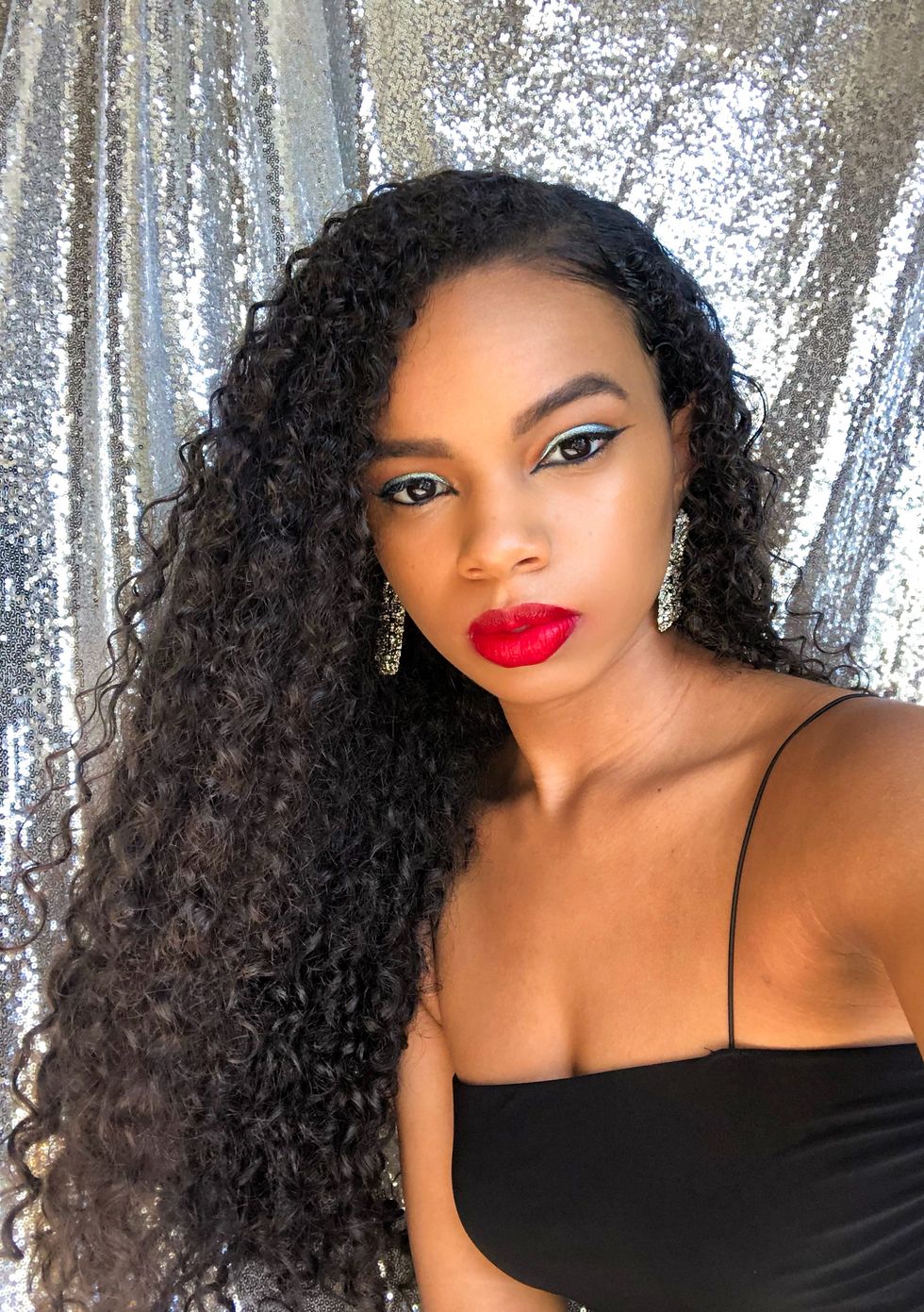 Olivia Hancock/xoNecole
I'm a true Gabrielle union stan, so it's been so beautiful to see her relaunch Flawless on her own terms. It's incredibly clear that Union and Sims put so much of their heart, soul, and energy into the brand to ensure that these products were formulated for us.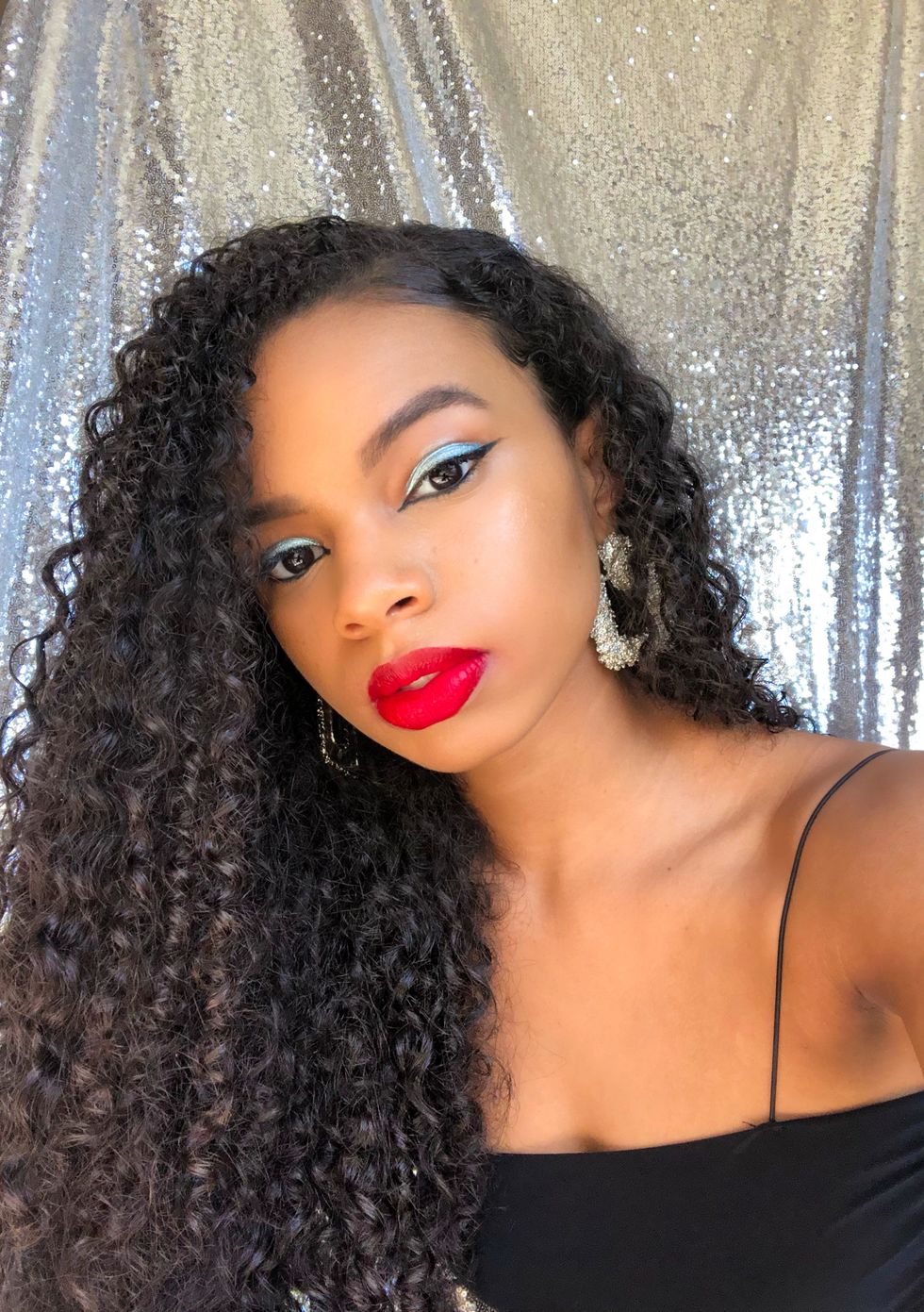 Olivia Hancock/xoNecole
As with any haircare brand, the products have been met with mixed reviews but I went into my wash day with an open mind. Overall, my first experience with Flawless was largely positive and my curls were definitely popping after trying the products. After giving the brand a try, I am certainly eager to try more from the Flawless range.
Featured image by Olivia Hancock for xoNecole
From colored lashes to neon liner, summer 2020 was all about bold and bright makeup. I had my fair share of fun experimenting with all of summer's vibrant beauty trends, but I'm excited that fall has arrived, and darker makeup looks will be making their return. When fall rolls around, beauty influencers, makeup artists, and celebrities alike always pop out on Instagram with the most fire smoky eyes and berry-colored lipsticks. To help us freshen up our makeup looks this season, I scrolled endlessly through the 'gram to find the most stunning fall beauty looks.
Whether you're into plum lipstick or olive eyeshadow, all of the beauty inspo you need for the next few months is all right here. Keep scrolling for 12 fall-ready makeup looks from some of the most bomb beauty bloggers.
Bomb Berry Lewk
Every time Nyma Tang drops a selfie on my IG feed, I immediately have to double-tap. Tang always delivers a flawless beat, and this berry-inspired look is no exception. For her glossy lip, Tang applied the Bobbi Brown Crushed Lip Color ($29) in "Blackcherry" on the lips and Pat Mcgrath Labs' OpuLUST Lip Gloss in "Lavendaring" ($30).
Warm Earthy Tones
Nothing screams fall more than brown and gold hues, right? The shimmery eyeshadow and matte lip are the perfect pair with this look.
Brown Gloss and Shimmer
I can't decide which I love more...the glittery eyeshadow or the glossy brown lip. All I know is Shalom Blac looks so good, and I want to try this look ASAP.
A Green and Brown Slay
Beauty content creator Ari Jane Parker did not come to play with this look. Parker's olive green eyeshadow is blended to perfection, and her glossy brown lip is the perfect finishing touch. And if you were wondering, the influencer's lashes are from her own mink lash brand, Ari Jane Beauty.
Cool Jewels 
It's the jewels for me. Teaira Walker made her look pop by swiping on a vivid yellow liner and placing bling around her eyes.
Glitter Glam
One word to describe this look? Fire. From her sunset-inspired eyeshadow to her glittery orange lipstick, this whole look is fall-ready.
Everyday Smoky Eye 
You can never go wrong with a sultry, smoky eye. Beauty influencer Allyiah's take on the eyeshadow look strikes a beautiful balance between super glam and every day, and it's definitely something I'd love to recreate.
Orange Liner 
Editorial makeup artist Jaleesa Jaikaran clearly knows how to have fun with color. Here, Jaikaran used orange eyeliner to create a captivating design on her lids.
Bold Blue and Green Liner
Jewel tones are always a winner. Our little sis in our head Marsai Martin made the trend her own by wearing an emerald green liner on her lid and a sapphire liner around her waterline.
Monochromatic Reds 
This look is red hot, pun intended. For her monochromatic look, beauty blogger Diana Jay used the MAC Cosmetics Powder Kiss Liquid Lipcolour ($24) in "Make Love To The Camera". On her eyes, she applied a variety of MAC Cosmetics Powder Kiss Soft Matte Eye Shadows ($20), including Strike a Pose, What Clout, Give a Glam, Devoted To Chili, and Werk, Werk, Werk.
Featured image by Shutterstock

Let's be real: none of us really look forward to wash day. I'll be the first to admit that I'm guilty of putting off my wash days from time to time. When you have textured hair, the process – from detangling to styling – can be tedious and time-consuming, to say the least. But to be fair, it's not all bad. Wash days provide us with a prime opportunity to introduce new products into our routine and see which of the latest creams, gels, and oils work best on our curls and coils.
With so many new hair products and brands hitting the market every day, it can be a little hard to keep up with it all. But, you already know we've got you covered, sis. We've rounded up eight rising Black-owned hair brands that you need to add to your must-try list ASAP. Whether you're looking for a clarifying shampoo or hair supplements to help grow your inches, you'll find what you're looking for and then some on this list.
1

.

Juices & Botanics
Juices & Botanics is a black-owned hair brand founded by Whitney Eaddy who is known by her clients as the "ultimate afro-whisperer" because of her ability to grow her clients' hair to magical lengths. Eaddy's haircare brand aims to strengthen, grow, and hydrate your hair from root to ends through their innovative product collection–which includes everything from cleansers to growth supplements.
2

.

Alodia Hair Care
Alodia Hair Care is the brainchild of medical scientist and Trichology practitioner Dr. Isfahan Chambers-Harris. Chambers-Harris drew upon her own experiences with excessive hair damage to create her transformative hair system. The haircare brand takes a holistic approach to natural haircare, providing organic products and haircare kits that cater to your hair and scalp's needs.
3

.

Curls & Potions
Curls & Potions exists at the intersection of haircare and wellness. The brand taps ingredients that help with wellness like aloe and flaxseed to formulate their range of products. The black-owned hair brand Curls & Potions has everything you need to take your wash day to the next level, from pomades to conditioners.
4

.

Ankh Haircare
Hairstylist Adachi Sanders isn't new to this; she's true to this. Sanders has over 11 years of experience under her belt and a celebrity client roster that includes Ava DuVernay and Skai Jackson. Sanders recently channeled her hair expertise into a new venture called Ankh Haircare, an all-natural line designed to help you achieve your healthiest hair.
5

.

Imania Beauty
Nia Imani yearned for simple haircare products that took a scalp-first approach. So, what did she do? She created them herself. Imania Beauty believes in promoting healthy hair practices, herbal healing, and democratizing cannabis in the beauty industry. The black-owned hair brand recently made its debut with their High Maintenance Elixir, a multi-purpose hair and scalp oil infused with broad-spectrum CBD, ayurvedic herbs, and silkening oils.
6

.

Meraki Hair Care
You know you're poppin' when you get a shout out in Oprah Magazine. The magazine's beauty director Brian Underwood showed Meraki Hair Care some much-deserved love in O's latest issue, shouting out their Quartz Conditioner as one of his favorites. The brand aims to provide an elevated botanical-based haircare experience and formulates its products with fair trade exotic botanicals, butters, and oils.
7

.

Sunday II Sunday
Black-owned hair brand Sunday II Sunday was made for the active woman. When you're constantly on-the-go or frequently working out, sweat and buildup can accumulate on your scalp and cause moisture loss. Sunday II Sunday's products – like their ROOT REFRESH Micellar Rinse – make it easy to cleanse impurities from your hair after an active day quickly.
8

.

pHYRe Hair Co.
Botanical extracts and essential vitamins power pHYRe Hair Co.'s products. The brand places a special focus on treating traction alopecia, bald spots and thin edges. The line is made up of five core products–including its signature Day 7 Maximum Hair ReGrowth Oil ($19) – that enrich each of your curls and coils with intense moisture and hydration to promote growth.
Are you a member of our insiders squad? Join us in the xoTribe Members Community today!
Featured image by Shutterstock