There are so many reasons creatives should look up to Issa Rae. She constructs amazing stories and characters, is unapologetically herself and is a real-life example that if you work hard enough, you can truly have it all. But, one of my personal favorite things about the mogul is the way she constantly creates opportunities for others. In a recent interview with CBS This Morning, the actor, producer, and entrepreneur sat down with Gayle King and had a full-circle moment where she opened up about the final season of Insecure and why it's only the beginning.
---
This is not the first time we've seen Rae and King together. In 2016, when Issa Rae was most known for the still-hilarious and popular web series Awkward Black Girl, she shared her feelings on what it's like to truly live the title with King. "It's [awkwardness] just within me, it will never go anywhere. Like, I've always related to just feeling uncomfortable and out of place." Now, five years later, she admits that while that feeling is still there, she has changed a bit since the 2016 interview.
She tells King, "I feel more confident that I belong here. In Hollywood as a storyteller there's a sense of like, 'I know what I'm doing.'"
Well, I think it's safe to say we definitely agree with her because Issa has racked up so many wins. And Gayle King made a point to list a few of them aloud, like, a plethora of magazine covers, starring and producing in multiple films, securing the bag with an eight-figure exclusive Warner Media deal, and marrying her bae in a secret wedding! But through it all, Issa feels her and the cast's true mission is to create opportunities for others. And when making Insecure, she was intentional about doing just that.
At the start of the series Issa wasn't sure it would be successful but wanted to make sure that regardless, it was helpful to the cast and crew. "At least the people who worked on our show would've had experience. Which is like, the excuse that Hollywood always gives for why they don't hire people of color, and Black people specifically." She continues, "At least they could say 'we worked on one season of an HBO show,' and hopefully get another job, but we were fortunate enough to get five seasons, and watch people grow."
King also made a point to note that Insecure gave many of the actors, staff, and crew their first opportunity at a show on this level, to which she inquired if Issa marvels at that at all. Rae responded beautifully, saying:
"We changed each other's lives. So in that way, I'm just appreciative to have grown with them, to be in the trenches with them, and we have so many memories. We all have the mission to open the door and keep the door open–to make sure that we create a pipeline."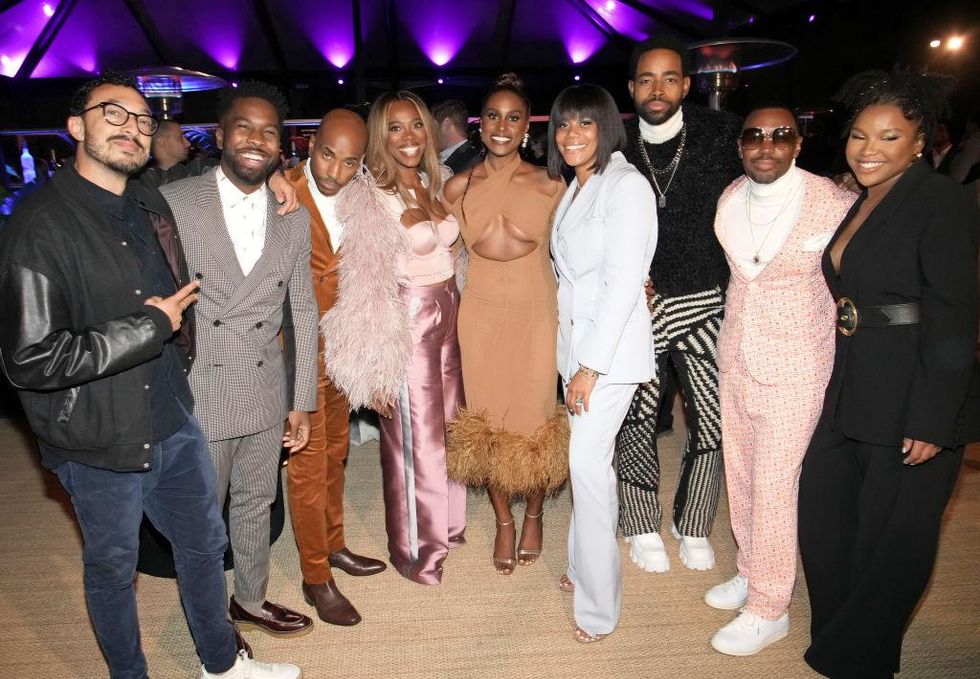 Jeff Kravitz/FilmMagic for HBO
It's encouraging and inspiring to see a Black woman who truly understands our stories and is telling them in such an authentic and engaging way, and it's why so many of us root for her, the same way she's "rooting for everybody Black." When asked how she feels about setting examples for creatives, she replied, "It means everything, because I know what it meant for me to watch those shows from the '90s and aspire to that and think like, 'Oh this is possible for me to do.' And these are stories that people care about, matter, and shape me. So to be able to do that for another generation, I'm extremely proud of that."
I'll be honest, I'm really going to miss Insecure Sundays, but it's encouraging to know that Issa has so much more in the works.
"I still feel like a beginner in many ways. I have so much more to do," she says firmly.
Featured image by Emma McIntyre/WireImage