As an extension of my monthly self-care routines, facials have become top priority when it comes to maintaining healthy skin. For months I've noticed excess oil, stubborn breakouts and dry cracked lips forcing me to seek an alternative to my everyday skincare routine. Unable to solve my skincare troubles, I decided it was time to seek the help of a professional to help revive my dull skin.
---
I love learning about skincare and how to address my personal needs. Not only did I need a relaxing spa treatment but I wanted tips on preserving an all-natural glow. Meeting with the aesthetician, I learned plenty about how and why skin reacts to our environment along with products and at-home treatments to continue until my next appointment. A living breathing organ, there are so many factors that keep our skin from prospering.
As we age, staying up-to-date on products and treatments that promote clear skin from the inside out is important. Check out the common concerns and tips everyone can use to maintain healthy skin no matter your type.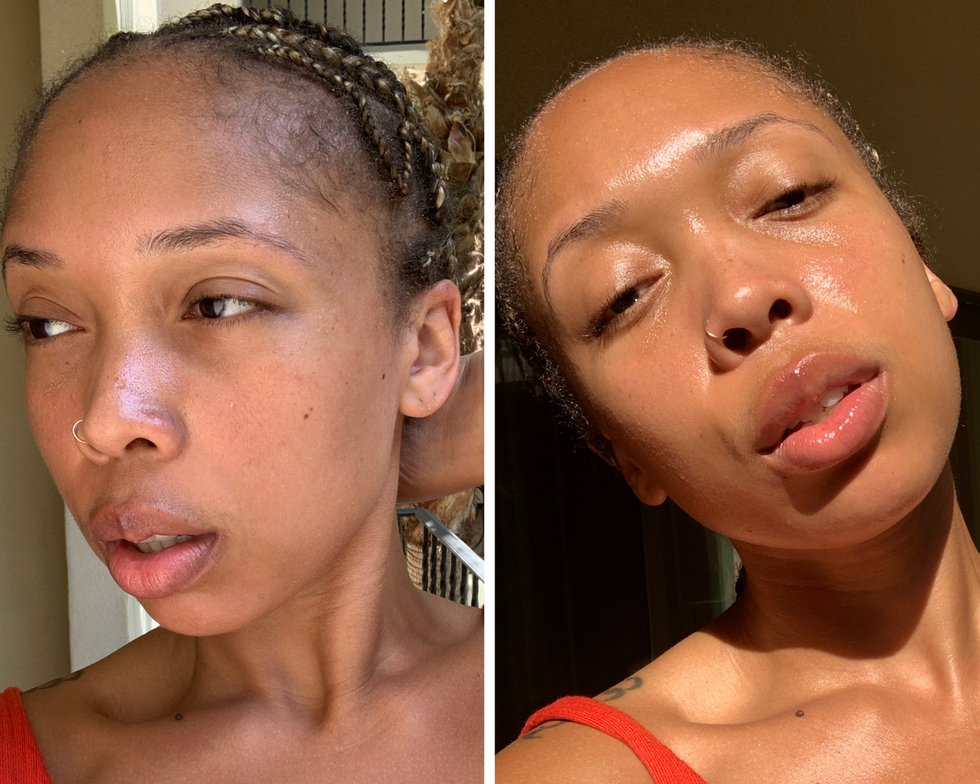 Shahirah Ahmed/xoNecole
1. Skin Sensitivity 
Most of us don't have sensitive skin but most of us assume we do. What we mistake for sensitive skin is just skin irritation from the products we use. A good way to test how sensitive your skin is is by the amount of redness that appears under your skin. Knowing the sensitivity of your skin is the perfect step in perfecting your skincare regimen.
2. Environment
Our daily environment plays a huge role in our skin health. Dirt from face masks and everyday pollution are two examples of elements clogging our pores. Facials are necessary to clear up those minor annoyances that accumulate over time. Sunscreen of SPF 30 or higher is the best protection to maintain youthful looking skin. Most likely in your daily moisturizer, this layer of protection is a preventative measure keeping the elasticity of your skin over time.
3. Exfoliation 
Exfoliation is the process of removing dead skin cells from the outer layer of your skin and should play a major role in your skincare routine. Using an exfoliant can leave your complexion looking brighter and improve the effectiveness of topical skincare products by enhancing absorption. Regular exfoliation can also help prevent clogged pores, resulting in fewer breakouts and smoother skin.
Using a chemical exfoliant vs mechanical exfoliant also makes a major difference for the overall health of your skin. It's advised to stay away from mechanical exfoliants due to the harshness of the ingredients. According to Loreal Paris, this type of exfoliation calls for the use of a tool or product that will act to physically remove dead skin cells from your skin's surface. When you're too rough, or applying intense pressure, it causes your blood vessels to break under the skin.
Applying a chemical exfoliant once a week is the best bet. Advised to use at night due to the sensitivity it can cause, chemical exfoliation involves the use of enzymes to dissolve dead skin cell buildup from the surface of your skin—no scrubbing necessary.
If exfoliating in the morning, follow up with a sunscreen of 30 SPF or higher, as it can cause skin sensitivity when in the sun.
4. Extractions 
One major concern when scheduling my facial appointment were stubborn breakouts. I soon learned that I developed a tiny white bump that typically appears on the nose and cheeks. These occur when keratin becomes trapped beneath the surface of the skin due to excess dirt, sweat that gets clogged within the pores or even sun damage. Keratin is a strong protein that's typically found in skin tissues, hair, and nail cells. After expressing concern, my troubles were diagnosed right away as it is common in people of all ethnicities or ages. Once my issue was identified, the process of clearing up the remaining areas was a breeze. Extractions are important to remove whiteheads and blackheads to give your skin a newer, fresher foundation for skincare products to penetrate and be more effective.
5. Hydrate 
As a follow-up to both exfoliation and extractions, a mask with vitamins A, E and hyaluronic acid was used to replace moisture in the skin. Known as the most efficacious or the best form of Vitamin C, L-Ascorbic acid helps neutralize free radicals, minimize the look of fine lines and wrinkles, and brighten skin tone. The use of Vitamin C also proactively fortifies the skin defenses against environmental assaults while encouraging skin to rebound from previous damage. The best part of this special ingredient is the reduction of fine lines and wrinkles for a beautifully even skin tone, aiding in the restoration of skin to help you appear younger for longer.
Vitamin E is most commonly known for its benefits for both skin health and appearance. When applied to your face, it reduces inflammation, making your skin look younger. Finally, hyaluronic acid also helps reduce the visibility of fine lines and wrinkles by retaining moisture to the skin, creating a plumping effect. When the skin is protected and hydrated, increased skin cell production can take place, as the skin isn't thirsty for hydration which leads to smoother, plumper skin cells.
6. Follow-Up
Immediately after my customized session, I could feel the glow from inside out with my face feeling clear and fresher than ever. We each have unique needs when it comes to caring for our skin. If it's been a while since having a facial or booking an appointment has been on your mind, this is your sign to stop neglecting your self-care, add that spa day to the calendar. Follow-up for a facial appointment may be once a month to once every three months, depending on personal needs.
Featured image by Getty Images