Asha Bey
Asha, meaning "full of life," was born and raised in New York City. Growing up with a big family and connecting with diverse people throughout life inspired Asha to take her communication skills to greater heights. After graduating with a Bachelor's in Mass Communications and a Master's in Business Administration, she aspires to write about topics relevant to the growth of young Black women. Aside from writing, Asha finds fulfillment in keeping up with fashion trends, indulging in self-care, attending social events, and exploring new activities with family and friends.
What started off as a hobby for Sierra, the founder of City Girls Golf, has transformed into a movement for women in the Washington DC, Maryland, and Virginia (DMV) area. "I came up with the idea of City Girls Golf a year ago. I was learning how to play golf, taking lessons, and going to tournaments in different states to learn the game." Sierra continued, "I noticed that I didn't see a lot of women involved, and it made my journey in golf a lot harder because I didn't have a community of women like me to be social with or practice golf with," shared Sierra.
Taking matters into her own hands, she founded City Girls Golf with the purpose of creating opportunities for women of color to not only learn how to play golf but to also get involved in the golfing industry as a whole.
"The first event we ever had was with a group of my friends. We did a golf clinic, and I created a TikTok about it, which gained over 60K views," she said. "We had so many ladies sharing interest in attending the next event, and now we're hosting events every week."
Today, the organization has an engaged following on Instagram of 39K followers, which is a testament to the necessity for communities like this. What makes this organization so special and crucial today is the access to resources and the supportive community for Black women to explore their talents in the sport of golf.
Typically, when people think of golf, there's two things that may come to mind: 1) Tiger Woods and 2) How expensive the sport is, which is why golf is recognized as "a rich man's sport." According to Forbes.com, "77% of golfers are men, and golf courses that allow women often restrict the days and times when women can play, or have separate holes for women." From the attire to the equipment, someone who's looking to get involved in golf may have to consider spending "$10,000, if not upwards of $15,000, or $20,000 per year if you decide to pay for everything", according to Stitch Golf.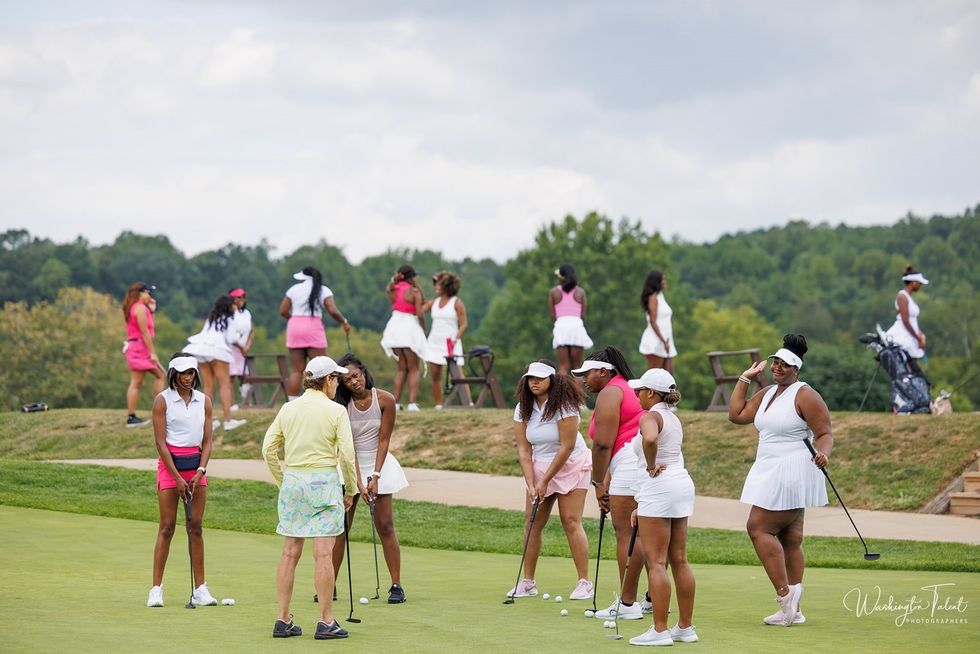 Photo by Washington Talent Photographers
As the #1 community for female beginner golfers, City Girls Golf is breaking barriers in golf one swing at a time by making the sport affordable. Most of their events cost about $65 per person for a one-hour and 30-minute session, and equipment is provided. Just come cute in your pink and white and ready to play!
"We're based in the DMV area. However, I see the participation of women of color in golf all over the nation. I love that City Girls Golf is playing a key role in showing representation, inspiring women all over to get involved and to not be scared just because you're a beginner. We're all about making it fun!" In a candid conversation, Sierra chatted with xoNecoleto discuss the journey of growing City Girls Golf, the impact it's had on Black women, and how there is power in seeing pink on the golf course.
xoNecole: How did you decide the name City Girls Golf?
Sierra: While growing up in New York City, I didn't see golf courses in my neighborhood until I moved to the suburbs. The golf scene is huge in the suburbs. In the city, you don't really see many golf courses or opportunities to learn about the sport. The name "City Girls Golf" came about to empower women who lived in the inner cities to play. That's why we strategically named the organization City Girls Golf, so women who live in the city can be exposed to the sport and can get involved.
xoN: What is the purpose and power behind having more women in golf today?
S: It's great for networking, representation, and breaking barriers. We've participated in numerous tournaments, and people still come up to us, sharing how shocked they are to see so many young women of color playing golf. The representation is still not present in the golf industry, which is why I prioritize sharing what City Girls Golf is doing on social media. We're very aggressive with our marketing and post content to normalize it. We're constantly sharing content of women of color playing golf, getting involved in the sport, having fun, and looking pretty in our outfits. We're always posting to continue spreading the message and to gain respect in such a male-dominated industry.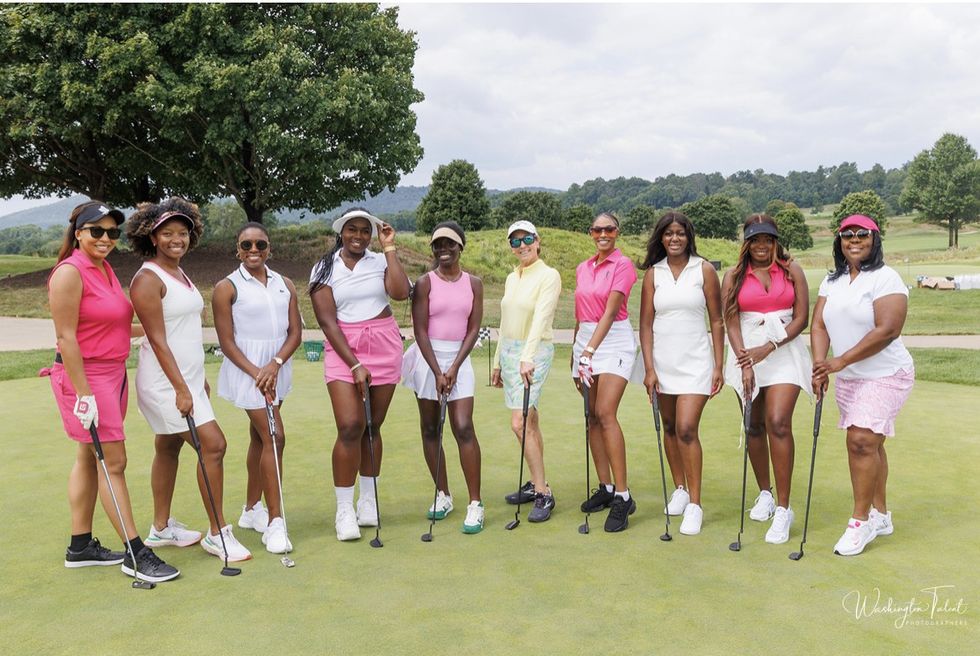 Photo by Washington Talent Photographers
xoN: What are the core values of City Girls Golf?
S: Authenticity. We want everyone to show up as their authentic self. A lot of times, golfers think they have make a certain type of money, act a certain way, and look a certain way, but that's not always the case. We believe everyone can show up as their authentic self.
Women of color. All of our events are catered predominantly to women of color, and we curate spaces for women of color to join and learn golf.
Community. We believe in wearing pink and white to represent City Girls Golf. When all the girls wear pink and white, it shows we're unified, one community and one team. Also, the color pink symbolizes strength, femininity, and this is needed more in the golf industry.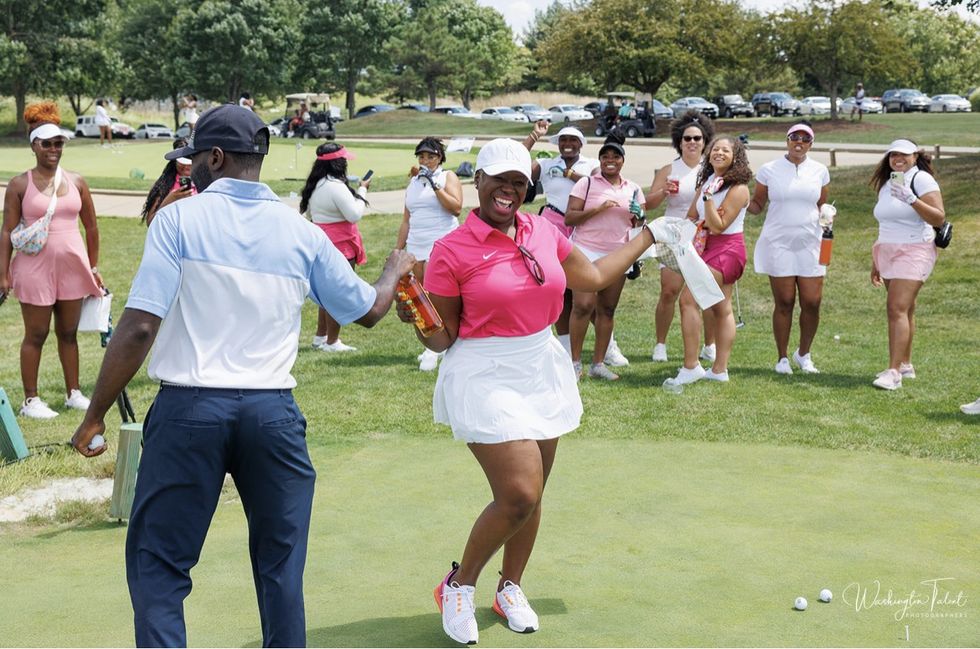 Photo by Washington Talent Photographers
xoN: How do you think playing golf translates into your confidence as a woman in your day to day?
S: Golf is already a challenging sport. As a woman in a predominantly white male industry and playing a sport, I've never seen any of my family members or anyone in my social circle play, I'm already challenging the system. Learning golf, in general, takes a lot of confidence because, in the beginning, you suck. It's a hard sport and extremely humbling because you see everyone else hitting the ball, but you can barely get the basics down. However, it does take someone with a lot of confidence to stay persistent in learning and persevering until you get better. Personally, playing golf has boosted my confidence. It helps me in different aspects of my life, such as talking to anyone and feeling comfortable in different rooms.
To get involved with City Girls Golf's follow them on Instagram and head to their website to sign up for their email list to know about upcoming events. To become a sponsor and further support their mission, send your information to citygirlsgolf@citygirlsgolf.org.
Feature image by Ashley Jean Creative
The first big leap was moving to a new city and getting settled into my new home. The next big leap? Was finding community and belonging. Moving to a new city excited me! I looked forward to having my own apartment, decorating it, and exploring what the city had to offer. I also found excitement in the thought of meeting new people and expanding my connections. When it actually came down to it, I felt nervous. I heard that making new friends as an adult can be hard because we all have different responsibilities and schedules that may not align. I knew in order for me to really feel at home in my new city, I had to create community.
Having a community of people who I can share memories with, lean on in times of need, and inspire each other is something I always valued. I took a moment to truly center in on what I desired from the new friends I would make. Then I realized it all would have to start with me. I had to be centered and confident in who I was to attract who I desired to be aligned with. As someone who moved to a new city and established quality friendships, I gathered these six tips that helped me feel grounded and create community in hopes that it will help you, too.
6 tips to start building community and making new friends in a new city: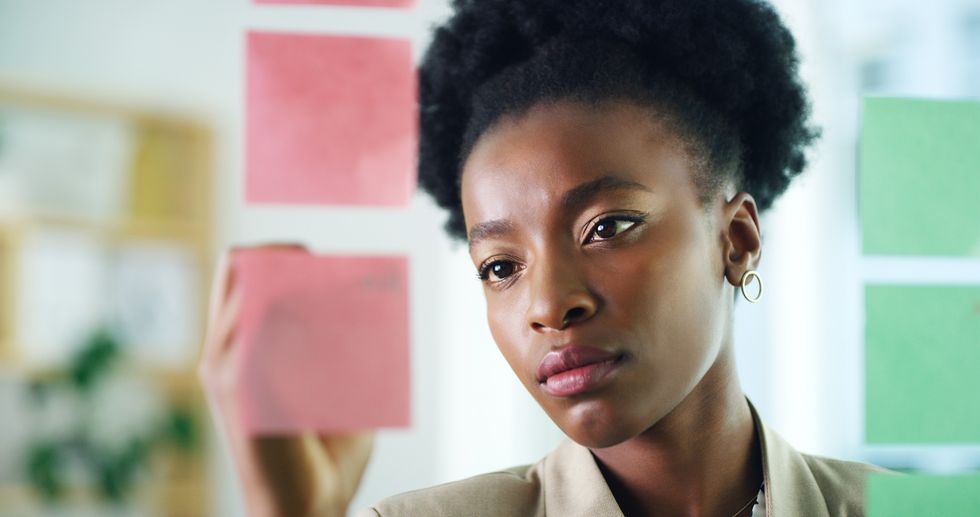 Sean Anthony Eddy/ Getty Images
Be true to yourself
Do you know who you are? If someone asked you to describe yourself in three words, what words would you use? In order to develop deep friendships, you must be a friend to yourself first. Know what refuels you and what zaps your energy. Self-study your habits and why you do the things you do. All this will be important to keep in mind when looking to create bonds with others. Every day there's all kinds of people telling you who you should be, how you should act, or what you should wear. At the end of the day, the only opinion about yourself that truly matters is your own. Spend some alone time with yourself indoors or out at an event you like to truly discover who you are in this season of your life.
Pray about it 
Before you step out into the world and cross paths with all kinds of people, it's important to pray about building your community. God outlines what true friendship looks like in numerous Bible verses such as "Iron sharpens iron." - Proverbs 27:17 and "Two people are better off than one, for they can help each other succeed." - Ecclesiastes 4:9-12. If you desire friendships that last, pray about what you seek in friendship. I remember praying for mentally stable, happy, and whole women who moved through life with abundance mindsets. Take a moment to journal about the community you want to build and then pray on it.
Go to fun events to meet people who share your interests
Most metropolitan cities like Washington, D.C., New York City, and Atlanta are known to have strong young professional communities and events where you can connect with others. I highly encourage you to attend events in or near your community to see what the city is like and meet people. It's likely that the people at the event have the same interests as you, which is a great way to start a conversation. You can start by searching for events on Eventbrite or following Instagram pages that highlight events happening in your city.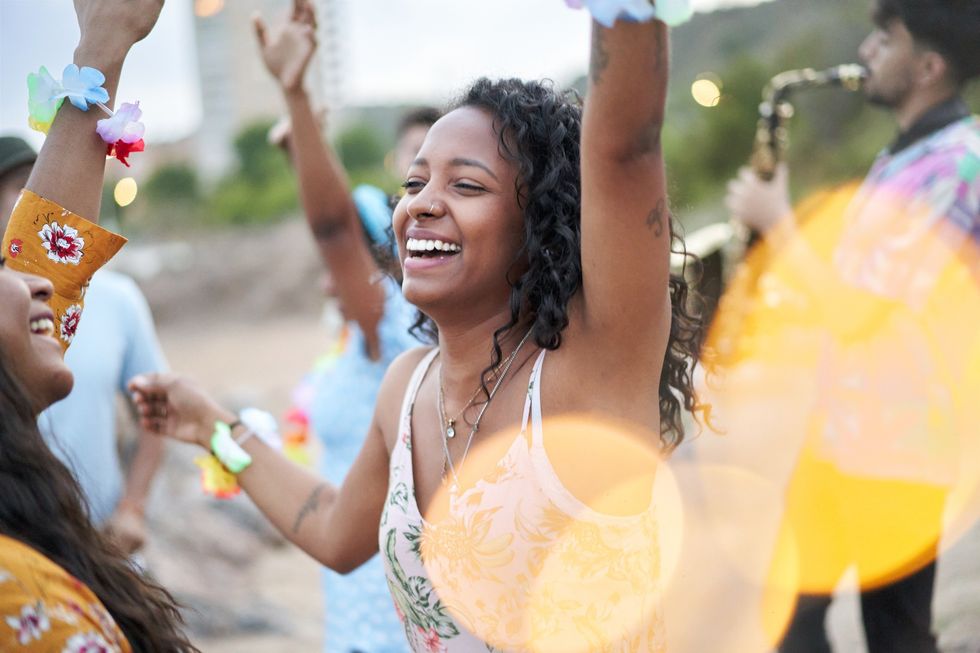 Carlos Barquero/ Getty Images
Accept that you won't be compatible with everyone you meet 
While living in your new city, it's likely you'll meet a variety of people. Please know that everyone you meet will not bud into lasting friendships, and that's okay! You are uniquely created and not made for everyone. Then you'll meet people who are good for only surface-level connections, and then you'll have your girls who you can get deep with. I think sometimes people can look down on surface-level friendships, but not everyone needs to fully know you. That's a privilege to have and to accept within yourself. Continue to check in with yourself and be real about who you crave to spend more time with and who is nice to see for a monthly or quarterly catch-up.
Join Facebook groups & GroupMe chats 
If you haven't used Facebook in a couple of years, it's time to dust your profile off. Facebook Groups is a great place to join online communities for people who just moved to a new city like you. Typically, you have to agree to the group's guidelines, and then you can join. For example, you can search for groups in the Facebook app by using keywords like women, Black girl, or [the name of your city] foodies. With the GroupMe app, you'll have to be invited to join an already existing group. While you're out and about networking, don't hesitate to ask if they're in any online groups/communities they recommend you join too.
Be friendly to folks in your neighborhood 
When I first moved to my new apartment, I spent the first week walking around the complex and working in the community spaces to get a better feel of it. I was able to meet people in my neighborhood, enjoy small talk, and learn more about what the community has to offer. Step outside of your comfort zone and work in your apartment's community space or a local coffee shop to connect with others.
Overall, you may feel alone in your new city, but I guarantee you're not. There are other people experiencing living in a new city too, and all you need to do is find each other. I hope these tips help ease the nervous feelings you have about building a new community and inspire you to make a new friend today!
Feature image by Nappy/ Pexels