---
Very few early 2000's fashion labels have survived the test of time while simultaneously crafting the culture. There's Rocawear, which, I mean, who didn't wear Rocawear? There's FUBU, who came through with the ultimate 'For Us, By Us' empowerment vibes. There's Sean John, which I still see people wearing to this day. And for the ladies, there was Baby Phat.
Woman-owned, woman-curated, and woman-championed.
Listen, say what you want, but Baby Phat was a staple in a male-dominated game and competed at a level that not many could. Baby Phat was simply revolutionary. Revolutionary in the sense where, prior to its arrival, women's streetwear were mostly created as a subsidy of male brands, often ran by...men. Kimora Lee Simmons was simply on another level with how she moved, and for over 20 years, sis has paved a lane of making women of color feel seen and heard; or women in search of a blueprint.
These days, Kimora has opted for a tamer, quieter family life since ending operations in 2011, allowing her famous daughters, Ming and Aoki Lee, to pick up the baton and rep the name. But what are each of Kimora Lee Simmons' kids up to now?
Recently, her and her famous daughters relaunched the Baby Phat brand in a 2019 partnership with Forever 21 (which sold out in 24 hours), complete with enough nostalgic bedazzled shirts and fur-hooded coats to go around. Their newest venture, Baby Phat Beauty (an extension of the brand's relaunch) served as a reintroduction into the fragrance and beauty empire she very much so previously established with products such as Golden Goddess, Seductive Goddess, Fabulosity, and KLS Cosmetics. Oh, and a portion of all proceeds from sales went directly to Stacey Abrams, Fair Fight Initiative, to help end voter suppression--a move very on-brand for Kimora Lee Simmons, and very on-brand for Kimora Lee Simmons' kids.

Additionally, here's a fun update on what these mini moguls have been up to:
Ming Lee Simmons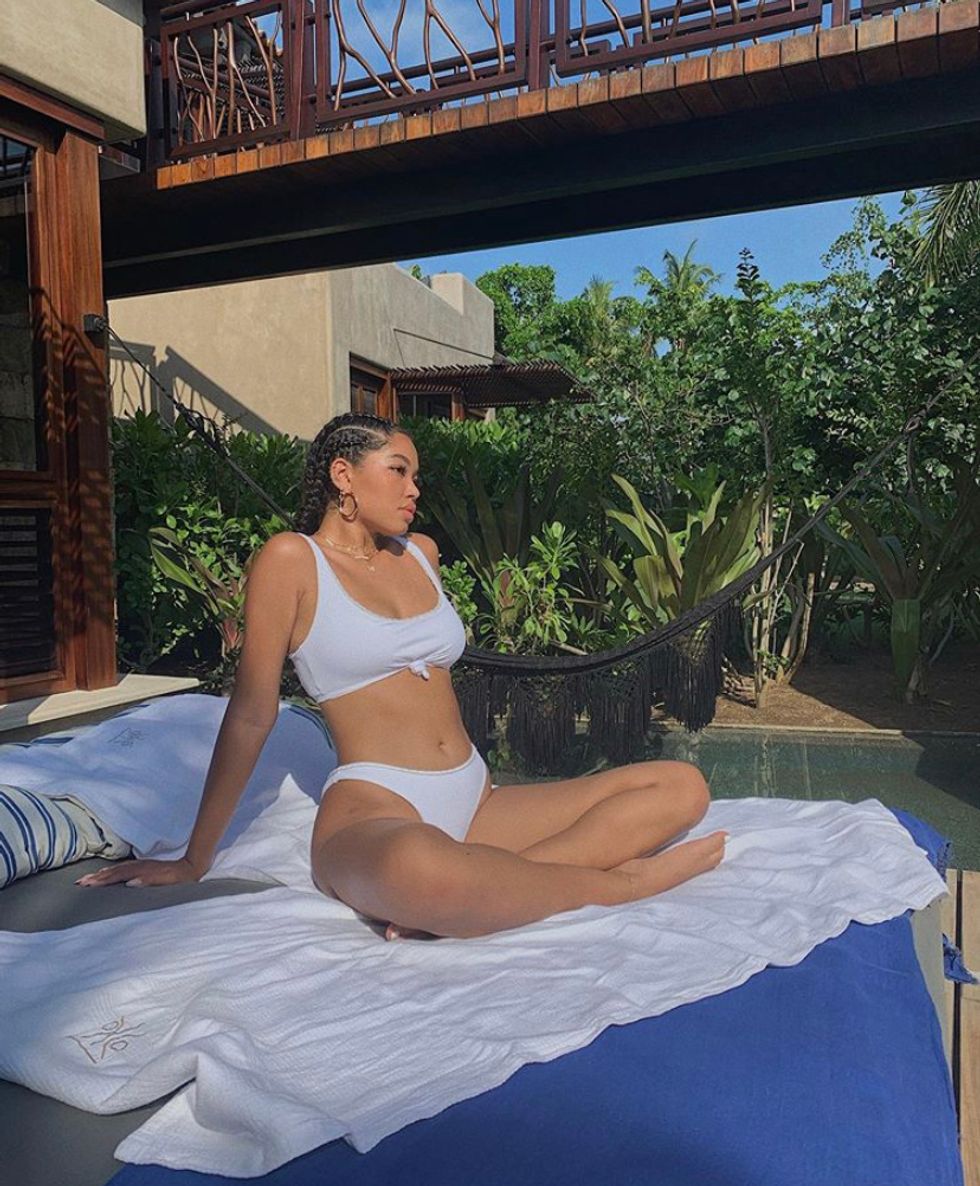 Ming Lee Simmons/Instagram
Ming Lee Simmons, 20, the oldest of Kimora Lee Simmons' kids, has definitely picked up her mother's pair of Christian Louboutin stilettos. Aside from the hilarious trolling that her sister Aoki throws her way, you can often find her flexing her nearly identical maternal looks for the 'gram to her 1.1 million followers. She often posts her collabs with varying brands, demanding justice for social issues, posts throwbacks of her mom and/or dad, Russell Simmons, and flaunting her top-notch smize game. And despite her age, Ming's resume runs deep as she's ventured into modeling, with brands such as Lexus, and of course, Baby Phat.
The more docile of the bunch, Ming, has decided to carry the torch of fashion designer and trend-setter, something that her mom had her hand in since she could barely walk the runway. In her last interview with Teen Vogue, Ming says:
"When we were children, the world that my mom brought us into, it wasn't a choice. We did a lot of things that not a lot of other kids were doing. I would be like, 'I can't go to this school thing because I have to go with my mom to a photo shoot.'"
(Kimora was notorious for including her daughters in her productions, whether ending a fashion show, or releasing new campaigns).
Ming is currently attending NYU, majoring in fashion and business and also considering law school to further develop her business brilliance. And alongside her sister, she sits at the head of the Baby Phat conference room table as a lead designer, jotting her ideas, adding her personal flair, and having no problem proving how incredibly prepared she is to take the family name to the next level.
"Every step and every new piece brings me back to the conclusion that this is what I want to be doing," she says.
Aoki Lee Simmons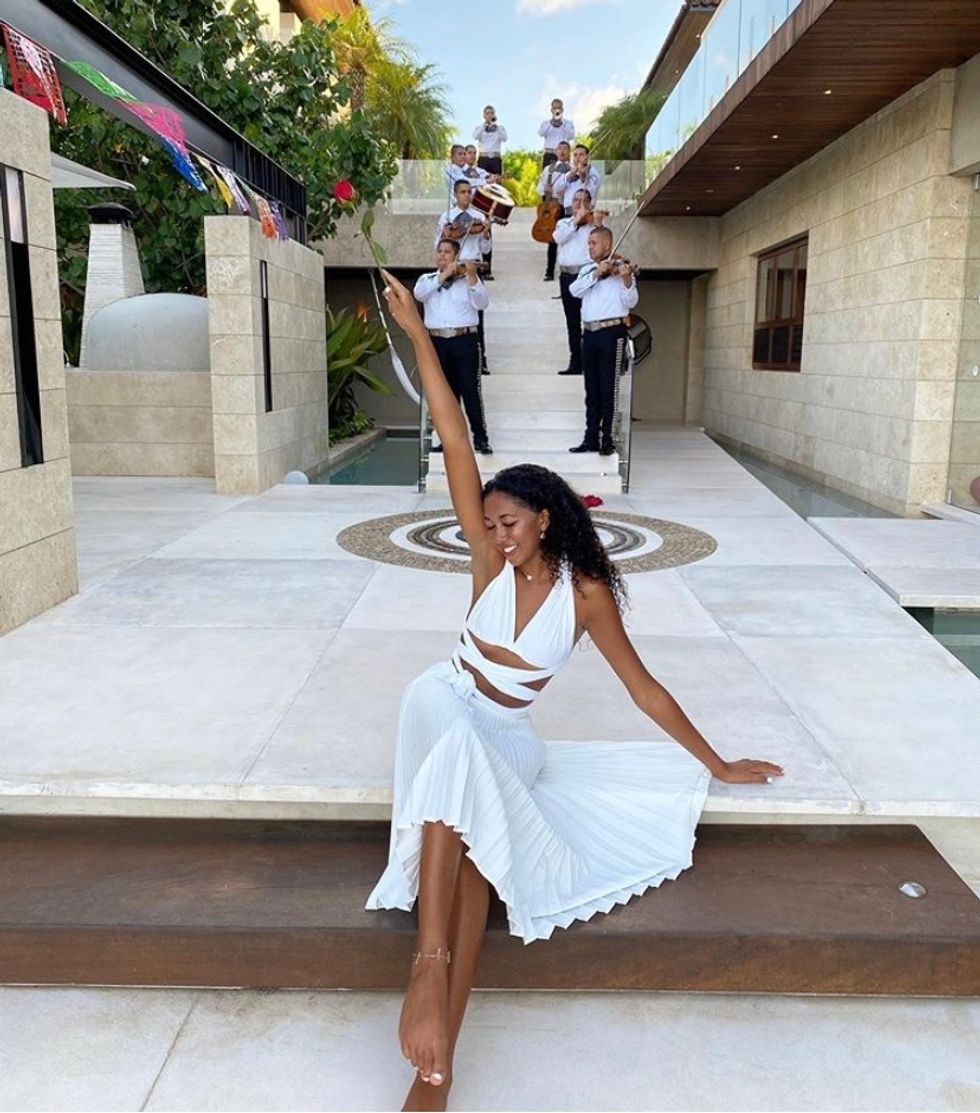 Aoki Lee Simmons/Instagram
Aoki Lee Simmons, 18, is less into the designing aspect of Baby Phat, and more into the business operatives. She manages the budget and financials, in addition to providing her design input and balancing her economic major at Harvard University—where she was accepted at age 16—and attends with the likes of other young black and brown starlets such as Malia Obama and Yara Shahidi. She often playfully gathers Ming by the neck for the entire world to see in comedic banter of little sister teases, and like her mother and sister, Aoki also models for the brand, showing off her paternal beauty for the 'gram to her 640K followers.
Her bio reads "Mr. Vice President, I'm speaking", (a nod to Vice President-elect, Kamala Harris), where similarly, she has proven that she literally give zero f*cks about getting you together, as she recently sparked attention after she called out a classmate who called her, and other classmates, the N-word, which as you can imagine, didn't go over so well for him.
At Harvard, Aoki ran for undergraduate council, which makes sense being that she often makes completely sensible demands in politics, and holds future Presidential aspirations. #Simmons2040 Additionally, she served as a panelist of 2019's Revolt Summit, perfectly divulging her generation's perspective on hot topics. From book recommendations, to references historical characters and following quantam physics and tech news hashtags, Aoki is pretty clear that she is one of a kind.
And much like our readers, she is big on identifying, and practicing, affirmative self-care habits. She tells Vogue:
"A huge part of self-care for me is reading. I just organized my personal library. I've been collecting books my whole life, so I've had a comfort thing over novels already. I've been doing some ballet. I love to journal as well."
Needless to say, the sisters aren't just living on the ranks of their very famous family. They have positioned themselves to be business women and fearless future leaders of an entire empire as well.
Wolfe, Kenzo, & Gary
As for the fellas of Kimora Lee Simmons' kids, they are growing and flourishing alongside their sisters. Still too young to determine any future endeavors, they're growing every day and experiencing life through their family's loving lens.
Kenzo Lee Honsou, 11 (with Djimon Hounsou), Gary Leissner, 10 (with Tim Leissner), and Wolfe Lee Leissner, 5 (with Tim Leissner), all of which are on the path of being groomed to join the empire as well. In speaking about them all, Kimora says:
"The most fulfilling thing in my life is to be a parent and a mother…That's what I was made to do, I'm very good at it; that's what I do. It's my thing."
Aoki shared a beautiful family photo of each of Kimora Lee Simmons' kids earlier this year, with more photos on them often shared on each of their Instagram accounts.
--
We're enjoying seeing this family grow into their own, especially being that some of us have literally watched Ming and Aoki grow up before our very eyes. So for now, the ladies are holding down their mom's vision as they continue to expand the family brand.
And we cannot wait to see what brilliance they have up their newly revived, colorfully bedazzled sleeves.
Feature image by Ovidiu Hrubaru / Shutterstock.com