Visiting the Bahamas for the first time exceeded my expectations, even in the middle of a pandemic . Between the rich culture, flavorful foods, rhythmic music and beautiful beaches, this Caribbean paradise has so much to offer for all types of travelers. I stayed in Nassau, which is the capital of the Bahamas and one of the most popular island ports for cruises. Tourism accounts for more than 50 percent of the country's gross domestic product (GPD) and employs almost half of the Bahamian workforce, so spending my money directly on the island was important to me.
---
I felt a warm welcome from every single Bahamian I came across for the entirety of my trip, which made me feel more at home than on vacation . So let's get to where to stay, what to eat, and all the fun things to do in and around Nassau so you can start planning your trip now!
Things To Know About The Bahamas Before You Travel
Traveling during a global pandemic means an added layer of research and additional steps to take in making sure you are prepared to travel to your destination. This destination requires you to apply on their website for a Bahamas Health Travel Visa , and the application takes about 5 minutes to complete. There's also a $40 fee.
According to the most recent regulations, all travelers to the Bahamas must provide proof of a negative COVID-19 test taken no more than 5 days before arrival. I was approved within 24 hours of completing my application and uploading my documents, so it's a super-quick process, but you'll want to get your approval ahead of your trip. (And be sure to check the travel visa website closer to the date of your trip, as regulations are subject to change.)
Once approved, you receive a QR code to present at the airport before passing through security. Try to arrive early to ensure you have enough time to get your documents checked because you don't want to get left behind because you don't have all your ducks in a row.
Where To Stay In The Bahamas
Airbnb: Thirty Six
For some destinations, I prefer to skip the resorts and go for a more local accommodation like an Airbnb. After doing lots of research, I decided to stay at Thirty|Six Condominiums , a luxury condo on Paradise Island.
When I say that it's a newer, luxury condo, I mean it. In the taxi ride from the airport, our driver joked that we must be celebrities because only famous people stay there.
The one-bedroom condo had one full bathroom and one half bathroom, a walk-in closet, a washer and dryer, a large wrap-around balcony, and a completely renovated kitchen. I truly felt like I was living a fabulous life in such a beautiful space.
The property had a 24-hour security booth, parking, a gym, and a beautiful infinity pool where we could lounge all day long. The security guards were great for helping us get a taxi or giving restaurant recommendations. I would for sure stay there again next time.

Hotel: Atlantis Paradise Island
Chances are if you start to research anything related to the Bahamas, you've heard of Atlantis " target="_blank">Atlantis has shown up . Located on Paradise Island, it is one of the top rated hotels in all of the Bahamas. Now just know, if you want to stay at Atlantis, you are going to be paying a pretty penny, but it's full of delicious restaurants, a beautiful beach, a water park, a rooftop bar, a casino, and so much more. If luxury is your thing—or just having everything right there—you definitely want to consider paying the extra money for the convenience of Atlantis.
Where To Eat
The Bahamas was filled with so many delicious restaurants, it was truly hard to narrow it down to just a few. As with most islands, the seafood was super-fresh and the hospitality was pleasant.
Conch is a true Bahamian specialty, so be sure to try conch fritters and conch salad everywhere. I honestly had conch fritters every day.
And of course, rum is the true star of any island vacation so I recommend a Bahama Mama or rum punch for lunch and dinner. Everywhere that I ate was spectacular, but here are some of my favorite must-try places for good eats.
Viola's Bar and Grill
Multiple people suggested eating at Viola's, and it did not disappoint. Located in walking distance to most hotels on Paradise Island, Viola's is the perfect spot to grab lunch or dinner. Outside of the delicious Bahamian food, Viola's also has great entertainment like karaoke nights. Don't miss trying the conch fritters (duh!) and the shrimp mac-and-cheese which can be made spicy. Also, ask about the super-sized drink upgrades, because why not?
Green Parrot
This spot is located right on the harbor, so it serves up delicious eats with fantastic views. The service was great and the drinks had me whining in my chair to the reggae music.

Sonia's Jerk
If there is just one thing you follow through with after reading this guide, let it be a visit to Sonia's Jerk Hut on the beach. Located right on the beach, this cute little spot serves all of your Caribbean favorites, and the owner Sonia is super sweet. The restaurant prides itself as the "best jerk on the island," and I did not see the lie. The jerk chicken was thebomb.com. Oh, and don't sleep on her spicy sauce because it packs a punch! Another great thing is that the food comes in to-go containers so if her tables are full, just grab your food and eat it right there on the beach.
Latitudes
Latitudes is where you go when you want to dress up and spend a little more for dinner. Their menu is a fusion of different cuisines that includes sushi, pizza, steak, and noodle bowls. Dinner can fill up quickly so be sure to make a reservation.
Arawak Cay Fish Fry
Fish Fry is not a specific restaurant but a designated strip of different restaurants serving up fresh and delicious seafood. There isn't one specific place I can recommend because I tried so many that were good, so I suggest you treat it like a bar-hop. Stop at one place for the conch fritters, then go a few doors down for some fried snapper, and then try the rum punch and shrimp at another spot.
Later in the evening, this area is vibrant, with music playing and lots of locals and tourists wandering around looking for their next spot to eat. I visited twice and had some of the best conch fritters and rum punch at one of the smaller spots.
What To Do In The Bahamas
When on vacation, it's not always necessary to have a full itinerary. Sometimes you just gotta relax and go with the flow. The Bahamas is great for both travelers who want to lounge on the beach with a cocktail all day and those who are looking for adventure. If you want to make the most of your time, here are some suggestions for things to do and places to visit to get the authentic Bahamian experience.

Junkanoo Beach
Located just minutes away from downtown Nassau, Junkanoo Beach was the best beach for hanging out and enjoying the crystal blue water. I found the water to be calmer and more shallow, which is perfect for those who just want to enjoy the water without going out too deep or worrying about large waves. There's also a strip of bars and restaurants right along the beach (including Sonia's Jerk Hut), so you can easily spend a day here just relaxing and catching vibes. Take a walk a little further down and you'll end up right at the start of the Fish Fry. Win-Win!

Snorkeling Boat Cruise
What is vacation if you don't find yourself on a boat at least once? The water surrounding the Bahamas is just too beautiful not to see up-close and personal. There are a number of boat cruises that will take you to different islands and some trips include stops for snorkeling and lunch. The cruise I took included snorkeling near green turtles, bottomless rum punch, and a stop at a restaurant on Rose island, complete with a DJ and time for ordering food. Need I say more?
John Watling Distillery
When in Rome, or in this case the Bahamas, do a rum tasting! This historic distillery has been pushing out hand-crafted Bahamian rum since 1789 and is worth the visit. Stop by for rum tastings or a free daily tour, and grab a bottle (or two) to bring back to the states.
Hideaway Floating Bar
A floating bar in the middle of the ocean with good drinks and vibes? Sign me up! Hideaway is literally a floating bar and grill located in the water near Athol Island, which is just off of Paradise Island. Open on weekends only, catch an hourly speedboat out to the bar and spend the day hanging out by the bar or lounging with your feet in the water as you take in the views. Be sure to go early, because once it fills up, you have to wait until people leave to go over.
Exuma Island

I know everyone has seen the photos of folks visiting the Bahamas and being on an island full of large pigs called Exuma. There you can visit the pigs, swim with sharks, and just enjoy the beautiful views. It's a separate island from the one Nassua is located on, so if you want to swim with the pigs you will have to book a flight which takes about 40 mins or book a boat tour which can be around 3 to 4 hours via speedboat. It's a long journey, but worth the Instagrammable photos with a piglet and his family.
Cacique Bar and Lounge
If you're like me, then you enjoy venturing out to experience nightlife when visiting new places. The Bahamas did not let me down when it came to having fun, and Cacique was one of those places that I wanted to go back to every night if I could. Located not too far from Junkanoo Beach, it's an outdoor spot that has all the vibes. I'm talking about good food, strong and cheap drinks (hello $10 top shelf), hookah, and a DJ playing everything from soca to hip-hop. Do yourself a favor and plan at least one fun night out to dance and have fun at Cacique, and depending on the day you might find yourself enjoying karaoke, paint and sip, or Ladies Night.
For more travel stories, tips and tricks, check out the xoNecole travel section here .
Featured image by Getty Images
Robin D. Thomas
Robin D. Thomas is a brunch loving, Brooklyn born and raised Licensed Social Worker currently working in the Bronx. When she's not writing about all things wellness, entertainment and love, you can find her eating her way through different cities and tending to her plants. Connect with her on IG and Twitter at @_MissRobin or on her Instagram wellness page @thisnoirethat.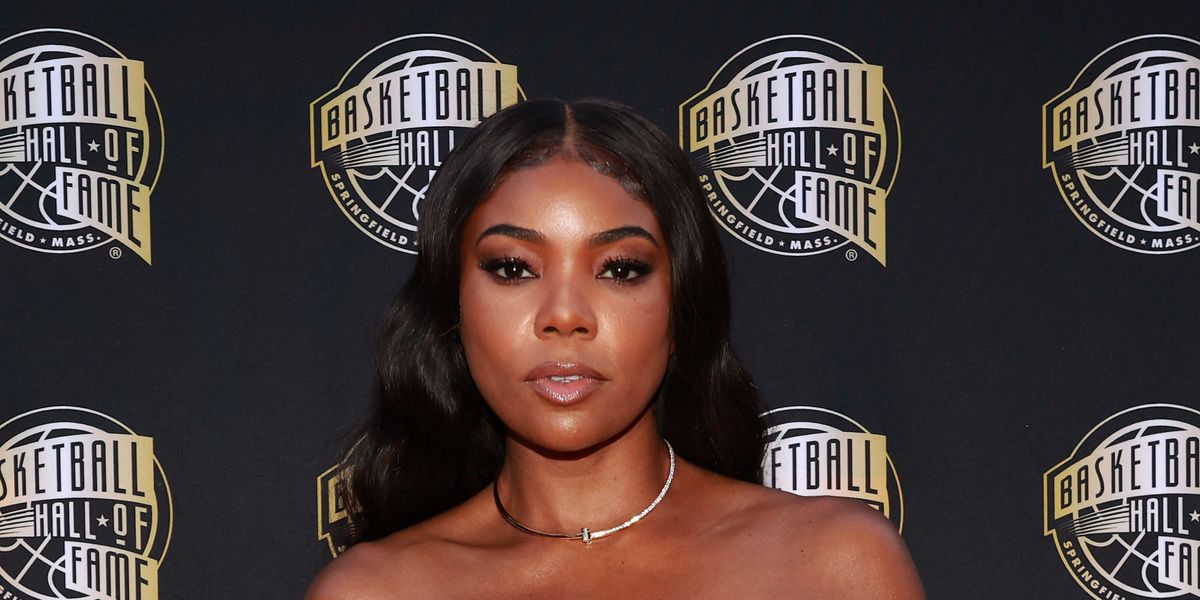 Whenever Gabrielle Union graces the movie screen, she immediately commands attention. From her unforgettable scenes in films like Bring It On and Two Can Play That Game to her most recent film, in which she stars and produces Netflix's The Perfect Find , there's no denying that she is that girl.
Off-screen, she uses that power for good by sharing her trials and tribulations with other women in hopes of helping those who may be going through the same things or preventing them from experiencing them altogether. Recently, the Flawless by Gabrielle Union founder partnered with Clearblue to speak at the launch of their Menopause Stage Indicator, where she also shared her experience with being perimenopausal.
In a xoNecole exclusive, the iconic actress opens up about embracing this season of her life, new projects, and overall being a "bad motherfucker." Gabrielle reveals that she was 37 years old when she was diagnosed with perimenopause and is still going through it at 51 years old. Mayo Clinic says perimenopause "refers to the time during which your body makes the natural transition to menopause , marking the end of the reproductive years."
"I haven't crossed over the next phase just yet, but I think part of it is when you hear any form of menopause, you automatically think of your mother or grandmother. It feels like an old-person thing, but for me, I was 37 and like not understanding what that really meant for me. And I don't think we focus so much on the word menopause without understanding that perimenopause is just the time before menopause," she tells us.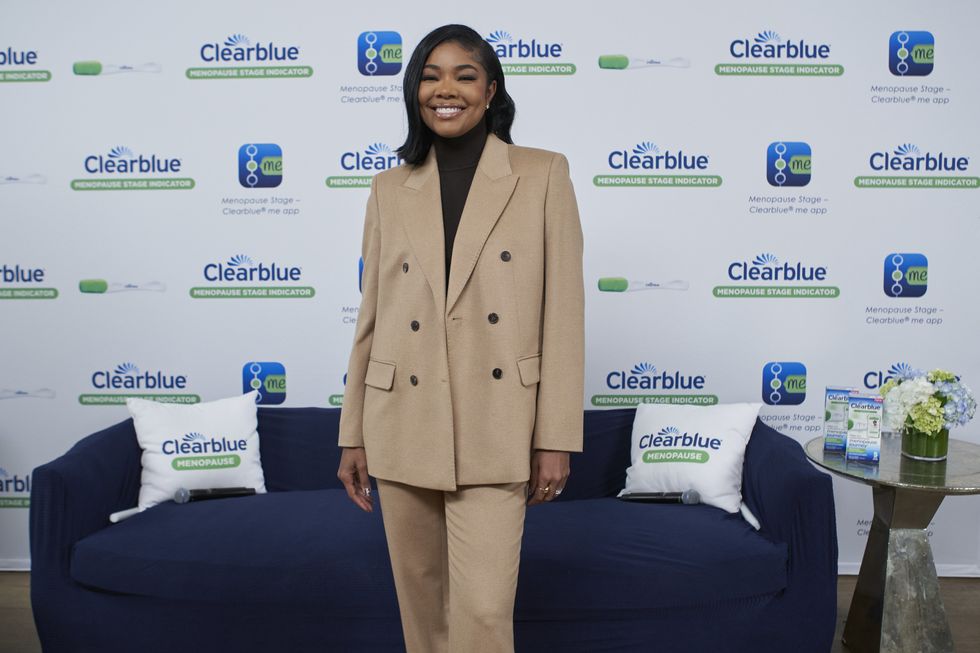 Gabrielle Union
Photo by Brian Thomas
"But you can experience a lot of the same things during that period that people talk about, that they experienced during menopause. So you could get a hot flash, you could get the weight gain, the hair loss, depression , anxiety , like all of it, mental health challenges , all of that can come, you know, at any stage of the menopausal journey and like for me, I've been in perimenopause like 13, 14 years. When you know, most doctors are like, 'Oh, but it's usually about ten years, and I'm like, 'Uhh, I'm still going (laughs).'"
Conversations about perimenopause, fibroids, and all the things that are associated with women's bodies have often been considered taboo and thus not discussed publicly. However, times are changing, and thanks to the Gabrielle's and the Tia Mowry 's, more women are having an authentic discourse about women's health. These open discussions lead to the creation of more safe spaces and support for one another.
"I want to be in community with folks. I don't ever want to feel like I'm on an island about anything. So, if I can help create community where we are lacking, I want to be a part of that," she says. "So, it's like there's no harm in talking about it. You know what I mean? Like, I was a bad motherfucker before perimenopause. I'm a bad motherfucker now, and I'll be a bad motherfucker after menopause. Know what I'm saying? None of that has to change. How I'm a bad motherfucker, I welcome that part of the change. I'm just getting better and stronger and more intelligent, more wise, more patient, more compassionate, more empathetic. All of that is very, very welcomed, and none of it should be scary."
The Being Mary Jane star hasn't been shy about her stance on therapy . If you don't know, here's a hint: she's all for it, and she encourages others to try it as well. She likens therapy to dating by suggesting that you keep looking for the right therapist to match your needs. Two other essential keys to her growth are radical transparency and radical acceptance (though she admits she is still working on the latter).
"I was a bad motherfucker before perimenopause. I'm a bad motherfucker now, and I'll be a bad motherfucker after menopause. Know what I'm saying? None of that has to change. How I'm a bad motherfucker, I welcome that part of the change."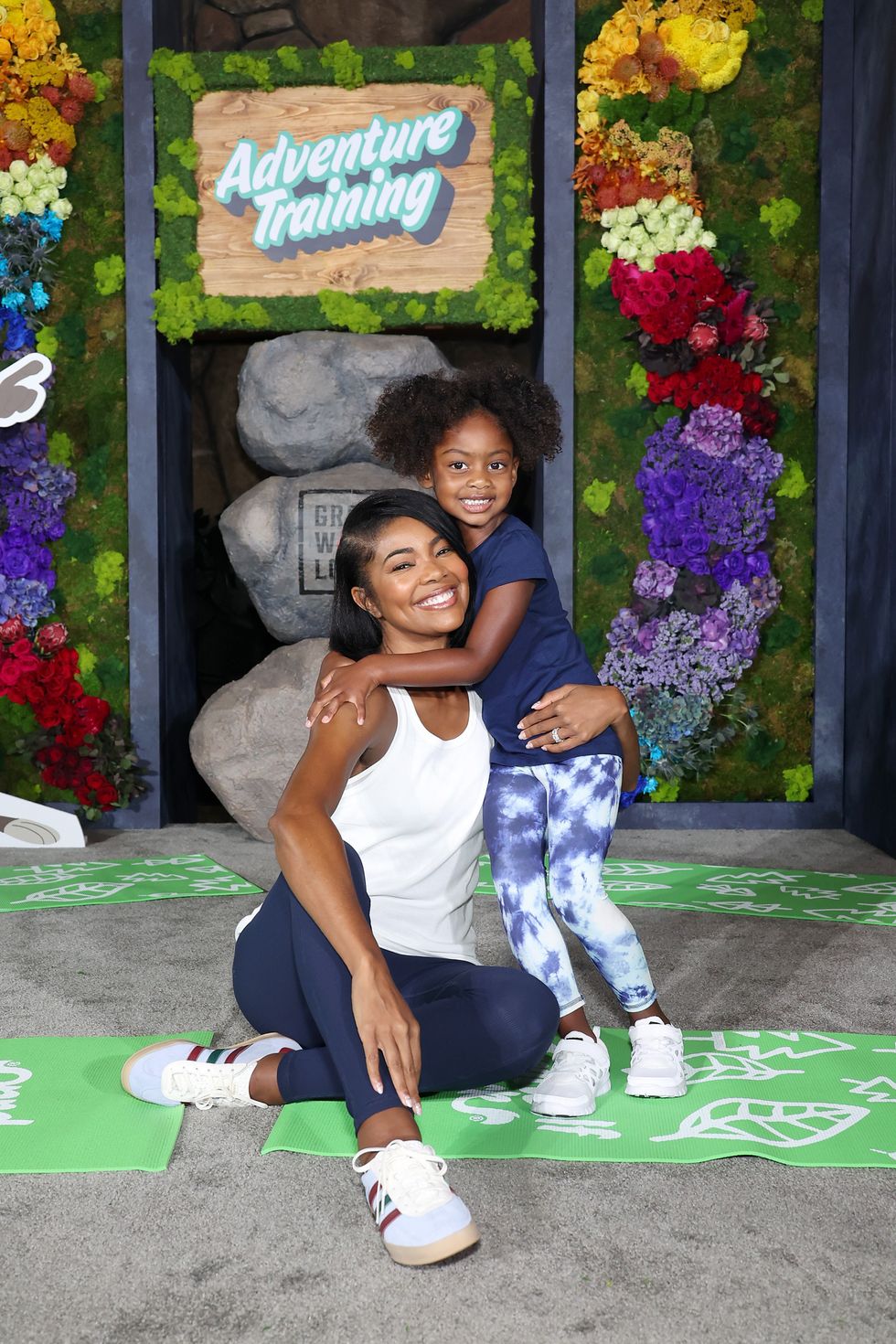 Gabrielle Union and Kaavia Union-Wade
Photo by Monica Schipper/Getty Images
"I hope that a.) you recognize that you're not alone. Seek out help and know that it's okay to be honest about what the hell is happening in your life. That's the only way that you know you can get help, and that's also the only other way that people know that you are in need if there's something going on," she says, "because we have all these big, very wild, high expectations of people, but if they don't know what they're actually dealing with, they're always going to be failing, and you will always be disappointed. So how about just tell the truth, be transparent, and let people know where you are. So they can be of service, they can be compassionate."
Gabrielle's transparency is what makes her so relatable, and has so many people root for her. Whether through her TV and film projects, her memoirs, or her social media, the actress has a knack for making you feel like she's your homegirl. Scrolling through her Instagram, you see the special moments with her family, exciting new business ventures , and jaw-dropping fashion moments. Throughout her life and career, we've seen her evolve in a multitude of ways. From producing films to starting a haircare line to marriage and motherhood , her journey is a story of courage and triumph. And right now, in this season, she's asking, "What's next?"
"This is a season of discovery and change. In a billion ways," says the NAACP Image Award winner. "The notion of like, 'Oh, so and so changed. They got brand new.' I want you to be brand new. I want me to be brand new. I want us to be always constantly growing, evolving. Having more clarity, moving with different purpose, like, and all of that is for me very, very welcomed."

"I want you to be brand new. I want me to be brand new. I want us to be always constantly growing, evolving. Having more clarity, moving with different purpose, like, and all of that is for me very, very welcomed."
She continues, "So I'm just trying to figure out what's next. You know what I mean? I'm jumping into what's next. I'm excited going into what's next and new. I'm just sort of embracing all of what life has to offer."
Look out for Gabrielle in the upcoming indie film Riff Raff , which is a crime comedy starring her and Jennifer Coolidge, and she will also produce The Idea of You , which stars Anne Hathaway.
Feature image by Mike Lawrie/Getty Images
Sex
Nov 24, 2023 18:00 PM EST

I didn't think much could get better about the blissful high that comes with oral. That was until I came across the Kivin Method.
As someone who was never a huge fan of oral sex and could largely take it or leave it, I must admit that I have started to come around in recent years. With my head thrown back, hands gripping sheets and hair, and toes curling from the intense sensations of the work my partner is putting in at my center, I now give myself over to the pleasurable act wholly and unapologetically.
When I came across a way to maximize the pleasure I receive from cunnilingus (already), I had no choice but to tap in. Who knew the key to taking oral sex to new heights was giving it a sideways twist? For those of you who might also be interested in ways to spice up the way you do oral , experience faster and stronger orgasms , or simply want to indulge in something new with your partner, the Kivin Method could definitely be the oral sex technique for you, too.
Keep reading to learn about the method that is sure to have you writhing in ecstasy in no time at all.
What Is The Kivin Method?
For the uninitiated, the Kivin Method is an oral sex technique that focuses on stimulating the clitoris from a different angle. Dubbed " sideways oral " by some, this method involves the action of giving head from a side-to-side movement as opposed to the up-and-down motion that people typically perform when giving head . ( If you need a visual, this illustration is helpful. )
The difference in approach as you're receiving head can be a game-changer in how you receive pleasure. Not only does the giving partner have access to the clitoris , but they can also access more easily the vulva and the labia , which are objectively a bigger focus in this version of cunnilingus . More access means wider coverage, and that, plus the new sensation of oral from a different angle, can heighten the way you experience oral sex that much more.
Where more pleasure flows, intense orgasms are sure to follow.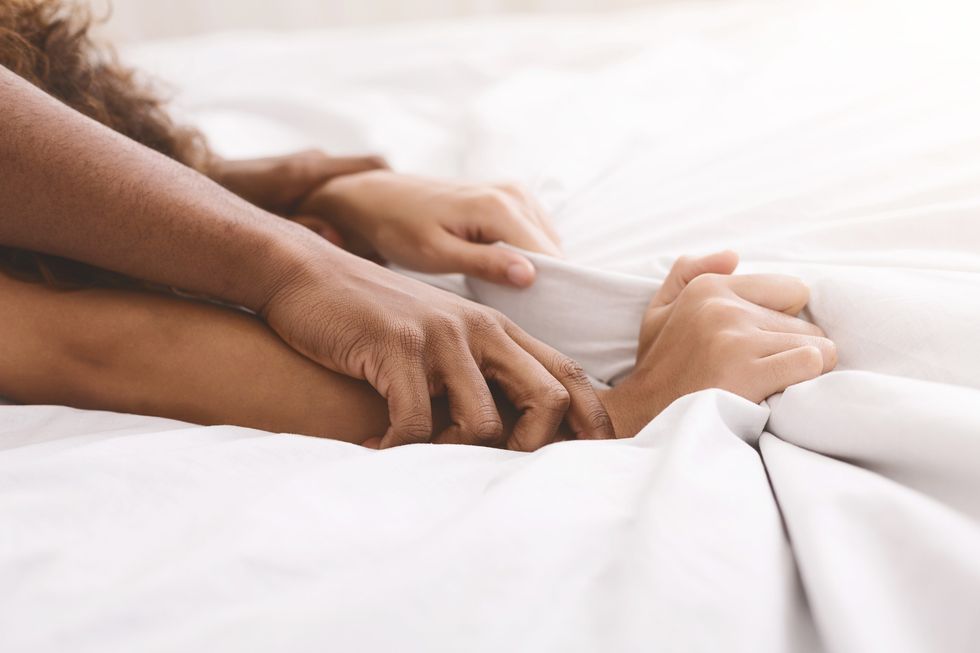 Getty Images
How To Do The Kivin Method
If you want to know how to do the Kivin Method, it's actually pretty straightforward. The receiver lays on their back while the giver positions themselves perpendicular to the receiver. Their head will be facing the vulva , but instead of vertical, their face will be horizontal to the vulva .
From there, the giver can get to business, ensuring that they keep their head perpendicular to the receiver's vulva while working on their craft. Because this technique can be more intense for some receivers, start slowly by stroking the vulva and clitoris sideways with the tongue, and allow sensations and communication from the receiver to be a guide of what you need more or less of with the Kivin Method.
Ultimately, the Kivin Method allows experimentation and unlocking what pressure, rhythm, and tricks work best for the giver and the receiver. Try implementing a finger or two, or adding a sex toy to the mix to intensify the act even further.
Let's make things inbox official! Sign up for the xoNecole newsletter for daily love, wellness, career, and exclusive content delivered straight to your inbox.
Featured image by Delmaine Donson/Getty Images