Foreplay: sexual stimulation of one's partner, usually as a prelude to sexual intercourse
Prelude: a preliminary to an action, event, condition, or work of broader scope and higher importance
---
Off top, this might seem like a really strange topic to tackle, but just hear me out on why I think it's super relevant. Did you know that, in the United States alone, somewhere between 14-15 million people consider themselves to be in a long-distance relationship? Not only that, but out of those, only around four million folks are married (close to 33 percent are college-aged individuals), even though a whopping 75 percent of engaged couples admit to being long-distance during some part of their engagement?
Now do you see why I thought this was an issue that needed to be addressed? Just because two people may be apart, that doesn't mean that they still don't have needs. And, what I adore about the definition of foreplay, is it doesn't just lend to what a couple should be doing 15 minutes before penetration transpires. Foreplay is all about stimulating one's partner,, period and since the brain is actually the largest sexual organ that any of us have, incitement really should begin with what's going on between our ears, not our legs.
Hmph. The more I think about it, as challenging as being miles away from one's lover may be, perhaps one of the best parts about a long-distance relationship is how creative you can get when it comes to the fine art of foreplay (and it is indeed an art form, y'all).
Want some help with stoking the fires? I've got a few ideas.
Exchange Sexy Letters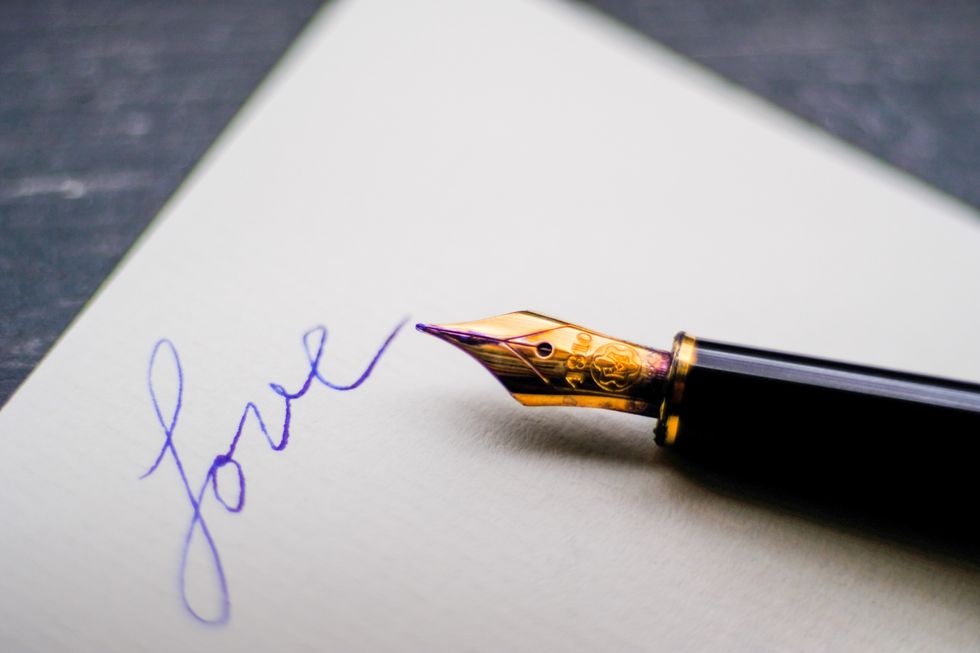 As a writer who got my start as a poet, I've fallen for my fair share of writers—spoken word artists, rappers and singers—in my day. It's not just because of what I do for a living, but because words of affirmation is my primary love language too. And let me tell you—a well-placed and timed letter, poem or song could hit me in all the right places. That's why it totally resonated with me when I read an article that said that handwritten notes are quite powerful. So much in fact that increases positivity and an overall sense of well-being in both the writer and recipient.
So tell me something—when's the last time you went to a local office supply store (or a Hallmark), picked up some fly stationery and penned a sexy letter to your man, complete with some of your signature perfume on it, and mailed it?
A text or email are aight, but making the time to write about the way you love how he makes you feel will resonate on an entirely different level; especially if you both make it a mutual practice from time to time.
Create a Sex Bucket List            
Speaking of writing things down, another way to get your creative sexual juices flowing is by creating a sex bucket list. Think of it as being a couples' vision board only, everything that is on it has something to do with sexual fantasies and desires that you both would like to try someday (hopefully sooner than later).
You could exchange ideas back and forth in an email. Or, you can both download an electronic vision board and swap thoughts that way. You can get a few leads on apps here.
Download the Kindu App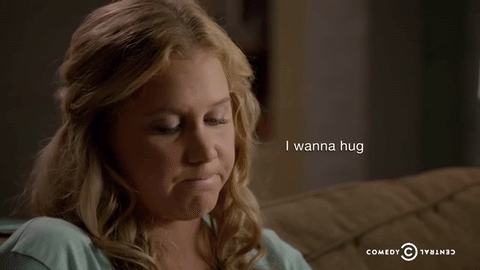 It wouldn't seem right to discuss how to better navigate through a long-distance relationship without bringing up some (other) apps since basically they are designed to make life—including your relationship—easier. Along these lines, one that you should definitely have on your phone is the Kindu app. The long short of it is, once you and yours download the app, you can go through thousands of sexual suggestions that the app provides. Then you both can discuss what you're willing to try, what's up for negotiation and what's totally off limits. If your relationship is relatively new or you've always been shy about discussing sexual intimacy, this is one way to broach the topic without feeling insecure or totally put on the spot. (Get it from the App Store here or Google Play here.)
Download the iKamasutra App Too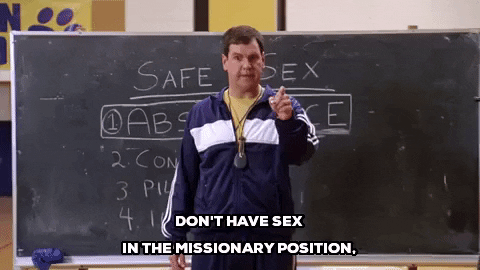 Giphy
Another "benefit" of being apart is it can give you both some time to learn and/or brush up on your sex knowledge. Take sexual positions, for example. Did you know that there are technically around 230 different ones? With the iKamasutra app (App Store), you can learn about 110 of 'em via the free version and all of the rest for $2.99. They even have a feature that will help you to recreate some of the most memorable sex scenes from movies. Just think of how much you'll be able to, umm, demonstrate the next time the two of you are together!
Design a Sex Calendar
Something that one of my friend's husbands did for one of her birthdays was give her a calendar. If that sounds like he was leaning a little on the cheap side, just wait until I tell you what he did with it. He literally planned out dates with his wife, a year in advance. He didn't just write "date" on random days either; he had ideas, places and times too. Who said that romance is dead?
A cool twist to this is to design a sex calendar. You and yours can divvy the 12 months up and either come up with ideas on your Google calendar or mail the calendar back and forth. (Personally, I like the second idea; it gives you both something to look forward to!)
Mail Each Other Sleepwear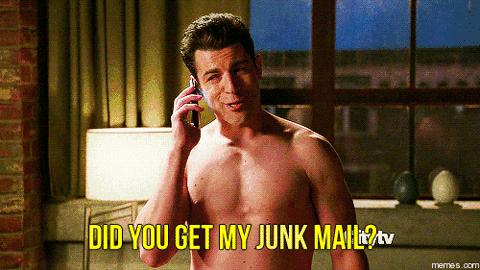 Giphy
Something that both husbands and wives tell me is a major pet peeve (and libido downer) is how their spouse decides to come to bed. Between the Fort Knox pajamas that a lot of women wear and T-shirts and boxers that should've been burned years ago that men have on, it's enough to turn anybody off.
Make this less of an issue for you and your sweetheart by coming up with your own Sleepwear of the Month Club. During a phone call, discuss things like one another's favorite colors, fabrics and lingerie looks. Then, commit to mailing each other what you'd like to see your partner in once a month for a year. Not only will you both end up with a new collection of sexy stuff to put on but imagine what an impromptu modeling session will be like!
Keep a Sex Journal
When a relationship is new, sex is pretty much always hot (here's hoping, anyway). But if you've been together for a while now and the distance is taking its toll to the point that it's actually wreaking havoc on the intimacy that the two of you share, something that you might want to do is keep a sex journal between the two of you. It can consist of anything that you want it to—the best sex memories you both have, the needs and wants that are important to you, even when you felt that sex was at its peak and when it seemed to take a bit of a dive, so that you both can pinpoint when things started to go left—just so long as the focus is sex and ways to make it better.
Sometimes, just the documentation and communication alone can help to put a spark back into the relationship.
Plan a Mini Hotel Tour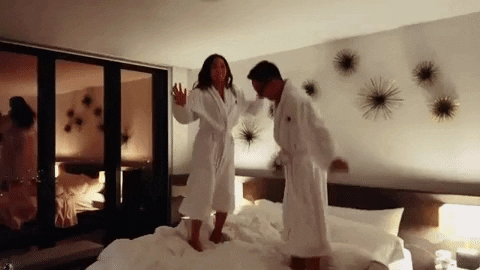 Giphy
Foreplay is all about building anticipation. Even if money is a little tight right now, that doesn't mean that the two of you can't dream.
Well, dream and save money. That said, I don't know one person (myself included) who isn't a HUGE fan of hotel sex. So, why not put together your own mini hotel tour?
First, research the sexiest hotel in the city where you both live and plan to spend at least one night there when you travel to see one another. As far as a tour goes, the Post Ranch Inn (Big Sur, CA); Salamander Resort & Spa (Middleburg, VA); Amangiri (Canyon Point, UT); Inn at the Market (Seattle, WA); Bryant Park Hotel (Manhattan, NY); The Standard Spa (Miami Beach, FL) and The Hermitage Hotel (Nashville, TN) are just a few other sexy hotels that can inspire you to meet in another location for a little extra excitement.
Come Up with Your Own Sex-Themed Emoji Language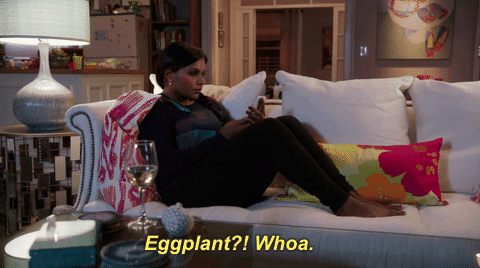 A part of what makes a long-distance relationship challenging is, not only do you have to deal with being apart from the one you love, you also have to juggle your day-to-day demands. Although I'm sure the intention is to talk at least once a day, something that you can do to remind your partner that you are thinking of them is to text. Or sext. If you want to make it fun and a little more private, you can check out some private texting apps here (or you can try out Wickr or Confide). Then, come up with your own sex-themed emoji language.
Why emojis? Well, not only are they a faster way to communicate but, according to some pretty widespread research, people who use emojis have sex more than folks who don't. Oh, and if you want to nix deciphering between water splashes, eggplants and whatnot, there's a "naughty" emoji keyboard that you can download directly to your smartphone.
Emotionally Connect. Daily.
An actor by the name of Zara Barrie once said something about foreplay that is so on point— "Conversation is the sexiest foreplay, the perfect prelude to sex, the fiery banter that gets you heated, the stimulation of the mind that transmits to the body. Conversation is a give and take. Just like sex itself. And the best give and takes — the best conversations — lead to the best sex."
The married couples I know who have lasted the longest all have said that, when it comes to foreplay, it's about cultivating an emotional connection, most of all. It's a reminder that building true intimacy isn't just about sex; it's about making sure your partner feels wanted, heard and safe.
I could give a ton of tips on this too, but you know what's even better? Ask your partner. By simply saying, "What can I do to make you feel more loved by me?" will be sure to make them feel so much closer to you—no matter how far apart, physically, you may be. As a bonus, it will make coming together again, that much better too. Emotional connecting truly is the best kind of foreplay around. Hands down.
Want more stories like this? Sign up for our newsletter here and check out the related reads below:

The Signs Of A Truly Intimate Relationship
Is Scheduled Sex Really Better Than No Sex At All?
8 Ways My Husband & I Made Our Long Distance Relationship Work
How To Ensure Your Long Distance Relationship Leads To Marriage
Featured image by Getty Images.